Our little farmhouse kitchen was in dire need of a little tidying up, or should I say, a complete overhaul. Watch me attempt pantry organization with mason jars and a sharpie paint pen. 
There was a bit of a problem lurking behind the cabinet doors here at the farmhouse. Instead of nicely organized dry goods, in pretty little jars with printable labels, my cabinets were overflowing with bags of dates, shredded coconut, walnuts and baking supplies.
Instead of a layout that made sense, plates near the dining room and food near the stove, things were scattered throughout with no rhyme or reason.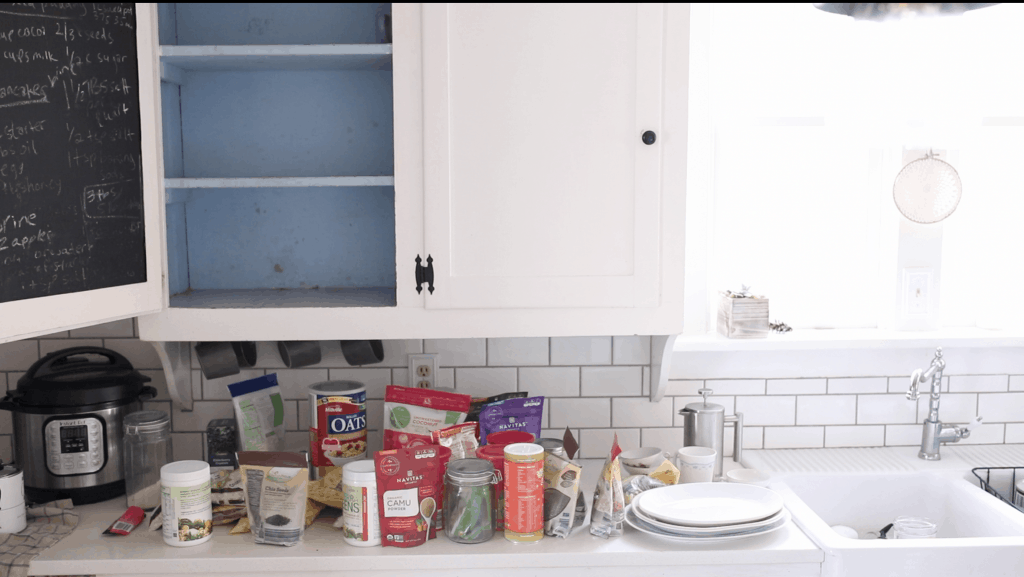 We don't have a traditional walk in pantry here, so all our food has to be stored in the cabinets. When we first moved in I kind of just started putting things up there with no particular plan. Canned goods, dried quinoa, and condiment staples were shoved in the far right cabinet. Baking goods hung out in another area. Spices were over by the stove, and vitamins were to the right of the sink.
I hadn't revisited that original setup in over nine years. #reallife
Well…recently my friend Cami from Tidbits shared an entire overhaul that she did of her baking cabinet. She showed some amazing after photos of pretty labeled containers neatly stacked in her cupboard. I left her blog totally inspired.
I was ready to do something about my disheveled mess of a pantry, or lack thereof.
[thrive_lead_lock id='12979′]Hidden Content[/thrive_lead_lock]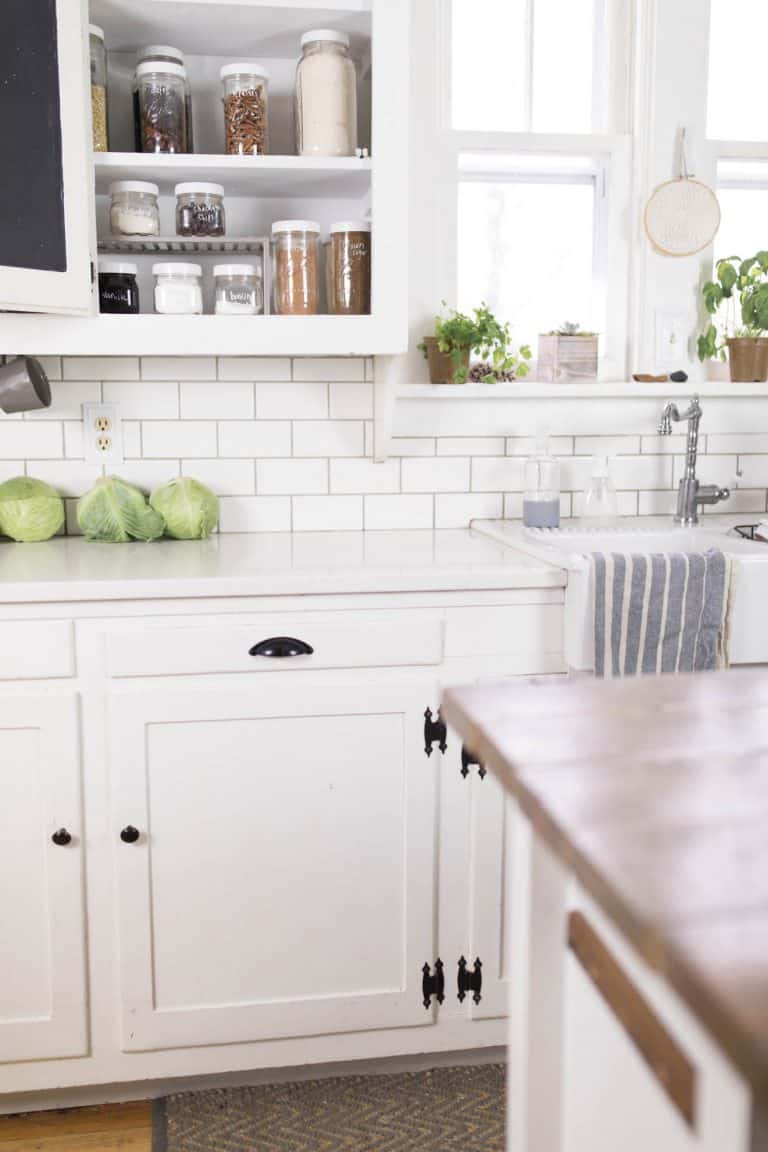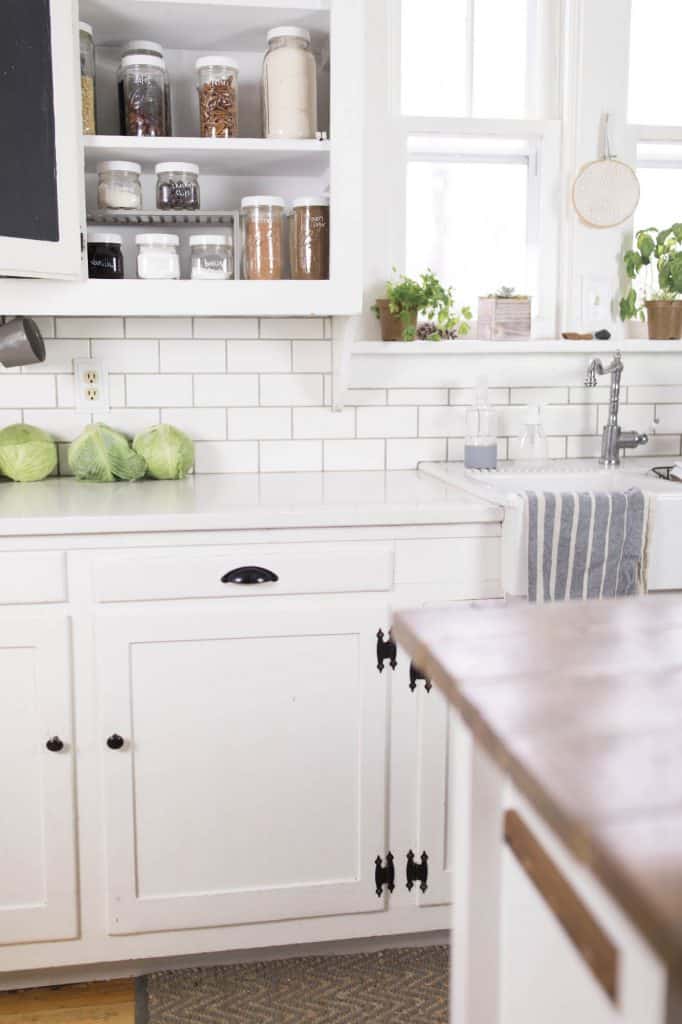 Subscribe to my Youtube channel to see all the latest videos from the farmhouse.
Organization totally isn't my strong suit. That's why my only advice for keeping a tidy house involves being a minimalist and getting rid of everything that doesn't bring joy. It is the only way I can stay on top of the clutter. Instead of storing it in nicely labeled bins and totes, I just get rid of it with reckless abandon.
But food, well…. you need it. The more you have, the better. And therein lies the problem. Organization is a must.
I took everything out of the cabinets, and got rid of quite a few mugs and plates that we never use. I just kept enough bowls/plates in our cabinets that we use for a meal. Half the time they don't even get put back up there. It's just eat, rinse, repeat.
I also took this opportunity to clean up, and paint, the insides of my cabinets. The people who lived here before painted the insides blue. Since the color wasn't totally offensive, I left it. I mean who has time to paint the inside of cabinets?! Not me. But I'm glad I finally I did it. Everything looks so fresh and tidy with a couple coats of white. I used the same chalk paint I always use. It goes over just about any surface without any prep work.
Pantry Organization with Mason Jars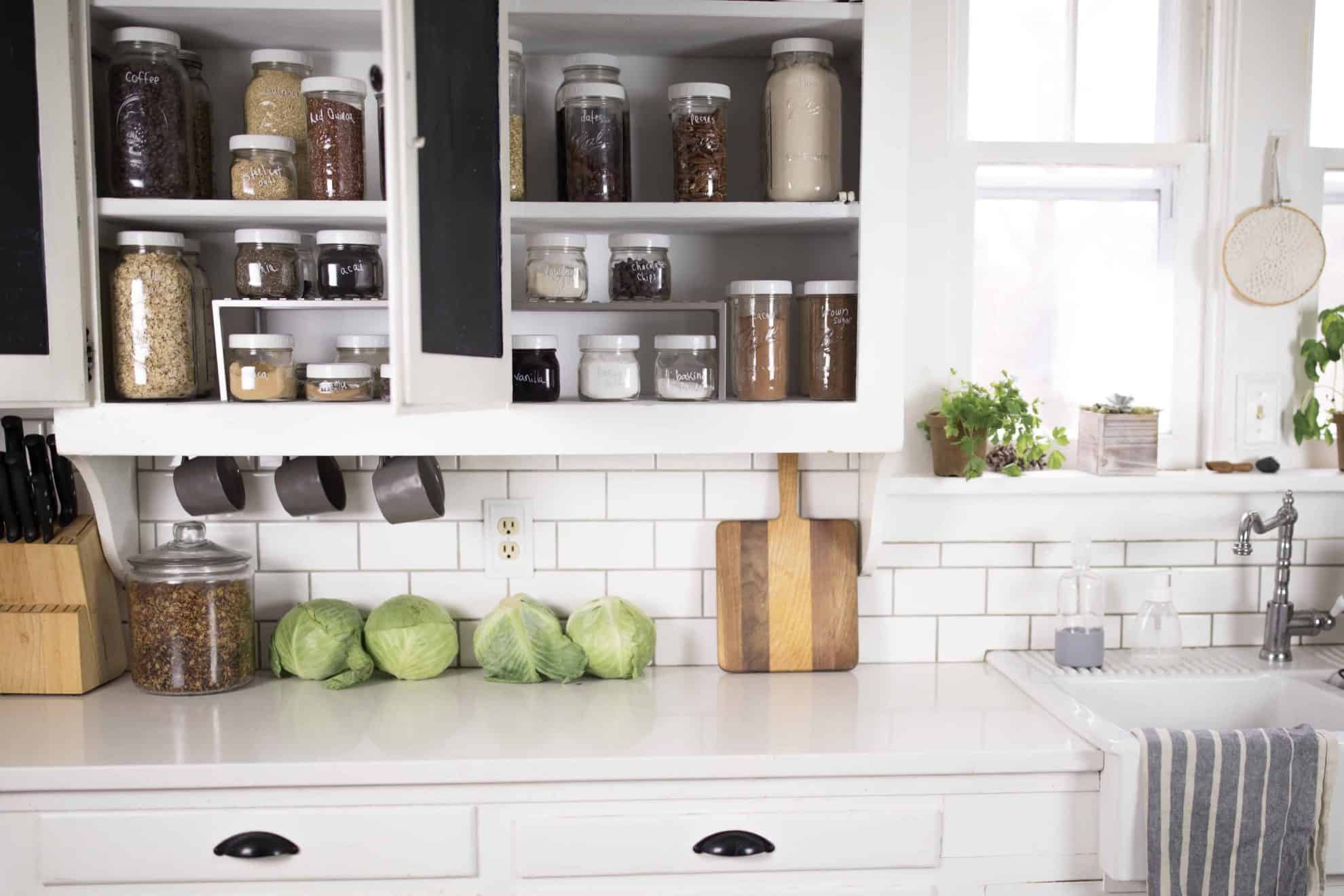 I spent the better part of Saturday afternoon researching the best options for dry food storage. I knew I wanted glass, to avoid the chemicals in plastic. They would also have to be pretty, of course. I loved loved looved the look of weck jars, but they are so darn expensive and the clamp/gasket setup can be a total pain. Well wouldn't you know it, I came full circle right back around to my beloved mason jars. They are cheap, durable and pretty. Should have known. Plus, I love that I can get plastic lids so I don't have to worry about rust with the metal lids.
I bought all wide mouth jars (easier to clean than regular mouth) in various sizes, half pint, pint, 24 ounce and half gallon.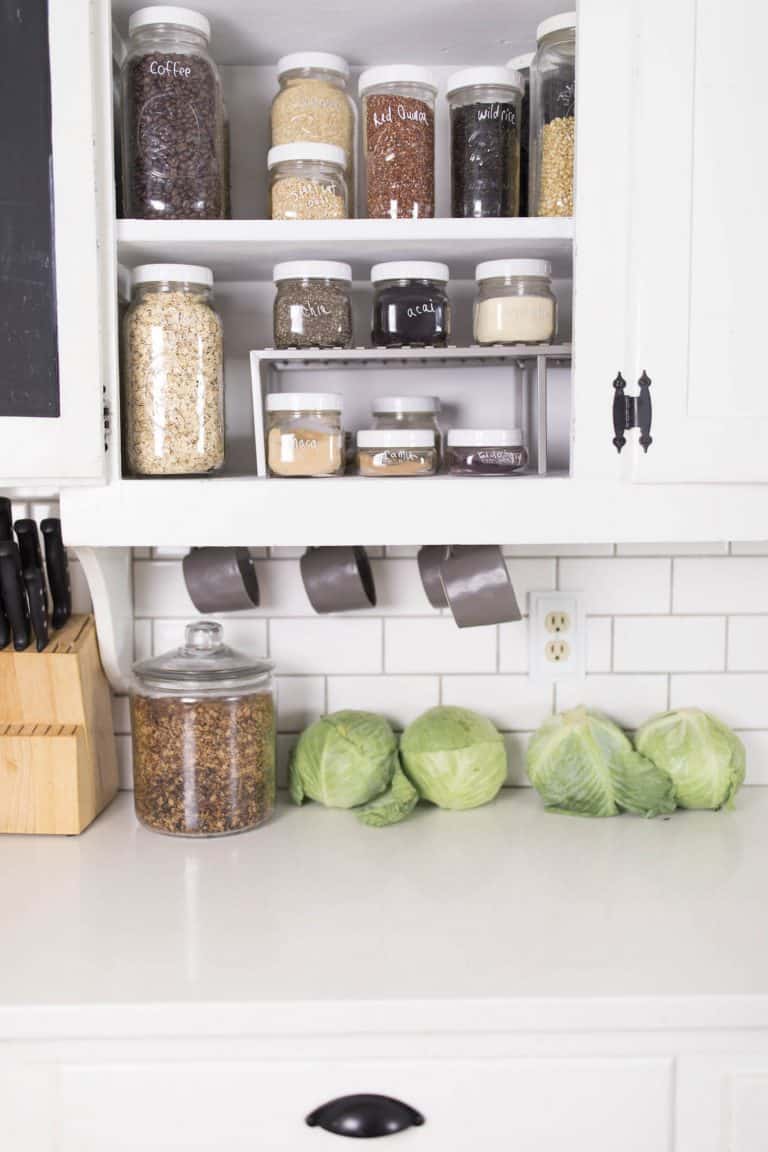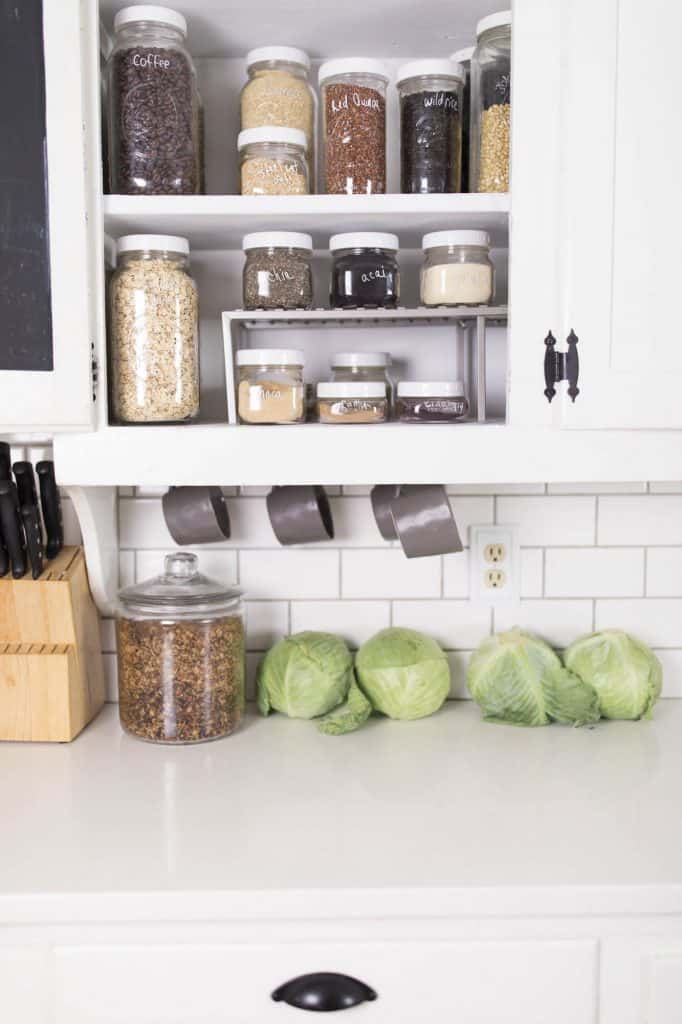 This expandable shelf came in handy to stack the smaller (pint and half pint) jars in the cabinet.
I was going to make some pretty printable labels, but then I saw an amazing idea from A Beautiful Mess just to write on them with a sharpie paint pen. That just seemed like waaay less work, and I loved the look!
After I was all set with game plan, I just started emptying my dried good into the jars and arranged them until they looked nice.
I finally thought through a kitchen layout that makes sense! I stacked drinking glasses, plates and food storage containers all together in the cabinets near the dining room. Food and supplements are all together in the cabinets near the stove.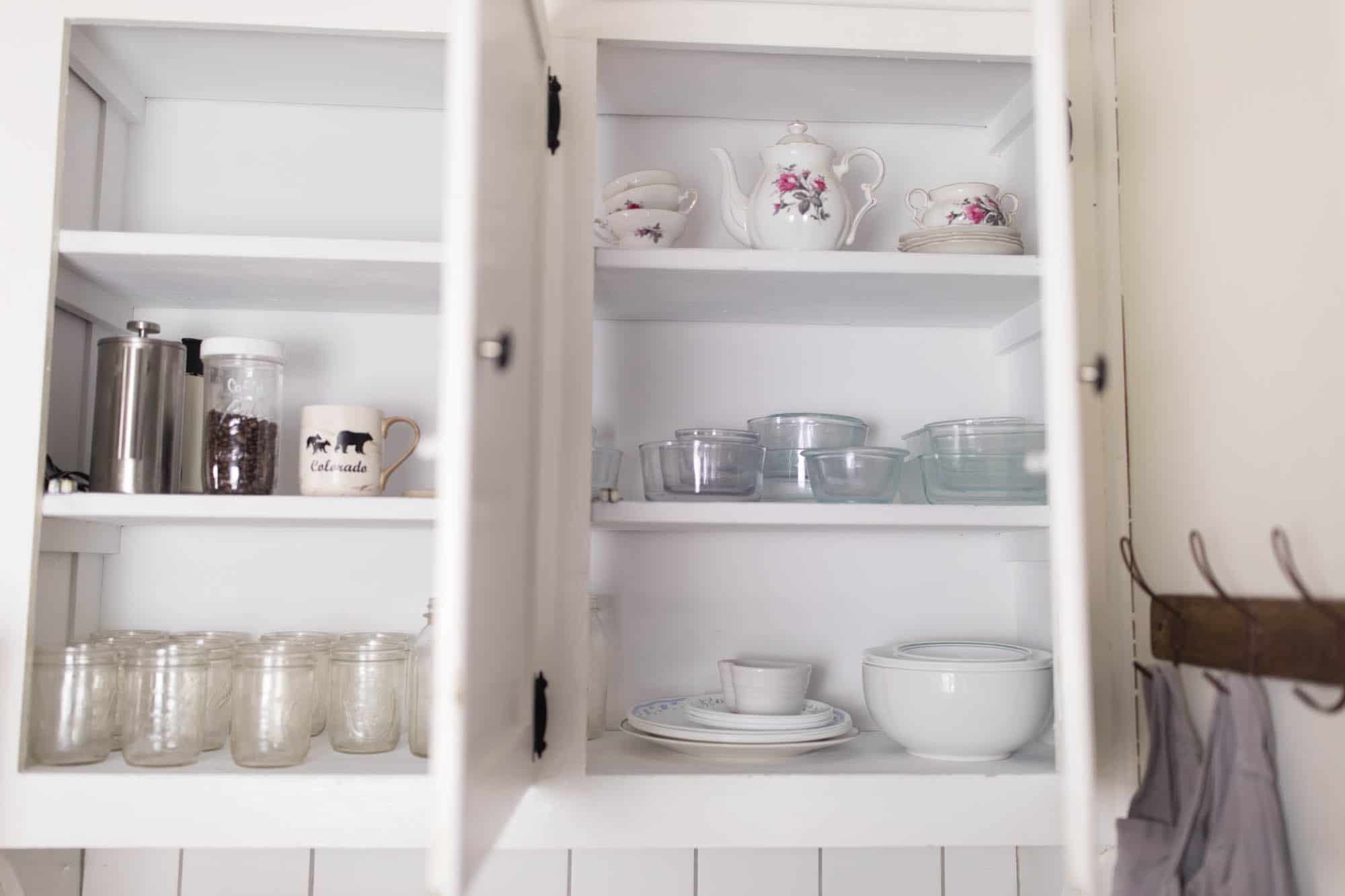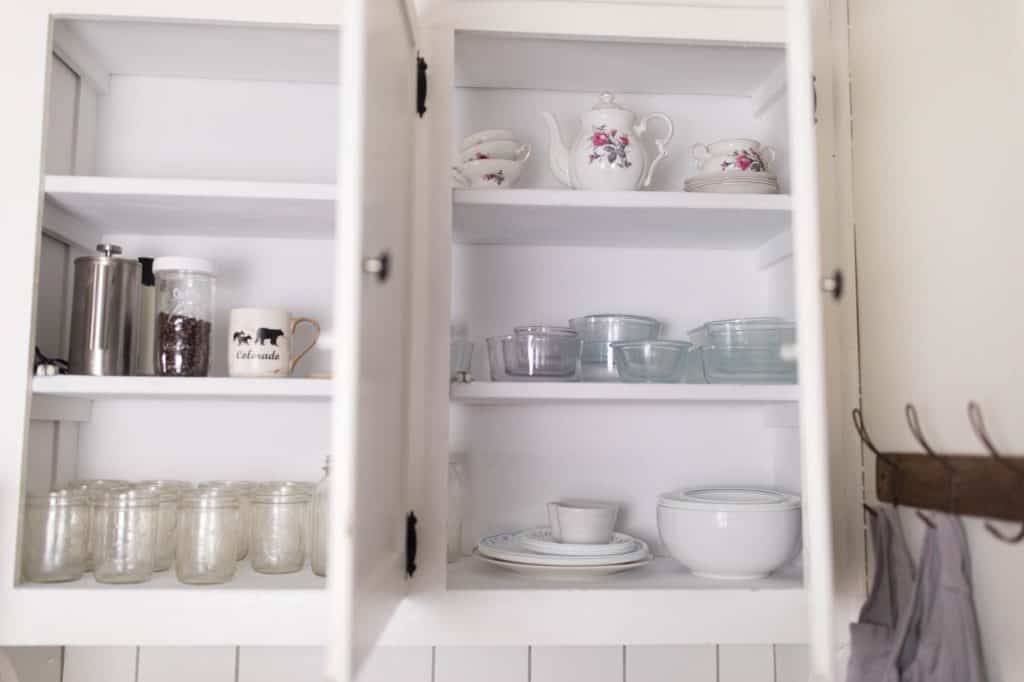 Get the full process in the video above!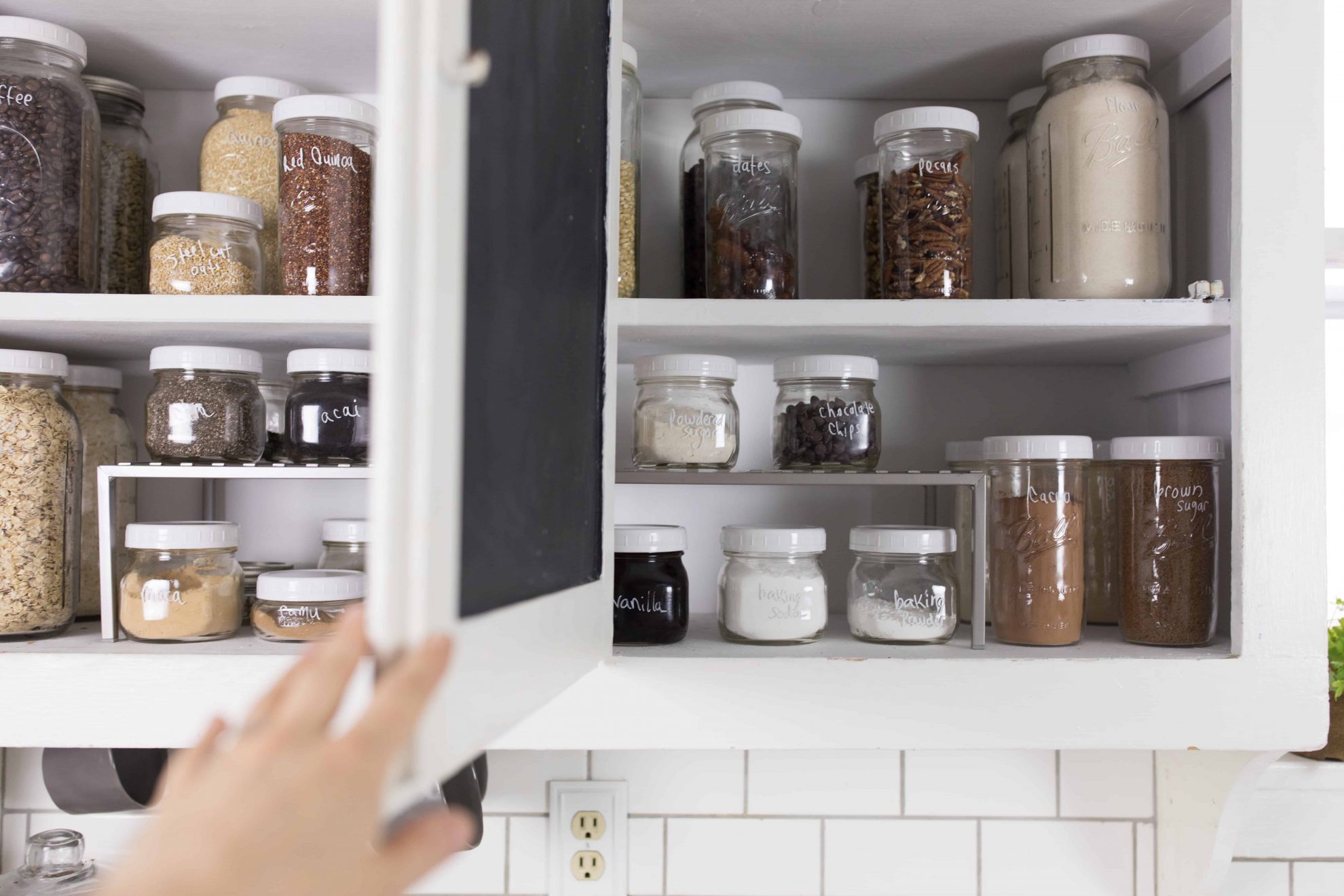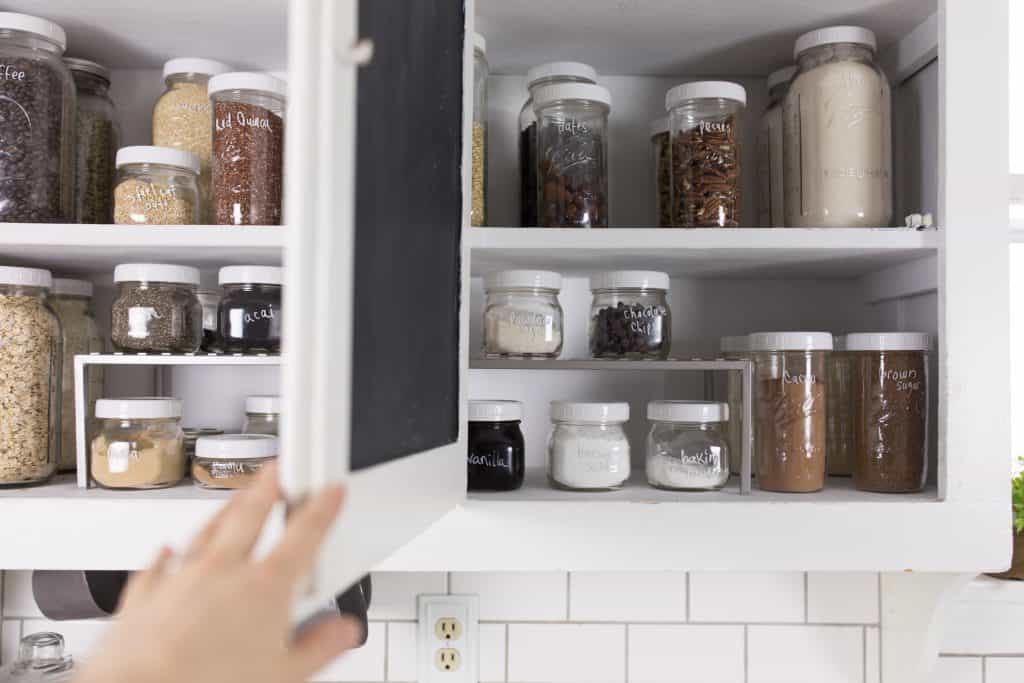 Shop this post
Wide Mouth Plastic Mason Jar Lids
24 Ounce Wide Mouth Jars (Best price on Waltmart.com)
This post may contain affiliate links which won't change your price but will share some commission.
FAQ about food storage in glass jars
Since my spice cabinet organization post, I have had a lot of questions about where I keep the extra spices that didn't fit in the little jars I used. For the spices, I didn't really have that problem. For a few of my most used spices, that I buy in bulk, I just filled two spice jars, so I can have the extra right in front of me on display. All the others were the right amount to fit in the jars.
However, I did have that problem for things like oatmeal, flour, shredded coconut, popcorn and quinoa. Since I buy those things in bulk, I did have quite a bit leftover from my display. Since our upper cabinets are very tall, and difficult to access, I have a ton of extra space up there. I hardly store anything in those upper cabinets, so now I have one dedicated to bulk "refill" items.
[thrive_lead_lock id='12979′]Hidden Content[/thrive_lead_lock]
Check out the spice cabinet I tackled last week. I'm thinking about doing an overhaul of the laundry room next! DO you have any tips for organization there?
Pin it for later