Sourdough pumpkin cobbler is the perfect fall dessert or breakfast. Warm, spiced, organic pumpkin filling is topped with sweet sourdough biscuits. Top with ice cream to make this pumpkin dessert irresistible.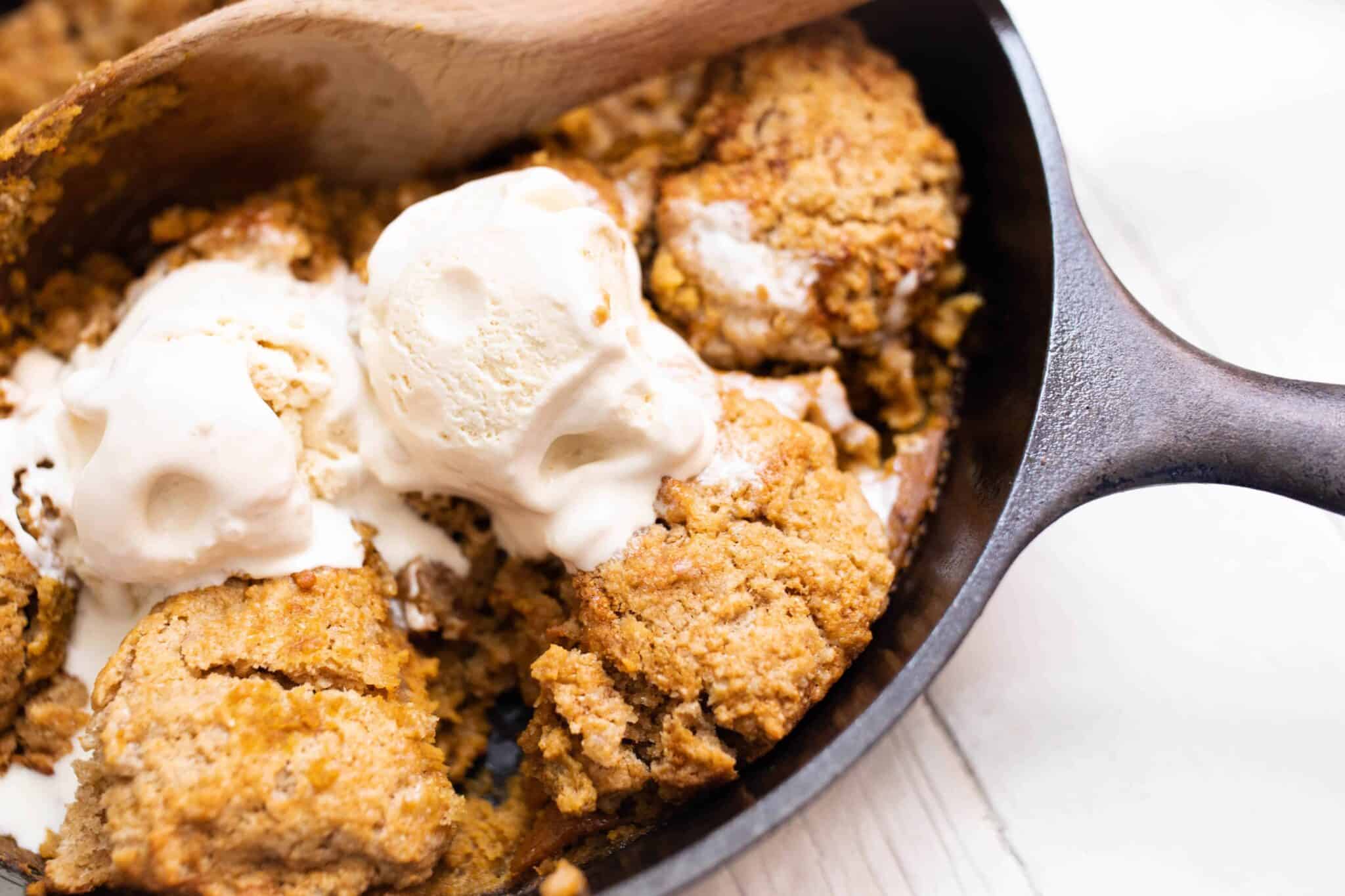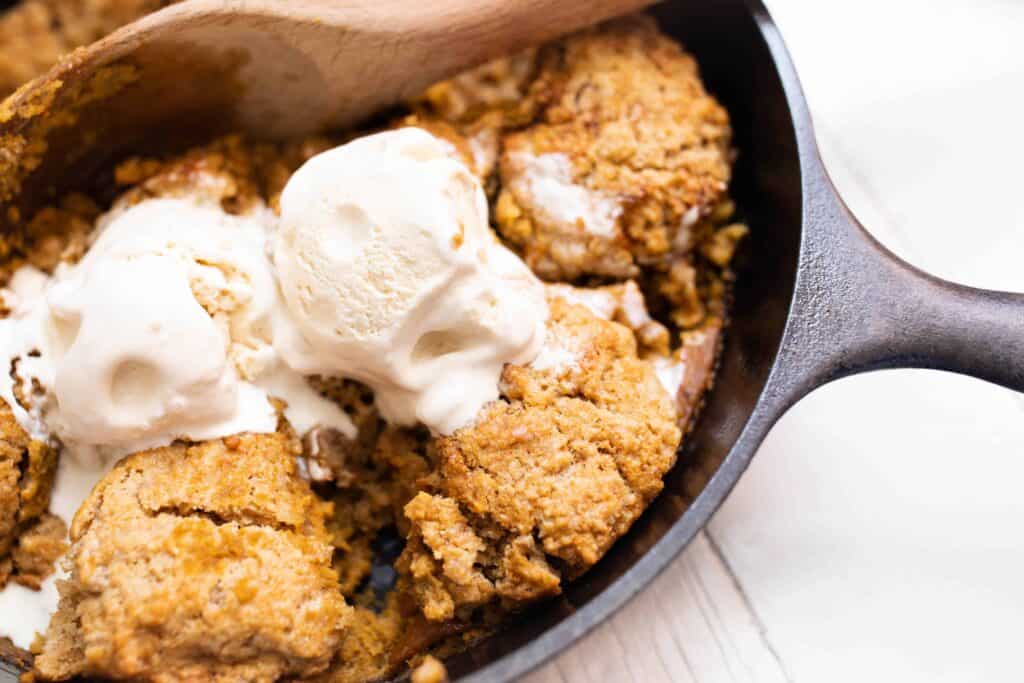 Pumpkin desserts are one of our favorites, especially during fall.
As the weather starts to cool down, I start to crave the flavors of warm, pumpkin-y spices, which are totally not limited to pumpkin, by the way. They also work well with apples, sweet potatoes, squash, and more.
This recipe hits all of those flavors, and it tastes so good. It is like a pumpkin pie, but with the crust on the top.
Plus, it incorporates my favorite: sourdough.
It's a common misconception to think sourdough is only limited to breads and more savory dishes. Sourdough desserts are amazing, too! And this recipe could be eaten for breakfast, dessert, or both.
This recipe is a variation of my peach cobbler. You can use fresh, sweet peaches for summer and seasonal pumpkins for fall.
Is there anything better than fall desserts? Maybe if they are covered in ice cream. Yum.
Give me all the pumpkin and apple recipes.
Tips For Making Pumpkin Cobbler:
I use a well-seasoned cast iron skillet; you could also use a 9×13 baking dish. You may need to decrease the time of baking.
For a breakfast recipe, try decreasing the amount of sugar by half. Our family doesn't like too much sugar for breakfast.
If you don't have a biscuit cutter, you could use a wide mouth mason jar, cup, or lid.
If you are sensitive to gluten, try fermenting the grains for a full 24 hours.
This post contains affiliate links, which means I make a small commission at no extra cost to you. See my full disclosure here.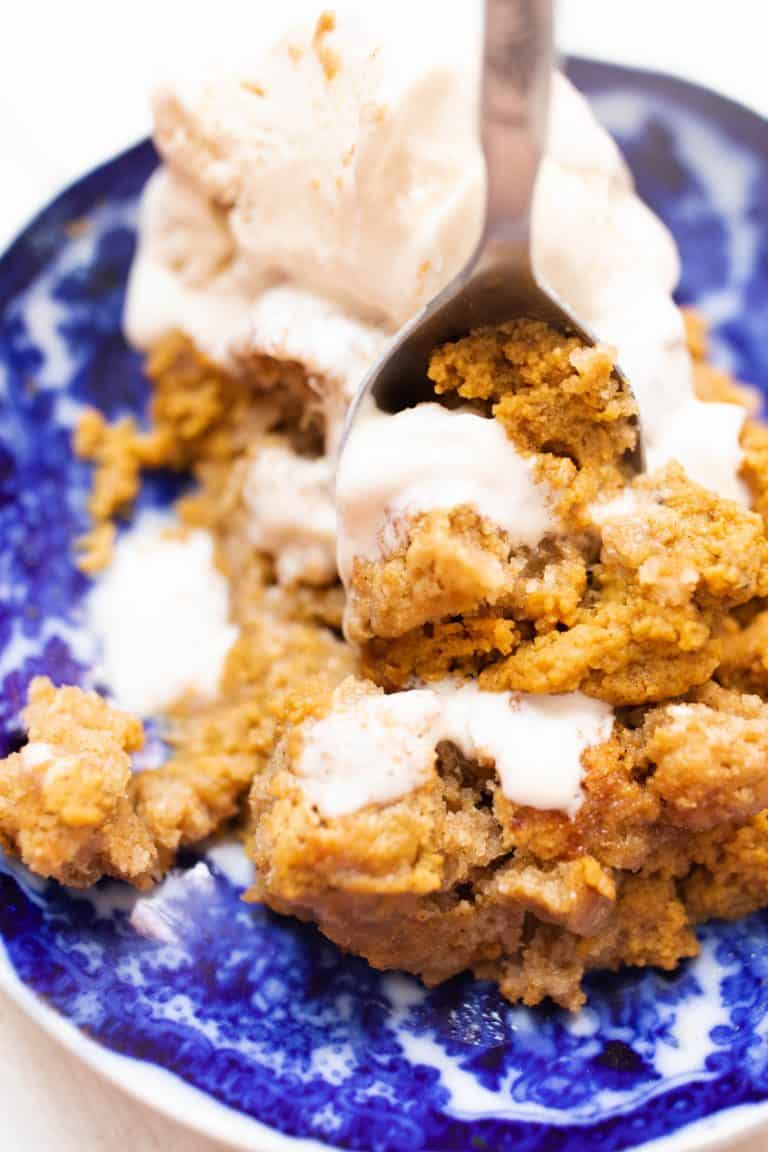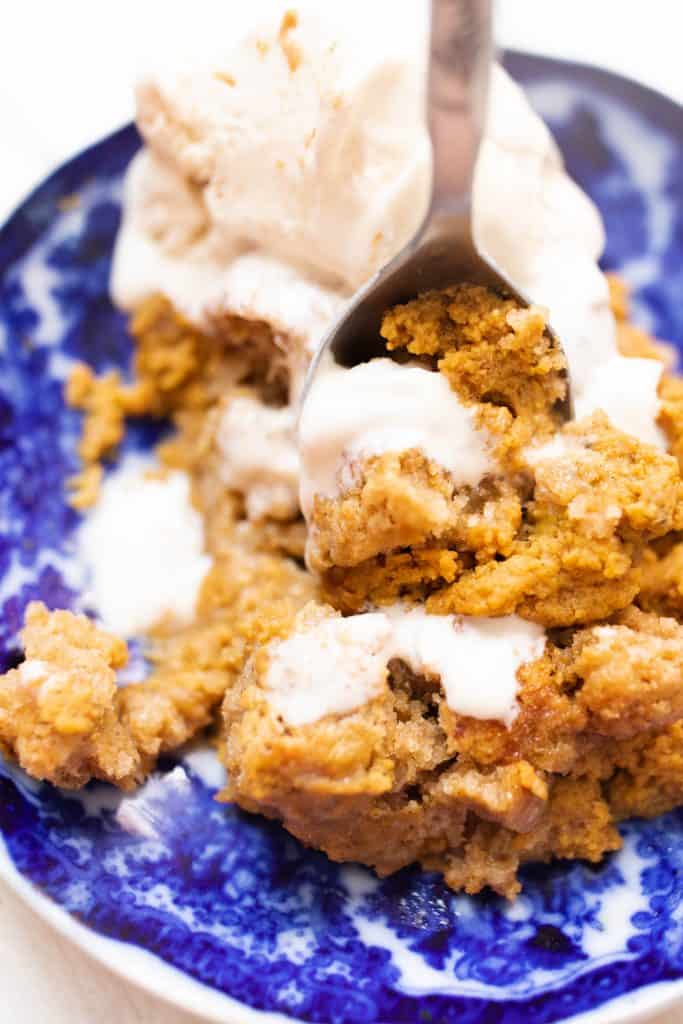 Sourdough For Healthier Grains
If you are totally new to sourdough, make sure to check out my how to make and care for a sourdough starter. Find all my sourdough recipes here.
Sourdough recipes begin with a sourdough starter, which is a water-flour combination that has captured wild yeast in the air, and then is used to help grain products naturally rise. When baking with a sourdough starter, you usually combine the starter with grains, and then allow them to sit at room temperature to ferment.
Not only does this process make the finished product taste amazing, but it also has some health benefits.
During the fermentation process, phytic acid is broken down, which helps make the nutrients in grains more bioavailable, and improves the nutritional profile of wheat. It also increases some nutrients in the grain, like folate, and can increase the amount of antioxidants.
Fermenting grains can also make them easier to digest, and sourdough products may contain lower amounts of gluten. (source)
Those who have gluten sensitivity may be able to tolerate gluten that has been fermented for 24 hours.
Can I make this in advance?
You may be able to make this a few days in advance. I would make each part separately, and assemble right before baking.
Then, when you're ready to make it, bake the pumpkin filling first, cut the biscuits, place the biscuits on top, and bake again.
What pairs well with pumpkin cobbler?
Eat it on its own as a dessert, paired with some homemade ice cream.
Or eat it as a breakfast with some delicious coffee. There is just something totally satisfying about pairing strong coffee with a sweet breakfast treat.
How do you know a cobbler is done?
It should be bubbling, the pumpkin filling should be starting to turn golden brown around the edges, and the biscuits on top should be golden brown. You can insert a thermometer – when it reaches 200 degrees, it is ready.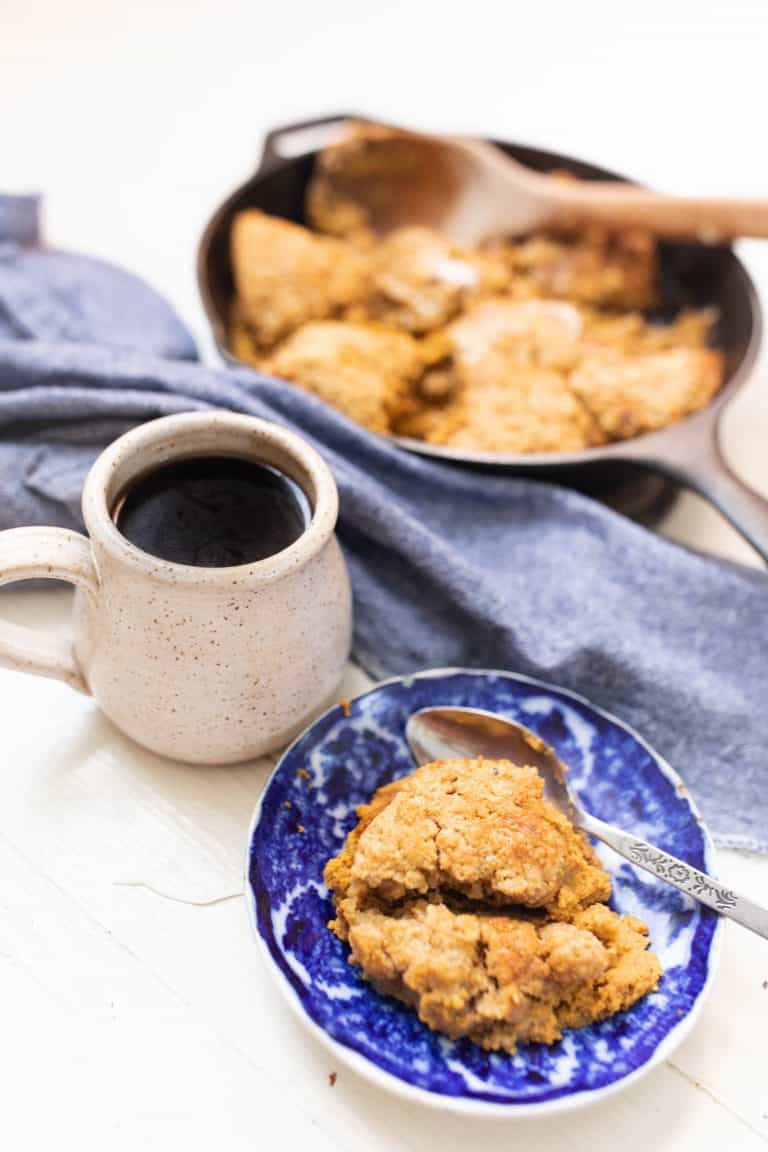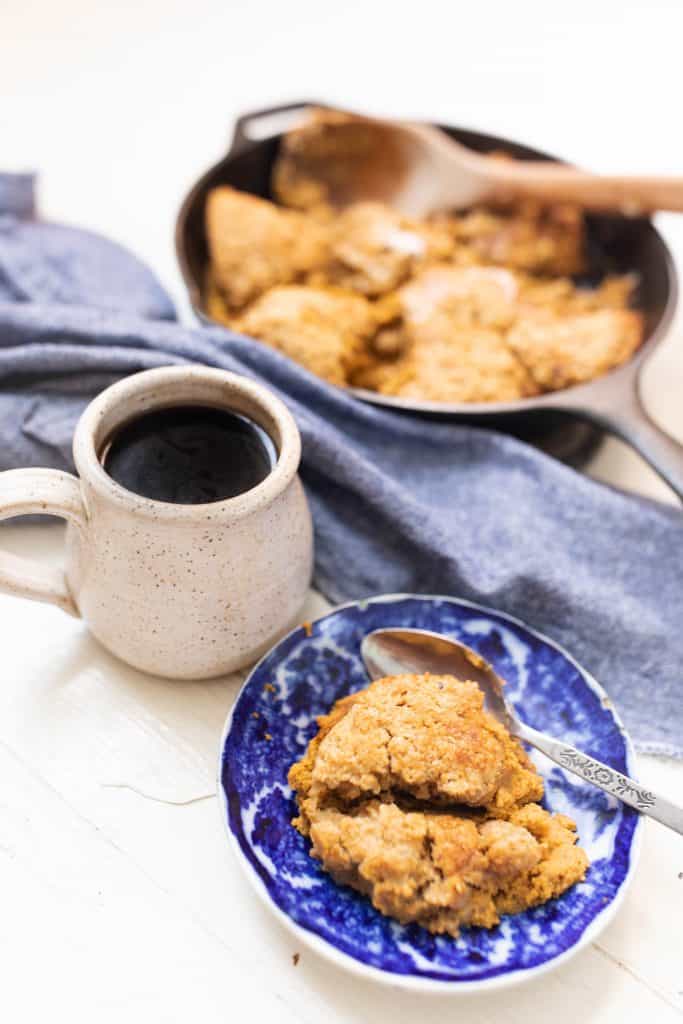 Tools you may need:
Sourdough Pumpkin Cobbler Ingredients
Sourdough Biscuit Topping
2 cups flour – I use freshly milled flour
1/2 cup of sourdough starter
1/3 cup melted coconut oil
1/4 cup honey
1 teaspoon baking soda
1 teaspoon baking powder
1/2 teaspoon salt
1/2 cup heavy cream
1/4 cup organic brown sugar (coconut sugar or rapadura are great alternatives, for a healthier version)
Cobbler Filling
2 cups pumpkin puree
3 eggs
1/2 cup coconut or organic brown sugar
1/2 cup milk (raw milk or coconut milk)
4 tablespoons butter or melted coconut oil
2 teaspoons vanilla extract
2 teaspoon pumpkin spice
¼ teaspoon salt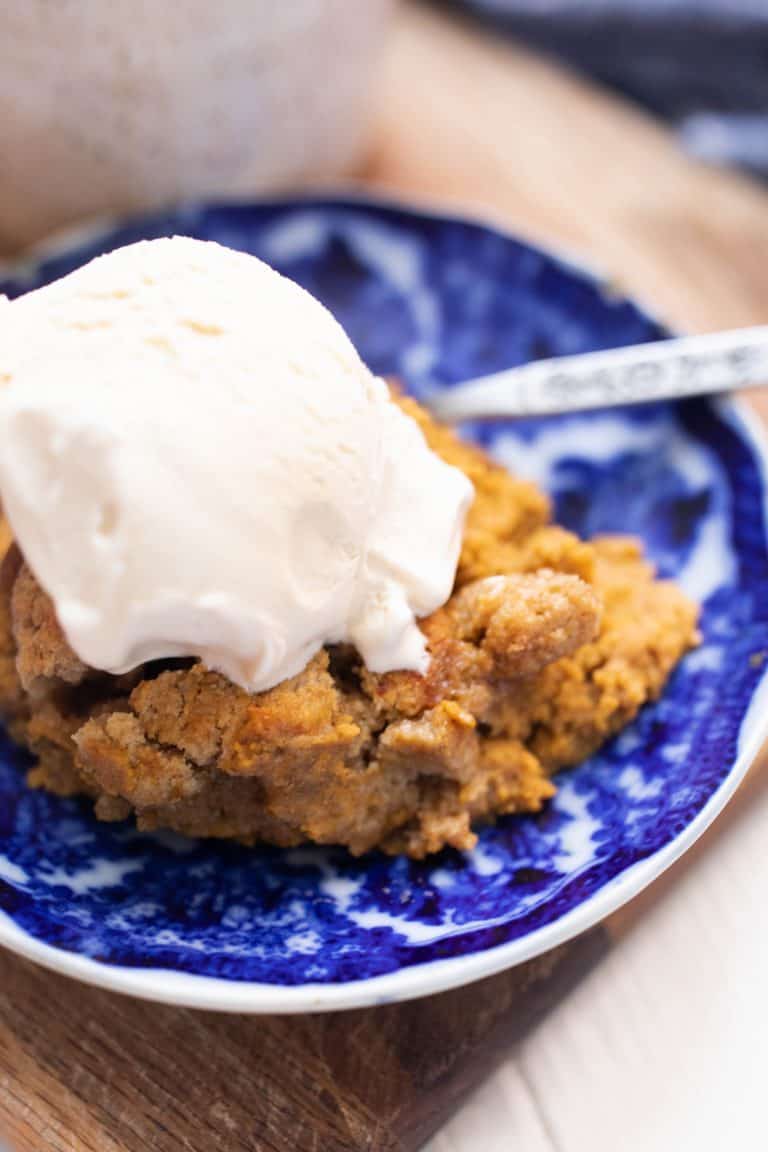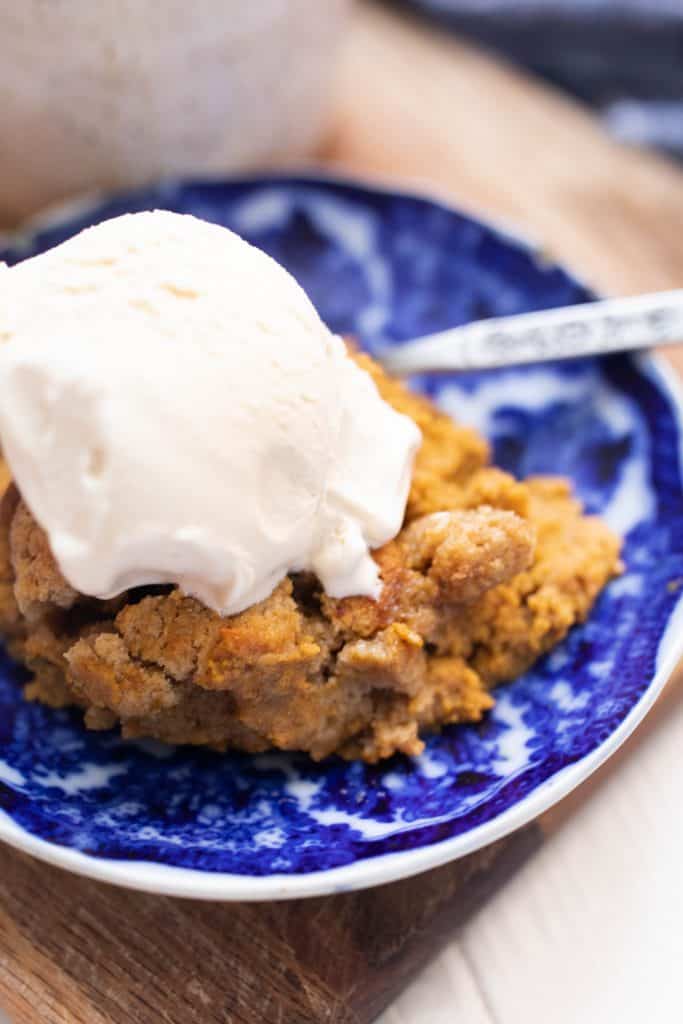 How To Make Sourdough Breakfast Cobbler
Step 1: Mix The Sourdough The Night Before
Stir together the flour, sourdough starter, melted coconut oil, and honey.
Let it sit out for 8-24 hours to reap the sourdough benefits.
Step 2: The Next Day Make The Pumpkin Cobbler