I guest posted this story at Modern Alternative Pregnancy.
I was eight days past my due date on a mild evening last August when I had my first real contraction. Although I was "overdue" I was still enjoying the pregnancy and wasn't overly anxious for it to be over. I had fully planned on going at least a week past my due date, because that is when my babies seem to want to naturally come.
It was a Wednesday evening, so we had our kids all loaded in the van to head to our church small group. Up until this point I hadn't told my husband about the contractions. Since we had our last child in the van, I knew he would want to race home and call the midwife. I could tell that there was nothing to worry about because the contractions were about 20 minutes apart and not getting any closer together. If they ever started gaining momentum, I was fully prepared to take action because of my history of precipitous labor.
But, they didn't. They just kept on coming every 20-30 minutes all night long. They were strong enough to wake me up but they weren't getting closer together.
The plan had been to call the midwife at the first sign of labor, because she recommended I needed a round of antibiotics 3 hours before the birth for my positive group b strep status.
So, around 5 a.m. I finally decided to giver her a call, even though the contractions still weren't any closer together. I knew I could kick the labor into high gear at any time with my little secret weapon that I also used for my last birth.
She arrived around 6:30 a.m. and gave me a round of antibiotics. I felt so weird because I never had another contraction the whole time she was there. I was worried that I wasn't really in labor. She told me she was going to go somewhere close by to have some breakfast and tea while I labored at home. I was given the instructions to call her right away if anything changed. I also told her about my intention to use my secret weapon and she approved the plan.
Things Start to Pick Up With the Help of…
As soon as she left, I busted out my trusty labor inducing breast pump. For me, this thing is as good as a high dosage of pitocin. It is only one of the hand crank cheapies from Wal-Mart but it more than does the trick. I would never recommend trying it without the approval and oversight of your midwife. My midwife knew I was doing it so she stayed very close by.
Around 7:30, I started pumping. Within 30 seconds, it brought on a contraction. After that wave was over, I waited 4 minutes and pumped again until it brought on another contraction, which always only took about 30 seconds. I only had to do this about 10 times before labor was well established.
At 8:30 my water broke. This was the first time my water had ever broken before the pushing phase, so I wasn't sure what to expect. I called the midwife right away because in previous births this meant the baby was almost here. Up until this point I had been able to walk around in between contractions and only throw myself down into a relaxed position when each wave came. After my water broke, things became a lot more intense. I didn't walk around between contractions for fear I wouldn't be able to get into a relaxed position when the next one came. I did NOT want to be walking around at the start of a contraction. As long as I was deeply relaxed, I could get through each contraction quite well and stay in control.
My midwife and the RN from the birth center came to my house and checked the baby's heart rate. They saw that all was well and headed to the front porch where they hung out for the next couple of hours. They came inside only intermittently to check the heart rate. My midwife knew that I like to labor alone in privacy, so they made their presence very minimal. When they did come in they did the check very quickly and quietly. They made sure I hardly knew they were there.
My midwife told my husband to come out and get her when the contractions changed. Because we already had a couple of natural births under our belt, we knew exactly what she meant by "changed."
A little after 10 a.m. I told my husband I couldn't relax any more, which is what I always say when I am in transition. He went to the front porch to fetch the midwife and RN. It was time to have the baby!
Baby Time!
The midwife came in and started getting out towels and swaddle blankets. I asked her how I could know it was really time to push since she never checked for dilation and what would be the best position for birth. I don't know why I was having so much self doubt at this point, as I had already had two babies where I was never checked for dilation and didn't need anyone to tell me what position I would be comfortable in. My midwife just encouraged me to do whatever was comfortable. If I felt like pushing it was probably time to push. If laying on my side, back or squatting was comfortable I should do whatever felt right.
I pushed through a few contractions on my side but then I wanted to lay on my back when he was actually crowning. Everything I ever read about birth discourages being on your back for birthing, but it felt more comfortable to me, and my midwife didn't discourage it. She took a very hands off approach and was just there to intervene when needed.
When the baby started to crown, my midwife encouraged me to give a big push. I learned later that she was a little concerned because the baby didn't have very good color, for reasons I will get to later. She didn't show her concern to me, though, so I could focus on birthing without being worried or panicked.
After only about 15 minutes of pushing, a beautiful baby boy was born! He was 8 lb 10 oz and 21.5″ long. We hadn't found out the gender, so it was so exciting to finally know who I was carrying the last 9 months.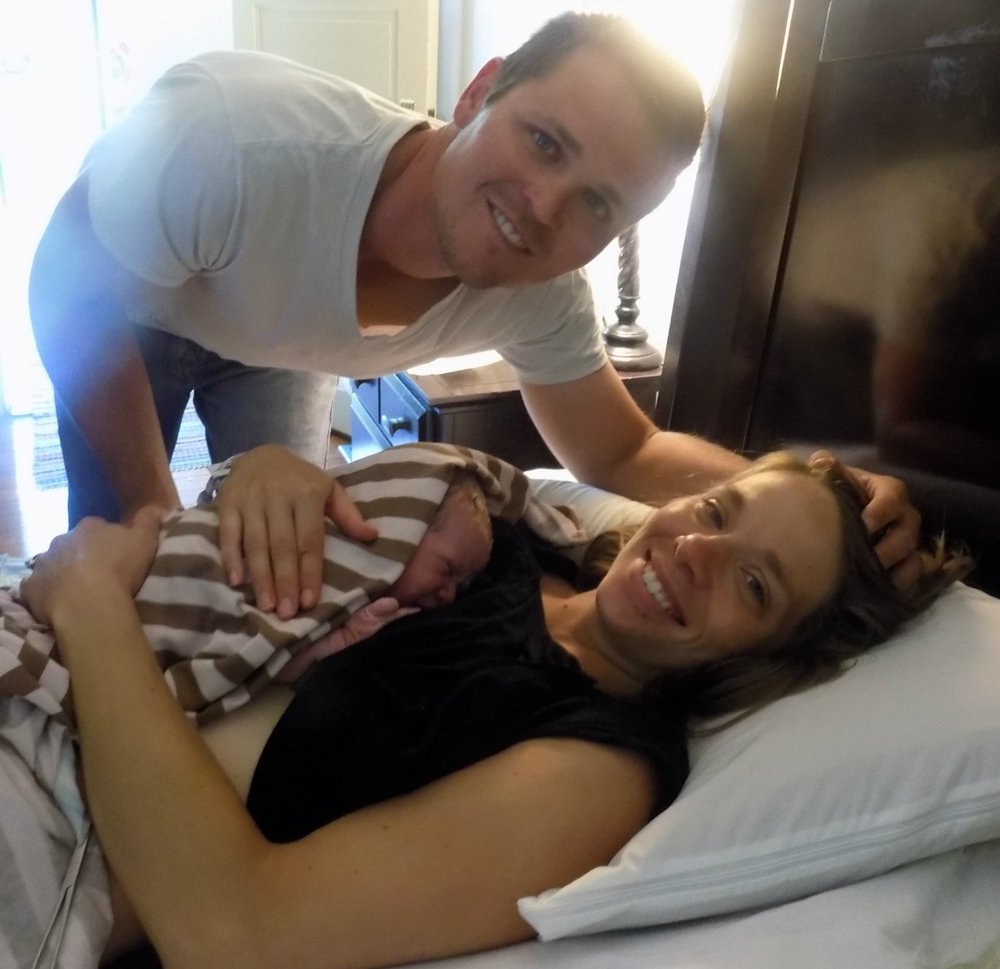 My midwife clamped and cut the cord right away because this was my second baby to have a "true knot" in the cord, an apparently rare cord presentation that occurs in 1 out of 100 pregnancies. Somehow I defied the odds by having two babies who managed to swim through their cord and pull it in a knot. Sometimes a knot in the cord can cause serious complications. The knot was the reason he was losing some color as I was pushing. Because he was born quickly, the knot didn't cause any complications. He came out crying and vigorous.
The midwife and nurse hung around for a couple hours to make sure we were healthy and to help clean up. When we were all good, we were left alone to snuggle our precious newborn baby.
During labor no one was doing the uncomfortable dilation checks or the unnecessary interventions, like pitocin and breaking my water. After birth no one was taking my baby away to the nursery, or doing checks in the middle of the night when I was resting. We were left to cuddle and bond skin to skin.
I love homebirth because it allows for everything before birth and after to unfold as naturally and unhindered as possible.