We did a little farmhouse boys room makeover to get this space a little more cozy. Everything in this old Victorian farmhouse is a work in progress, but I love bringing you along on the journey.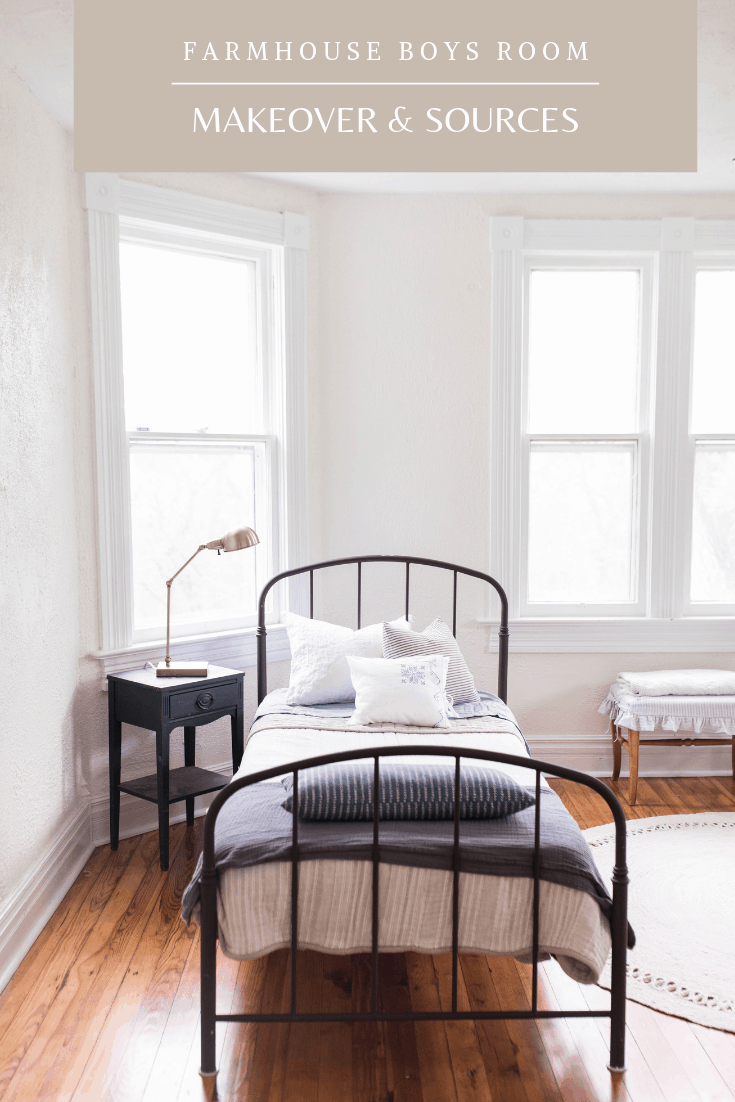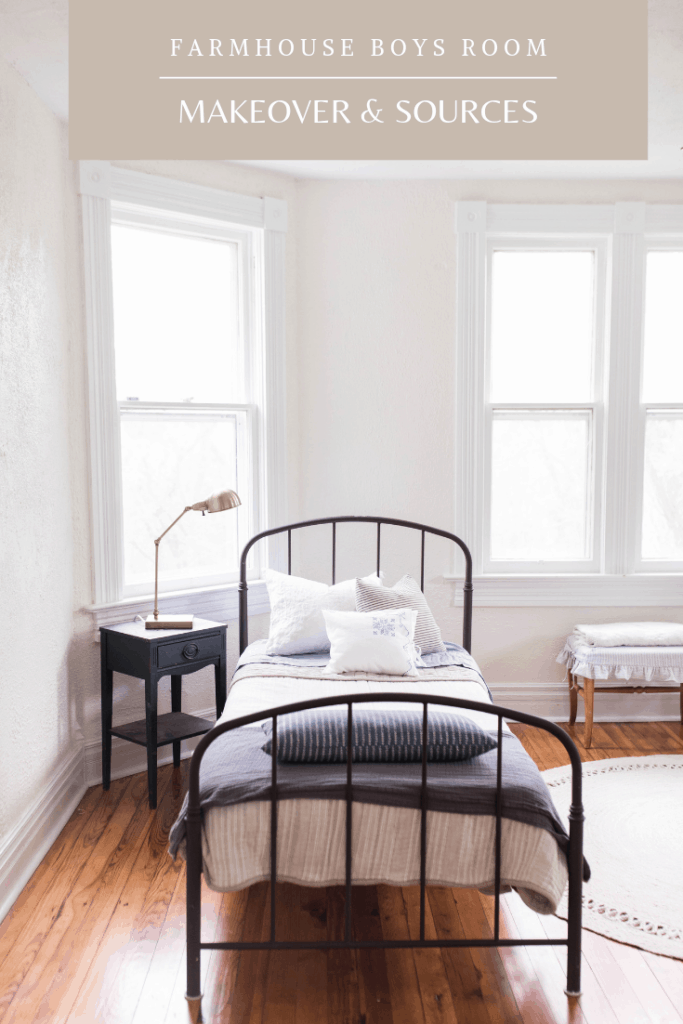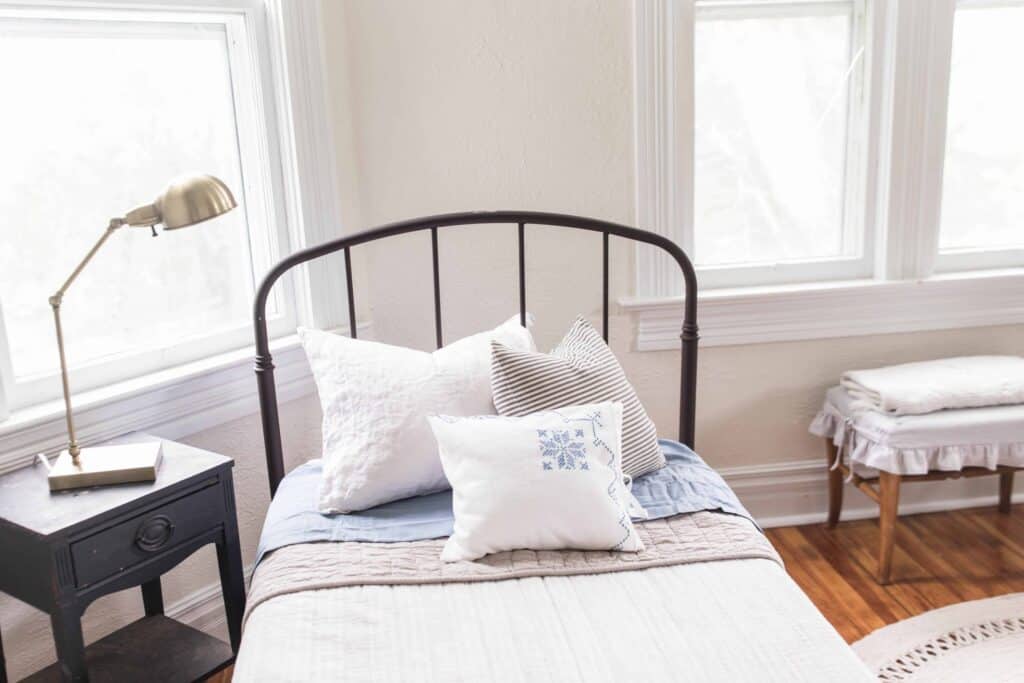 Some links are affiliate links, which means I make a small commission at no extra cost to you.
When we bought this home back in January, the boys room looked quite a bit different. With chocolate brown painted wood floors, and red walls, it was in need of some major attention.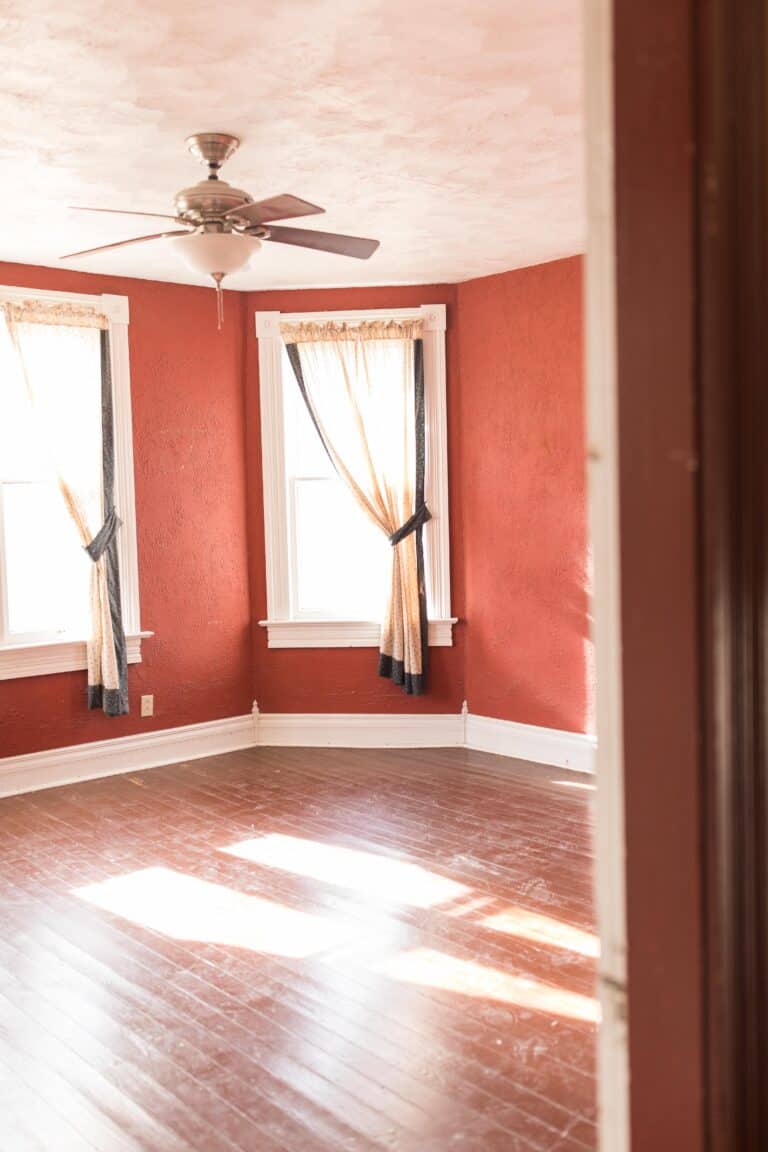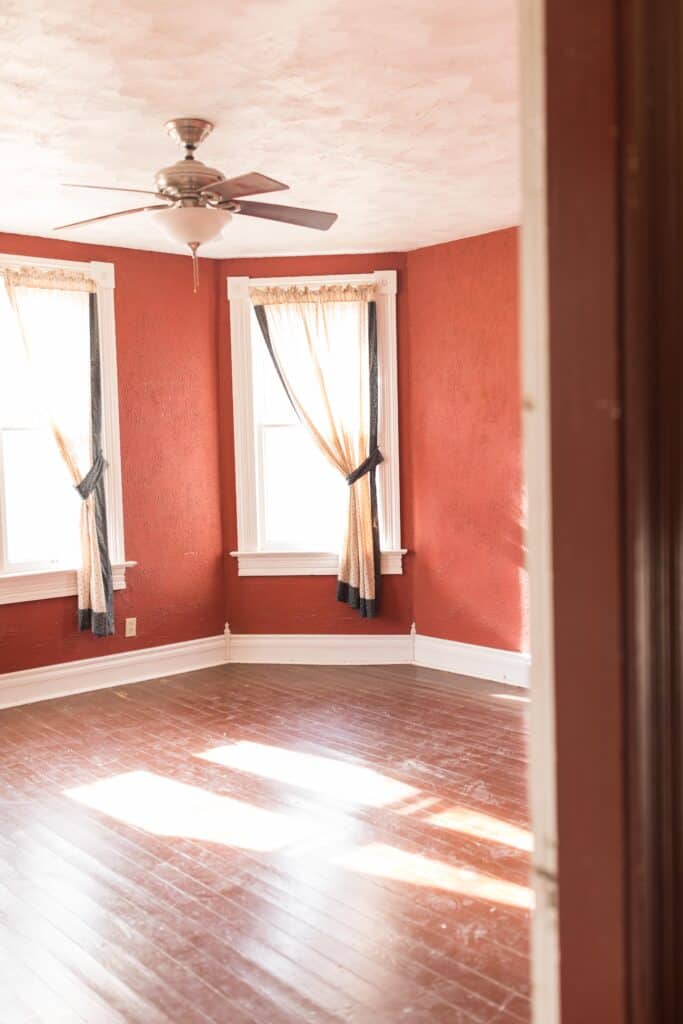 Try as I may to love a lot of color, neutrals and simplicity just make my heart happy. We lightened the room up by sanding the heart pine floors to reveal their beautiful color. We also gave the walls a coat of Benjamin Moore Dune White and the trim a fresh coat of white.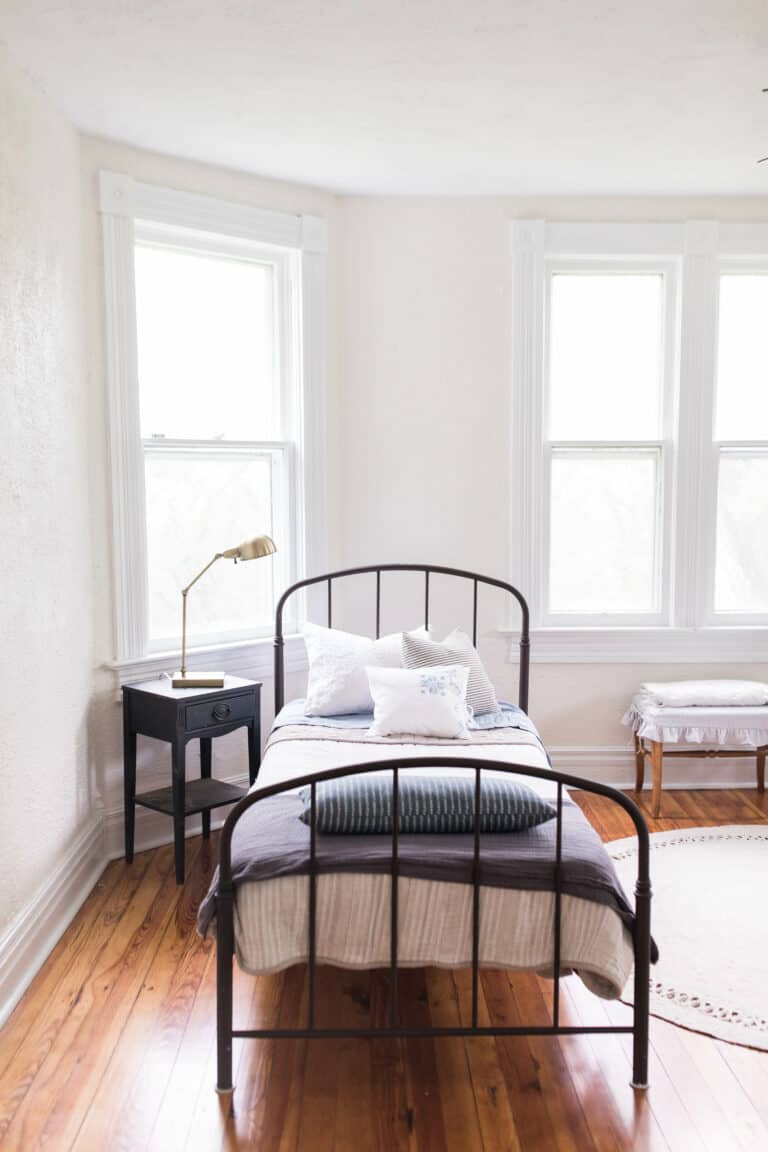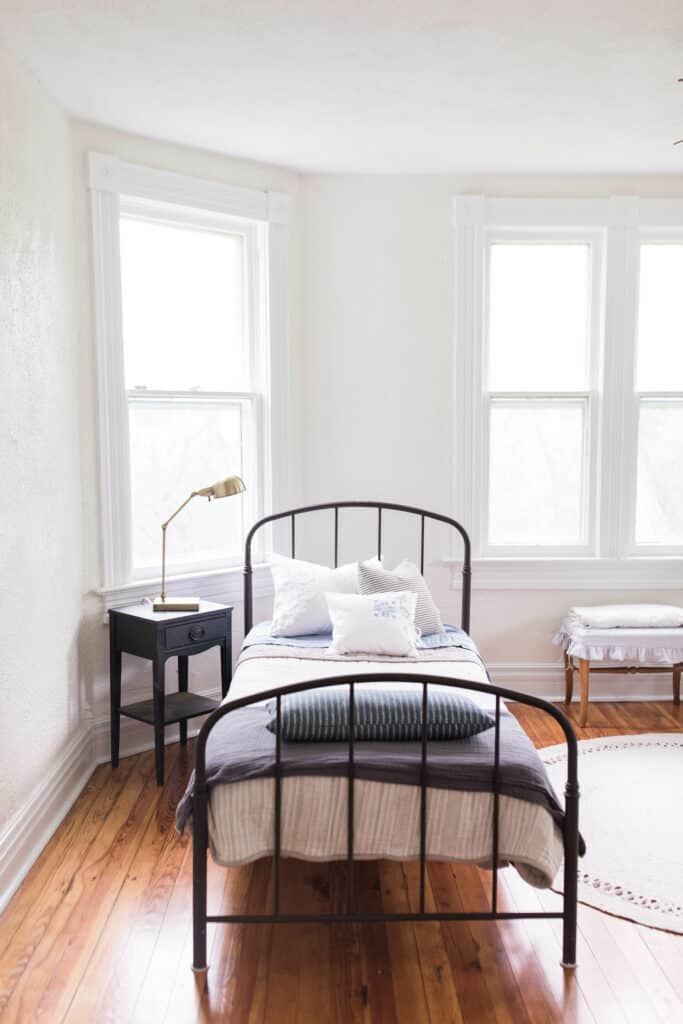 Follow along with our full restoration journey, and see all the progress posts HERE.
We brought in the iron beds we had from the last house. I made the pillow cover at the foot of the bed, as well as the double gauze throw blanket, ticking stripe pillow and the ruffle bench slipcover.
I love bringing rooms together slowly, with lots of DIY and collecting. Read all the way to the end of this post to see the tutorials for everything I DIYed in this room. You can recreate some of them for your farmhouse style home decor!
For this room, we have a large vintage armoire in the corner. This is where we store all of the boys' clothes. It has a hanging rack on one side and drawers on the other. Since this old farmhouse came with no closets, antique armoires are the perfect solution.
Decorating with vintage finds
My favorite way to bring a unique personality into every room is with vintage finds.
Antique items I found for this room:
The desk- This came from a local antique shop for only $25! I like that it has a little bookshelf and plenty of room for drawing.
The fan- I love the green color. It helps to incorporate the other greens and blues around the room. We will be removing the cord, s0 no one will lose a finger. I paid $21 for this, and it does actually work!
The wooden train- I couldn't pass it up for $16. Any time we have something that is both practical and beautiful it is a great item to buy. Jude loves this train as much as any of his ugly plastic toys.
The bench- The little bench in between the beds came from a thrift shop for only a couple of bucks. I made a linen slipcover for it, to cover up the ugly fabric below.
The embroidered pillows on the boys' beds- This was a vintage table cloth that I turned into two pillows. When you see needlepoint that pretty, and for only $8, you don't pass it up!
The chair- This little chippy blue chair came from an antique mall. I don't remember exactly what I paid for it, but it wasn't much!
You can find more of my posts/videos about collecting antique finds for farmhouse decor here:
Antique Shopping for our new Farmhouse
Farmhouse Antique Shopping Tips
Farmhouse antique shopping for our Victorian farmhouse design plans
Victorian farmhouse thrift shopping
How to Find Farmhouse Decor at the Thrift Shop
Farmhouse Boys Room Makeover Video
You can hear more about the design process for this room in the video below.
Shop our Farmhouse Boys Room Makeover
Twin Iron Beds
Gray Stitched Stripe Quilt
6′ round braided area rug
Brass vintage desk lamp
Basket by the desk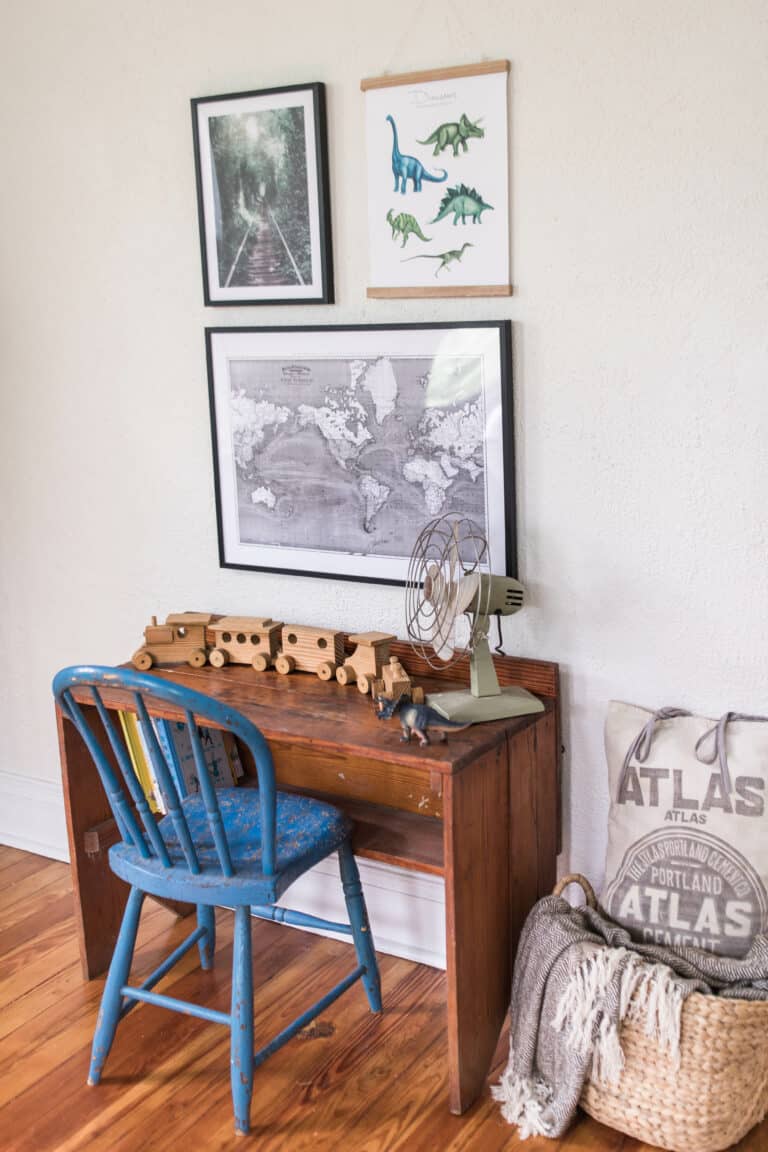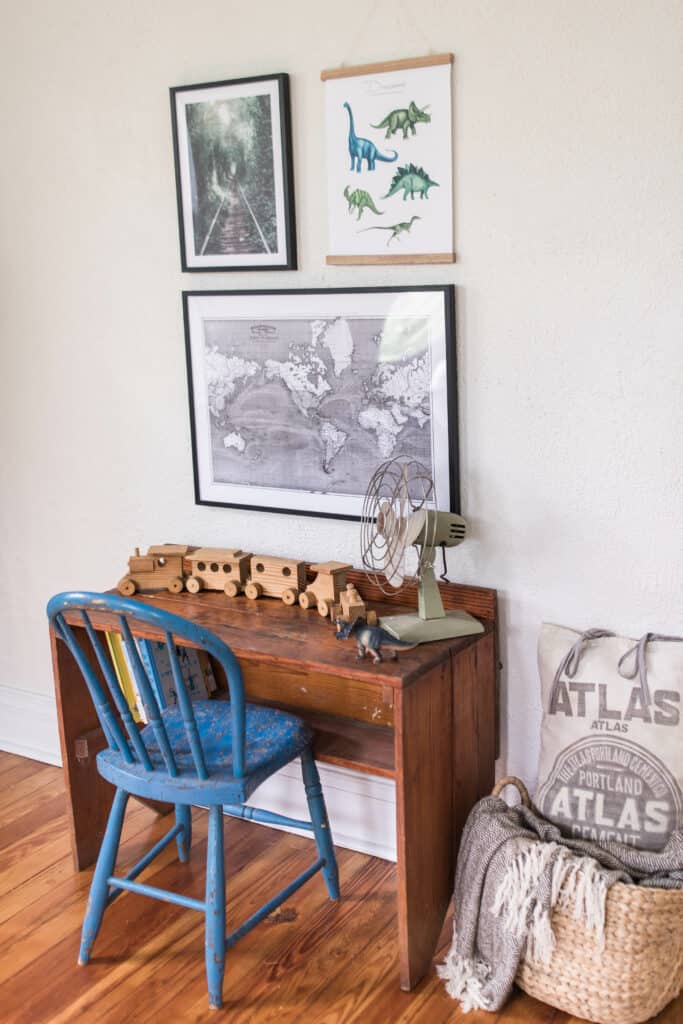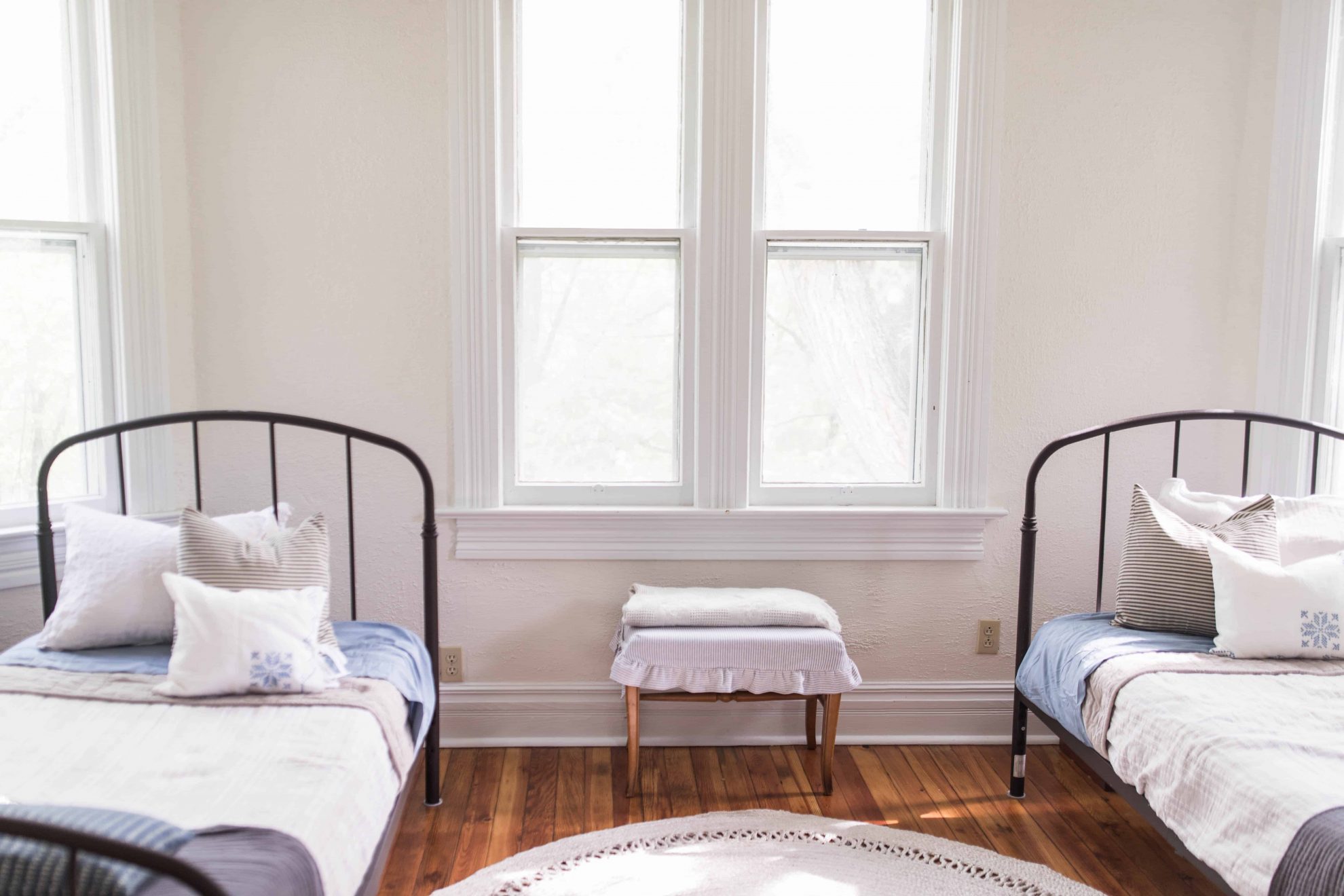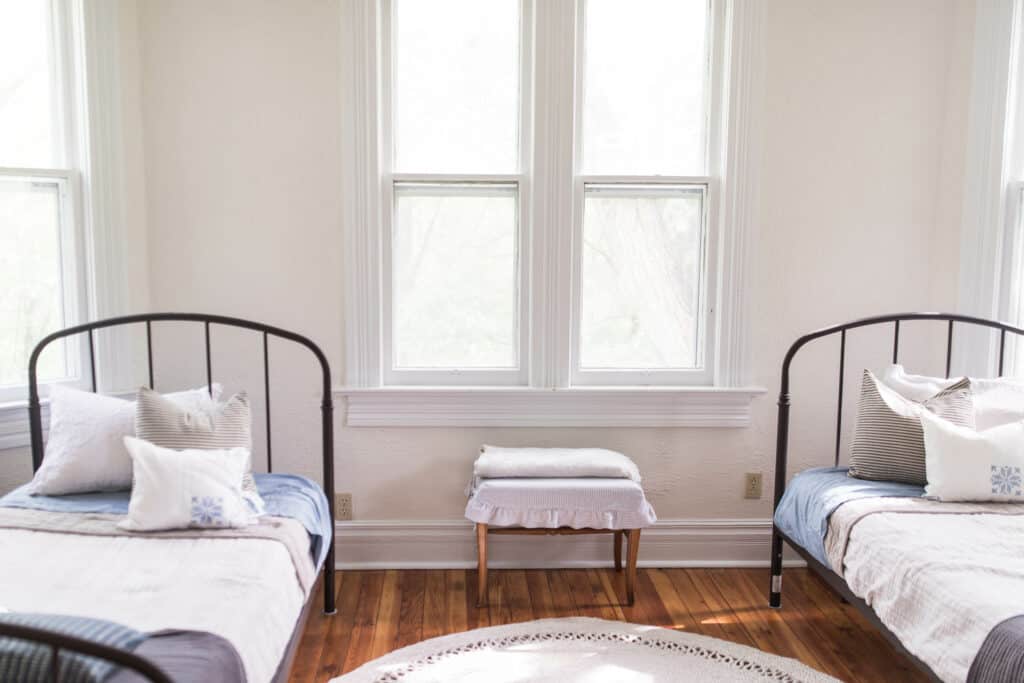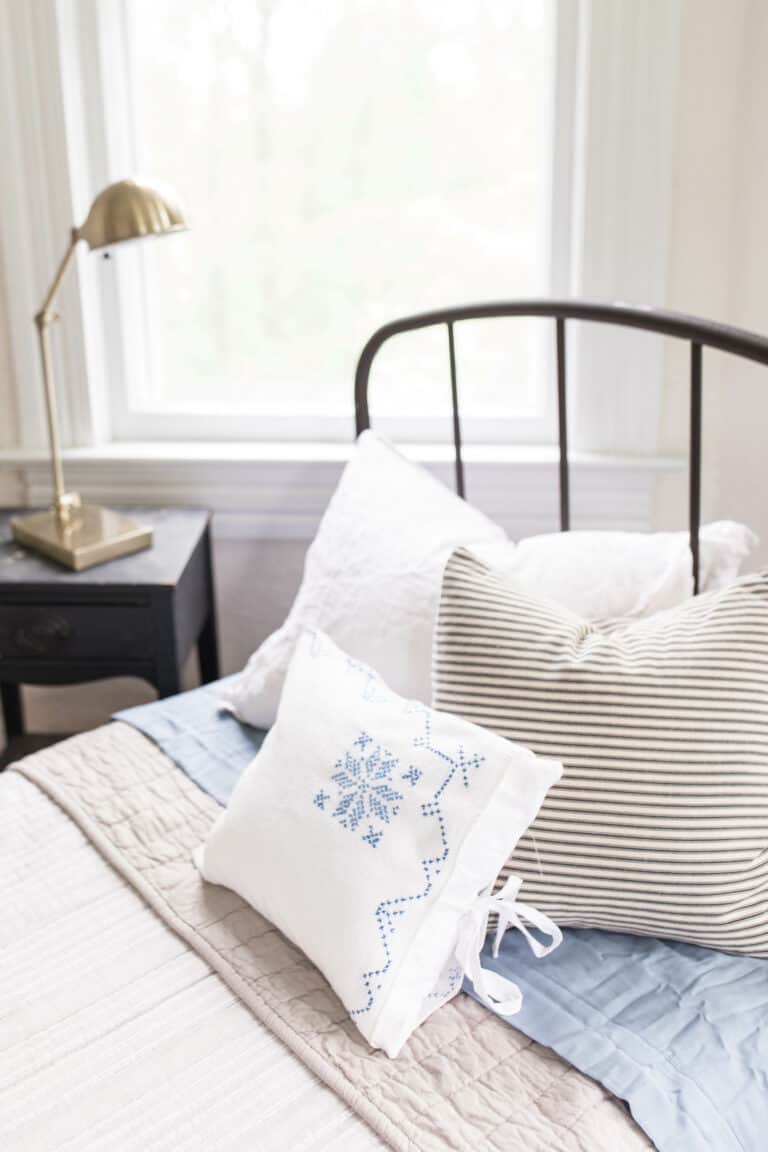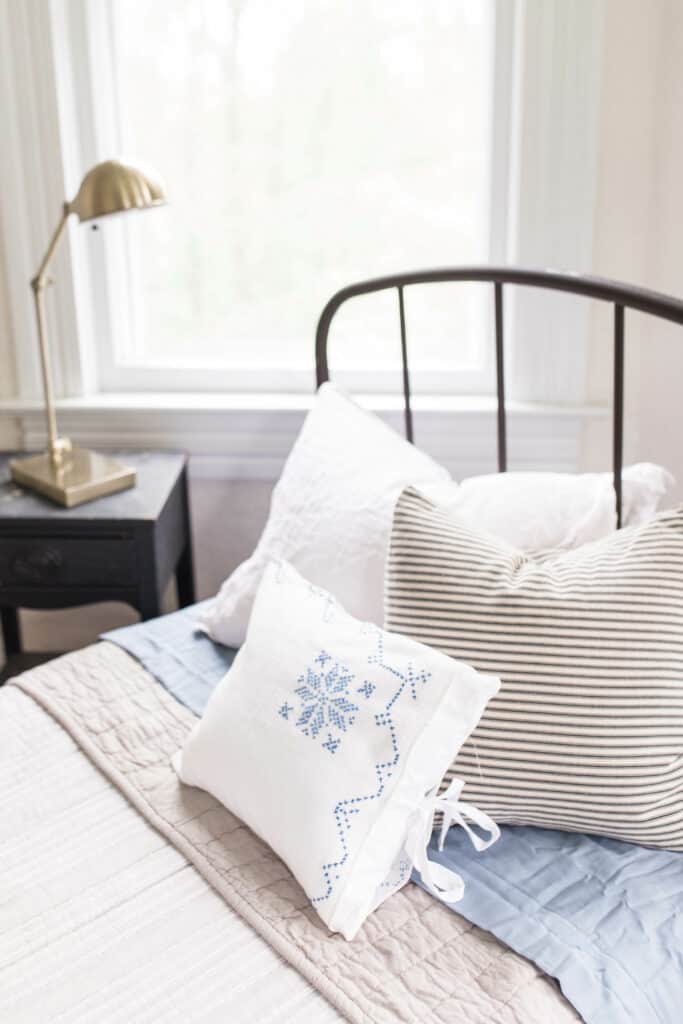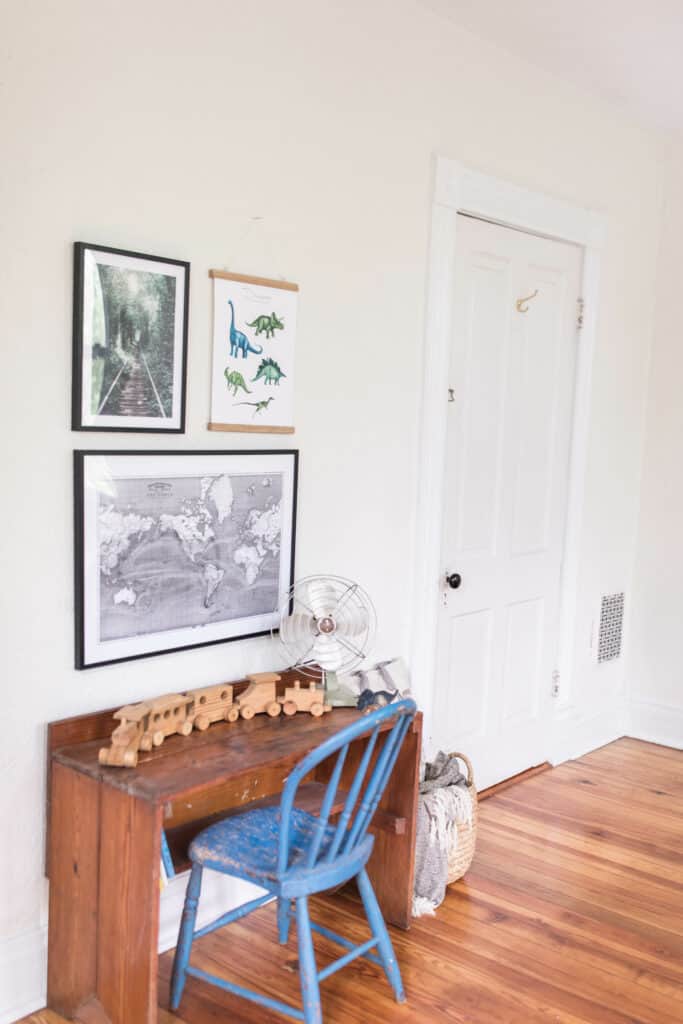 Shop our Farmhouse Boys Room Makeover
Twin Iron Beds
Gray Stitched Stripe Quilt
6′ round braided area rug
Brass vintage desk lamp
Basket by the desk
Dinosaur poster
Black & white world map
Forest train track poster
Wood poster hanger
Tutorials from our Farmhouse Boys Room Makeover
How to make a ruffle bench slipcover
How to sew a ticking stripe pillow cover
Pillow cover from vintage concrete sack
If you loved this post/video, you may also like:
Farmhouse boys' room reveal from the last house
Farmhouse reveal after hardwood floors and paint
Follow along with our farmhouse restoration journey
Come See our New Farmhouse | Farmhouse Restoration Before Tour
Farmhouse Restoration Update- The Hardwood Floors
Master Bedroom Farmhouse Restoration Reveal
Spring Farmhouse Living Room Makeover
Thanks so much for stopping by the farmhouse!
Pin it for later