Learn how to bleach drop cloth to make it perfectly soft and white for DIY projects.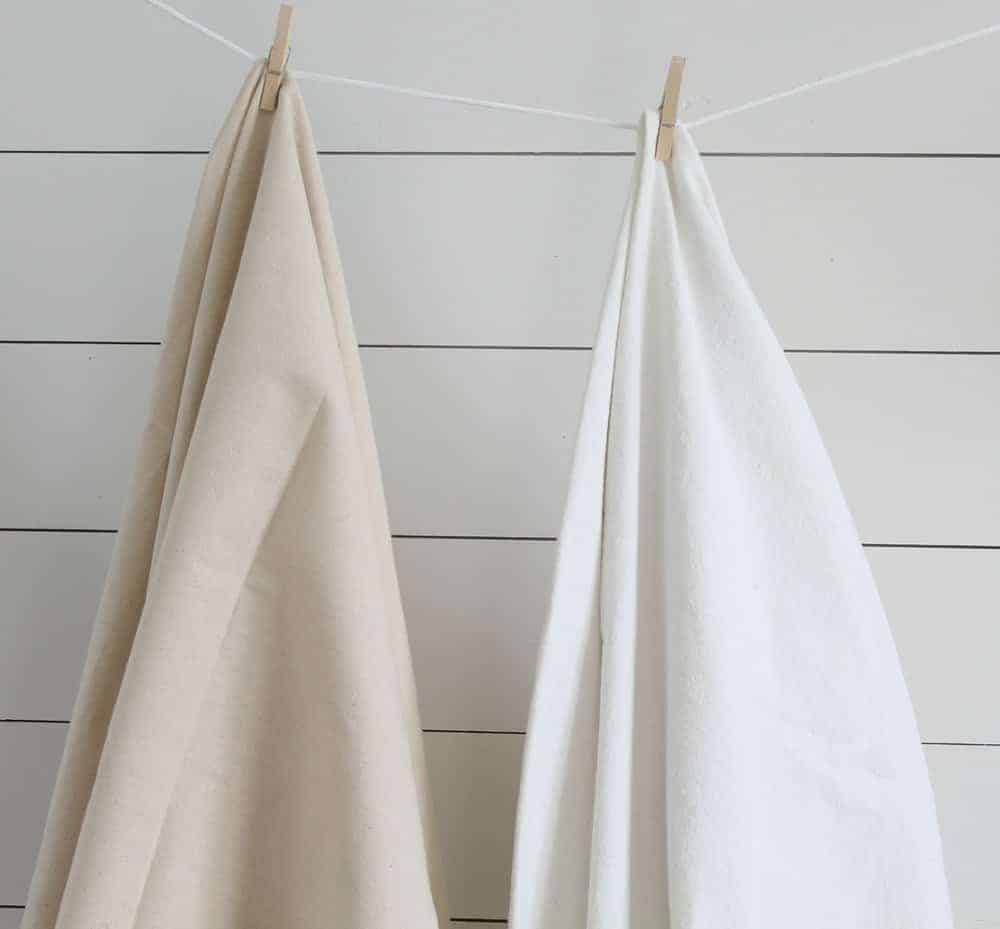 Learn how to bleach drop cloth to make it perfectly soft and white.
UPDATE MUST READ:  I have heard from several readers that the brand of drop cloth you buy makes all the difference.  I did not know this, since I have only ever used this brand from Amazon.  Other brands turns gray and off white.
UPDATE PART TWO: Thanks to Lori, a lovely reader of my blog, I now know why some other brands won't turn white.  The drop cloths I recommend from Amazon are 100% cotton, so bleachable.  Some brands are made with 50% polyester, so unbleachable. I knew people were having trouble with other brands, but now I actually know why!
UPDATE PART THREE: It was brought to my attention by a reader that you should not use this large amount of bleach if you have a septic system.
Why I love drop cloth
You don't have to hang around the Pinterest DIY scene for very long to find out that drop cloth is a star player in the upholstery, slipcover, curtain and pillow making game.
I have used a lot of drop cloth in our farmhouse and for good reason. It is durable, high quality and, best of all, super cheap.
I did the math once and it works out to about $2.50 a yard. Can't beat it.
But how does drop cloth go from the rough and coarse tan fabric you find in the paint section at Lowe's to the soft white beauty you see gracing wing back chairs and farmhouse pillows?
It's quite simple really.
It all comes down to a whole lot of bleach and little bit of technique.
When you know hot bleach drop cloth, the possibilities are endless.
Video Tips and Tutorial
I start with this drop cloth from amazon.  It is the 6-7 oz weight in 9′ by 11′ size.
I buy it in bulk, because I use it (unbleached) for the backs on my farmhouse pillows.
It comes out of the package feeling pretty coarse and looking very tan.
I need it to be bright white, so I can bleach all the slipcovers, when my messy bunch of kiddos put their dirty feet all over the couch. ahem.
The Process
When it comes to bleaching drop cloths there are two methods.
Method 1:  Washer method
So, the first thing I do is cut the 9′ by 12′ piece right down the center where the seam is.
I wouldn't be able to use the middle part where the seam is anyway, and if I shoved the whole thing in the washer, it would be overcrowded.
An overcrowded washer leaves the drop cloth splotchy, which is no bueno.
I put one half of the drop cloth piece into the washer, put it on hot, and set it on the largest size load setting.
I let the washer fill completely before adding any bleach.
Once the washer is full, I add a whoooooole lot of bleach, like about a third of the bottle.
At this point I open all the windows of the house and even the back door all the way.  I don't like to fill my house with all those bleach fumes.
I let it agitate a bit to stir all the bleach around.  Then, I pull the knob out and let it sit to soak for several hours.
I go over to the washer every few hours and let it agitate for a minute or so, and then let it sit some more.
The main keys here are:
1. Don't overfill the washer.
2. Use plenty of bleach
3. Agitate periodically to get the bleach into all the creases, so it doesn't come out splotchy.
4.  Don't rush it.  This should take several hours.
5.  Although time is good, I have noticed things going a bit yellowy if I let it sit too long.  I think 6-8 hours is a good rule of thumb.
After I have done all this, I pull the knob out and let it finish the cycle.
I throw the drop cloth into the dryer to make sure it is pre-shrunk and super soft.
No top loader?
Now, some of you have probably given up your white drop cloth dreams because you don't have a top load washing machine.
Not so fast, my friends.
Read on, for there is still hope for you!
I too used to have a front loading washer and a deep desire for white drop cloths.
Method 2: The bathtub method
You basically follow the exact same method as above, with a few differences.
1.  Instead of agitating the washer periodically, get yourself a big stick, or something to stir with.  You still need to make sure every nook and cranny of that drop cloth has access to the bleach.
2.  When you feel your drop cloth is white enough, drain the tub and squeeze out any excess water.  Bring it over to your washer and run it through an entire wash cycle on hot.
If you take it out and notice there are splotches, just repeat the process.
Sometimes it takes a few tries to get all the splotches out and get it perfectly white, but enough bleach and time will do the trick every time!
Disclaimer
Double check that the finish on your tub is safe to interact with bleach. If your tub isn't bleach safe, try to acquire a stainless steal tub, or find a friend who has a top loader you can use.
Woohoo!  Now you are ready to make slipcovers for just about anything in your house.
Our couches are super ugly!  They are green, ripped and old.  They cost $80 for the pair. True story.  But can you tell?
I wrote about my drop cloth bench makeover in this post.  I found it for $20 on a buy, sell, trade site.
So, at this point, we are talking $100 for all the furniture in our living room.
Oh the glory of humble painter's drop cloth!
I made the pillow insert for the IKEA tea towel pillows with bleached drop cloth.
This stuff is seriously so versatile!
So, if you want to redecorate your home on the cheap, get your hands on some drop cloth and a couple bottles of bleach!
Pin it for later:
Post contains affiliate links.  See my full disclosure here.