Freezer meals are a delicious and helpful option to prepare home-cooked, from-scratch meals ahead of time. Here are four of our favorite freezer meal recipes, which have been life savers when we're in a pinch for time.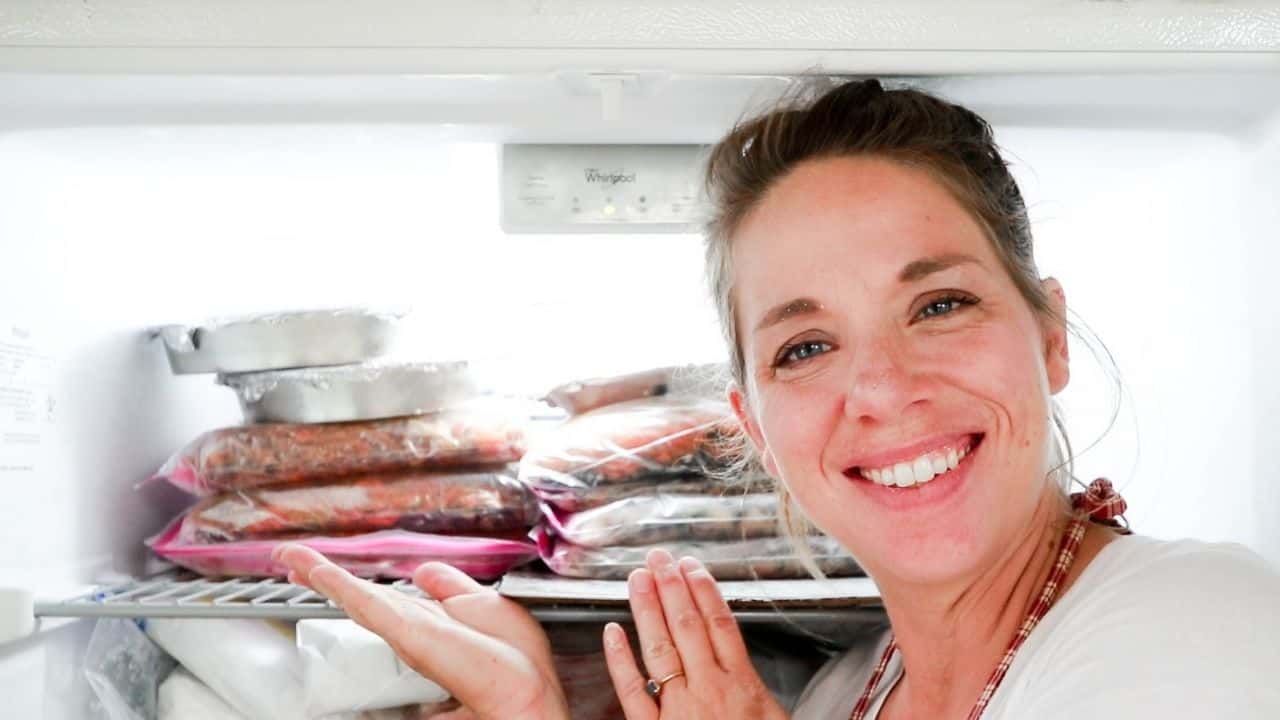 The clock is ticking, and every day we get a little closer to meeting baby number seven. Did I mention that nesting is in full swing? For me, I like to try to get everyone prepared as much as possible for when I get a "break".
Granted, it's not really a break, since healing from labor and caring for a newborn can be hard work. Luckily, my husband and older girls are very capable in the kitchen, so that's less of a concern. Yet, with so many other chores around the house, I like to be able to provide them with easy and nourishing home cooked meals that are easy to throw in the oven or instant pot. 
My goal with the extra prep is to ensure that I get to enjoy the fleeting newborn phase, snuggling our newest addition without quite as much concern for the tasks around me. Also, this time around should hopefully be a little easier since we moved our bedroom downstairs.
With the downstairs location, I'll be able to kind of be in the center of the action, while still being able to rest and recuperate.
Thankfully, being downstairs will make it much easier to help, as well as for the kids to come and snuggle their new sibling.
These freezer meals will come in handy during this time. Keep in mind, they would also make an excellent gift for a new mom or a friend/family who have had surgery, etc. You could make a couple pot pies and pack them up, then all they have to do is pop them in the freezer.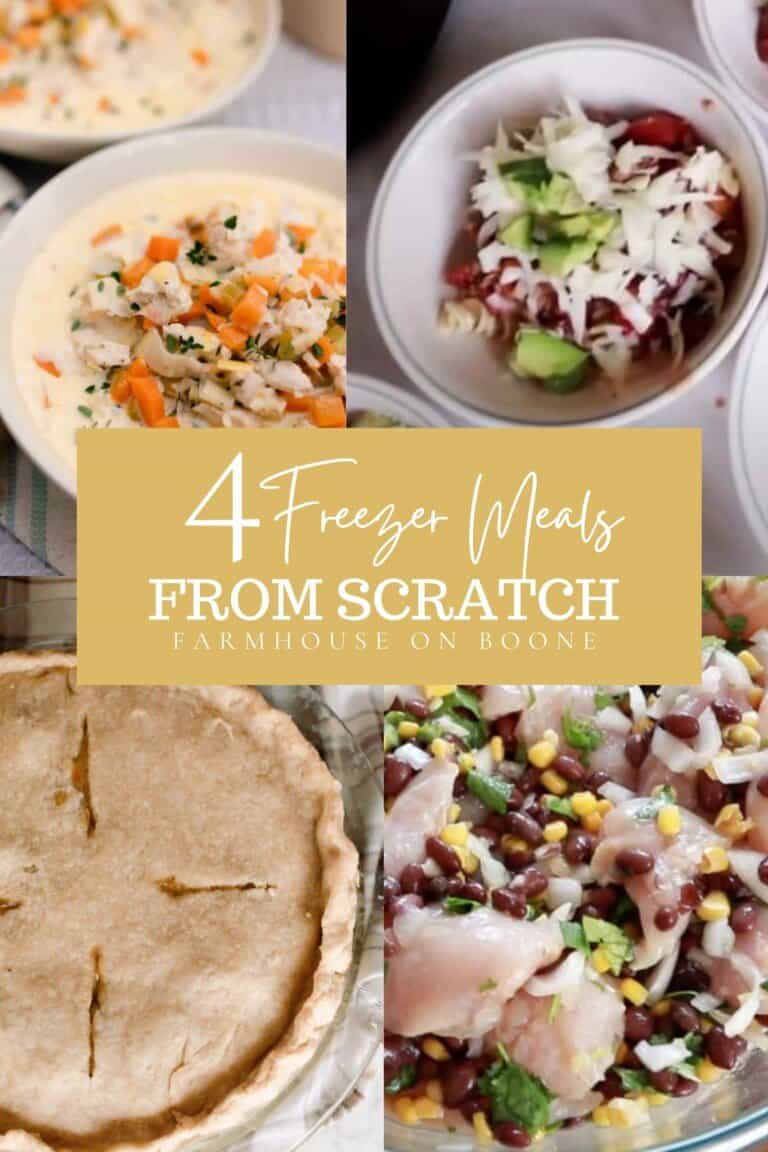 Download all of the freezer meal recipes
I created a little PDF download, so you can have all of the recipes in one easy and convenient place. Grab it HERE.
Tips For Making Freezer Meals:
Get recipes and items prepped beforehand. Create a game plan to make the meal prep day easier.
You can start a few of the ingredients a few days in advance, like the broth, pie crust, or the beans.
During the prep, I decided I wanted to make more of the recipes (doubling or tripling a recipe is much easier than making a whole other recipe), so I threw some extra frozen chicken breasts into the instant pot to cook.
For the pies, you can use disposable pie pans (you can find them super cheap at the dollar store).
Another great idea is to bake a bunch of sourdough dinner rolls, bread, or cornbread (for the chili) and keep it in the freezer. It's an easy, filling, and delicious side.
Freeze flat for easy storage, or if using the Instant Pot, freeze the recipes in the bag in the Instant Pot stainless insert. Then the meal can easily be popped out of the bag and right into the IP.
This post contains affiliate links, which means I make a small commission at no extra cost to you. See my full disclosure here.
Watch The Tutorial:
Tools You May Need:
Large pot or dutch oven
Freezer zip-lock bags
Measuring cups and spoons
Pie dishes
Rolling pin
How To Make Freezer Meal Recipes:
Night before:
Start your broth. (This is for all of the recipes. I always prefer homemade broth, but you could substitute for store-bought.)
Start soaking beans for the chili recipe.
Mark instructions on bag with a sharpie.
Cilantro Lime Chicken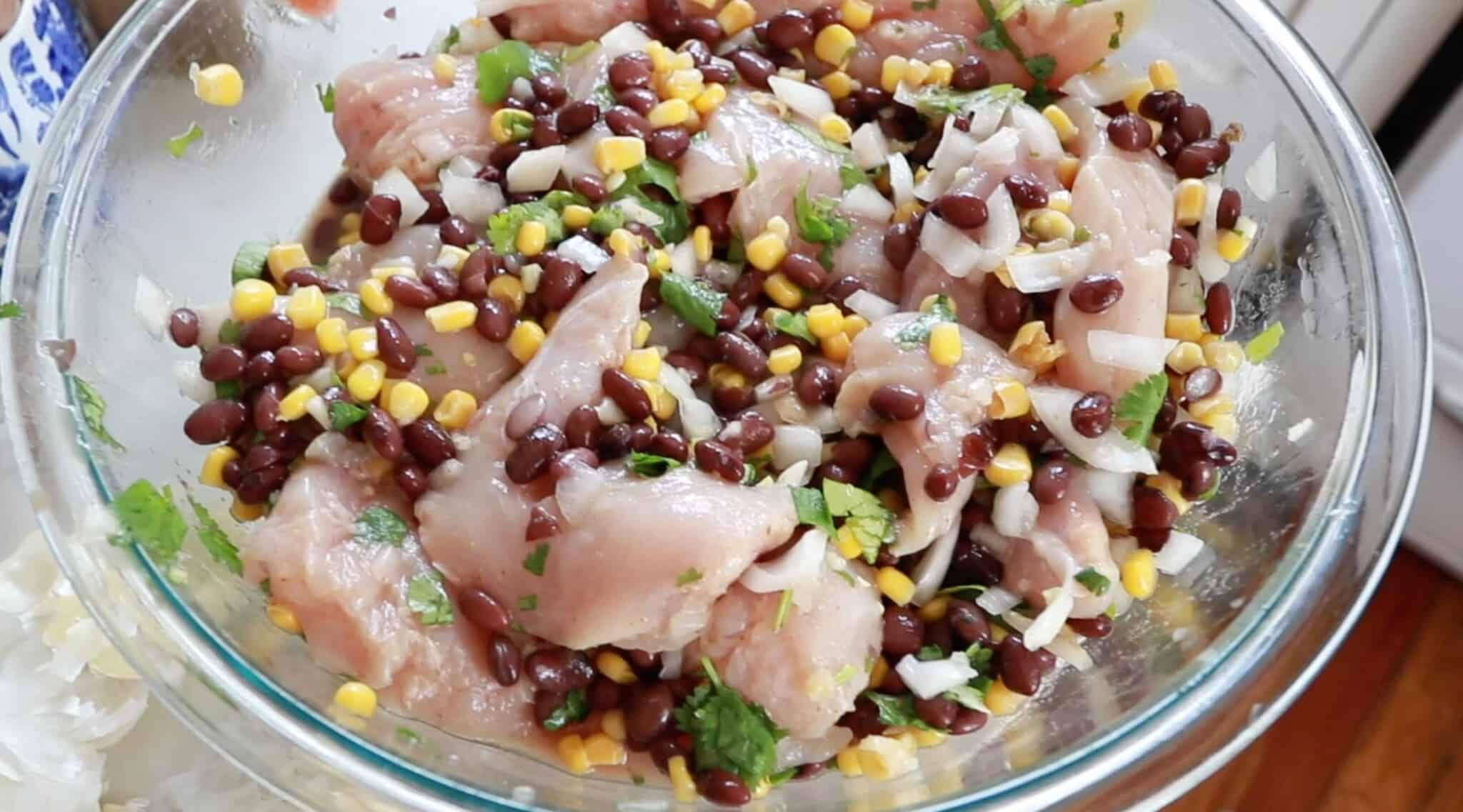 Ingredients:
2 lbs. boneless skinless chicken tenders
1 onion, diced
5 cloves garlic, minced
2 cups broth
1 tbsp honey
juice of 4 limes
2 tsp minced garlic
1/2 cup chopped cilantro
3 cups cooked black beans
2 cups frozen corn
1 tbsp cumin
2 tsp chili powder
Cilantro Lime Chicken Instructions:
Combine honey, broth, and lime juice.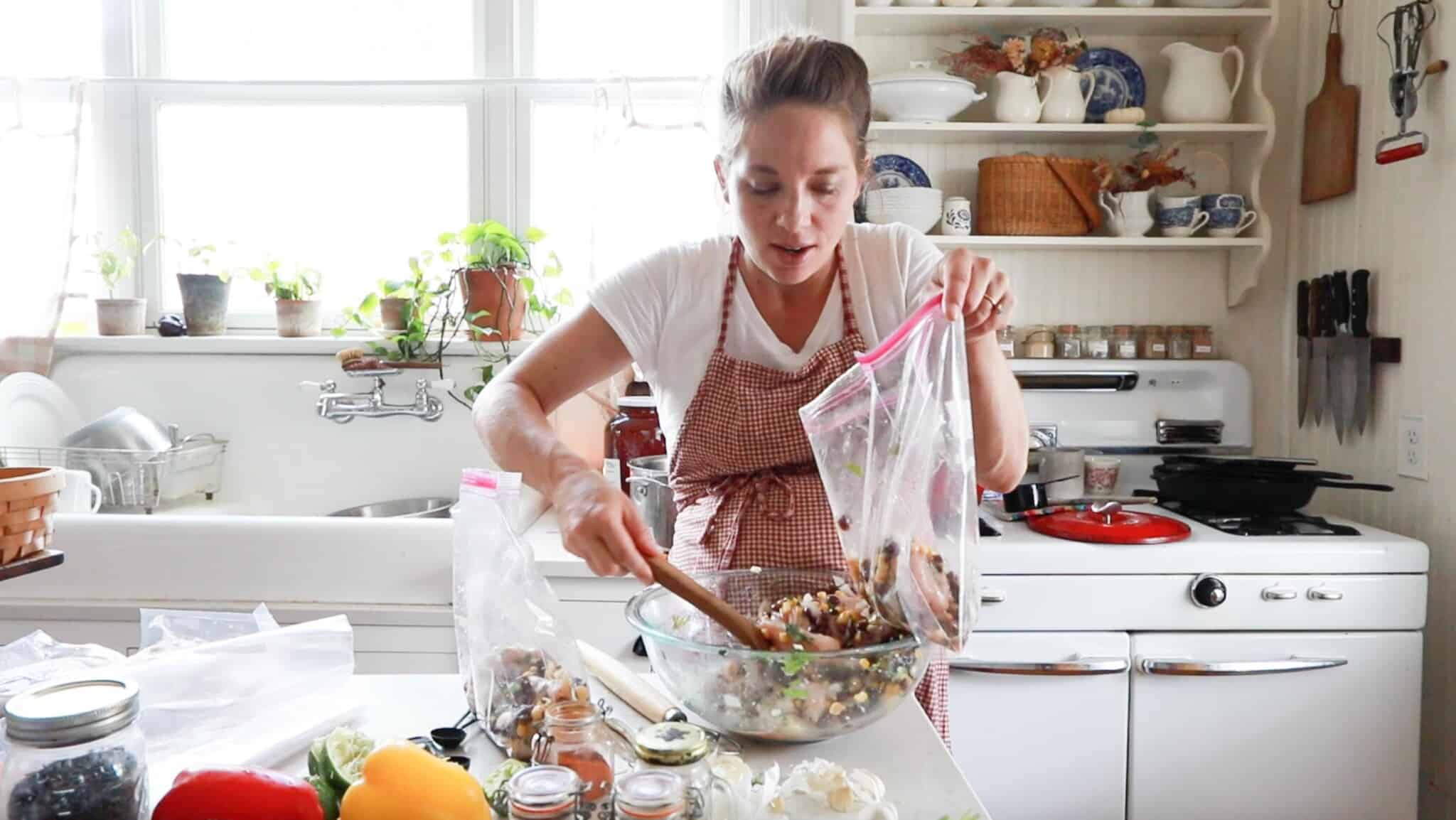 Add all ingredients + liquid to gallon size freezer bag.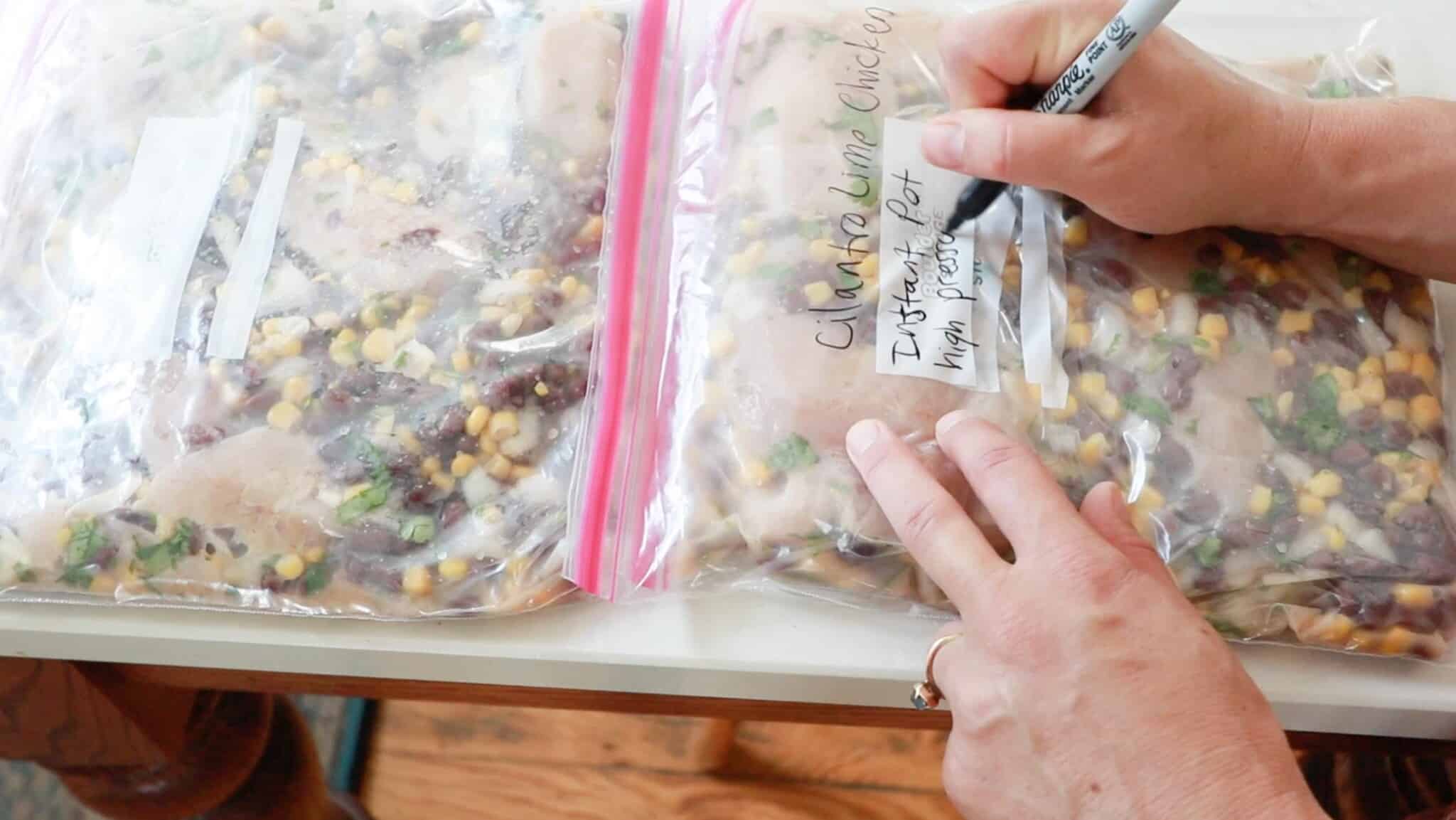 Label and write instructions.
Cooking Instructions:
Add contents into an instant pot.
Turn on the sauté for 5 minutes or until you have about 1/2 cup of liquid melted in the bottom.
Cook for 10 minutes at high pressure.
Serve with rice (which my girls and Luke easily know how to do), sour cream, avocados, and salsa. You can also use frozen rice for a super quick option.
Chicken Wild Rice Soup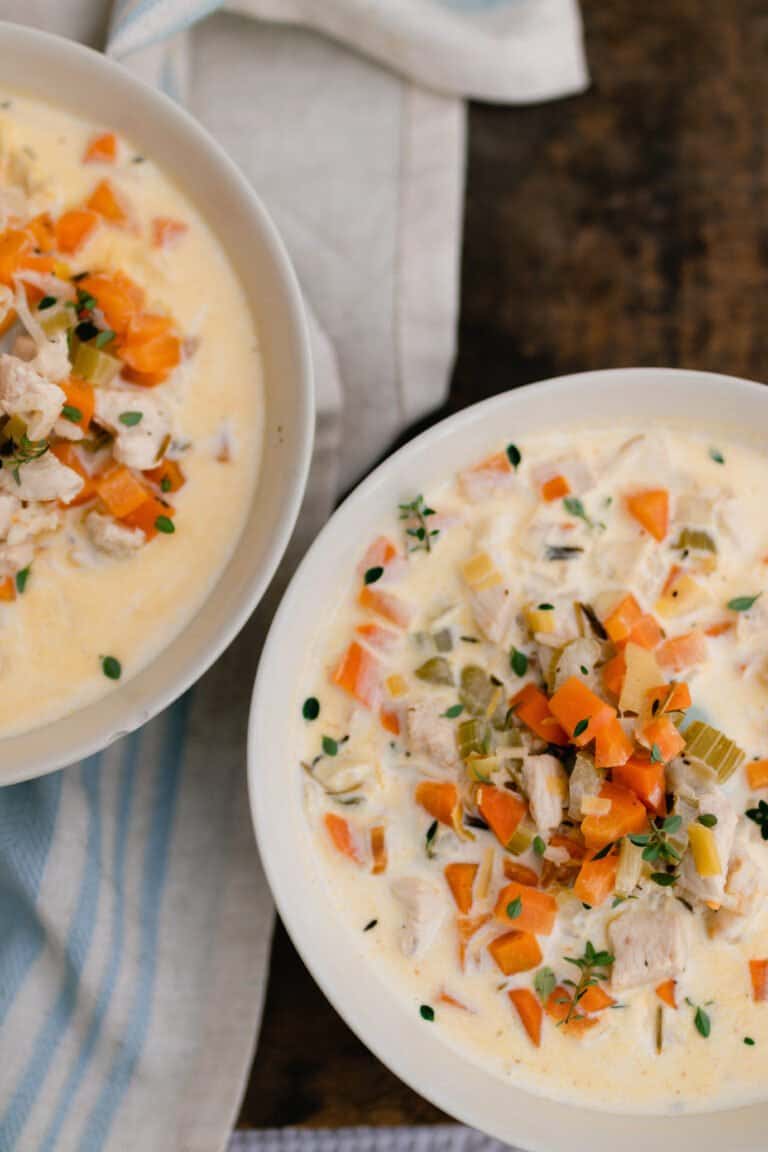 Ingredients:
2 onions, diced
2 cups shredded carrots
4 cloves garlic, minced
1 cup celery, diced
1 cup uncooked wild rice
4 cups broth
1 tsp dried rosemary
2 tsp salt
1 tsp dried thyme
1 tsp celery seed
1/4 tsp (1 mL) celery salt
pinch of red pepper flakes
4 chicken breasts
On serving day:
More salt to taste
1/4 cup butter
1/4 cup flour
2 1/2 cups cream or half and half
Chicken Wild Rice Soup Instructions: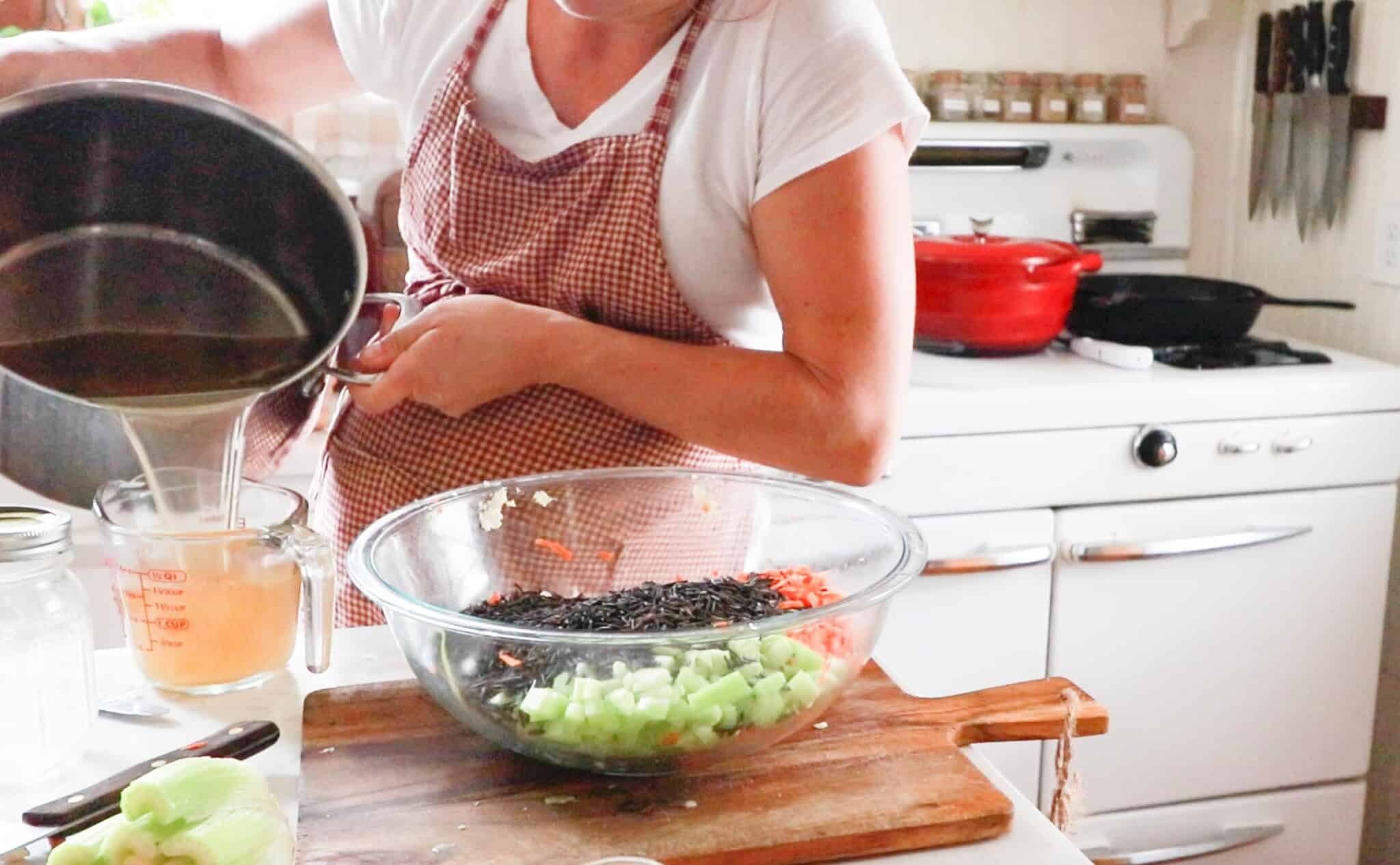 Add all ingredients to gallon size freezer bags (minus the serving day ingredients). Or add them to a bowl and transfer to bags.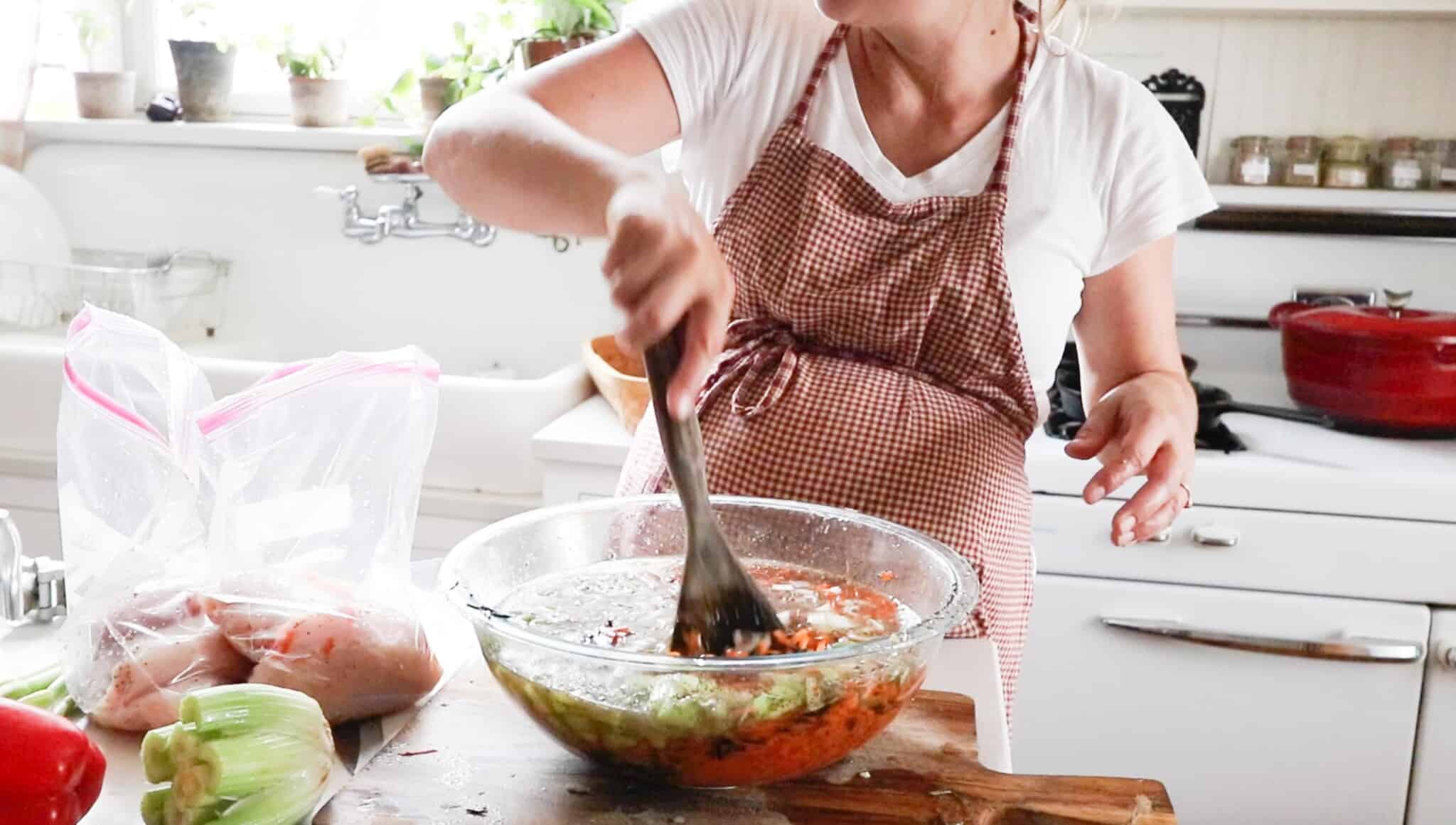 Label and write instructions.
Cooking From frozen:
Add contents into an instant pot.  
Add 1/4 cup water.
Cook for 35 minutes at high pressure.
After cooking in instant pot, shred chicken and add back to the soup.
In a small saucepan, melt butter over medium heat.
Add flour and whisk for 30 seconds until smooth.
Add in cream and whisk, stirring constantly until thickened.
Pour cream, butter, and flour mixture into the soup and stir. Allow to thicken.
Add more salt, if necessary.
Homemade Beef Chili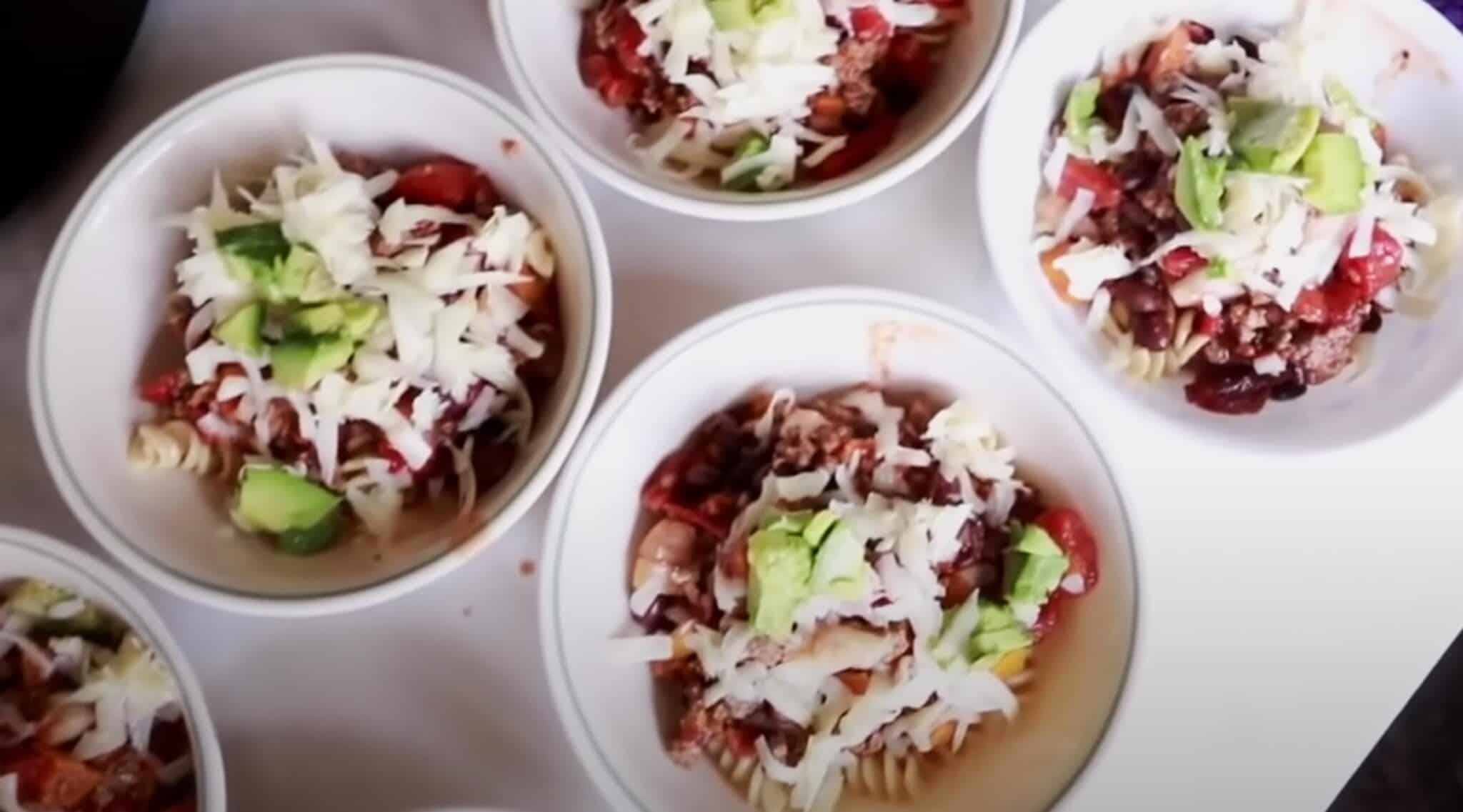 Ingredients:
2 lbs browned ground beef
2 onions, diced
6 garlic cloves, minced
2 bell peppers, diced

4 cups cooked black beans

28 oz. can diced tomatoes with liquid.
2 cups broth
1 can tomato paste
2 tbsp chili powder
2 tbsp cumin

2 tsp salt
Chili Instructions:
Brown beef in a cast iron skillet. This adds yummy flavor and helps the texture of the beef.
Add all ingredients to gallon size freezer bags.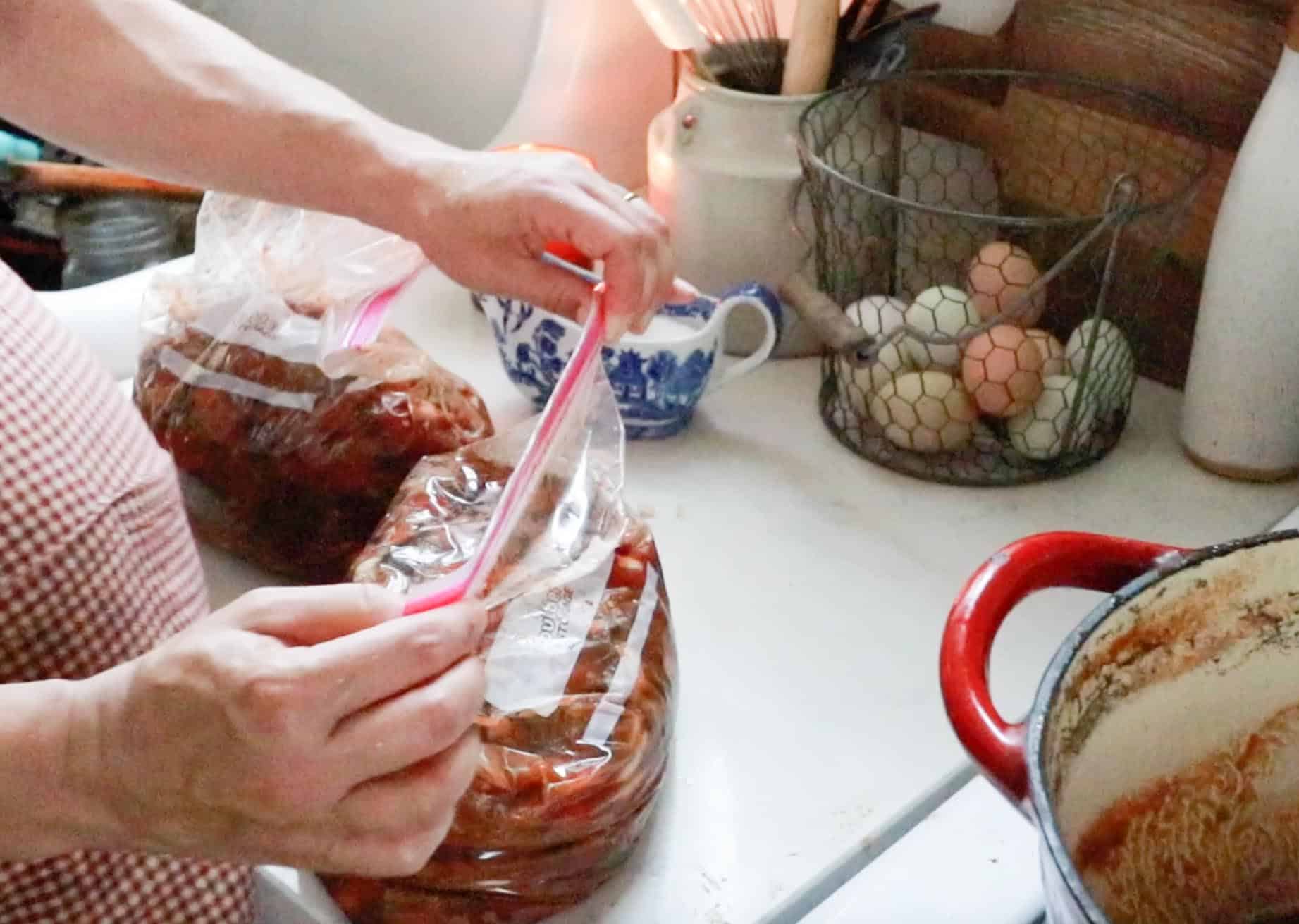 Label and write instructions.
Cooking Instructions:
Option 1: Thaw in fridge overnight and reheat in a large stockpot over medium heat, stirring constantly.
Once thawed completely, simmer on low for 15 minutes, until veggies are cooked.
Option 2: From frozen, add contents into an instant pot.
Sauté for 5 minutes or until you have about 1/2 cup of liquid melted at the bottom.
Cook for 25 minutes at high pressure. Naturally release and serve.
Tip: Serve with any combination of the following: diced avocado, shredded cheese, sour cream, einkorn pasta.
Chicken Pot Pie: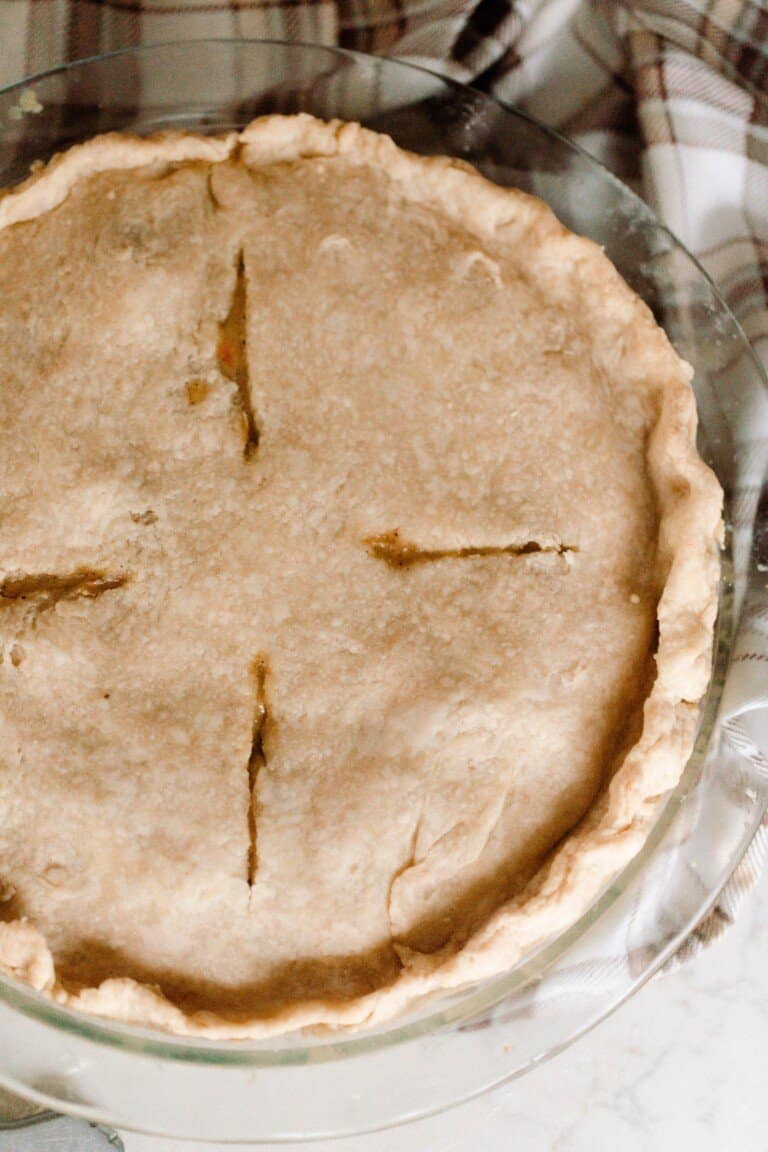 Prep Einkorn Pie Crusts:
2 1/2 cups einkorn all purpose flour 
1/2 tsp salt 
3/4 cup frozen unsalted butter 
6-7 tbsp ice water
Pie Dough Instructions:
Stir flour and salt together.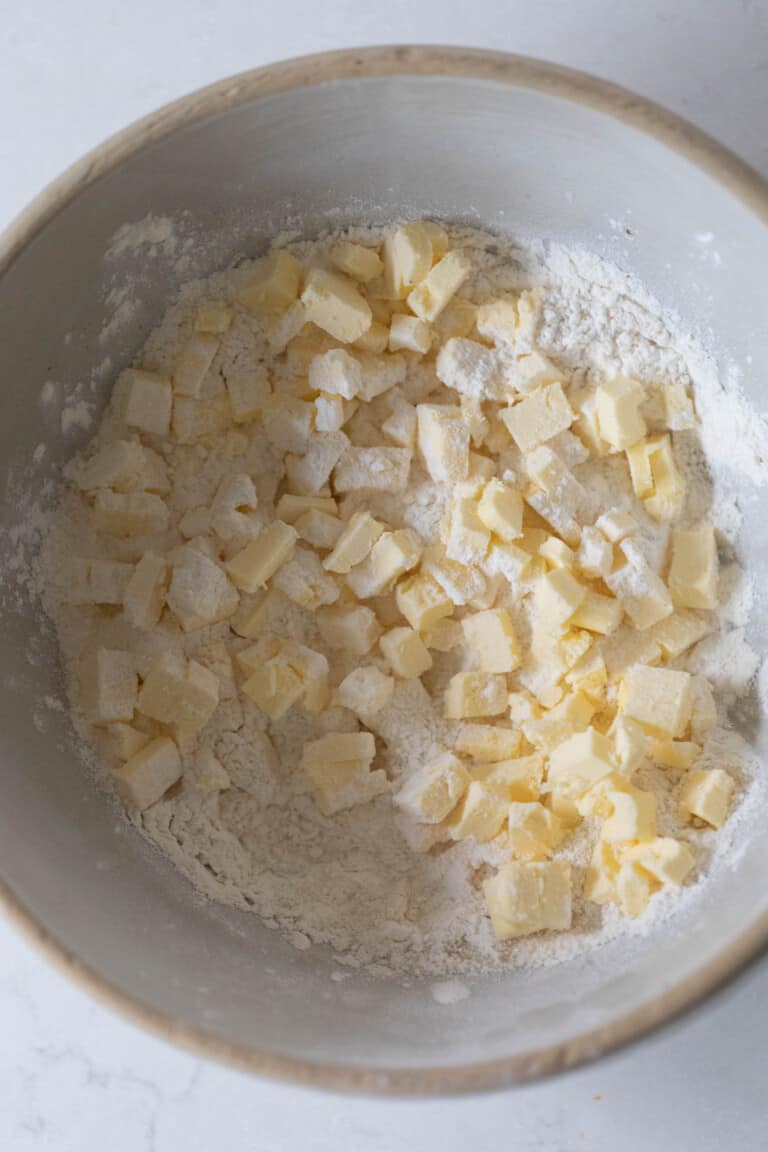 Chop frozen butter and cut butter into flour with a fork, pastry blender, or food processor.
Add ice water until dough comes together.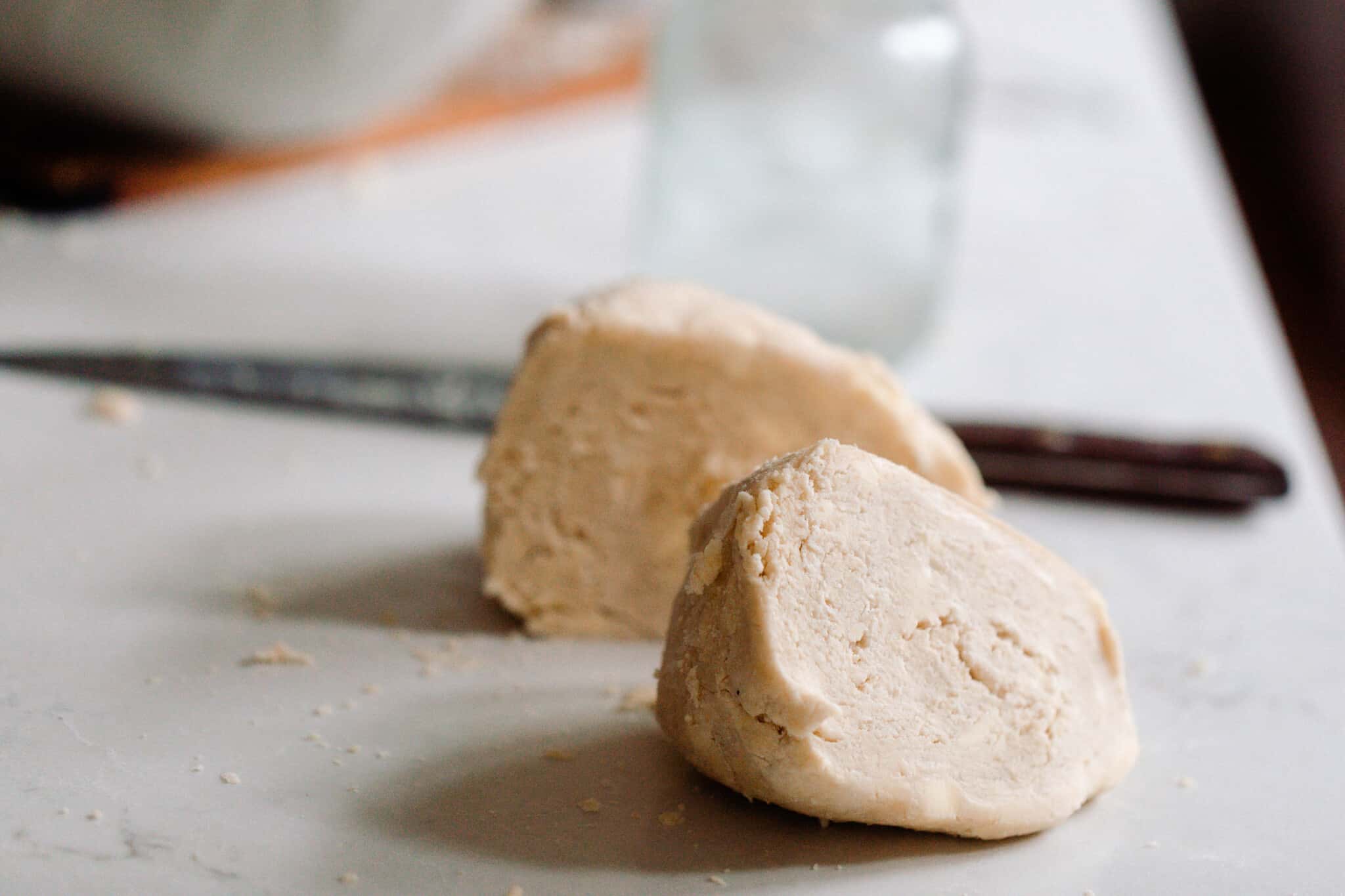 Place dough onto a lightly floured surface and pack it into a ball. Cut the dough in half and flatten into two discs.
Wrap each disc with plastic wrap and refrigerate for at least one hour. You could also freeze the dough for later.
Prep Pot Pie Filling:
3 potatoes – chopped
4 carrots – diced
1/4 cup butter
1 medium onion
4 garlic cloves minced
3 cups of bone broth
4 tbsp flour
1 tbsp dried parsley – you could use fresh as well.
1 tsp garlic powder
freshly cracked black pepper
1 tsp onion powder
3 tsp of salt
1 cup peas – fresh or frozen
4 cups of cooked chicken
1/2 cup heavy cream
Filling Instructions:
To a large pot over medium heat, add the veggies and butter and sauté 10 minutes, until they start to soften.
Add bone broth and flour, dried parsley, garlic powder, and onion powder. Mix and cover with lid. Allow to cook for 10 minutes.
Add peas, cooked chicken, and heavy cream. Stir well.
Lightly flour a clean surface and roll out pie dough to fit your pie dish.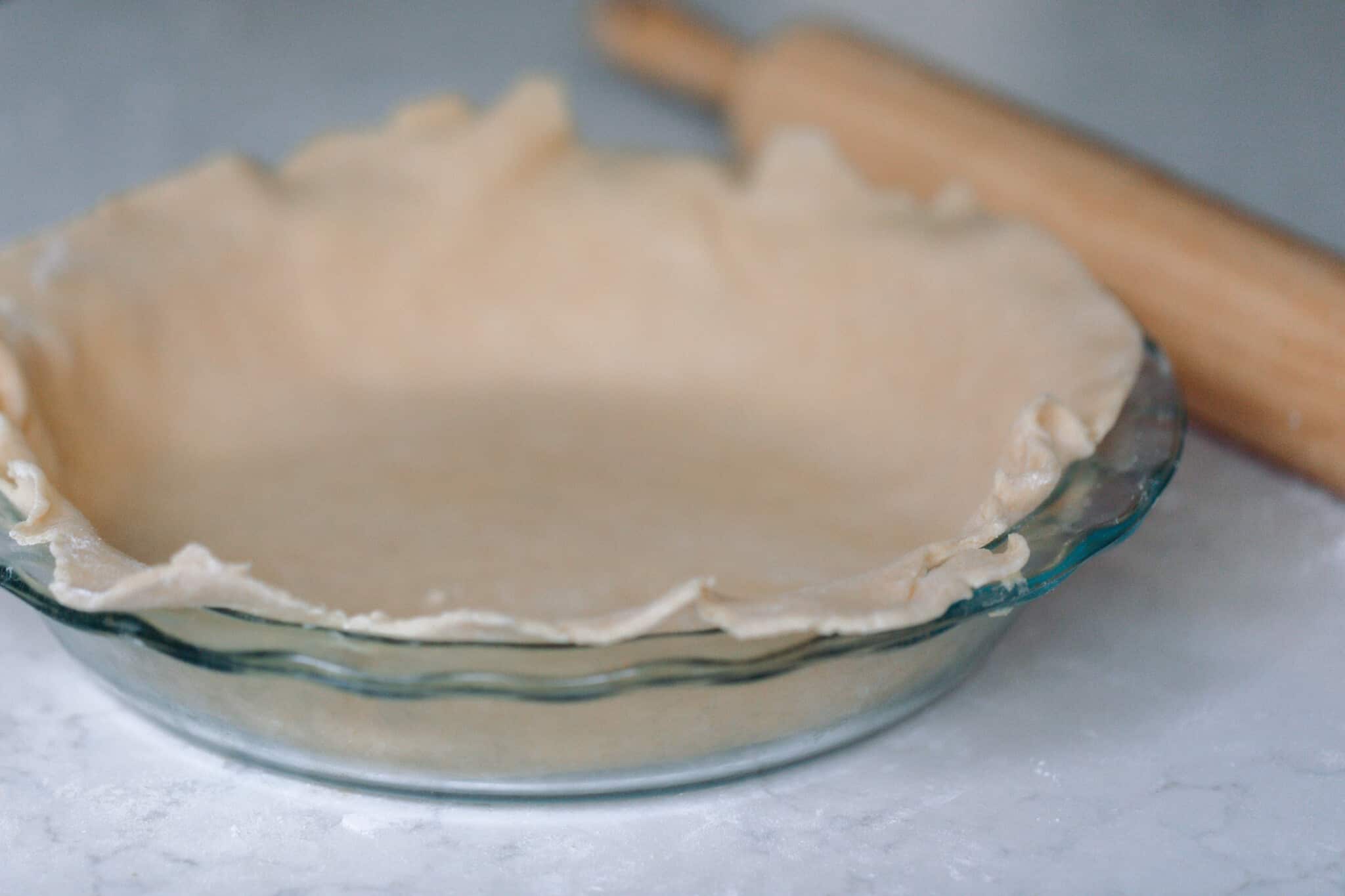 Place rolled out dough into pie dish, making sure there is some overhang of the dough on the edges (so your bottom crust meets the top crust in the next step). Trim off excess.
Add filling to unbaked pie crusts, top with second pie dough, cut off excess dough, and crimp the edges. Poke a few steam holes into the top.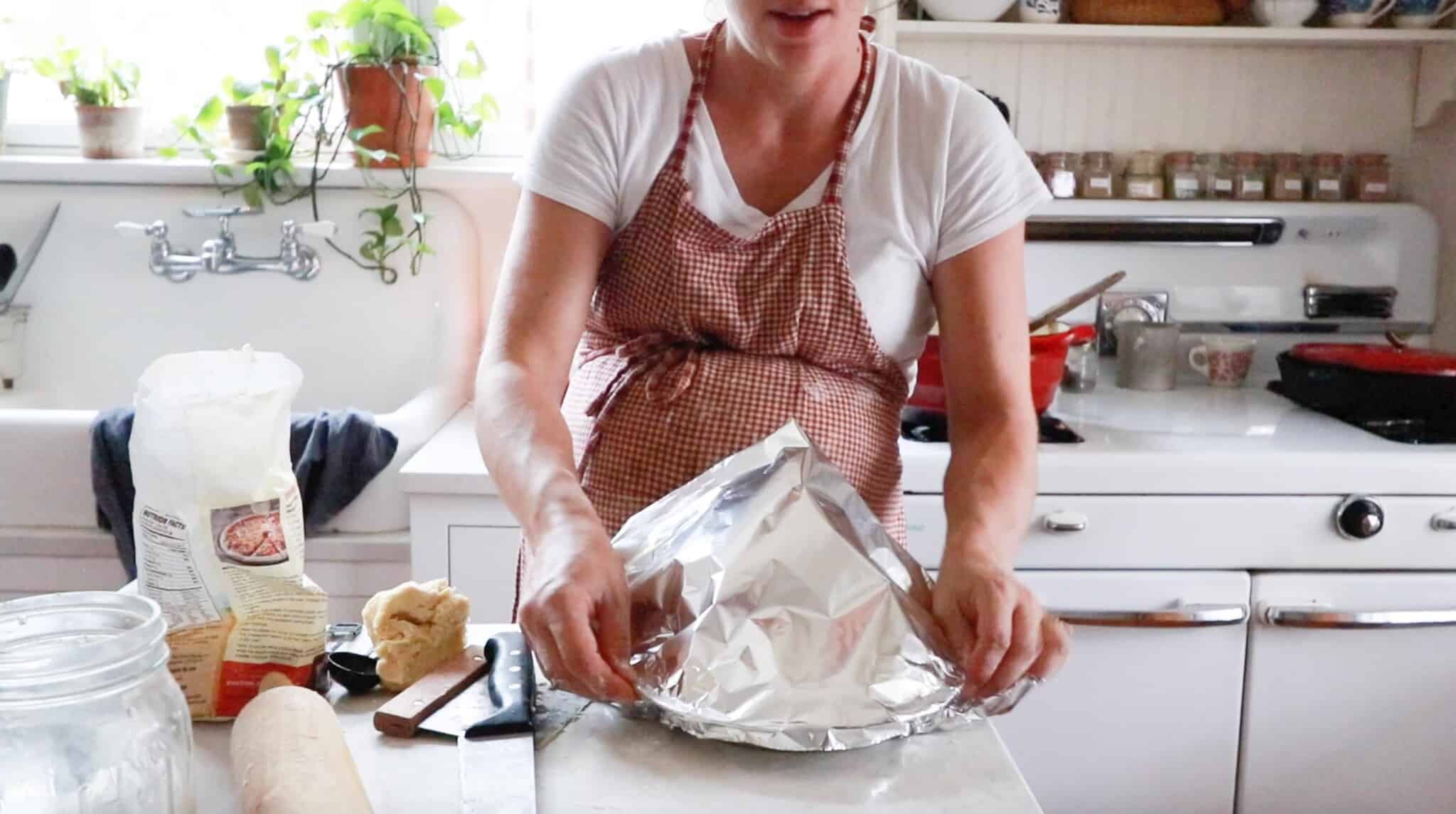 Top with wrap or foil, then label and freeze.
Cooking Instructions:
From frozen, place on baking sheet in 350 degree oven for about an hour.
Remove the foil after the first 30 minutes of baking.
Now your freezer is stocked with healthy meals ready for when you need a quick and easy dinner. I hope you found this helpful!
Download all of the freezer meal recipes
I created a little PDF download, so you can have all of the recipes in one easy and convenient place. Grab it HERE.
Find More Delicious Meals From Scratch: