These handmade Christmas gift baskets are the perfect thoughtful gift for the people on your list who you don't know what to buy for. They are filled with useful items that they can appreciate all winter long. They are all natural and simple to make.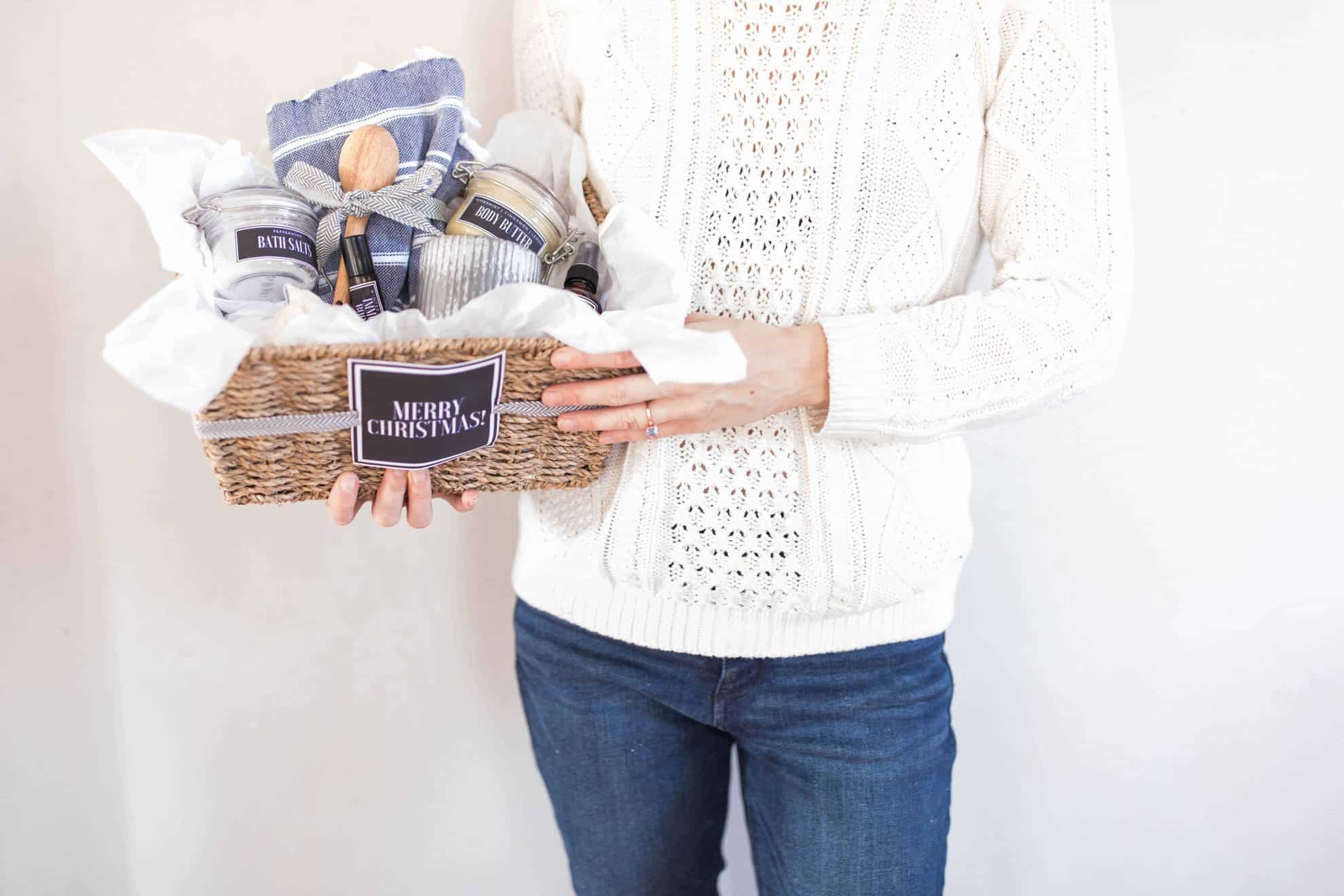 I love making handmade gifts for Christmas. When you have several people on your list who you don't know what to buy for (teachers, cousin in-laws, grandmas, aunts) they are the perfect way to show that you care and get them something they may actually use.
I remember when I was kid, the standard gift for someone who already had everything, or who you knew absolutely nothing about their interests, was a lotion and shower gel set from Bath and Body Works. I still remember the lower vanity cabinet overflowing with half used gift sets. Although I loved the smell of Country Apple, which you could catch a whiff of 30 feet down the hallway, the toxic ingredients don't do a whole lot for health.
The handmade items in this gift basket are full of all natural ingredients and essential oils. They are hydrating for the skin, smell delicious and have positive health benefits.
Win. win. win.
Handmade Christmas Gift Basket Video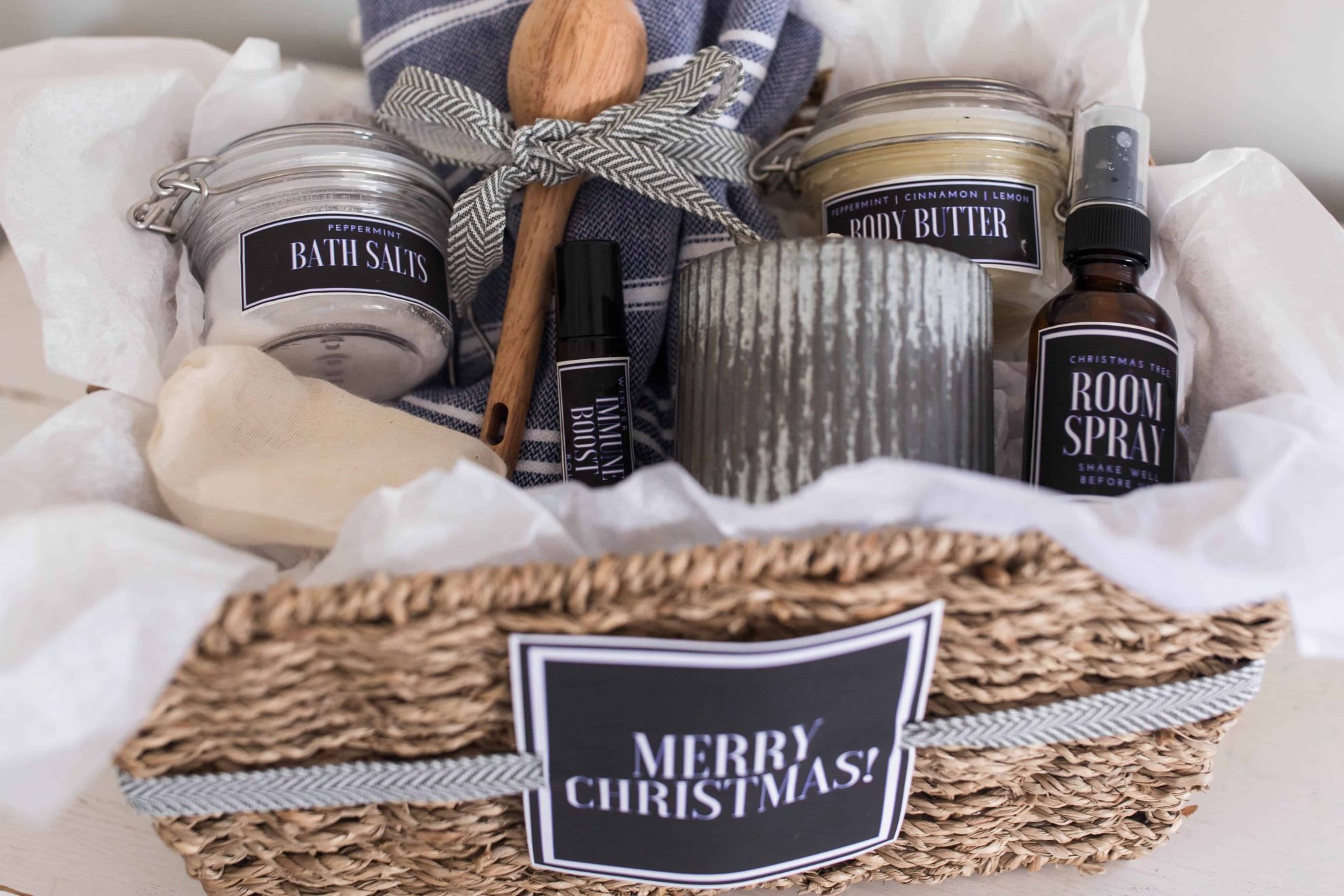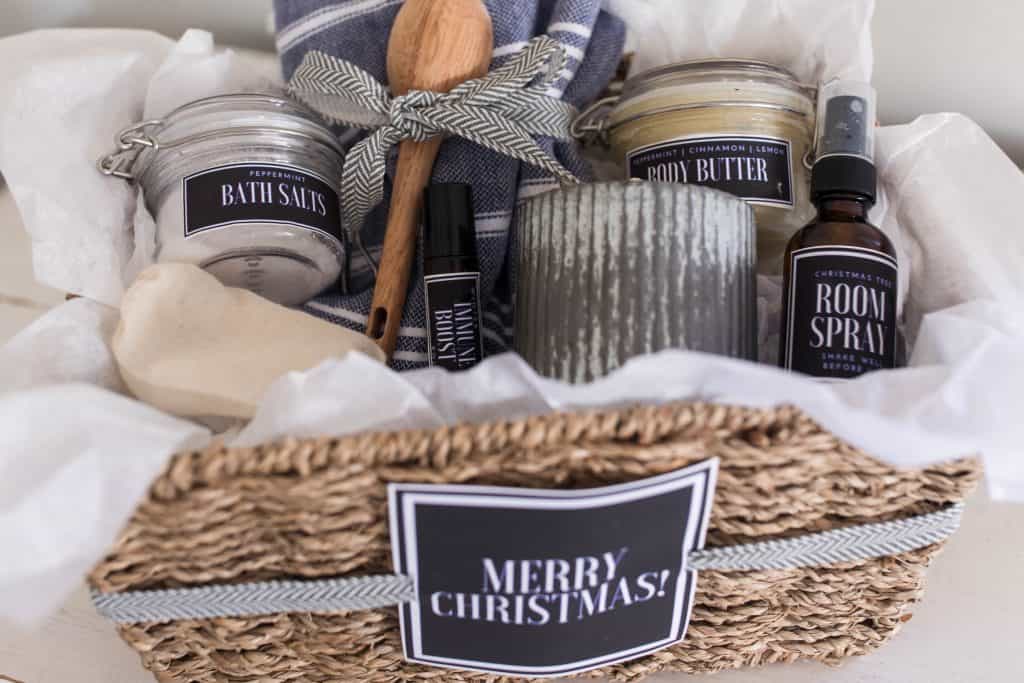 If you have a long list of people who you usually need to get gifts for it's a great idea to spend a Saturday making everything in large quantities and putting baskets together.
Don't feel the need to add every single thing from the list. Even a sweet little beeswax candle, a jar of body butter and a tea towel are a great set in a gift bag.
If you have someone on your list who you like to spoil a little more, you can make the entire thing.
The key is is simplicity and thoughtfulness.
This post contains affiliate links, which means I make a small commission at no extra cost to you. See my full disclosure HERE.
Steps to a handmade Christmas gift basket
Gather all of the ingredients (linked below).
Gather all of the containers (linked below).
Print off the labels (linked below).
Set aside an entire day to knock out 10+ gift baskets. And make sure to save some of the items for yourself! You'll thank me midwinter when cold air and hot water have caused your hands to dry out. That body butter is amazing!
Christmas Tree Room Spray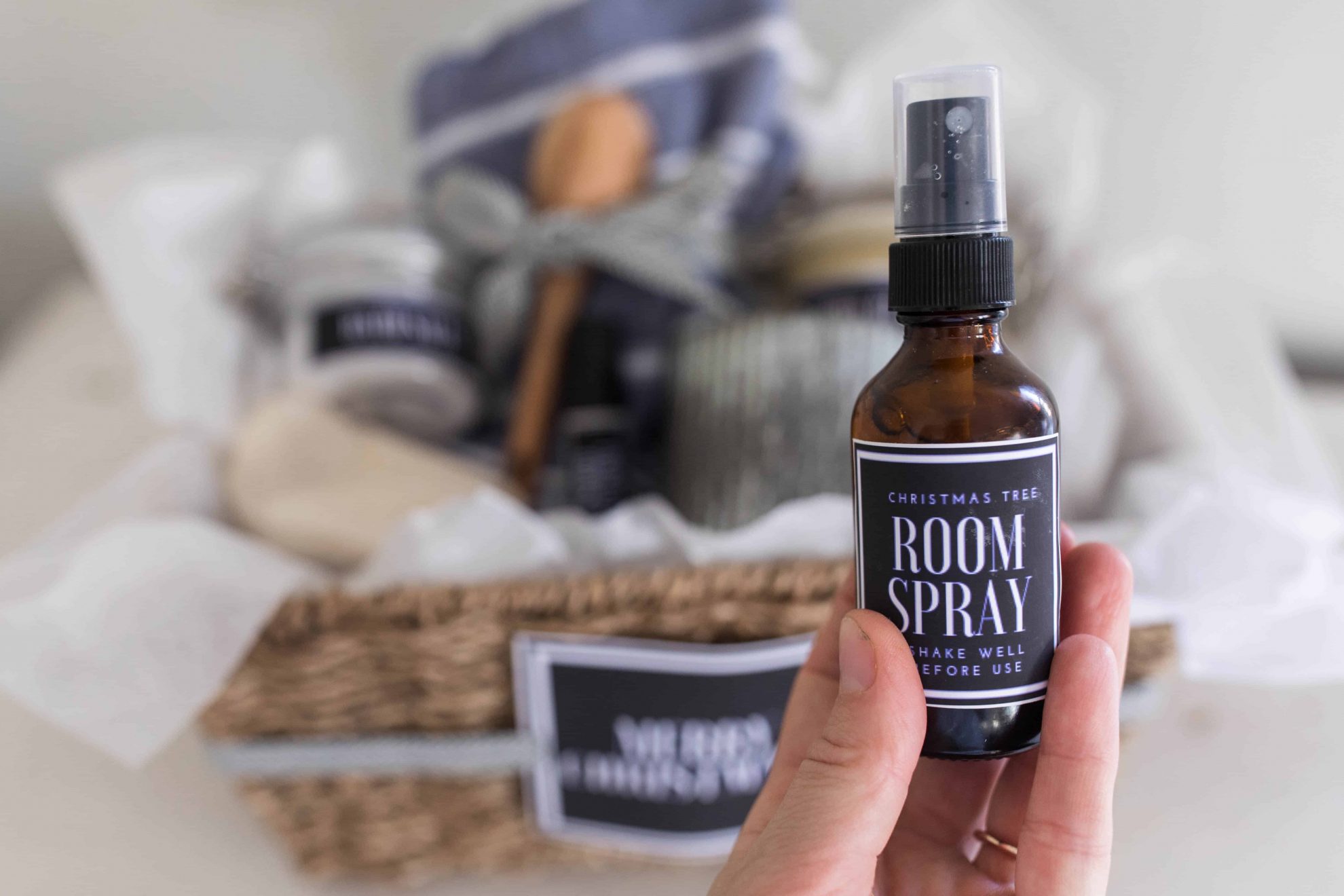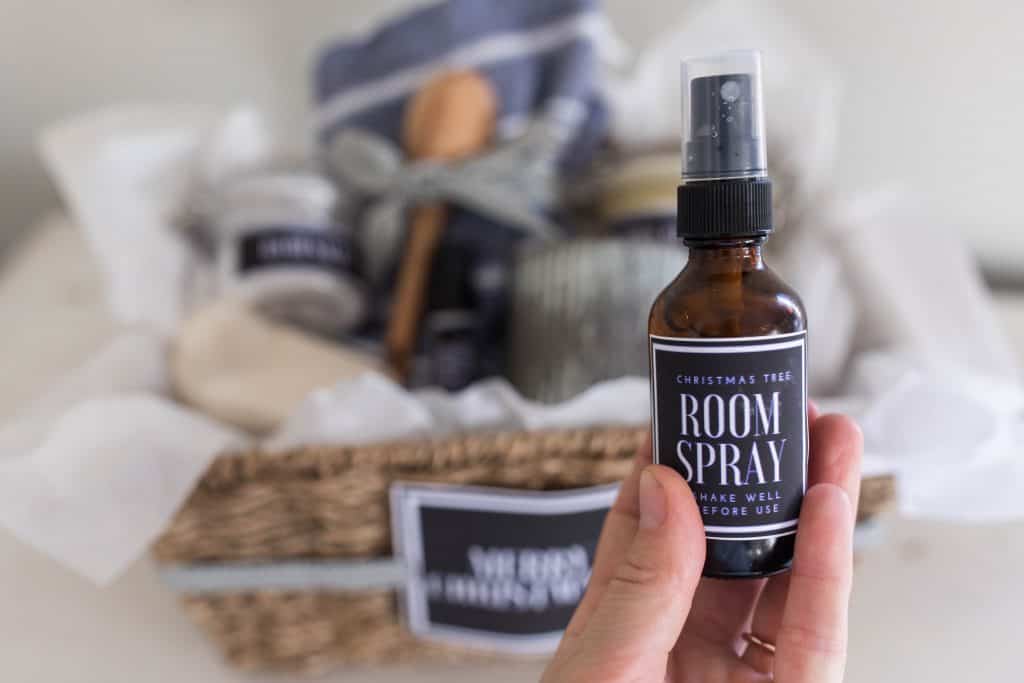 Room spray is a great way to get that cozy Christmas tree scent in every area of your home. It is subtle, yet festive. Spray it on the stockings on the mantle, or the towels hanging up in the bathroom.
Ingredients
10 drops balance (This is a blend I like from doTERRA, but if you don't have this use spruce, white fir or douglas fir)
10 drops cypress
5 drops orange
5 drops eucalyptus
5 drops cedarwood
2 drops clove bud
Instructions
Fill a 4 ounce amber glass spray bottle half way up with witch hazel.
Add essential oils.
Top off with filtered water.
Notes
If you are just starting with essential oils, and do not have all of these in your collection, don't worry! You can still make this room spray. It is fun to create your own custom blends.
For Christmastime, use oils from evergreen trees like, fir, spruce or cypress. Citrus oils, like orange, and minty oils, like peppermint and spearmint are also great for the holiday season.
Winter baking spices, like cinnamon, clove, nutmeg and ginger would also smell festive together as a room spray during the Christmas season.
If you only have a few oils, increase the amount of each so that the total number of drops is about 35-40 for a 4 ounce spray bottle.
Most starter kits (from Young Living and doTERRA) come with blends called Thieves and Onguard. They smell great for Christmas all on their own, so it it's all you have, make this room spray anyway!
Peppermint Bath Salts
In keeping with the Christmas/winter scented items in this handmade gift basket, I added these peppermint bath salts. The person you are gifting the basket to can add a couple scoops to a steaming hot bath to soak the day's cares away.
Ingredients
2 tablespoons epsom salt
2 tablespoons sea salt
1/2 tablespoon baking soda
14 drops peppermint essential oil
Instructions
Combine all the ingredients in a small bowl. Store in a mason jar, or flip top container, for up to one year.
Immune Boost Roller Bottle
4 drops Frankincense
4 drops Melaleuca (aka Tea Tree Oil)
2 drops Oregano
4 drops Lemon
Add all the essential oils to a 10 mL roller bottle and top it off with fractionated coconut oil.
The combination of these four oils is useful in strengthening the immune system. It is also helpful in decreasing the duration of symptoms when sickness strikes.
Roll it on the bottoms of the feet for immune support during cold and flu season.
You can find out more about this roller bottle, and its benefits, in this post.
ALL NATURAL Peppermint, cinnamon & lemon WHIPPED BODY BUTTER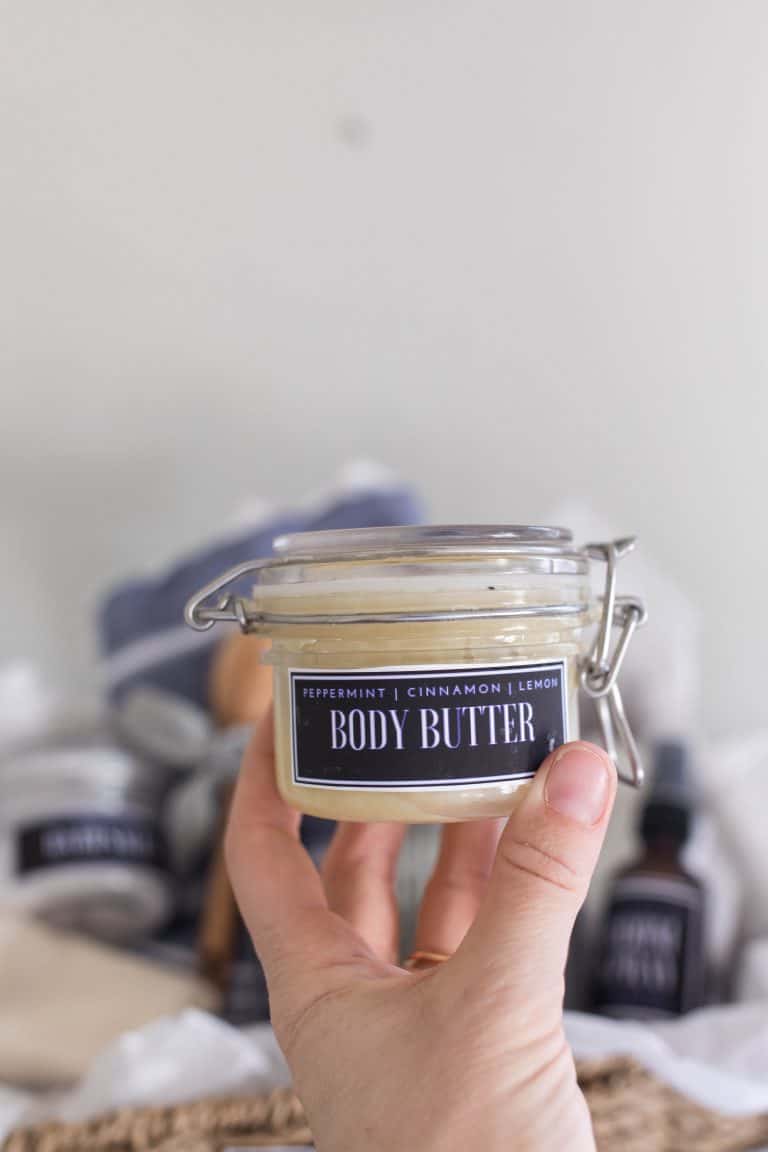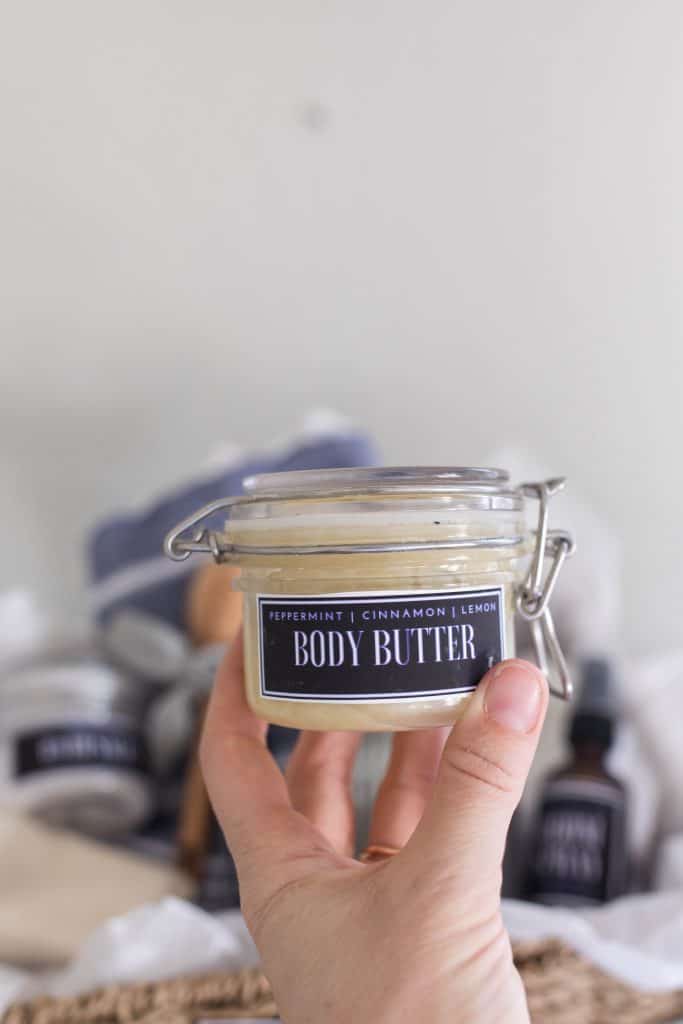 The smell on this simple recipe is amazing all on its own. Add to that the skin healing benefits of the cocoa butter, essential oils and shea butter, and the people receiving these gift baskets from you may get addicted. Warning: they may ask you to make it for them again and again!
This is a little variation on the lavender body butter recipe I usually make the rest of the year. For the essential oils portion of the recipe, add 20 drops peppermint, 10 drops cinnamon and 5 drops lemon.
Get the recipe here: DIY All Natural Whipped Body Butter
*Lemon is a photosensitive oil, so don't expose your skin to direct sunlight (or a tanning bed) right after applying.
Beeswax Candles
I shared how to make beeswax candles on my blog last year. They are the perfect addition to any handmade gift basket. I mean who doesn't love candles?
Especially nontoxic beeswax ones!
I made mine in these adorable little galvanized steel tins.
They are perfect to set near the bathtub for a little R&R. Add several drops of peppermint, pine, rosemary, cinnamon, cedarwood, pine or clove for a more Christmas-y smell. Normally, I only use my doTERRA essential oils for everything in my home, but candles are my one exception. You need A LOT to get a strong scent, like teaspoon fulls. For this, I just use a brand with a little less quality. (Warning: Do not use these internally, or in anything that will be going on your skin.)
You can find them here: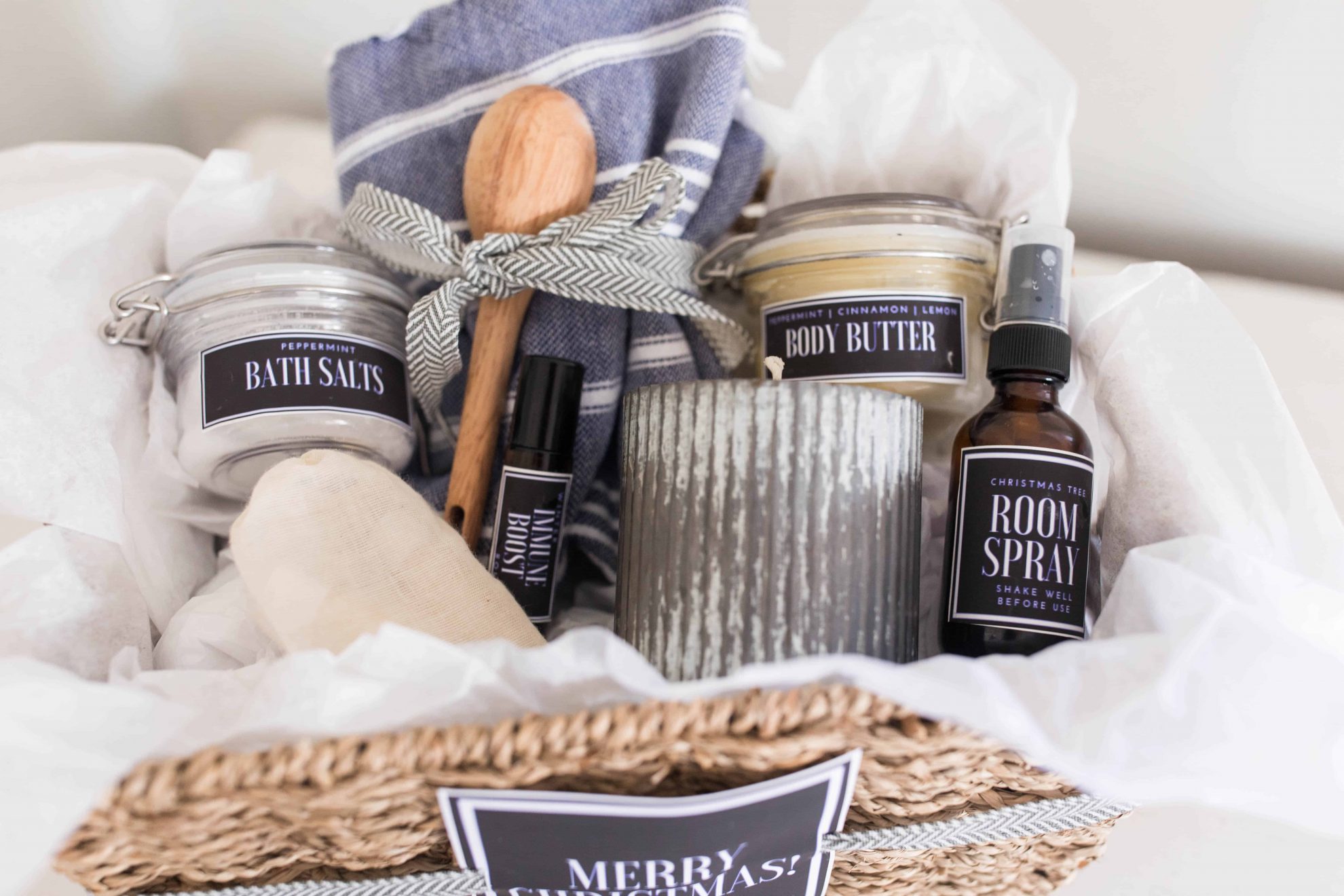 Breathe Salve
I didn't actually include this in my gift basket, but it's another great addition if you're feeling overly ambitious. 😉 Especially if you have a loved one in your life who suffers from winter sniffles! The breathe salve is great to rub on the chest during times of congestion.
Ingredients
1 cup coconut oil
1 ounce beeswax
20 drops breathe essential oil
Instructions
Add the coconut oil and beeswax to a double broiler, and heat until melted.
Add the essential oils.
Pour the melted mixture into one ounce tins.
Store for up to one year.
Notes
If you don't have a breathe blend essential oil, go for a combination of peppermint and eucalyptus. This combo is also perfect for opening up those airways and dealing with the winter stuffies.
ORGANIC Peppermint COCOA LIP BALM
Last but not least, DIY Organic Cocoa Lip Balm. This stuff is good, especially for winter when the cold dry air causes chapped lips.
One recipe makes a whole lot of lip balm, so I keep it on hand for gift giving. In this case, I put a couple tubes in a small muslin bag to go in the basket.
Use peppermint essential oil to give it the perfect taste and scent for winter.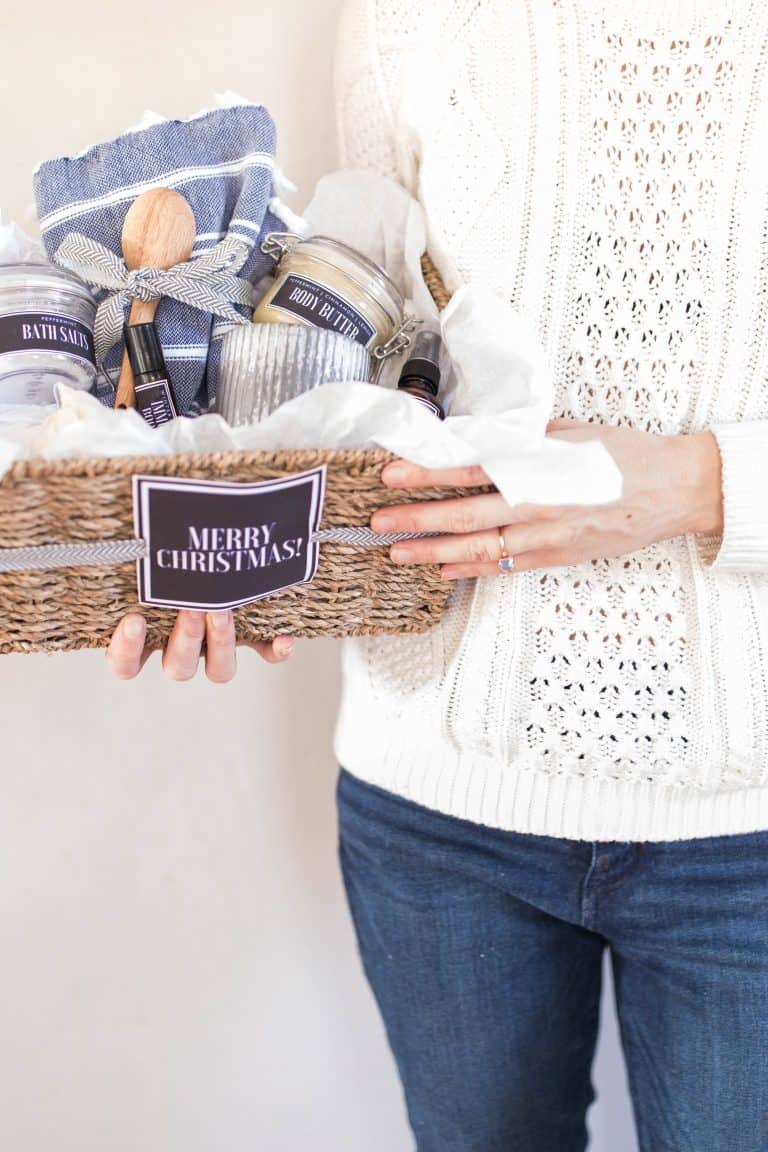 Ornaments thrown in for decor
If you only make one or two of these items, you can throw in some simple DIY Christmas ornaments to fill the gift basket!
Here are a few ideas from the blog:
How to put together a Handmade Christmas Gift Basket
Add tissue paper around the outsides of a shallow and wide basket. I used this seagrass basket from Amazon.
Take a few sheets of tissue paper, crumple them a bit, and stuff them around the bottom of the basket. This will help to give the items in the basket some height.
Play with the placement of the items so that everything can be clearly seen.
Fill in the empty spots with ornaments, a tea towel or Christmas greenery.
Shop the Supplies
Containers
Accessories
DIY Project Supplies
Get my free essential oils class HERE.
Print off the labels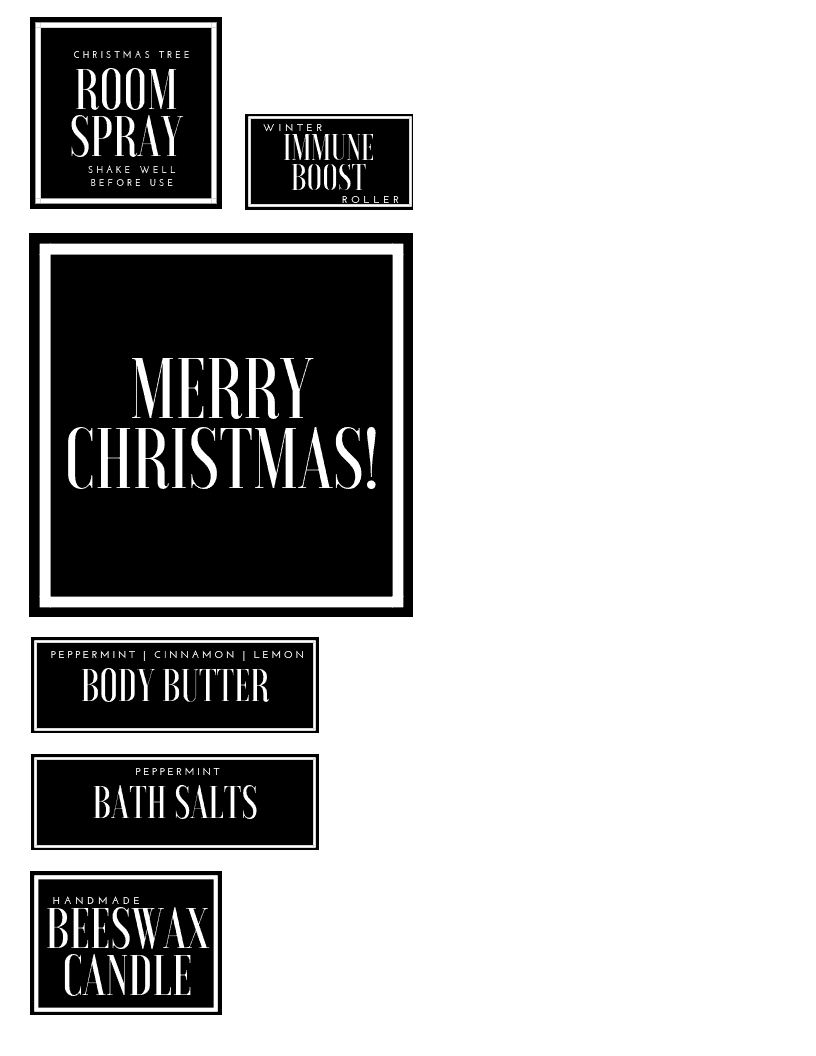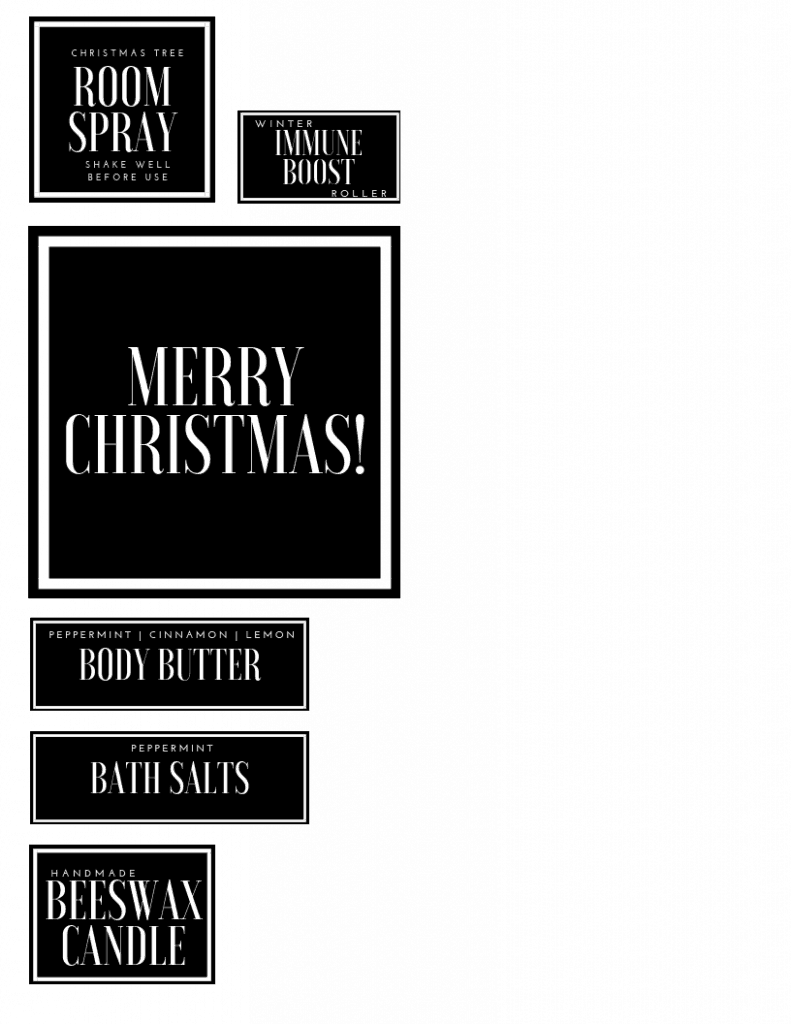 Black Version | Red Version | Blue Version
PIN IT FOR LATER