Learn how to make all natural organic cocoa DIY lip balm. Get a free printable too.
Hey friends!
Today I want to introduce you to my sister Laura from Our Oily House.
She is going to show you a very simple way to make DIY lip balm.
Grab my free "Natural Body" ebook for more recipes, for everything from deodorant to hand sanitizer, to get toxins out!
There is a lavender, as well as peppermint, option available.
And read all the way to the end to get free printables too!
Hello Farmhouse on Boone readers!  My name is Laura.
Did you know that the average woman puts 168 different chemicals on her body every single day?
Over 12,000 chemicals are used in various cosmetics, and out of that number only 10 percent have been evaluated for safety.
I don't know about you, but that is very alarming to me! It seems like a health kick is sweeping the nation, and so many people are trying to eat more naturally.
People are trying all these new diets, like Paleo, Keto, or Whole 30, but it seems so many have never actually thought about what is going in their body.
What goes on your body is just as important as what goes in it. I like to follow the rule, "If you wouldn't eat it, then don't use it on your skin."
When substances hit your skin, they will seep through to the bloodstream, sometimes as fast as 30 seconds, depending on where you put them.
My solution…make your own!
You can buy natural organic options that are great for you, but I have found that they come with a hefty price tag!
So, I have decided to make most products in my house from laundry soap to women's perfume.
Once you get going, its not all that hard. You find many products have similar ingredients, so you will already have what you need.
This all natural DIY lip balm is no exception! It only requires 4 ingredients, and you can whip up 15 tubes in 15 minutes very inexpensively. The products are all natural and similar to what you would find in a tube of Burt's Bee.
Ingredients for DIY Lip Balm
Directions for DIY Lip Balm
1) Place all ingredients in a small glass bowl.
2. Melt all ingredients, stirring often.
You can use a double boiler, but since I don't have one, I just placed a glass bowl over a pot with boiling water in the bottom. It works just as well!
3. Once all the ingredients are melted, you can add in your essential oil of choice.
I love the smell of lavender, but I also like using peppermint for its cooling affect.
Have fun with this part, and change it up, to find your favorite!
4. Give it a stir.
Now it is time to fill your tubes!
You can use a small funnel, or an old medicine dropper, for this part.
It will harden pretty quickly, so make sure to fill them right away.
Let sit for 10 minutes, or until cool and hardened.
Put the cap on and they're ready to go!
My kids love using lip balm, and I feel good about letting them carry around their own tubes, since it has all good, wholesome ingredients!
DIY Lip Balm video Tutorial
Get your FREE printable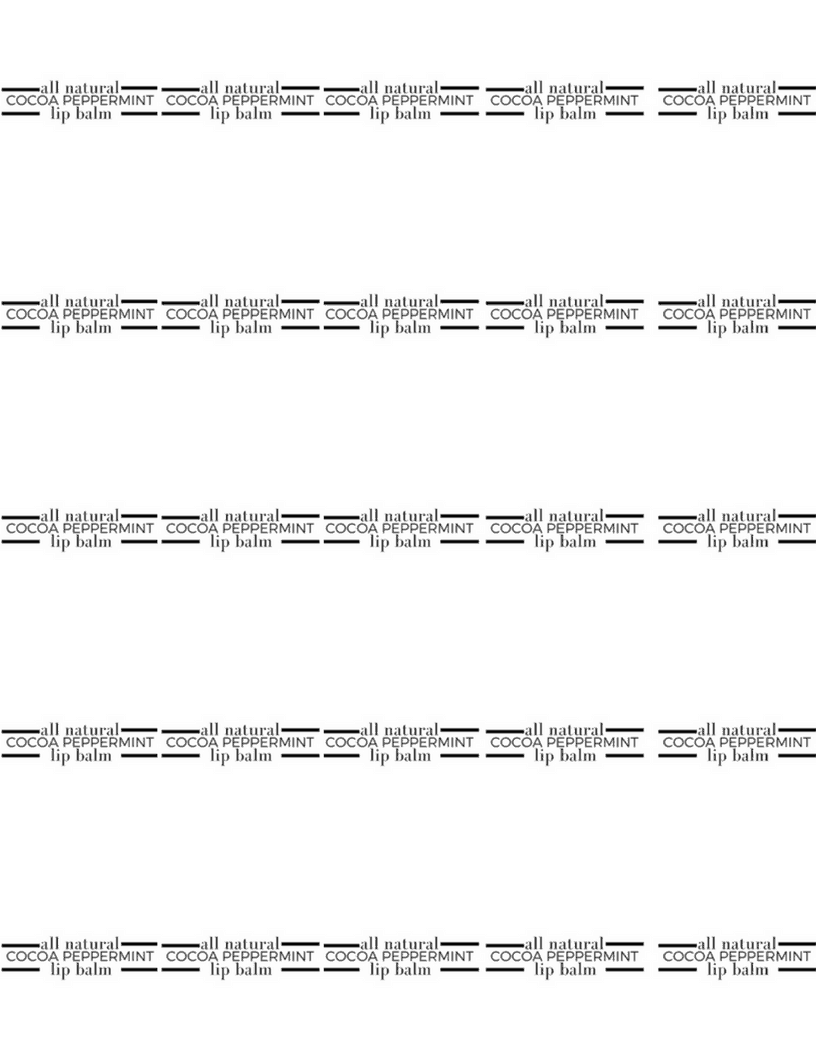 Pin it for later:
Enjoy!