This week I am sharing what we eat in a week for lunch, here at the farmhouse. I have seven healthy lunch ideas for family. With homemade sourdough tortillas, and English muffins, most of these ideas are also great for on the go!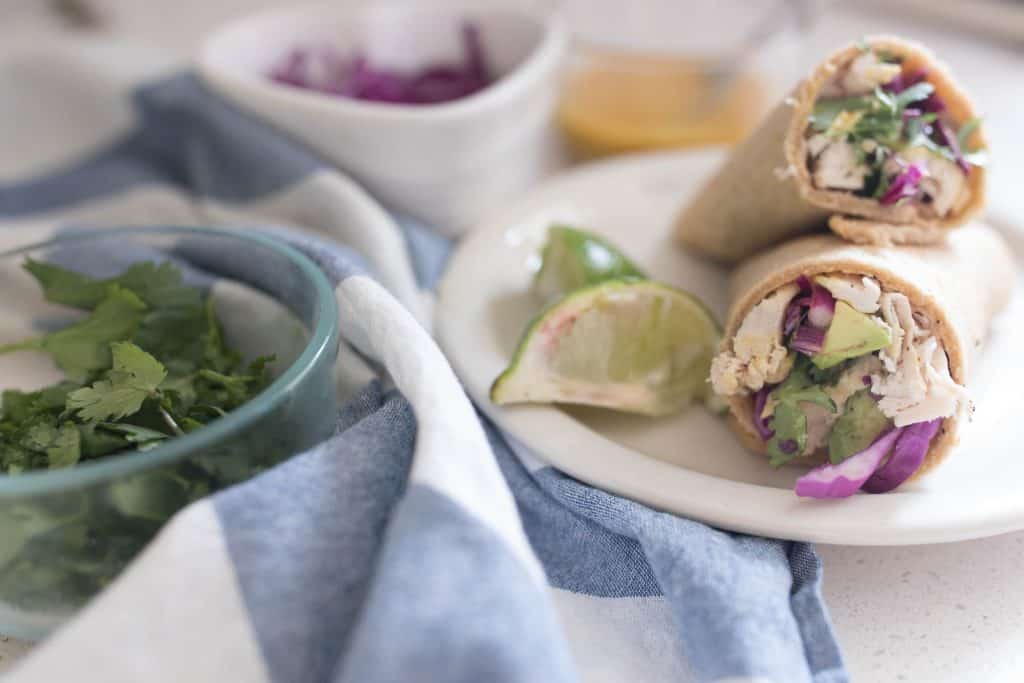 Ever since sharing my videos on What we Eat in a Week for Dinner- Easy Healthy Meal Ideas for Family and Healthy Breakfast Ideas for Family, I have had soo many requests for a lunch edition.
I hesitated to share this for a while, because it's really just more of the same for our family.
Even before my husband quit his job, we ate every lunch together in our home. He worked for the town that we live in, so he would just pop by for his lunch break. For our entire 10 year marriage, we have had this luxury.
I also homeschool the kids.
So, since I don't have to pack lunches for anyone, our lunches aren't exactly typical lunch fare. They actually look a lot more like standard dinners.
Since you all were so interested in lunch ideas, I tried to choose some of my meal ideas that look a little more like lunch. I used some of my favorite sourdough recipes to put together some easy healthy (and packable) ideas!
Healthy Lunch Ideas for Family | What we eat in a week Video– Watch the video version of this post on Youtube!
       1. Roasted chicken, salad, avocados, fermented veggies and homemade ranch
I love making roasted chicken for lunch because its just so easy when you're busy. Put it in the oven and forget it for about an hour. If I know I am going to be out of the house, or busy all morning, I bake it first thing. Then, I turn off the oven and let it sit in there until lunchtime.
If you need this meal to be "on-the-go" friendly, make it the night before. Pull the chicken off the bones and store it in a glass container. The great thing about chicken is it can be eaten cold. Tastes like lunch meat.
I just make sure to sprinkle it with salt, pepper, garlic powder and herbs to flavor it up a bit!
To make the homemade ranch, I stirred together some organic mayo, heavy cream, salt, pepper, garlic powder, onion powder and fresh herbs. (Now I know some of you are going to want an official recipe, so I plan to actually measure next time so I can share one with you!)
Get my fermented veggies recipes here:
Make sure to save the chicken bones to Make Homemade Bone Broth.
      2. Continental Lunch
Hard boiled eggs, cheese, sliced veggies and fruit is what my family calls a "continental". We call it that because its like a hotel breakfast. All cold stuff that is made ahead of time and easy to eat.
We love this one because it is easy to pack up on the go.
It also works great for last minute lunches, as long as you have hard boiled eggs in the fridge.
We almost always have the makings for some variety of a "continental"!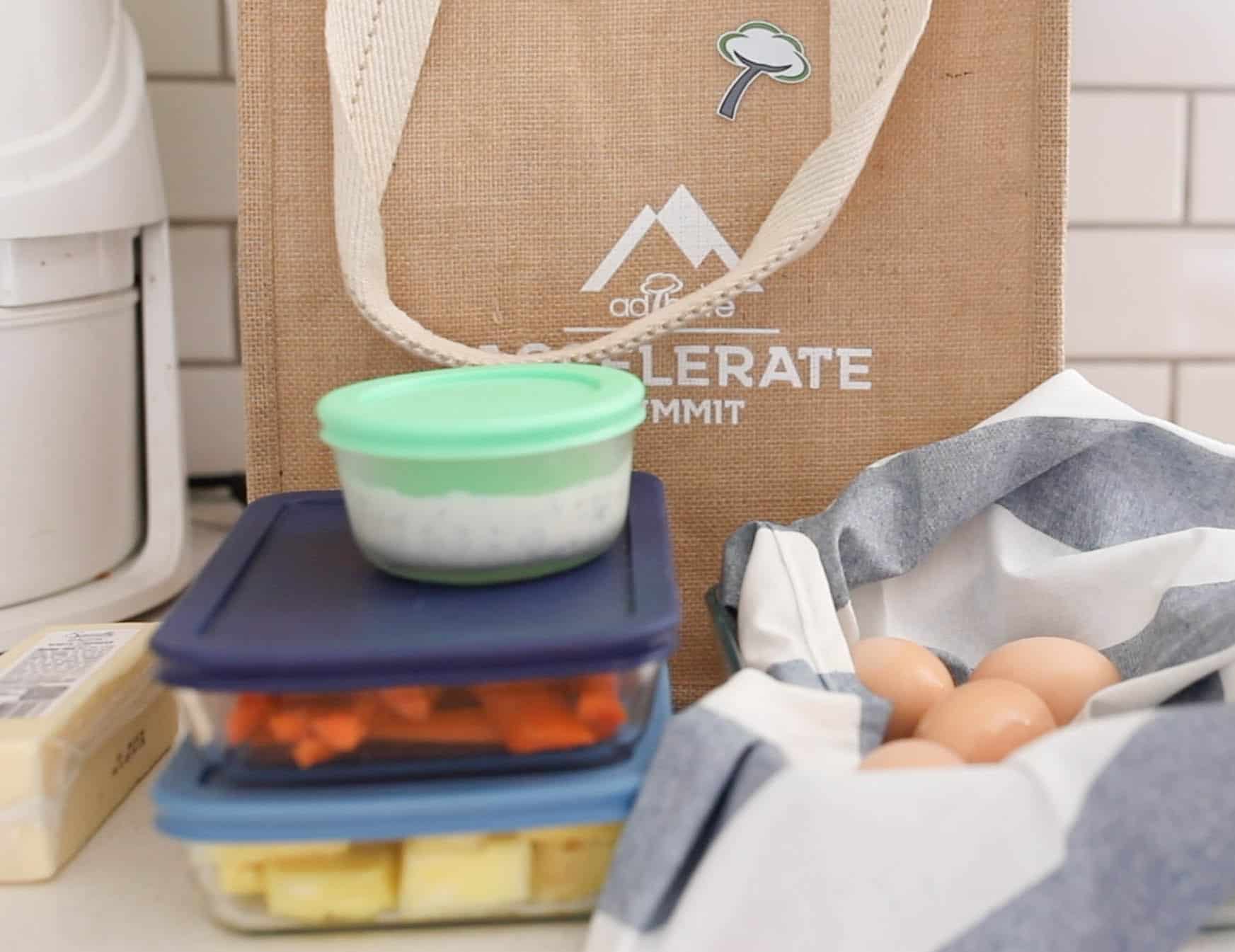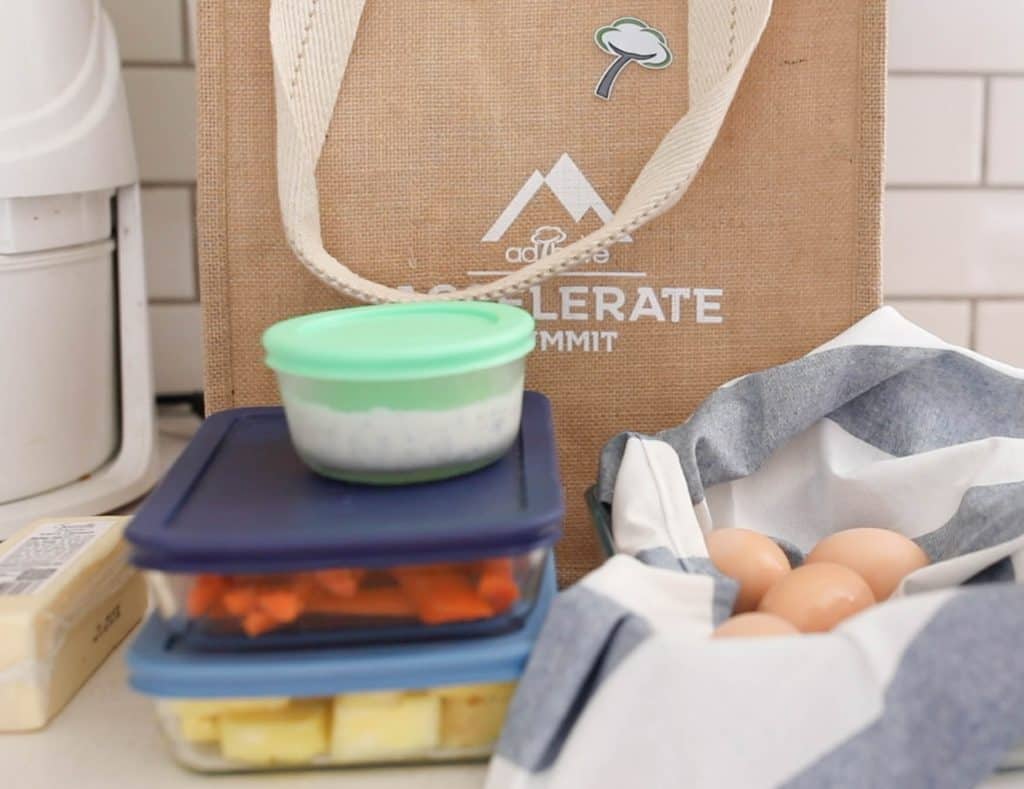 3. "The Best Thing I've Ever Eaten in my Life" AKA Chicken Salad on Sourdough English Muffins
Those were the actual words that came out of my husband's mouth when he tried these. I was hoping they would be edible, but I wasn't expecting that particular accolade.
To make them, I just combined some leftover cooked chicken with organic mayo, diced onions, diced sweet peppers, salt, pepper and fresh herbs.
I spooned it onto my Homemade Sourdough English Muffins.
These are perfect for "on-the-go"!
If you are a busy working parent, make up the chicken salad and English muffins ahead of time. They both keep very well, for up to one week.
Get the chicken salad recipe here: Southwest Chicken Salad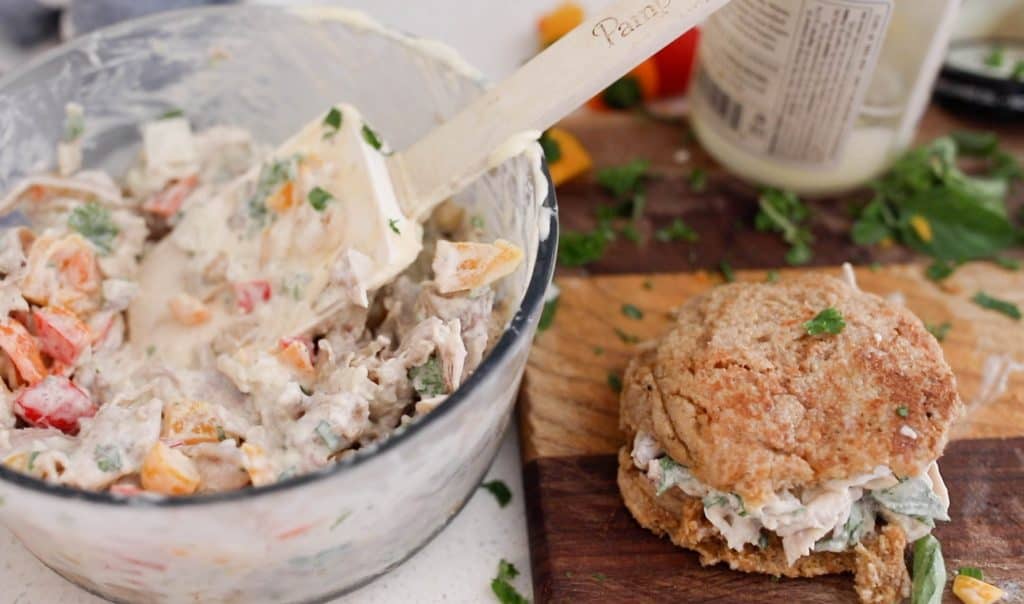 4. Big Salads with Chicken and Homemade Ranch
I gathered some fresh greens and herbs from the garden. Salad is so delicious with fresh oregano, parsley, basil and thyme.
I topped the greens with hard boiled eggs, shredded cheese, sliced avocados and more of the homemade ranch from day one.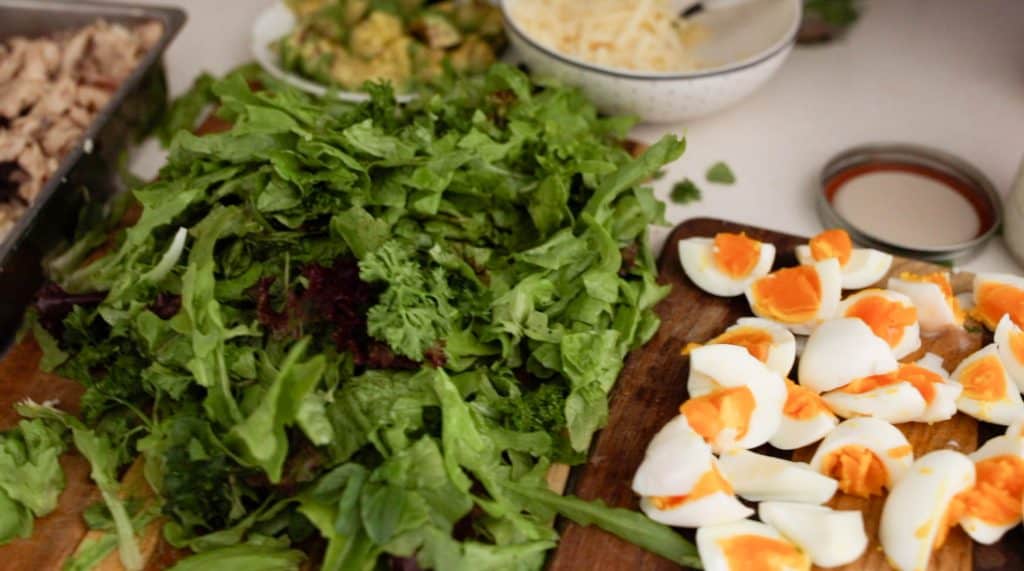 5. Nachos with Hidden Veggies
I never miss an opportunity to sneak veggies into a meal. If something is going to be covered with meat and cheese, most kids are unlikely to notice sautéed squash and onions.
For these nachos, I used pumpkin spice tortilla chips from Aldi. They were organic, and in the sale bin for 99 cents. I grabbed every bag they had.
After baking, I topped the nachos with fresh cilantro, lime juice and dice tomatoes.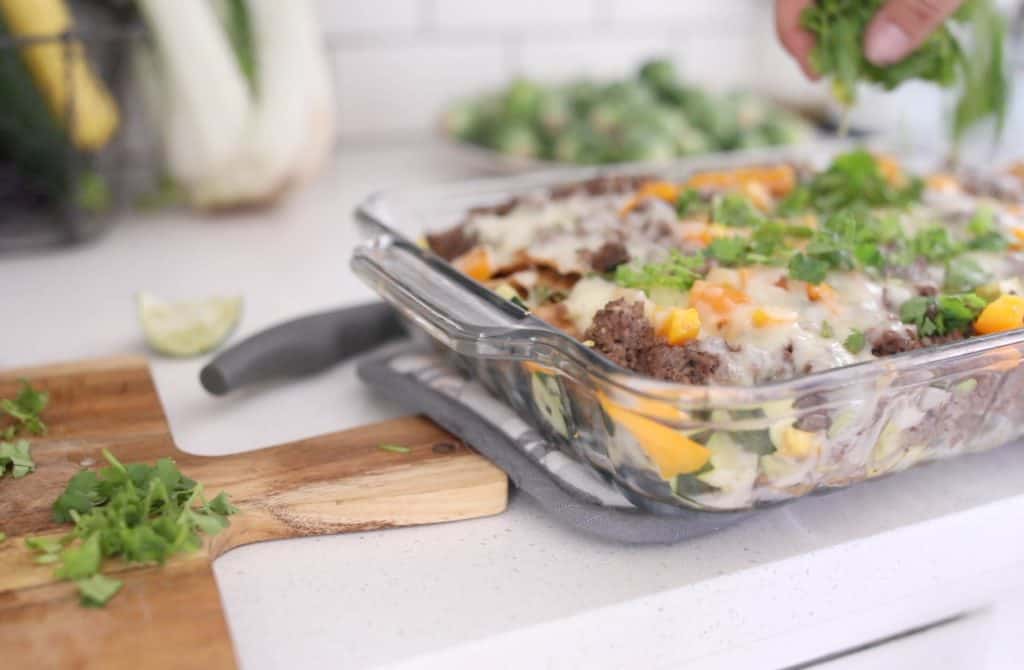 6. Honey Mustard Cilantro Chicken Wraps
This is my personal favorite from this week's lunches.
I spread chicken, avocado, purple cabbage, fresh cilantro and honey mustard on one of my Homemade Sourdough Tortillas.
To make the honey mustard, I just mixed equal parts of raw organic honey and mustard in a glass mason jar.
The sweetness in the honey mustard is sooo tasty with the fresh cilantro and chicken. I basically want to eat this for lunch every day!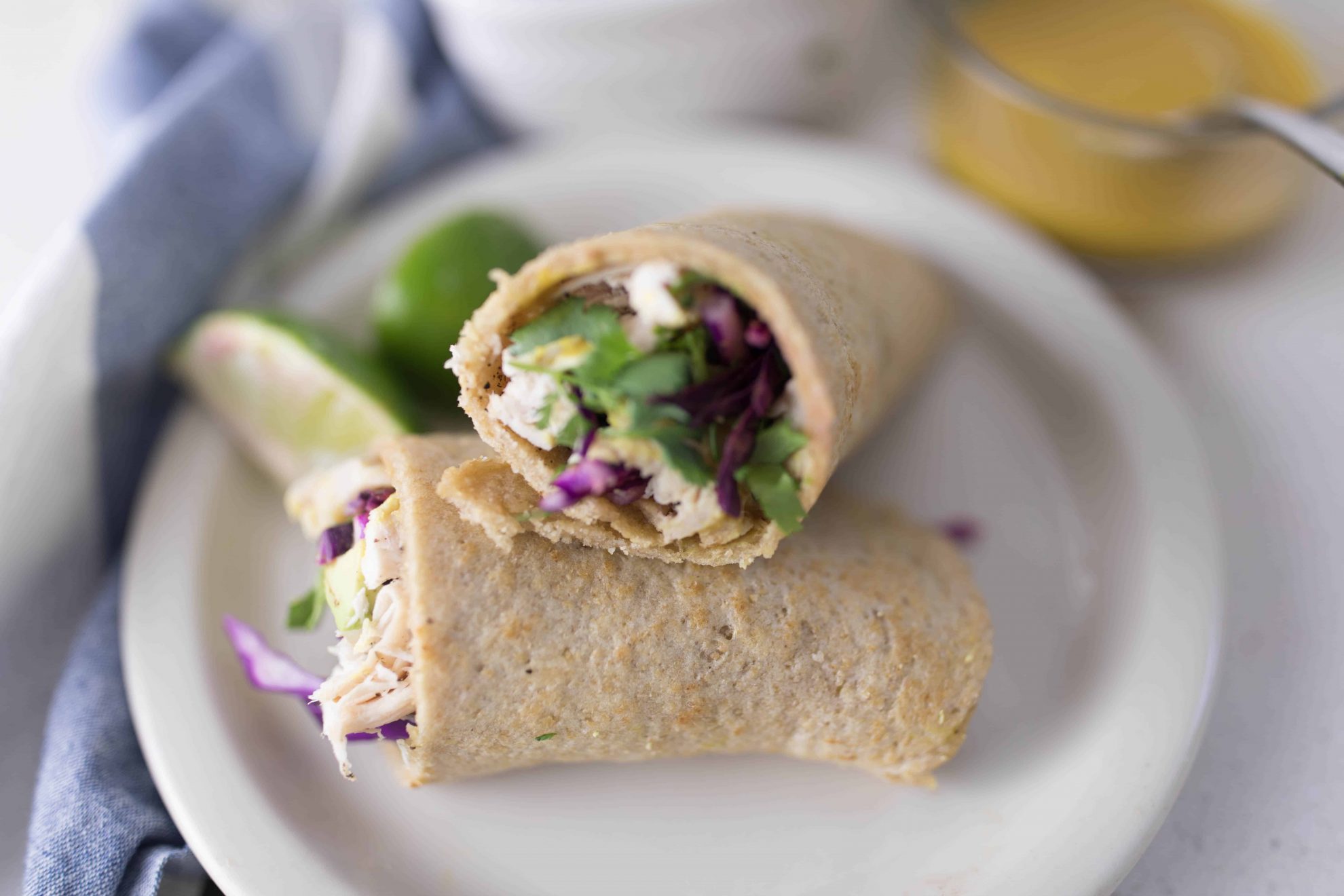 7. Mexican Plate
We have this meal all the time in our home!
It is basically just whatever "fresh-mex" ingredients we have on hand all served together.
Avocados, peppers, chicken, quinoa, cilantro, sweet corn, onions, salsa, tortilla chips, sauerkraut…are all great options.
For a lunch on the go, you could pack cooked chicken with sliced (uncooked) bell pepper and onions, homemade guacamole and chips.
What would you add to this?
What other lunch-y things did I totally miss? Let me know in the comments below!
Pin it for later