Learn how to cook a pumpkin from scratch and the best pumpkin varieties for cooking. Follow this tutorial to learn four different ways of cooking pumpkin – from baking pumpkins to the Crock Pot and Instant Pot.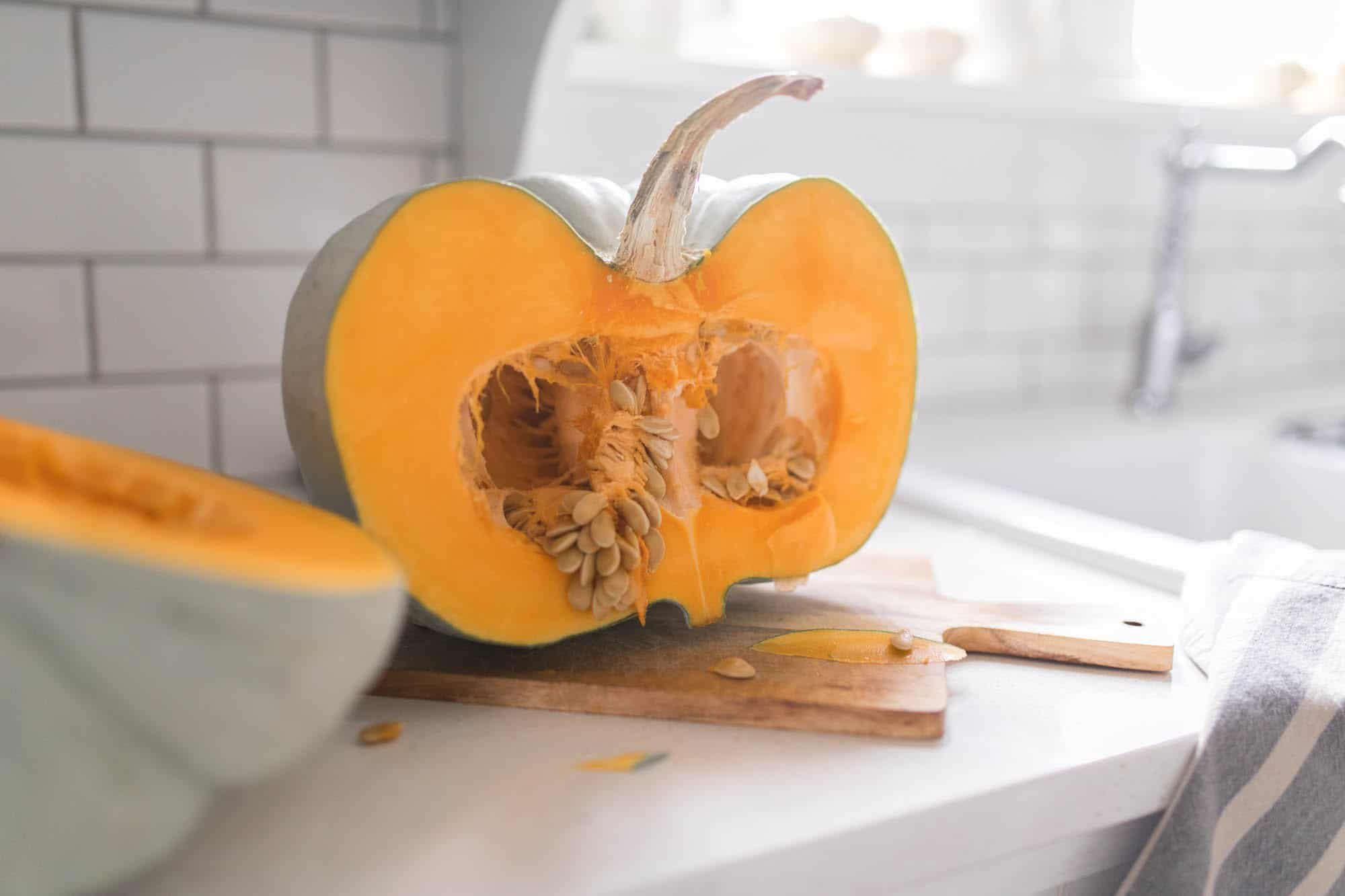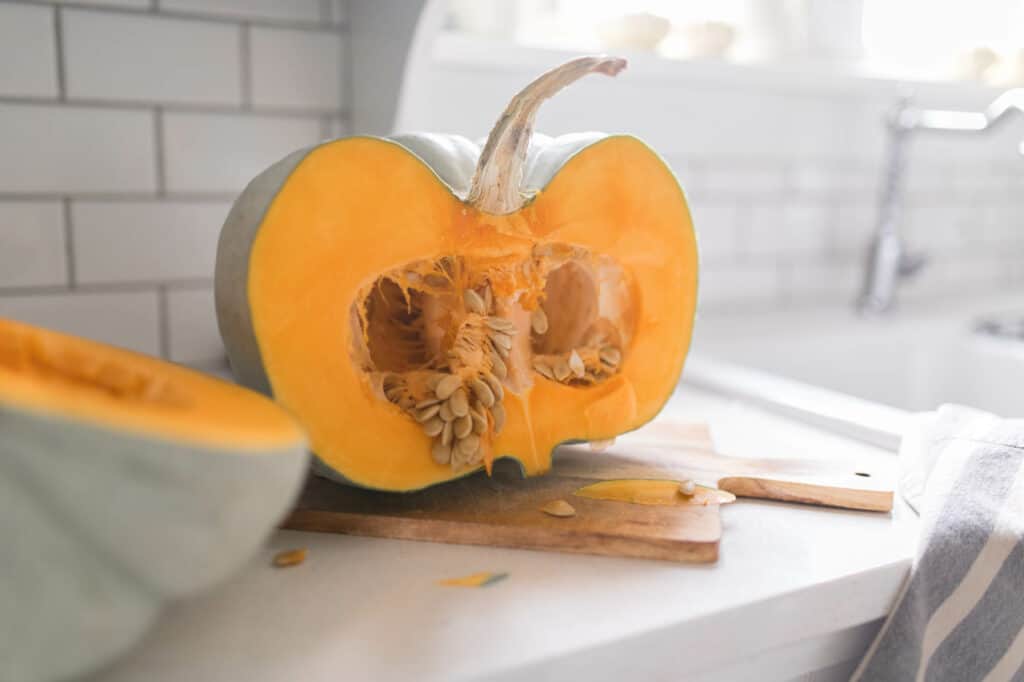 This post was updated July 2019
I feel like most people treat pumpkin as a sweet treat in the fall, but I like to treat it as another in season vegetable. So we eat it a lot and often.
We love using pumpkins in soups, stews, pasta sauces, and so much more.
There are many different ways to cook a pumpkin, and depending on how you plan to use it will depend on the way you choose to cook it.
My favorite way is roasting. I just love how the pumpkin starts to caramelize which adds so much flavor and sweetness.
The Instant Pot and Crock Pot will leave more moisture in the pumpkin making it perfect for purees.
There are just so many ways to sneak in some pumpkin into your meals. Which is a great way to add in some extra nutrition since they are packed with antioxidants, vitamin A, vitamin C, potassium, and so much more.
How We Ate A Whole Pumpkin In A Week
Normally, when I cook a whole pumpkin, I put at least half of it in the freezer for later. Last week, I put the whole thing in the fridge. Every time I made a meal, I just threw a little pumpkin in. Turns out it goes with just about everything.
I added some to quiche, grass fed meatloaf, spaghetti squash, pancakes, granola and smoothies.
Pumpkins aren't just for pie, my friends. When in season, pumpkins are inexpensive and fresh. Why not add them to all your usual meals?
They have a similar taste and texture to sweet potatoes, or butternut squash.
How to Cook a Pumpkin Video Tutorial
Best pumpkin varieties for cooking
Jarrahdale pumpkins– This is the bluish-gray variety that I cook in the video above. It has a nice texture and doesn't have a very high water content. Jarrahdales are my preferred variety when I want to add it to a stir-fry or soup. It can also be blended with water to make a puree.
Sugar pie pumpkins- These are those small orange pumpkins that you usually see in the grocery store in the fall. They are great for making pumpkin puree. They are small and have a sweet taste.
Cheese pumpkin- This is actually the pumpkin I cooked last week, when we ate the whole thing. It is easy to see why. They are so darn delicious! It does have a high water content, so make sure to put something underneath when you're roasting it in the oven. It has a bright orange flesh and sweet flavor.
Don't use Jack-o-Lantern Pumpkins
The big orange pumpkins you typically see on everyone's porches come September aren't the best variety for baking.
Sure, they are edible, but its kind of like eating an overgrown zucchini in the middle of summer. They are fleshy, watery and full of huge seeds. Just not all that delicious!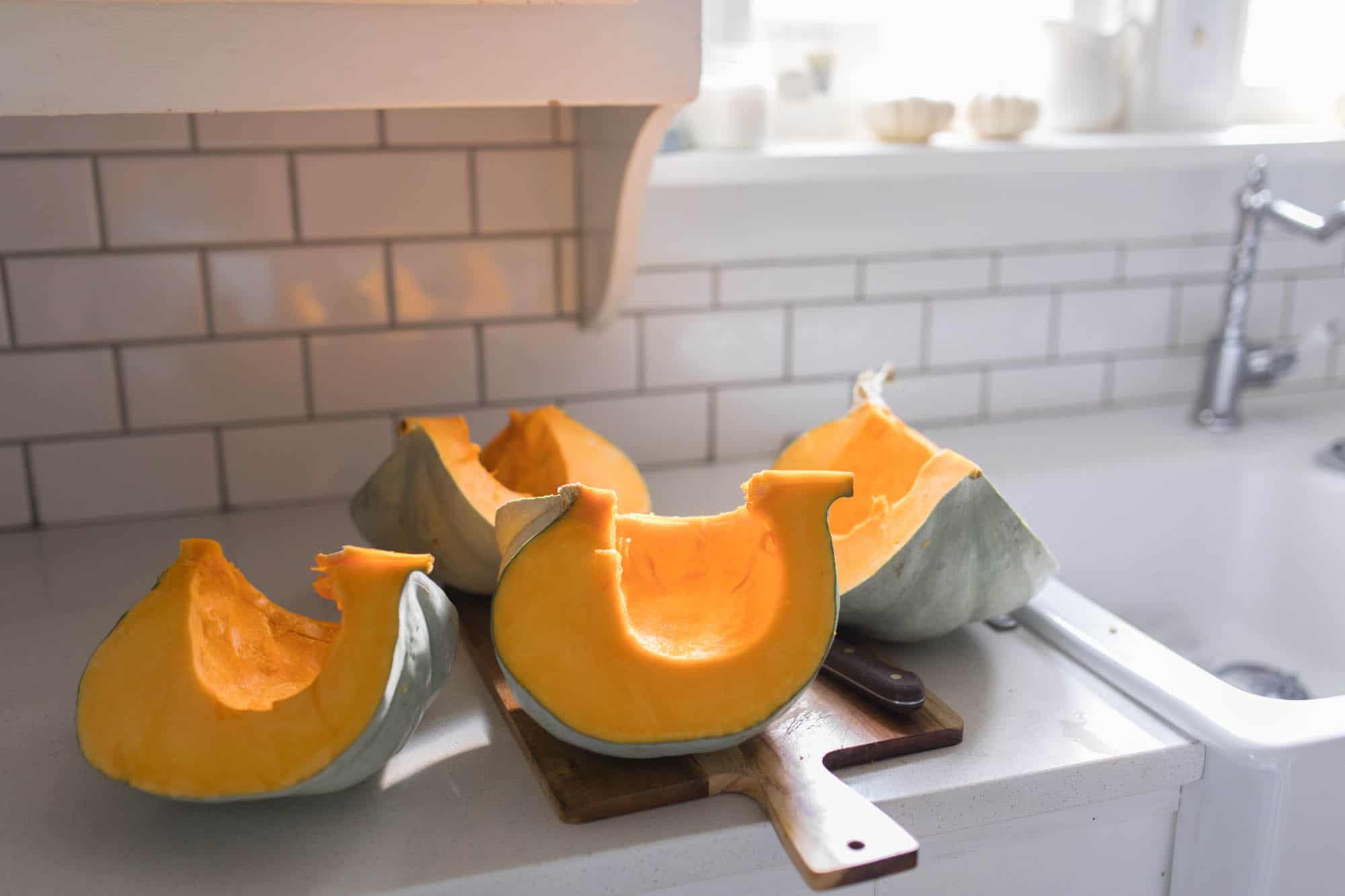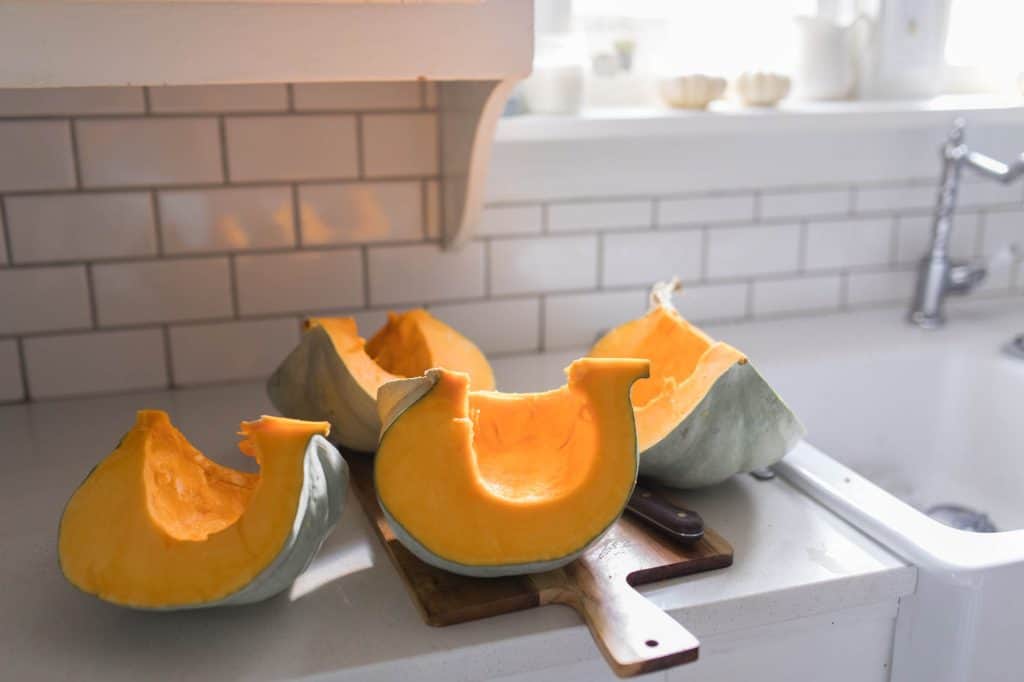 How To Cook A Pumpkin Three Different Ways
How To Cook A Pumpkin In The Crock Pot
Cooking a pumpkin in the crock pot is pretty straight forward. The only obstacle will be getting the whole pumpkin to fit. For this reason, I recommend cooking a smaller variety, like the sugar pie pumpkin.
Cut the pumpkin in half.
Scoop out the seeds.
Quarter the pumpkin.
Put it in the crock pot on low for eight hours or high for four.
Scoop the flesh away from the peels.
Once cooled, put it in a ziplock bag for freezer storage.
How To Roast A Pumpkin In The Oven – Baking Pumpkins
This is my preferred method. Roasting vegetables imparts a sweet, caramelized flavor. I also like that it cooks out a lot of the moisture, leaving a less watery end result. I prefer this method when I plan to use the pumpkin in more savory ways, like in a meatloaf, quiche, stir fry or soup.
Option One:
Cut the pumpkin in half.
Scoop out the seeds.
Quarter the pumpkin.
Rub the flesh with coconut oil.
Place the four pieces on the top rack of a 425 degree oven.
Roast for one to one and a half hours, or until soft. The roasting time will depend on the size of the pumpkin.
Option Two:
Peel the pumpkin like you would a potato.
Cut the pumpkin in large chunks.
Drizzle with coconut oil.
Sprinkle with salt.
Roast at 400 degrees for one hour.
How To Make Pumpkin Puree In The Instant Pot
Cut the pumpkin in half.
Scoop out the seeds.
Quarter the pumpkin.
Put it in the instant pot with a cup of water.
Set the pressure to high and cook for an hour.
Scoop the flesh away from the skin.
Blend the cooked pumpkin and excess water to make homemade pumpkin puree.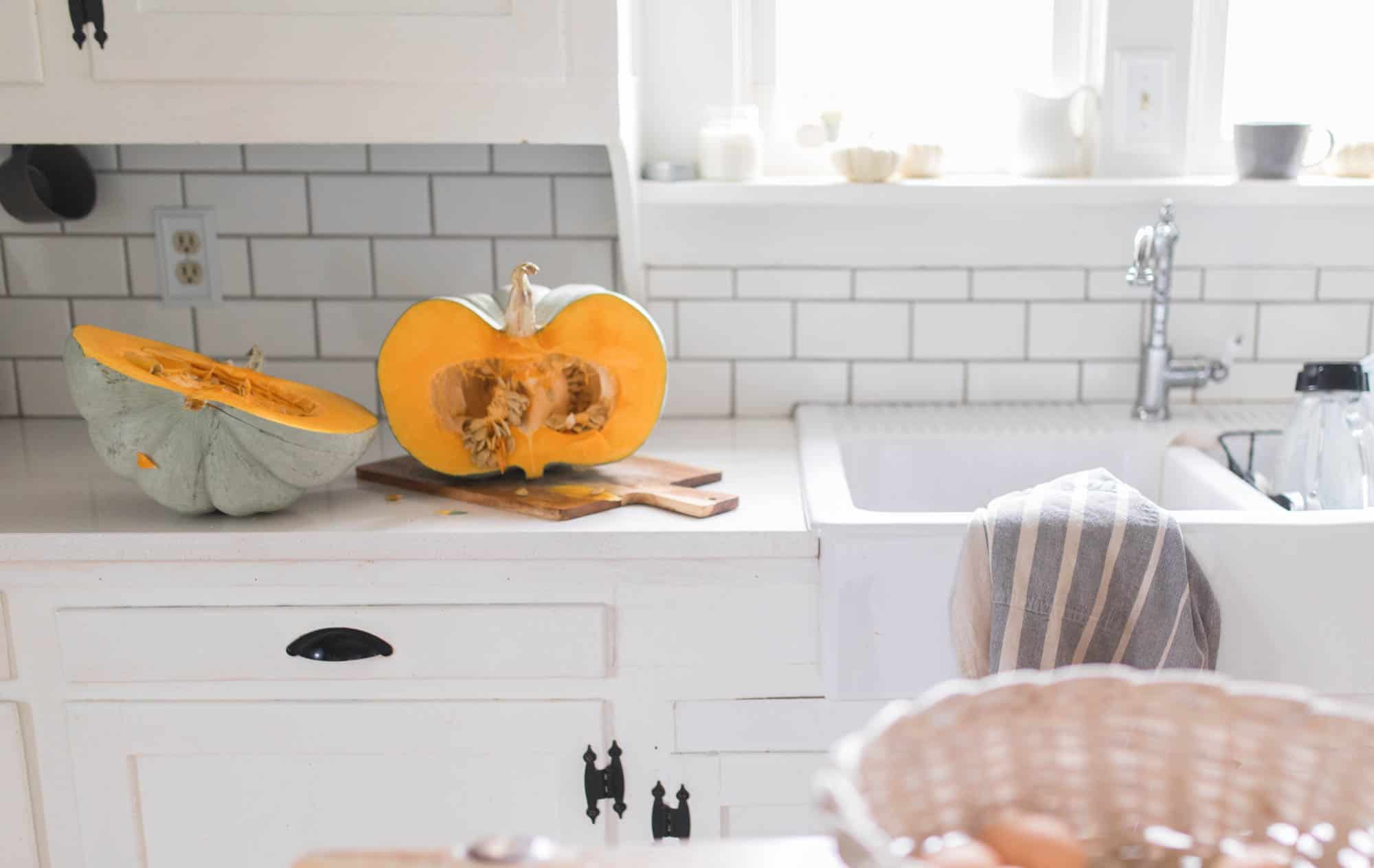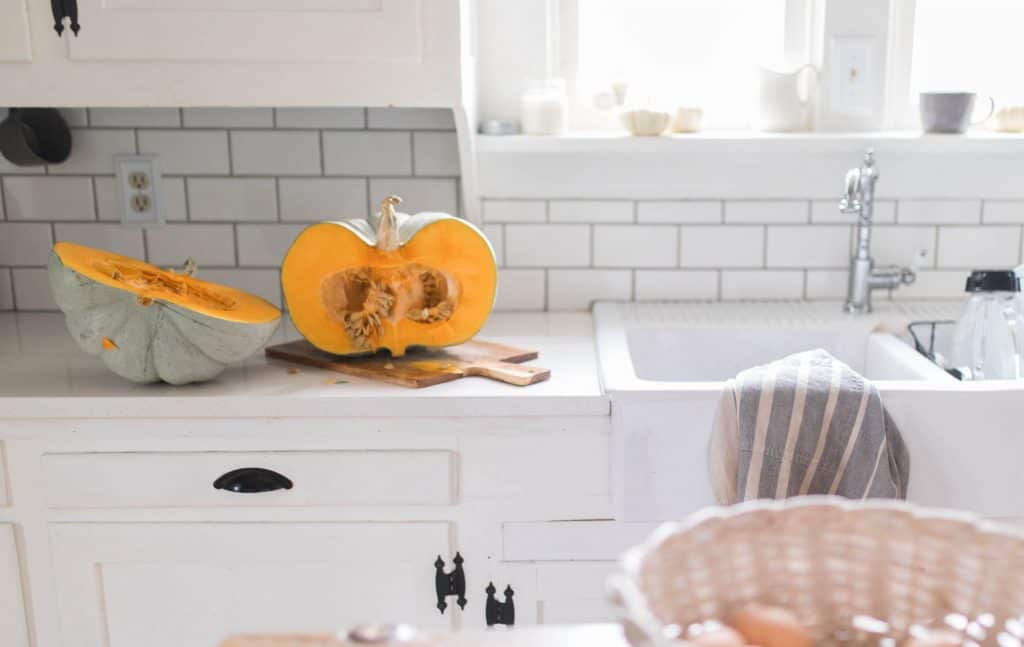 Other Ideas To Sneak In More Fresh Pumpkin
Stir-fry- Sautee onions, quinoa cooked chicken and herbs in some butter. Add in some roasted pumpkin chunks.
Roasted Pumpkin Soup with Acorn Squash or make this soup recipe, replacing the butternut squash with pumpkin.
Pasta sauce- Reduce a couple cans of tomatoes, fresh herbs, onions, garlic and salt in a large stock pot. Stir in a couple cups of cooked pumpkin. Blend it all up in a blender. No one will know the difference!
Pin it for later