Learn how to make homemade vanilla with this very simple tutorial.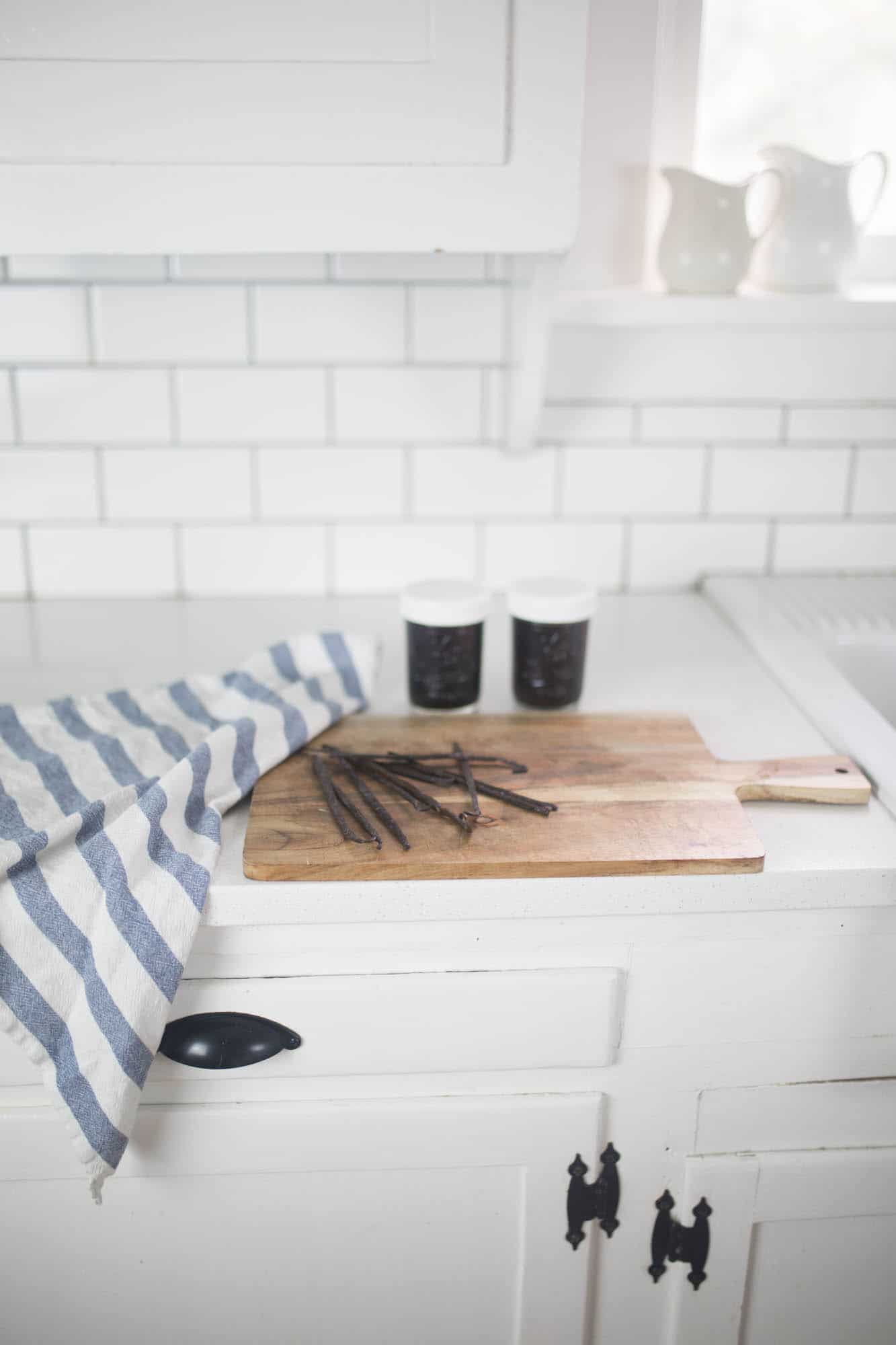 Why Make Your Own Vanilla
I love having homemade vanilla extract. It is very simple to make and works beautifully in so many of my recipes.
Homemade vanilla extract has more flavor and depth than the imitation vanilla, that you find on the cheap in the grocery store.
Real vanilla can be expensive, but it is worth the additional cost. When you make it at home, the taste is even more pure and delicious. You get every part of the vanilla bean, including the fragrant seeds inside the pods.
Homemade vanilla extract is less expensive than the real stuff from the grocery store, and the flavors cannot be compared.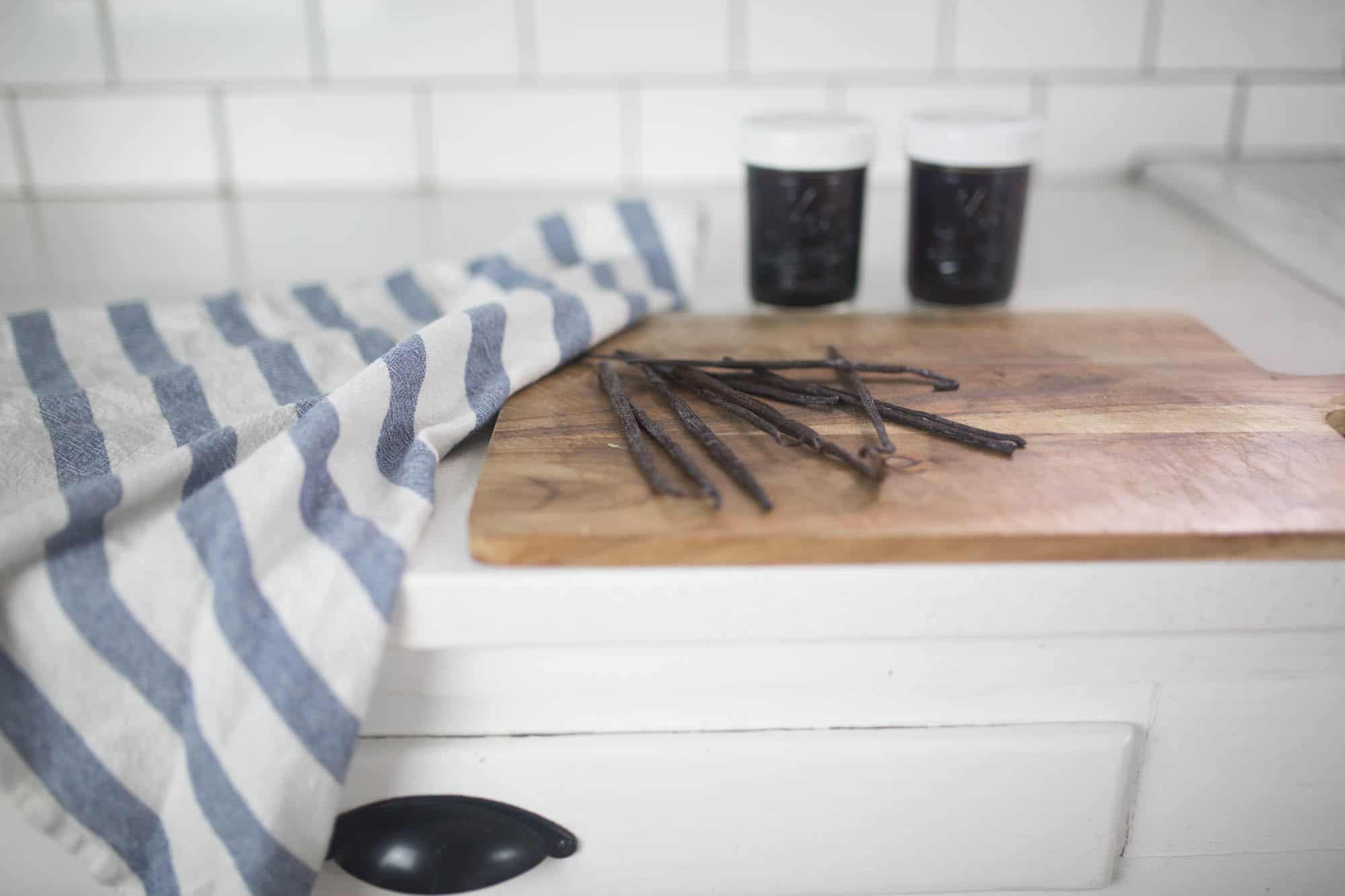 How do I Use Vanilla
I use a lot of homemade vanilla extract here in the farmhouse.
I sprinkle it in homemade yogurt, pour it in grain free granola and add a dash to my morning coffee.
Don't put it past me to throw a few drops in a pumpkin, frozen banana, cinnamon and raw milk smoothie. I can't get enough of the stuff!
Watch a video of me making homemade vanilla extract
Which Vanilla Beans to Use for Homemade Vanilla Extract
I have made homemade vanilla extract from many different beans. Years ago I purchased them on eBay. Now, I get them on Amazon. I have tried Tahitian and Madagascar Beans. .
After doing a little research, including this article on Pastry Chef Online, the best bean for culinary purposes is pure Madagascar vanilla beans.
Homemade vanilla extract made in vodka tastes most the like the good old fashioned, and pure, vanilla you're used to. Rum or bourbon will add a rich flavor to the extract.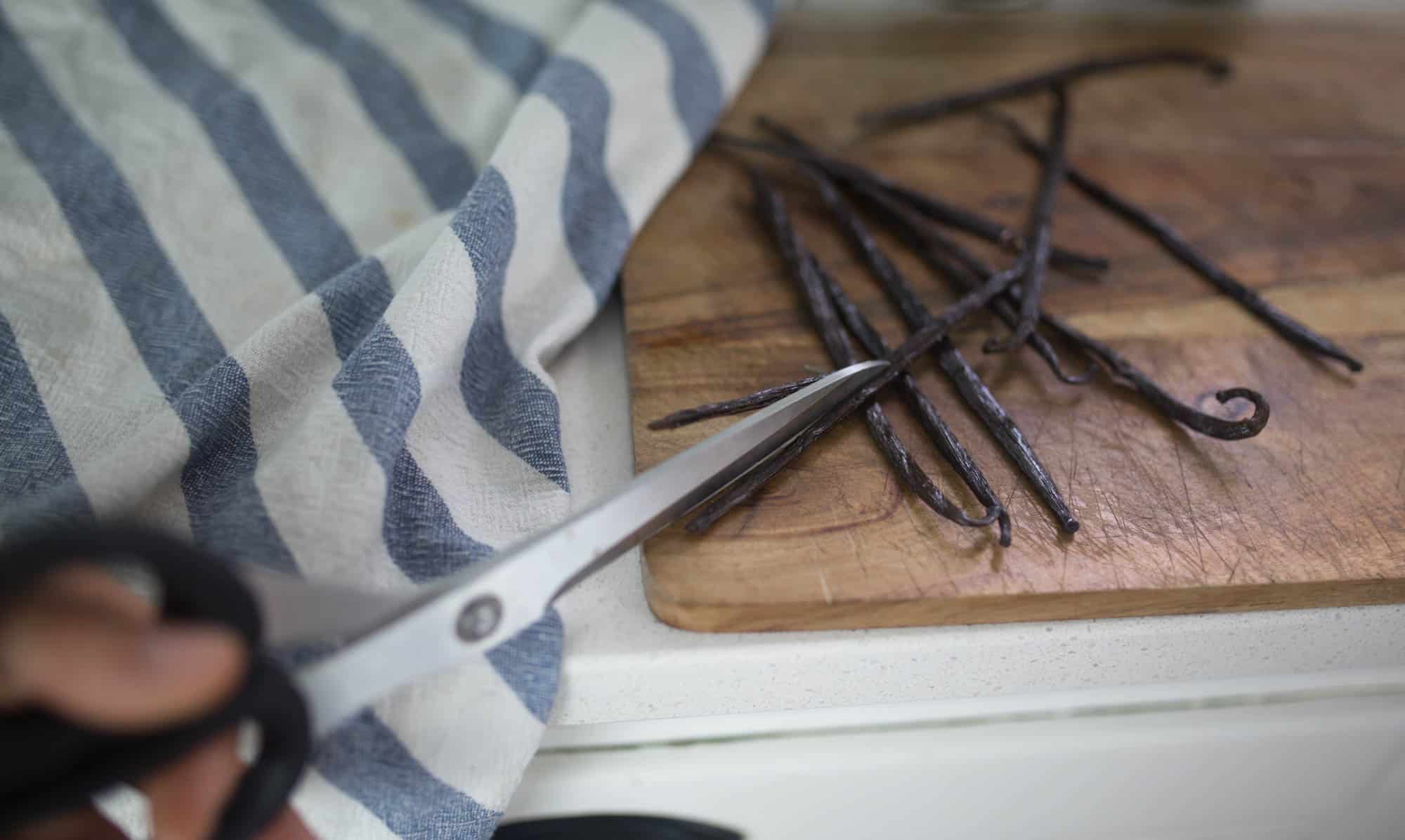 The Process
If you've ever made an herbal tincture, the process of making homemade vanilla extract is very much the same.
The basic science goes like this: When an herb with desirable properties is placed in a preserving liquid, like glycerin, vinegar or alcohol, the beneficial components/taste/properties are extracted to the liquid.
Alcohol is a potent solvent, and yields a more concentrated tincture.
Putting together a batch of homemade vanilla extract is as simple as placing vanilla beans in your preferred alcohol choice, and letting time do the work.
Step One
Cut vanilla beans down the center.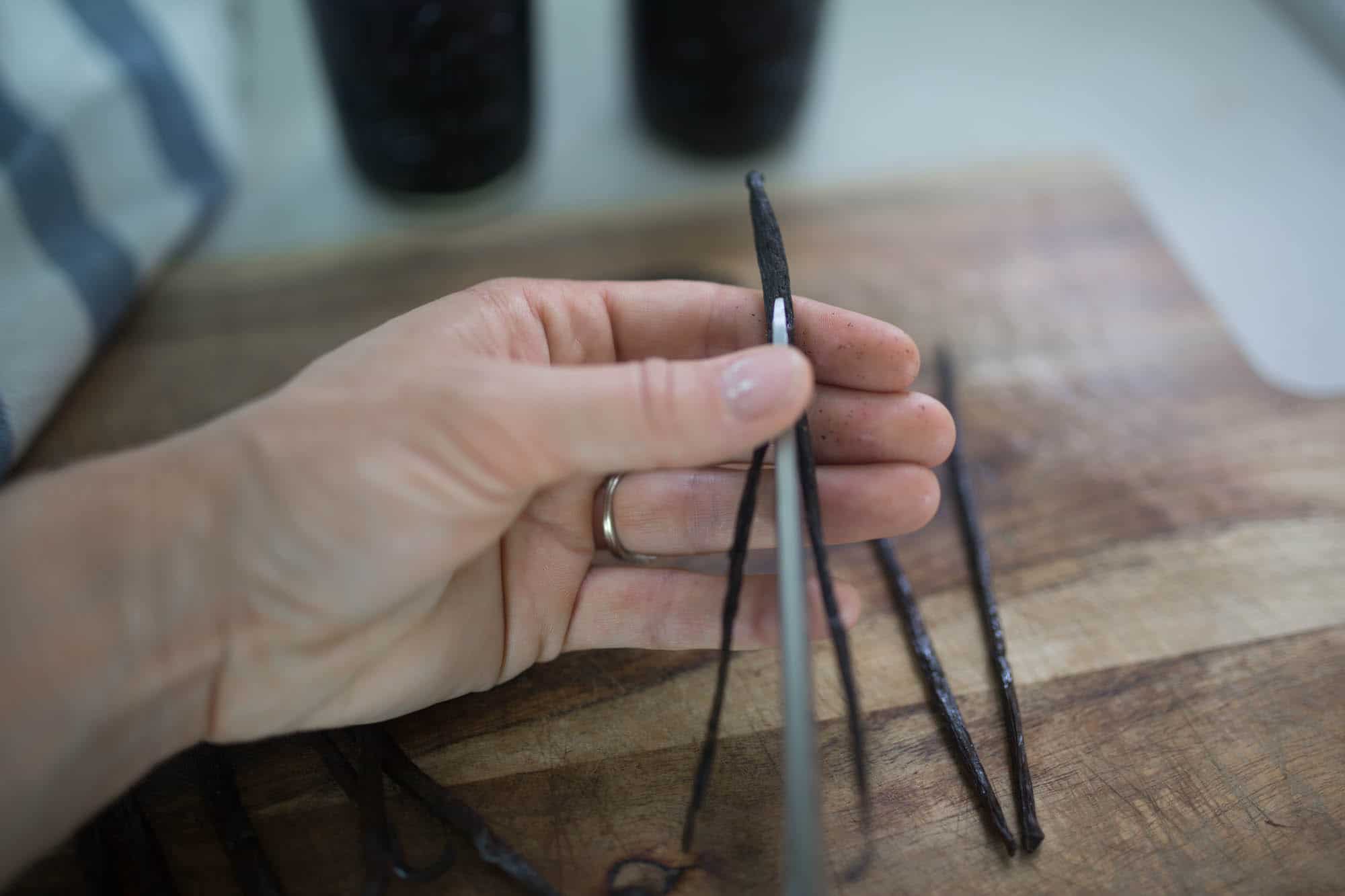 Step Two
Place the vanilla beans in your vessel of choice. Depending on the size of your jar, you may or may not need to cut the beans in half to fit.
For this application, I am using the same wares I use for everything else. The humble mason jar. I have them in every size.
Step Three
Cover the vanilla beans with alcohol.
I just use inexpensive vodka.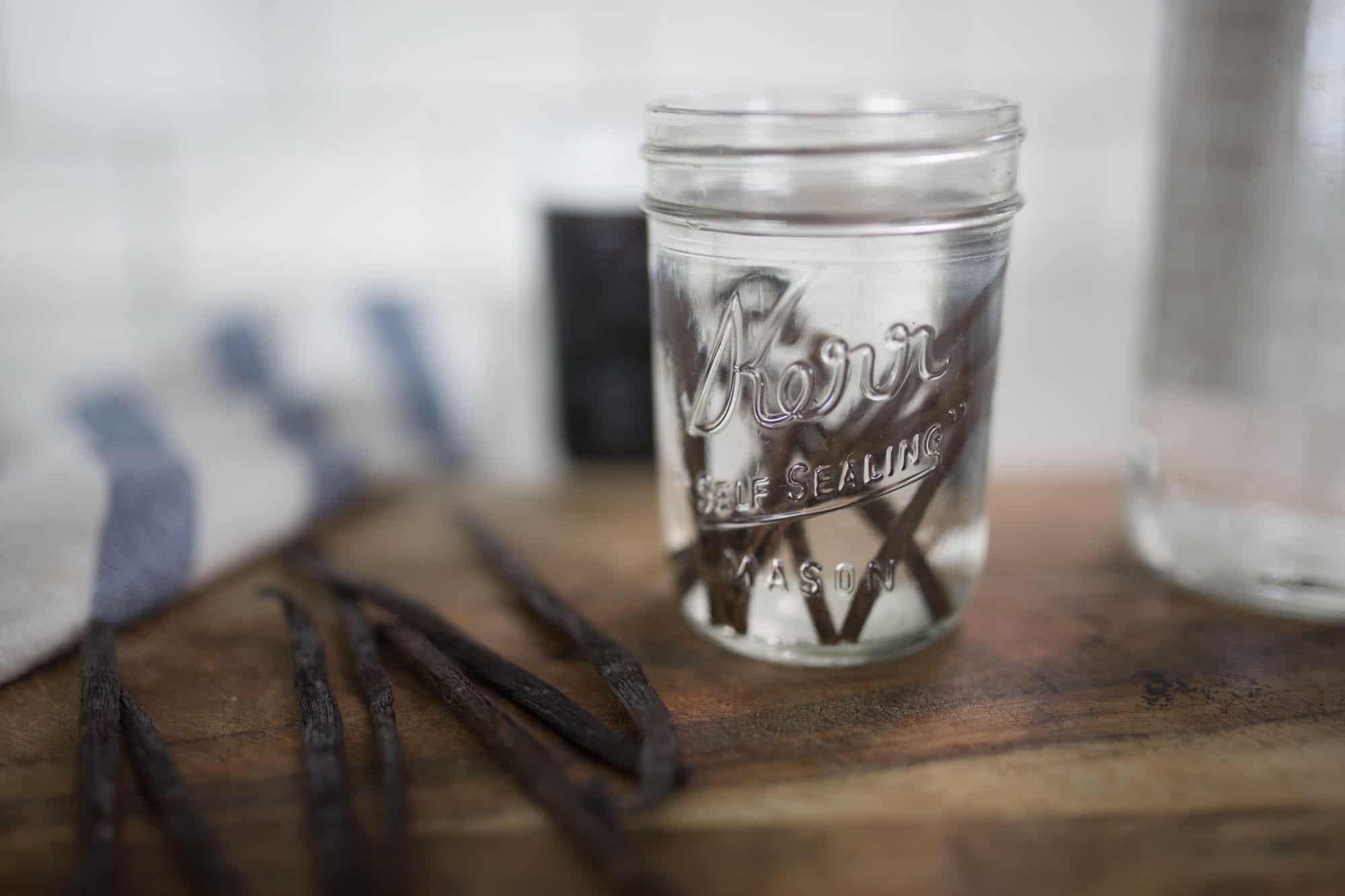 Step Four
Give it time.
You will know it's ready when the extract no longer smells like alcohol. This usually takes about four months.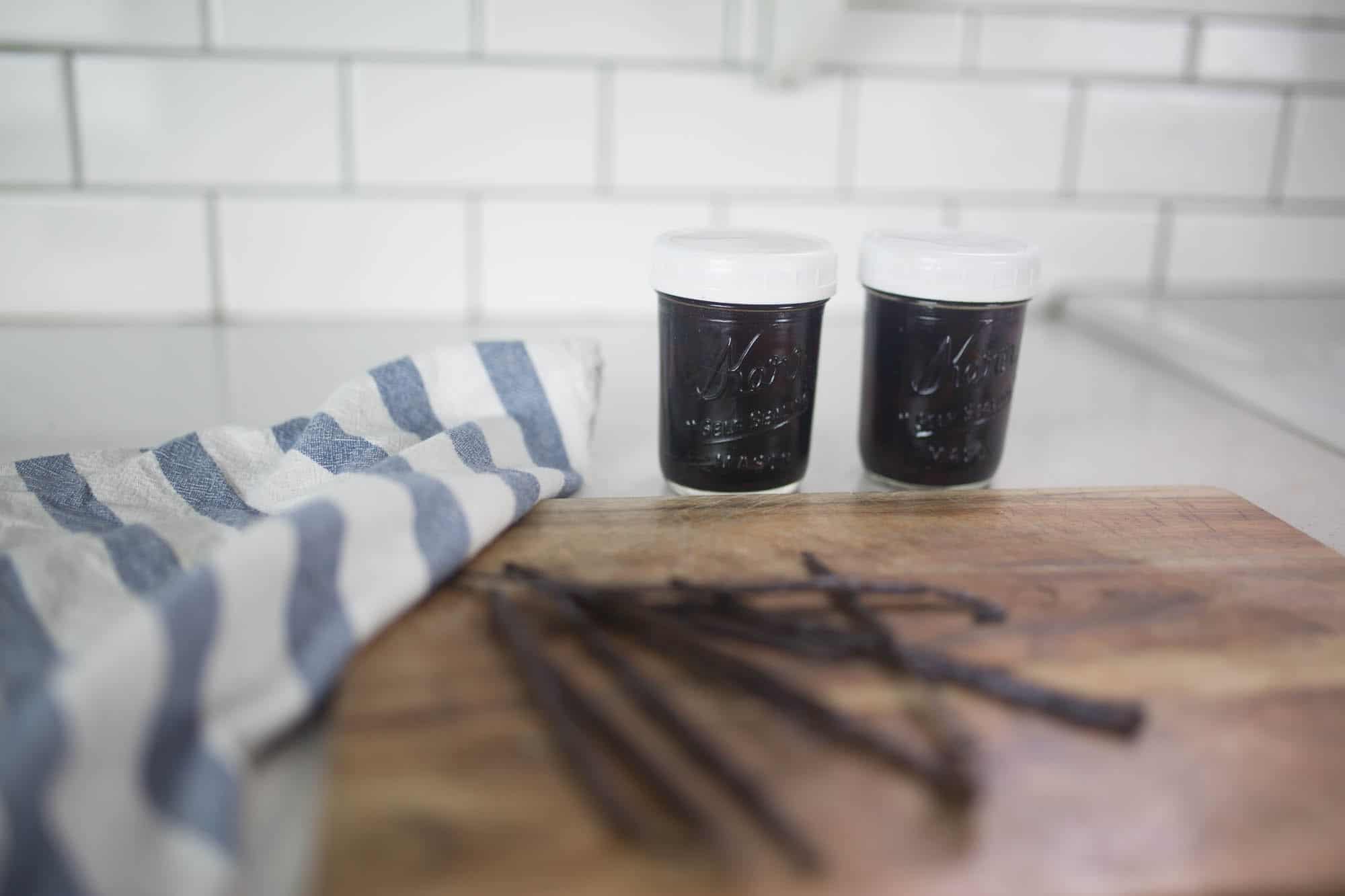 Homemade vanilla extract, alongside a pretty tea towel and beeswax candle, makes a super simple, and thoughtful, handmade Christmas gift.
If you aren't able to start the vanilla four months before, just put a little note on the jar that says "Ready to enjoy in February".
Enjoy making homemade vanilla extract!
Sources:
This post contains affiliate links for your convenience. See my full disclosure here.