Learn how to make salad dressing three ways. These simple, made-from-scratch, homemade salad dressings will turn any salad of leafy green into a delicious dish, bursting with flavor. Your salads will never be boring again with these recipes for honey mustard dressing, homemade ranch, and lemon vinaigrette.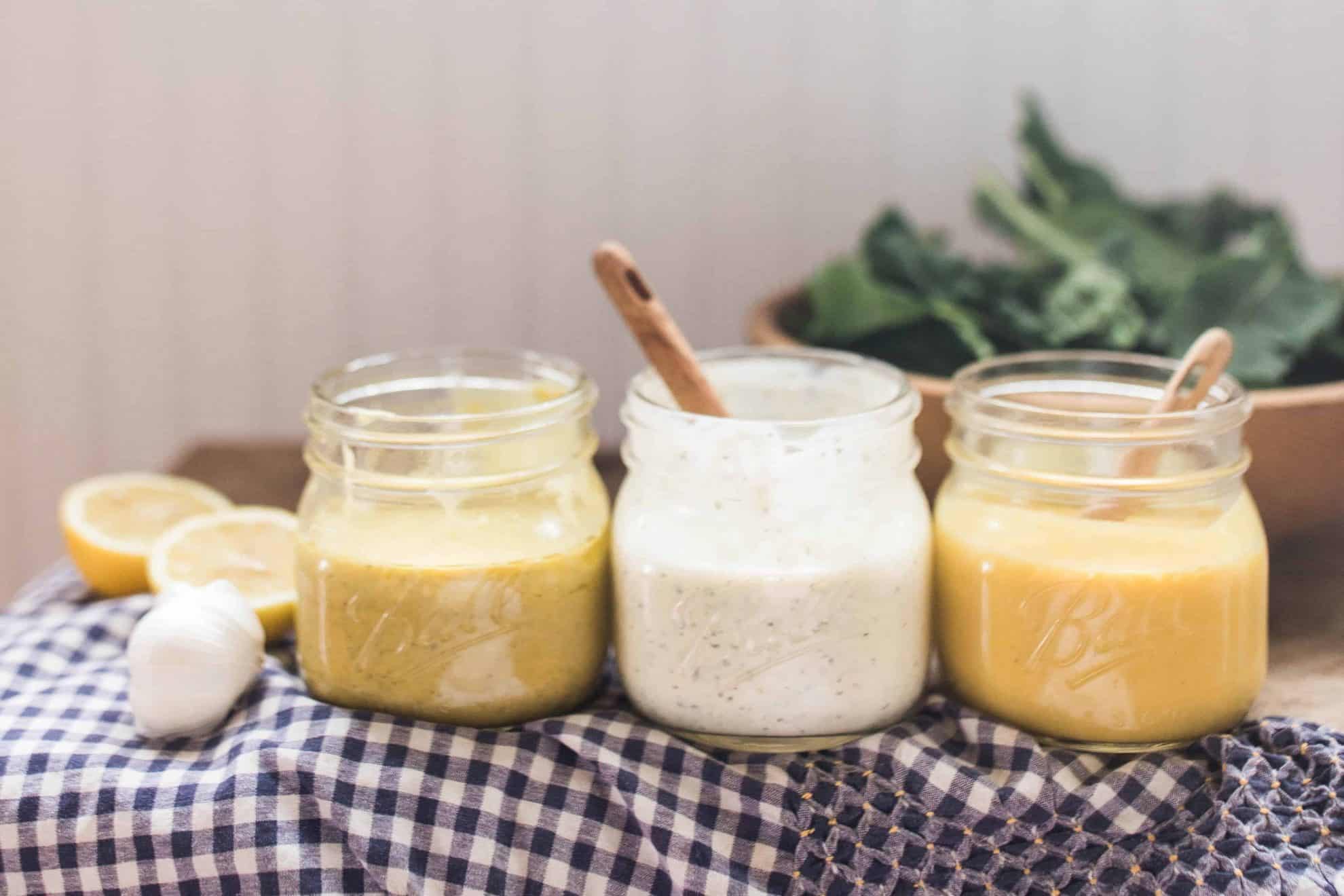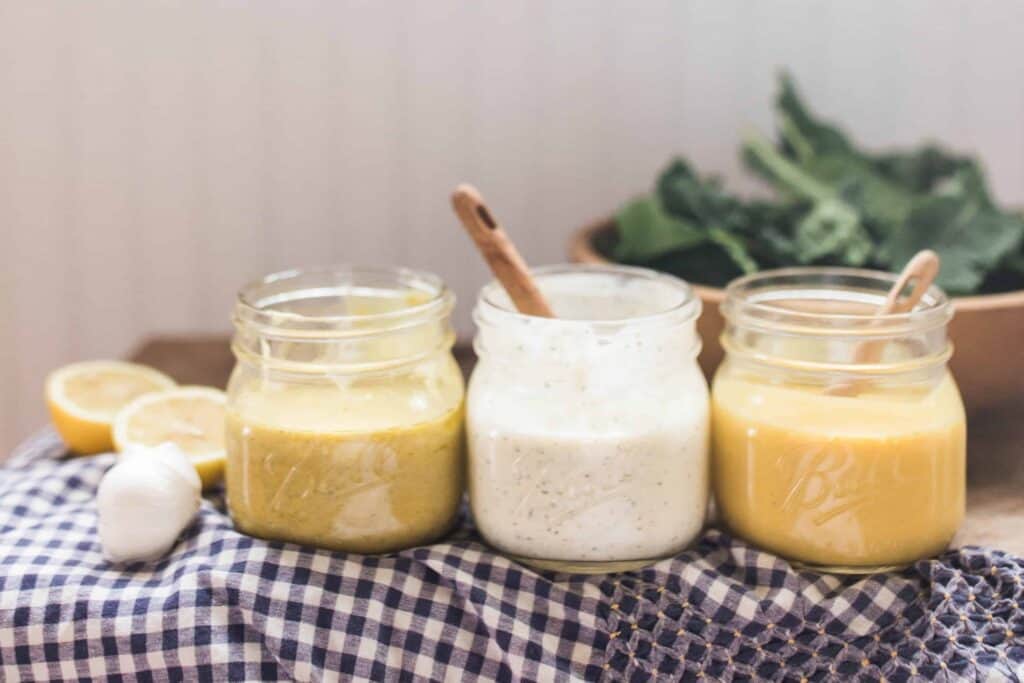 This post contains affiliate links, which means I make a small commission at no extra cost to you. See my full disclosure here.
Healthy Dressing
We love having a salad topped with homemade salad dressing as a side dish, especially in the spring and summer, when greens are readily available at the farmer's market and in our own garden. You can find what we eat in a week: summer edition here.
Of course, being a modern-day person, you can have salad all year long. It just makes a really easy side dish.
I find that my kids love salad, as long as it is accompanied by delicious salad dressings. Now, that can be sort of a problem when you go to the grocery store and you find that the salad dressings are full of soybean oil.
Soybean oil is one of the most genetically modified crops, so unless it is an organic dressing, it's probably going to be genetically modified. Which is something we try to avoid in our house.
Also, they are usually full sugar or high fructose corn syrup. The solution here is to make some yummy dressings myself. The kids gobble up their salads, and I feel good about what's going into their bodies. Win-win.
Farm Fresh Local Ingredients
In our homemade dressings, I can use fresh and local ingredients, like the honey I get from a local Amish farm, homemade avocado mayo, olive oil, lemon, spices, and herbs.
They are so easy to put together. All you need are a few fresh ingredients and a blender.
Not going to lie, usually, when I make this for my family, I don't really measure, but for you all, I measured.
The recipes I'm going to share with you are three basic salad dressings, which is why I chose what I chose. There is a more of a vinaigrette style, a heavier ranch style, and a honey mustard, which is a classic to go on a salad.
The honey mustard also works well as a dipping sauce for carrots, healthy homemade fried chicken, fries… You name it, and this honey mustard dressing probably pairs nicely with it.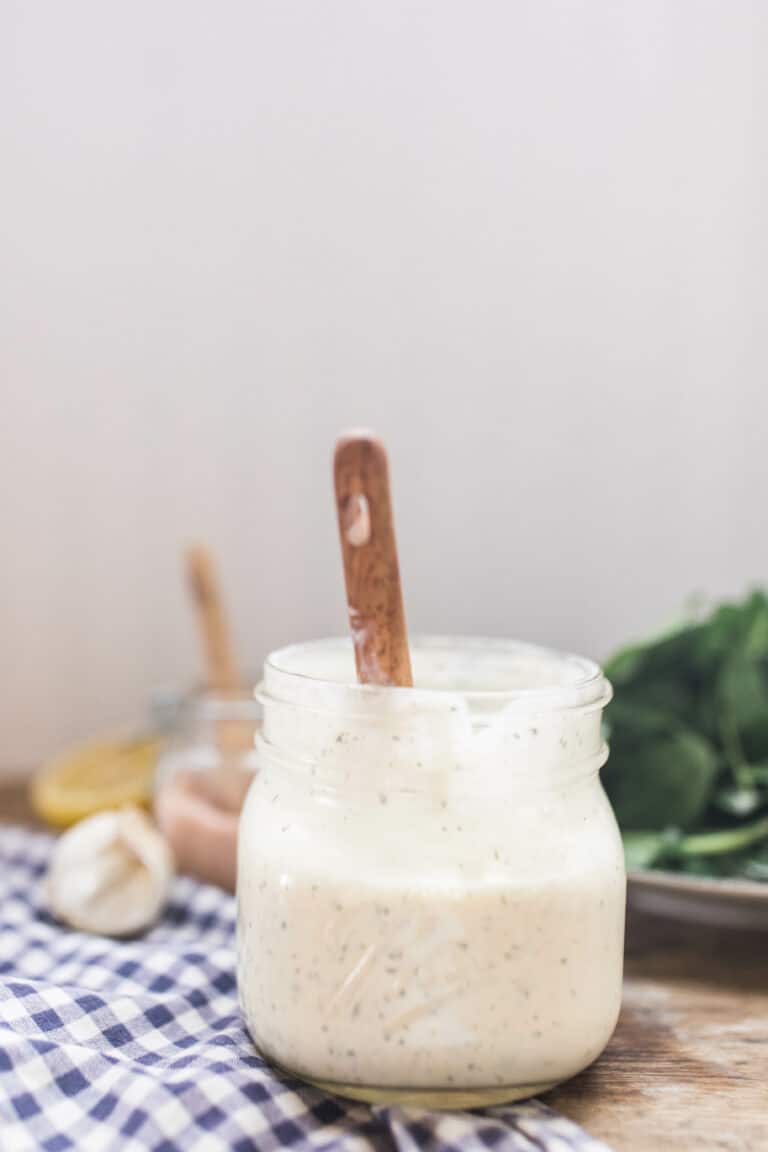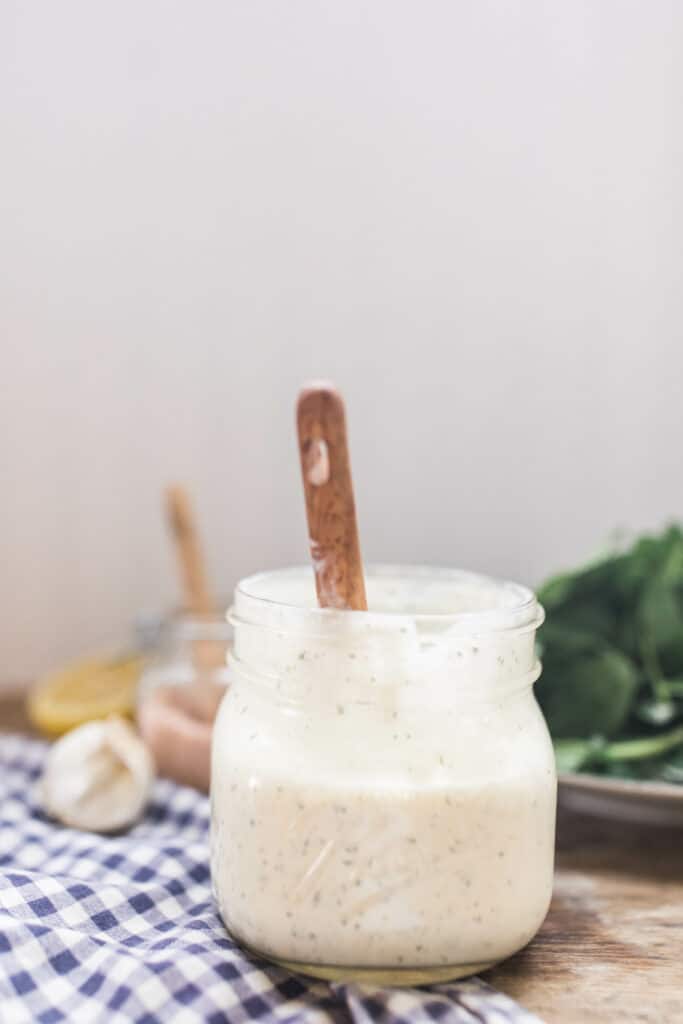 Tips for making homemade salad dressing:
Try to use local honey whenever possible.
The best oils for salad dressing are olive oil and avocado oil, due to their health benefits and high omega-3 content. Many salad dressings are made with unhealthy oils like vegetable, canola, corn, or soybean oil. See more information about these oils below.
Swap out the dried herbs for fresh if you have fresh available.
You can use 1 drop of essential oils in place of the lemon juice in the honey mustard and ranch dressing recipe. I wouldn't recommend it in the lemon vinaigrette recipe, though.
Make these dressings from scratch by using homemade mayo, raw milk sour cream, and fresh herbs from the garden.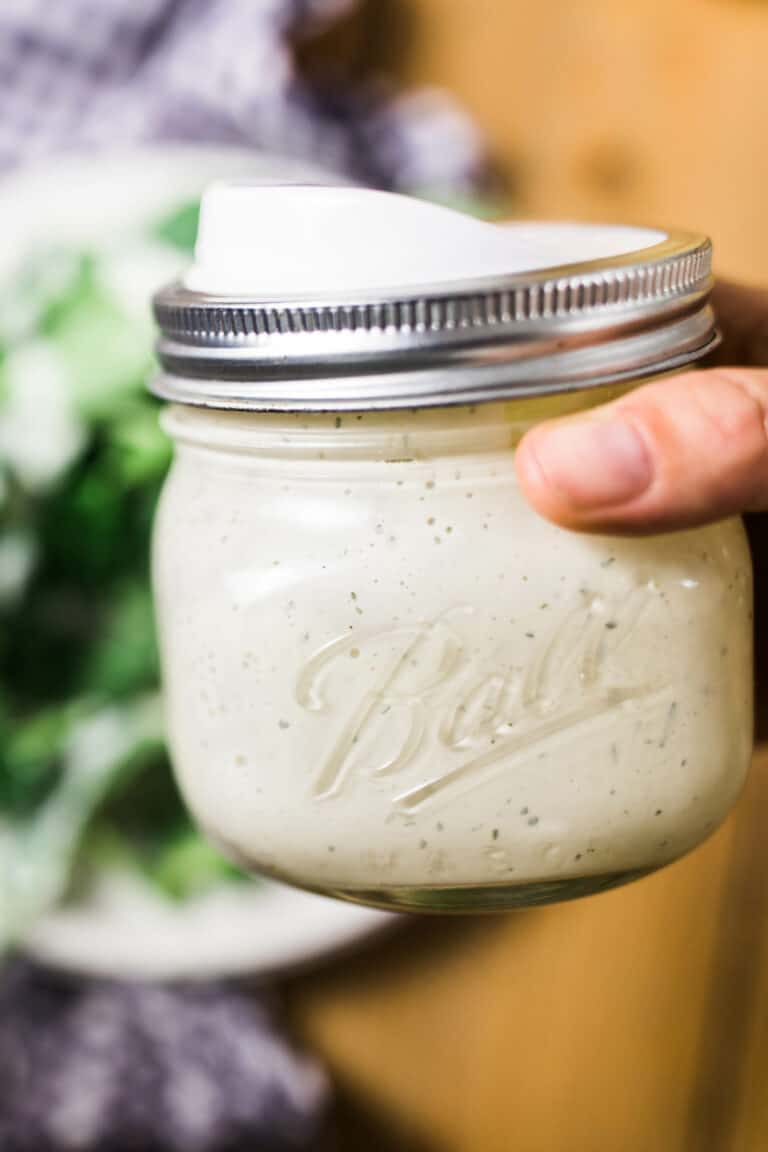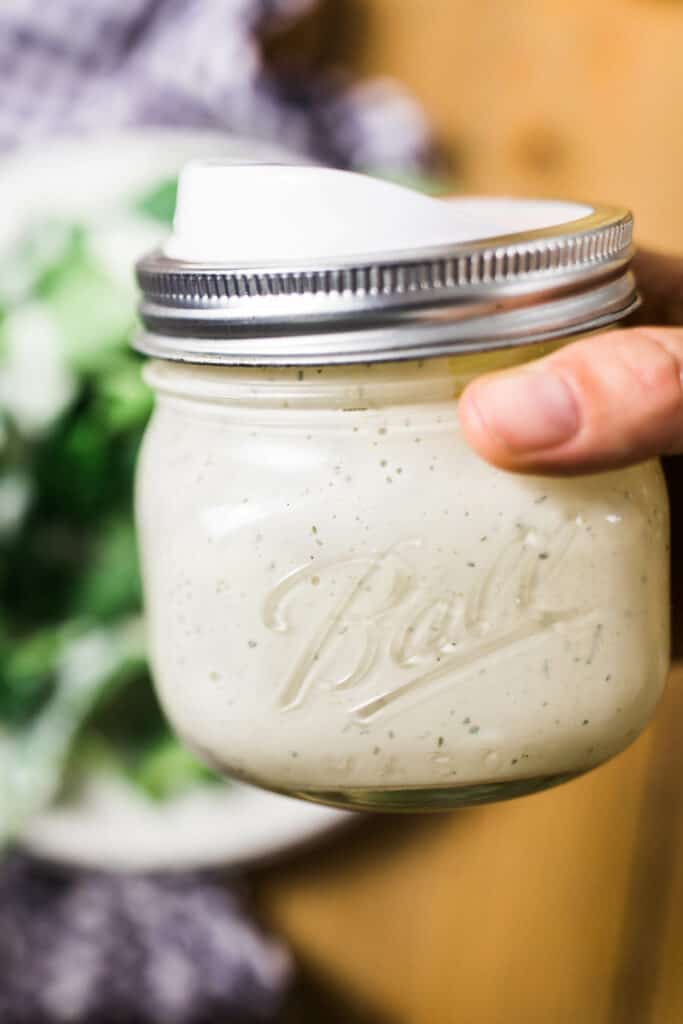 Tools you will need:
Blender
Measuring cups and spoons
Storage container- I like to use these mason jars.
Mason jar straw lids make a great pouring lid.
Knife and cutting board if using fresh lemon and herbs.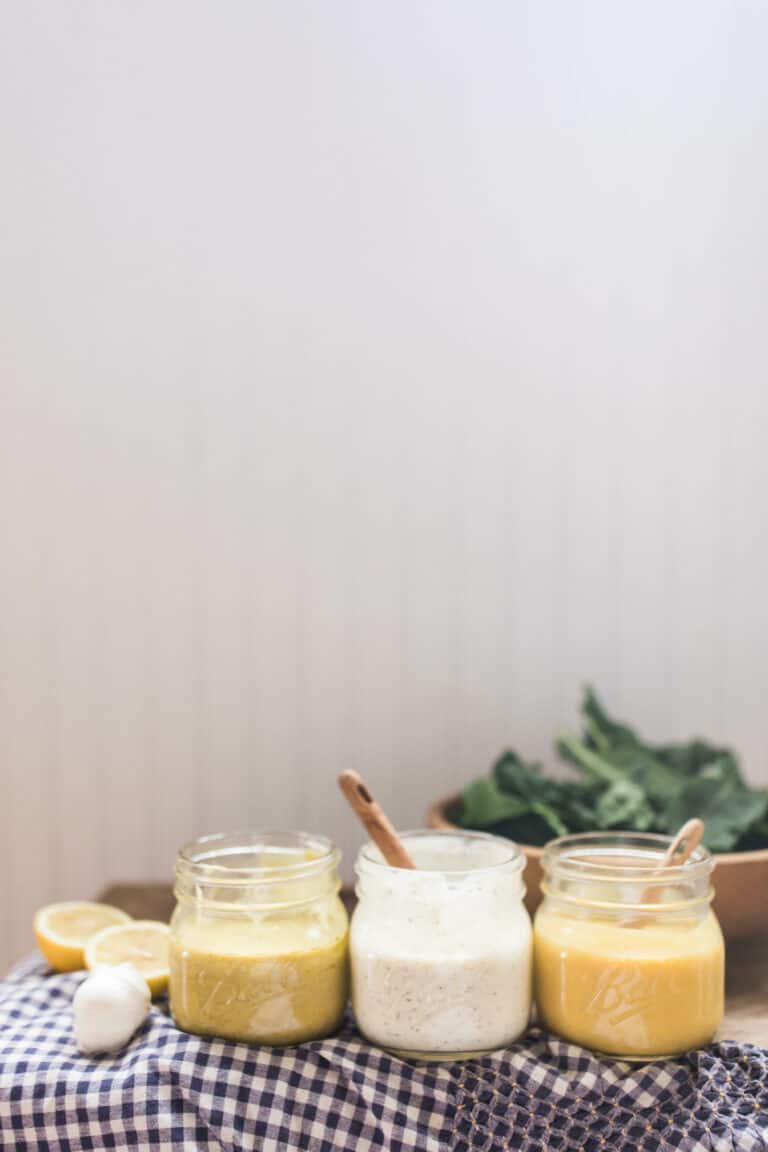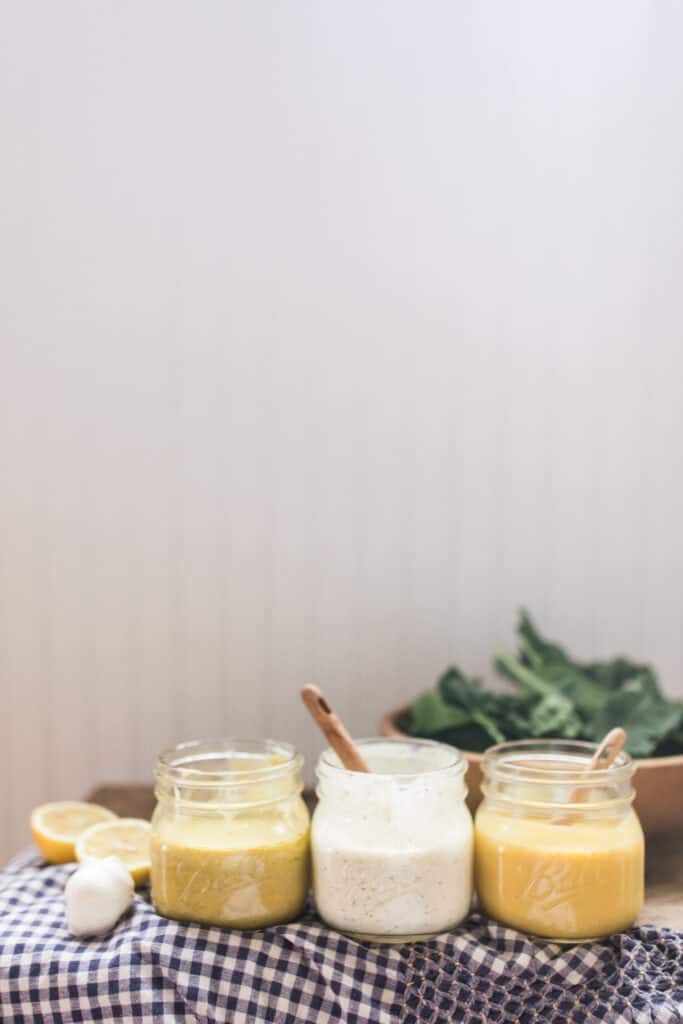 How do you store homemade salad dressing?
Homemade salad dressing should be stored in an airtight container and placed in the fridge. The dressing should be used within 2 weeks.
Is salad dressing healthy?
It can be: the ingredients included will determine how healthy it is. Made with healthy fats like olive oil and avocado oil, and whole-food ingredients, these homemade salad dressings are healthy options. Plus, they are a great way to help get in your greens.
Now we don't count calories and love healthy fats, but we do make sure we have the best ingredients available.
Avoid using refined and unhealthy oils like canola, soybean, or vegetable oil, as they are most likely genetically modified, highly processed, and contain an unhealthy balance of omega-3 to omega-6 fats.
How To Make Homemade Salad Dressing – 3 Ways Video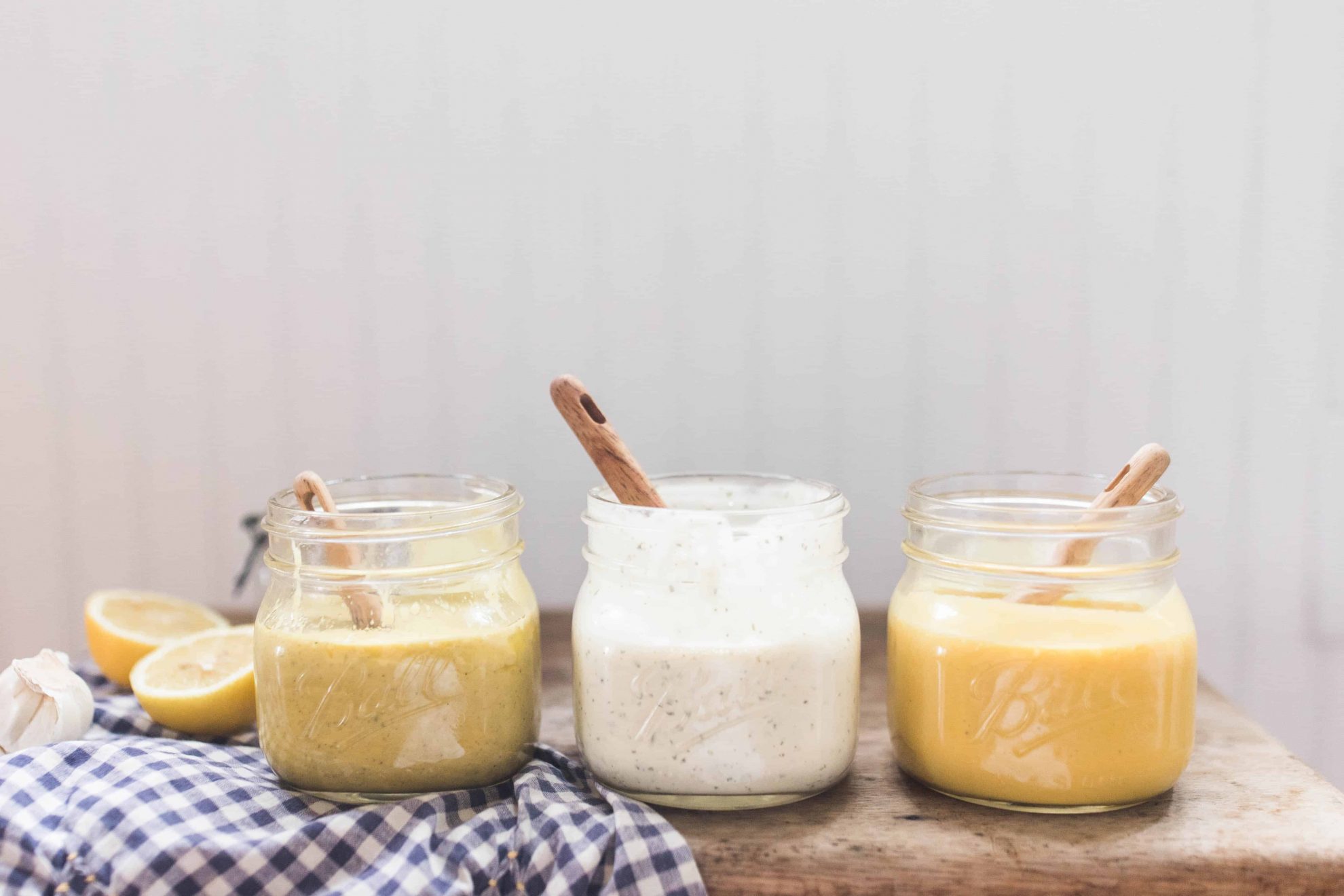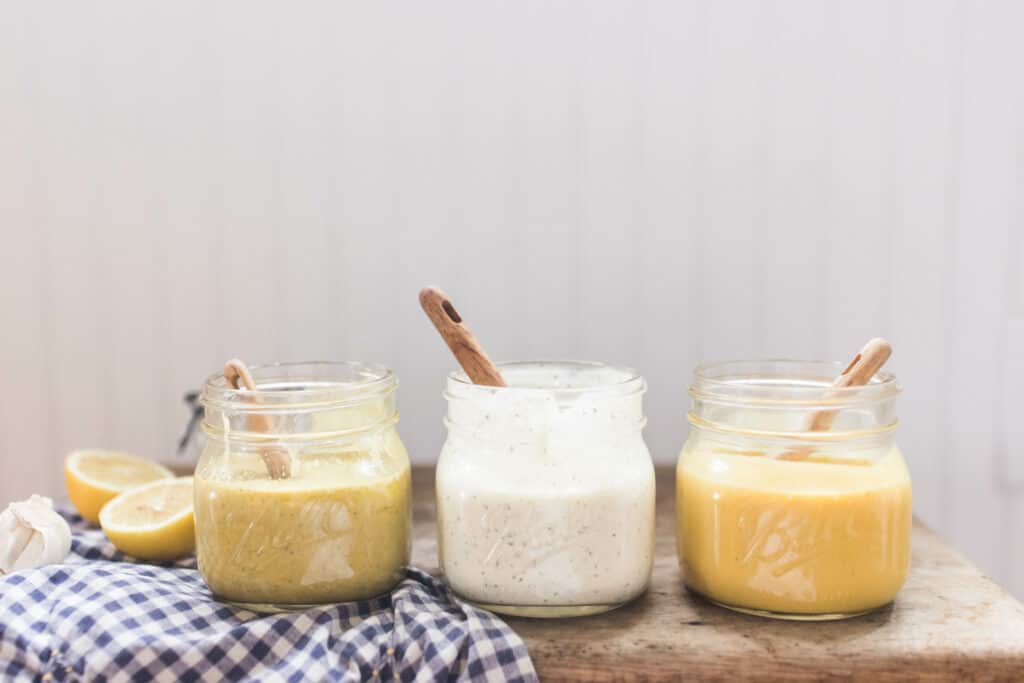 How To Make Salad Dressing Step-By-Step
Choose the recipe listed below.
Add ingredients to the blender and blend until smooth.
Pour into a glass container and use as a salad dressing or a dip. Store in the fridge.
Wasn't that simple?
Find more of our favorite recipes right from our farmhouse kitchen
Sourdough Peach Cobbler is the perfect way to use all those farm-fresh and delicious peaches in the summer
How To Make Sourdough Waffles the best waffle recipe that our family loves for breakfast.
How To Make A Whole Chicken In The Instant Pot the perfect way to make a whole chicken on a busy day and use throughout the week.
Chicken Salad Recipe – 3 Ways take the chicken posted above and make it into 3 of our families favorite chicken salad recipes.
How To Make Sour Cream From Raw Milk – use this recipe to make the homemade ranch dressing recipe.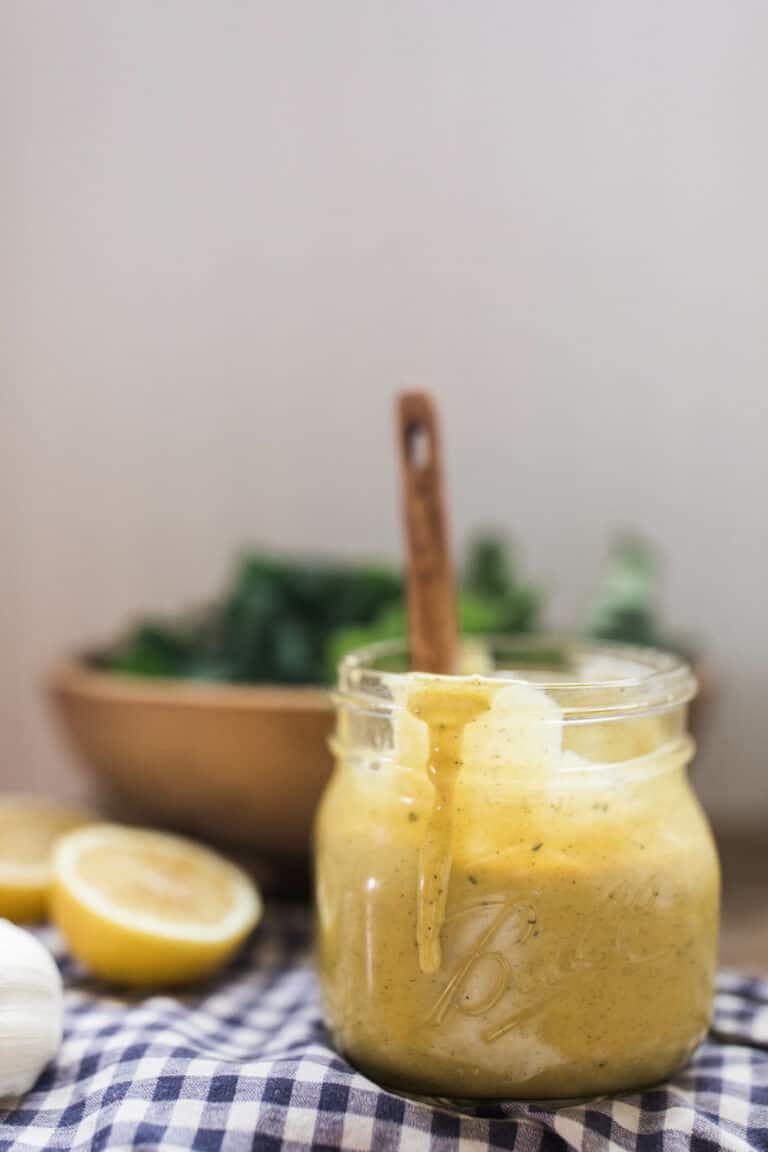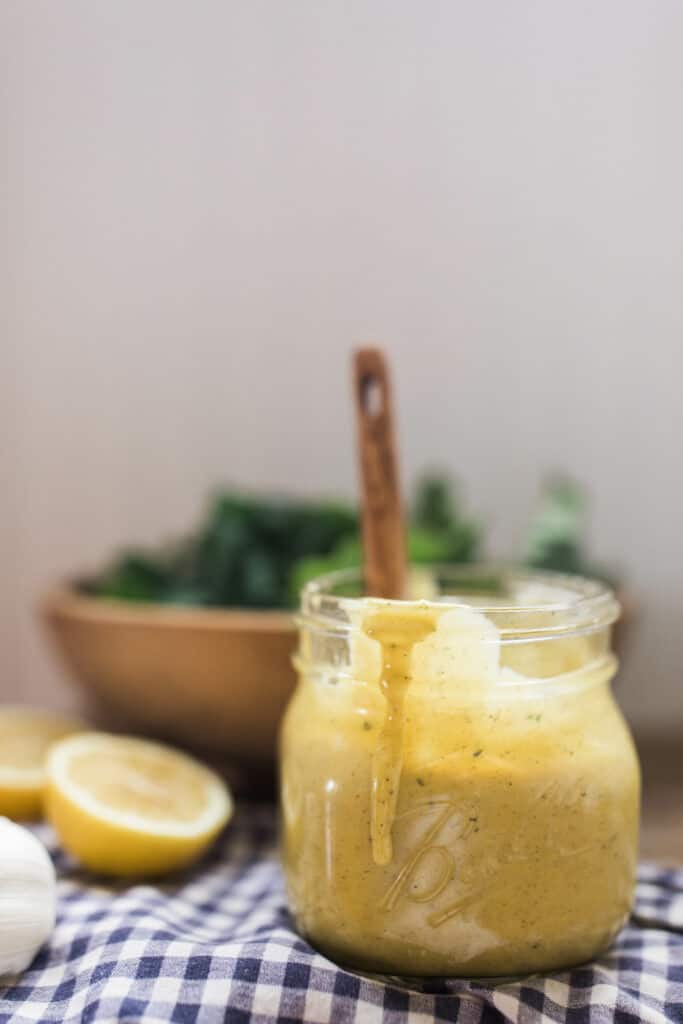 Honey Mustard Dressing Recipe Card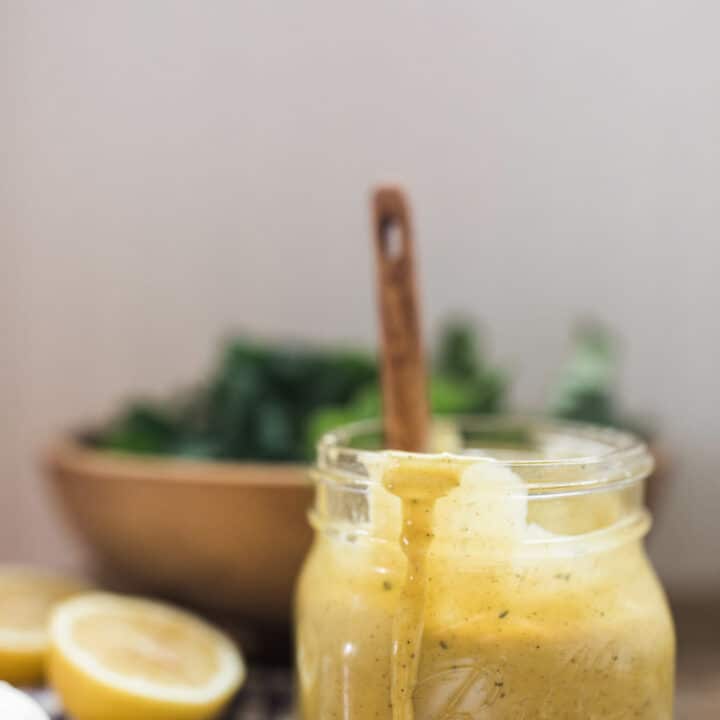 Honey Mustard Dressing
Simple and delicious home mustard dressing perfect for dipping or topping a salad.
Ingredients
1/4 cup honey
1/4 cup mustard
1/2 teaspoon salt
1/4 cup mayo
1/4 teaspoon garlic powder
juice from half a lemon or 1 drop lemon EO
Instructions
Add to a blender and blend until smooth.
Store in a container in the fridge for up to two weeks
Lemon Vinaigrette Dressing Recipe Card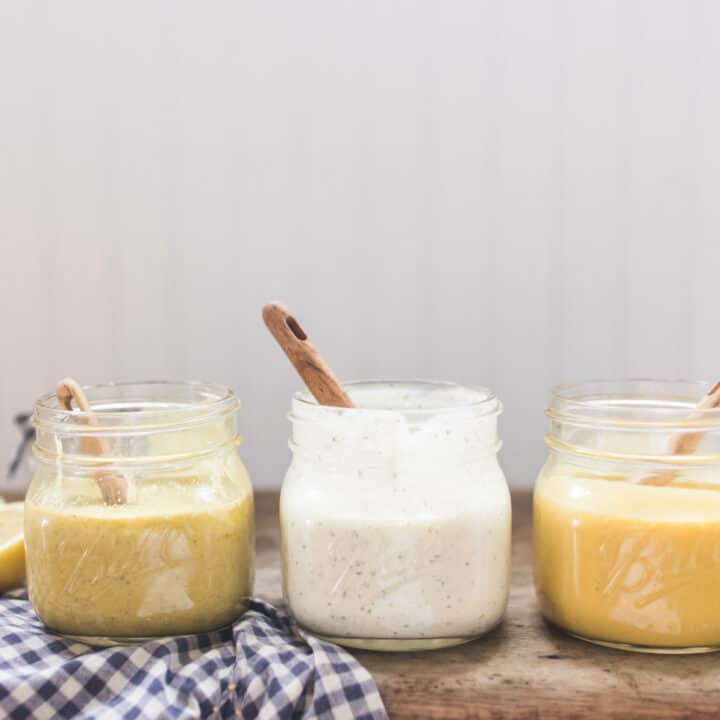 Lemon Vinaigrette Dressing
Tangy, sweet, with a burst of lemon, this lemon vinaigrette dressing will brighten salads up.
Ingredients
1/4 cup ACV
1/2 cup EVOO
Juice from 1 lemon
1 clove garlic
1/2 tbs dried oregano
2 tablespoons mustard
1 tablespoon honey
1 teaspoon salt
Instructions
Add to a blender and blend until smooth.
Store in a container in the fridge for up to two weeks
Notes
Swap fresh oregano if you have it available.

Homemade Ranch Dressing Recipe Card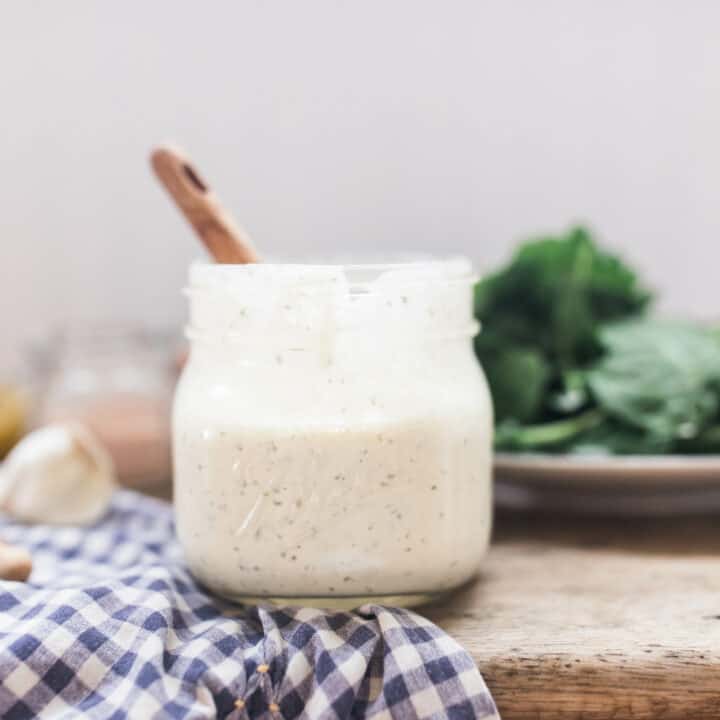 Homemade Ranch Dressing
Classic homemade ranch dressing is the best ranch dressing you will ever taste. Creamy, tangy, and bursting with herbs, this recipe will be a family favorite.
Ingredients
1/4 cup mayo
1/4 cup sour cream
1/4 cup milk
1/2 teaspoon dried parsley or 1 teaspoon fresh
1/4 teaspoon onion powder
1/4 teaspoon garlic powder
1/4 tsp salt
cracked pepper to taste
1/4 lemon squeezed or .5 tablespoon or 1 drop lemon EO
Instructions
Place ingredients into a blender and blend until smooth and creamy.
Store in container in the fridge for up to two weeks.
Thanks for stopping by the farmhouse.
Pin It For Later