Learn how to make sour cream from raw milk with this easy step-by-step tutorial. All you need is two ingredients and some time to make this delicious, probiotic rich, homemade sour cream perfect for baking, cooking, and topping your favorite dishes.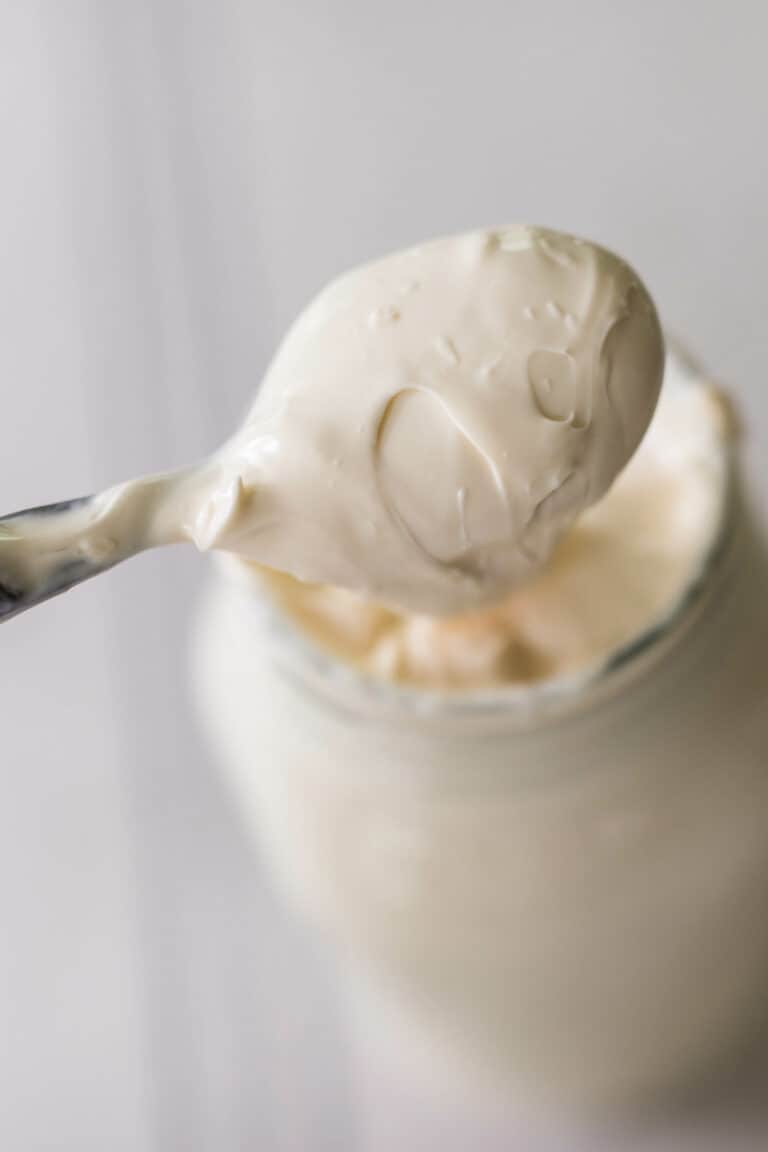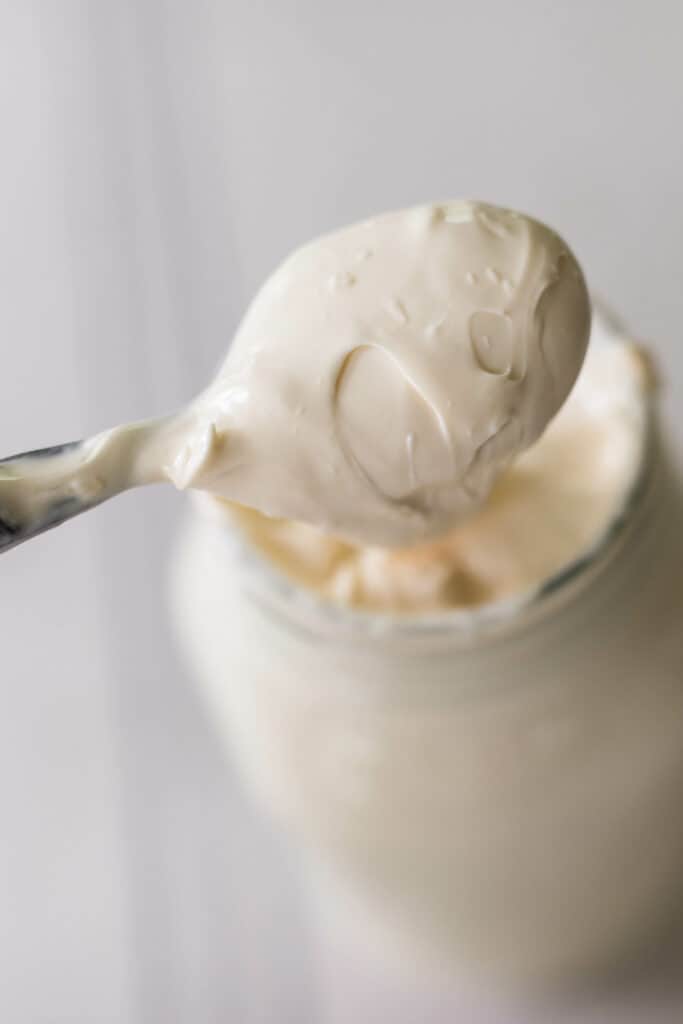 This post contains affiliate links, which means I make a small commission at no extra cost to you. See my full disclosure here.
Sour cream is something my family can never get enough of! One of our favorite go-to meals is some kind of cooked meat (whether it be chicken, pork or beef) sautéed veggies, avocado, sauerkraut and sour cream. We just put everything out on the table and dig in. We sometimes throw in shredded cheddar cheese, and some organic tortilla chips if we have them on hand.
You would be surprised how many random leftover fridge ingredients can come together under the umbrella of sour cream and avocado to make for a tasty Mexican feast.
Raw Milk Series- How to Make Sour Cream
We are continuing with our raw milk series today by making one of the easiest and most delicious recipes, homemade sour cream. Just in case you missed any of the other posts in the series, I shared how to make raw milk butter in the blender and why we drink raw milk.
This recipe is so simple it is a sorry excuse for a recipe, because it is just really really easy. But boy, it is so good. If you have never tried making this before, you have to try it.
There are actually quite a few different methods to making sour cream. My favorite way to make it only takes two ingredients, but I've also included a few other ways you can do it.
When you get raw milk there is just never enough raw cream. It's so delicious in coffee, butter, ice cream, you name it. Thankfully, we are able to buy extra cream so we can make all the recipes.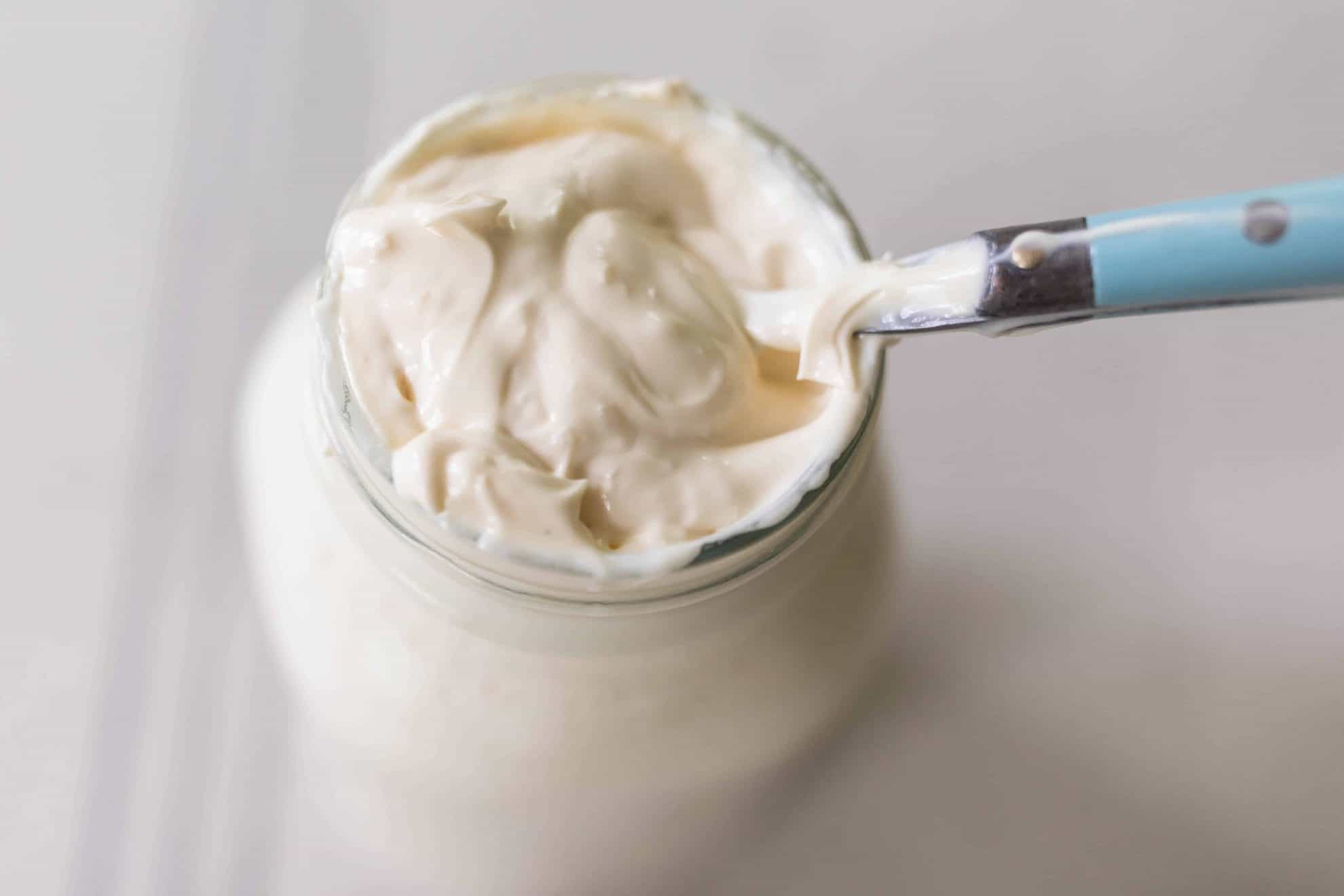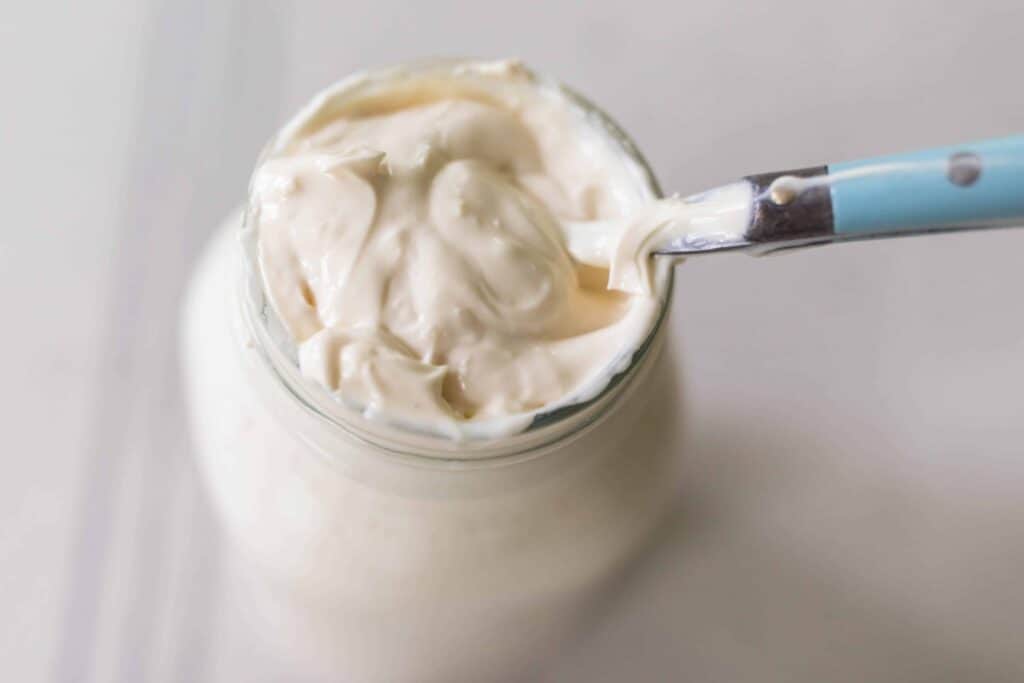 How to make sour cream tips:
Raw cream thickens from being in the fridge for awhile. If yours is not as thick that is okay, this recipe will still work.
Use a funnel to put the cream back into the jar and for easier clean up.
Raw cream that is skimmed from the top, and allowed to sit in the fridge, will give a much thicker result, like the one in the video.
Why is my sour cream runny?
Homemade sour cream is not as thick as store-bought because there are no artificial thickeners. Even though the consistency is different, you can still use this recipe in baking and cooking. You could add gelatin to the cold cream before leaving it out to culture to help thicken it.
When I use cream that has been rising to the top for several days, the end result is actually thicker than store-bought.
Do you have to use raw milk?
No, you could make this with pasteurized heavy cream or heavy whipping cream. Since we are a raw milk drinking family and buy all of our milk from our local farm, that is what we choose to use. Do not use ultra-pasteurized cream. One, it is a dead food with no health benefits, but also the results can be inconsistent.
How to store homemade sour cream?
Store it in a tight covered container, like a mason jar, in the fridge for two-three weeks. That is IF your family doesn't devour it before that time!
Health Benefits of Homemade Sour Cream:
Raw milk is higher in vitamins and minerals like vitamin K, C, A. and naturally contains good bacteria and omega 3's. It also has CLA (conjugated linoleic acid), which can have immune system benefits and may help fight cancer.
This recipe is full of probiotics.. You know how we feel about fermentation. We love getting probiotics in as much as we can from food sources and sour cream is another great way.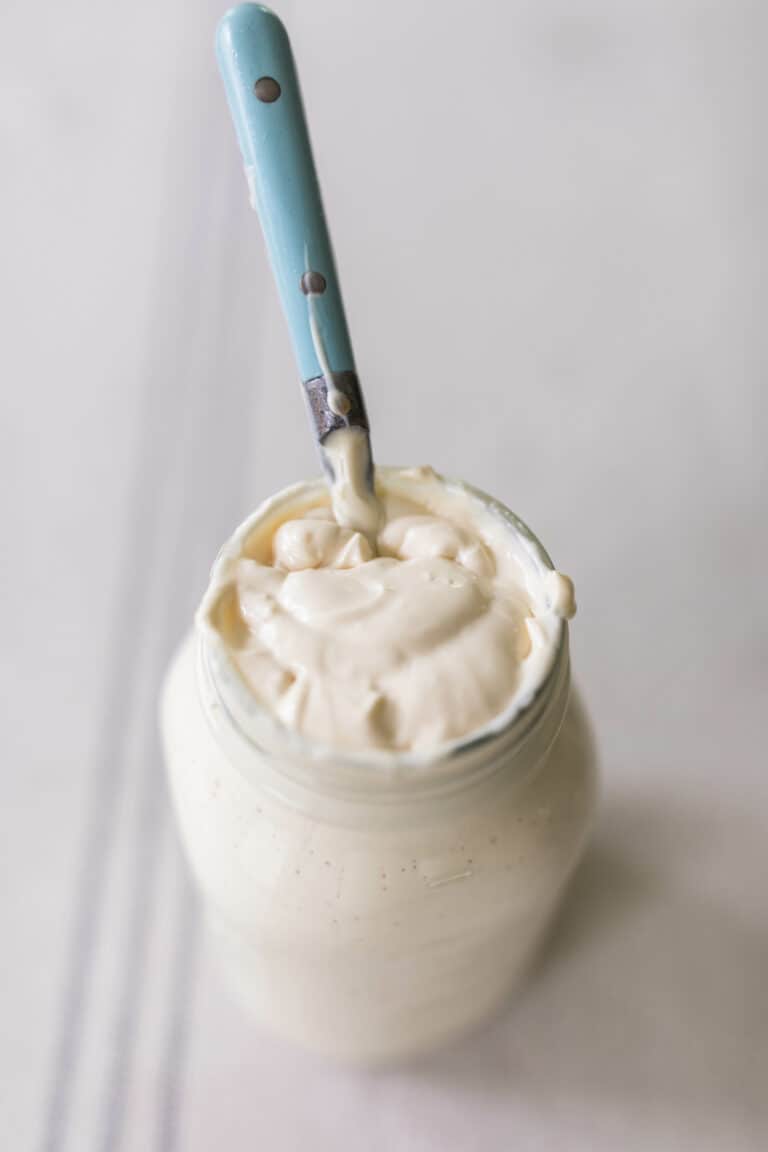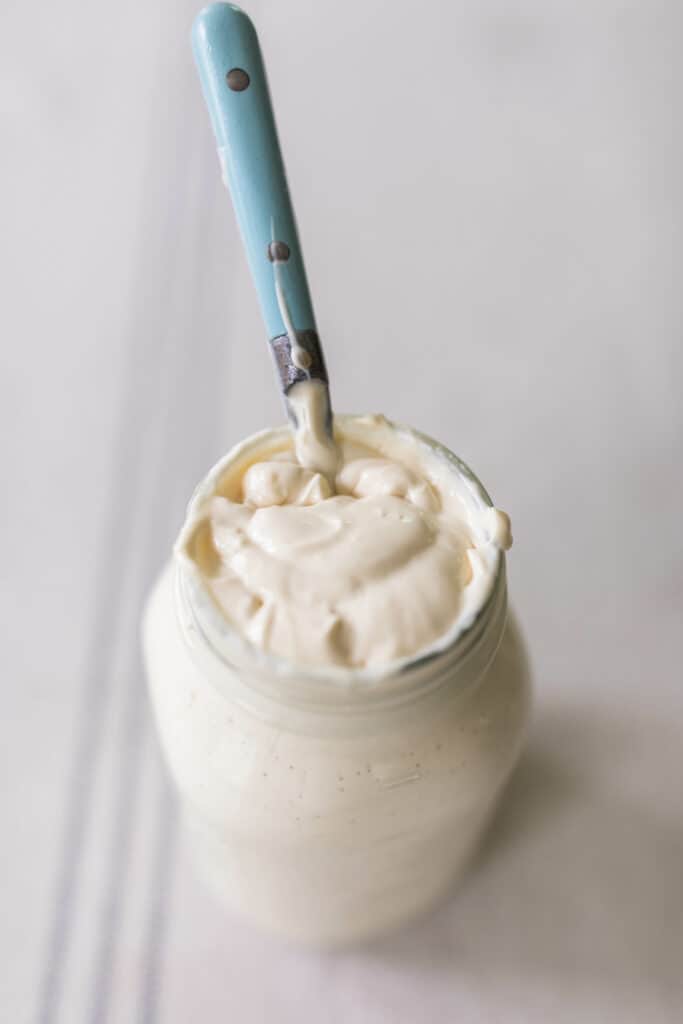 How to use sour cream:
Put it on your favorite Mexican dish (use this sour cream in place of Greek yogurt), use it in baking, top biscuits or sourdough English muffins, or baked potatoes. It gives recipes that richness and extra special taste. I won't judge if you lick it off the spoon. It's just that good.
Tools you will need:
Bowl
Sour cream starter
Glass jar
Spoon
Funnel
Towel
How To Make Sour Cream from Raw Milk
In a large bowl, pour in one quart of raw cream.
Sprinkle one package of sour cream starter (you can find it here) and stir.
Using a funnel, pour cream mixture back into jar.
Cover with a towel and place in a warm location for at least 12 hours or until the desired amount of sourness has been reached.
Cover with a lid a store in the fridge for up to 3 weeks.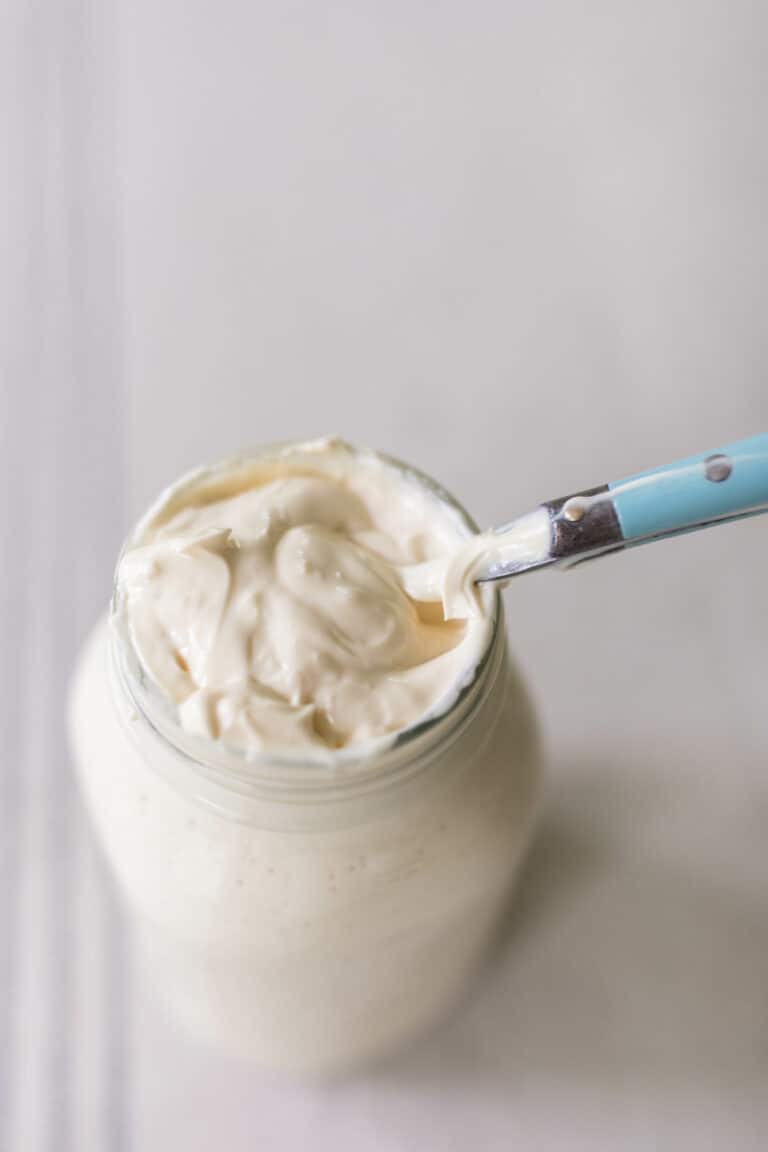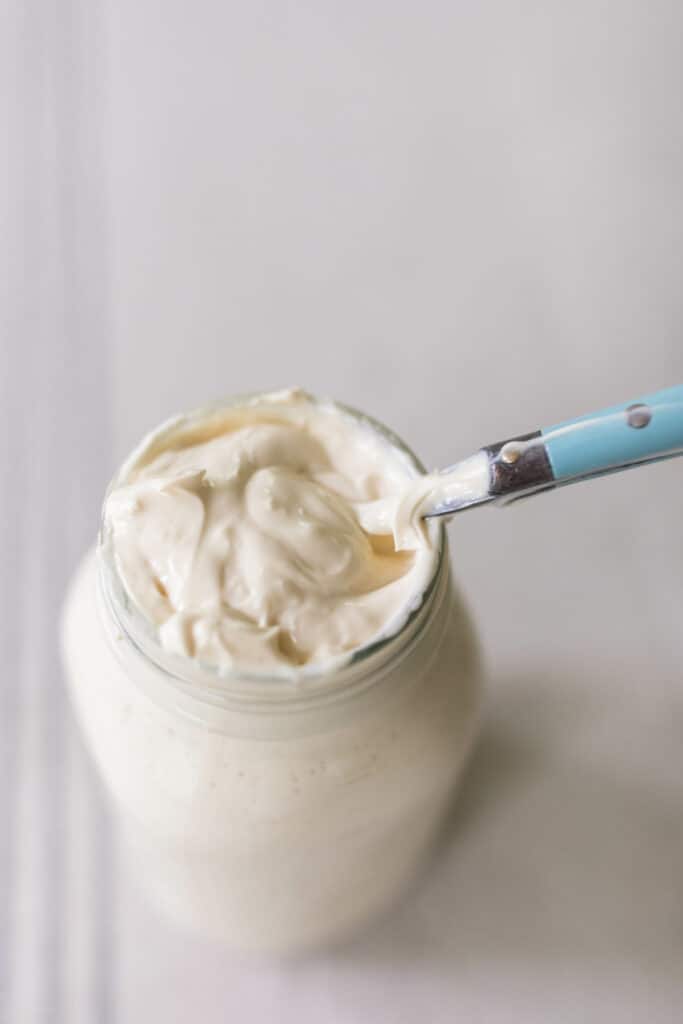 Other ways to make sour cream:
For a thicker product, use the recipe above but take out a little bit of cream, mix in gelatin, allow to sit for 5 minutes and then mix into the rest of the cream. Allow to sit our for 12 hours.
Another way is to take one quart of cream and let it sit covered in a warm place for at least 12 hours. The natural bacteria in the raw milk will thicken it up and it will start to clabber.
Use the cream that rises to the top of homemade yogurt. Instead of mixing it into the rest of the yogurt, remove the cream from the top and than add a bit of more raw cream to make sour cream.
Use straight cream in this homemade raw yogurt recipe. Same process, just use cream rather than milk.
Check out my other posts on raw milk!
Shop the Raw Milk Sour Cream Starter Culture I used in this video
Raw Milk Sour Cream Starter Culture
How To Make Sour Cream Recipe Card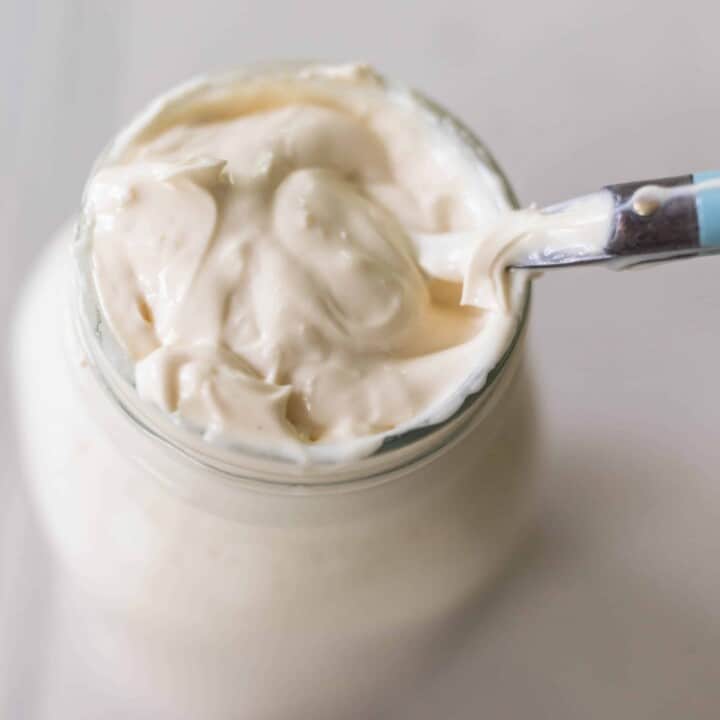 Homemade Sour Cream With Raw Milk
Additional Time:
12 hours
Total Time:
12 hours
5 minutes
Quick and delicious sour cream made with raw milk.
Ingredients
1 quart raw cream
1 pkg sour cream starter
Instructions
In a large bowl, pour in one quart of raw cream.
Sprinkle package of sour cream starter over raw cream and stir well.
Pour cream mixture back into jar, using a funnel.
Cover with a towel or cheese cloth and leave in a warm place until the desired amount of sourness has been reached, about 12 hours.
Cover with a lid a store in the fridge.
Pin it for later