Everything you need to know about using cast iron in the kitchen. Learn how to season cast iron, cook with it and tips for cleaning.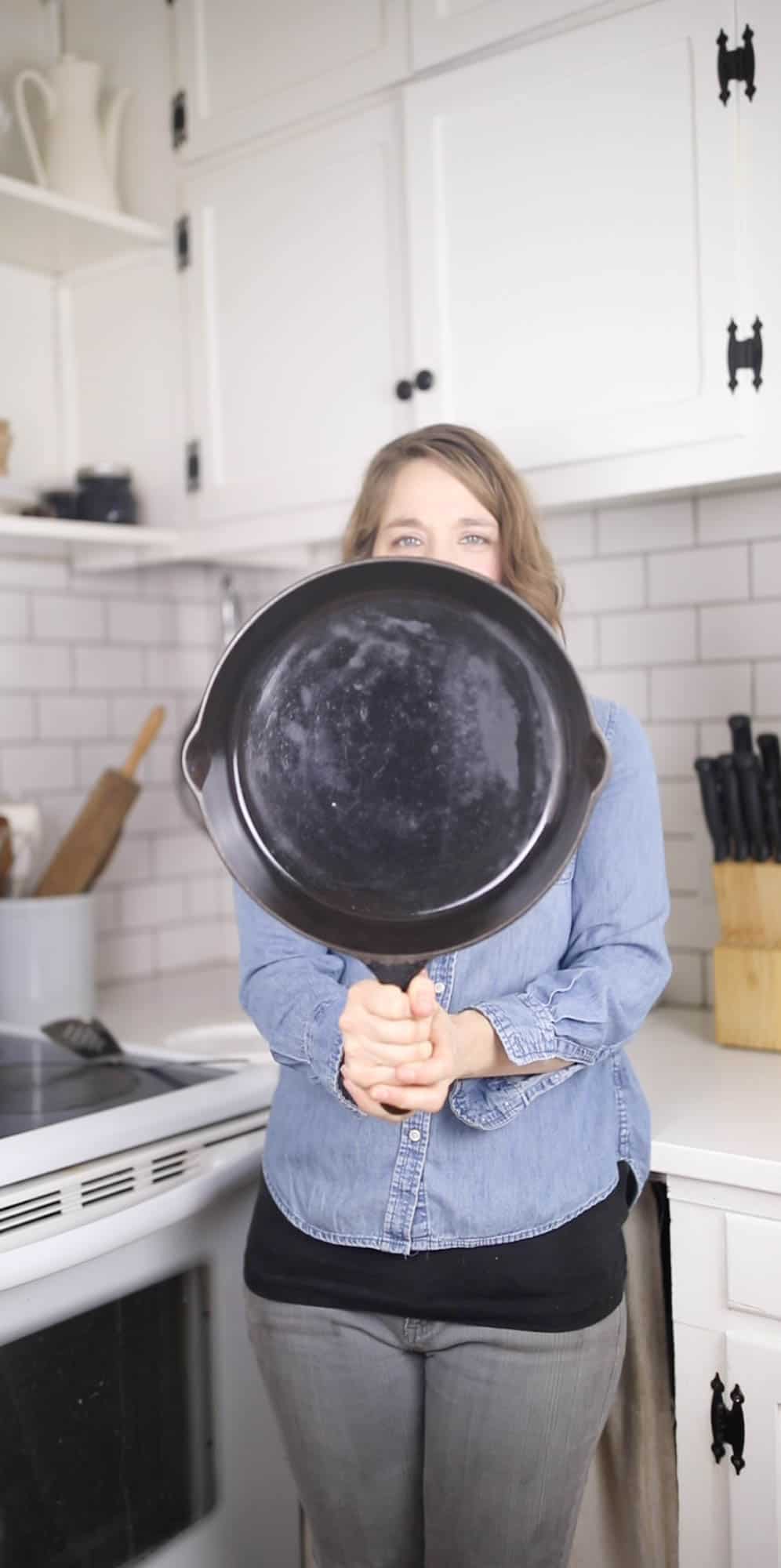 Cast iron has been my skillet of choice for many years now. There are only two things that get better with age in the kitchen. One is cast iron and the other is homemade sourdough starter!
I seasoned my skillets when I first bought them years ago and haven't had to repeat the process since. With proper care, cast iron will last forever. It is a kitchen essential and so worth learning how to use.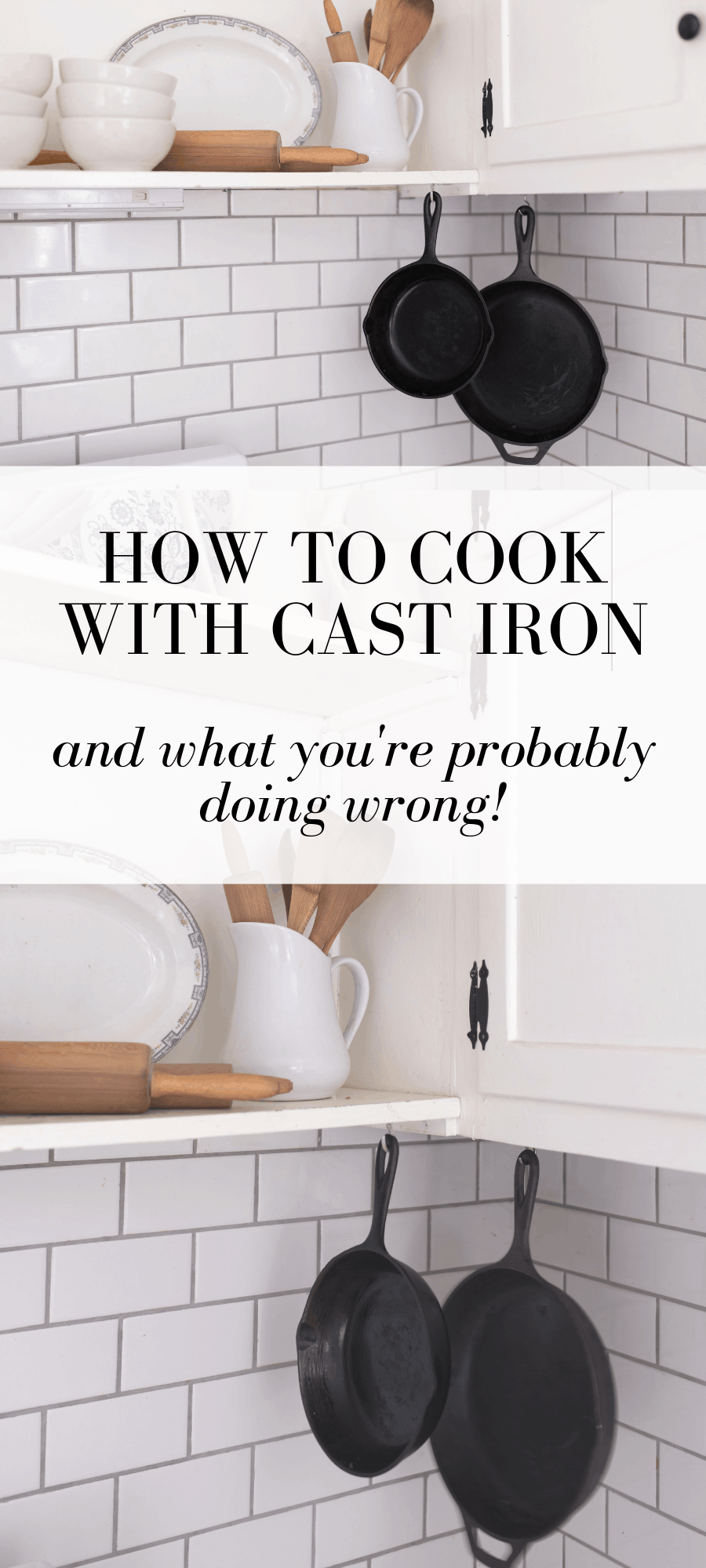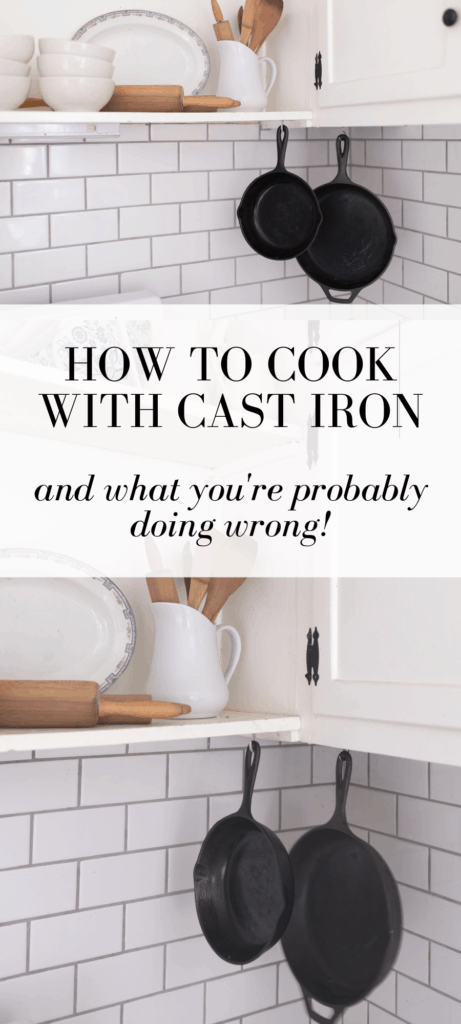 Why Cast Iron is better than nonstick
Reason #1, of course, is it doesn't have all the bad stuff. Nonstick pans are coated with a carcinogenic chemical called perfluorooctanoic acid. Not only does it leech into the food when cooked at high temperatures, but also produces toxic fumes in the air. Not to be overly dramatic, but you need to get that stuff out of your house ASAP.
Although the health concerns with nonstick was what drew me to using cast iron in the first place, the ease and beauty with which they cook kept me coming back for more. A perfectly fried egg, potatoes so crispy you can hear the crunch, a carmelized sear on a roast to seal in all those delicious juices…I mean, if you aren't cooking with cast iron is it even cooking? Give me that 20 pound skillet that gets better with use every. single. time. If I go on vacation, and the condo has a flimsy nonstick and a plastic spatula, I cook like I have one hand. Totally handicap.
Cast iron's where its at, my friends.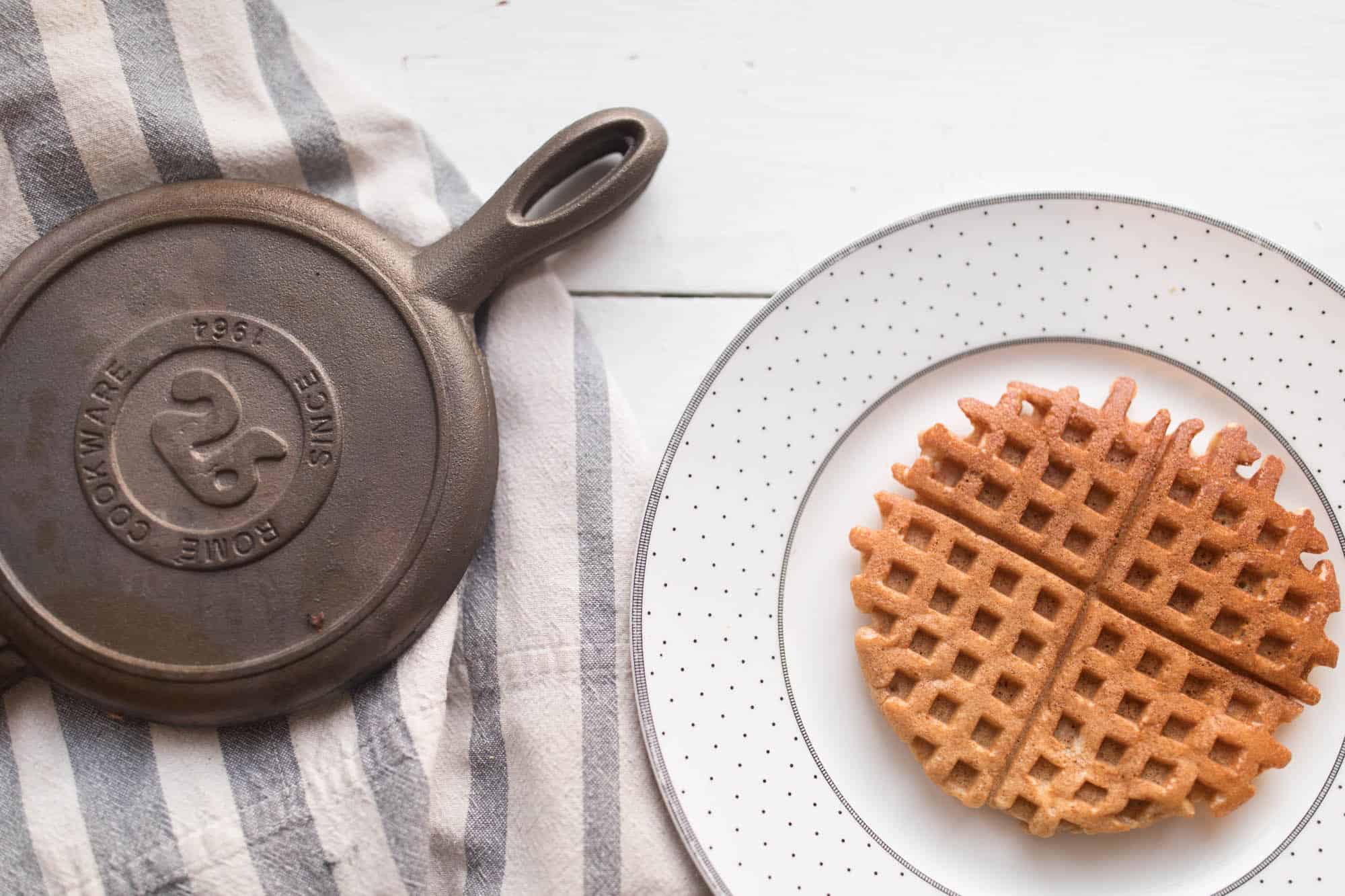 Frequently asked questions about cast iron
Can you use cast iron on a flat top stove?
Cast iron can scratch a glass top stove. There is also concern that a hot cast iron pan could cause the cold glass top to shatter, because the skillet holds so much heat. Cast iron is extremely heavy, so if it is dropped on the glass top it might break.
All that aside, I cook with cast iron on my glass stove top daily, and have been for many years. I have never had a problem.
I put the question out on my Facebook and Instagram page, and it seems all my die hard cast iron fans pay no mind to such suggestions. No one reported a problem. So, although technically cast iron on a glass cook top is a no no, you will likely suffer no consequence, should you decide to be a rebel like me and all my social media friends.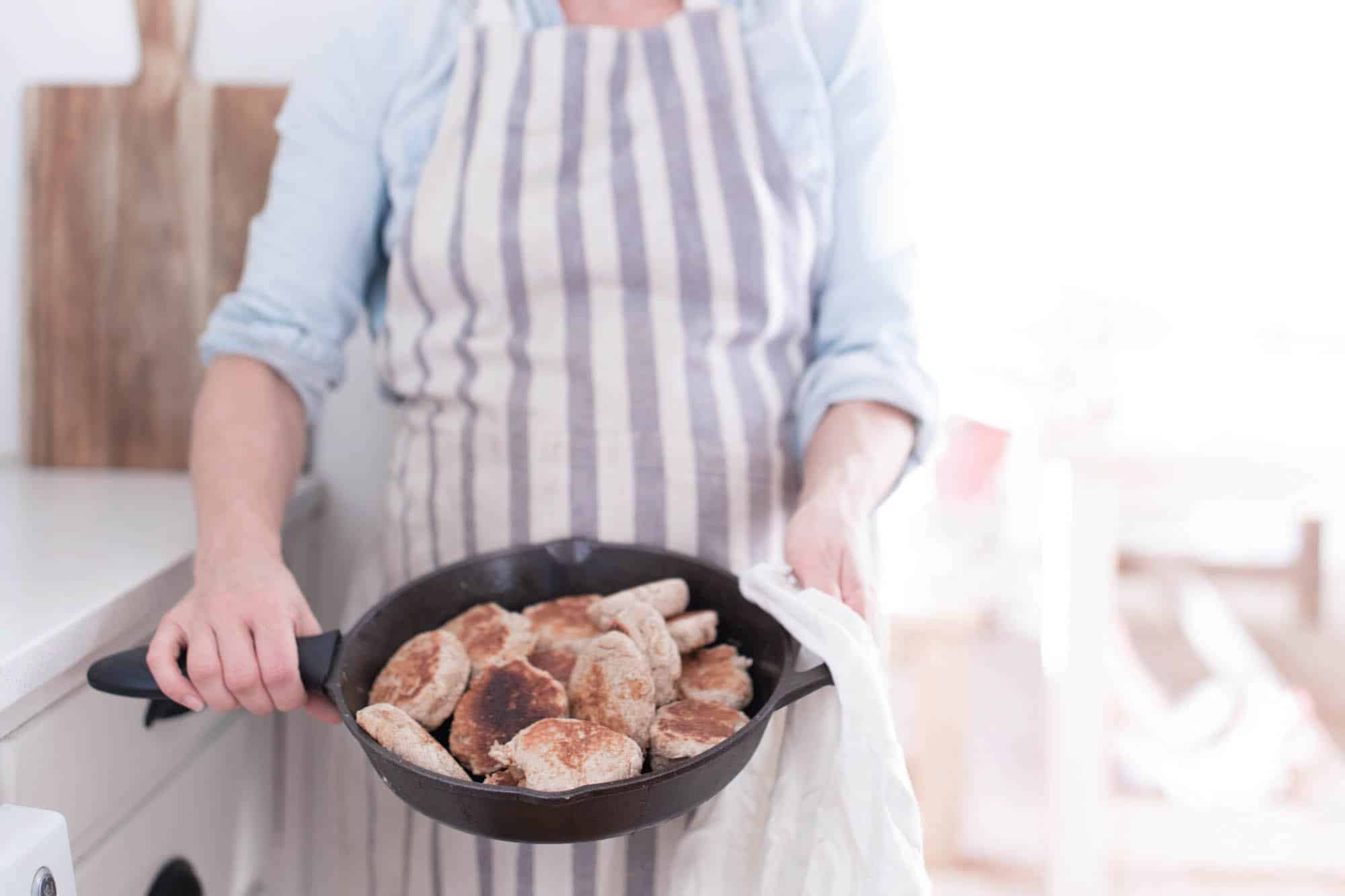 How to Season Cast Iron
Lightly coat the cast iron with coconut oil.
Cover the bottom, top, handle and every part of the skillet with the oil.
Wipe off the excess oil with a tea towel.
Place it upside down in a 450 degree oven for an hour.
Repeat until it has a black shiny luster, if necessary.
You can watch me go through this process with a couple of thrift shop skillets in the video below.
How to Cook with Cast Iron
The biggest key to successful cast iron cooking is preheating. Never drop food into a cold cast iron skillet. It will stick. It is also important to flip, and stir, as little as possible.
Watch me cook over easy eggs in the "Everything You Need to Know About Cast Iron" video at the end of this blog post to see how cast iron can truly be nonstick.
Best foods to cook in cast iron
Foods that are cooked in fat, or have a decent fat content in them, are excellent for cast iron cooking. Bread items, like pancakes and English muffins, cook nicely in cast iron. Meats, sautéed veggies, stir fry, fried eggs, fried potatoes and roasts are some of my favorites.
Foods that need to be steamed or boiled are not the best choice. I still like to make steamed carrots, broccoli and green beans in my stainless steel pots with a lid. Also, I prefer stainless steel for soups and stews.
There is a bit of a learning curve to cooking with cast iron, but once you get the hang of it you'll never go back! I promise.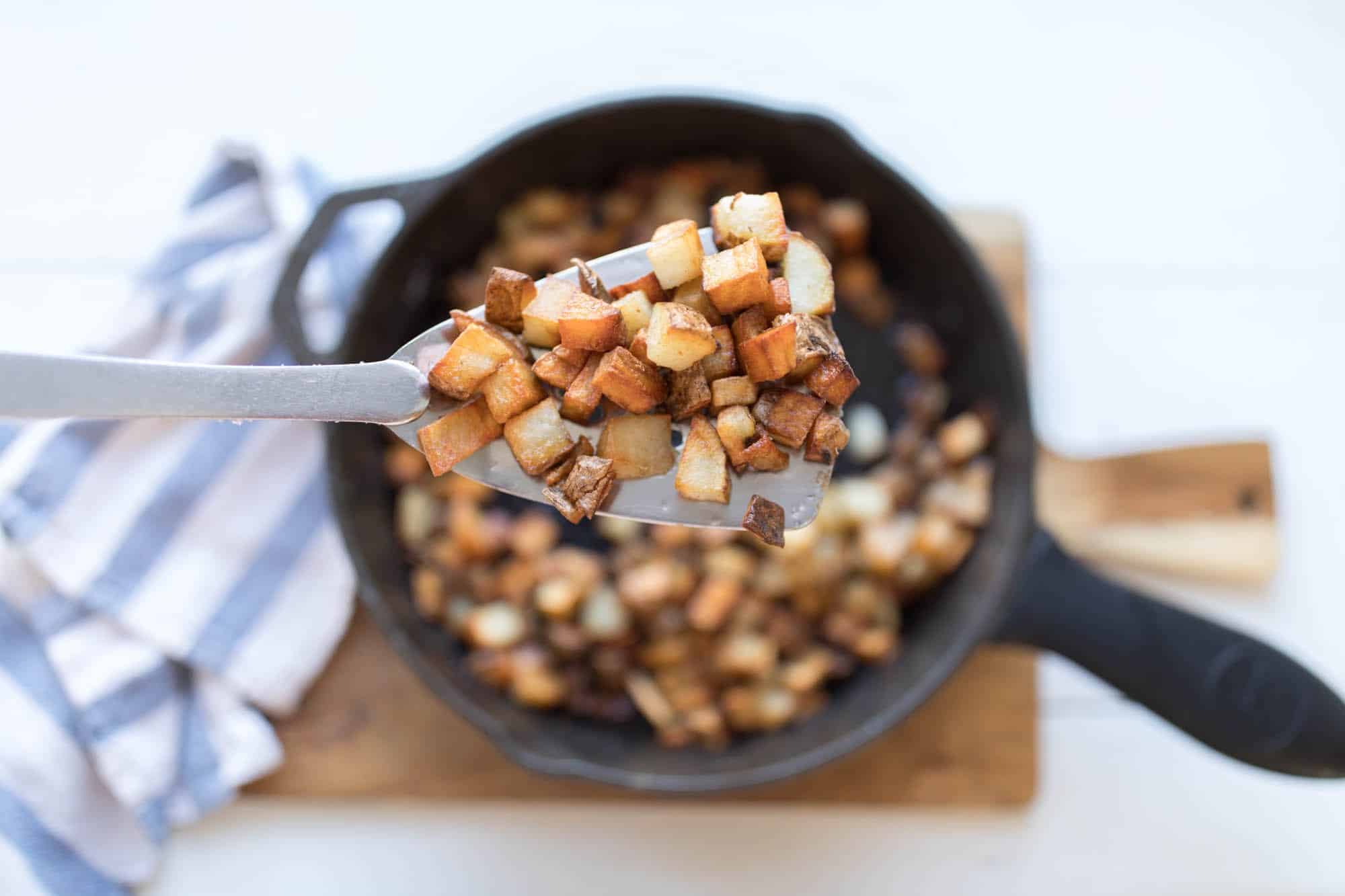 How to clean a cast iron skillet
Cast iron is naturally nonstick when season properly. If nothing is sticking to the pan, you can simply wipe it out until the next use. If something gets really stuck on, remove it with a little water and a stainless steel scrubber. Use a tea towel to wipe off any excess water. The pan should be completely dry before putting it away.
Since I use my cast iron skillets so frequently, they sit out on my stove at all times. Because of this, I don't find it necessary to thoroughly clean them unless something is stuck on. The only reason I ever have to clean them out is if I cook something like ground beef or chicken . Some parts of the meat get stuck on the pan. Also, if I make cheesy eggs, or pizza, the cheese likes to stick.
When I make sourdough pancakes, or English muffins, little bits of batter get stuck on the outside edges, since they couldn't get close enough to the heat source to be preheated. I am able to wipe the bits of batter off with a dry tea towel, without a proper washing.
The two rules of cleaning cast iron are 1. Don't use soap. 2. Make sure every part of is dried thoroughly.
Side note* I never put my cast iron skillets directly on my quartz countertops. There always seems to be just a little bit of water, either on the skillet or the counter, and rust spots show up almost instantly.
Everything You Need to Know About Cast Iron Video
Shop this post
My Cast Iron Skillet (Lodge Brand 12″)
This post may contain affiliate links, which means I make a small commission at no extra cost to you ?
Thank you so much for stopping by the farmhouse!
Pin it for later