Hearty pumpkin chili is the perfect dish for cool fall evenings. Packed with ground beef, vegetables, beans and homemade bone broth, this healthy meal will keep bellies and hearts full.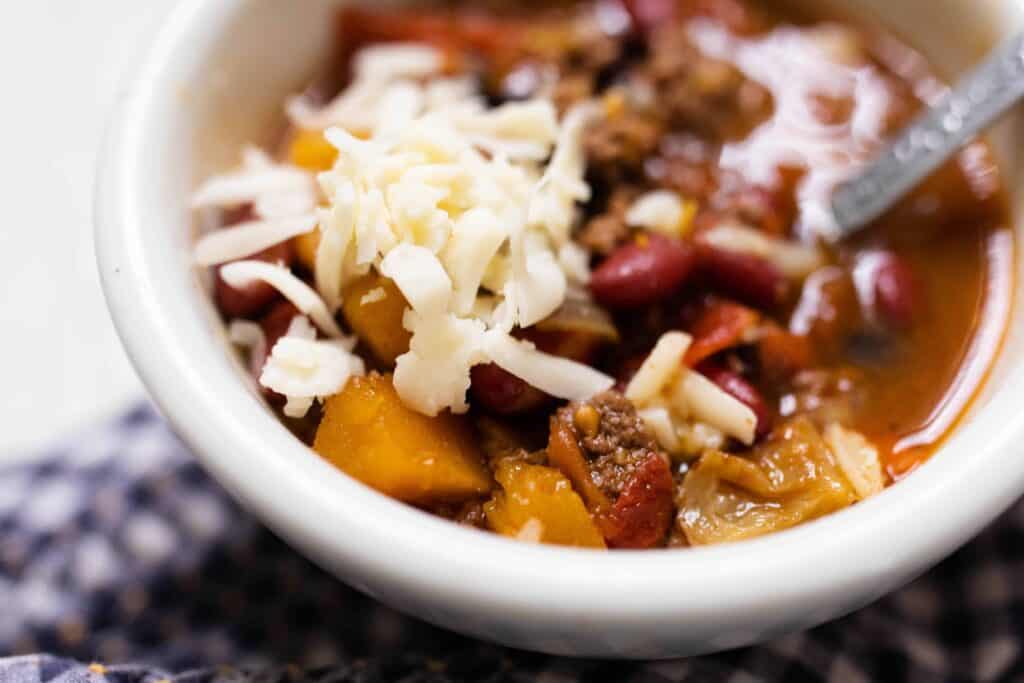 I made a large pot of this pumpkin chili in preparation for Baby #6. If you missed it, you can check out his home birth story here.
While pumpkin in chili may not sound really delicious, trust me: it is really good. The pumpkin makes it so hearty and filling.
Since it's fall and pumpkins are still in abundance, I'm going to keep on going with these pumpkin recipes. I'm on a roll with these recipes, from Homemade Pumpkin Spice Latte, Sourdough Pumpkin Cobbler , Pumpkin Sheet Pan Nachos, and so many more.
While using this fall vegetable may seem intimidating, once you get the hang of it, it's pretty simple. I like to use it as any other vegetable in my kitchen.
It pairs well with so many things, and chili is definitely one of them. It adds a subtle sweetness to a typically warm and flavorful dish.
This recipe makes a ton, which is great when you have a large family.
We are also a leftovers family, and I love that we can get at least two, hopefully three meals out of this one recipe. It just makes life so much easier.
Real food from scratch doesn't have to be hard or super time consuming. When you make a big batch, you can cook once, eat at least twice.
Tips For Making Pumpkin Chili
I like using dried beans because they are healthier and cheaper, but you could swap canned beans in this recipe.
Brown your meat in a skillet so that a deeper flavor develops, rather than just boiling your ground meat.
Make your own homemade bone broth, or you can use store-bought broth. If you are using store-bought broth, you may have to use less salt than what the recipe calls for.
If you don't like kidney beans, swap them out for more black beans or another bean you like (i.e Great Northern or even chickpeas).
This post contains affiliate links, which means I make a small commission at no extra cost to you. See my full disclosure here.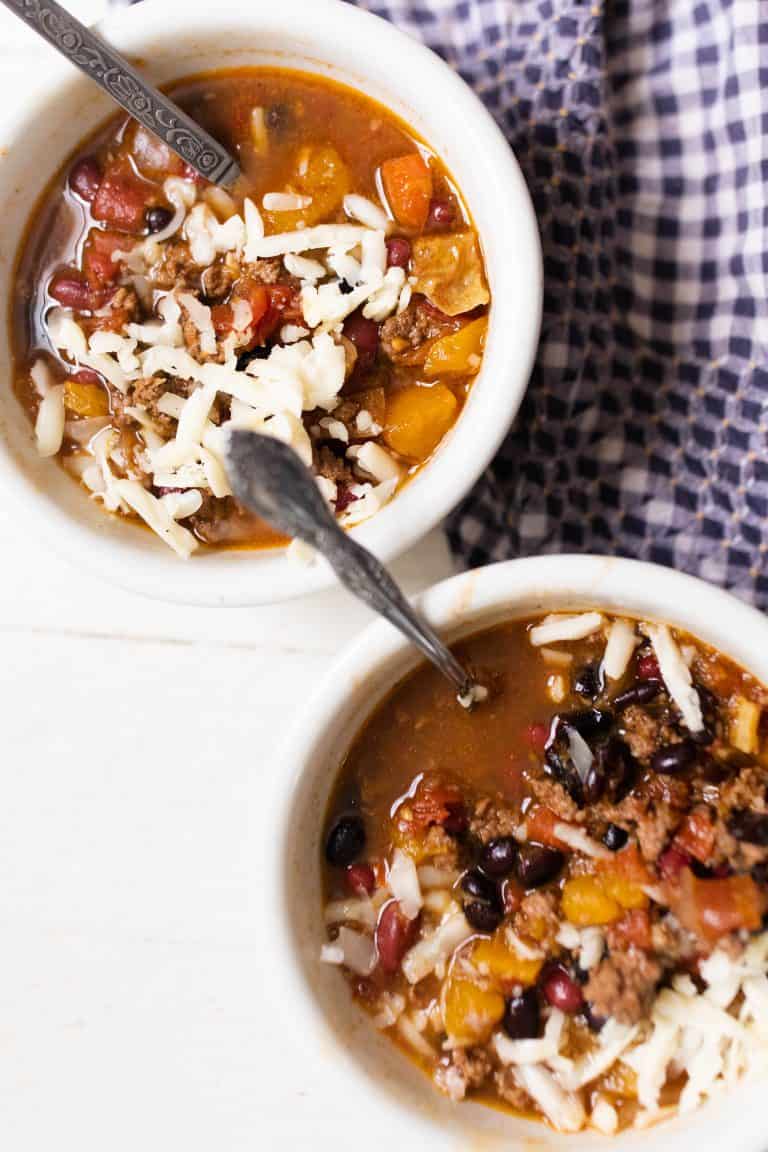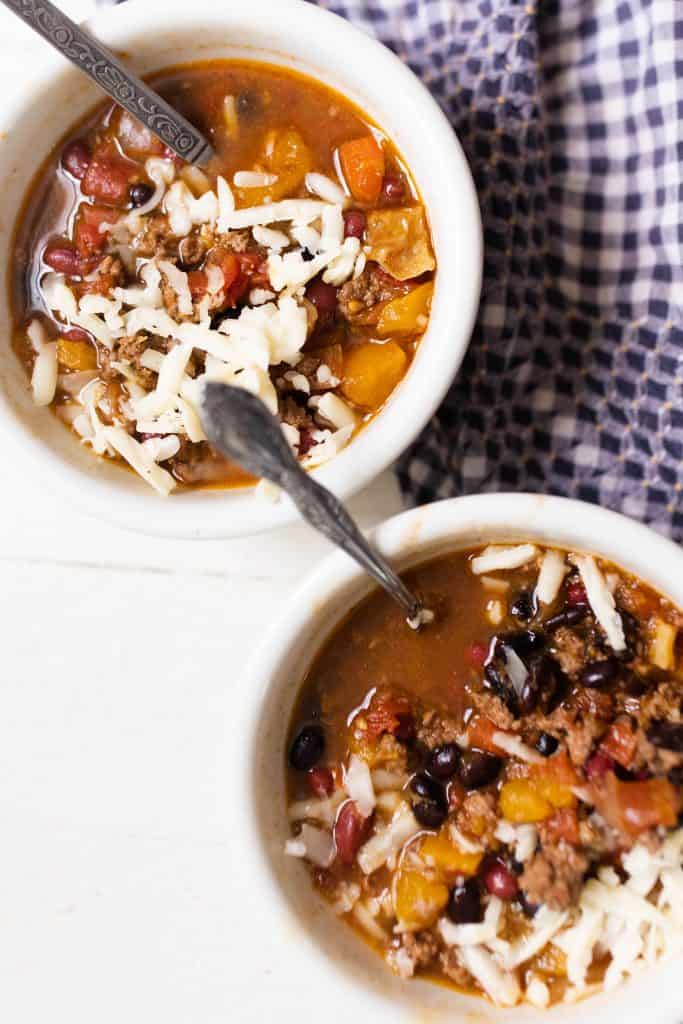 Tools you may need:
Cast iron skillet
Stock pot
Garlic press – this is one of my favorite kitchen tools.
Instant pot and Berkey water filter for making homemade bone broth
Measuring spoons
Pumpkin Chili Video Tutorial
How To Soak And Cook Dried Beans
This will need to be done the night before, or up to 24 hours before.
Place beans in a colander and rinse. Place beans in a bowl and remove any bad beans or pieces.
Add 4 cups of water for every one cup of beans.
Add about a tablespoon or so of apple cider vinegar per cup of dry beans.
Cover and allow to soak for 12-24 hours. This helps break down the phytic acid in the beans which is an anti nutrient that blocks the absorption of certain nutrients available in the beans.
Drain the beans and rinse well.
Add to a pot and add water. Cook until they are soft, around 45 minutes- 2 hours. Since they will be added to the chili and simmered for 30 minutes, you can partially cook them and finish cooking them in the chili.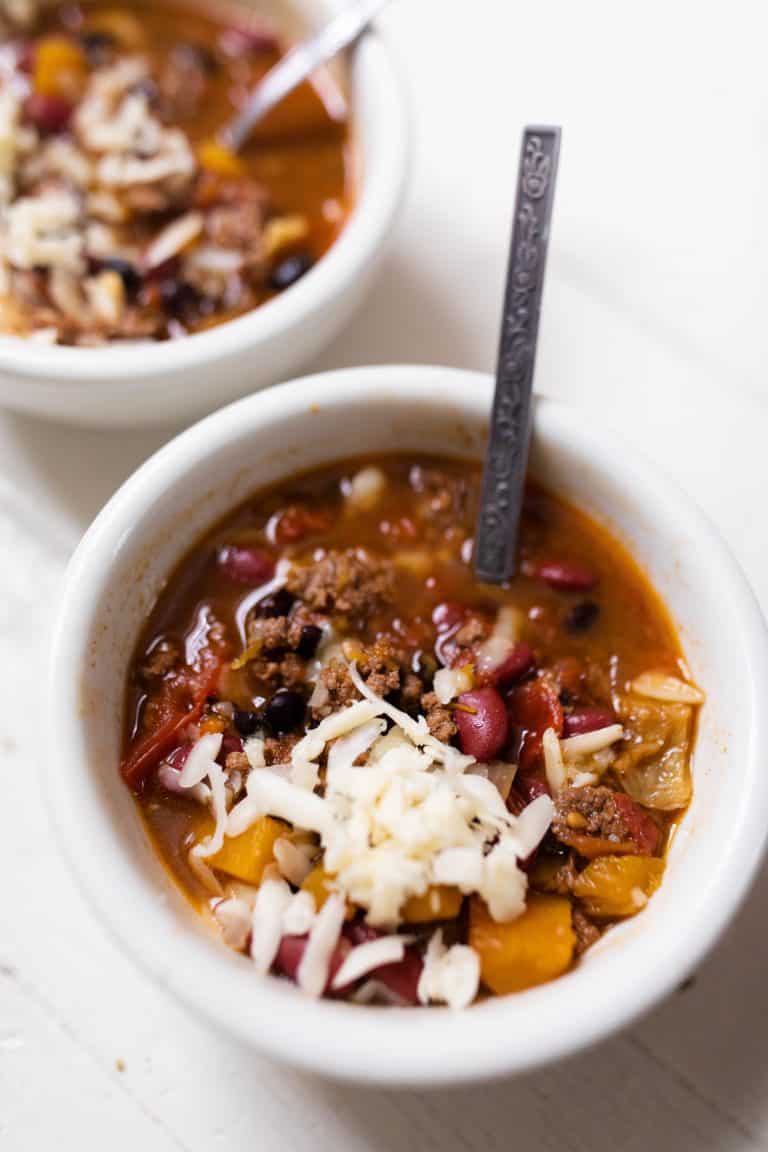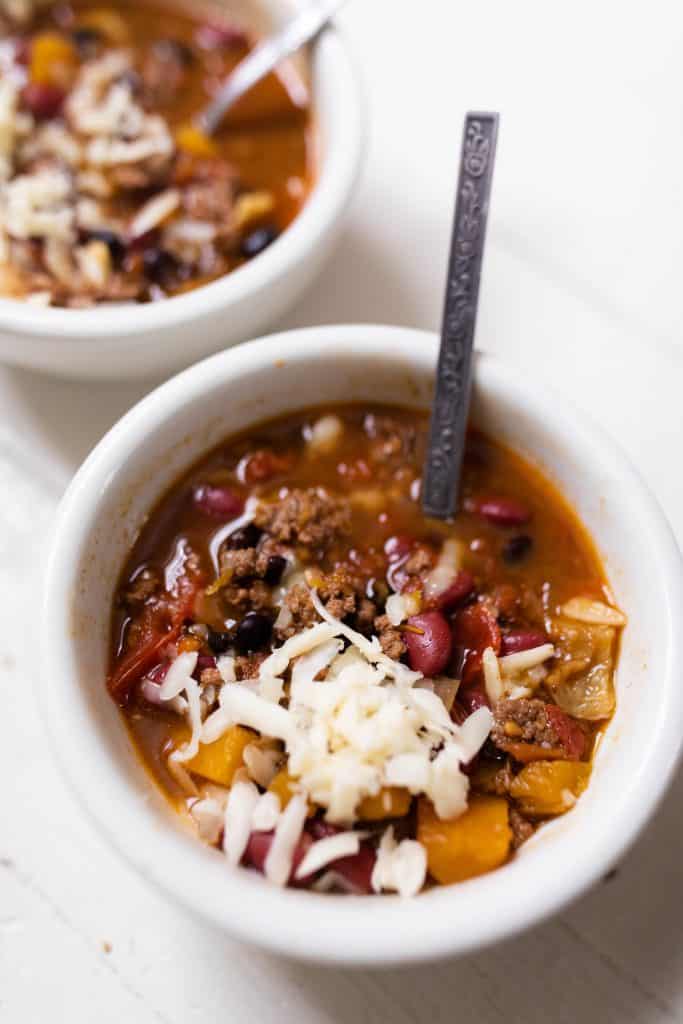 How To Make Pumpkin Chili
Slice the top off and cut the pumpkin in half. Scoop out the seeds.You only need a half of pumpkin for this recipe, so I'm going to puree the other half or roast it up like a butternut squash. I haven't decided yet!
Peel the half you're using, dice it up, and add the chunks to a large stainless steel pot. Depending on how chunky you want your chili, you will need to adjust how thick you chop the pumpkin.
Dice up two onions and two bell peppers. Add them to the pot.
Cut up 6 tomatoes, making sure to de-stem them. You could also used canned tomatoes for this.
Add in bone broth, chili powder, ground cumin, garlic powder, and onion powder to the pot and turn the burner to medium high-heat. Bring to a simmer.
While that is coming to a simmer, start browning 1 pound of ground beef with garlic.
After the veggies have been simmering for about 30 minutes, add in soaked and cooked black and kidney beans and the browned meat. Cover the pot with a lid and allow the chili to simmer for about 30 more minutes so the flavors can really meld together.
Serve and enjoy.
Pumpkin Chili Toppings:
Shredded cheese
Diced avocado
Tortilla chips – broken up
Scoop of fermented salsa
What Goes Well with Pumpkin Chili?
Green Salad with homemade dressing
Rice
Crispy potatoes
Pasta – If we eat pasta, we go with einkorn.
Sourdough crackers
Find more from scratch soup recipes straight from the farmhouse kitchen:
Roasted Red Pepper And Tomato Soup
White Chicken Chili from Dried Beans
Hearty And Healthy Potato Soup Recipe
Pumpkin Chili Recipe
If you try this recipe and love it, I would love if you gave it 5 stars! Thank you!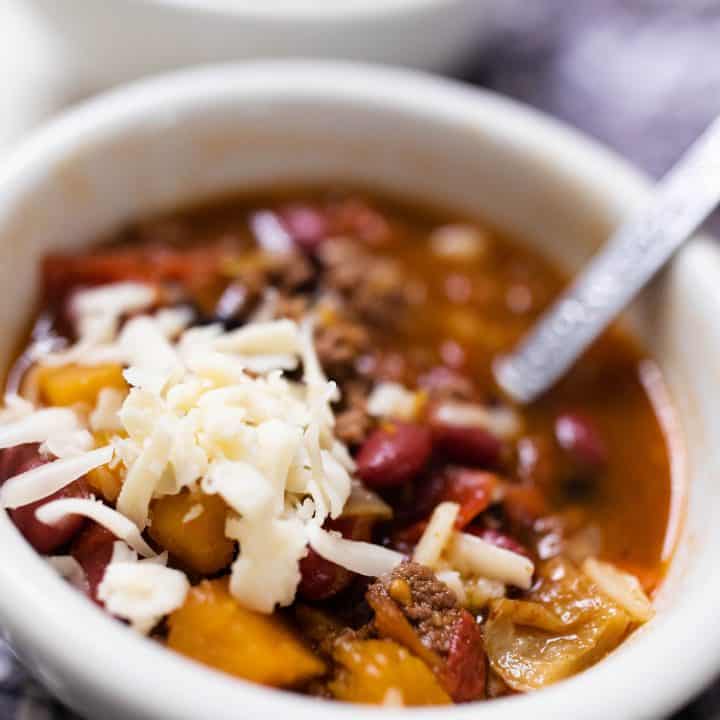 Pumpkin Chili
Ingredients
2 lb. ground beef
6 cloves garlic, minced
2 bell peppers, diced
2 onions, diced
1/2 pie pumpkin peeled, diced and seeds removed
2 Tbsp chili powder
2 Tbsp cumin
1 tsp onion powder
1 tsp garlic powder
4 cups homemade bone broth
3 cups cooked black beans
3 cups cooked kidney beans
6 tomatoes diced
2 tablespoons salt
Instructions
The night before, soak beans night before with a little apple cider vinegar.

Add peppers, onions, pumpkin, chili powder, cumin, onion powder and garlic powder to a large stock pot with bone broth. Simmer 30 minutes.

Brown meat with the minced garlic in a cast iron skillet.

Add cooked beans, browned meat and salt to taste (We use 2 tablespoons) to the pot with the veggies. Simmer for additional 30 minutes.

Serving options: Top with shredded cheddar cheese, diced avocado, sour cream. Crushed organic tortilla chips are also delicious.
Pin It For Later