These homemade, herb-seasoned, sourdough crackers are deliciously tangy, crisp, and buttery. The perfect way to use up excess starter or discard, this whole wheat cracker recipe makes a great snack or appetizer.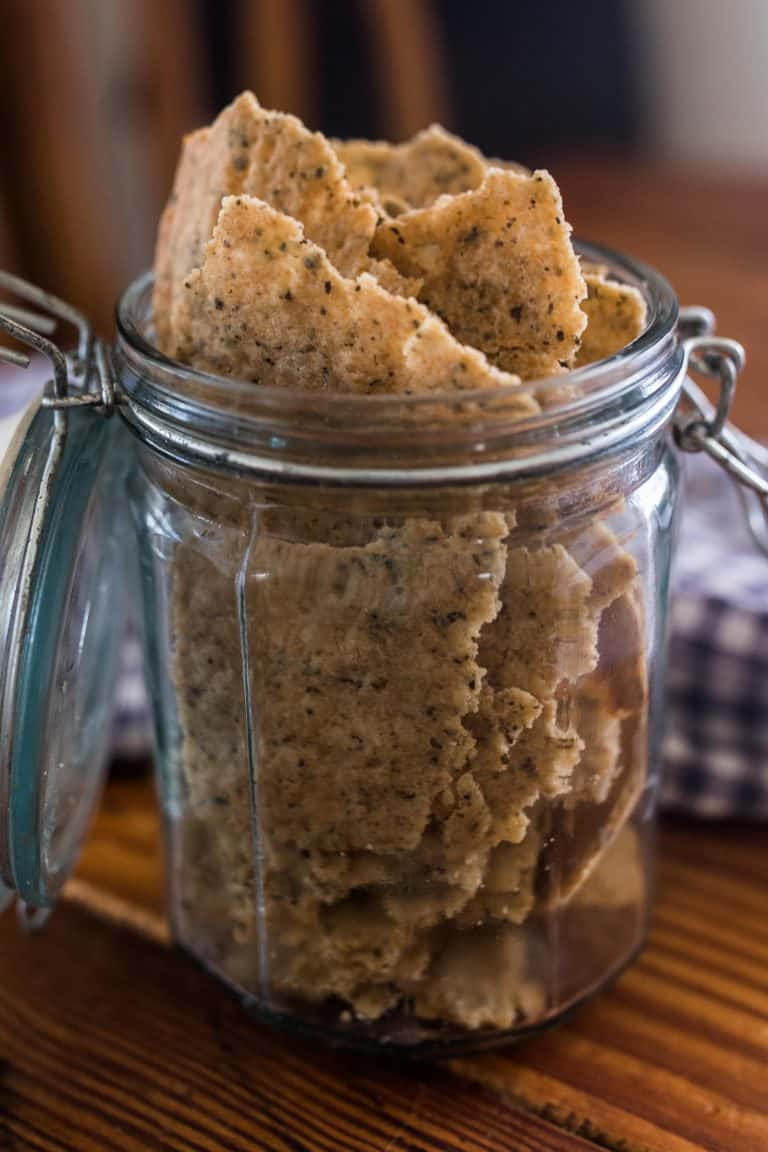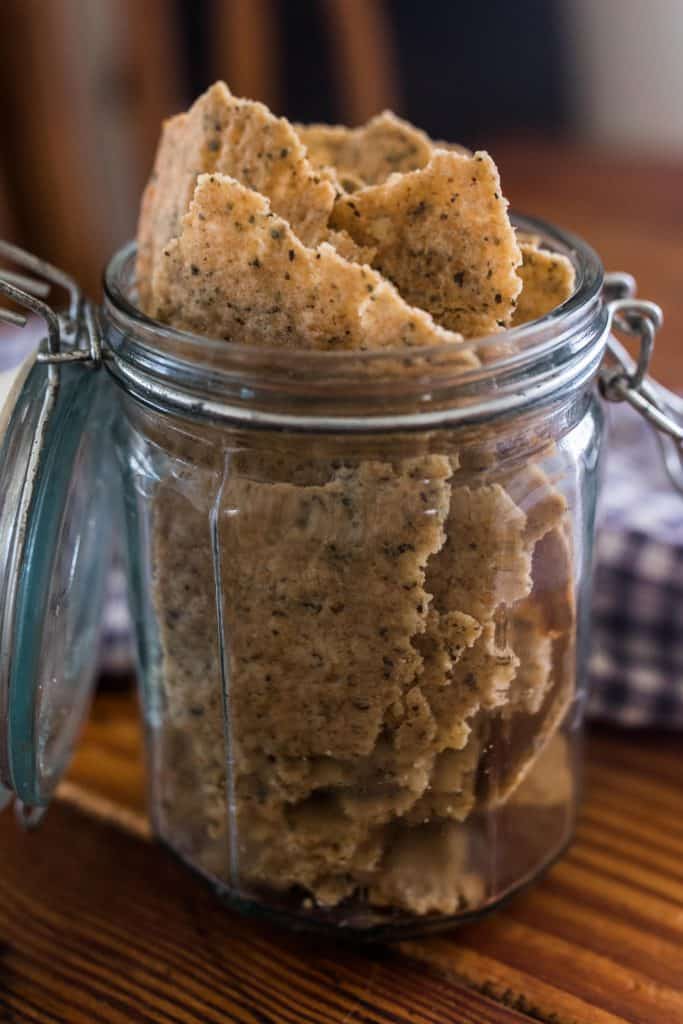 This has been a big week here at the farm. We tore down the cottage garden, the barn got a little face-lift, and we are preparing for some new animals.
Now, let me explain. The cottage was basically built on a dirt floor, which resulted in lots of decay, termite damage, and mold. Plus, it wasn't even original, but appears to have been built in the 50's.
Now that it is gone, I have a beautiful view of the barn. We also have the space to plant a much larger garden, since the sunniest spot on the property now stands free.
Also, since the cottage had running water, we can now add a watering spigot for the garden.
The barn also got a little update. We replaced some rotting boards and freshened it up with a touch of white paint. For a barn built in the late 1800's, it is in great shape. I can't wait to put some flower beds in the front.
Just imagine with me for a second… washing dishes, looking out at your beautiful barn, flowers all around. I'm really excited.
The fencing around the barn was finished, as well, in preparation for some exciting new animals that should be arriving here shortly.
There are a lot of fun things going on around here lately. We've been here just over a year now, and we're finally beginning to see many of our dreams for this property come to life.
We ended the week on a high note, whipping up some of these homemade sourdough crackers and, as usual, the kids inhaled them.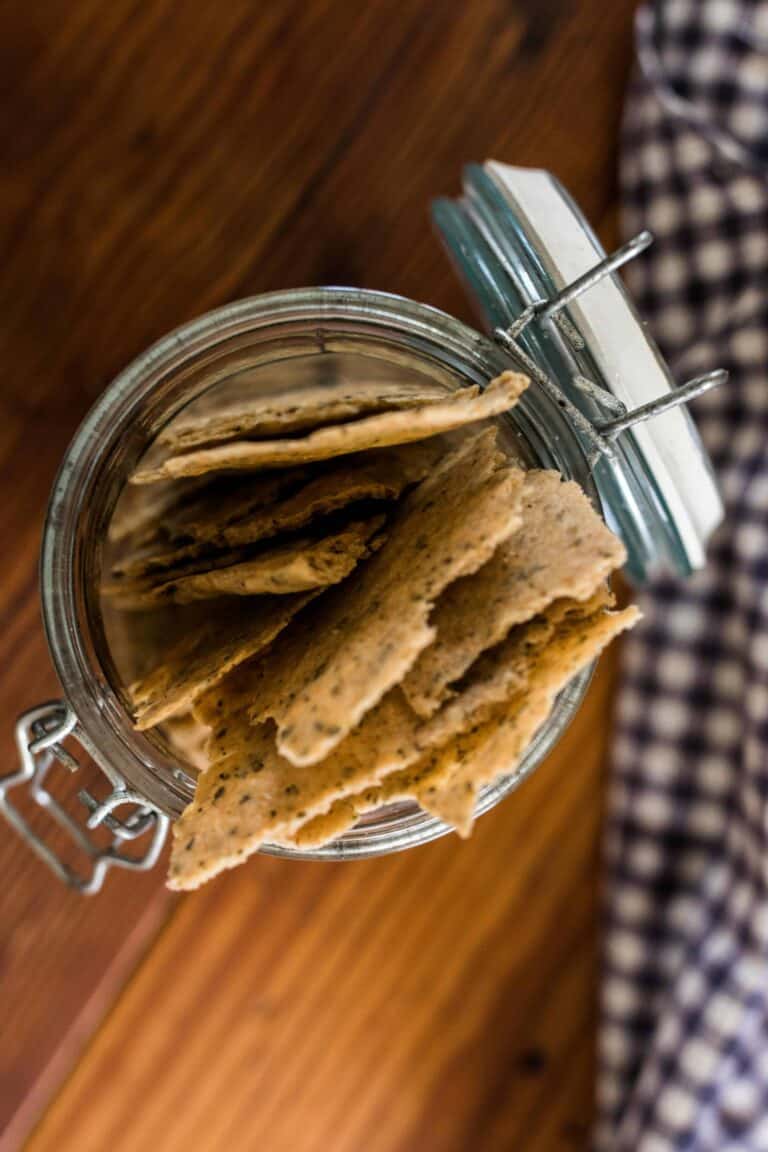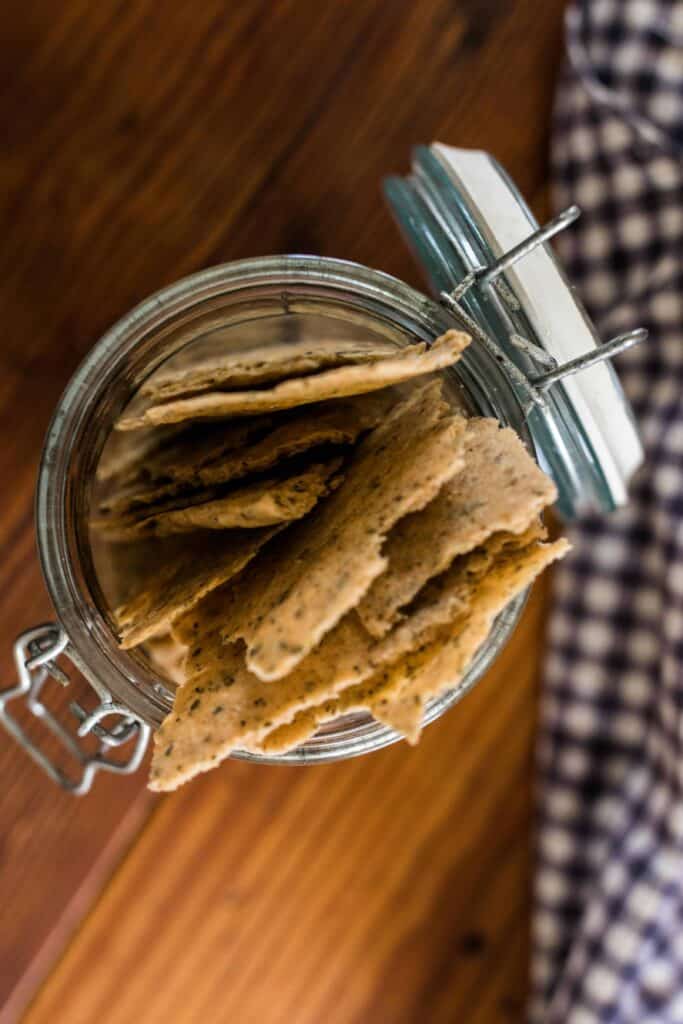 Tips For Making Homemade Sourdough Crackers
Roll between greased sheets of parchment paper. This makes it much easier to roll and helps you get the dough super thin.
You want to get the dough rolled out really thin, or else you'll basically have tortillas.
I like to start rolling the dough out as thin as possible an then using my hands to make it even thinner.
I like using einkorn flour for these crackers, because it is not a fermented recipe. Einkorn is naturally easier to digest than regular flour.
This recipe is a great way to use all that sourdough discard. Don't waste your discard by throwing it in the trash, but rather use it it other delicious recipes.
If you are new to sourdough, you can learn all about how to make sourdough starter from scratch here.
Bake by weights? Check out my new baking conversion chart.
This post contains affiliate links, which means I make a small commission at no extra cost to you. See my full disclosure here.
Ingredients:
Sourdough discarded – This is sourdough starter that hasn't been fed. Many times people will just toss the discard before feeding it, but I'm not one to waste anything, and use discard in many recipes.
All-purpose flour – You can also substitute this for einkorn flour.
Butter – give sit a really delicious flavor. You could also use olive oil for a dairy free version.
Dried herbs – Basil, oregano, parsley, rosemary, thyme are all good options or a combination of any of those.
Salt – All good crackers have the perfect amount of salt.
Tools that you may need:
Rolling pin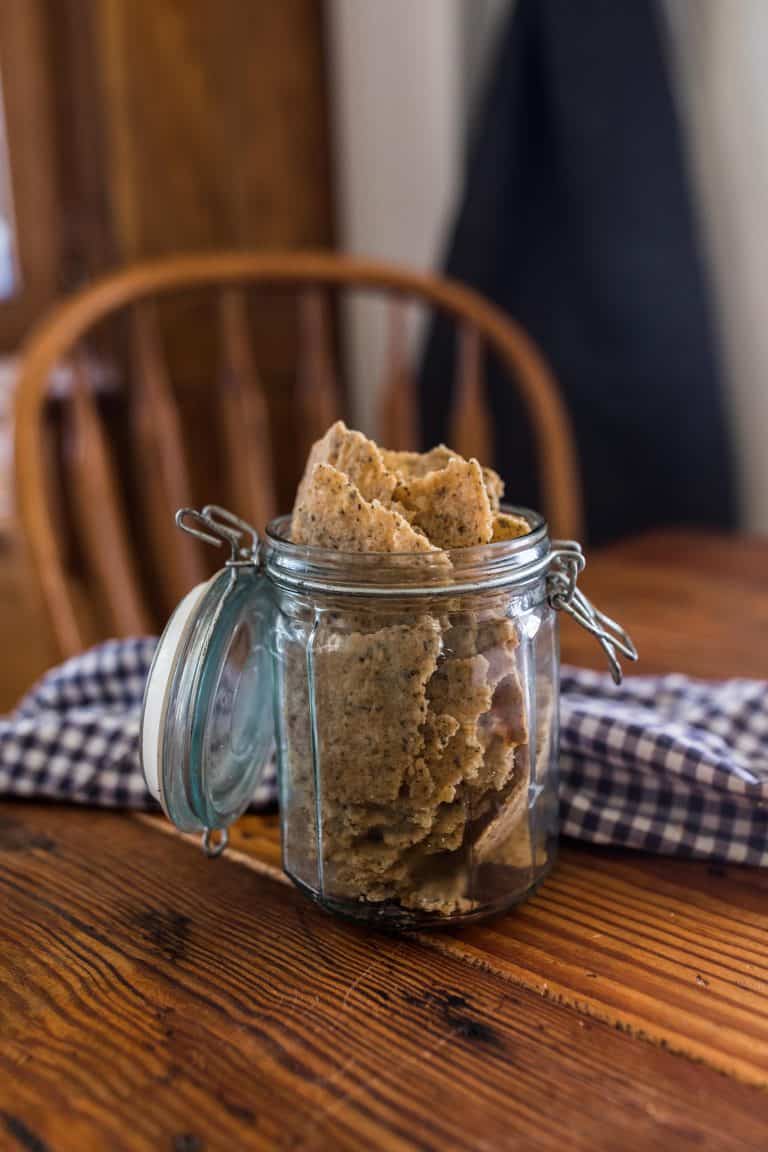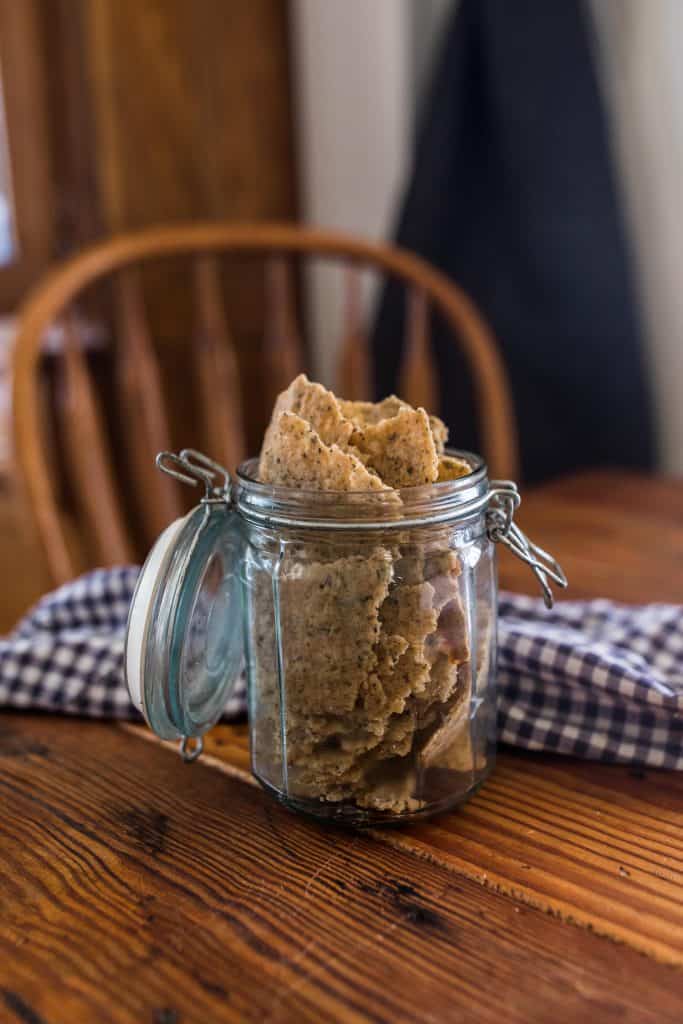 How To Make Sourdough Crackers:
Preheat your oven to 350 degrees.
In a large bowl, add discarded starter, flour, butter, herbs, and salt. Knead the dough just until it comes together.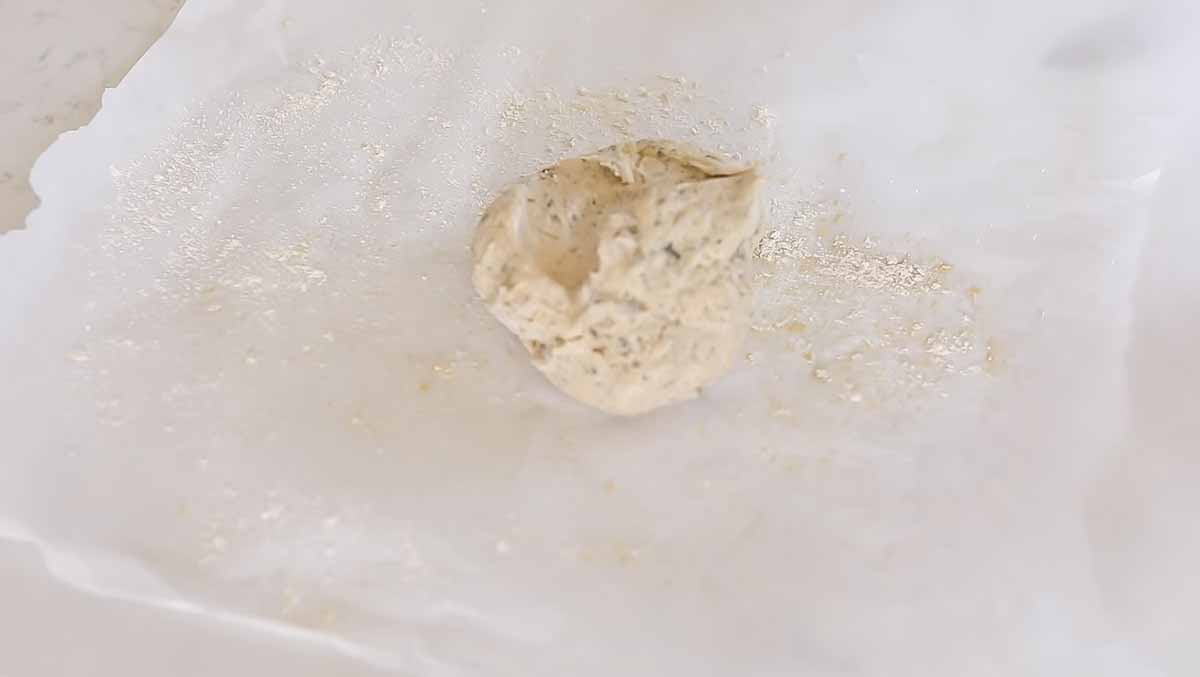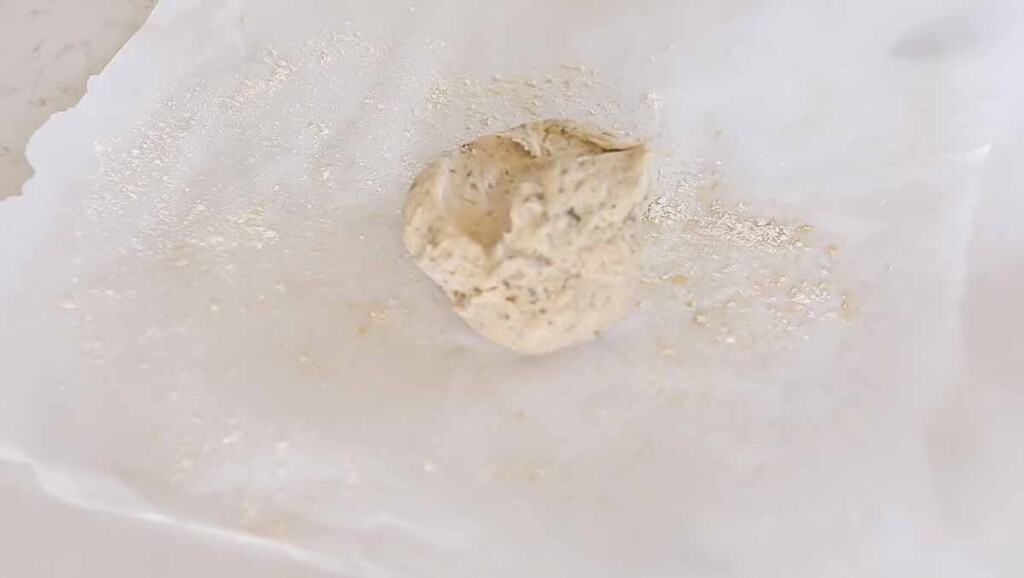 Place dough onto a piece of parchment paper and then top with another piece of parchment paper.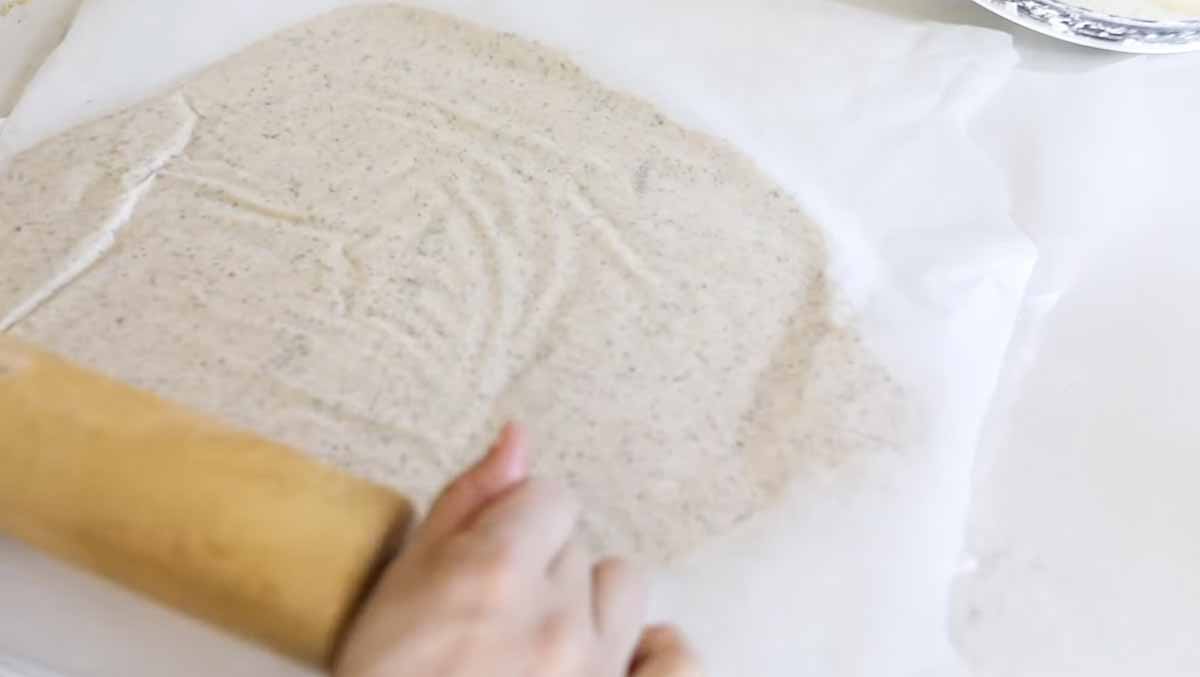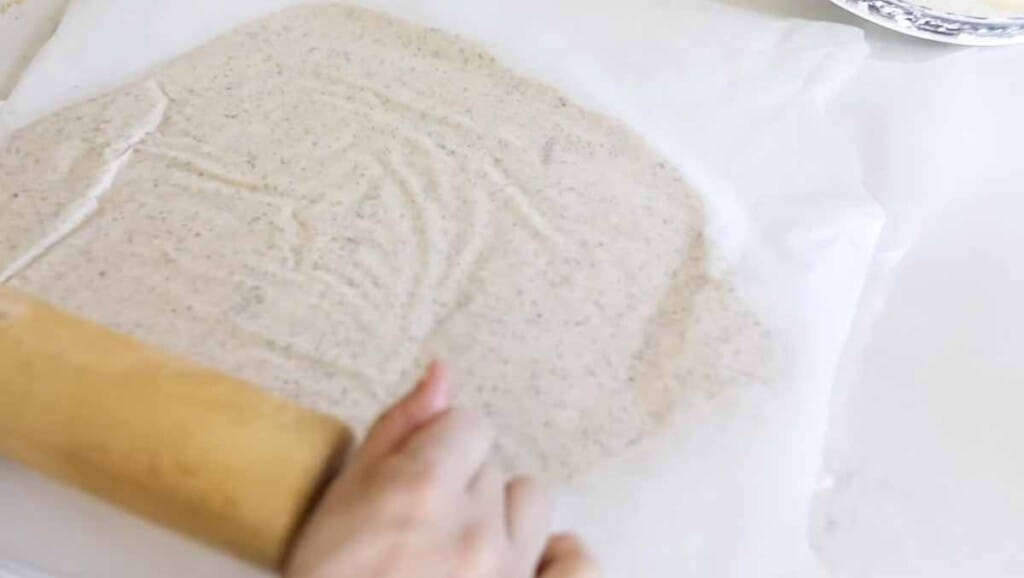 Roll out super flat with a rolling pin.
The key is to get them really, really thin. If you don't, they will end up more like tortillas than crackers.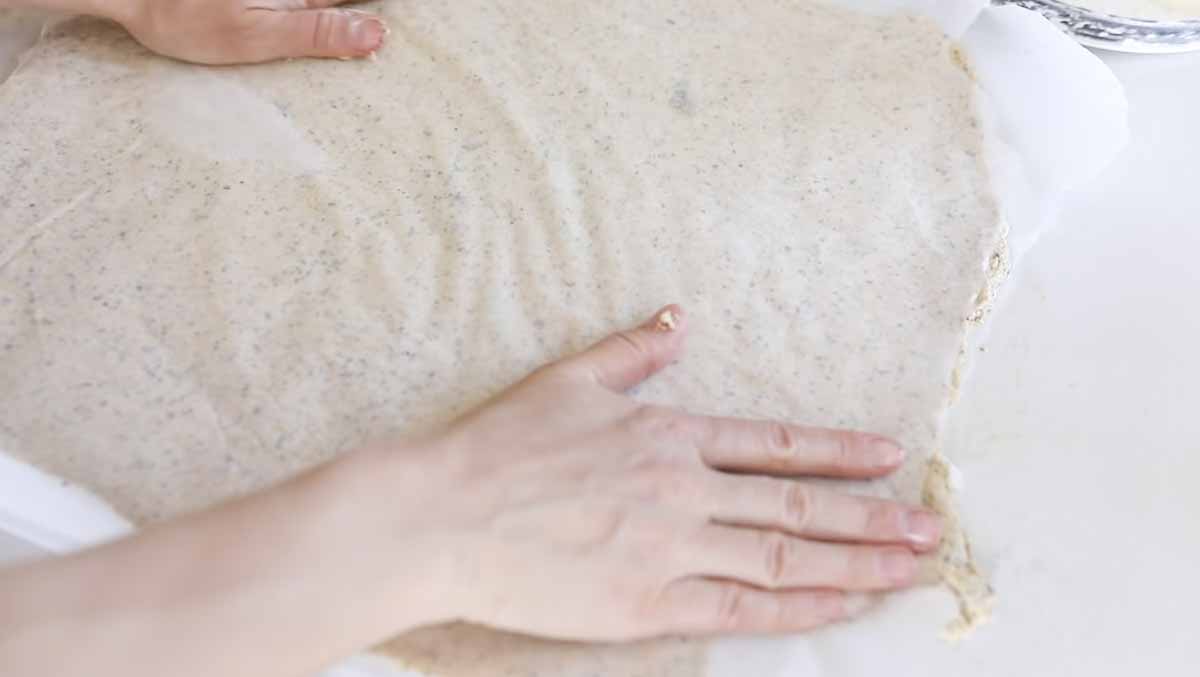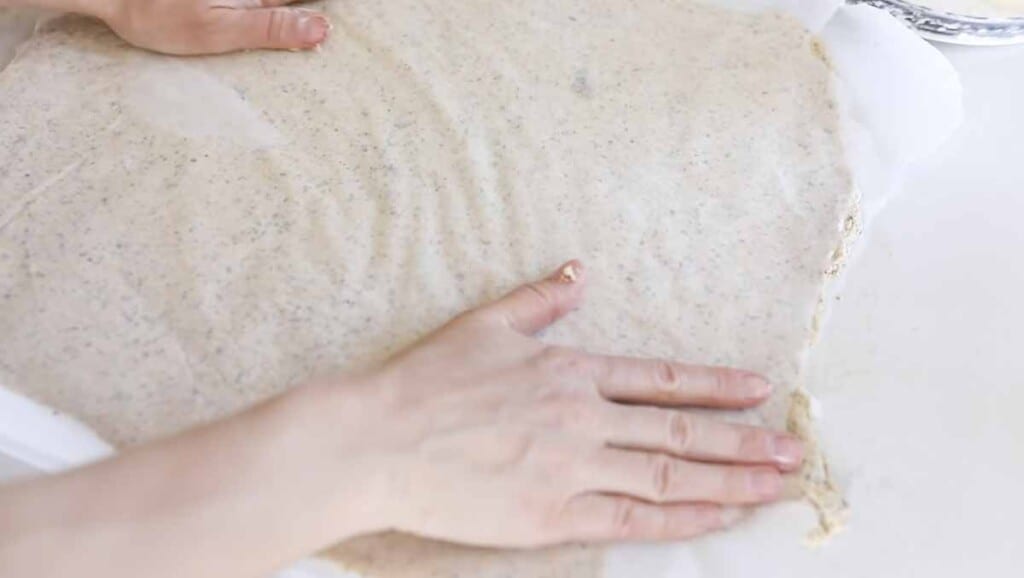 I like to start with a rolling pin and also sure my fingers to spread it out even thinner.
Pull off the top piece of parchment paper, brush with butter, and sprinkle with more salt (optional).
Bake on parchment-lined baking sheet at 350 for 15 minutes.
Allow to cook for approximately 10 minutes before cutting them.
Store in an airtight container.
How To Store Crackers
If, somehow, your family doesn't eat them all in one sitting, they will store well in an airtight container. Make sure to allow them to cool completely first. Typically, I like to use a glass mason jar with a swing top lid.
Variations:
Cheese crackers: Add fresh parmesan cheese.
Switch up herbs: Add one or more chopped herbs: rosemary, sage, oregano, thyme, basil. Fresh or dried.
Seeds: Add chopped (if needed) seeds: pumpkin, poppy, flax, sunflower.
For a sweet version: Add cinnamon and sugar.
Sourdough Discard Crackers FAQ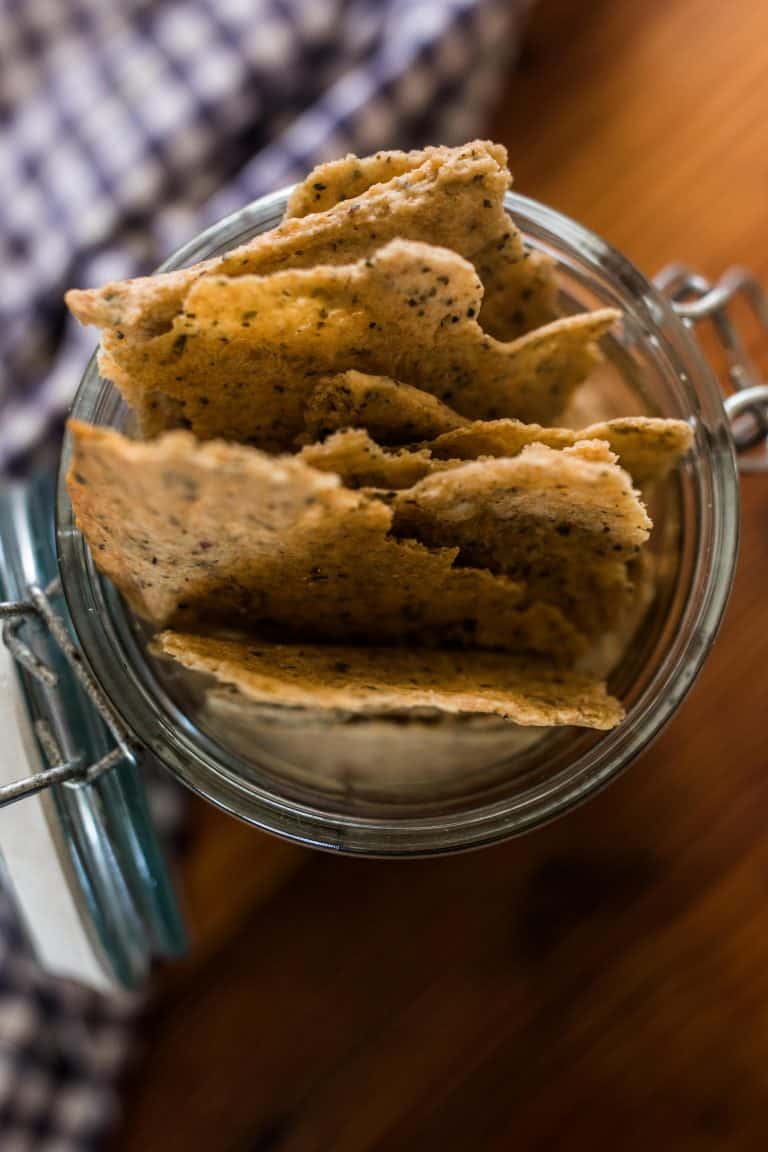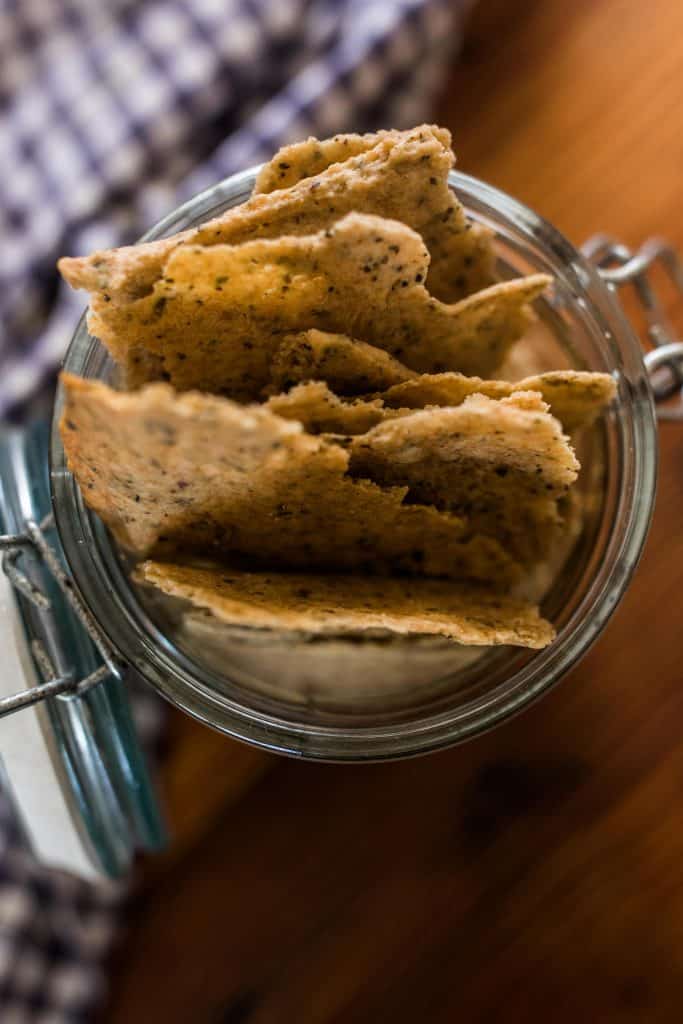 What do you eat sourdough crackers with?
Cheese
Sliced tomatoes. You could make some caprese crackers by adding a slice of fresh mozzarella, a slice of tomato, and a little fresh basil.
Onion Dip
Goat cheese and honey. Add a little sliced fig to be extra fancy.
Cheese and a slice of ham or turkey
Hummus
How long will these stay good?
If stored correctly, they will stay good and crispy for up to a week.
Is sourdough discard good for you?
Sourdough discard contains natural yeasts and bacteria that helps break down the anti-nutrients and gluten in the flour. This makes it easier for your body to digest and the nutrients more readily absorbed.
Is sourdough discard fed or unfed?
It is unfed. Discard is usually the portion of the sourdough starter you toss before feeding your starter.
I never toss my sourdough starter, but rather use it in discard recipes.
How do I dispose of a lot of sourdough?
Use it in a variety of discard recipes: pancakes, waffles, pizza, cobbler, apple pie, cake, quick breads, biscuits, muffins…. the possibilities are endless.
Can I use sourdough discard straight from fridge?
Yes, as long as the starter has been fed within the last day or two it is fine to use straight from the fridge.
Find More Sourdough Discard Recipes:
If you make this recipe and love it, I would love if you gave it 5 stars! Tag me on Instagram @farmhouseonboone with your delicious creation.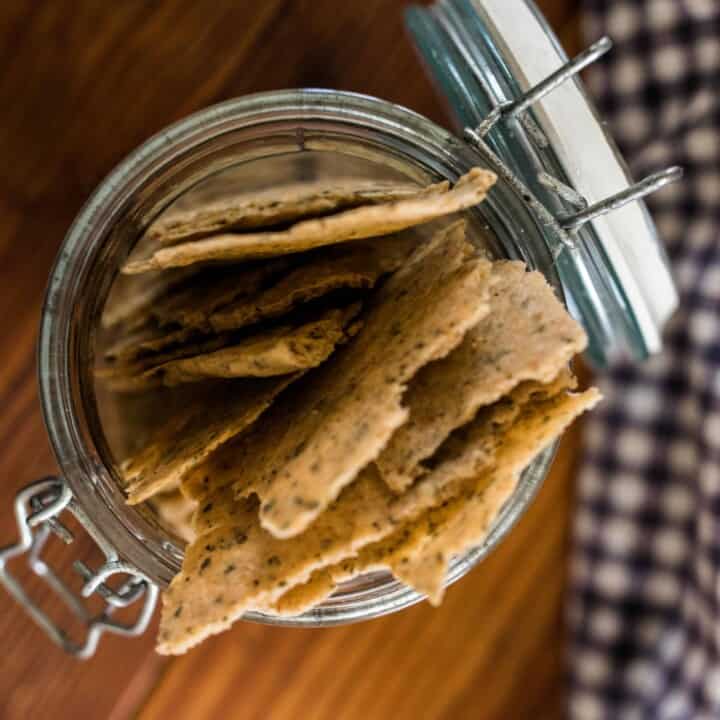 Sourdough Crackers
Crispy homemade sourdough crackers with herbs are a delicious and crunchy snack or appetizer.
Ingredients
1 cup sourdough discard
3/4 cup AP flour or 1 cup AP einkorn flour
1/4 cup butter
1 tablespoon dried herbs (basil, oregano, parsley, rosemary, thyme are all good options, or a combination of any of those)
1 teaspoon salt
Instructions
Preheat oven to 350.
Mix ingredients and knead the dough just until it comes together.
Place dough between two pieces of parchment paper and roll out as thin as possible.
Remove the top piece of parchment paper and brush with butter/sprinkle with more salt (optional)
Place the rolled out cracker dough and parchment paper onto a baking sheet.
Bake for 15 minutes until crispy.
Cut with knife of break apart and store in an air-tight container.


Notes
Roll between greased sheets of parchment paper.
The key is to get them really really thin. If you don't, they will end up more like tortillas than crackers.
Nutrition Information:
Yield:

6
Serving Size:

1
Amount Per Serving:
Calories:

266
Total Fat:

9g
Saturated Fat:

5g
Trans Fat:

0g
Unsaturated Fat:

3g
Cholesterol:

20mg
Sodium:

415mg
Carbohydrates:

42g
Fiber:

4g
Sugar:

0g
Protein:

7g