Learn how to make pillow covers from IKEA tea towels. These pillow covers are super simple and can be whipped up in less then 15 minutes.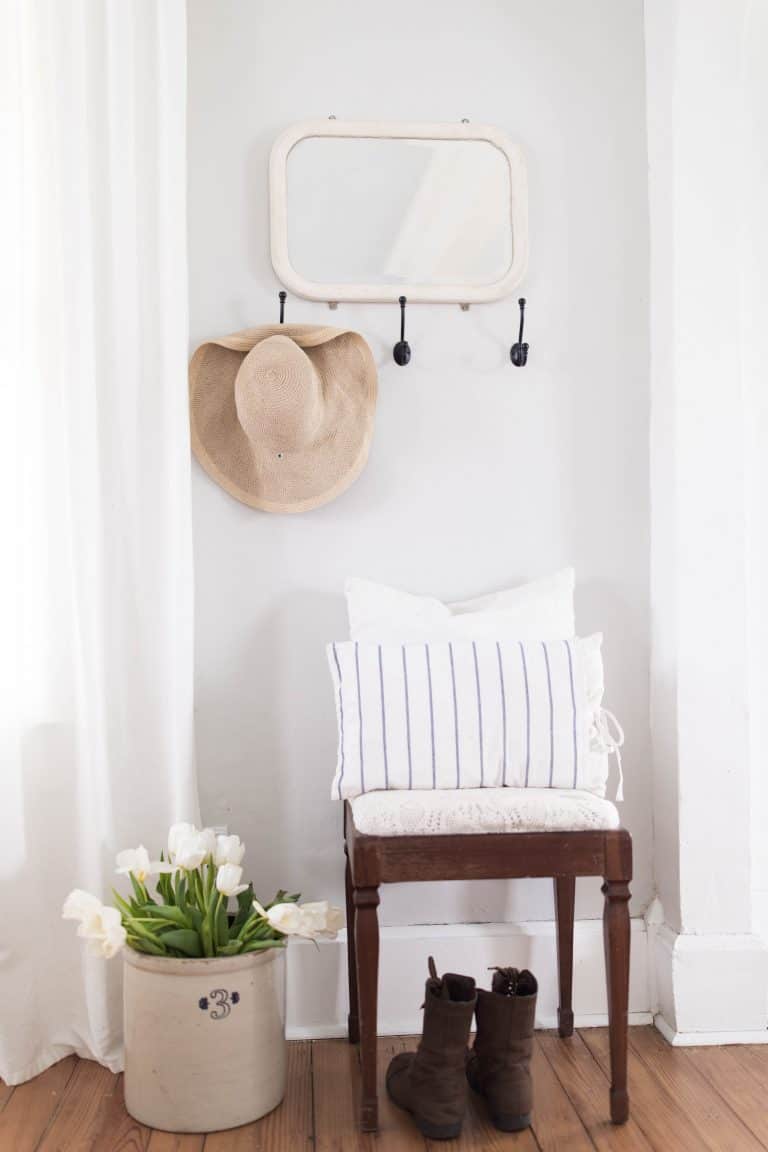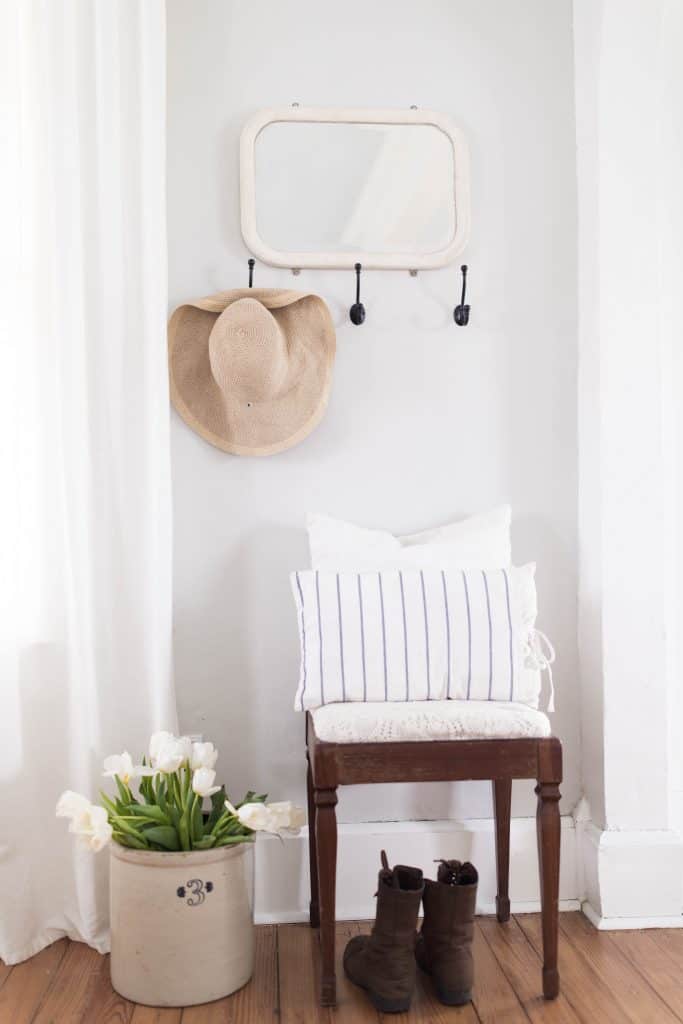 Some links are affiliate links, which means I make a small commission at no extra cost to you.
An Easy and Quick Project
You know how sometimes you just need a little satisfaction of creating something, but have absolutely no extra time to do so?
That is what today's tutorial is all about!
I love the IKEA Elly white and blue dish towels for their linen like look and perfect shade of blue.
Plus, I am always a sucker for stripes.
I knew when I first saw them that I would have to make something, other than a tea towel, from them.
With a $5 pack of these tea towels and one package of bias tape you can sew up four pillow covers in (way) less than an hour.
DIY Farmhouse Pillows fro IKEA Tea Towels video tutorial
Pillow Cover Tutorial Supplies
If you don't have an IKEA nearby you can also buy them for a pretty reasonable price on Amazon.
Since the tea towels already come with hems, half the work is already done!
Pillow Cover Instructions
First cut two 18″ pieces of white double fold bias tape.
On one end, fold the top down a half inch.
Then sew all the way around.
Repeat with the other piece of bias tape.
Next, fold your tea towel in half with right sides together.
Line up all the stripes and pin in place.
Sew 3/4 of the way around with a 1/4″ seam, leaving one short end open.
Before you turn the pillow right side out, make sure to clip the corners, as there is a lot of bulk there from the pre-made towel seams. Just be careful not to cut into your seam.
With any luck, all your stripes will line up when you turn it right side out.
Find the middle by folding the pillow cover in half and adding a pin on both sides.
This is where you will want to put your ties, so they are centered.
Tuck the unfinished end of the bias tape under and sew on the inside of the finished pillow cover.
Repeat with the other piece of bias tape on the other side.
Slip an insert in and boom you are done!
Repeat. Repeat. Repeat.
Although the perfect size insert is hard to find I did find this one here for $5 on Etsy.
OR you can make your own insert pretty quickly!
I actually like this option even better because I like the way the bleached drop cloth looks peeking out of the pillow cover. It has an almost linen look to it that I love!
Sew up two 13 by 20 inch pieces of bleached drop cloth, or other white cotton fabric, all the way around, leaving a 3 inch portion not sewn.
Turn it right side out and add stuffing.
Stitch the 3″ spot that you left open shut.
When putting your insert into your new pillow cover, hide the 3″ spot you left open, since it will look a little messy, by putting that end first into your pillow cover. The nicely sewn edge should be the one peeking out.
Now, keep repeating this process and you will have a bunch of little farmhouse pillows all over your house that only cost a couple bucks each!