Learn how to make a sink from a bowl, and in this case I use a vintage bowl. This is a really inexpensive and easy way to create a custom bathroom vanity.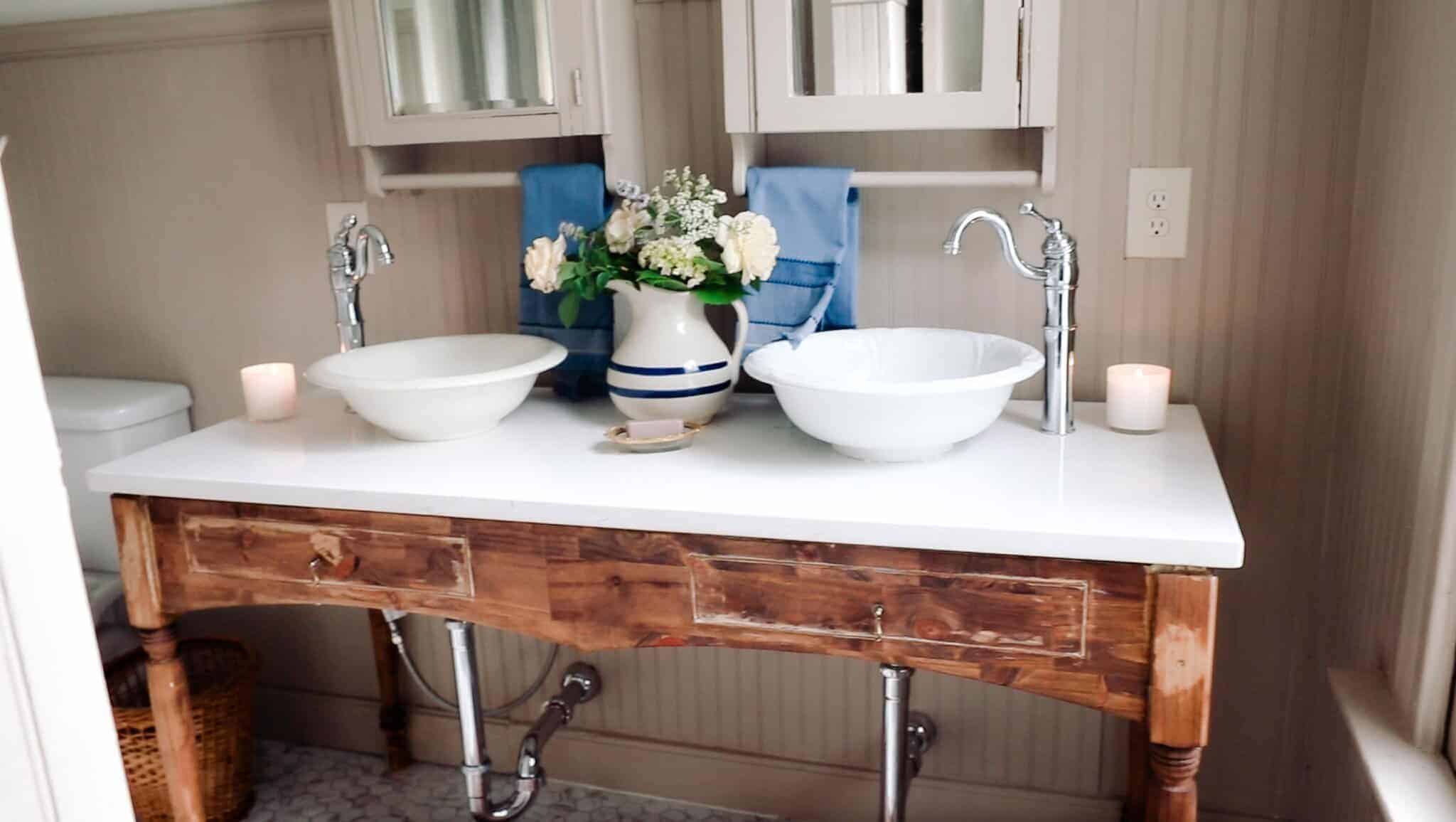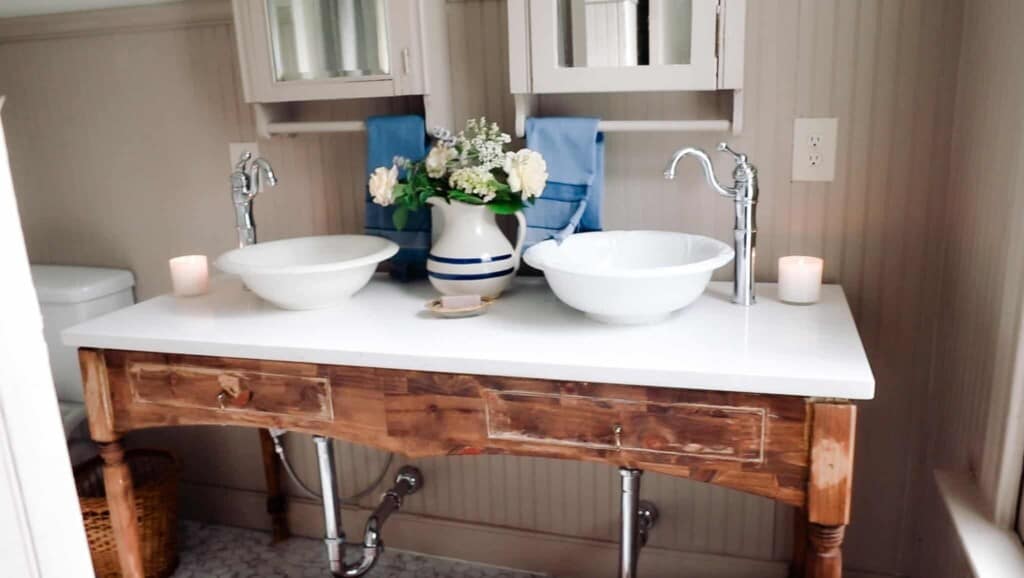 When we finally got around to renovating one of the last areas in our home, I knew I wanted it to be timeless yet inexpensive. Basically what I strive for every time we do home projects.
It needs to fit the aesthetic of our home. I want modern amenities while also looking and feeling like it could have easily been an original part of our 1890's Victorian farmhouse.
After scouring Pinterest for a good long while, I decided to have a custom vanity built to look like an old desk, while creating sinks out of vintage bowls. Giving it the look of an old wash stand in a way, but with a double sink and running water and drains. Like modern pioneers, if you will.
Ideally, I would've found an antique piece of furniture, but since the measurements were so specific, I would probably be looking for months before I found that unicorn. We really wanted it done sooner rather than later.
The top of the vanity was fitted with marble, and we created a simple DIY sink with just a few tools. It turned out beautiful and fairly inexpensive.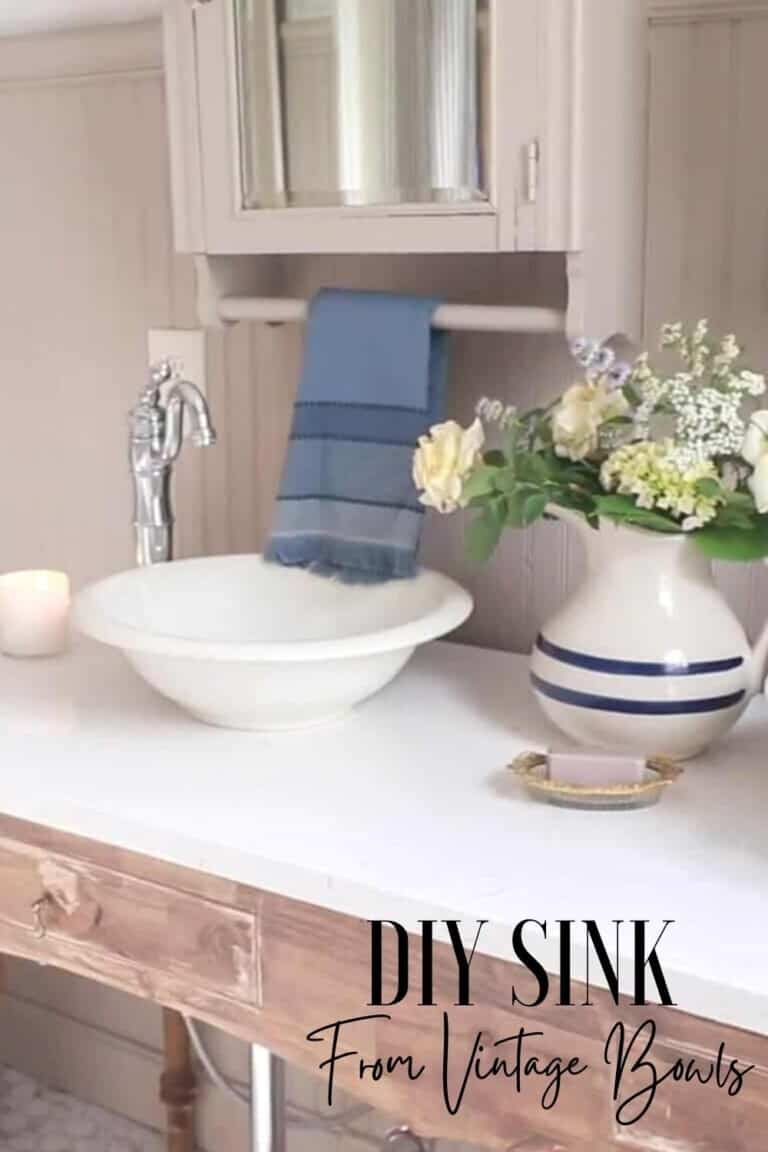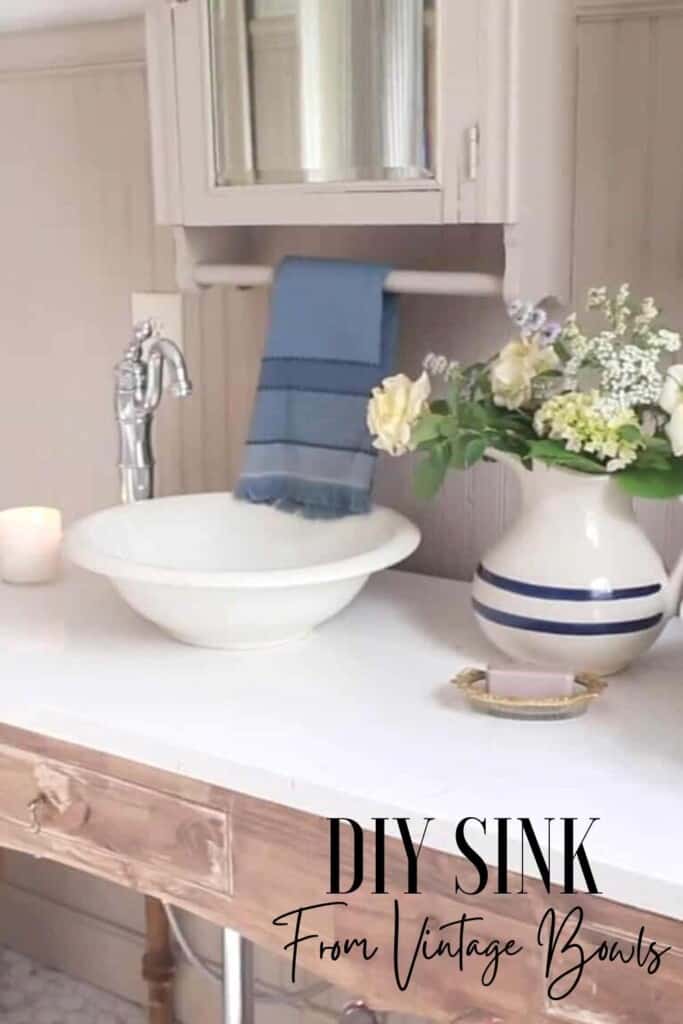 Tips:
I highly recommend doing this in a bathtub or somewhere you don't care that gets wet. The water will spill everywhere.
If you find a bowl you love and there are a few, you may consider getting one extra just in case one breaks. Like ours did when the mirror fell on it.
You can use a variety of furniture to make a sink. An old desk, a vintage dresser, a nightstand, or even build something yourself. Just make sure you get something that fits your space correctly.
When looking for a bowl, a 16.5″ bowl is the most common and easy to find. Check local antique stores or Etsy.
This post contains affiliate links, which means I make a small commission at no extra cost to you. See my full disclosure here.
FAQ: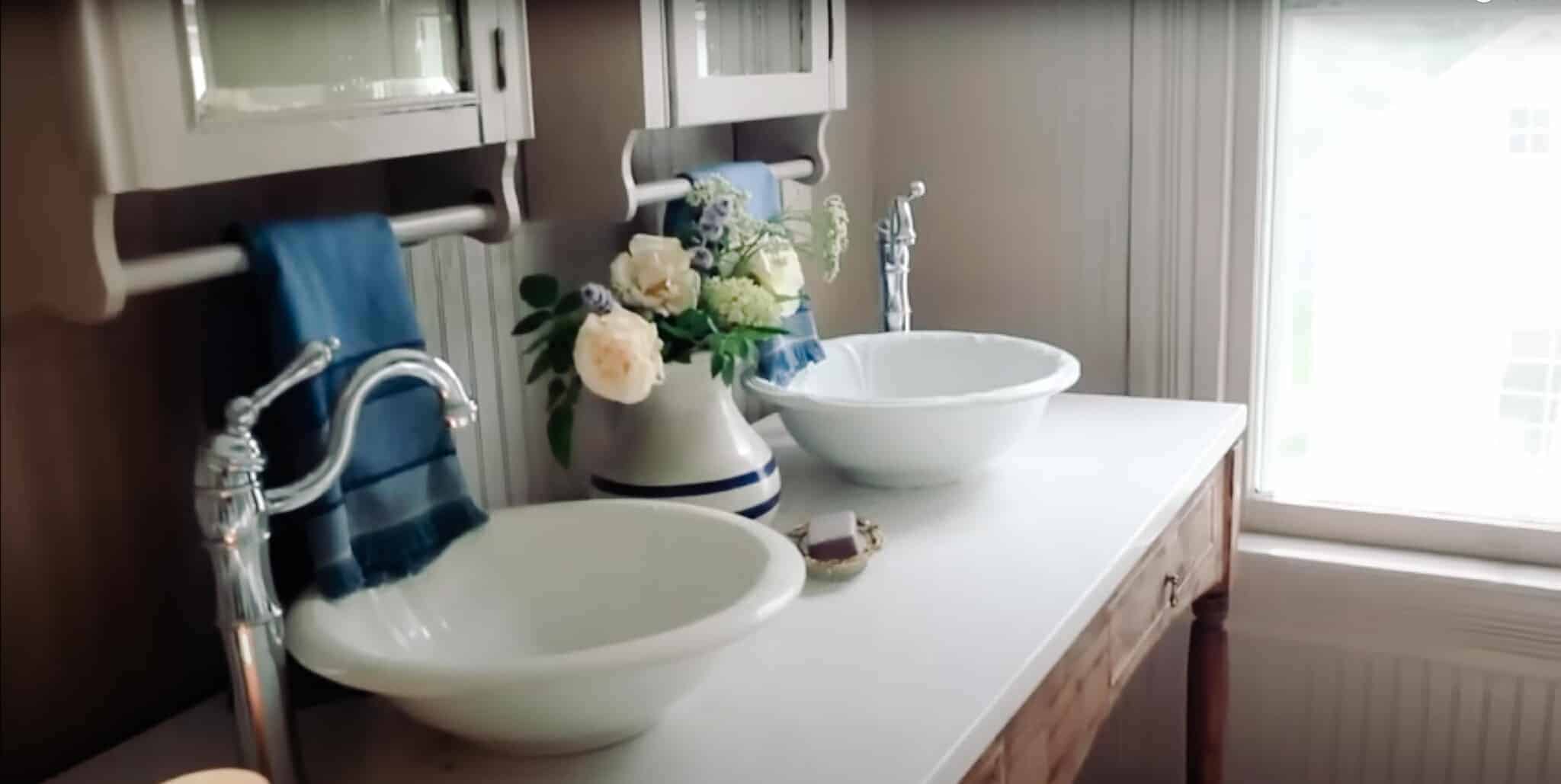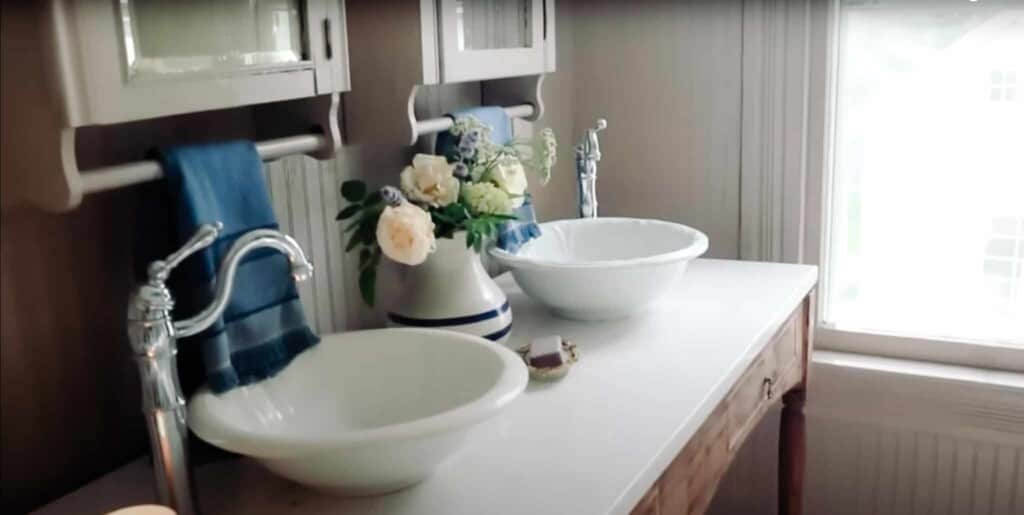 Can you have a sink without plumbing?
This is basically like an old washstand. They would fill pitchers with water and then have a standalone bowl that would be used, emptied, and refilled.
Can I make my own vessel sink?
Yes. With just a few tools and a bowl you can make your vessel sink easily.
Can you make any bowl a sink?
Pretty much. You will want to be considerate of the material you use. Ceramic, glass and stainless steel will work. Wood would also work, but may not be able to withstand lots of water without proper sealing.
Tools:
Drill
Guide
Diamond hole saw bit the size of the drain – if using ceramic or glass bowl. If using a metal bowl, you will need a BI-Metal hole saw bit.
Faucet and drain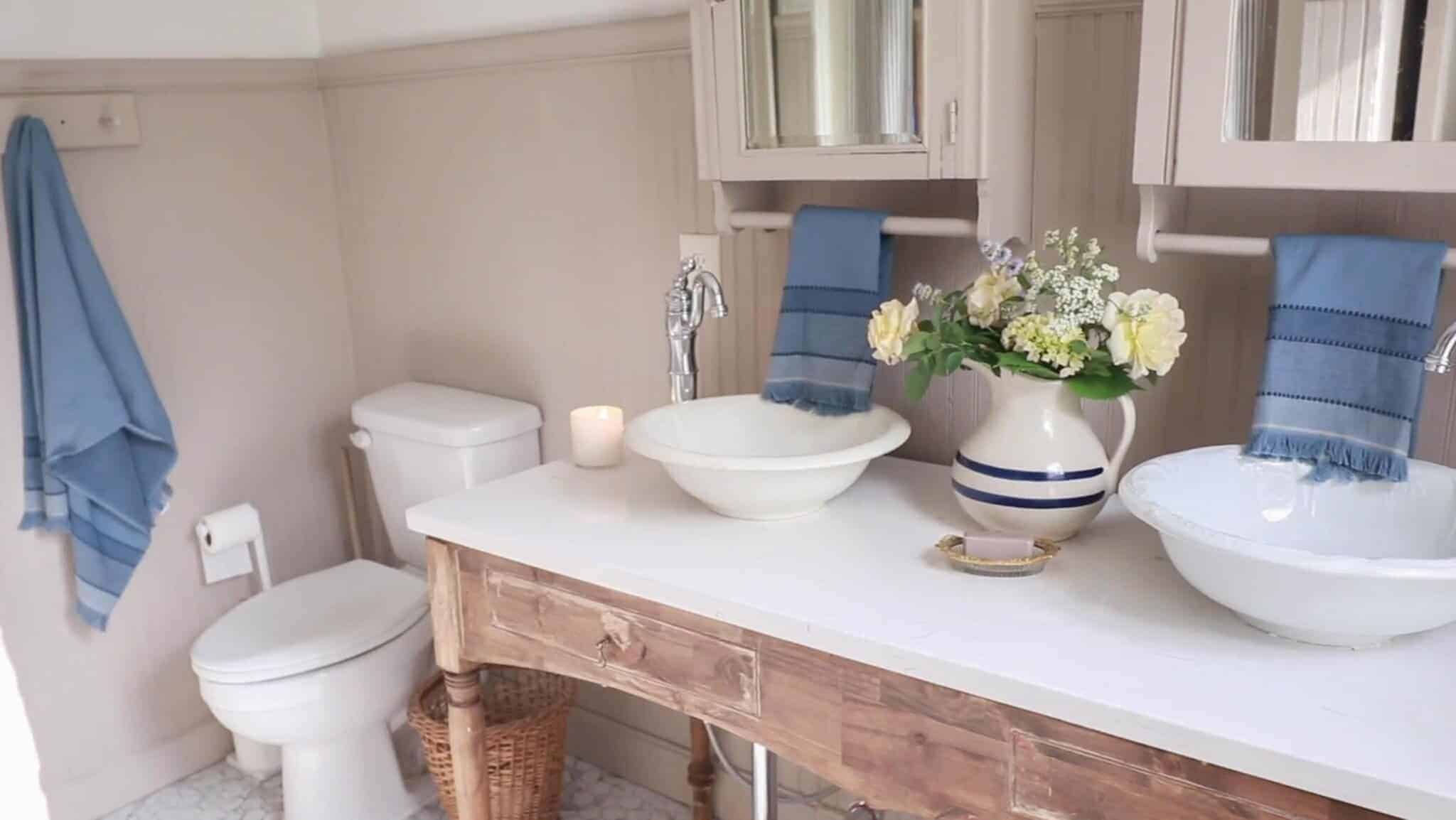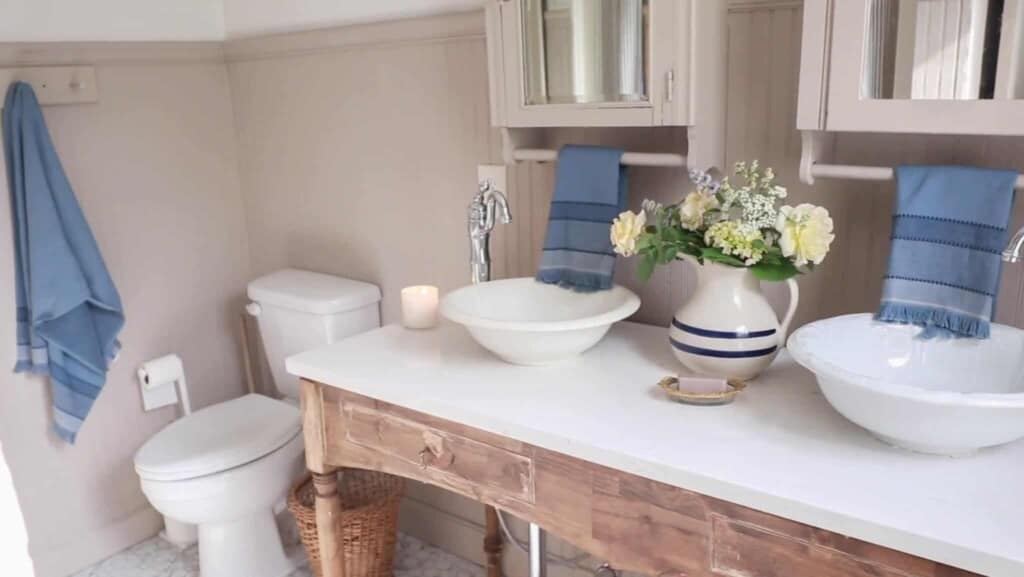 How To Make A Sink With A Bowl
Find a bowl that you would like to create a sink out of. I used a vintage ceramic bowl.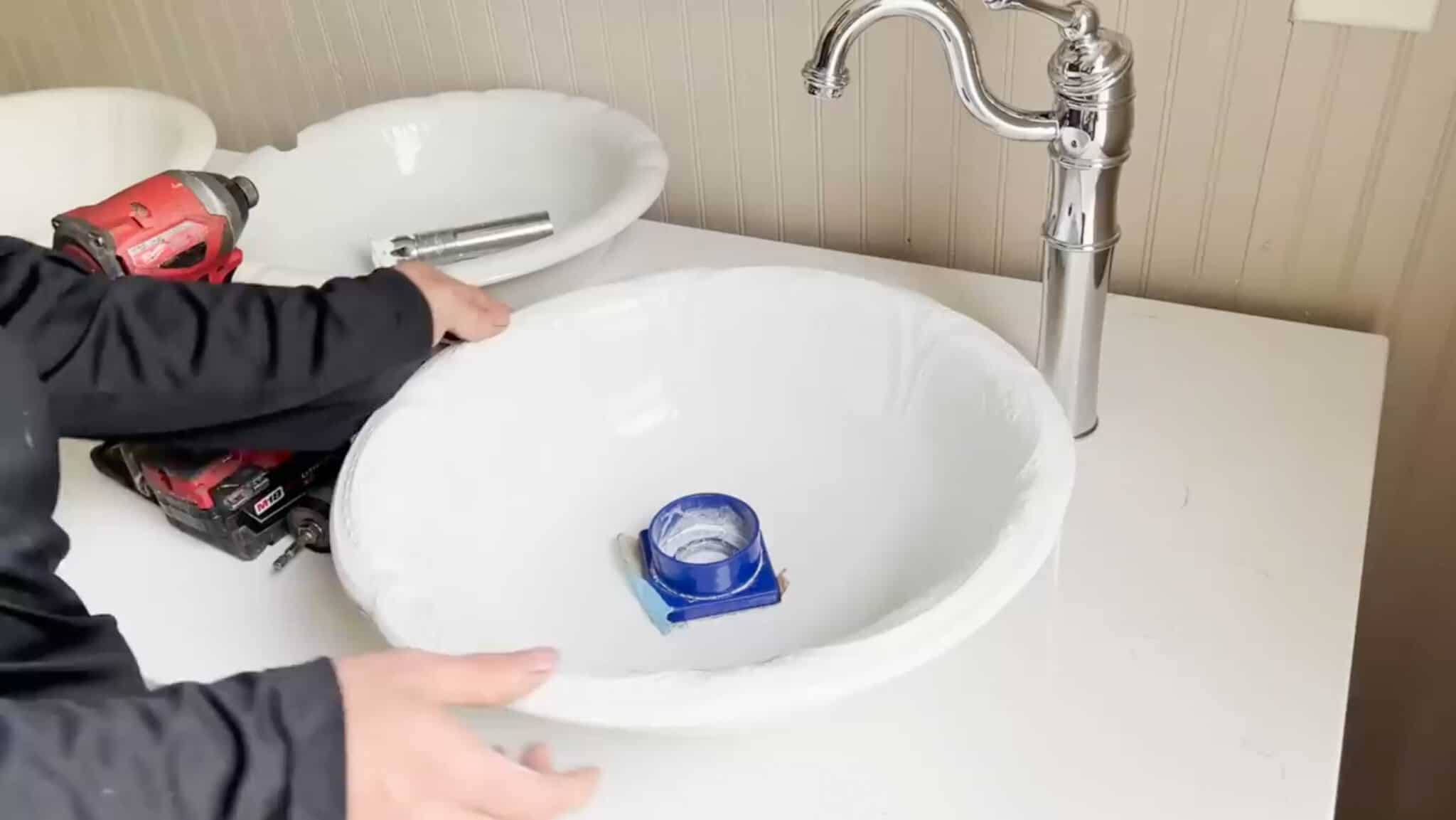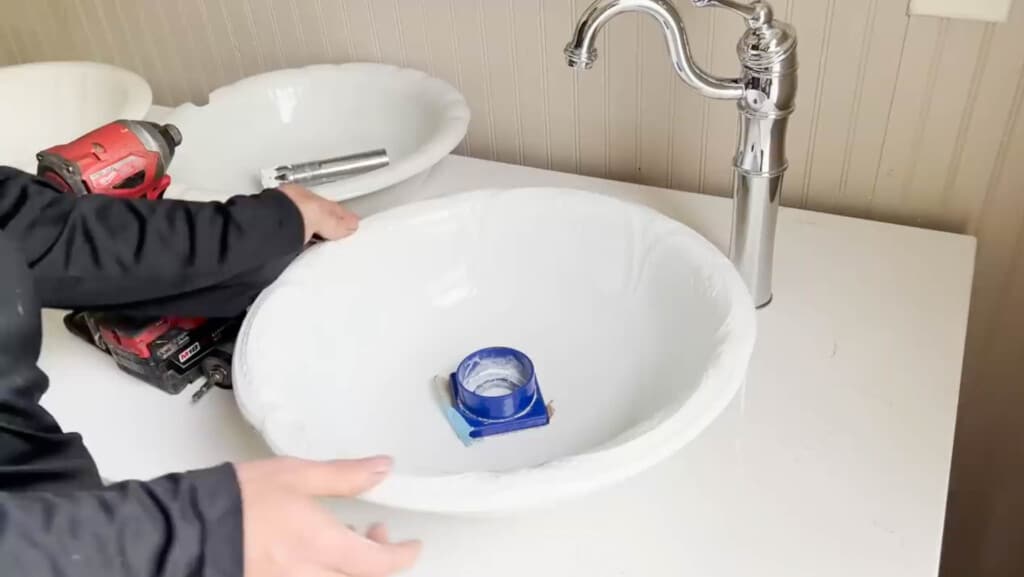 Position the bowl where you would like to install it on a countertop.
Place the guide in the middle of the bowl or where you would like to put the drain.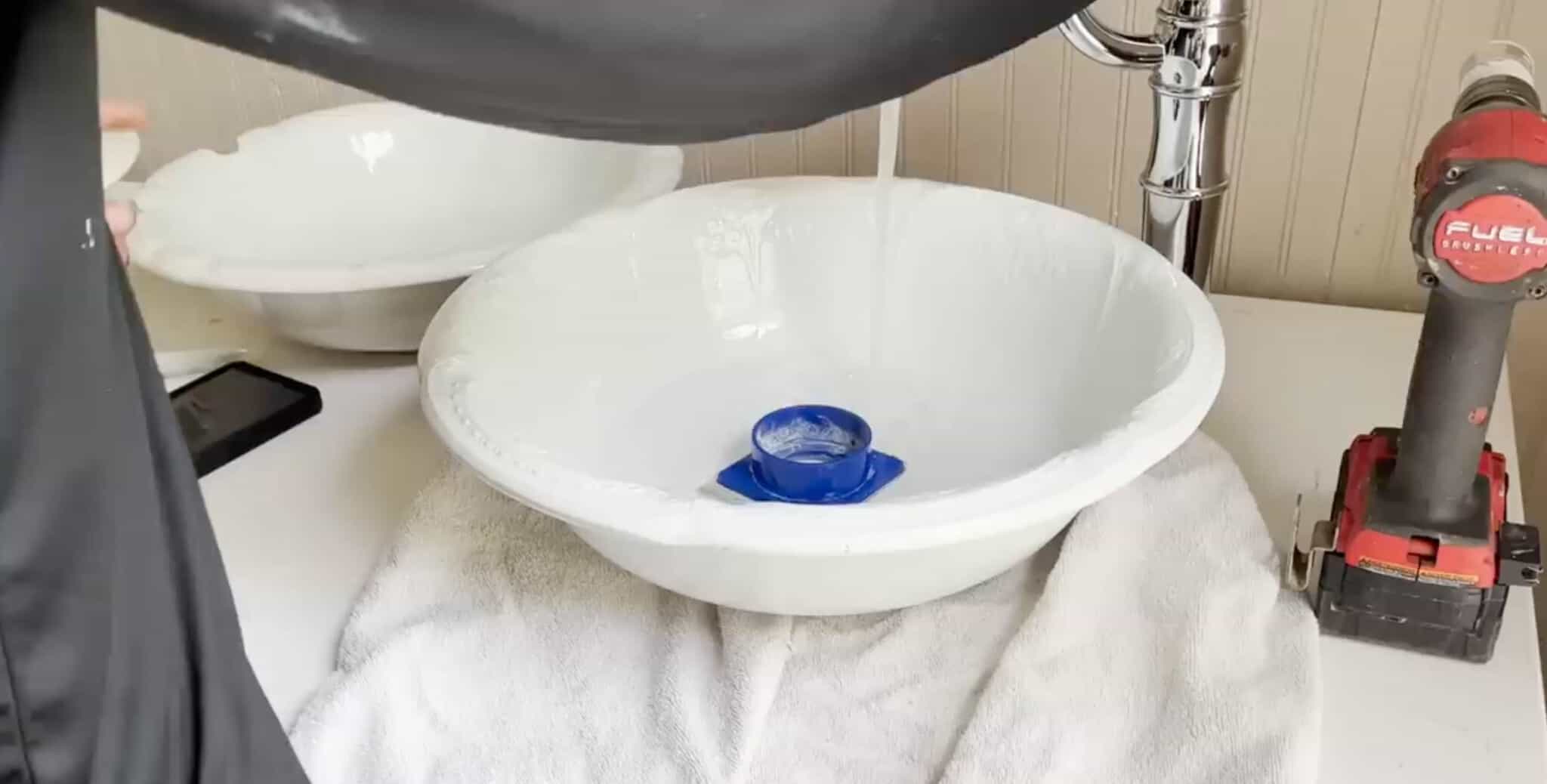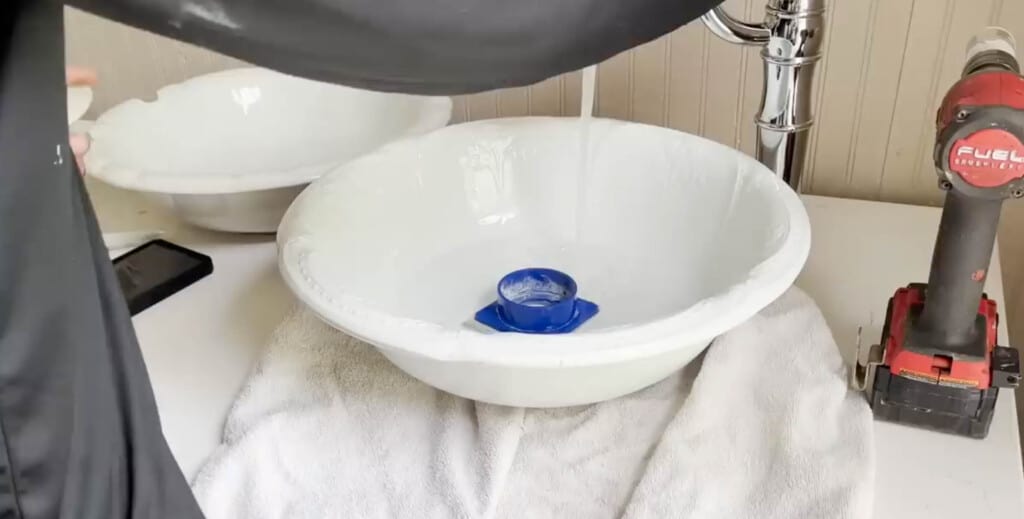 Fill the bowl up with water. This is because you use a diamond hole saw bit to cut the hole and are cutting porcelain/ceramic. It is a lot like cutting tile and the water prevents it from overheating.
I recommend doing this step in a bathtub, because when the hole is drilled, water will spill out everywhere. If you do it somewhere else, no big deal. Water will get everywhere – just wipe it up.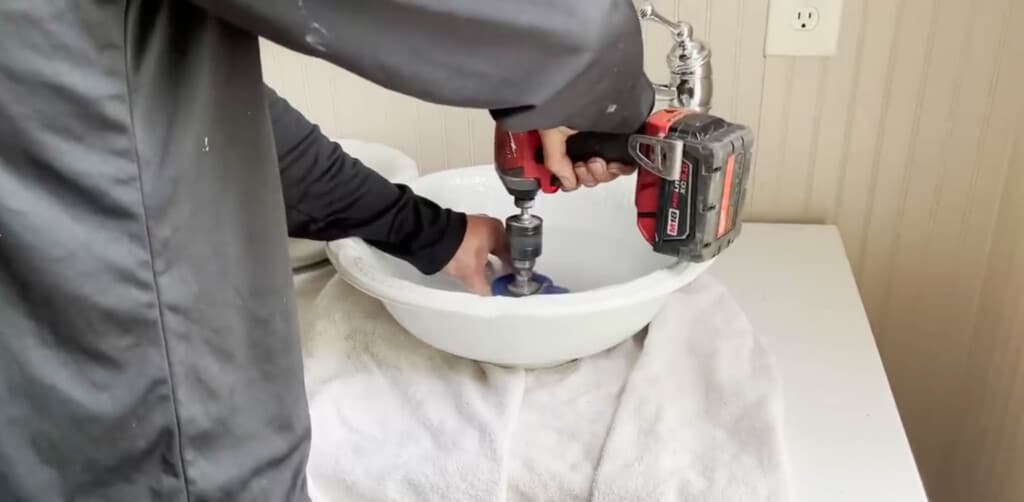 Drill the hole using the guide and the diamond hole saw bit, making sure you drill straight down.
Drill until the hole is completely through the bowl.
Add a bead of silicone around the bottom of the bowl and place the sink on the counter in the correct position. Wipe any excess silicone away.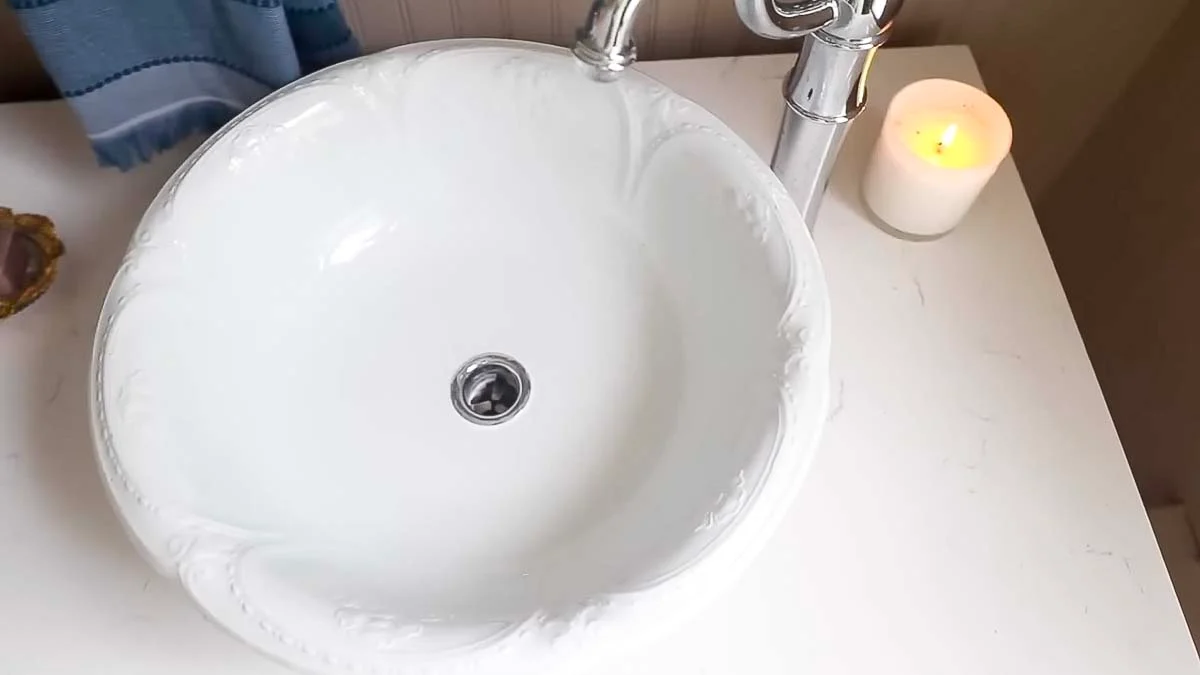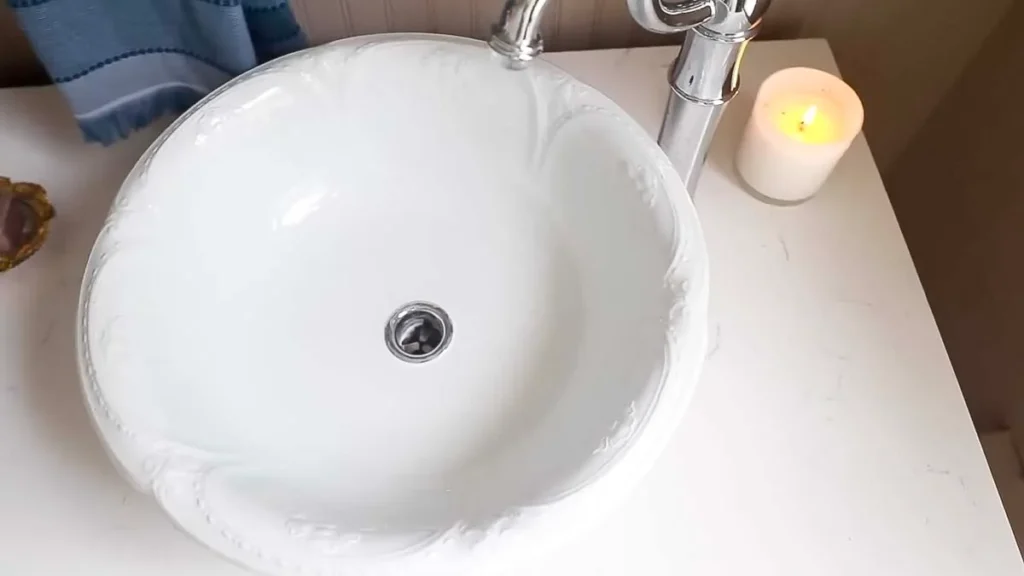 Install the drain kit and hook up the plumbing. The drain stem slides in from the top and then it gets a big nut with a rubber washer that fastens to the sink top.
Find More Handmade Home Projects: