Learn how to build a pea gravel patio that is not only beautiful, but also an inexpensive way to enjoy your yard all season long.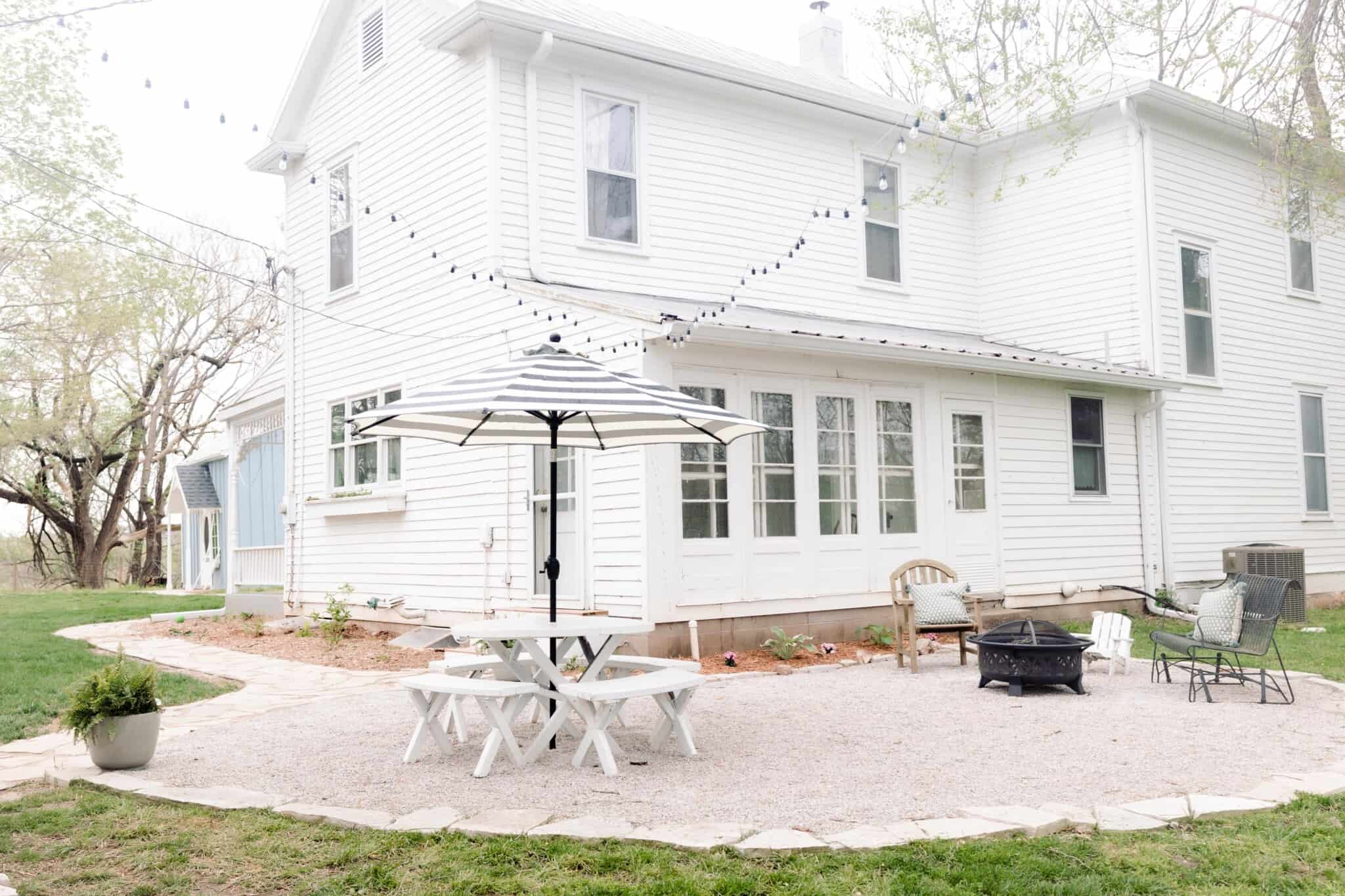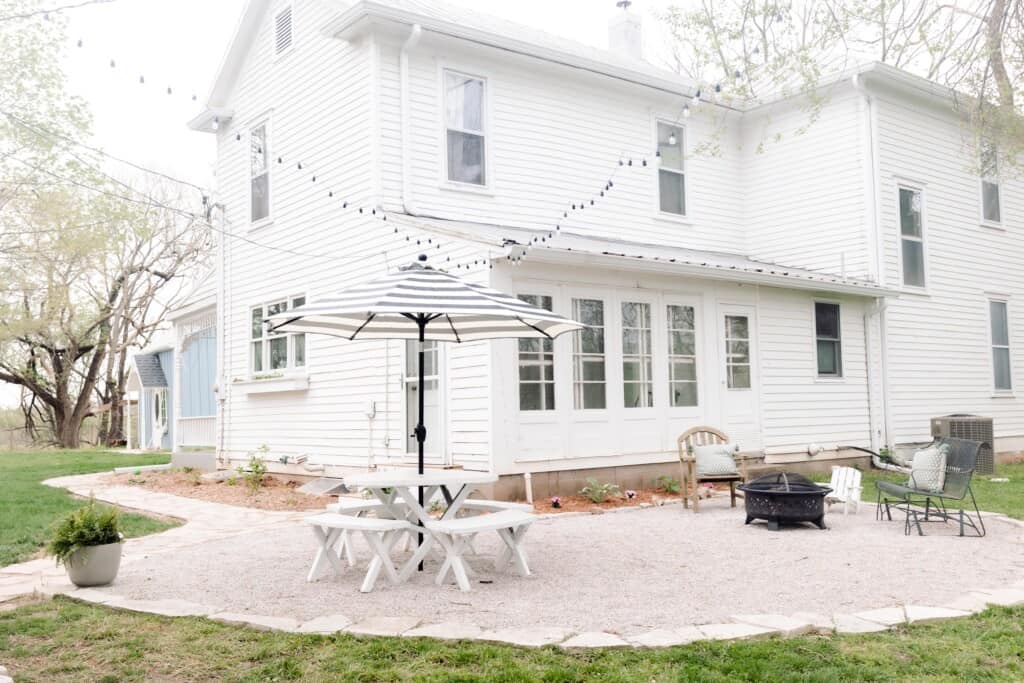 I don't know why we didn't do this last summer, it turns out it was a really easy project and wasn't very expensive either. For quite some time we longed to create a backyard space where we could have barbecues, enjoy a fire, and just have a place to hang out and eat.
Originally, I had grandiose plans to redo the back of the house and add French doors that would lead to a patio area. When it came down to it, the plans were simply too big and we kept putting off the project.
Instead, we decided to go for the pea gravel patio and work with what we already have. It was a pretty simple project that only took a weekend to accomplish.
We also utilized some materials we already had on hand. For instance, the flagstone that was used around the patio was leftover from the sidewalk project completed last year.
Then it was styled with some patio furniture, tables, and chairs that were collected from around the property. We also picked up our first ever grill and a fire pit.
How we have never had a BBQ for my entire adult life, I'm not sure, but I'm really excited for all the summer cooking that will be done out here.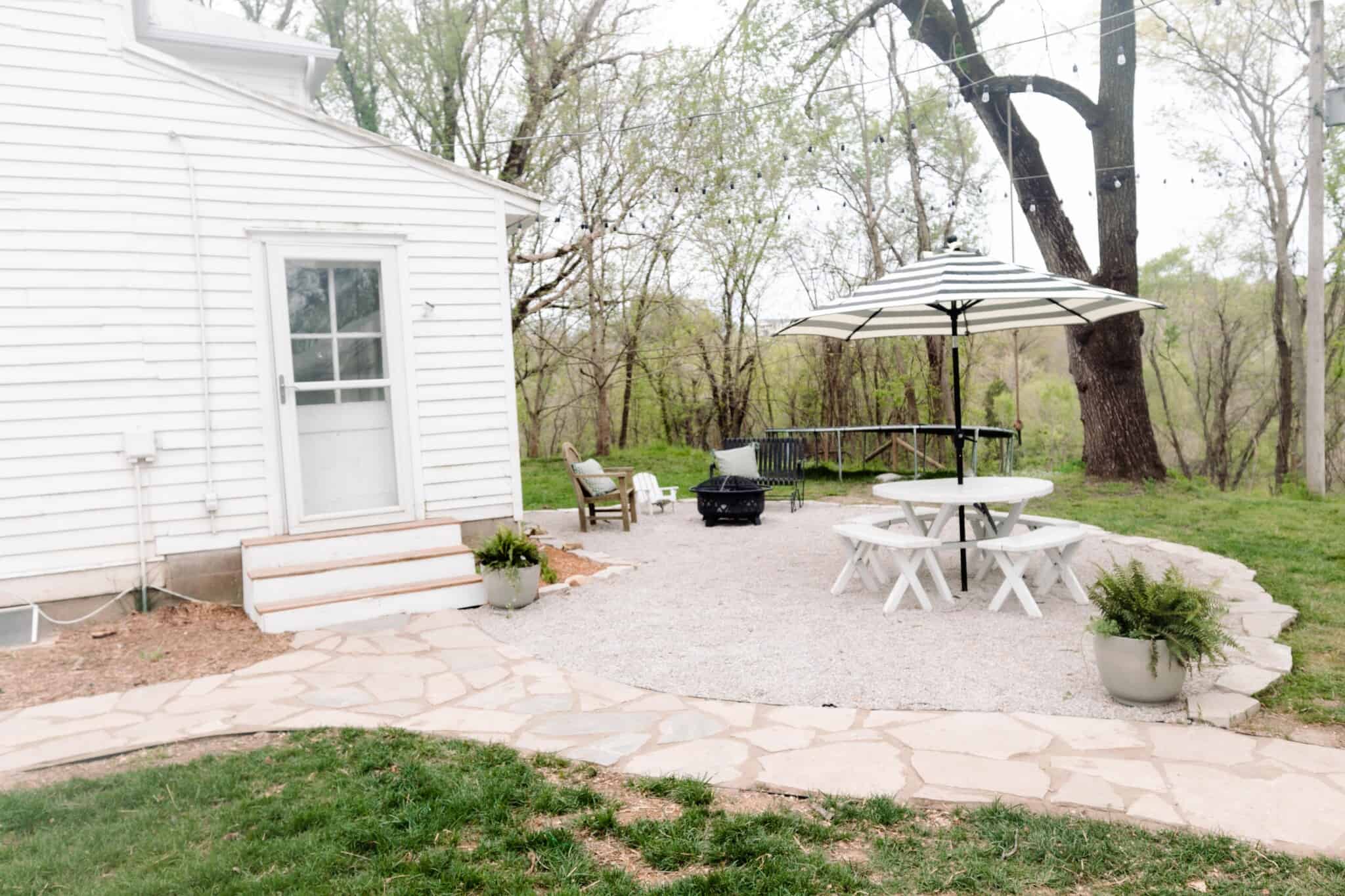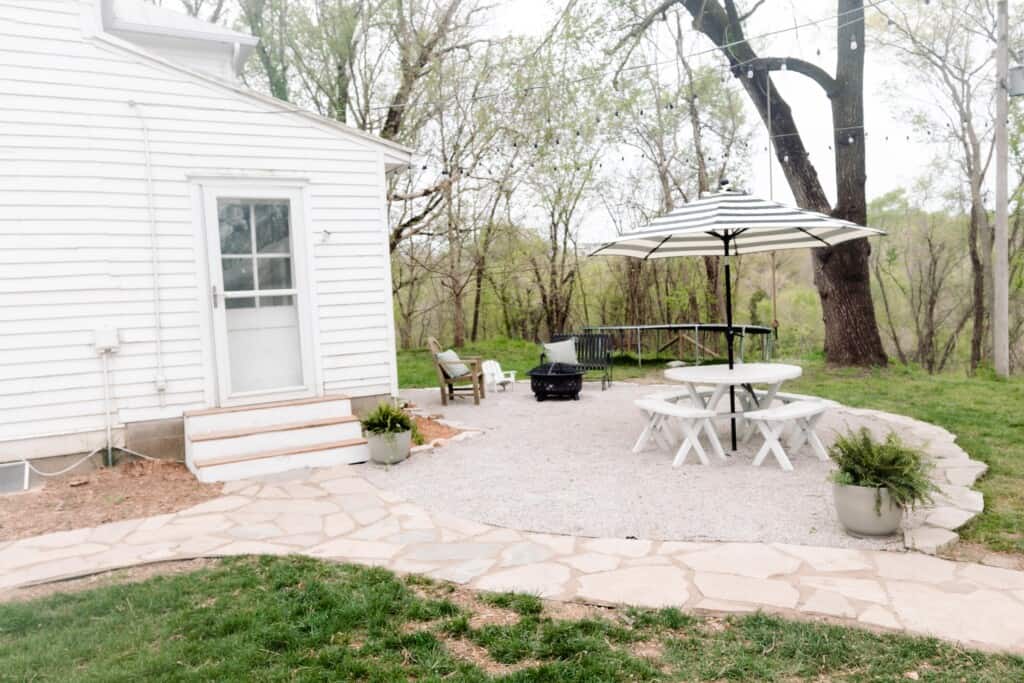 Tips:
Make sure to place plastic or thick landscaping fabric underneath the gravel, this prevents the weeds from taking over instantly. 
Try to use as many things as you have around your house to create your patio for cheaper. We used leftover flagstone from another project. You could also use bricks, pavers, rock, or any other material for a border that is recycled. Craigslist or Facebook Marketplace is also a great place to look for cheaper materials.
Shop around for gravel to find the best bang for your buck.
This post contains affiliate links, which means I make a small commission at no extra cost to you. See my full disclosure here.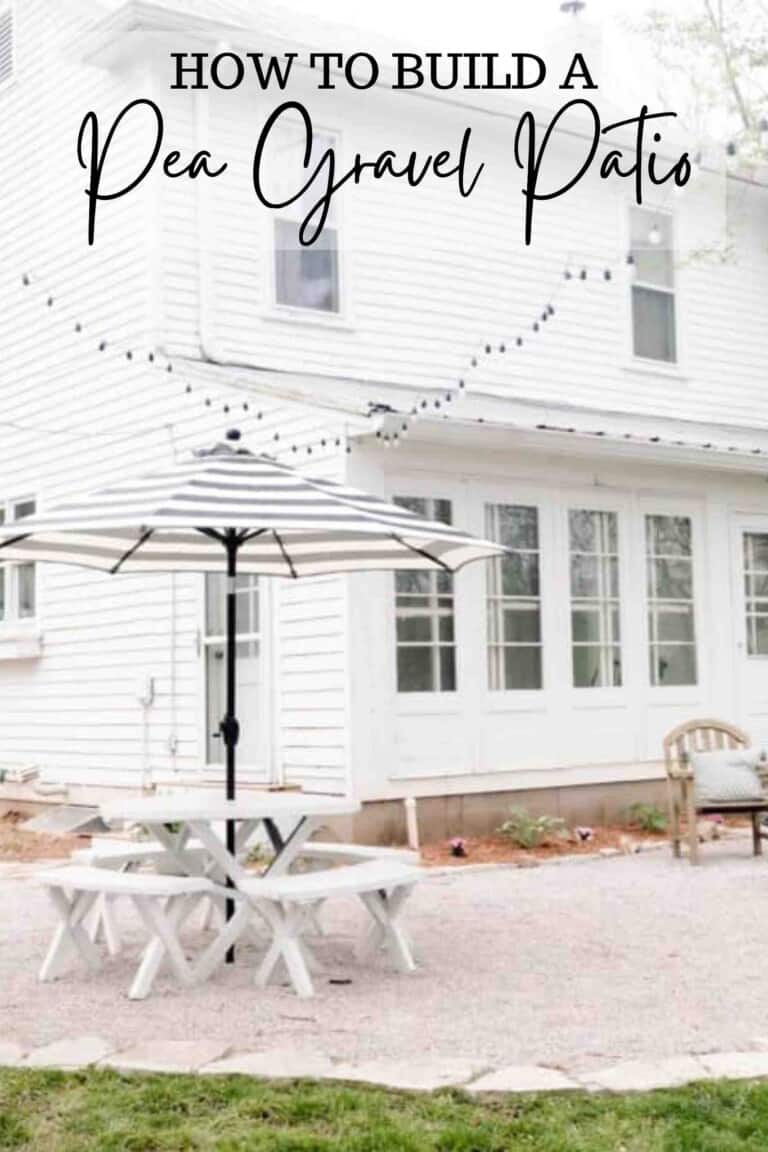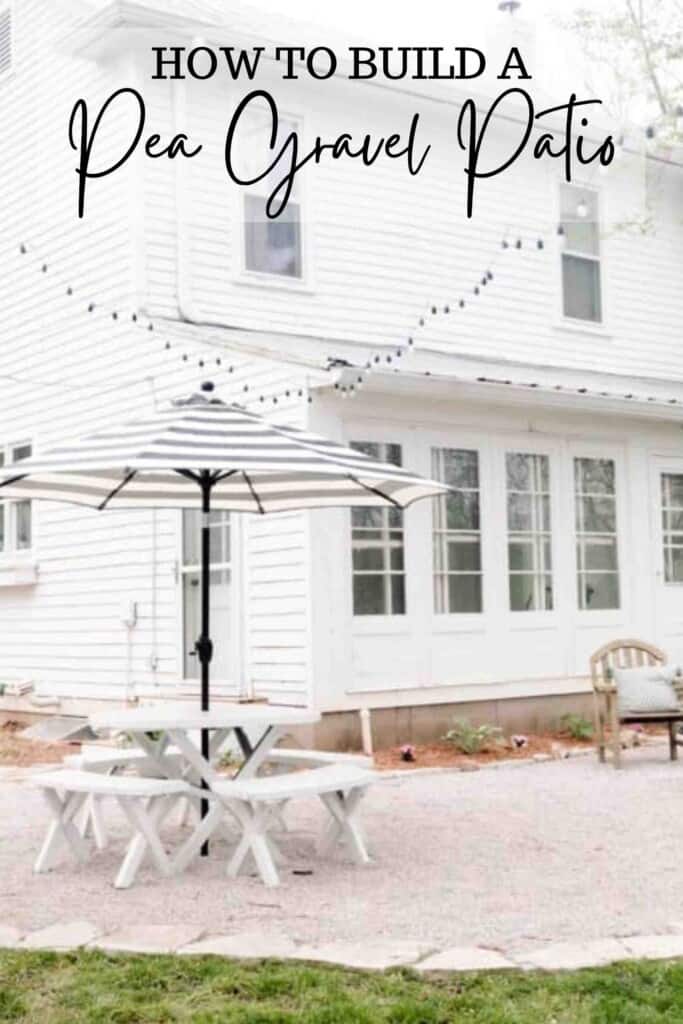 Tools You May Need:
Shovel
Wheelbarrow
Rake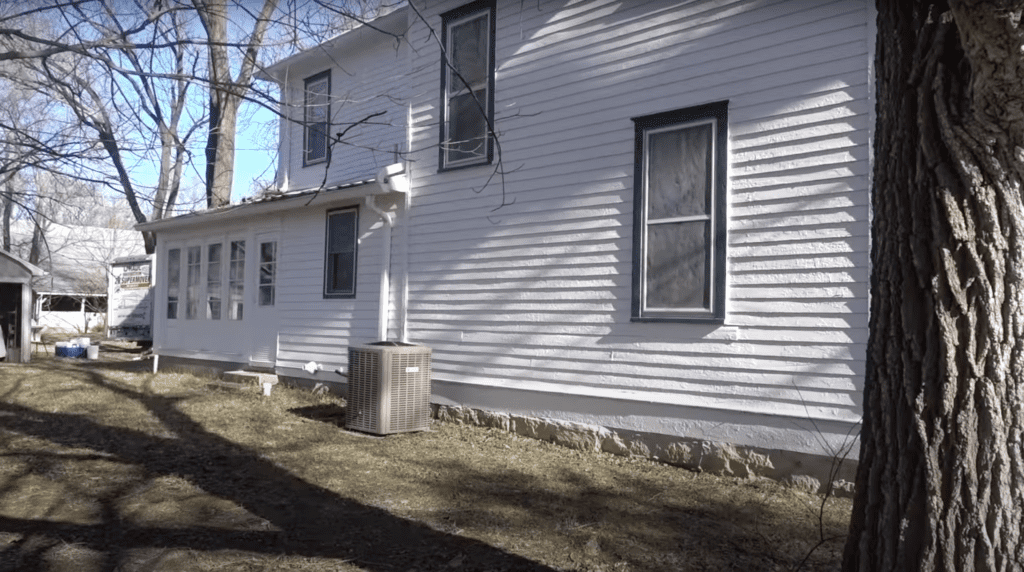 Materials:
Black plastic or landscape fabric
Pea gravel – you could also use bigger gravel, but I love the way pea gravel looks and it is pretty cheap.
Flagstone – optional. We already had it on hand, you could also outline the patio with other types of stone or rock.
FAQ: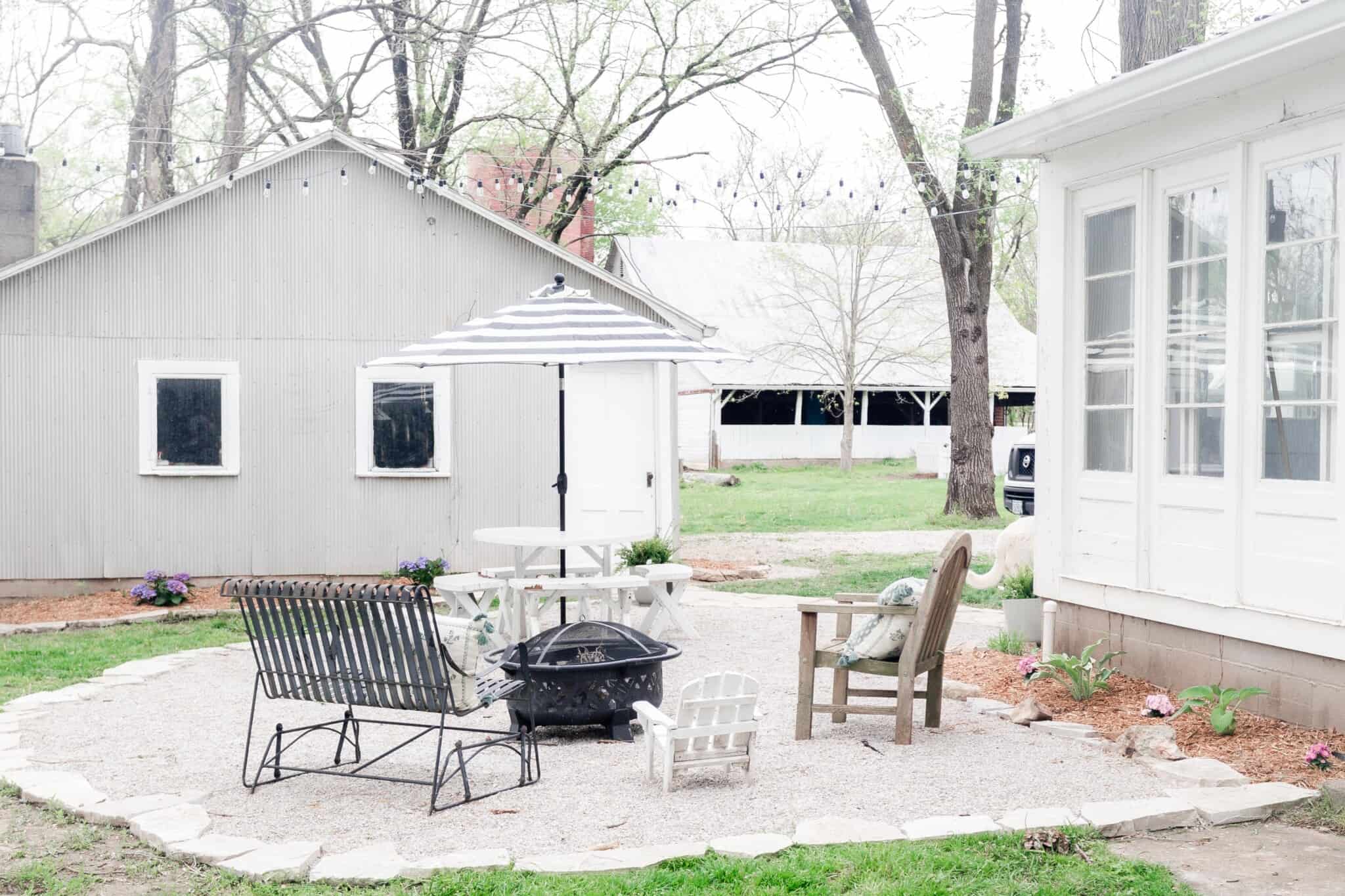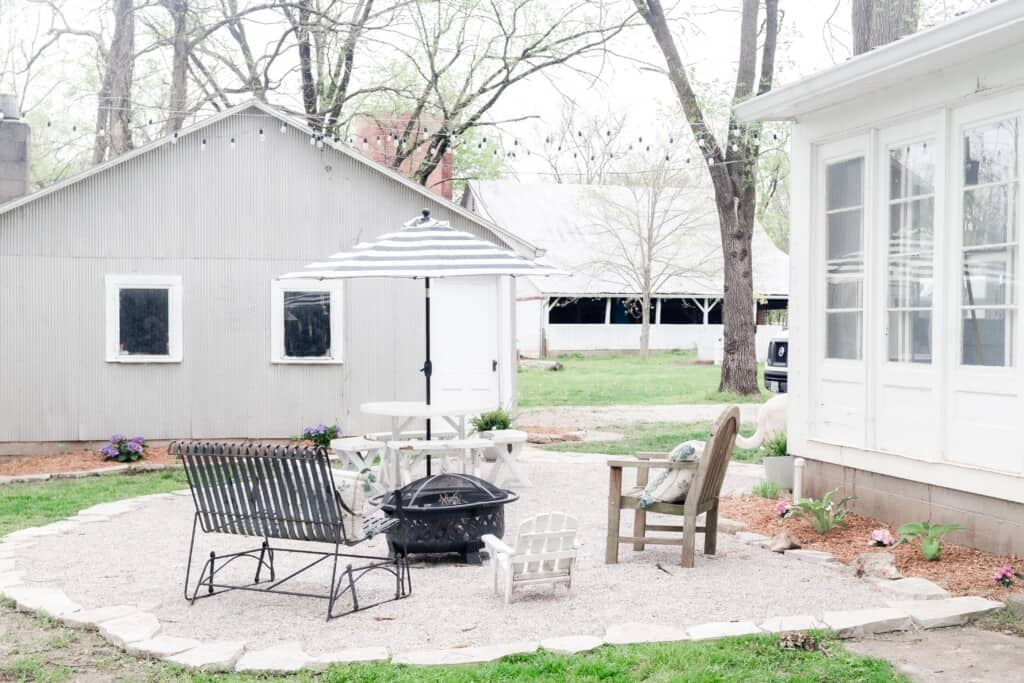 Is a pea gravel patio a good idea?
Yes. Not only is it an inexpensive way to create a patio, it is also easy to maintain, and drains well. Truly is a bang for your buck project that will last for years.
How deep should a pea gravel patio be?
There should be at least 2 – 2.5 inches of pea gravel for a patio.
Do pea gravel patios last?
Yes, since pea gravel doesn't break down and a weed barrier is in place to keep out the weeds, this type of patio will last for many years.
Is pea gravel messy?
If you do not use a border to keep the gravel in, it can get a little messy.
Is pea gravel hard to maintain?
Not at all. It is easy to leaf blow and may need to be replenished with stone every few years or so.
Why Choose Pea Gravel Over Other Patio Materials: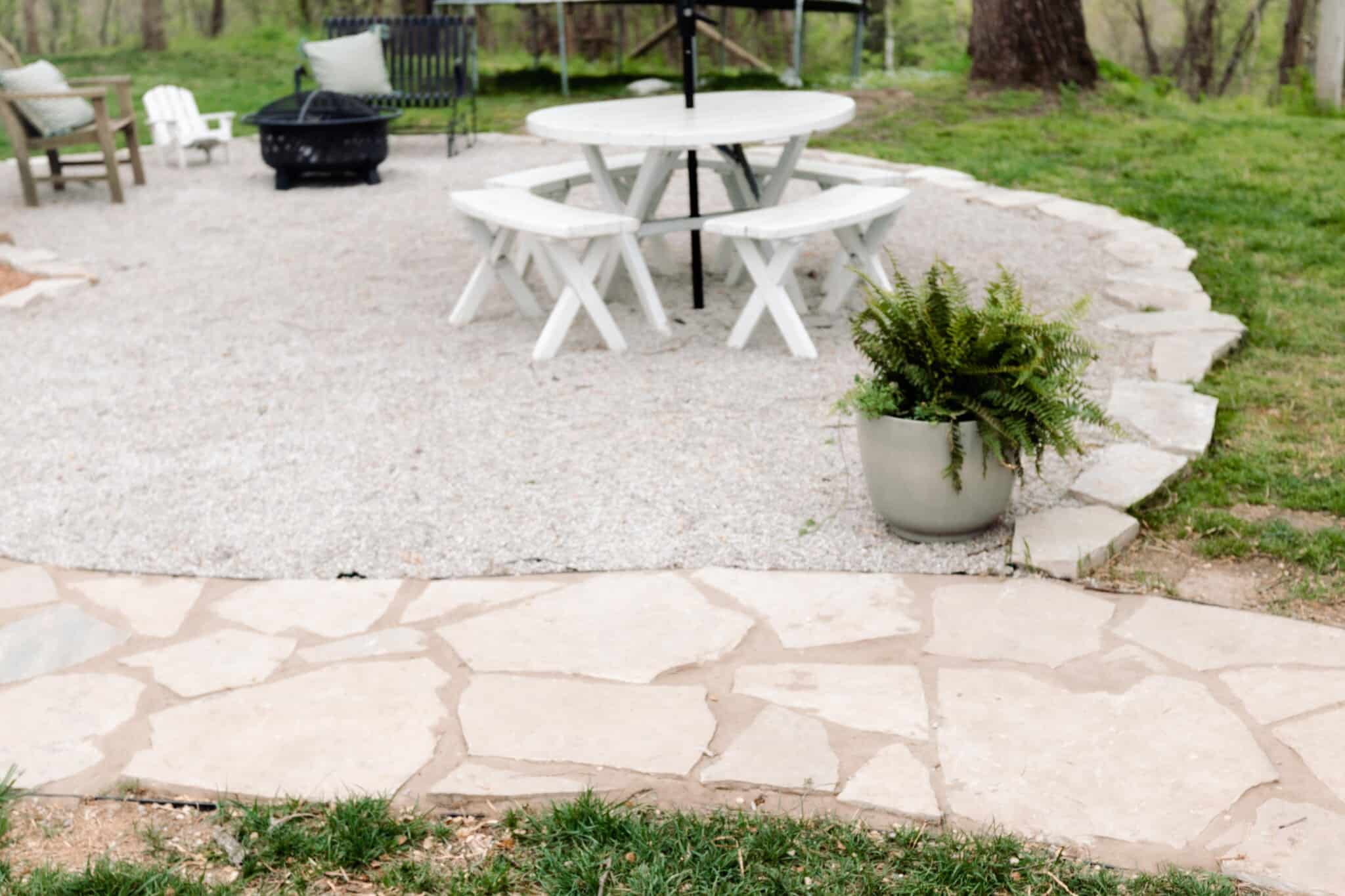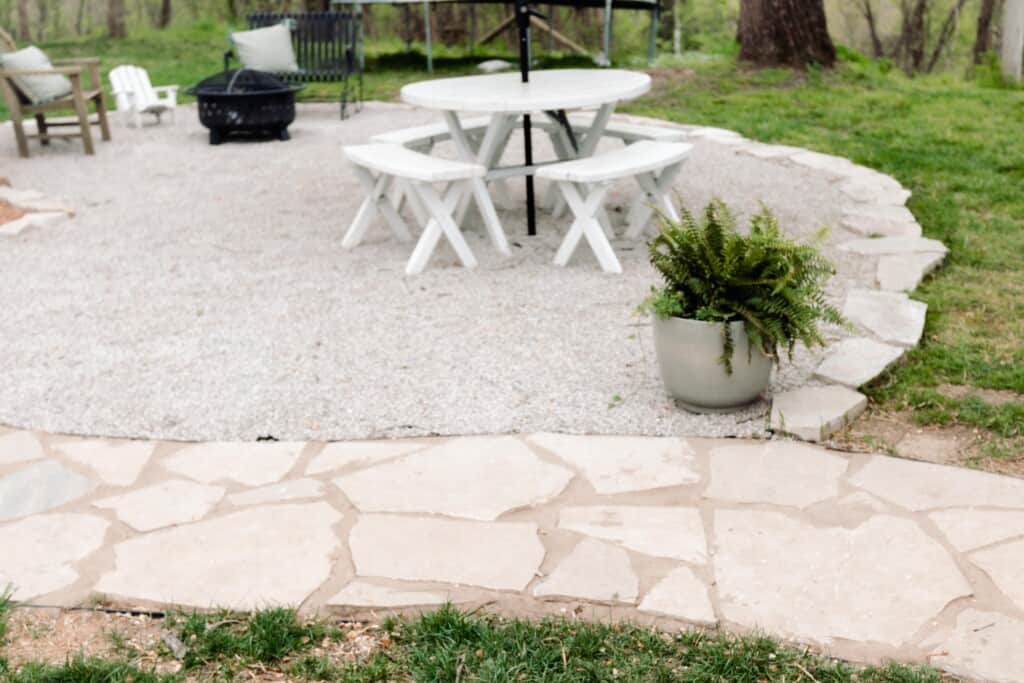 Cost
This project was very inexpensive for the size patio we created. $50 in gravel and $150 for the landscape plastic. Everything else we had on hand. $200 for the entire project is pretty darn good.
Easy To Build
No special equipment required or special skills. Anyone can tackle this project.
Time
It can easily be completed in a day or weekend depending on the size of the patio.
Easy Maintenance
Add more gravel every few years, rake low spots, and leaf blow off debris. It is that easy.
How To Build A Pea Gravel Patio: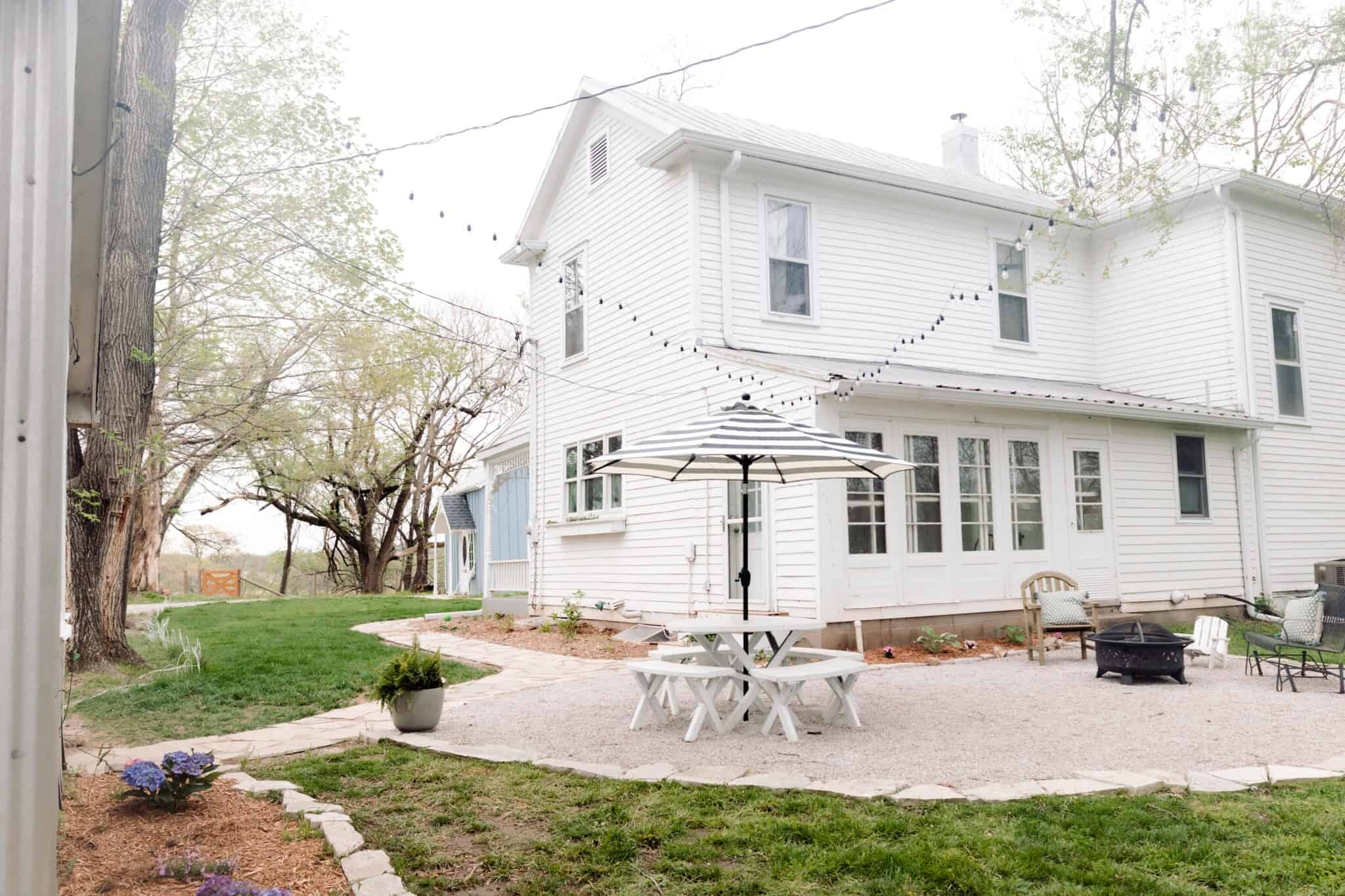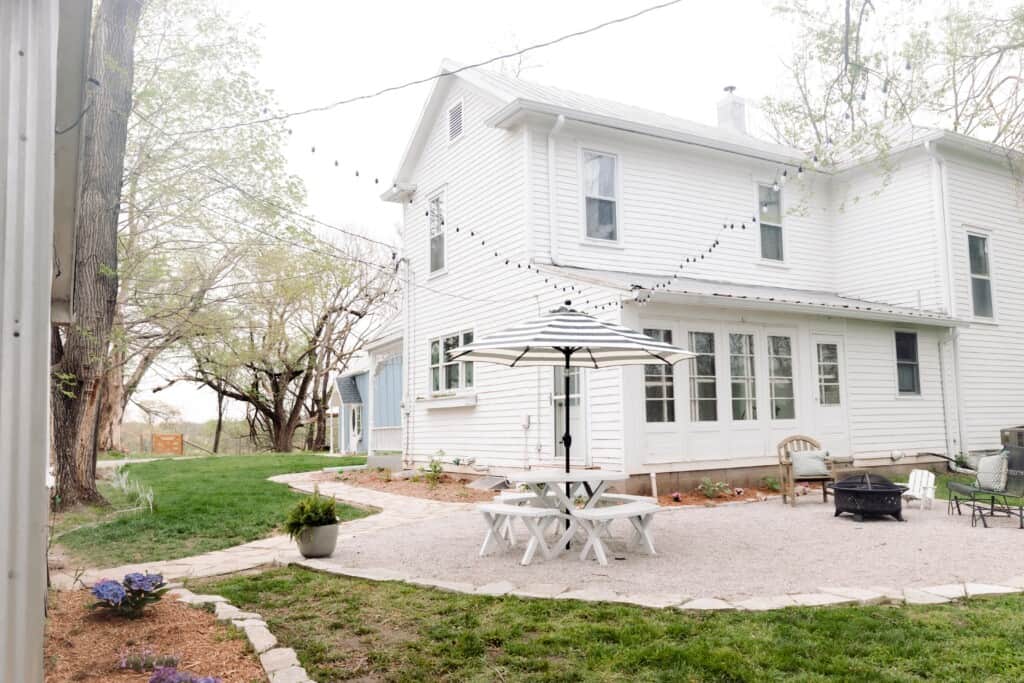 Determine Site And Shape Of Patio: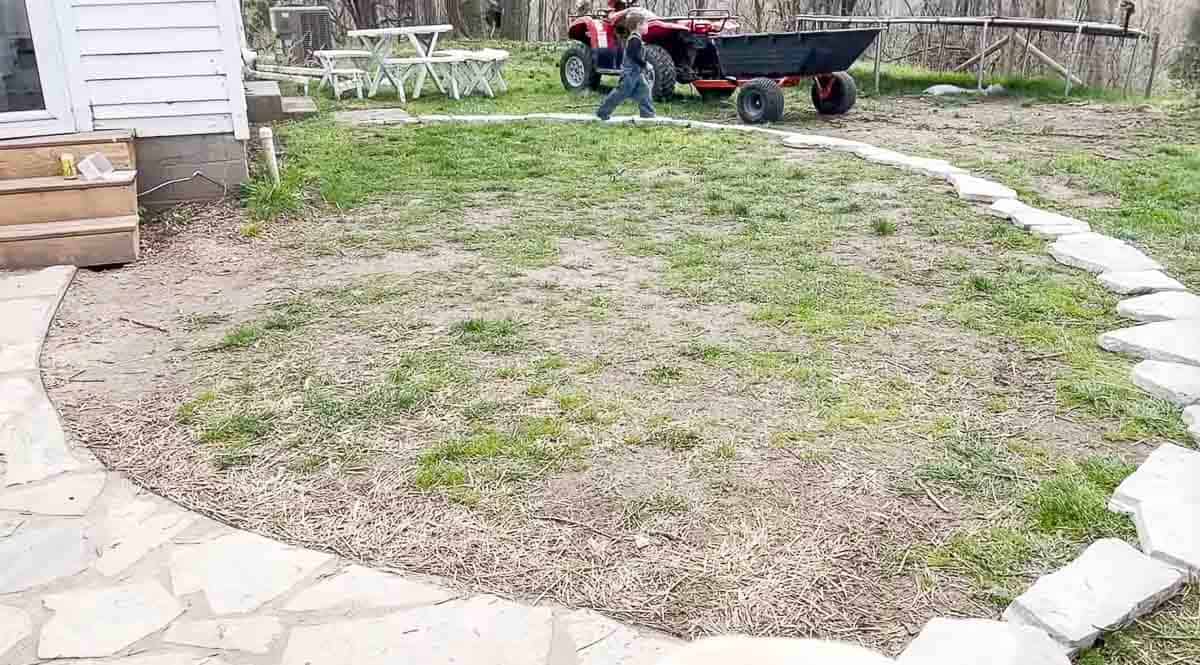 Mark out the area you desire. This can be done with spray paint. We just used the leftover flagstone and puzzled together a large enough area.
Prepare Site: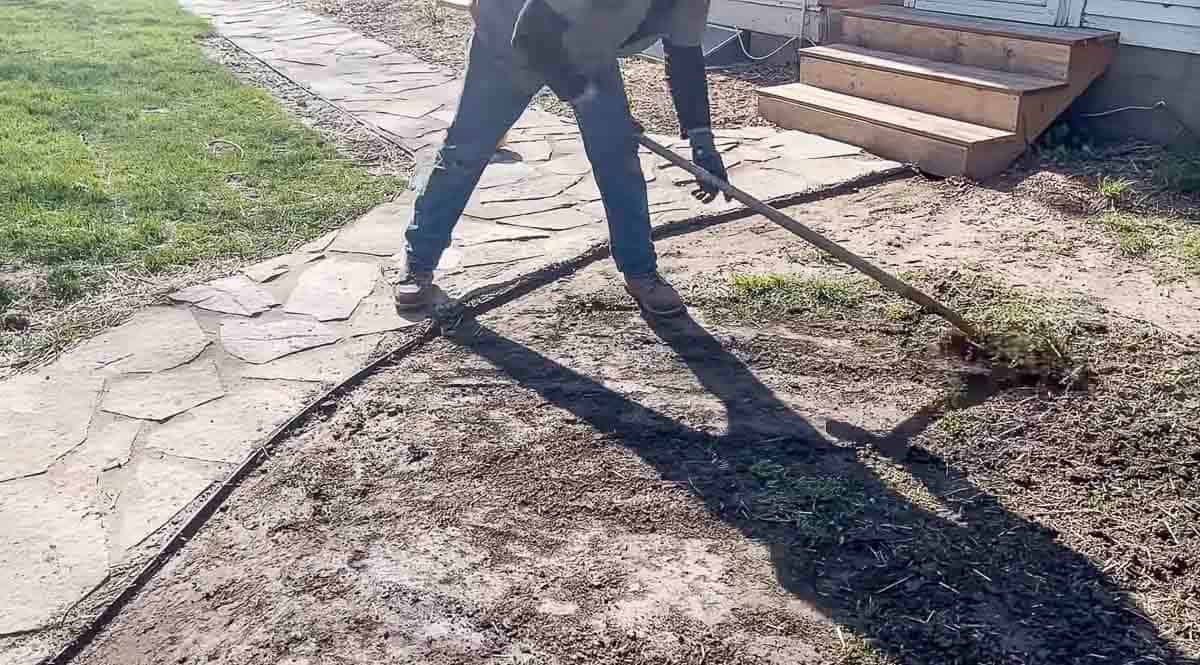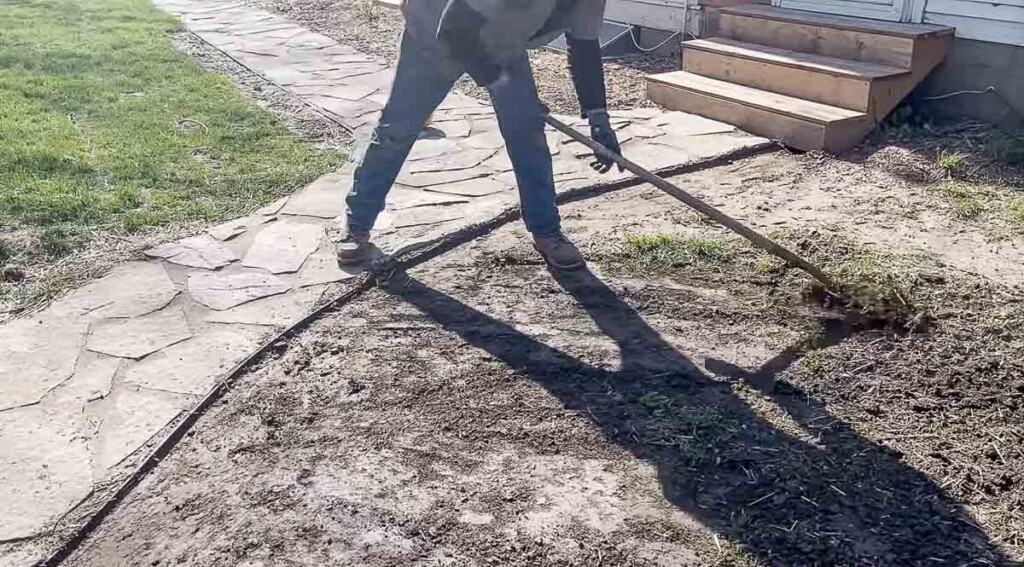 Using a shovel with a flat edge, scrape off any weeds or grass and try to level off the dirt as much as possible. It doesn't need to be perfectly level.
Place the border around the site making sure it is about 2 inches above the ground level. You could also wait to add the border until after placing the landscape fabric to help hold it down and tuck away the plastic.
Place Landscape Fabric
Add a layer of thick landscape fabric or black plastic to keep out unwanted weeds. I promise if you skip this step you will have weeds growing in your patio by the end of the first season.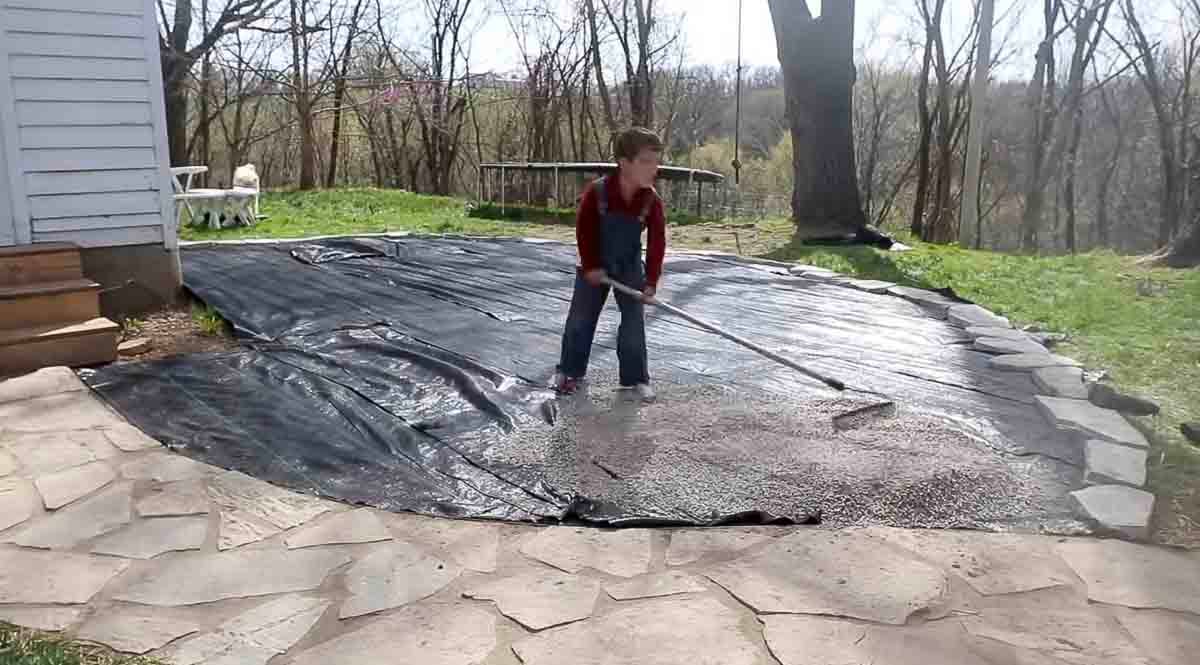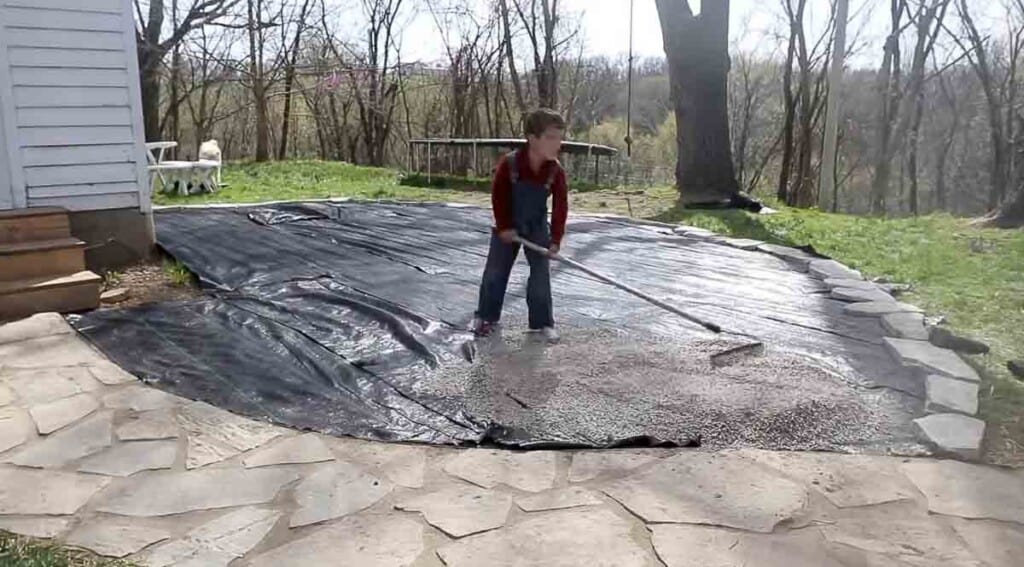 Add Pea Gravel And Rake Smooth
Dump pea gravel in various areas around the patio and rake out until even. Make sure to get the gravel into the grooves of your border.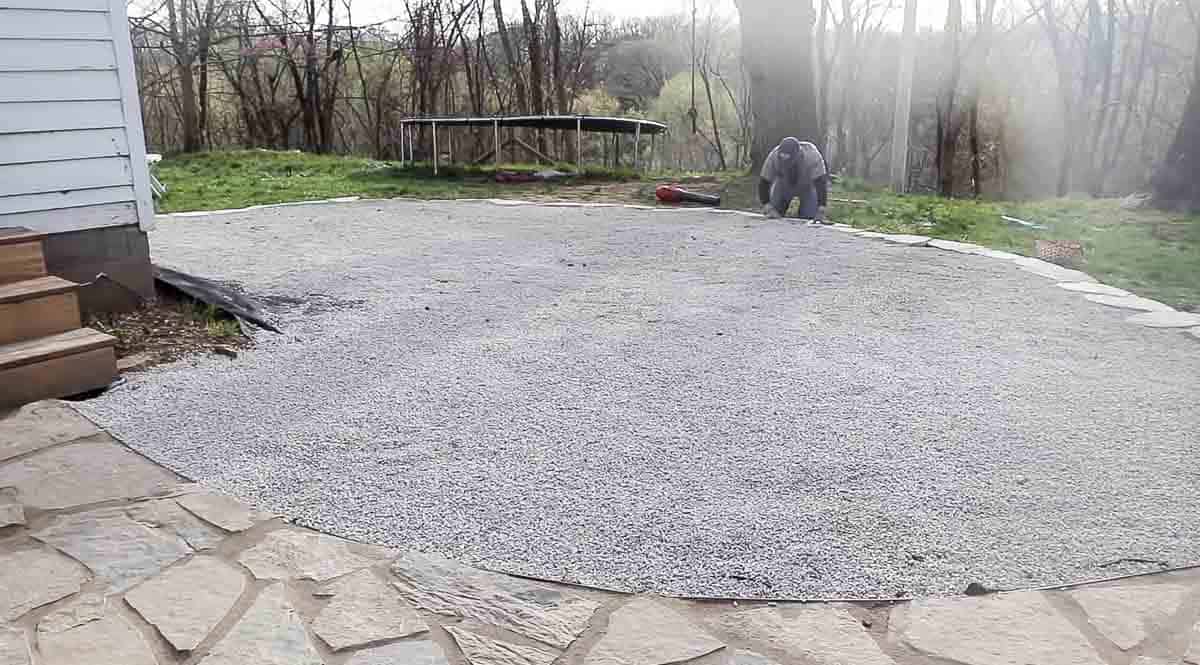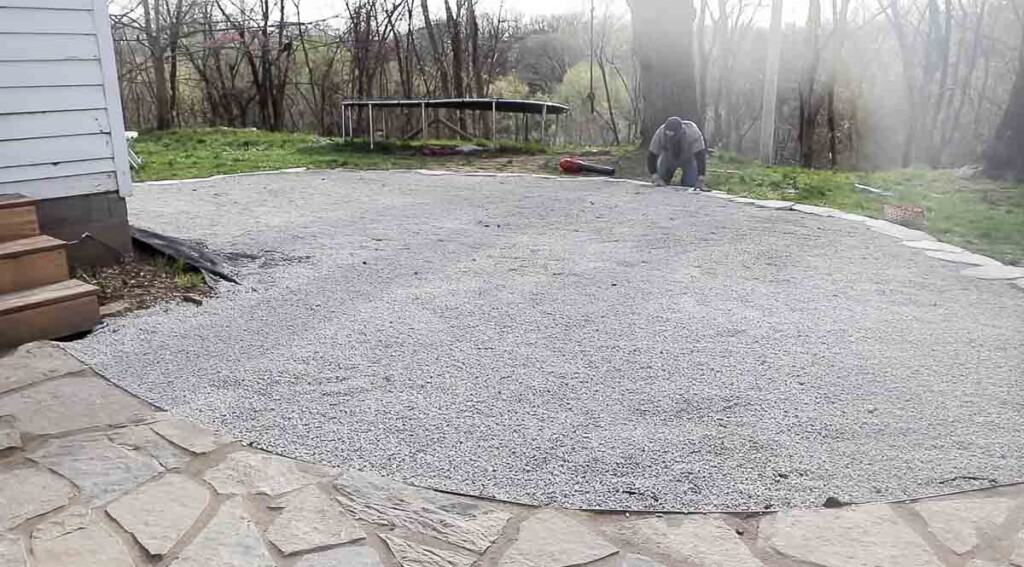 Style and enjoy.
Find More DIY Projects From The Farmhouse: