Get some inspiration for some patriotic decor for 4th of July for your farmhouse dining room table. So, if you have a little gathering coming up, or you just want to do something special for your family, read on for some red, white and blue inspiration.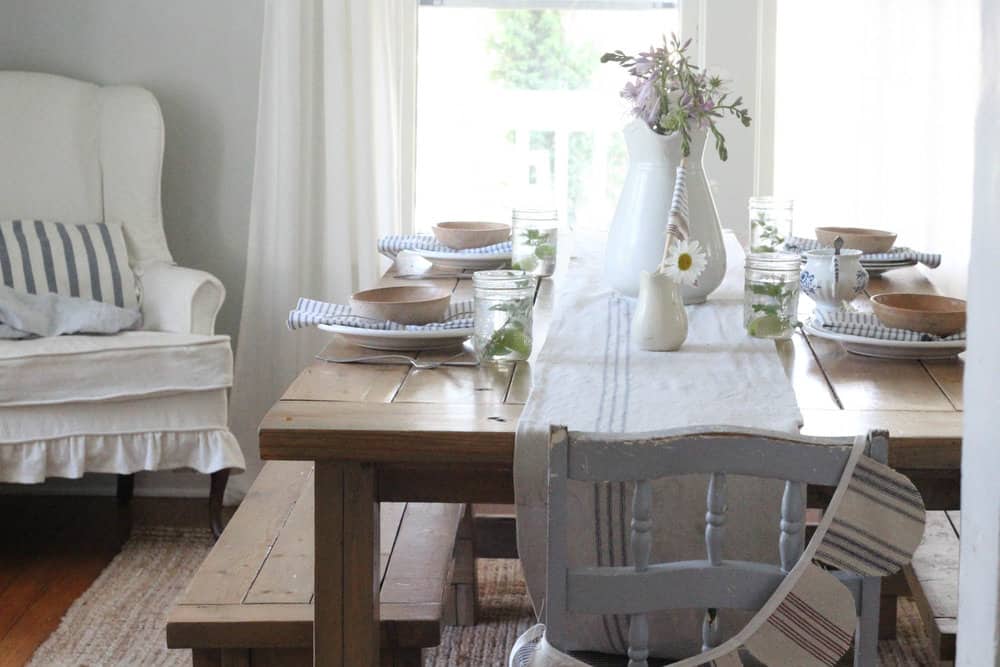 This post contains affiliate links. See my full disclosure HERE.
I have teamed up with seven awesome bloggers to bring you some farmhouse style patriotic table ideas for the Fourth of July. Read all the way to end for some for more patriotic table ideas for 4th of July!

Keeping it Simple
I have to admit, Fourth of July isn't something I usually think too much about decorating for.
I like to keep things simple, and I'm definitely not one to go out and spend a bunch of money for seasonal decorating.
For our dining room this year, I decided to make up a few little things with the same fabrics I used for my DIY Scrappy Flag Pillow.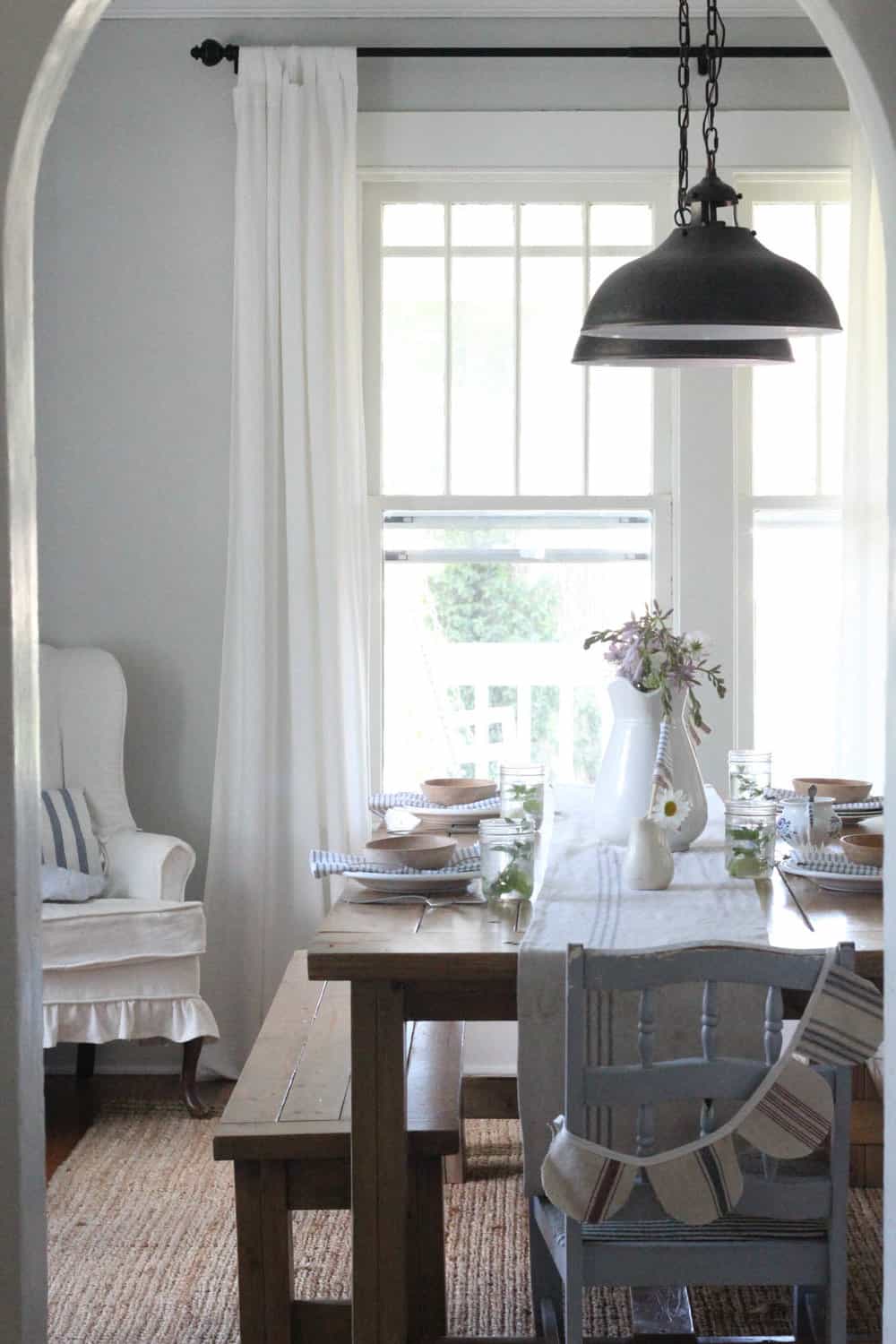 Fabric Flags
I already had the fabric on hand, and making flags and bunting is easier than taking four kids to the store to buy the like.
Can I get an AMEN from my moms of many?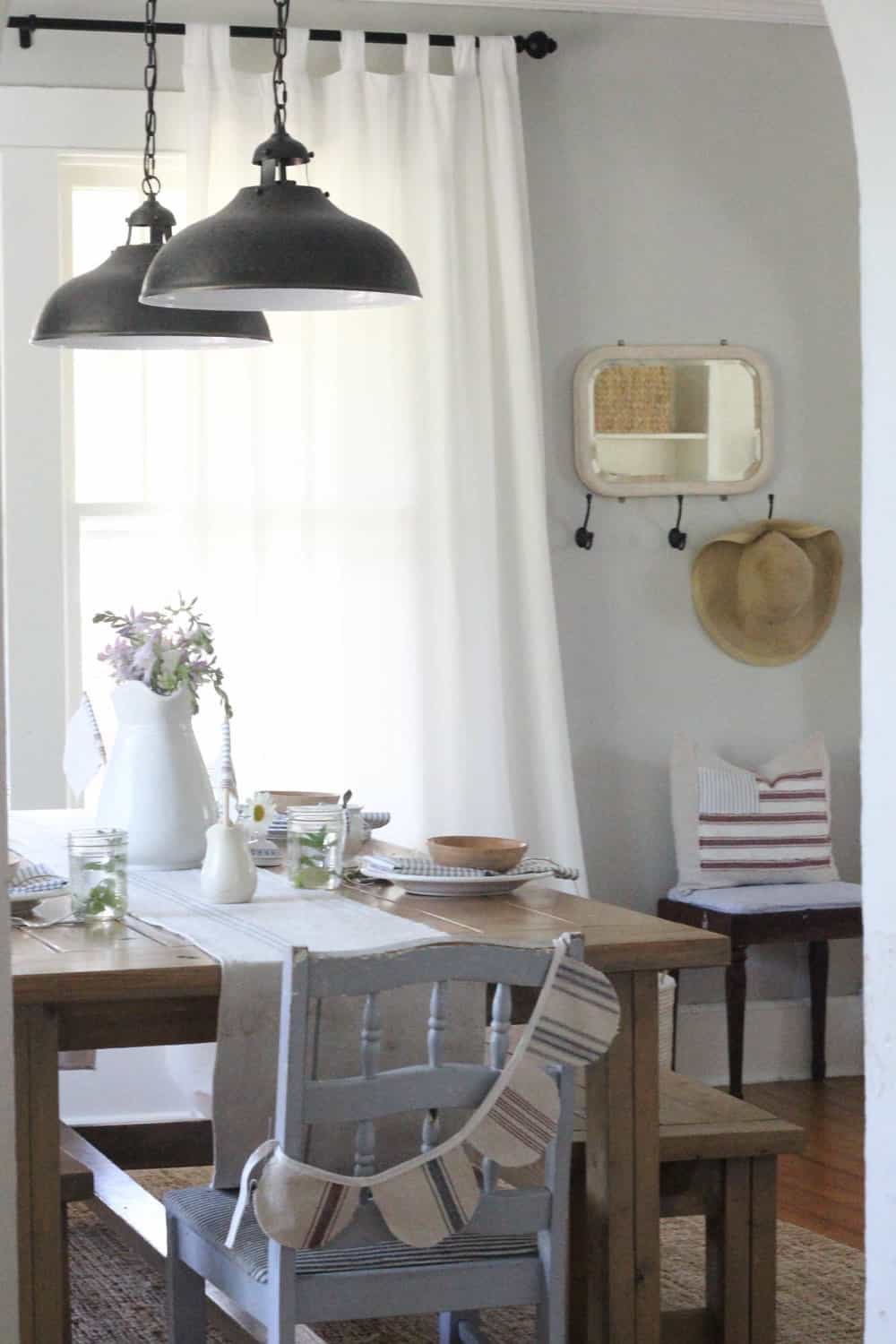 Fabric Bunting
For the bunting, I just sandwiched four half-oval shapes between some off white bias tape.
Simple, but festive.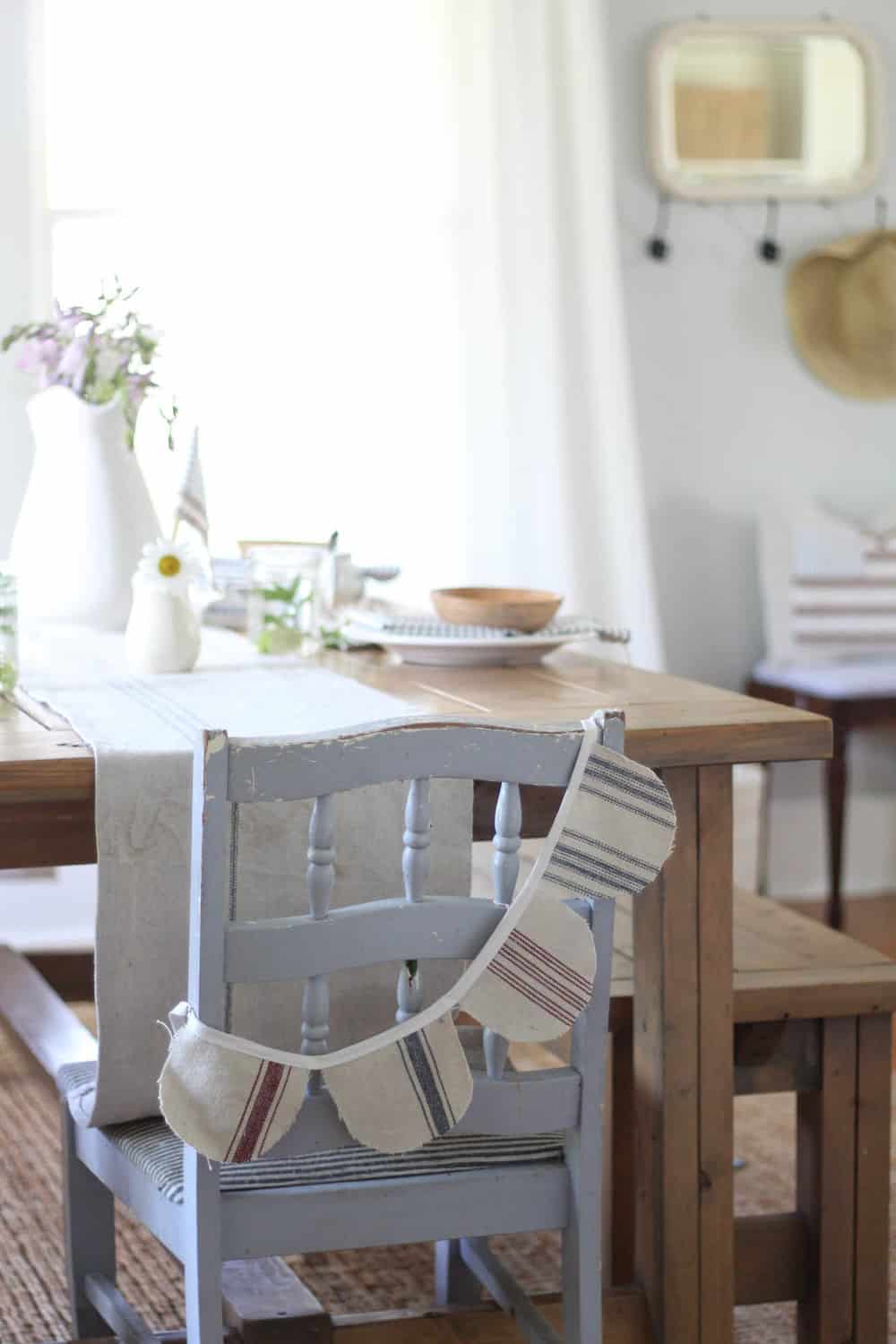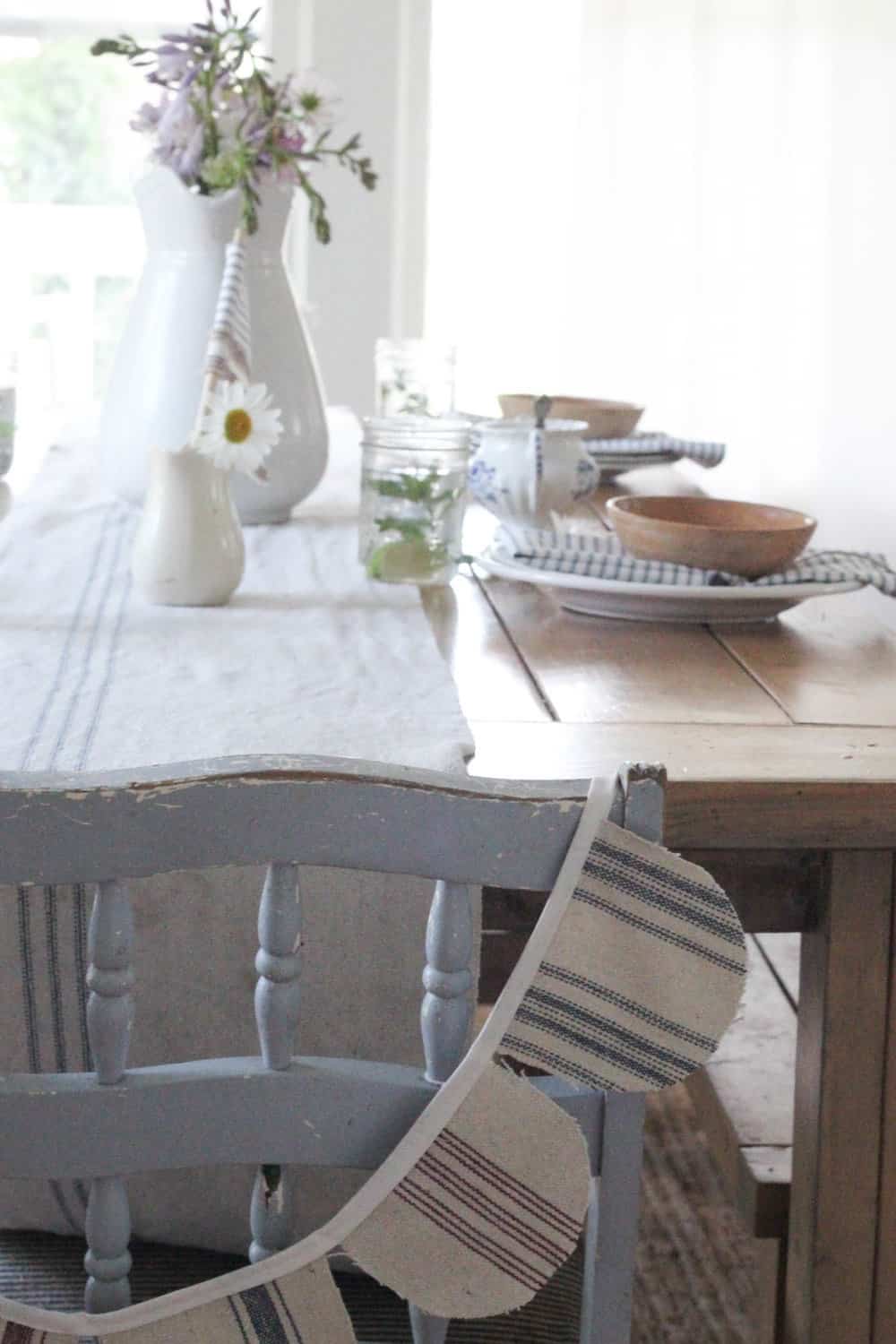 Grain Sack Table Runner
I left on my usual grain sack table runner, with the blue stripes.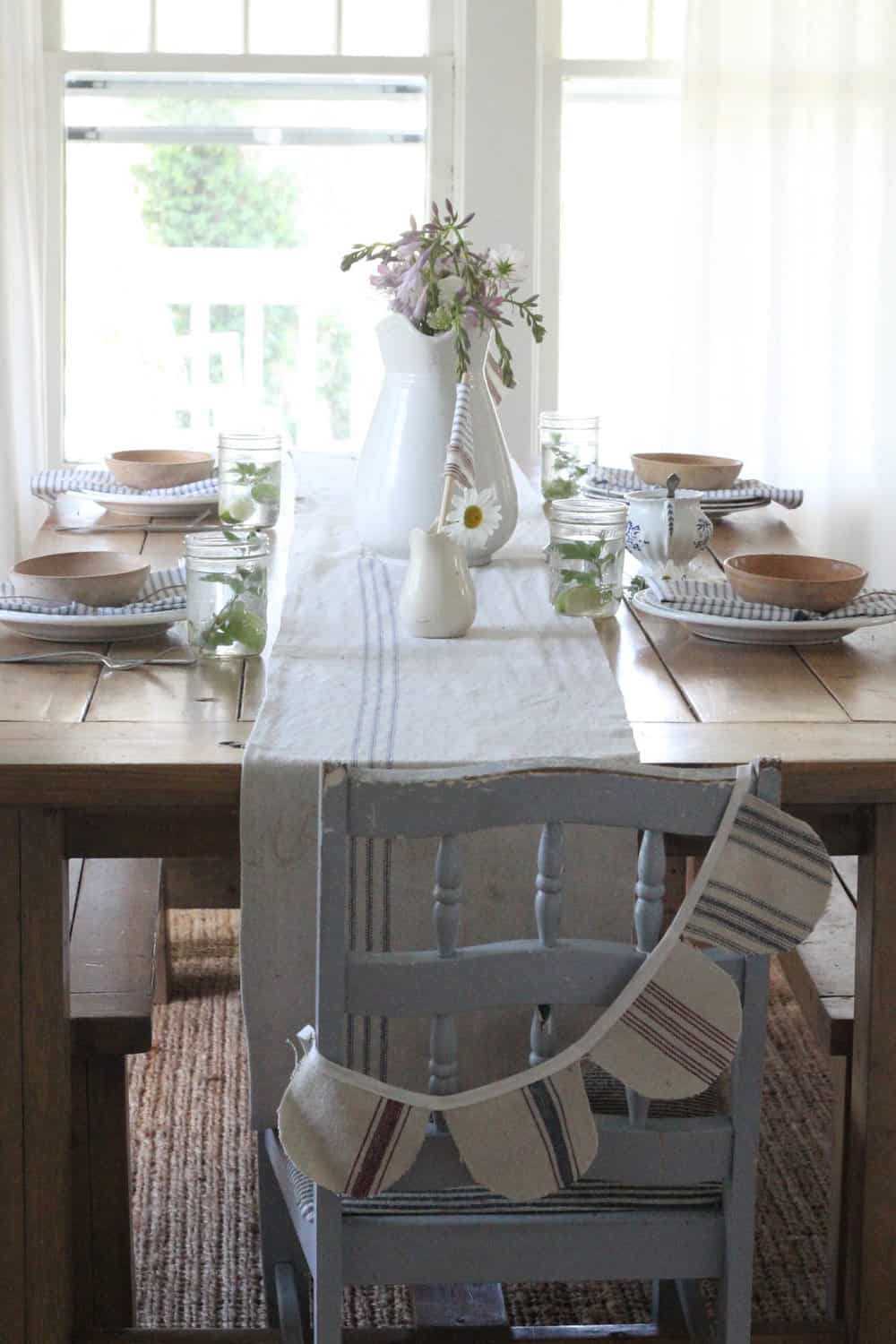 Patriotic Pillows
I put my little blue and white pillow, that I made from an IKEA tea towel, on the slipcovered wingback in the corner.
I also brought out my blue linen throw blanket.
When you love blue and white, decorating for the Fourth simply involves throwing a little red in here and there.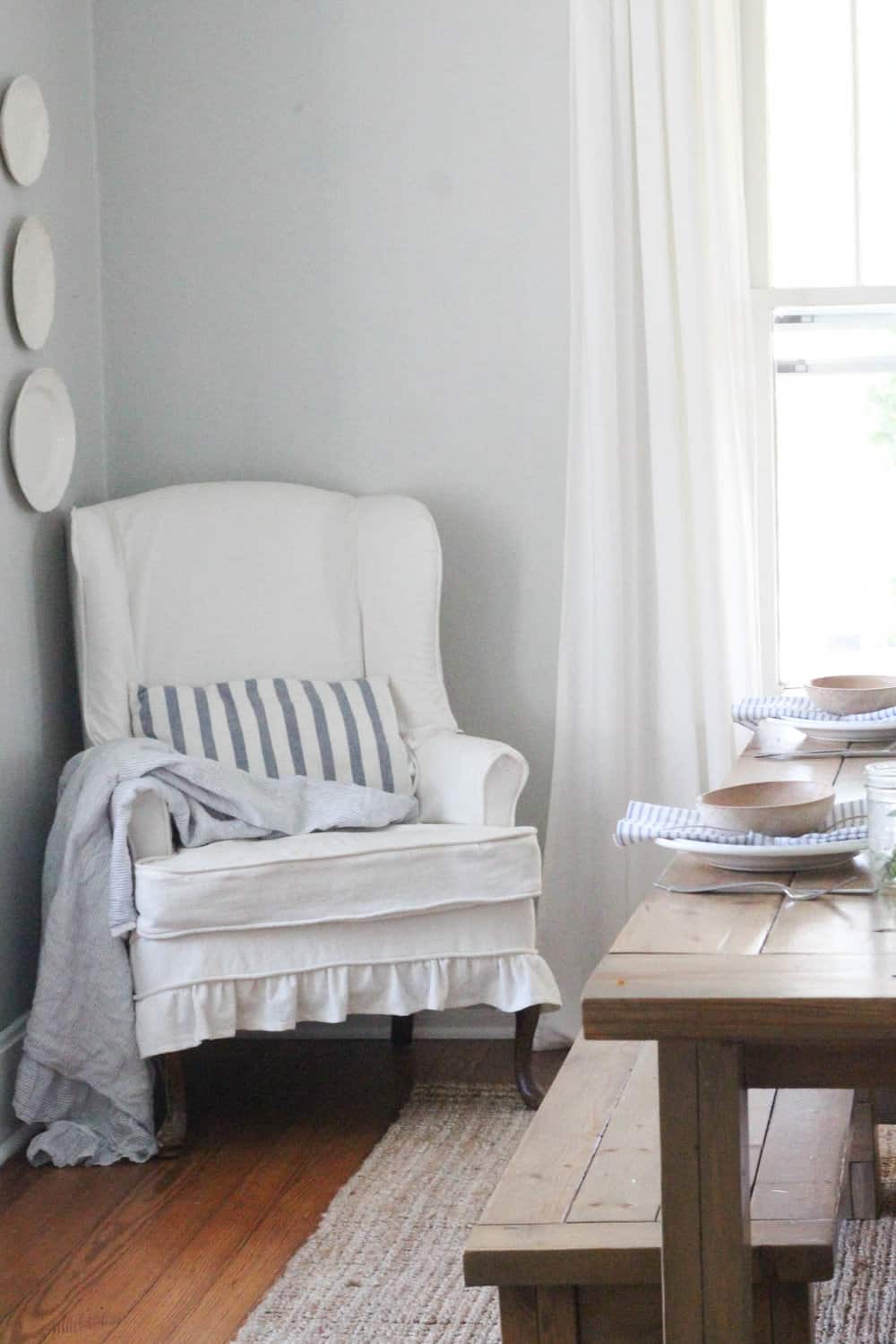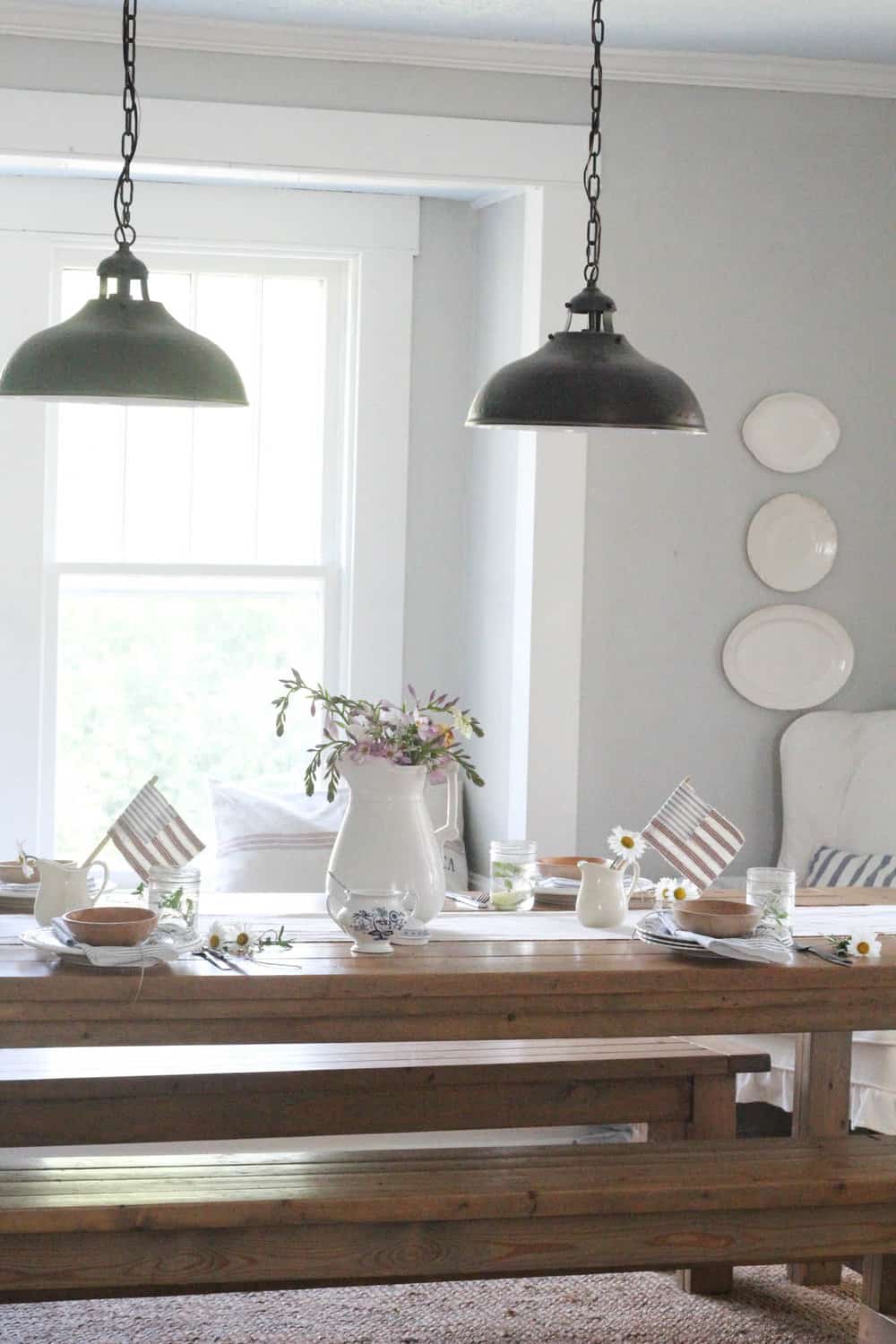 Fabric Flags
For the little flags in the ironstone pitchers, I used the same blue ticking stripe fabric that I used in my DIY Scrappy Flag Pillow and a slightly different red grain sack.
I sewed the "stars" and stripes on a rectangular piece of bleached drop cloth.
Then, I folded and sewed the short end around a small dowel rod, that I found in my kids' craft stash.
It was a quick and easy way to get a few flags on the table!
America Pillow
My grain sack America pillow is peaking out behind the table, in the window seat.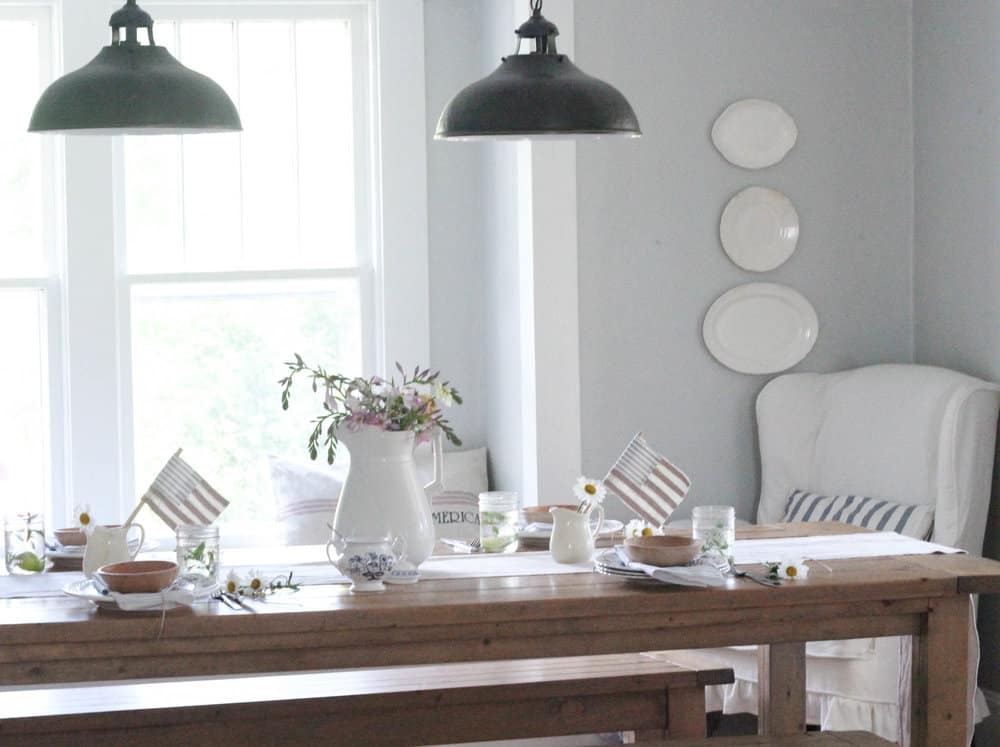 Flowers
I gathered whatever flowers I could find outside for my gallon size ironstone pitcher.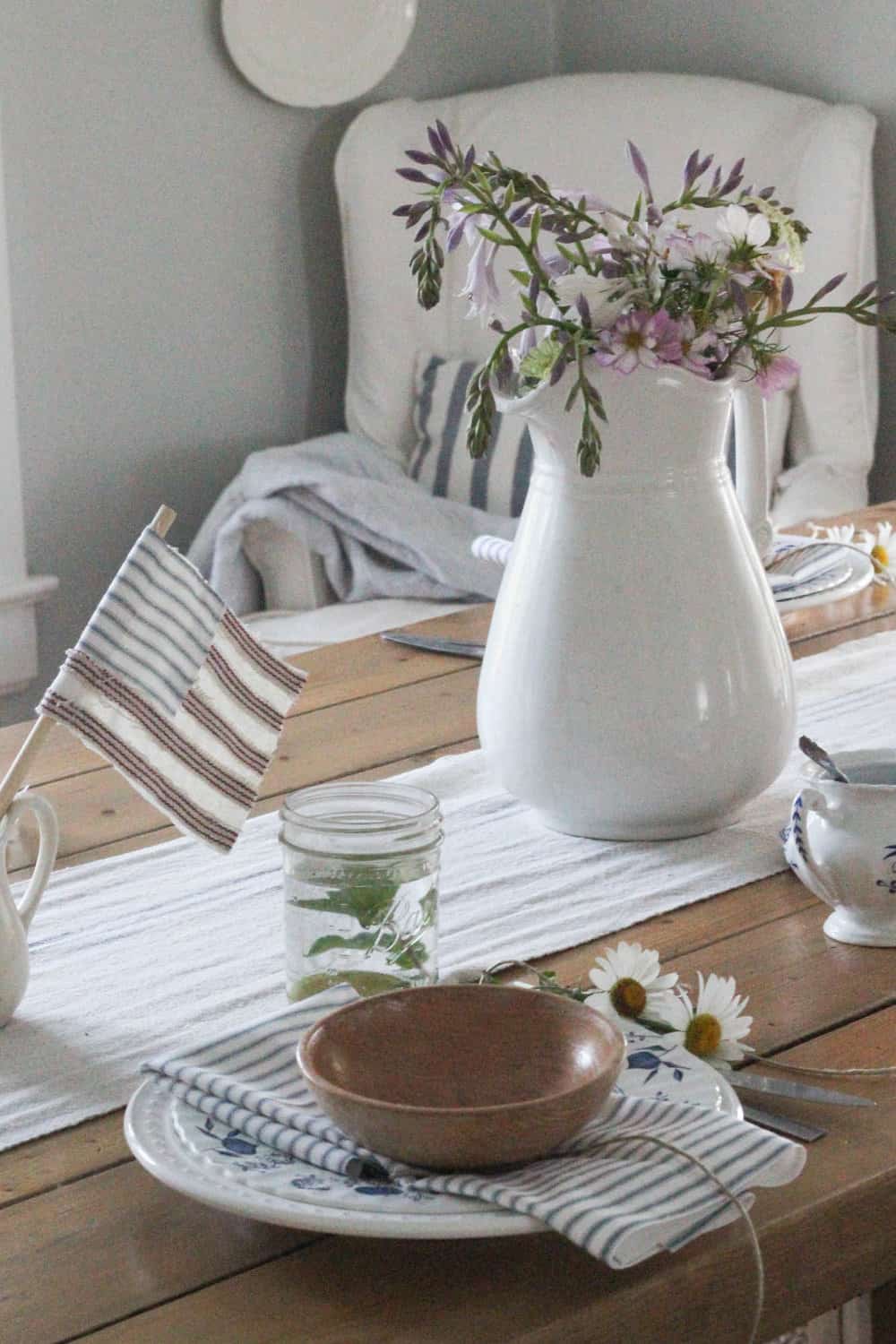 Flag Pillow
And of course my scrappy flag pillow made an appearance. 😉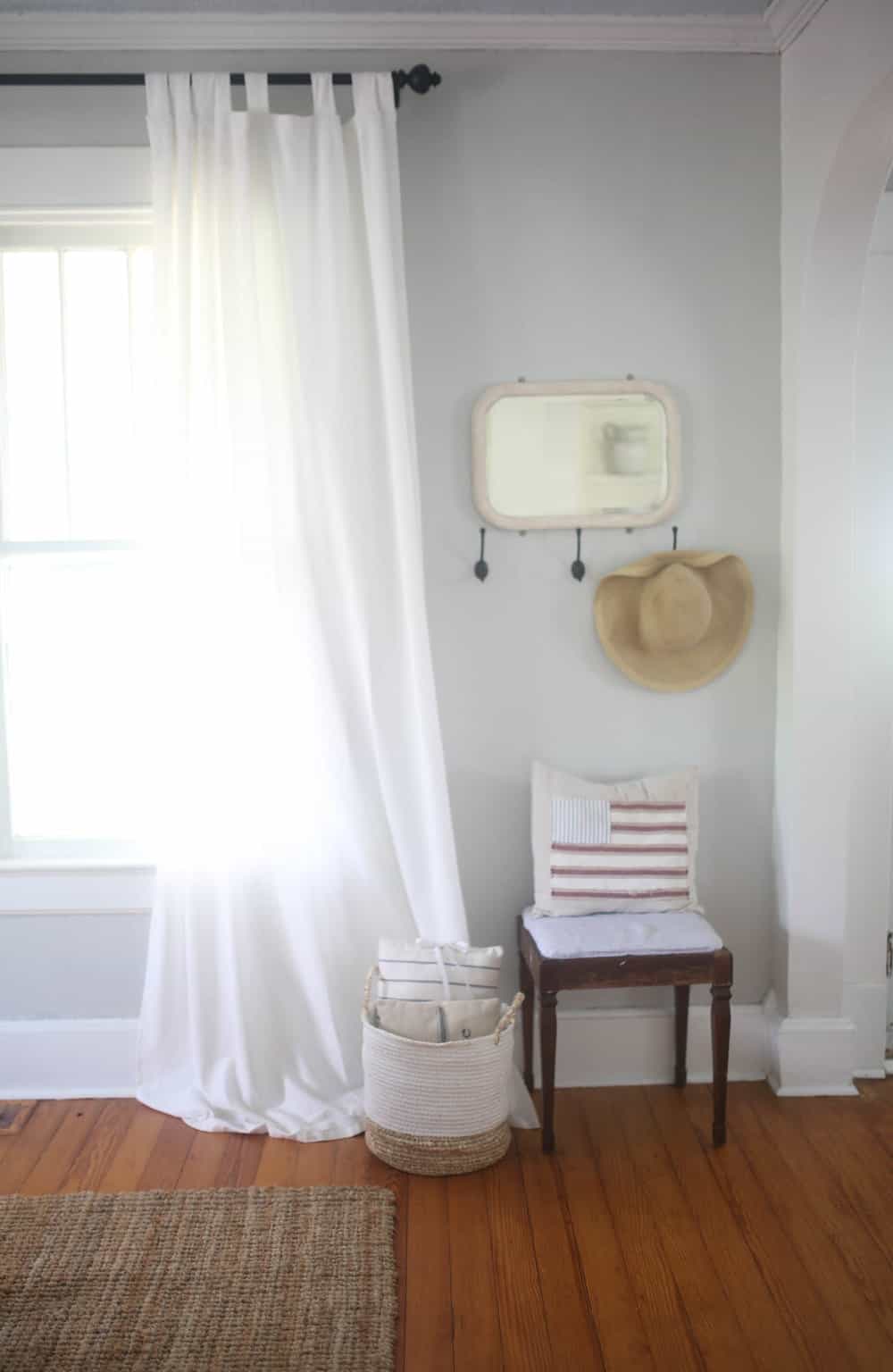 Thank you so much for stopping by the farmhouse to see the patriotic touches that I brought in for the season!
Be sure to check out the other lovely tables on this tour, for some more farmhouse Fourth of July inspiration:
Pin it for later: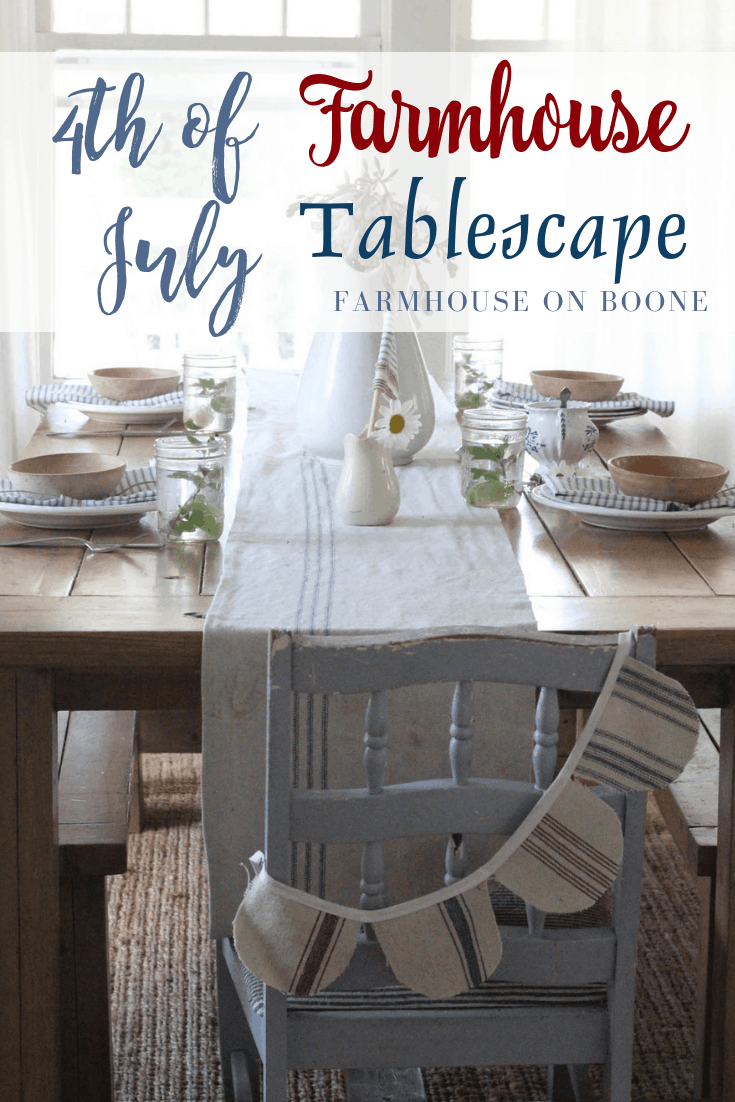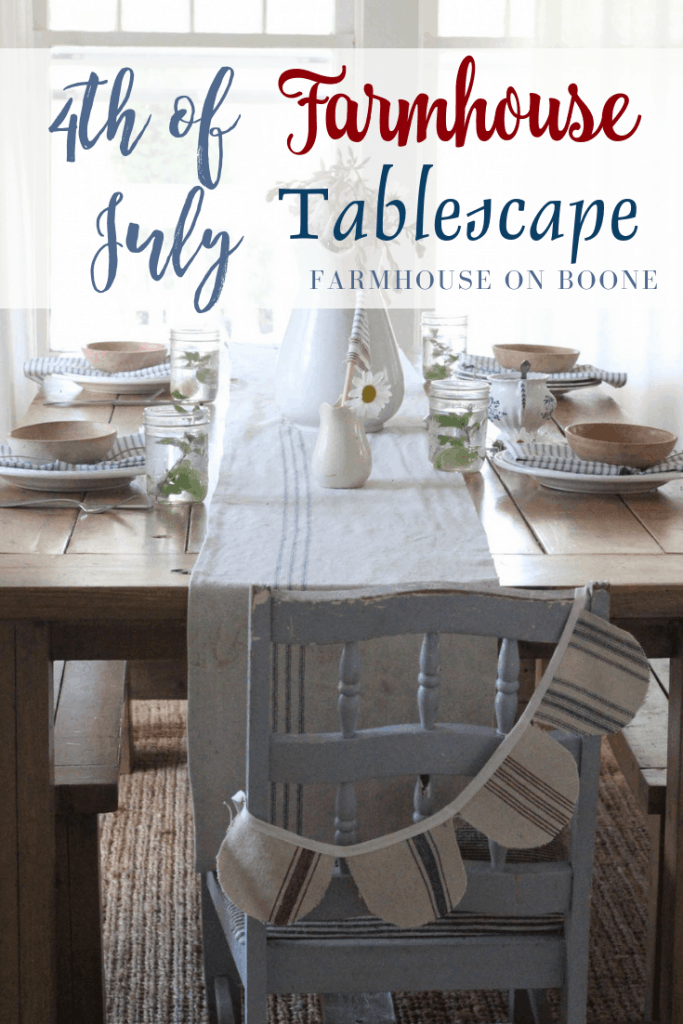 Pin It For Later: