Beautiful, collected, and layered for a cozy atmosphere – this farmhouse girls' room finally fits our Victorian farmhouse. Come tour all the different components that make this room so welcoming and cozy.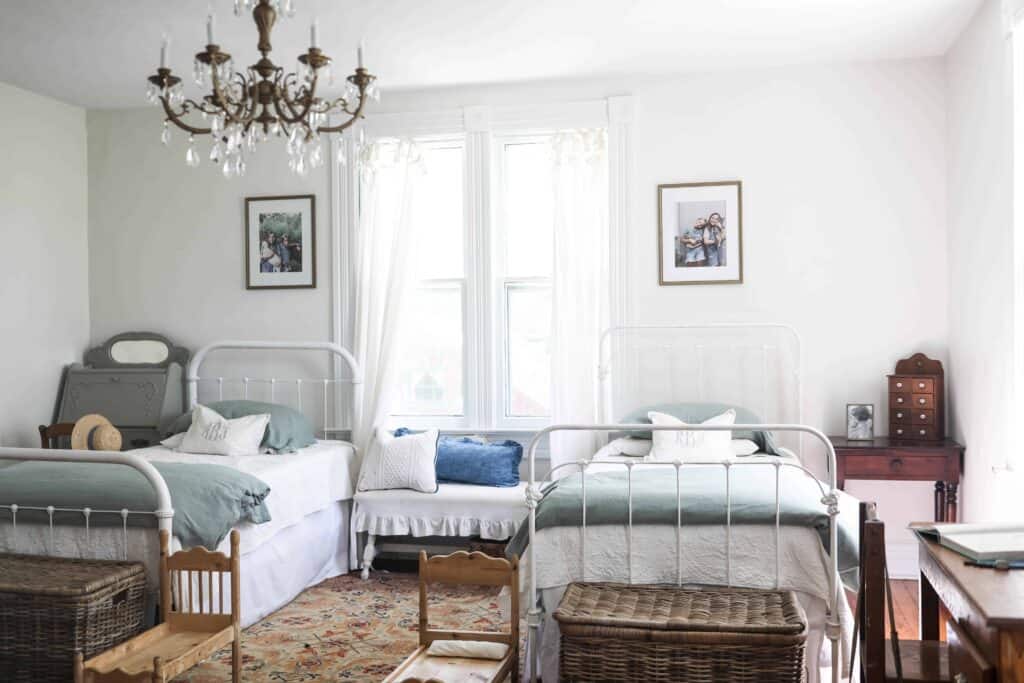 This reveal has been a long time in coming. I've been slowly gathering antique finds, doing lots of DIY projects, and collecting things from all over the place.
There are so many layers to this room. From collecting beds, a wool rug, and frames, to vintage hand mirrors and loads of linen and wicker, it's no wonder this reveal took so long.
I wanted a cozy room that incorporated antique finds and some new items, too. The girls are a little older now, so I wanted it to feel girly, yet grown up.
Since we moved into this farmhouse about one and a half years ago, this room has kind of been thrown together with things we already owned from the old house.
Now, I'm not saying that's a bad thing. In fact, it's great to use pieces you already have! But I wanted the girls to have a room that they genuinely loved, and one that has a cohesive look and feel.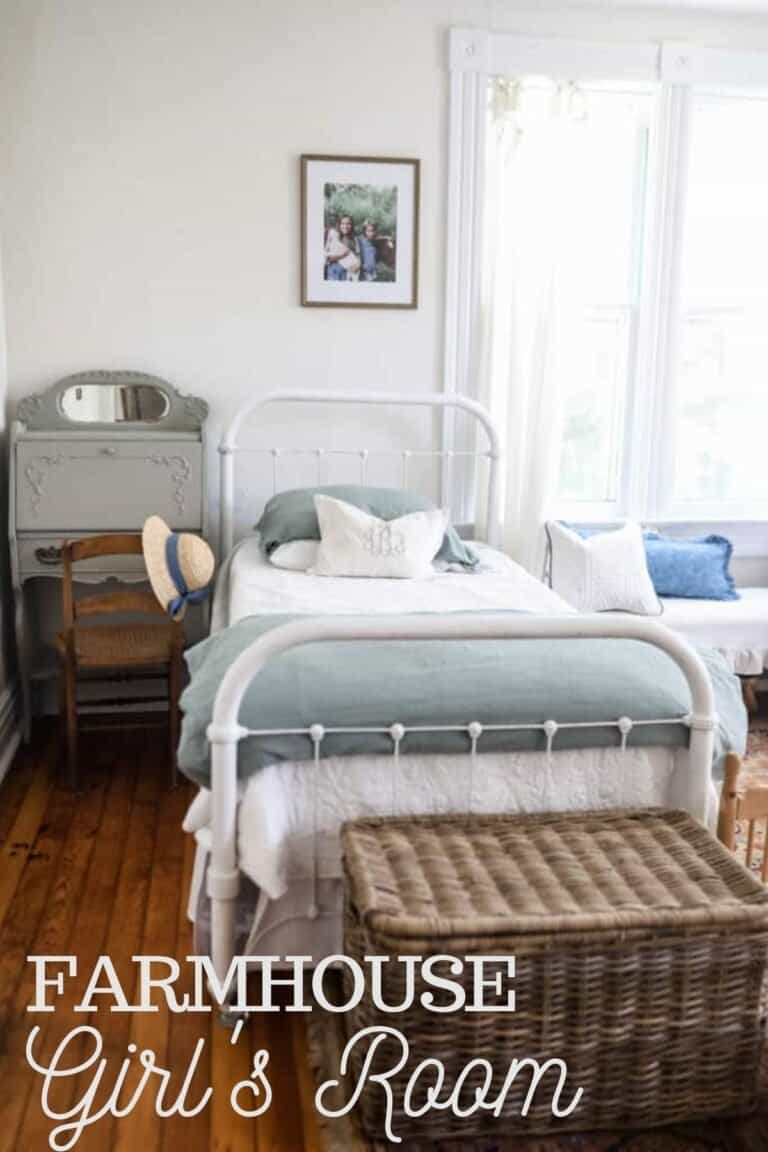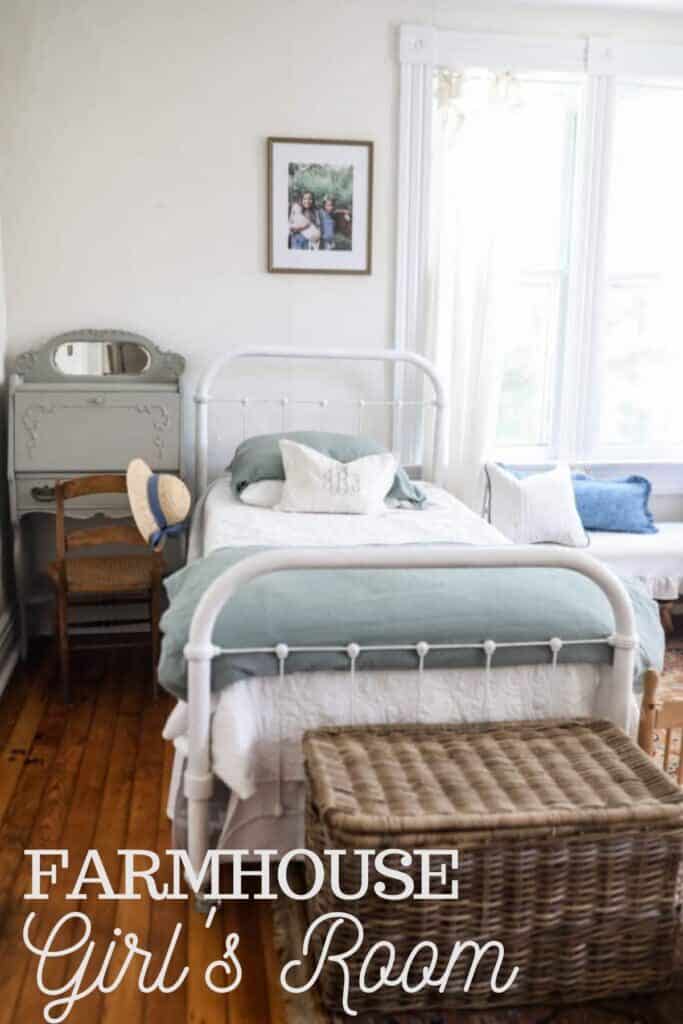 Victorian Farmhouse Girls' Room Reveal
The Beds
The first piece I found for this room was a metal bed from Goodwill, for $20. It was in great condition and just needed a coat of white spray paint. I simply love old beds (I just used some antique beds in my boys' room, as well).
I couldn't find a matching bed to go with my Goodwill find, so I opted for a similar bed with similar lines and painted it the same white. That way they go together, even if they don't match perfectly.
This post contains affiliate links, which means I make a small commission at no extra cost to you. See my full disclosure here.
The Rug
The next piece I found for the room was this beautiful wool rug from Facebook Marketplace for $300. That may sound like a lot, but a genuine wool rug can easily run you a thousand dollars. So, this seemed like a great deal to me.
This rug adds so much color and depth to the room. I knew I didn't want just a bunch of neutrals in this space, but rather something that would add warmth and a little whimsy.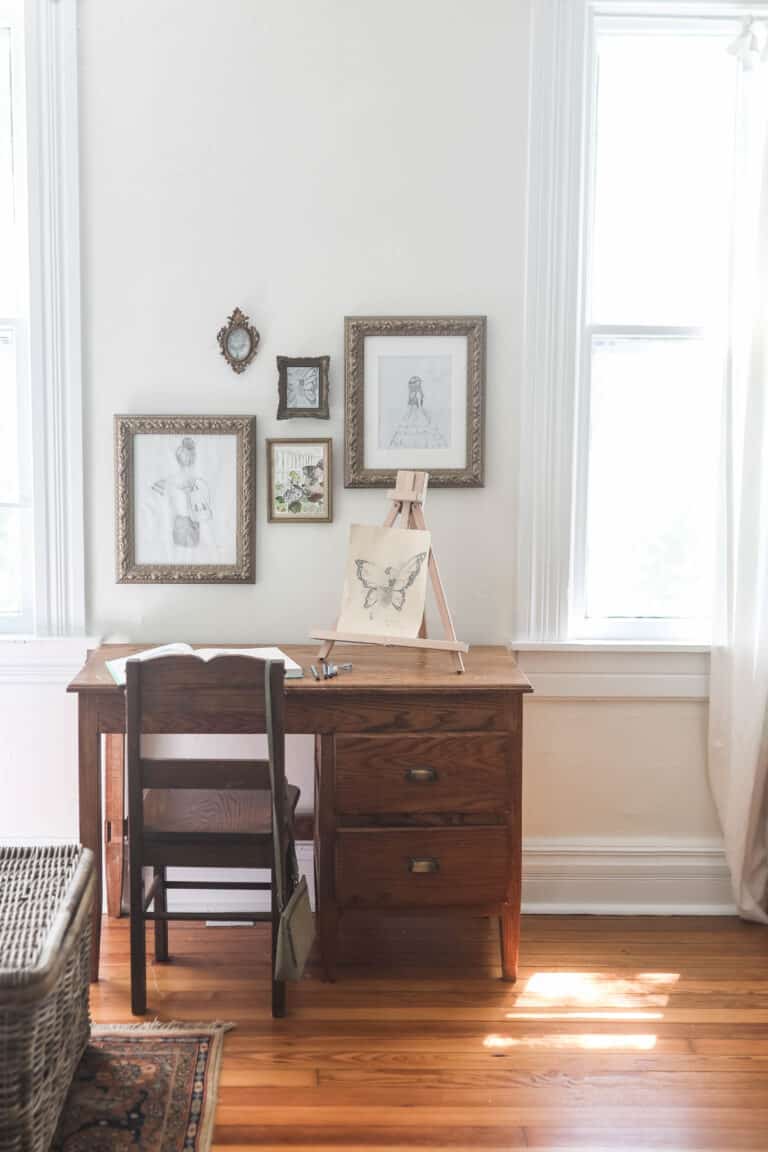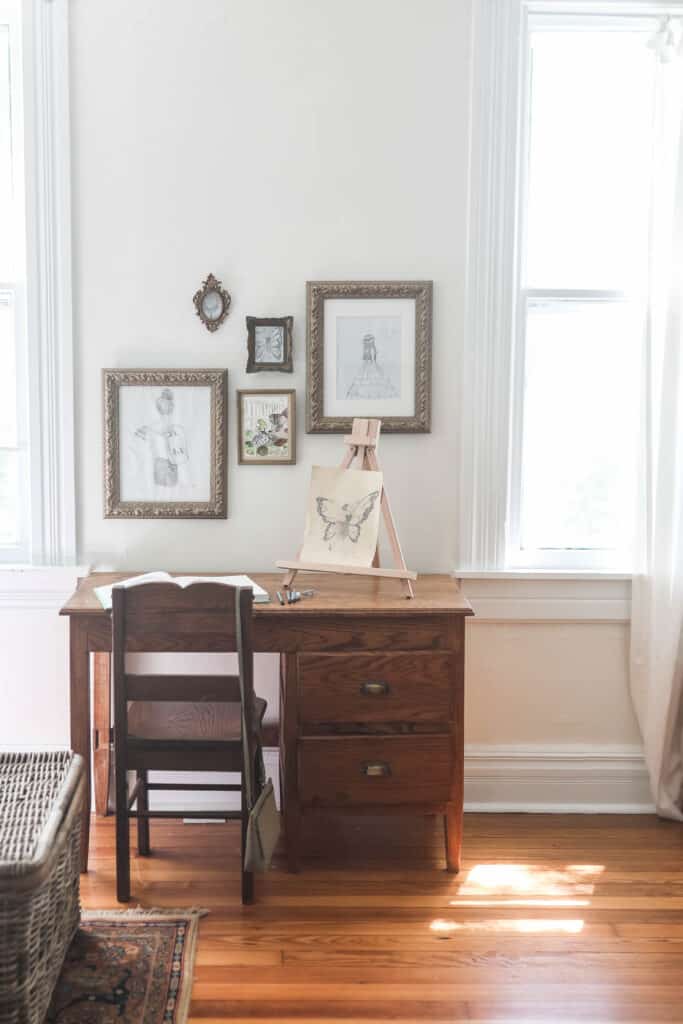 Bringing Some Things Back In
We did add back a few things from their old room. One was a desk that Luke's grandfather made for him. I changed out the gold handles for some antique-looking, brass drawer pulls.
Their previous dresser, that was found at a yard sale and painted with chalk paint, also came back in the room. One day, I hope to repaint it a new color; but for now, it will stay as it is.
Farmhouse Storage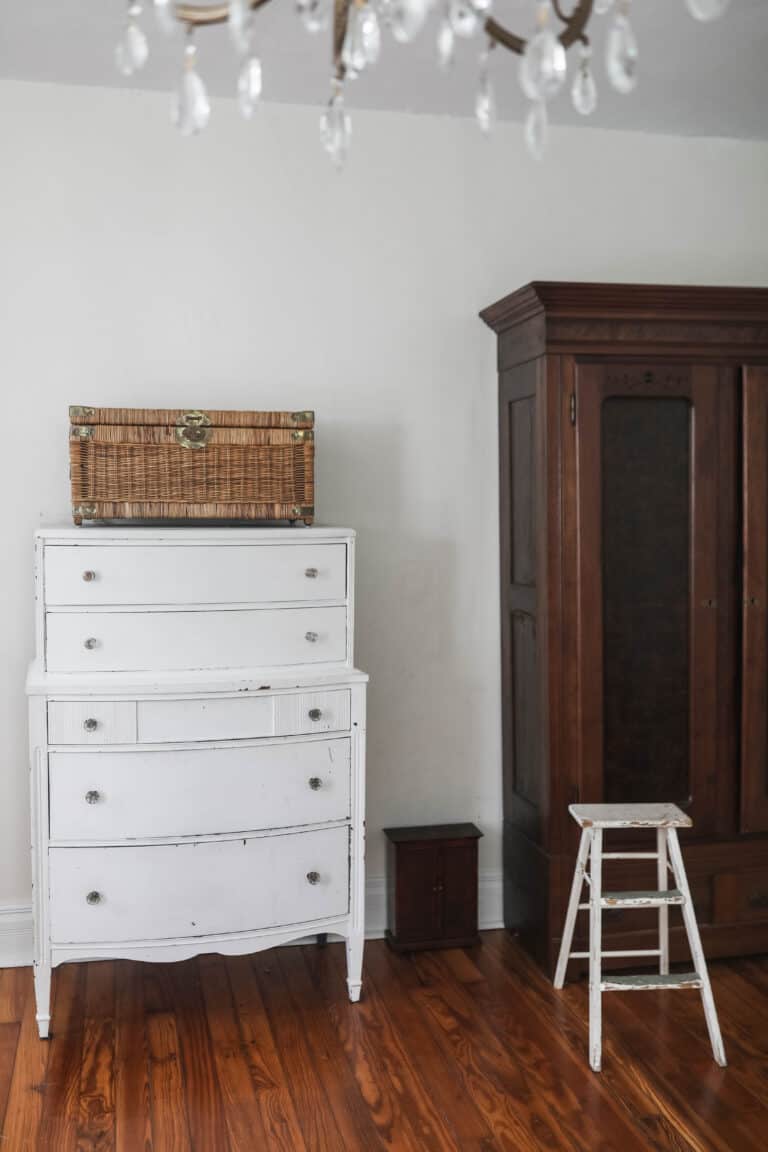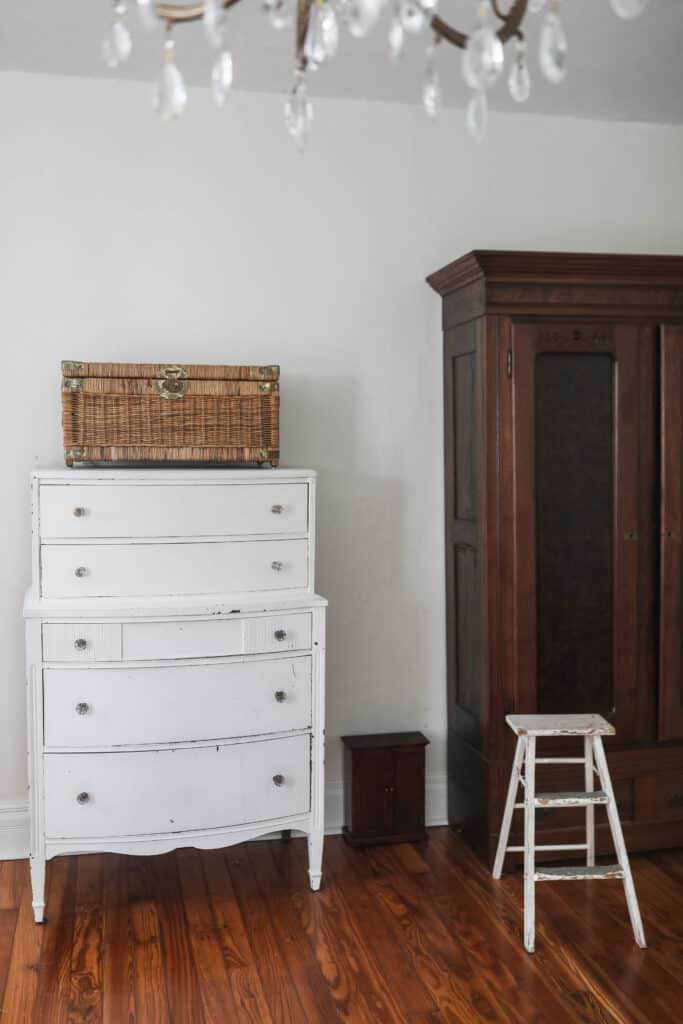 Above the white dresser is an antique wicker trunk that stores all the girls' doll clothes.
Next, we brought in an antique armoire from the downstairs living room. We are planning a big living room makeover with a fireplace mantel anyhow, and the girls were in desperate need of more storage in their room.
For the last year and a half, they have been storing all of their clothes in that one white dresser. So now they have a nice place to hang dresses, stash their bags, etc. – and, it serves as a great catch-all for other things. It's essentially their closet, since they don't have one.
At the foot of each bed is a wicker trunk full of doll accessories and unicorns. Don't be deceived by this room tour, most of the time there are dolls and dresses everywhere.
They aren't minimalists.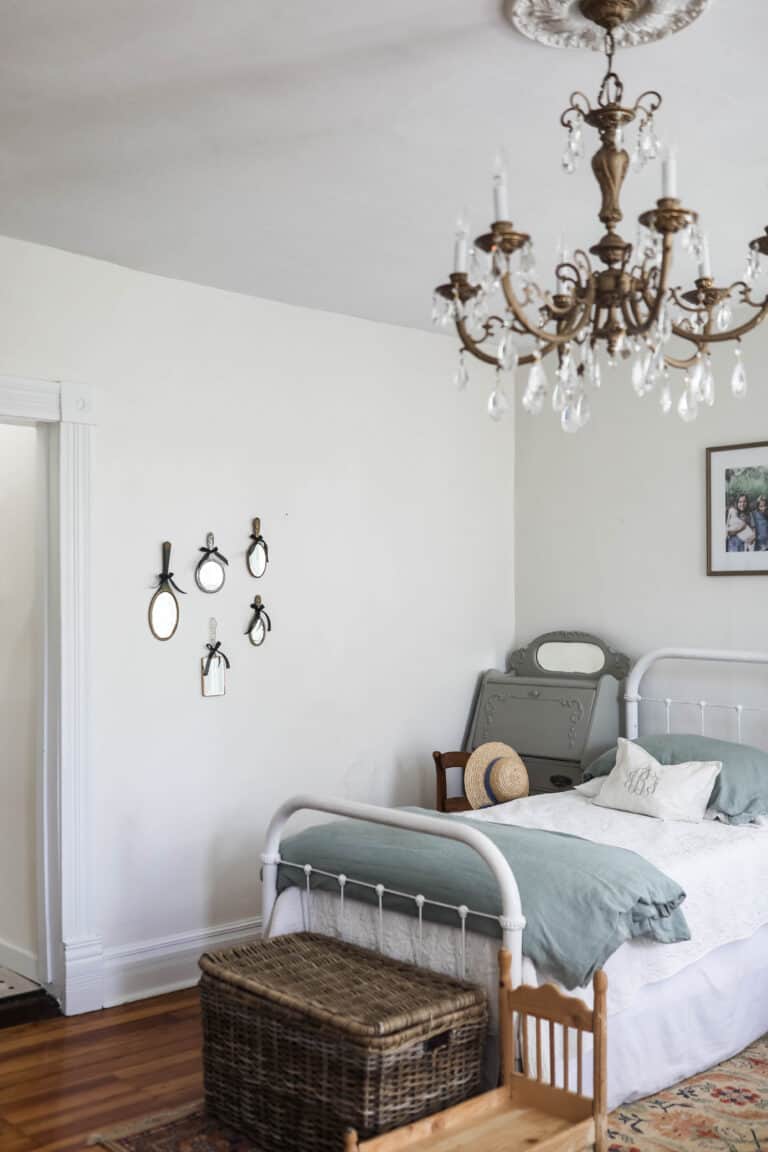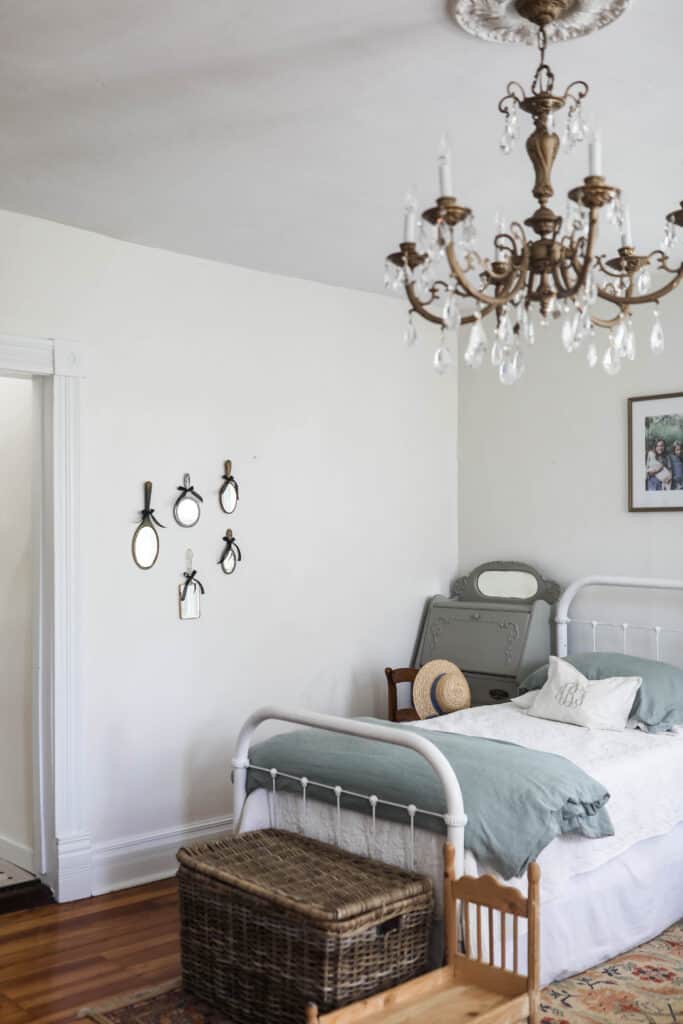 The Bedding
I picked up some white quilts for all four kids. That makes it easy for laundry if they all have the same bedding. 
Since the rug has some sage green in it, I knew I wanted to add some other pops of sage green throughout the room. So, I made two twin-size duvets from a king sized duvet. Target didn't have it in a twin, so I opted to make one myself. Also, since they ended up not being standard twin size, I also created the insert by cutting a king size insert in half (to be consistent with the duvet).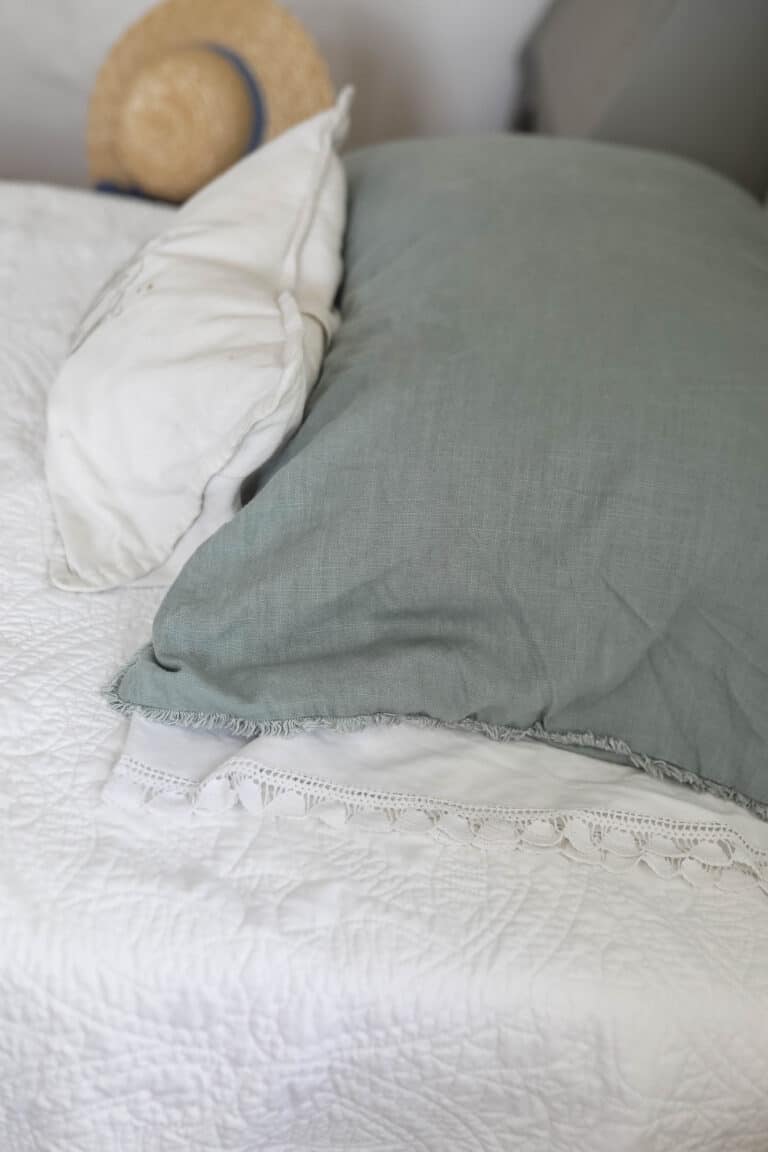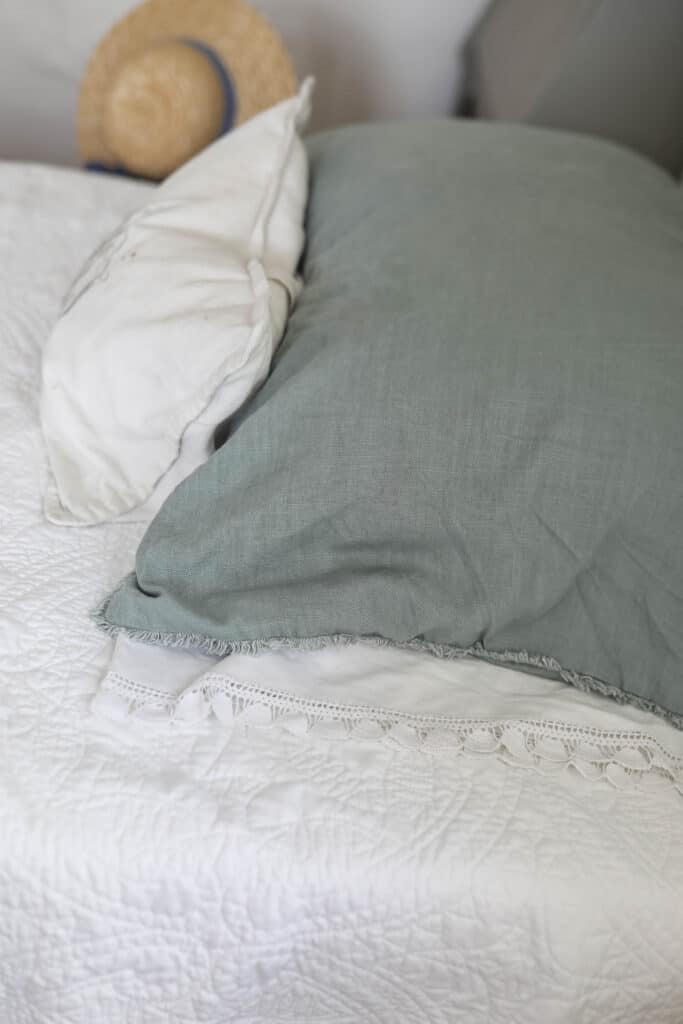 I place the white quilt on the bed, fold up the duvet set, and rest it at the foot of the bed. The duvet set also came with two king pillowcases. They are a little big, so they just drape nicely off the pillows.
Using my embroidery machine, I created each girl a monogrammed pillowcase with bleached drop cloth.
All these layers just add so much coziness to the space.
Night Stands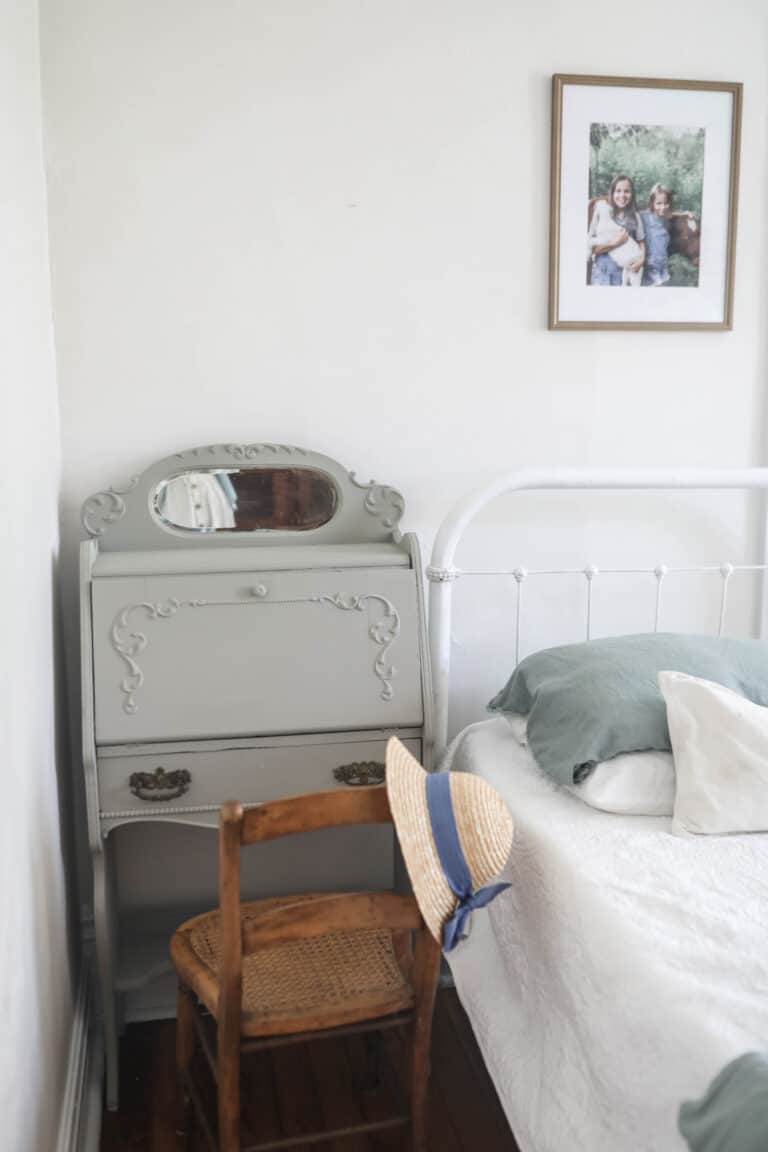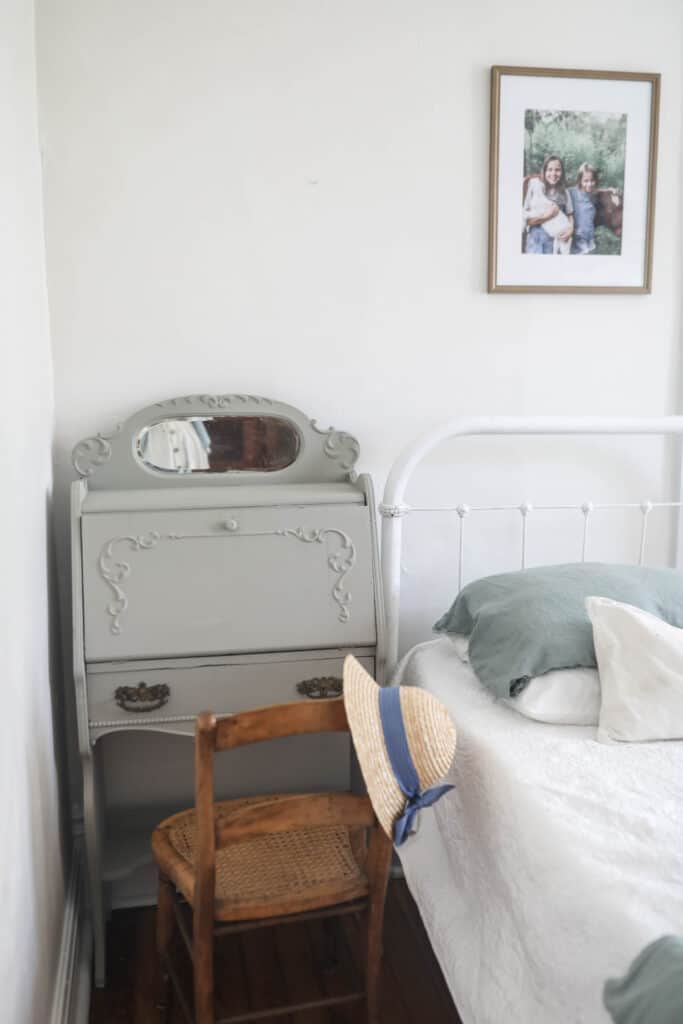 A few days ago, my friend Ashely from Little Glass Jar Blog, had a neighbor give her this old secretary. She didn't have a use for it, so I painted it a beige color. 
It looks so beautiful and Victorian with the details and small mirrors. It fits the space perfectly. The secretary folds out and turns into a desk for my daughter, Johanna. It's the perfect spot for her to read and draw.
The antique chair was found at a thrift store, along with the little hat with the blue ribbon. I loved that the blue ribbon matched the pillows I added on the bench.
I moved the ruffled bench from the living room to between the twin beds and topped it with a linen ruffle pillow, a drop cloth one, and this sweater pillow. It's the perfect cozy little reading area.
For Ruthie's nightstand, I found this cute little piece at an antique store for $30 or $60… I can't remember. It's topped with a little spice cabinet that I had originally bought for the kitchen. It's perfect for all of Ruthie's sewing things.
Curtains:
I took the tie-top curtains I made for the living room and brought them up to the girls' room. They just never felt right down there. That room calls for something heavier and more structured.
The flowy, soft feel of the linen works perfectly up here, though. All I had to do was hem them a little bit shorter, since the ceilings are taller downstairs.
Farmhouse Girl's Room Wall Decor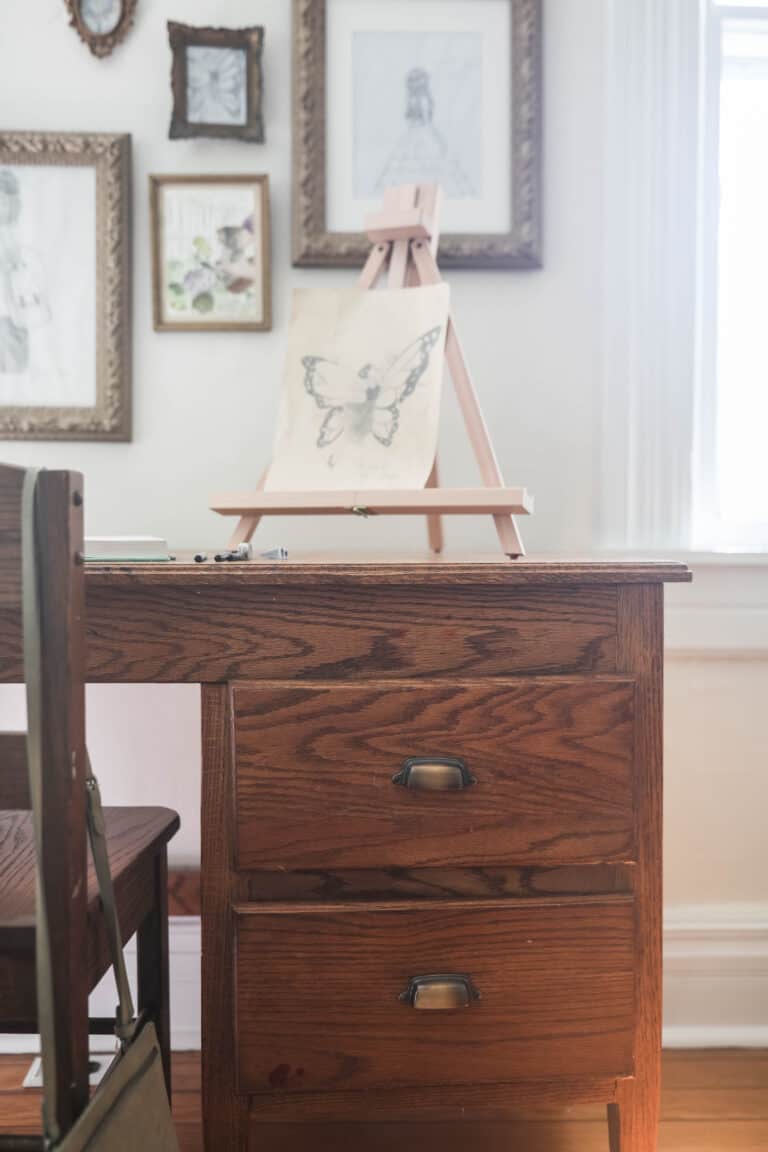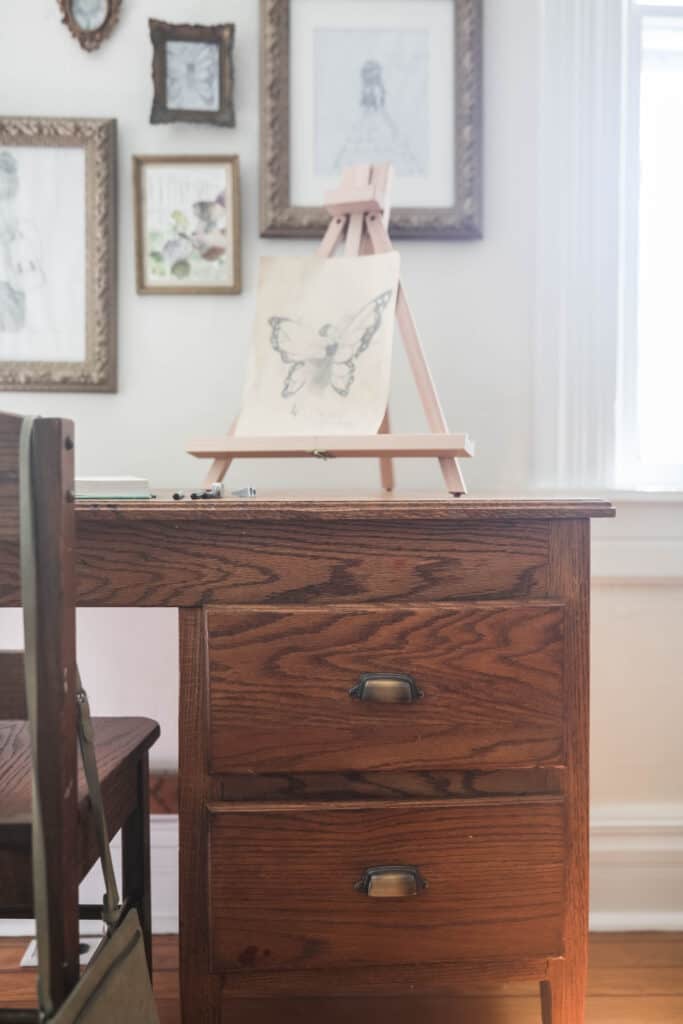 Searching high and low for the perfect artwork above their beds, it dawned on me I should just take a picture of them together.
They get along most of the time, but as siblings do, they have the occasional scuffle. These pictures are a great reminder that even amidst the little scuffles, they are still best friends.
I spray painted inexpensive frames from a craft store a pretty gold to tie in with the rest of the room.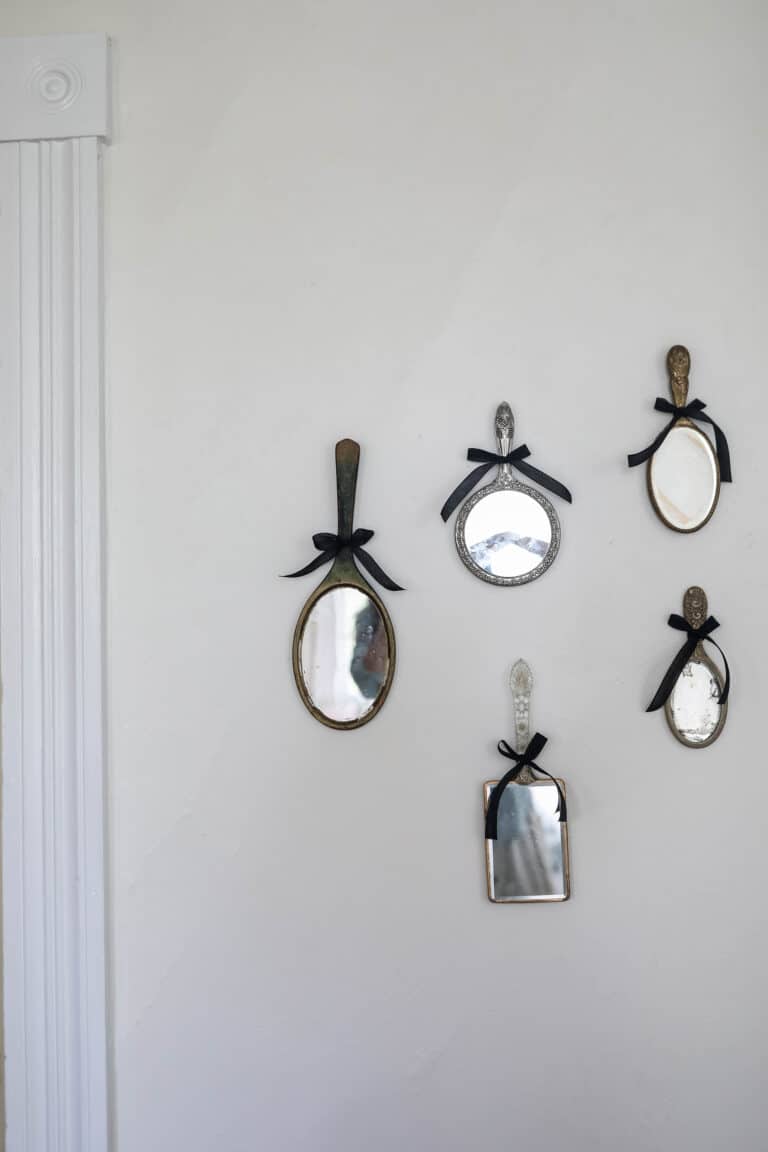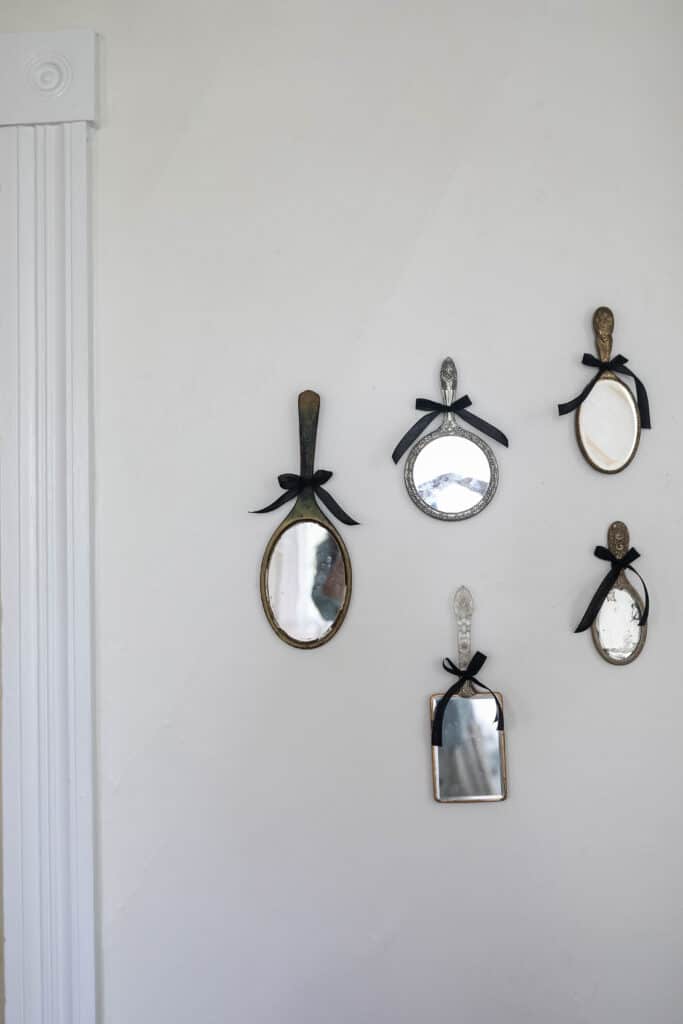 About a year ago, I started collecting vintage mirrors to create a beautiful wall display. Finally, it feels like we have enough. I tied them with some black ribbon and hung them up using Command strips.
It gives the room such a whimsical and fun feeling, while being sophisticated enough for my girls.
Lighting: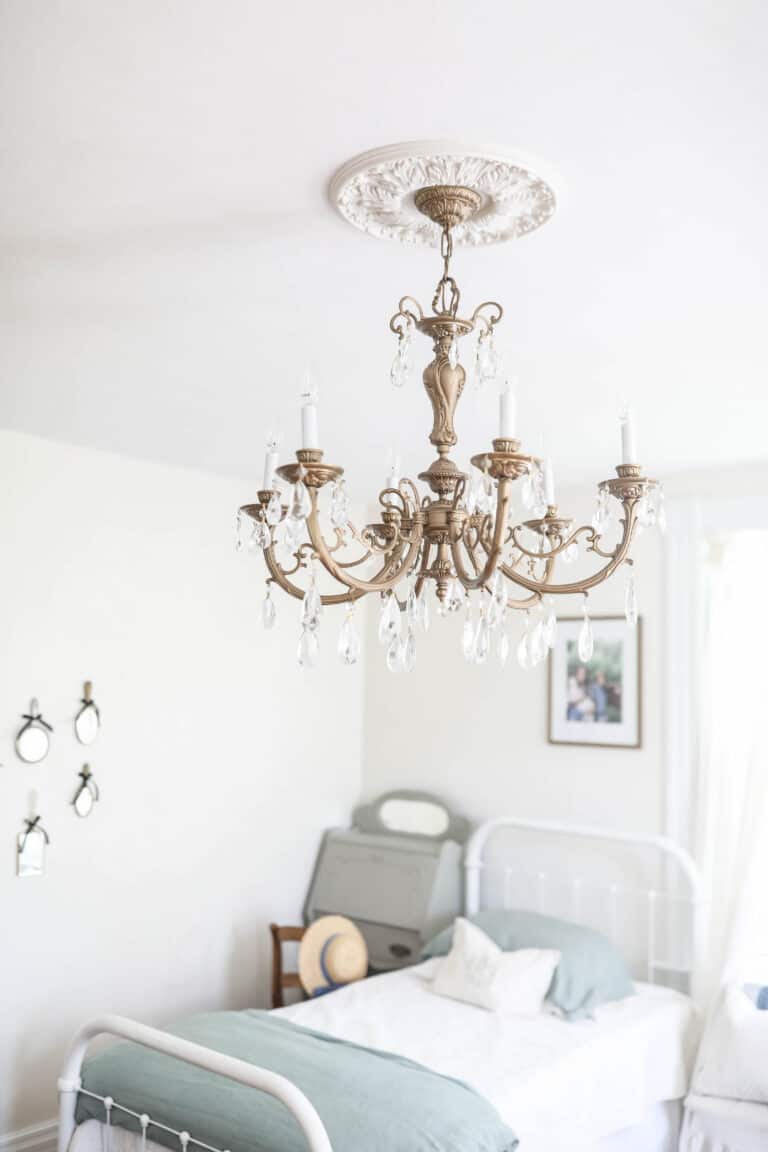 My friend, Lauren, from Bless'er House was redoing a room in her home, and she was taking down this fancy chandelier to put up something a little more modern.
Well, someone messaged her saying I may like it. I paid her for shipping, and she shipped it to me from the east coast.
I spray painted the chandelier to match the frames, and it is just so pretty. It is really the focal point of the room.
Ruthie's Desk
Across the room is Ruthie's creative space. She loves to draw, sew and do just about everything creative. This area gave her the place to create and display her art work.
I spray painted some antique frames and hung up the art in a gallery style. Most of the art is Ruthie's, and I also included a pretty watercolor a follower on Instagram sent me of Ruthie holding one of the baby kittens.
The Last Project
I have one last project to work on in here. I found this large frame on the side of the road for free. Luke ripped out the middle of it and we are planning to paint the frame and add a large chalkboard inside.
The girls said they would love a chalkboard to draw on in here, so that is what we will do.
All right, that sums it up. I just love how this room turned out. It feels like it fits them. It's feminine and girly with some sophistication, the perfect place for them to be creative.
I hope you enjoyed this farmhouse girl's room reveal with a more collected and layered look.
Find More Farmhouse Decor Ideas
Pin It For Later