Welcome to our newly organized Farmhouse Mud Room! See how we came up with a farmhouse organization that looks like it was always meant to be here.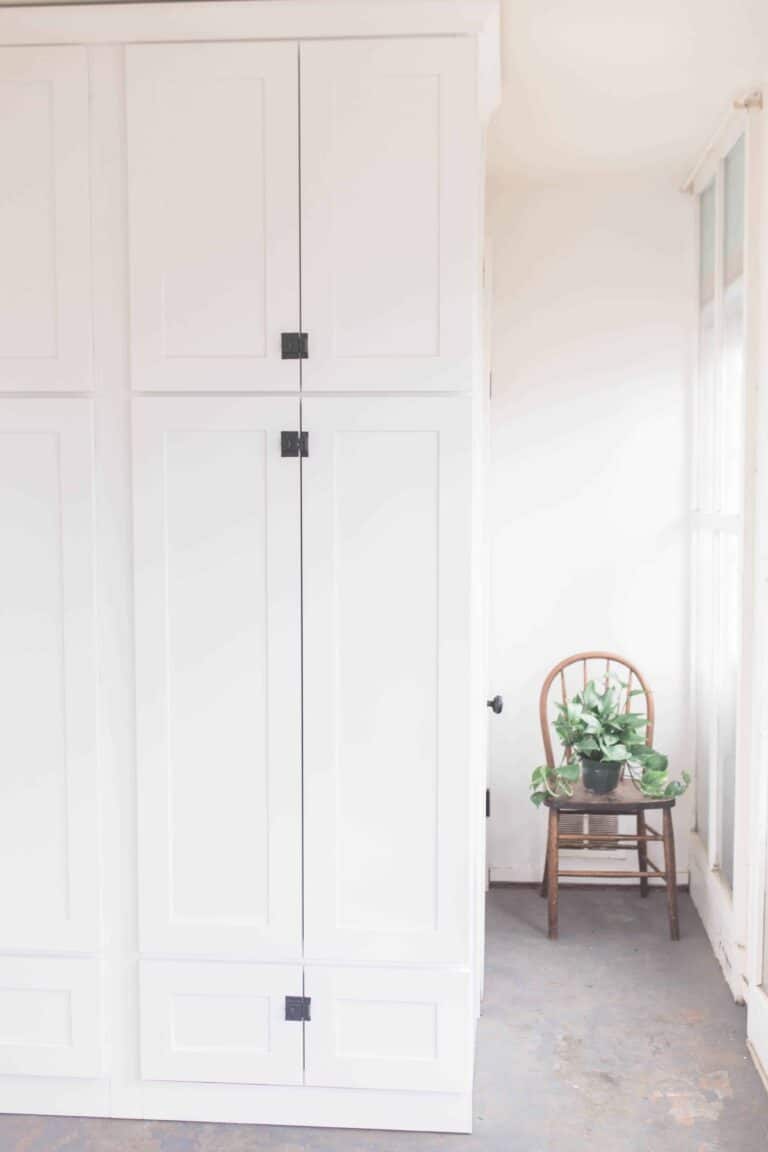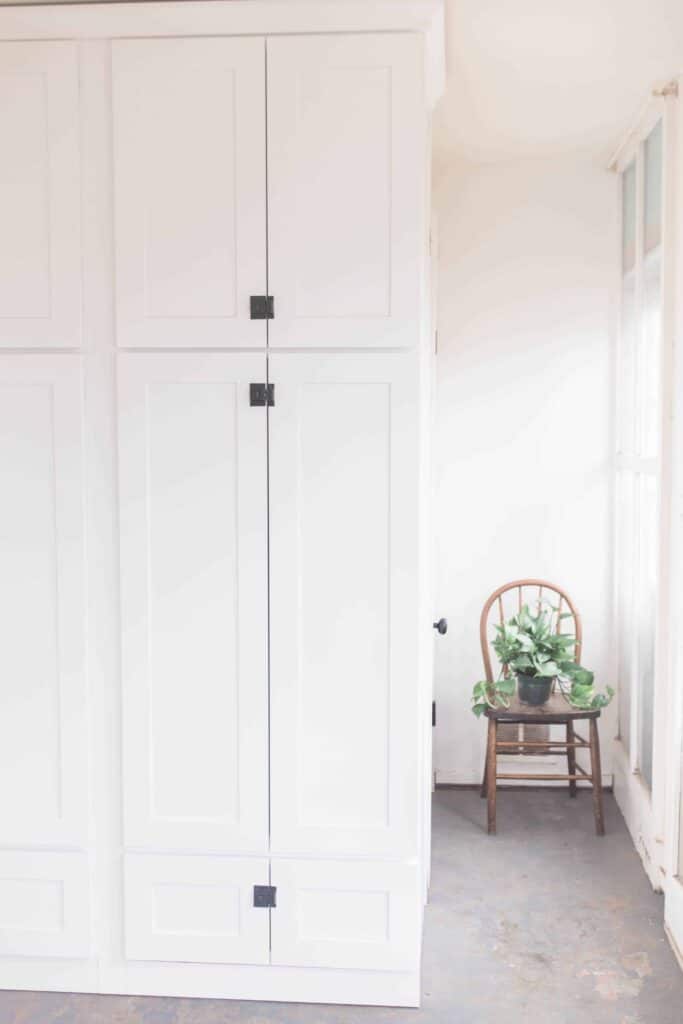 This post is in collaboration with Lily Ann Cabinetry. All opinions are mine.
When we first moved into our farmhouse about a year ago, the mudroom was one of the first places that we renovated.
The whole room got a fresh coat of paint, then we painted the door and floor, created hand-dyed curtains, and used a shoe cabinet from our previous house that fit the space perfectly.
The only problem was that the open shoe cabinet didn't have enough space to house all the things. Between the bathing suits, snow gear, and of course, shoes, which all got disorganized frequently by little hands, we needed more storage space.
All the extra things that we use frequently ended up in the basement, and anytime we needed something, we would have to trek down there to grab what we wanted. Not super practical.
Sadly, this lovely cabinet just didn't work well for all the things we need for a functional mudroom.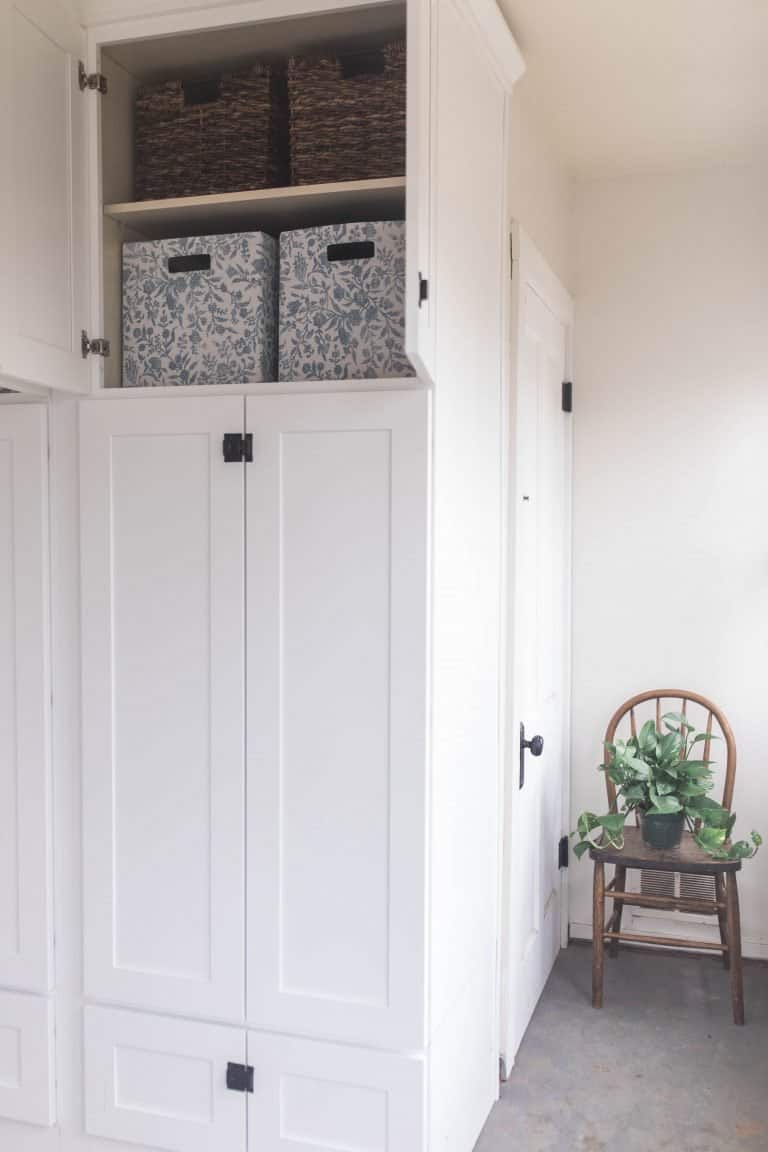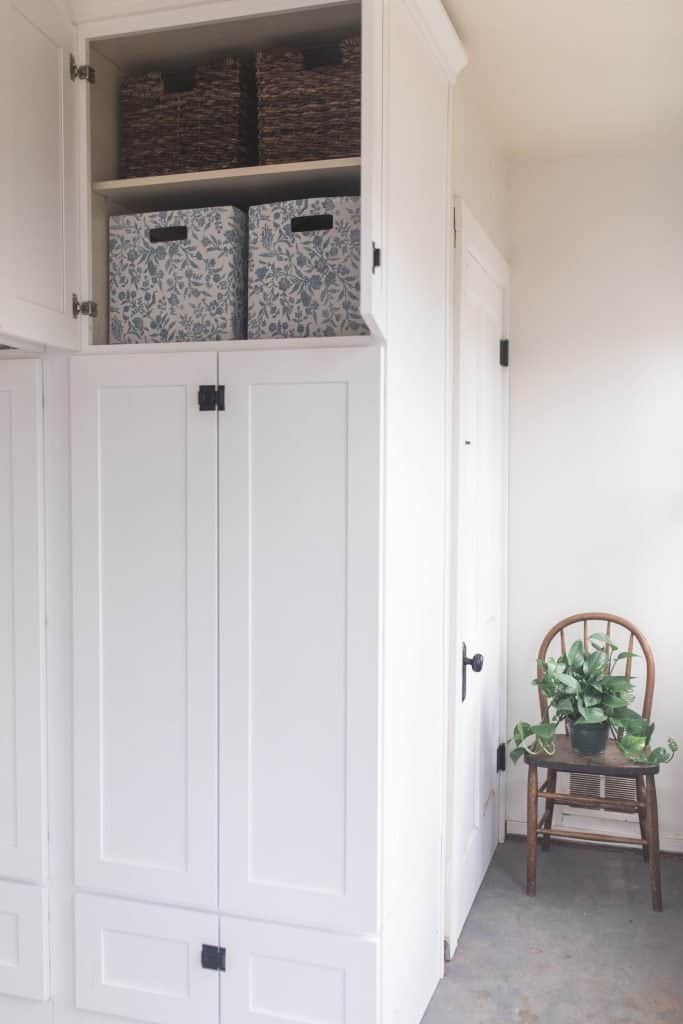 Creating Closet Space In The Farmhouse Mud Room
One really interesting thing about our new/old farmhouse is that there is one closet in the entire house.
Most of our "closet" space is created with armoires and other smart storage techniques.
We really wanted to create some sort of organizational system in the mudroom, and I knew we wanted cabinetry here, but I didn't think it was going to happen anytime soon.
When Lily Ann Cabinets reached out to me wanting to provide custom cabinetry to use, we knew exactly where we wanted to put it.
This space is challenging because it had to be a custom depth and length, and had to fit a lot of random things. Thankfully we got to work with the designers and Lily Ann Cabinets to come up with the perfect design to meet our needs.
Lily Ann kindly offered my readers 5% off on cabinets with the code BASS4440.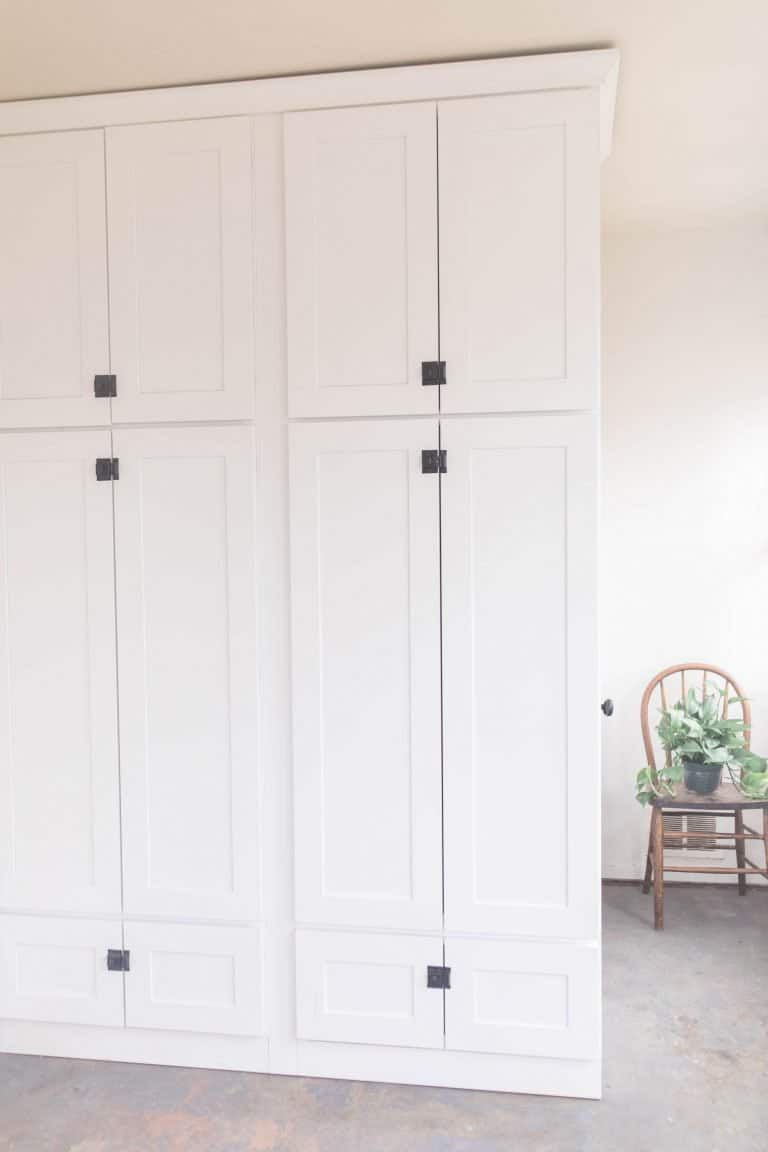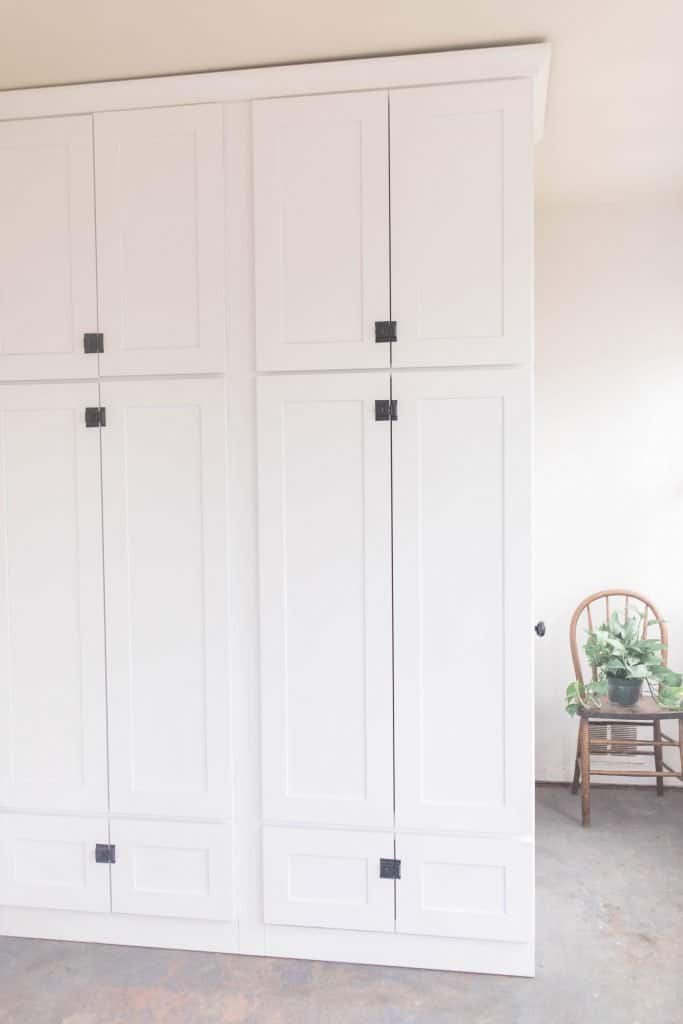 Designing Custom Cabinetry
With the kitchen, we had hired someone to custom build the cabinets because of the vintage stove and sink – which was awesome, but really expensive. Working with Lily Ann was the way to get the built-in custom look for a lot less.
This was a super simple project thanks to Lily Ann. I determined how I wanted them to look, sent them custom dimensions, and they delivered cabinets that measured perfectly for this spot.
The mudroom is actually an addition, so one of the walls the cabinets were going up against is actually an exterior wall with siding. We needed custom dimensions to line up perfectly with the trim line, and these cabinets fit absolutely perfectly.
I wanted them to look historic, like they were there all along.
Working with the designers, we decided we wanted some drawers on the bottom, shelving on one side, a place for coats and life jackets on the other side, and have the storage go all the way to the ceiling. We finished it off with crown molding so it would have that built-in look.
Farmhouse Mud Room Organization
In the bottom section of the cabinet, there are small doors with pull-out drawers behind them. I did doors because I wanted the hardware to match the new farmhouse kitchen that is right next to the mud room. I wanted it all to flow together through the French doors.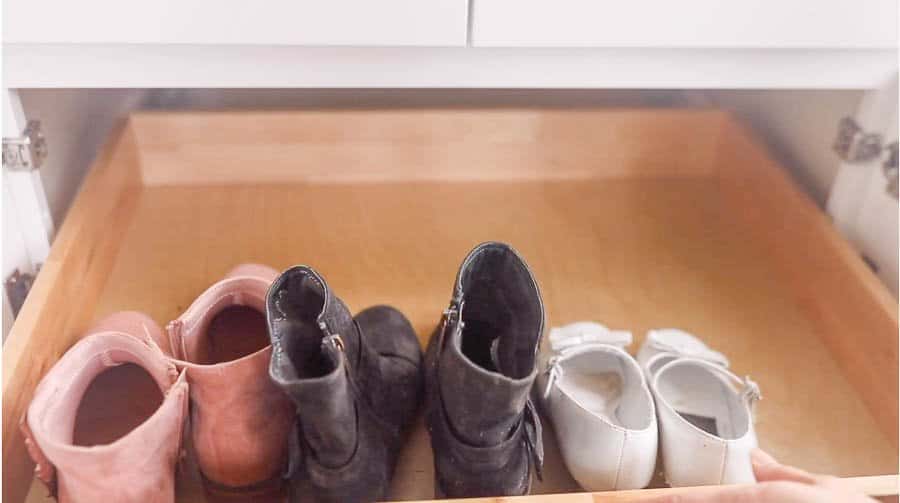 Shoe Storage
The bottom drawers are for shoes that shouldn't be smashed into bins, like ladies' or girls' boots or other type of shoes.
The left middle side includes shelves with bins full of shoes. Some kids had to combine their shoes because there wasn't enough room; some of their shoes can be interchangeable anyway, so this worked out.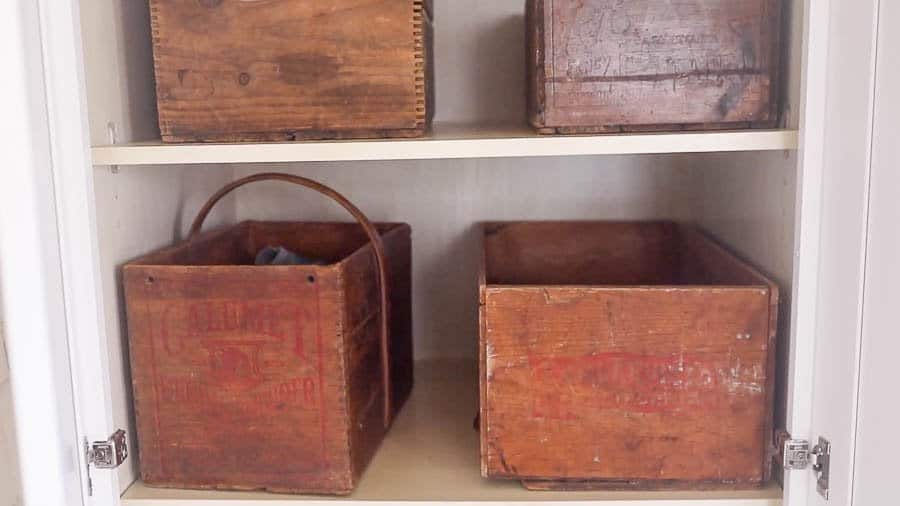 One of the bins contains just socks. I'm pretty relaxed about laundry, and it is just easier to keep all the socks right there.
We placed a mat on the bottom shelf, and that is where muddy shoes will go.
Just yesterday, we had a warmer than usual day and we spent much of the time outdoors playing in the mud. We were just a mess. This place worked great for those muddy boots.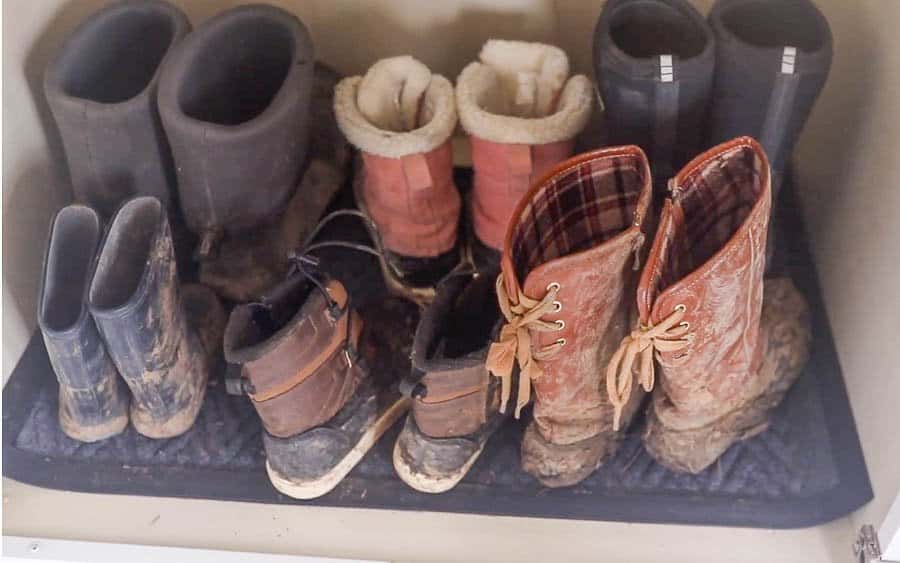 Outdoor Gear Storage
In the middle section on the right side, I added a tension rod to hang coats. In the summer, we will swap out the coats for life jackets.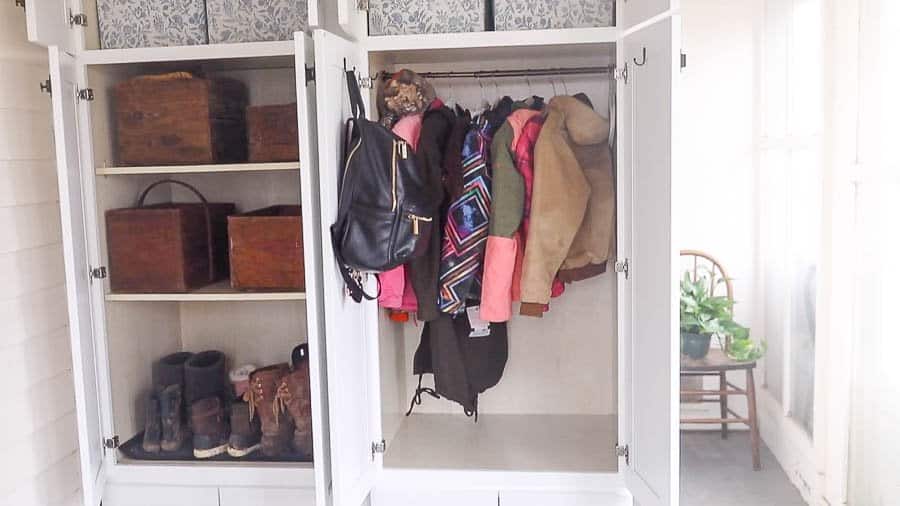 Moving up to the top sections, I placed a row of some inexpensive floral canvas bins, and above that, some wicker bins up top.
The canvas bins are full of snow pants.
The wicker bins on top are different categories. One is for gloves, another for hats, one for swimsuits, and the last one is for goggles and random swim gear.
On two of the main doors, I added small hooks to hang my diaper bag. I never really had a place for it to go before, and these little hooks work perfectly.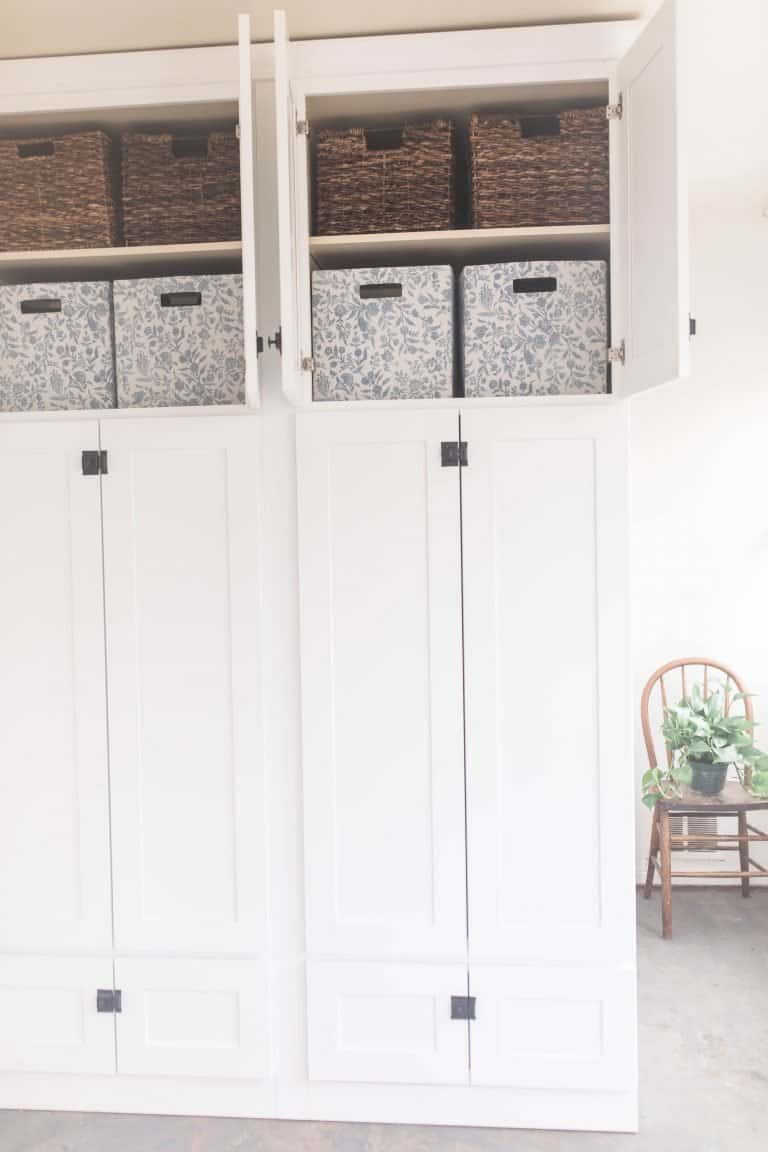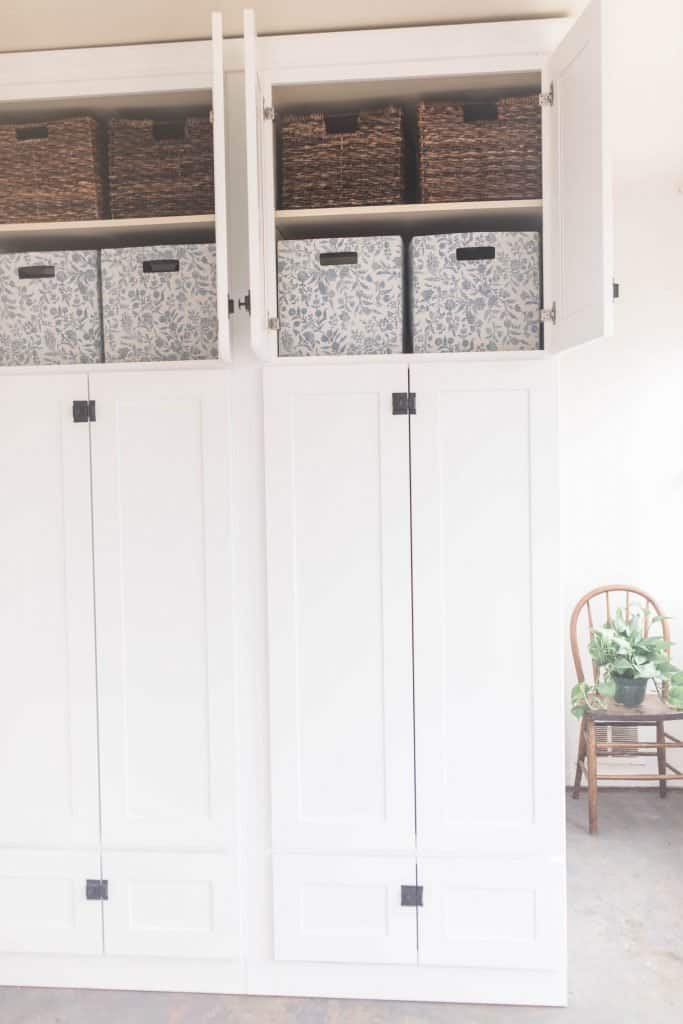 This custom cabinetry has made a world of difference when it comes to the functionality of our farmhouse mud room. For our next project, we are talking to a designer about creating cabinets for our pantry, since it is such a custom area.
Thank you Lily Ann for providing such lovely cabinets!
Find More Farmhouse Decor And Organization Ideas:
Pin It For Later