These handmade Mother's Day gift baskets are thoughtful and simple to make. They feature DIY lip balm, candles, body spray, body butter, a lavender roller bottle, and relaxing bath salts.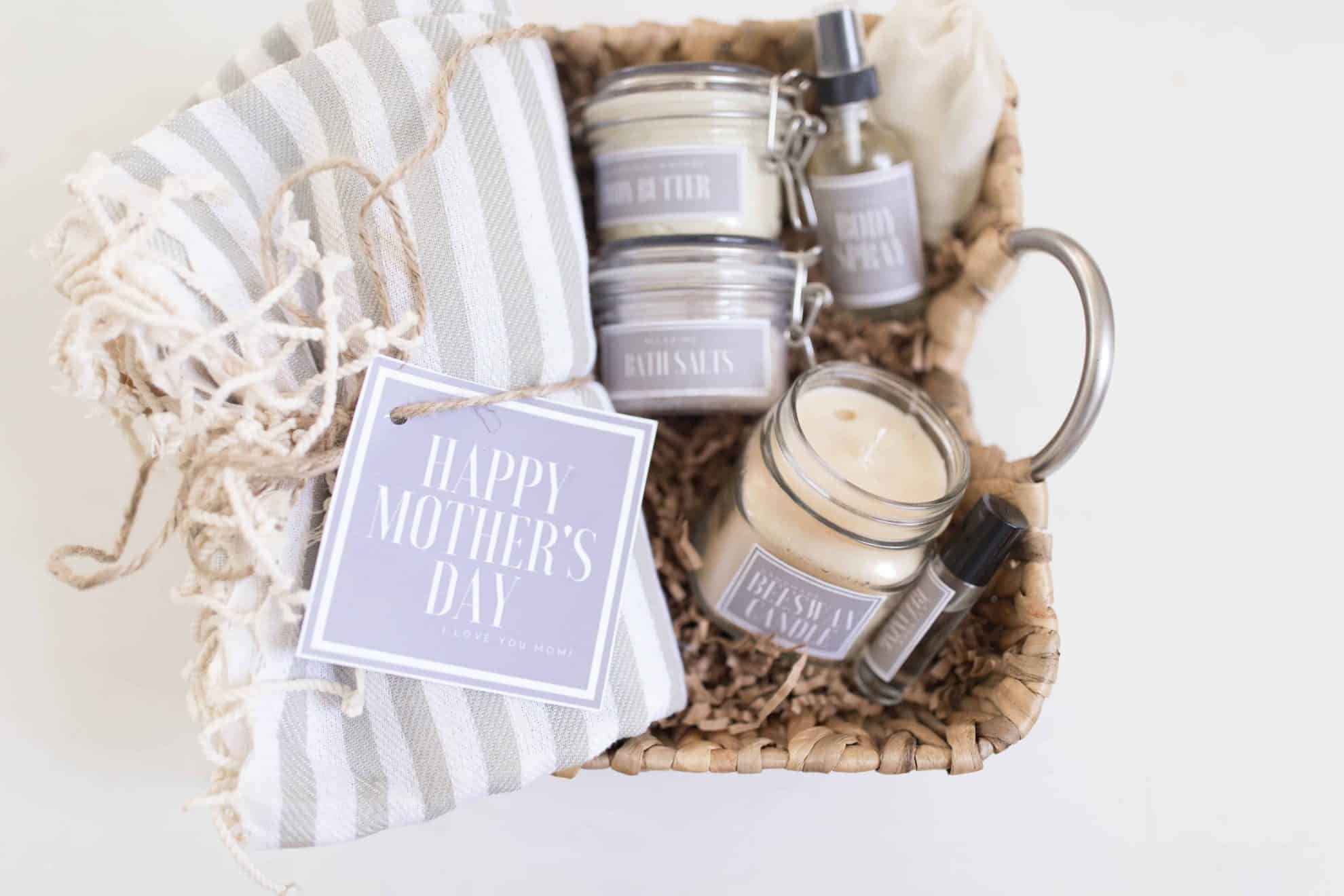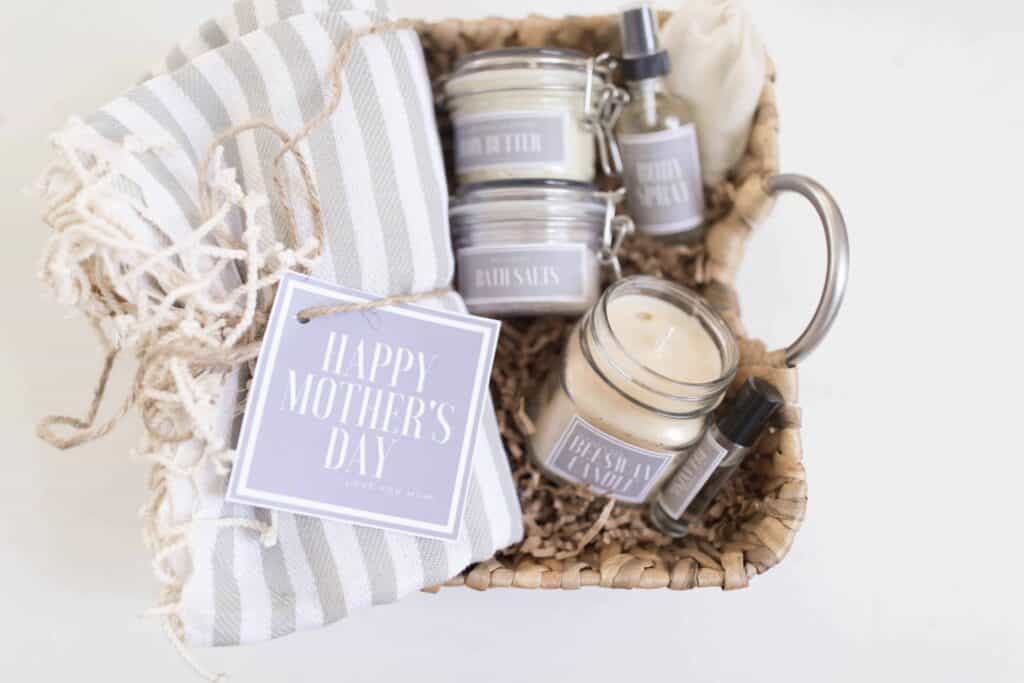 This post contains affiliate links, which means I make a small commission at no extra cost to you. See my full disclosure HERE.
Have you snagged my FREE Natural Body ebook?! Snag it here:
[thrive_lead_lock id='14105′]Hidden Content[/thrive_lead_lock]
Handmade Mother's Day Gift Baskets Video
Make sure to go all the way to end of this post for the free printable labels, to make this gift extra special!
Just the other day I was thinking about Mother's Day and wishing so badly I had my act together enough to share a handmade gift idea with you all.
Around  Christmas time last year, I made baskets featuring homemade vanilla, lip balm, sugar scrub, and beeswax candles. I had a lot of requests for more ideas like that.
Who better to share the love with than Mom??
Then I looked at the calendar and realized we are still almost a month out from Mother's Day. That is plenty of time in my book!
Certainly there are a lot more last minute DIYers, like myself, out there who still have no idea what they are going to do to bless their mamas. Who will join me this year in giving the gift of handmade?
I decided to do a spa-themed gift basket with six stress-relieving, handmade body products and a pretty Turkish towel to top it all off.
I even created some printable labels that you can download and print out to make this gift basket really look nice. Snatch those up at the end.
DIY Essential Oil Body Spray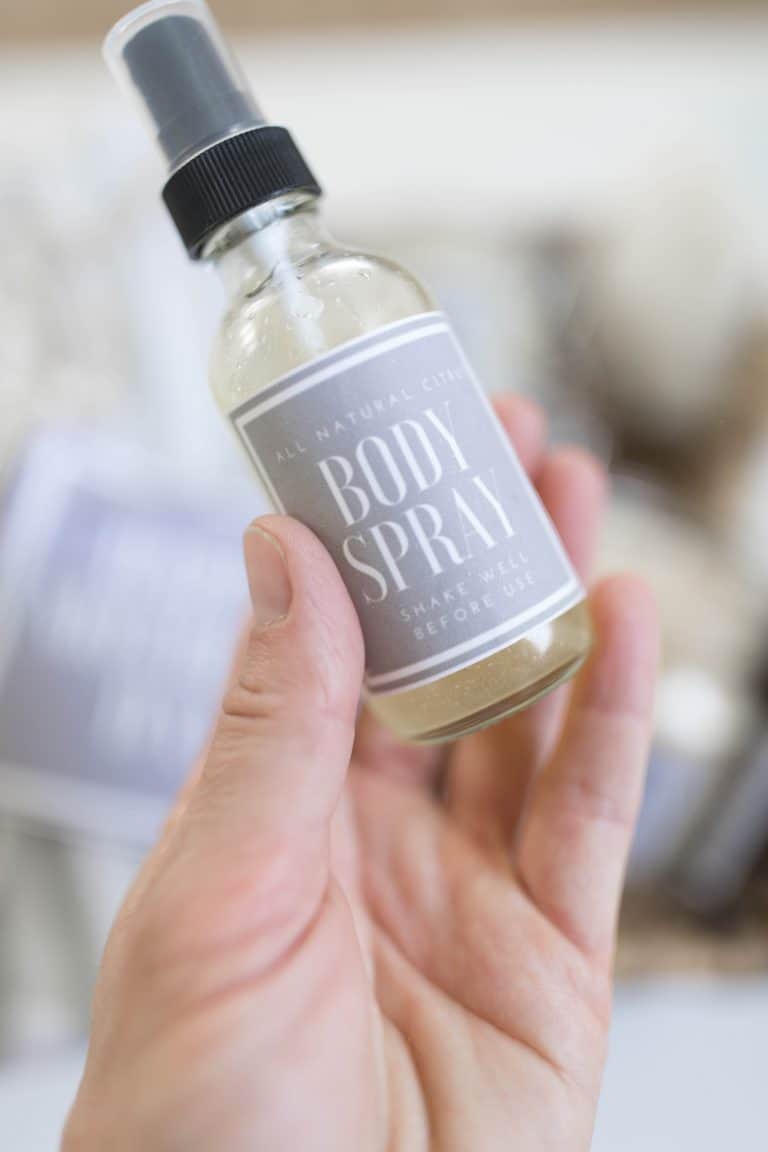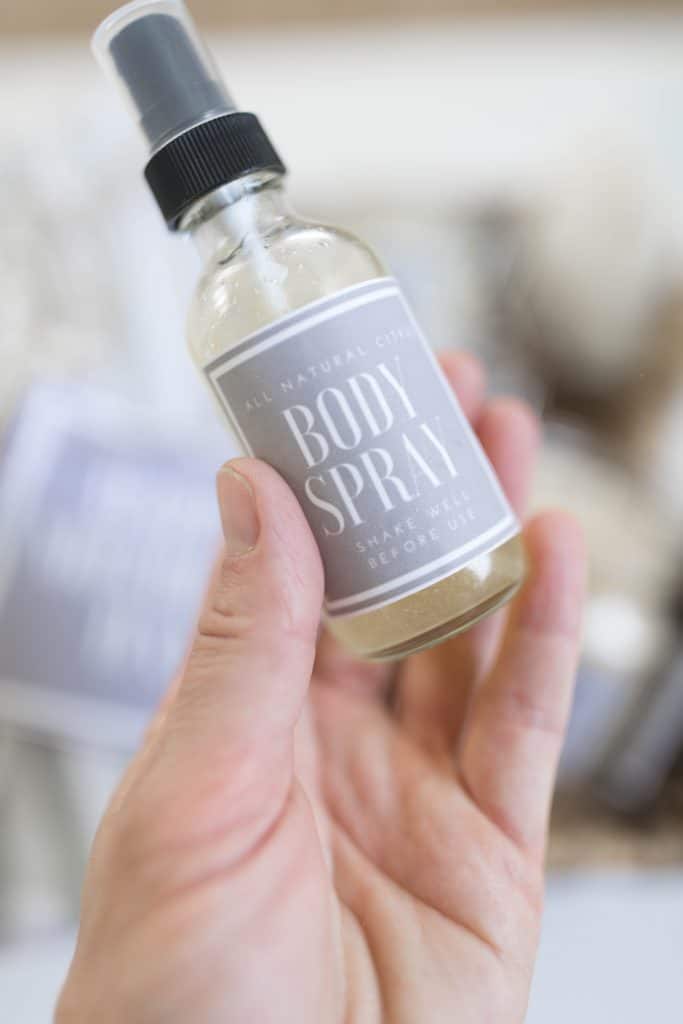 If you are committed to an all natural lifestyle, you may miss spritzing body spray all over yourself to make you smell like Country Apple and Plumeria. (Tell me I'm not the only one that had a caboodle full of Bath and Body Works body sprays back in 1996!)
I decided it would be nice to give Mom the luxury of smelling beautiful, but in an all natural way.
To make the spray, start with 20-30 drops of your favorite essential oil. Top it off with two parts water and one part witch hazel. The oil will rise to the top, so it will need to be shaken before every use.
I love the blend Citrus Bliss for perfume applications. It has a strong citrus scent with hints of vanilla. Delicious!
Lavender Roller Bottle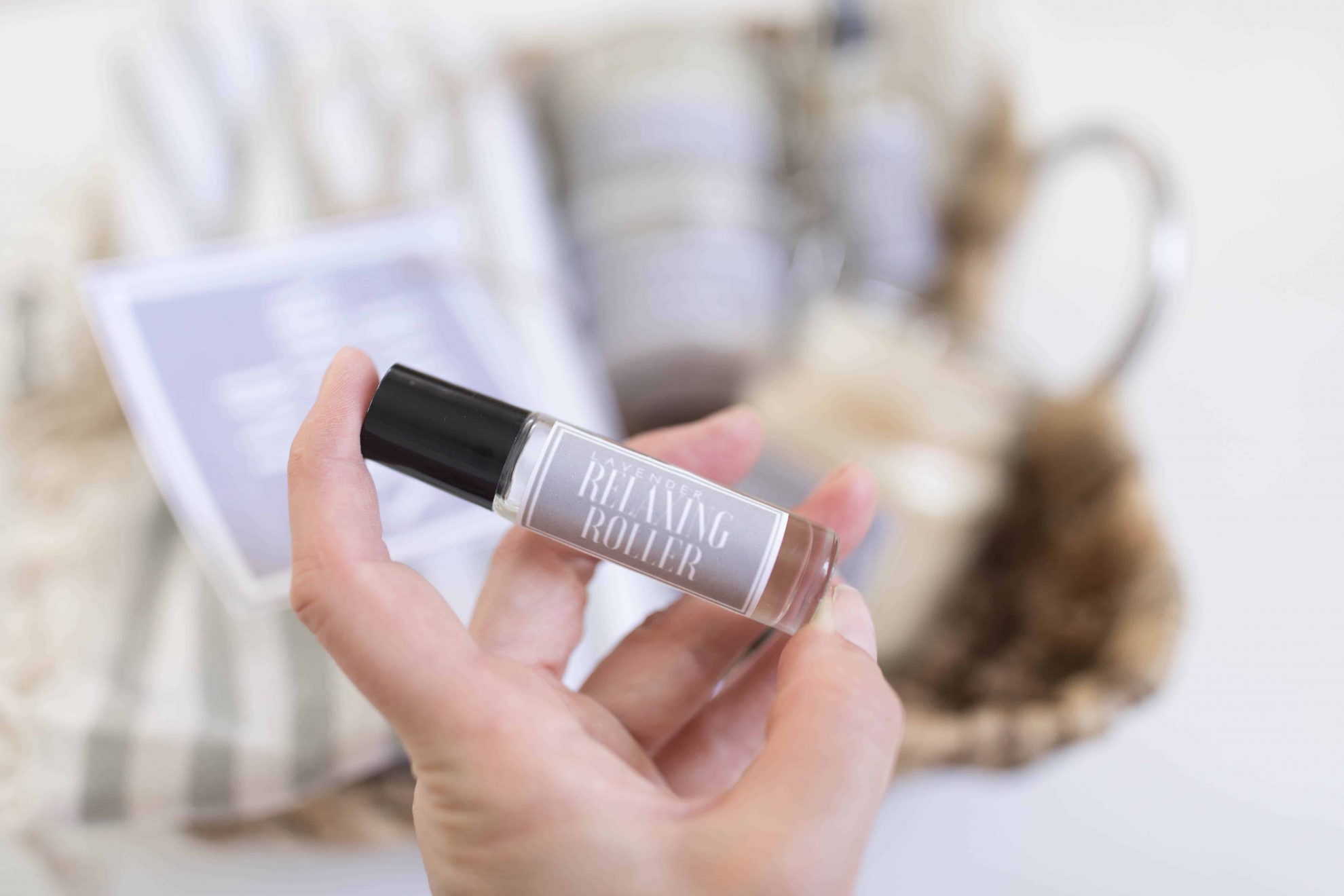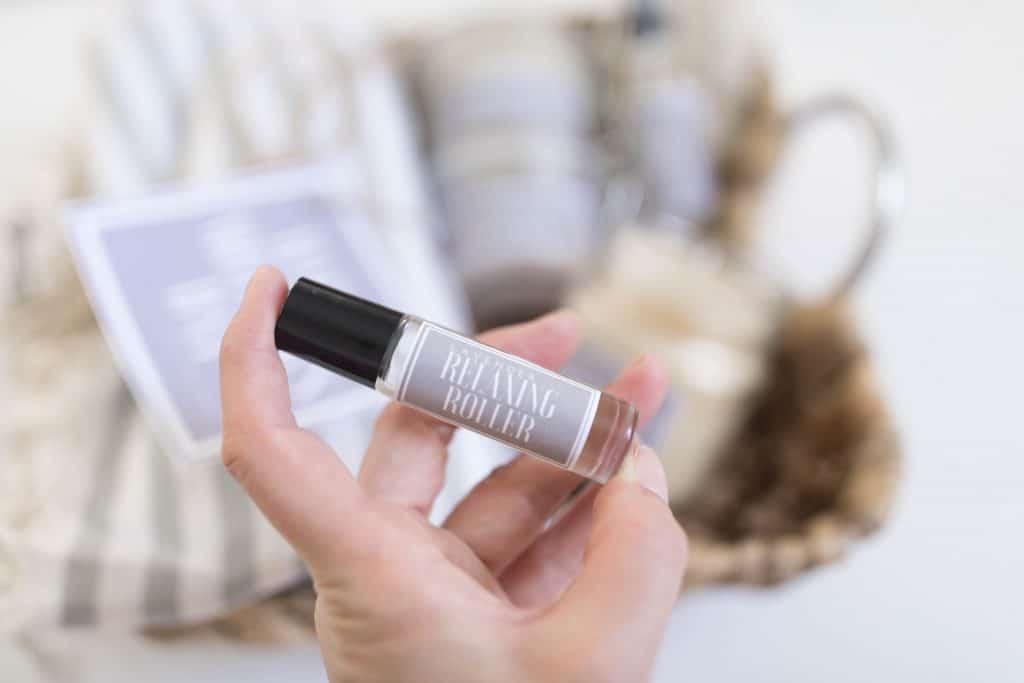 Most mamas, young or old, are busy busy busy! This means at the end of the day, she may need a little help getting relaxed. I added a roller bottle in this gift basket to help her do so.
To make, add 20 drops of Lavender essential oil, or Serenity Blend, to a glass roller bottle. Fill it up the rest of the way with fractionated coconut oil.
Lavender is well known for its relaxation properties. The Serenity Blend takes it a step further by pairing it with stress relieving marjoram and sleep- inducing chamomile.
Either option will surely have a calming effect for Mom.
Beeswax Candles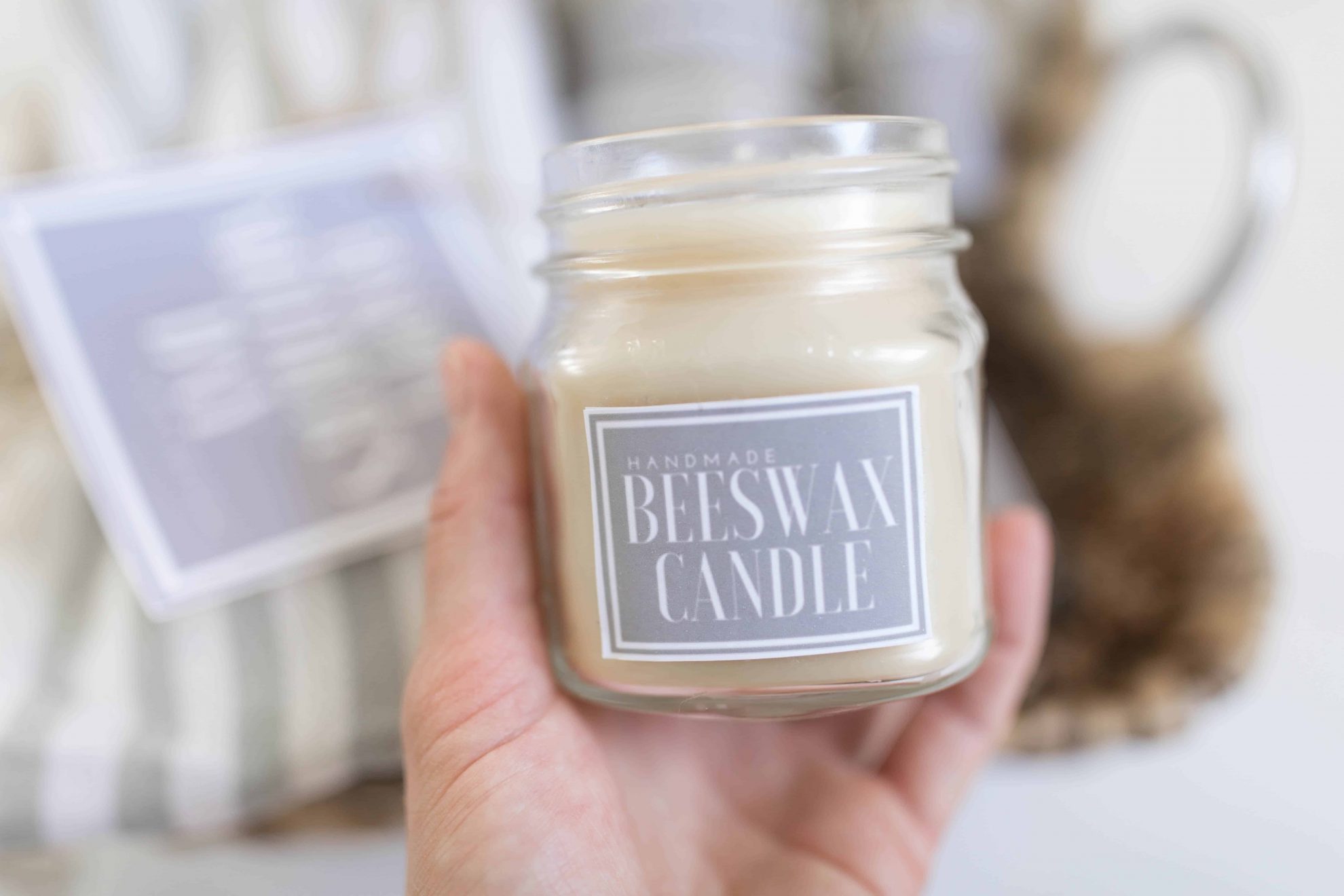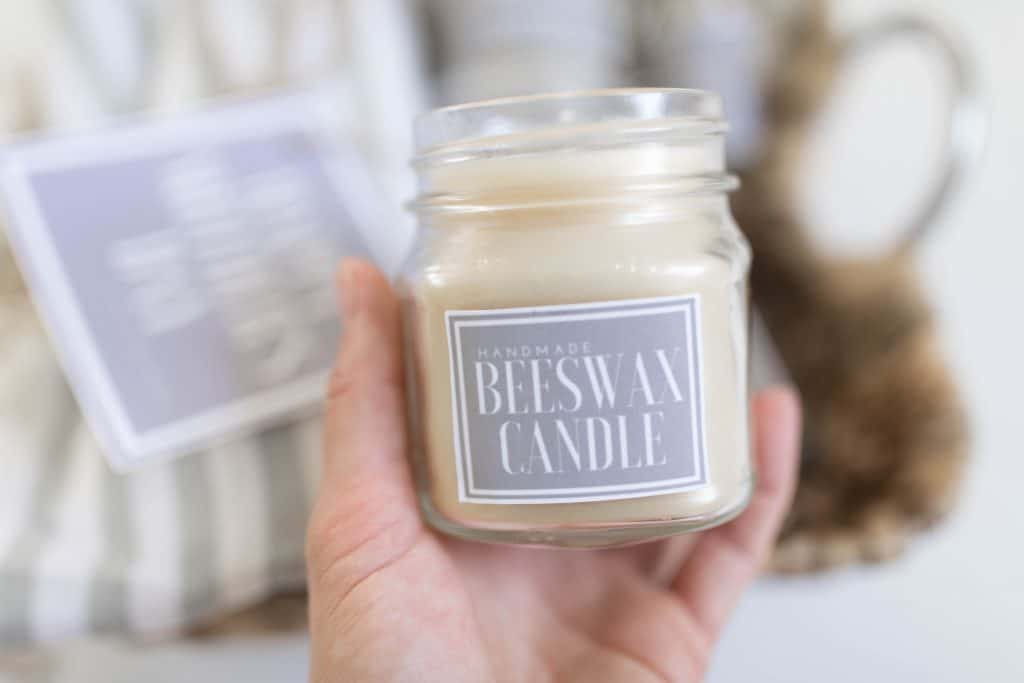 I shared how to make beeswax candles on my blog last year. They are the perfect addition to any handmade gift basket. I mean, who doesn't love candles?
Especially non-toxic beeswax candles!
They are perfect to set near the bathtub for a little R&R.
All Natural Whipped Body Butter
The smell of this simple recipe is amazing all on its own. Add to that the skin healing benefits of the cocoa butter, lavender, and shea butter, and your mom might just get hooked on this stuff. Caution: She may ask you to make more well before the next Mother's Day.
Get the recipe here: DIY All Natural Whipped Body Butter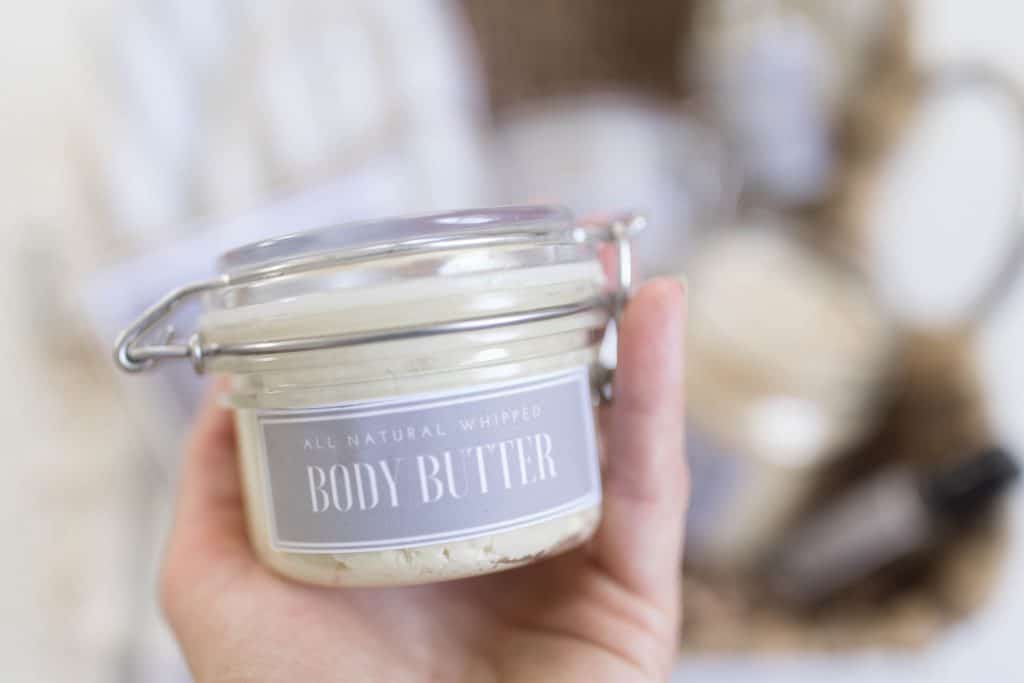 Bath salts
In keeping with the relaxing spa vibe of this handmade gift basket, I added bath salts. Mom can add a couple scoops to a steaming hot bath to soak the day's cares away.
To make, combine two tablespoons epsom salt, two tablespoons sea salt, 1/2 tablespoon baking soda, 7 drops lavender, and 7 drops frankincense.
Organic Cocoa Lip Balm
Last but not least, DIY Organic Cocoa Lip Balm. My mom loves this stuff. I overheard her asking my sister the other day to make her more.
One recipe makes a whole lot of lip balm, so I keep it on hand for gift giving. In this case, I put a couple tubes in a small muslin bag to go in the basket.
Turkish Towel
I added a pretty striped Turkish towel to make this basket look extra pretty.
If you are a super planner, maybe you could double or triple the recipes for this and get ahead on your Christmas list! Just sayin. 😉
The Projects
DIY All Natural Whipped Body Butter
The labels
Download your free printable labels HERE. For waterproof labels, you can print them on this waterproof sticker paper.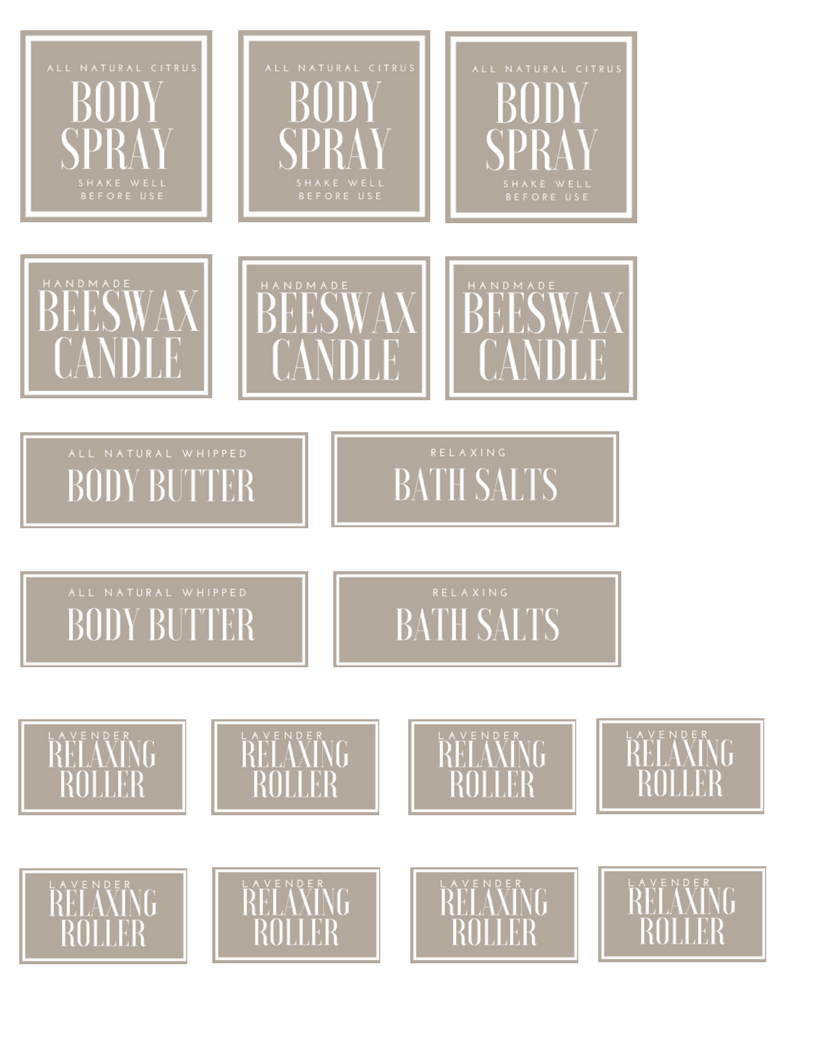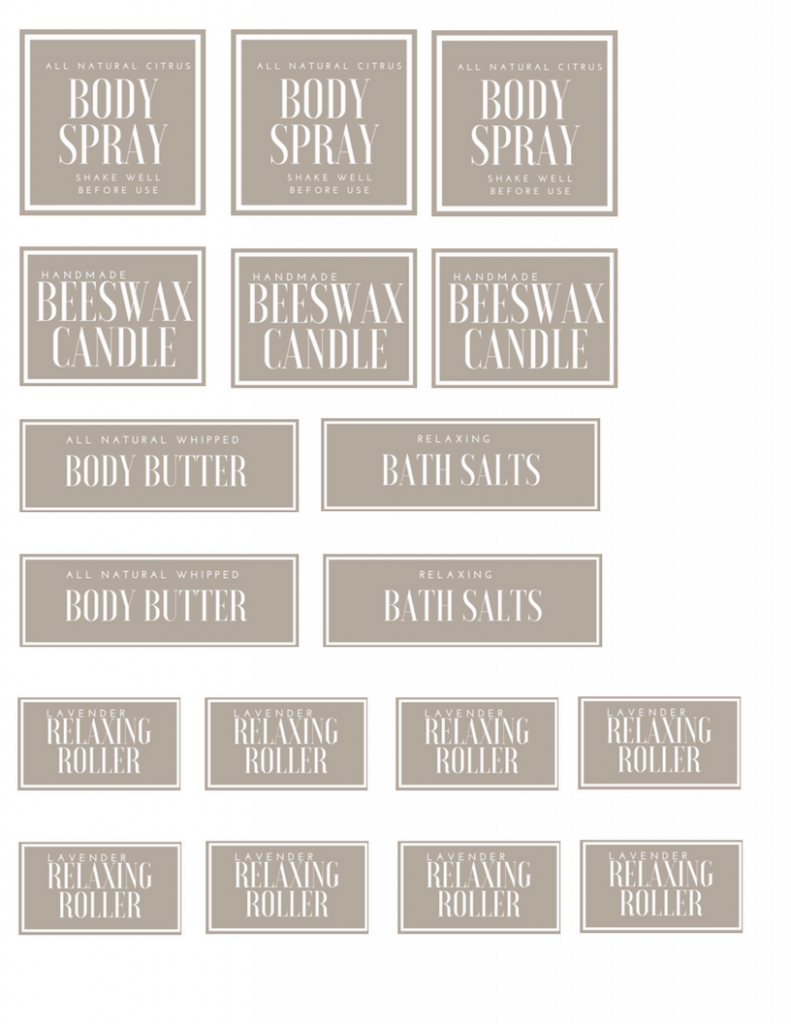 The supplies
I like to buy supplies like this in bulk and keep them stored away in my little home apothecary. I am always ready for a quick gift, and can whip up more body butter anytime my family needs it!
I hope your mother loves her special handmade gift basket!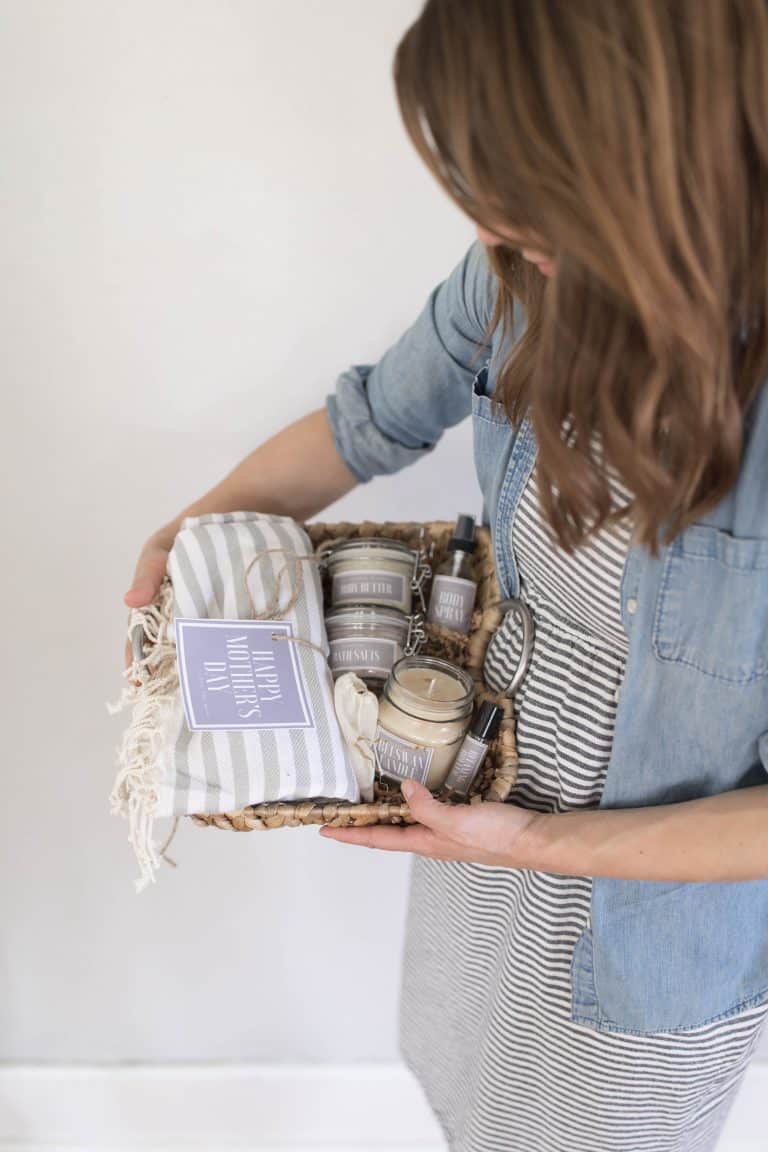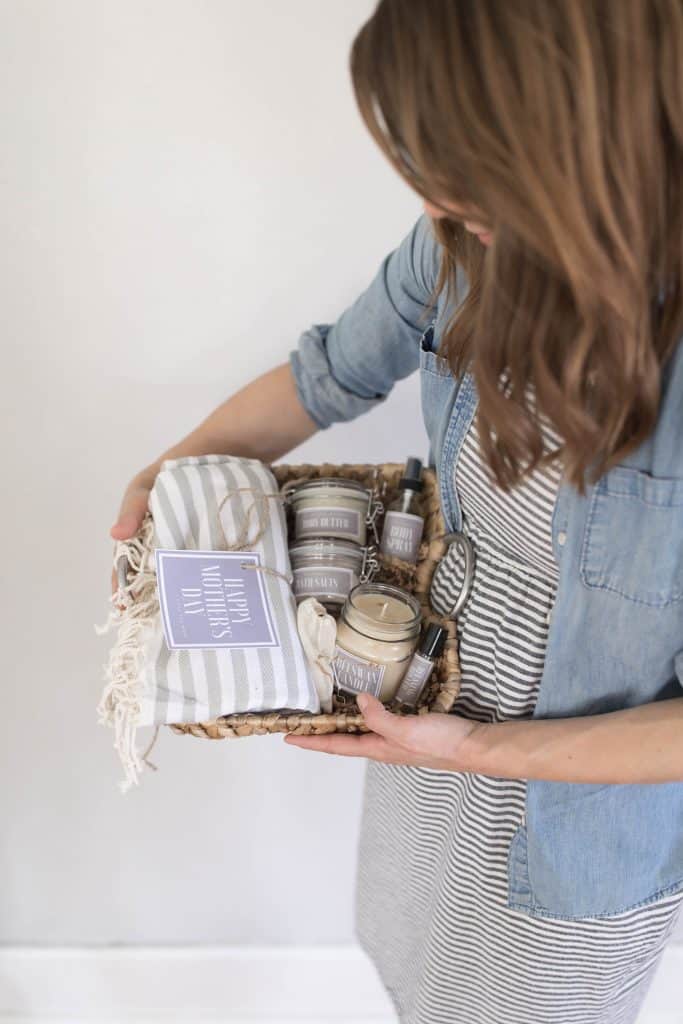 Pin it for later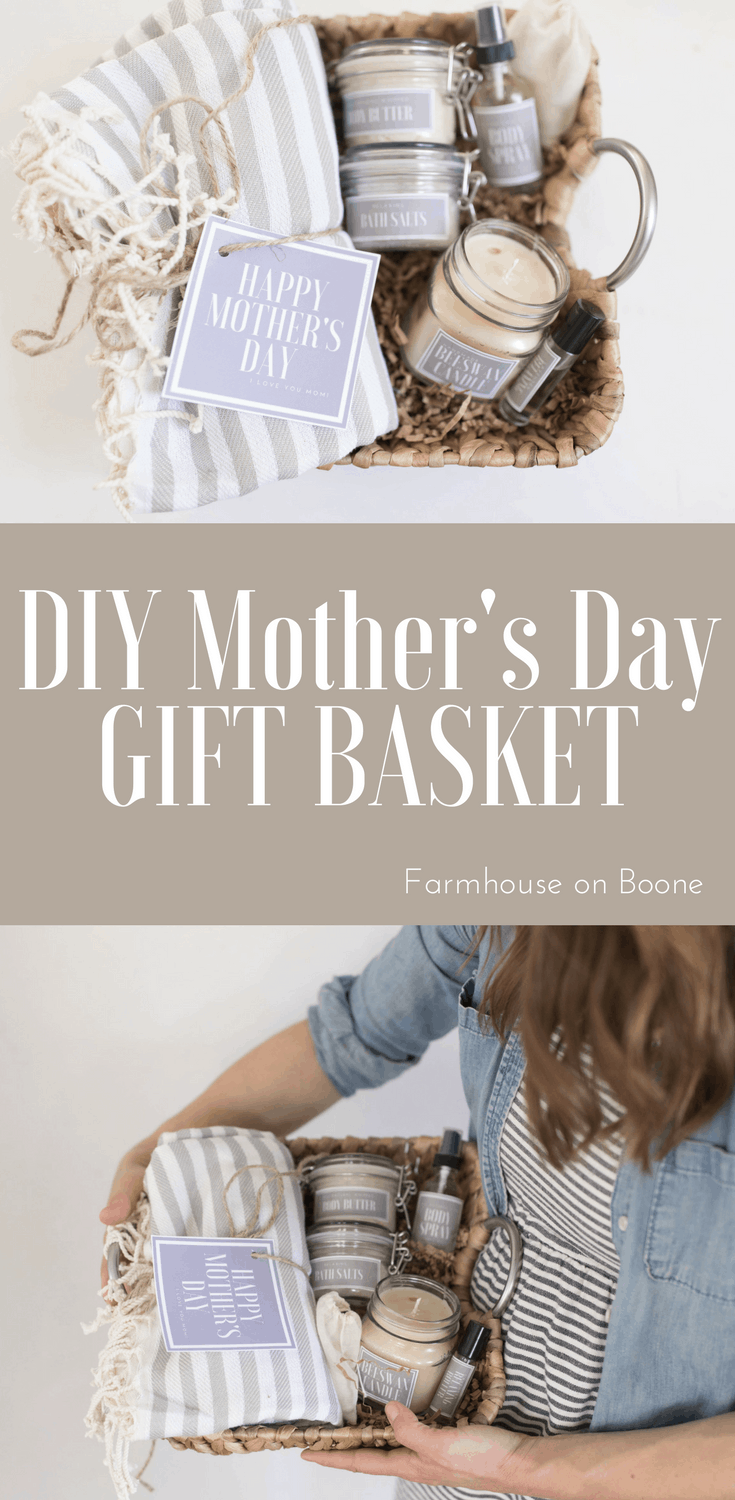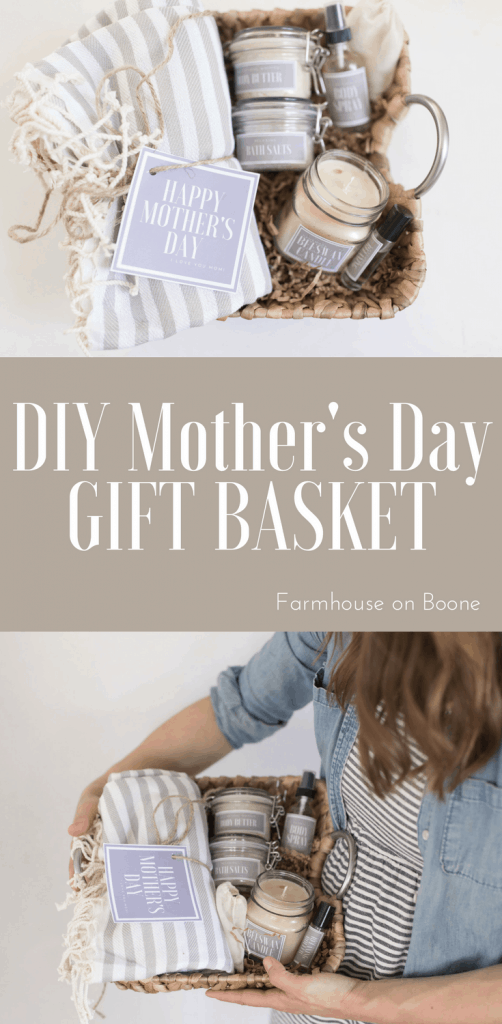 Have you snagged my FREE Natural Body ebook?! Snag it here:
[thrive_lead_lock id='14105′]Hidden Content[/thrive_lead_lock]