Learn how to make our favorite homemade pumpkin spice latte recipe at home. All you need is some strong coffee, cream, real pumpkin puree, spices, honey, and vanilla. Find the traditional method, bulletproof version and I'll share how to make it dairy free.
Pumpkins are probably one of my favorite vegetables because they are just so versatile.
They go from sweet to savory dishes effortlessly. Some of my favorite savory dishes include: Pumpkin Chipotle Spaghetti Squash with Homemade Meatballs, Roasted Pumpkin Soup with Acorn Squash, Pumpkin Sheet Pan Nachos, Stuffed Bell Peppers with Ground Beef.
If you have never cooked a pumpkin, you can find my tutorial here.
There are two things I really love in the fall: pumpkin recipes and coffee, and I love that this recipe gives me the best of both worlds.
Pair this delicious homemade latte recipe with some Sourdough Pumpkin Cobbler, and you will be in fall flavor heaven.
This warm, creamy, and comforting latte tastes like fall in a cup. It is the perfect way to start the morning.
Grab a cozy blanket, curl up on the couch, and sip this yummy homemade pumpkin spice latte before the kids wake up and the chaos of the day starts.
I should maybe start thinking of peppermint recipes here soon, but all through October and November I have pumpkin on my mind.
This recipe is my absolute favorite drink for the season and it is super simple to make.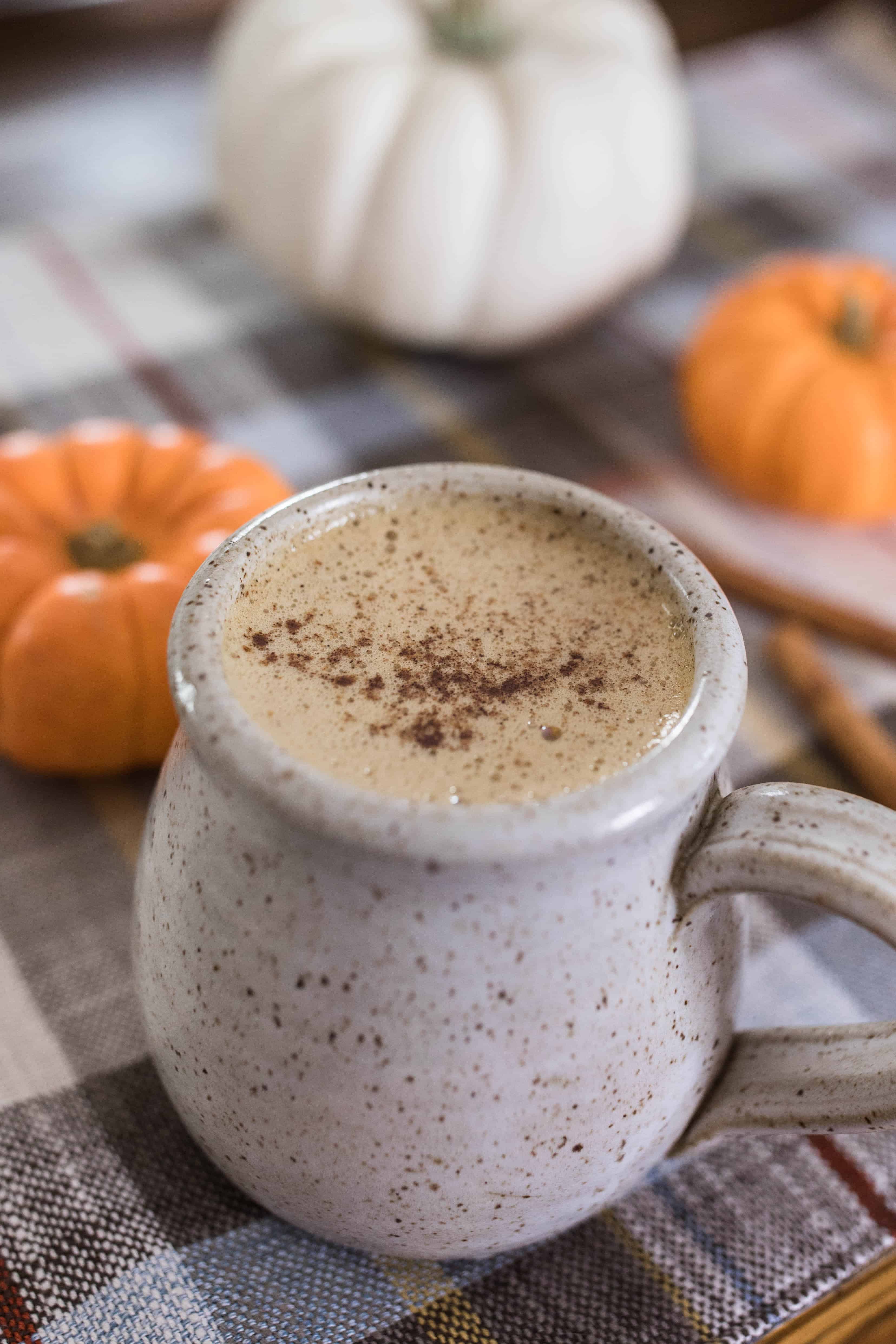 Tips For Making Pumpkin Spice Latte At Home
For this recipe, you can use canned pumpkin or homemade pumpkin puree.
This recipe is very customizable. If you need a dairy free version, check out my suggestions below.
Adding whipped cream, while totally optional, takes this recipe over the top for deliciousness.
Grind your beans fresh for the best tasting coffee.
You can make this decaf by using decaf coffee or find this pumpkin rooibos latte.
This post contains affiliate links, which means I make a small commission at no extra cost to you. See my full disclosure here.
Tools you may need:
French press – this is how we make our favorite coffee every morning.
Pot
Measuring cups and spoons
Whisk
Berkey water filter – we always filter our water through our Berkey for clean and delicious-tasting water. Find out more here.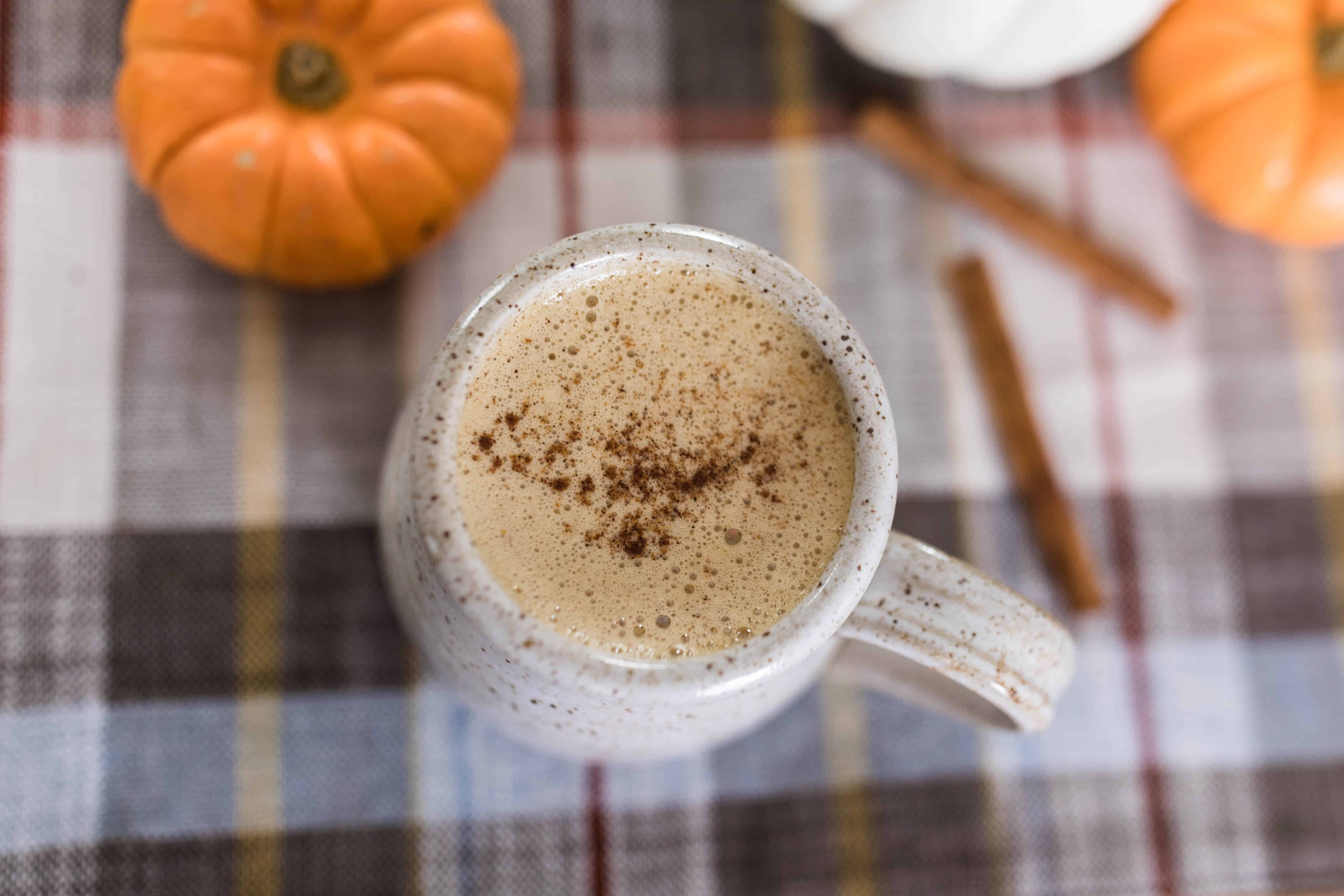 How do I make my pumpkins spice latte sweeter?
Give it a taste, and if you would like it a bit sweeter, you can add a touch more honey or maple syrup. Stir it up and try it again.
What is pumpkin spice made of?
It is usually a combination of ground cloves, cinnamon, ginger, nutmeg, and sometimes allspice. You can make your own or purchase it wherever you buy your spices.
Can you make this recipe dairy free?
Yes! Just replace the cream and milk with almond, coconut, or cashew milk. Be aware that this will make a thinner, not-as-rich latte. To make up some of that richness, you could take out two tablespoons of the milk and substitute coconut cream.
Top with dairy free coconut whipped cream.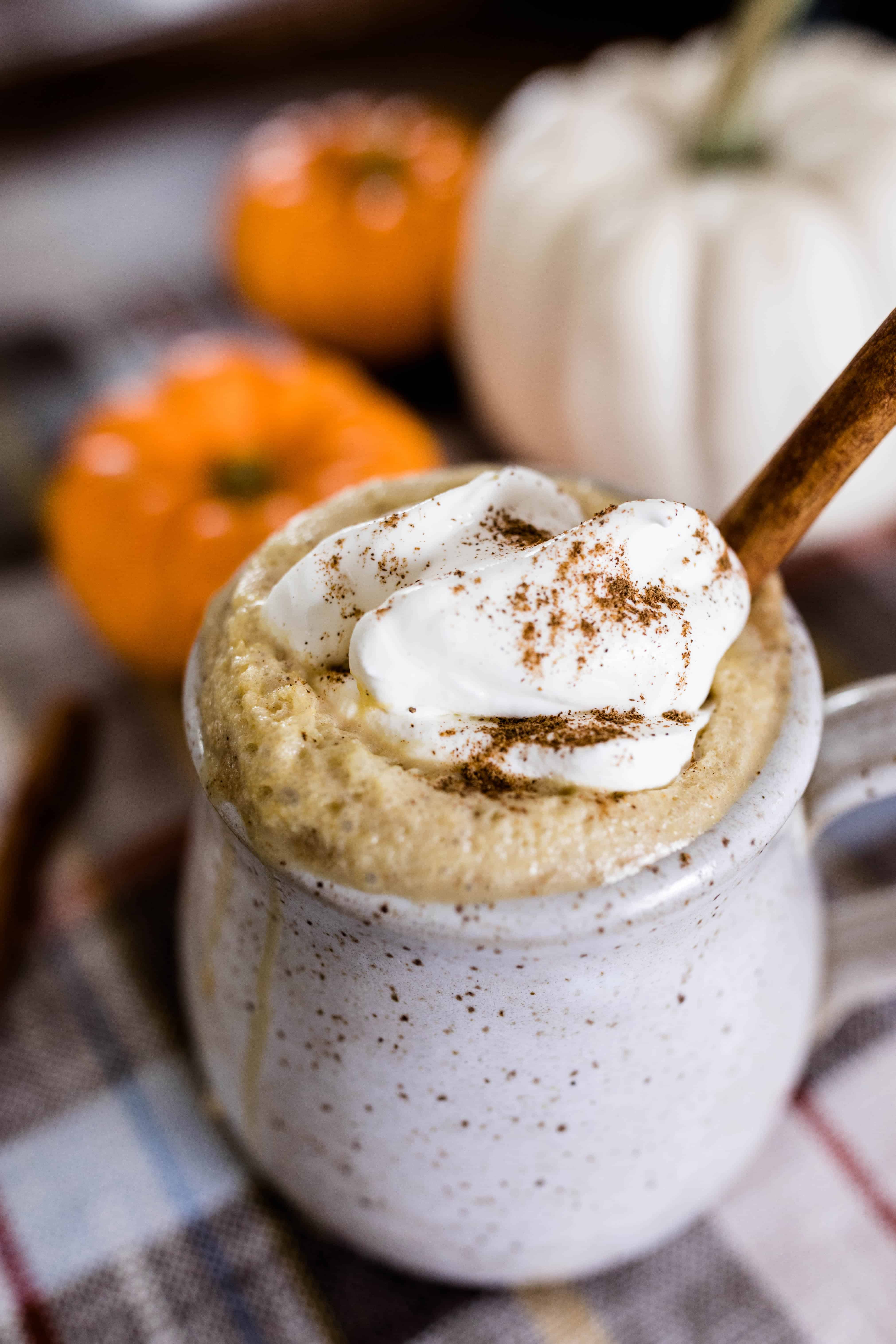 What is in a pumpkin spice latte?
Strong coffee
Cream
Milk – we use whole raw milk.
Pumpkin pie spice – make your own or purchase it as a blend.
Honey or maple syrup
Pumpkin Puree – homemade or canned.
Whipped cream – totally optional, but really delicious
How To Make Pumpkin Spice Latte At Home
Make 1 cup strong coffee. Brew whatever you think is strong coffee. I do this by using half the amount of water you usually use to make coffee. We use a french press and use 2 Tbs of ground coffee per 6 oz of coffee.
In a blender combine 2 cups of strong coffee, cream, milk, pumpkin spice, honey, vanilla, and pumpkin puree.
Blend unto well combined.
Pour into a saucepan on medium low heat and heat until nice and warm.
Pour into mugs. Top with whipped cream and a sprinkle of pumpkin spice.
More delicious and healthy drinks straight from the farmhouse kitchen:
Homemade Pumpkin Spice Latte Recipe -2 Ways
If you try this recipe, let me know by leaving a comment. Love it? Give it a 5 star rating!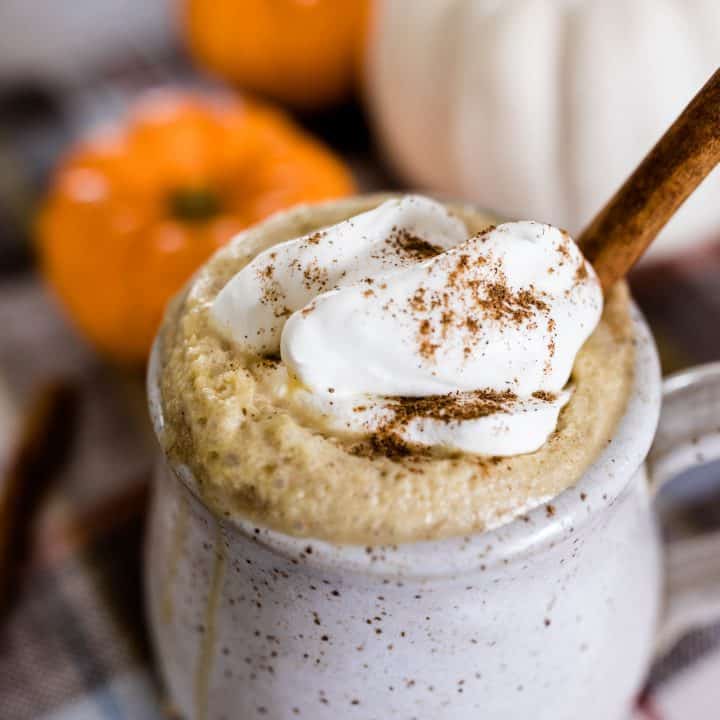 Homemade Pumpkin Spice Latte Recipe
Creamy pumpkin spice latte combines all the best things about fall into a delicious warm drink.
Ingredients
1/2 cup cream
1/2 cup milk
3 TBSP pumpkin puree
2 tsp vanilla extract
½ tsp pumpkin pie spice
1 cup strong coffee or espresso
2 tbs honey or maple syrup
whipped cream or coconut cream and coconut milk for dairy free option
Instructions
Brew 1 cup strong coffee.

In a blender, add all of the ingredients and blend until well combined.

Pour into a saucepan on medium low heat and heat until nice and warm.

Pour into mugs, top with whipped cream, and a sprinkle of pumpkin spice.
Nutrition Information:
Yield:

2
Serving Size:

1
Amount Per Serving:
Calories:

612
Total Fat:

49g
Saturated Fat:

38g
Trans Fat:

1g
Unsaturated Fat:

8g
Cholesterol:

74mg
Sodium:

75mg
Carbohydrates:

40g
Fiber:

1g
Sugar:

32g
Protein:

7g
Bulletproof Pumpkin Spice Latte Recipe
While working on this recipe I ended up making a bulletproof version and it was so delicious I had to share.
Bulletproof Pumpkin Spice Latte
Bulletproof pumpkin spice latte takes the traditional fall latte flavors and includes the extra healthy fat boost to help you stay energized all day long.
Ingredients
2 cups brewed coffee
2 tablespoon butter (salted or add dash of salt)
2 tablespoons coconut oil
2 tablespoons maple syrup
2 tablespoon pumpkin puree
1 teaspoon vanilla
1/2 teaspoon pumpkin pie spice
Instructions
Place ingredients into a blender and blend for 30 seconds.
Pour into a mug and enjoy.
Nutrition Information:
Yield:

2
Serving Size:

1
Amount Per Serving:
Calories:

290
Total Fat:

25g
Saturated Fat:

19g
Trans Fat:

0g
Unsaturated Fat:

5g
Cholesterol:

31mg
Sodium:

100mg
Carbohydrates:

15g
Fiber:

1g
Sugar:

13g
Protein:

1g
Pin It For Later