This simple macrame plant hanger DIY is perfect for spring. It is an easy and inexpensive project costing less than $2. Whip up several DIY plant holders to put near every window in your home.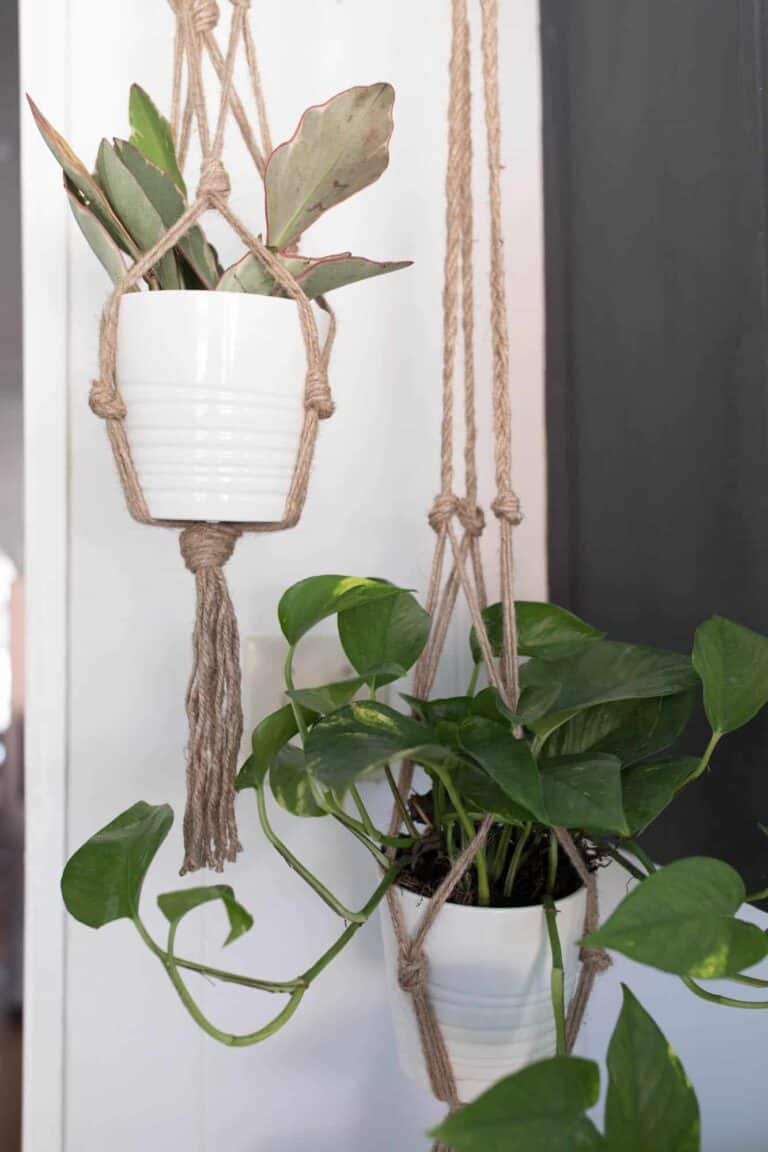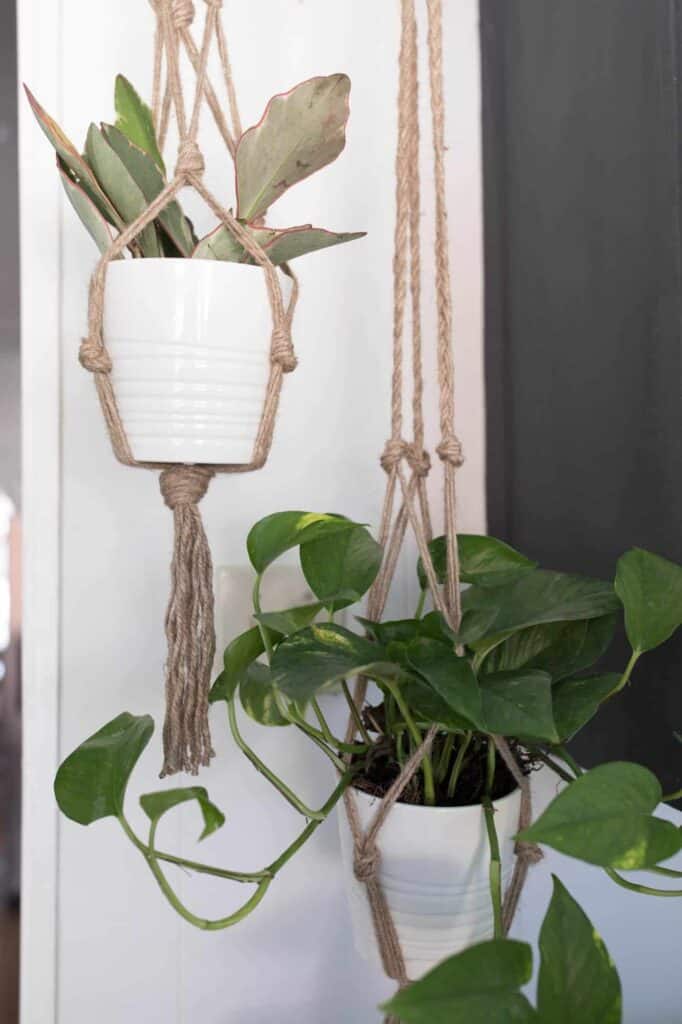 I love making these simple jute DIY macrame plant hangers. I made a video on the "how-to" right at a year ago, but the video quality was a little less than desirable.
Since I was making up a few more for my laundry room redo and organization post I have been promising, I thought it would be a perfect time to revisit the subject.
We have been working really hard to finish up our laundry room makeover by painting the cabinets, creating organization, and sewing basket liners.
In any room, I love to add natural textures and greenery to liven up the area and give it a cozy feel. There is something about adding live plants to rooms that brightens and refreshes the space.
These macrame DIY plant hangers do just that.
Once you get the hang of it, you will be whipping out these babies left and right. They make excellent gifts!
The wonderful thing about these macrame hangers, besides that they take almost no time and money, is that you can adjust the length to accommodate any size plant.
This post contains affiliate links, which means I make a small commission at no extra cost to you. See my full disclosure here.
Tips:
I love to use jute for this project because it is inexpensive and easy to find. Macrame cord or even clothesline also works.
When measuring how long to make the string, always go slightly longer than you expect to need. This gives you a little more wiggle room. It's easy to make it shorter, but you can't make it any longer.
For this project, you will want to use smaller pots that are lighter weight. Don't use anything too large or heavy.
Make sure to use steady hooks and use the appropriate tools when hanging this project. The last thing you want is for a pot to fall out or a hook to fail.
DIY Macrame Plant Hanger FAQ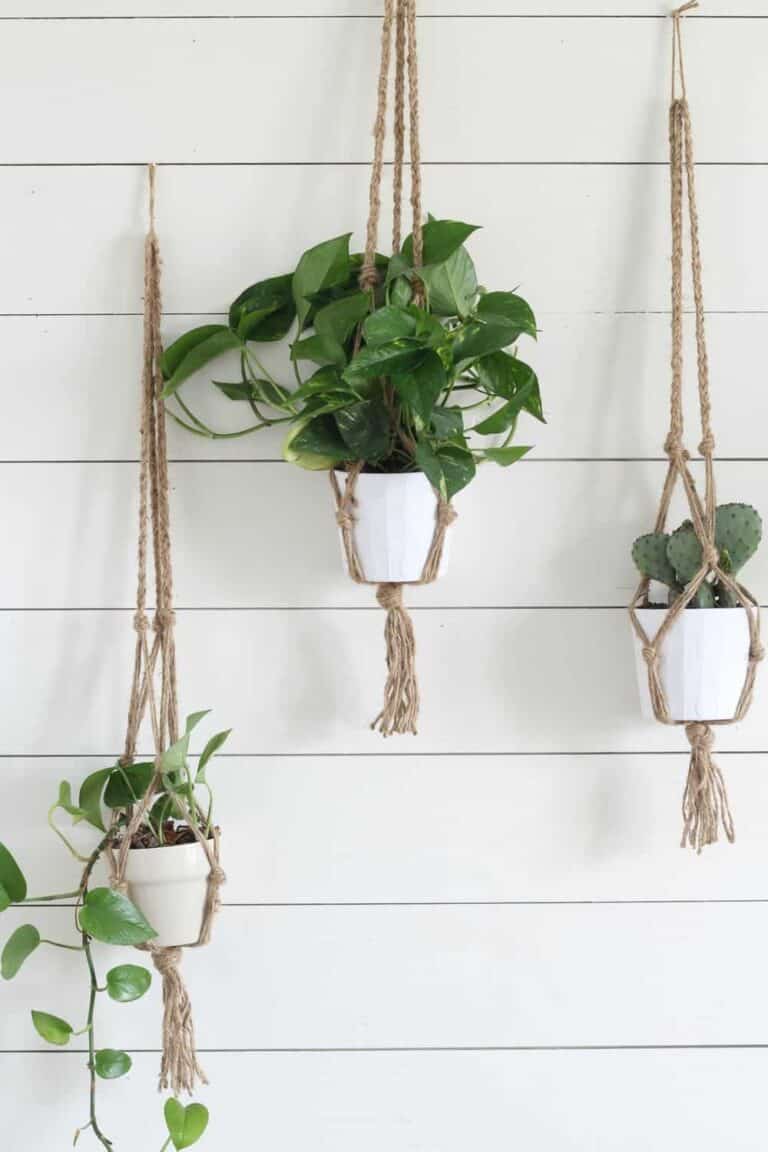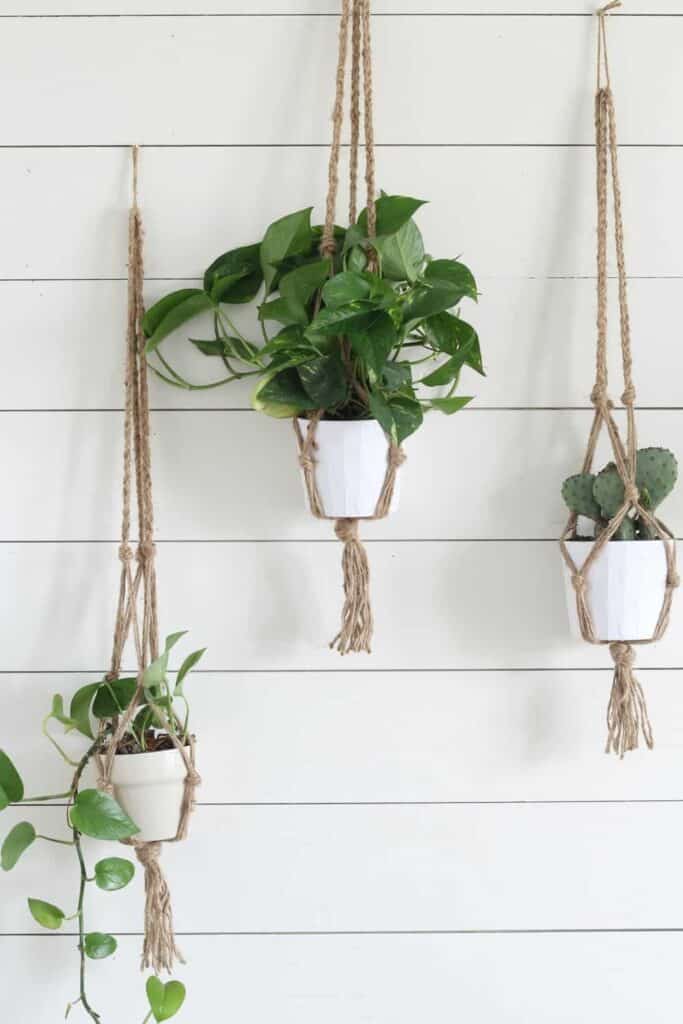 What is the best cord for macrame?
You have several different choices for this plant hanger; I chose jute because it is easy to work with and I love the color and texture. You could also use thin macrame cord from a craft store or even nylon clothesline.
Is macrame easy?
Yes, it can be. Macrame can be as easy or as complicated as you make it. If you are new to macrame, start with easy projects like this one, or this wall hanging.
Once you get the hang of it, than you can try more complicated ones with more difficult knots and different textures.
How long does it take to make a macrame plant holder?
This is a really simple macrame project that will take you about 15 minutes from start to finish to make.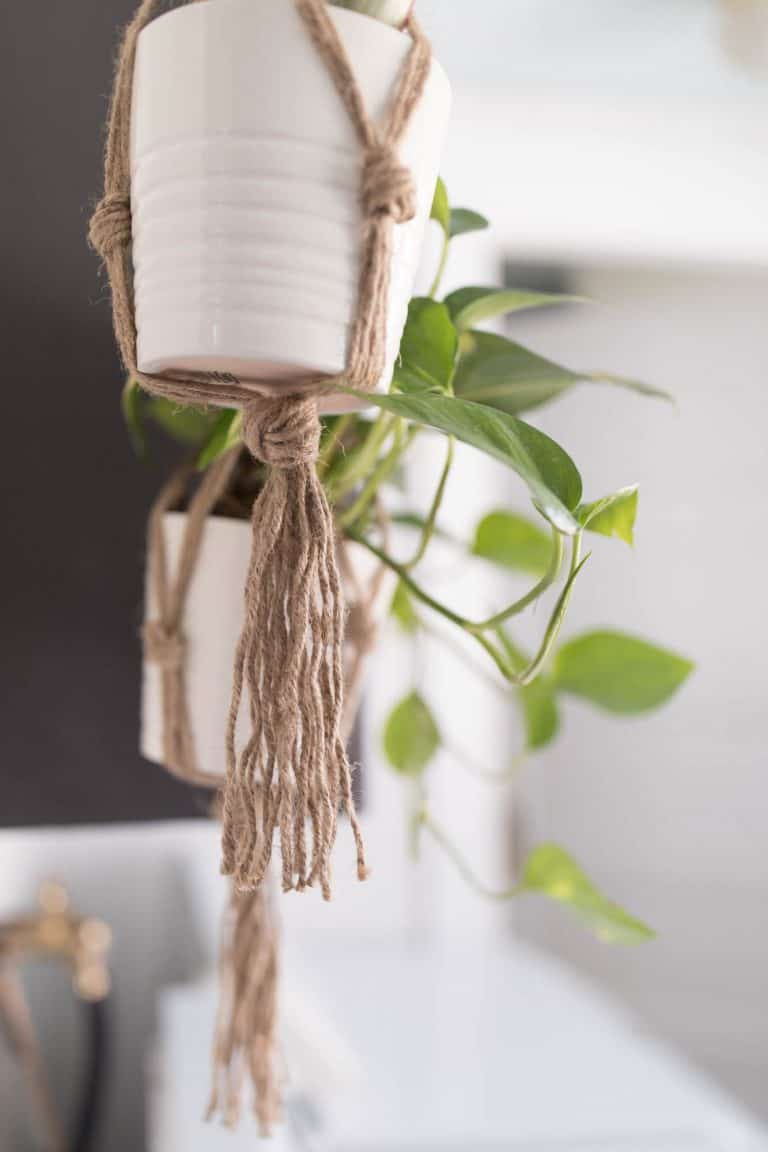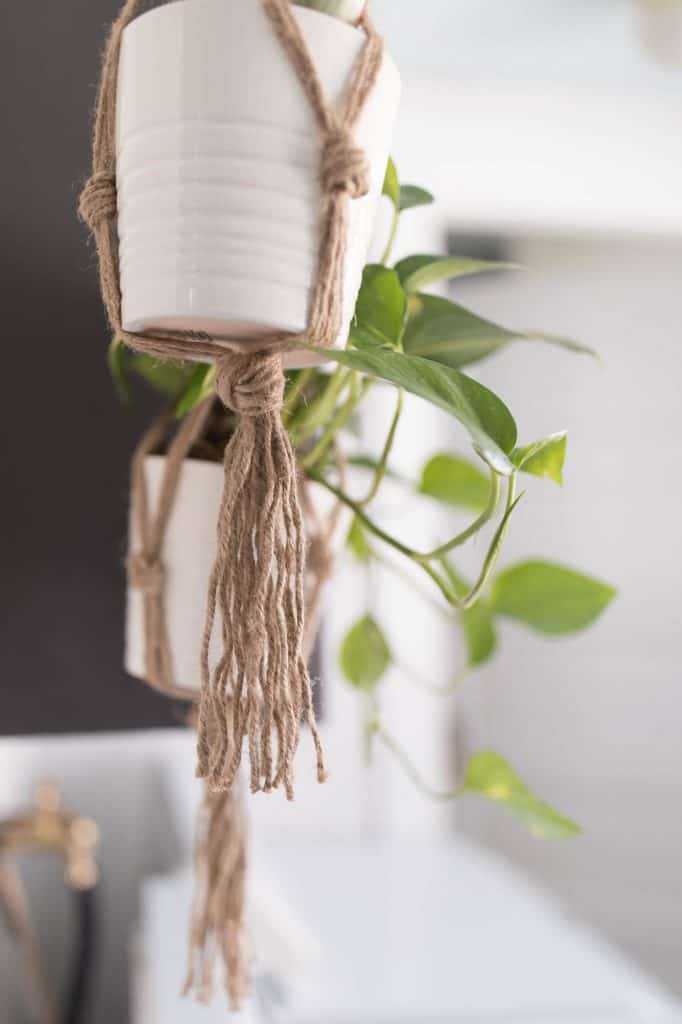 How do you start macrame for beginners?
Luckily, I created a post on how to get started doing macrame for beginners. Macrame can seem really daunting, but I promise there are so many easy projects that anyone can do, just like this DIY plant hanger.
What is the purpose of macrame?
Macrame is a form of fiber art that can be used to create beautiful and useful items, made from a variety of materials.
How much cord do I need for a macrame plant hanger?
This will highly depend on how tall your ceilings are and how high or low you plan on hanging the pot. I always suggest making it longer than you need or expect because the knots will cause it to shorten.
Also, once it is done you can always make it shorter, but not longer.
How much weight can a macrame plant hanger hold?
Every plant hanger is different and how much weight it can hold will depend on the hook used and the type of material used. Make sure to choose a hook that can hold 10 pounds.
Also, it is a good idea to choose lighter weight pots and test out hanging the plant.
Supplies You Will Need To Make This Project:
Scissors
Something to hang your plant hanger on. I used a nail to create the project and then hung them from the ceiling using hooks.
Plants in small pots. I used small pots from IKEA, but most other small pots would work.
Find more easy DIY projects:
How To Make A DIY Macrame Plant Hanger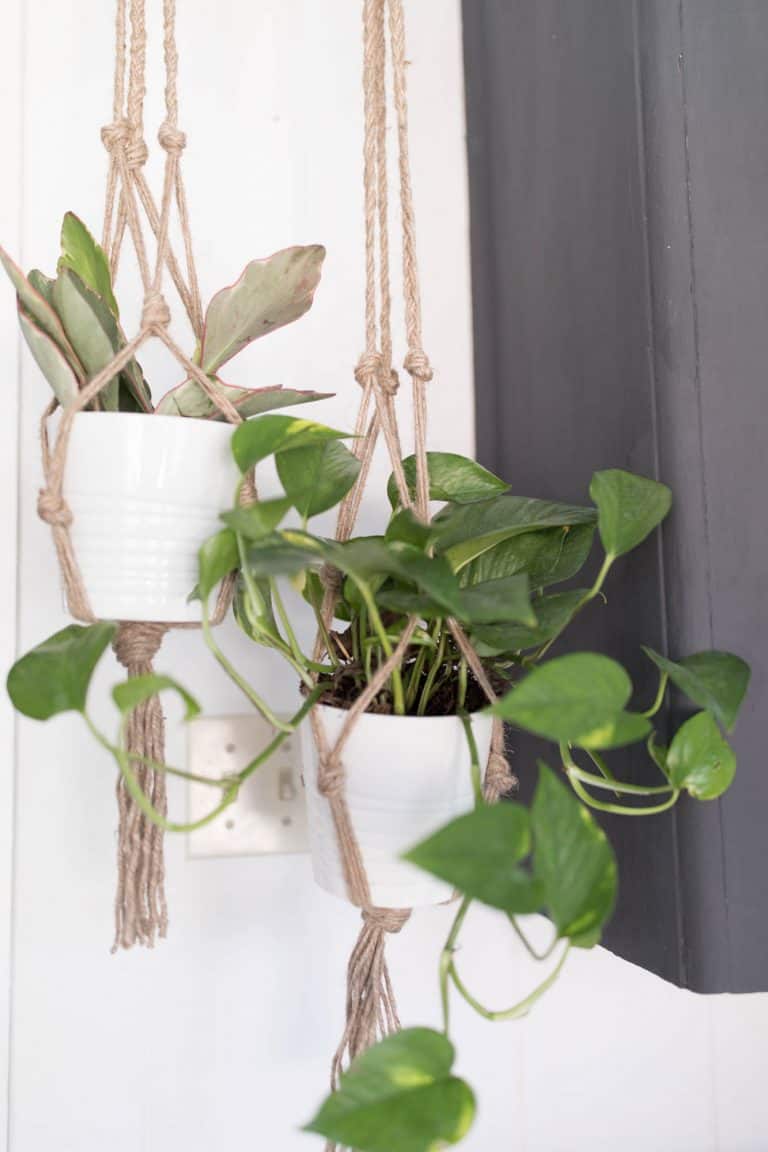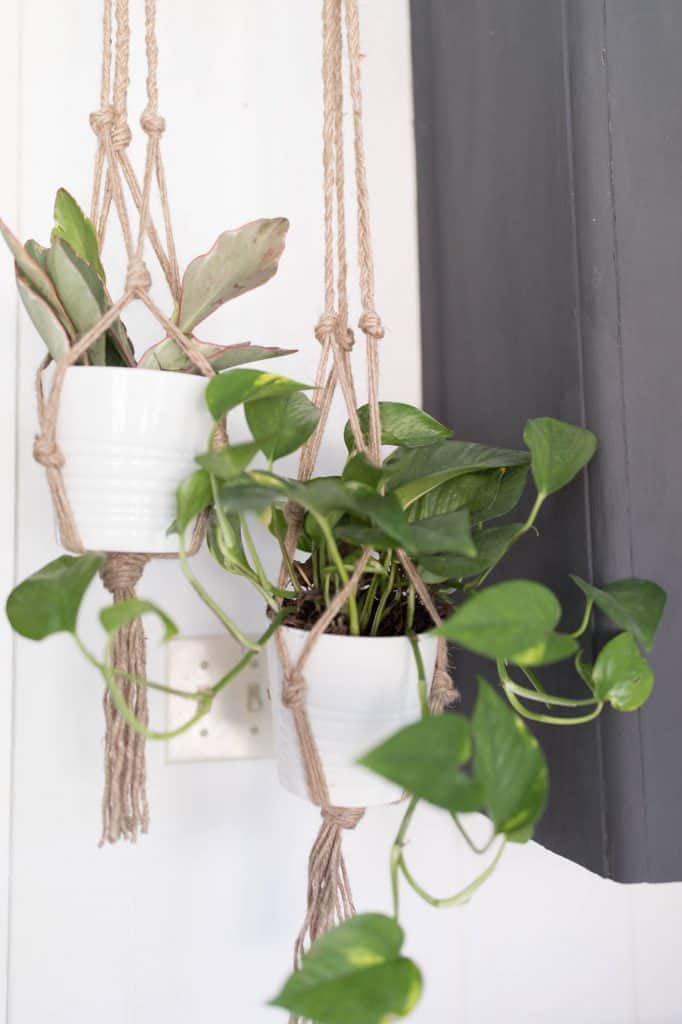 Step 1: Cut the Cord
Start by cutting out nine pieces of jute twine to your desired length. If you don't need the hanger to be extra long, and to accommodate an average size plant, start with 100″ pieces.
Fold the strings in half, and tie a small string in the middle. When you hold the strings by that small string, you should end up with 18 pieces that are half the length you originally started with.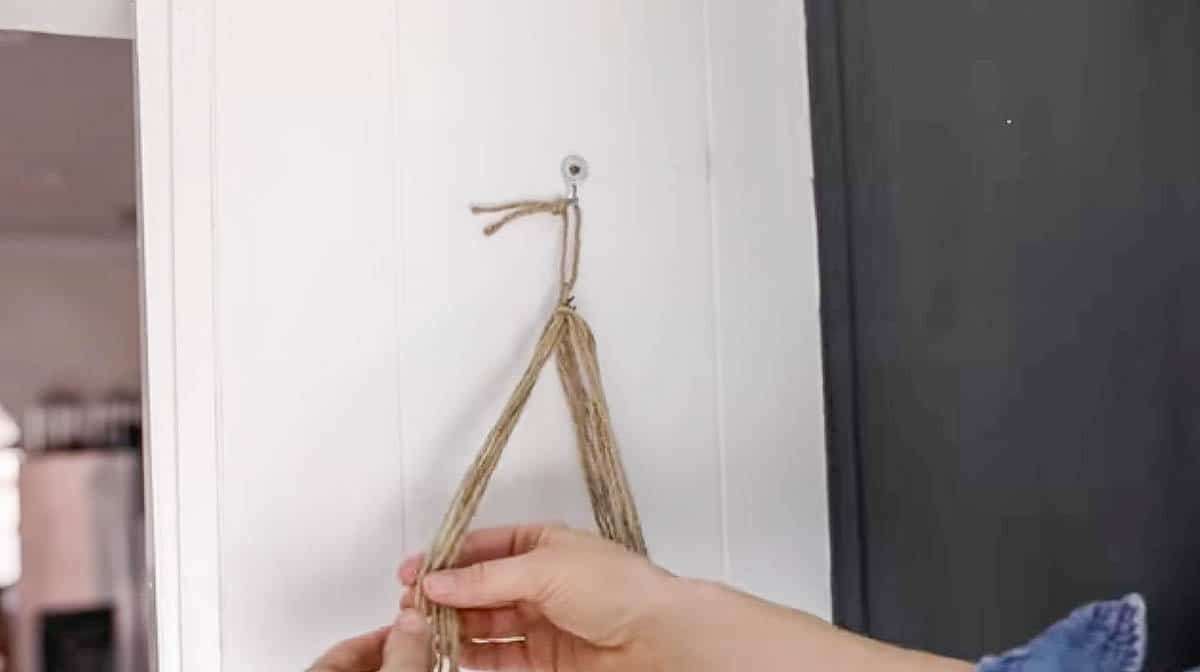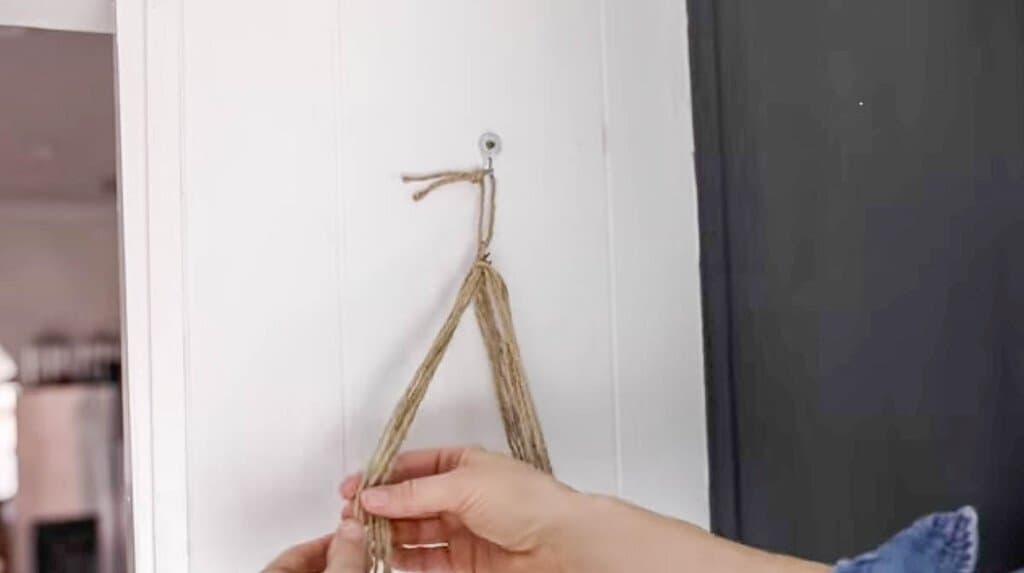 Hang the project from a nail in the wall, so you can work with it more easily. (You could do this by taking a picture down, and work with the nail that was hanging it.)
You can also work this project on a table. It is just a little easier when it is hanging.
Step 2: Create Macrame Knots And Braids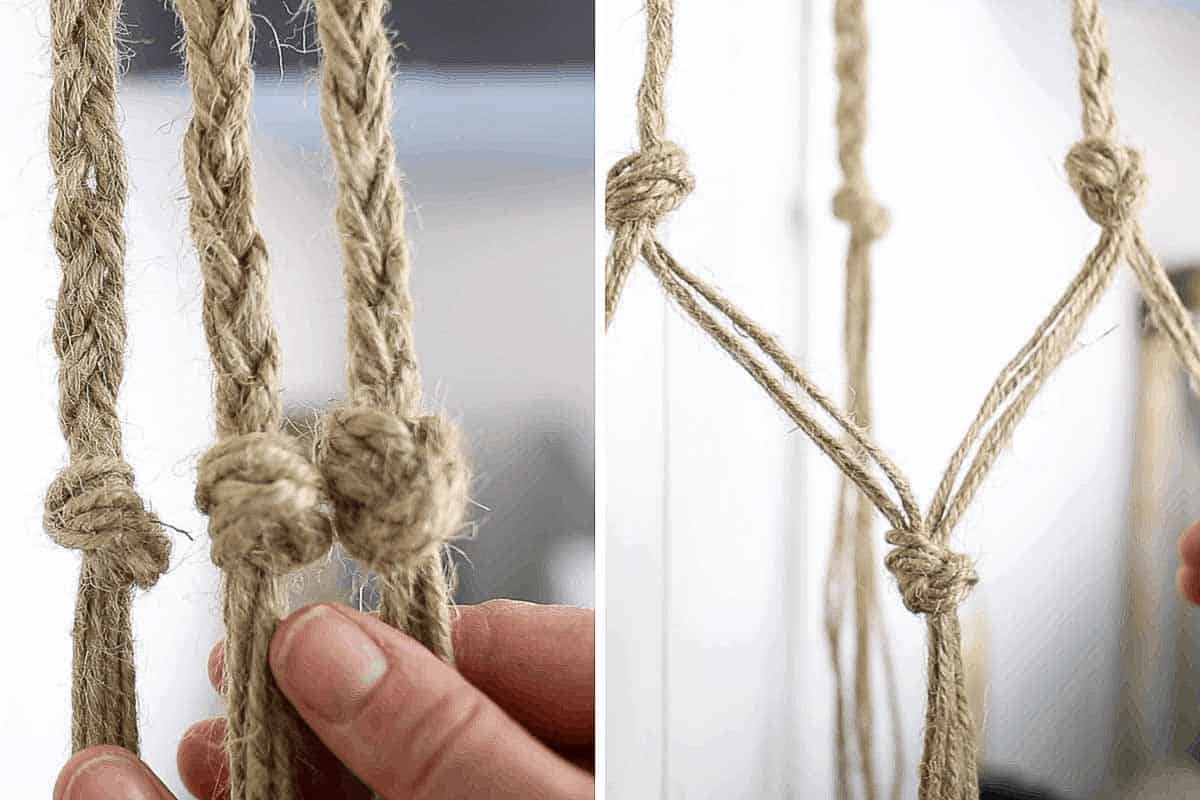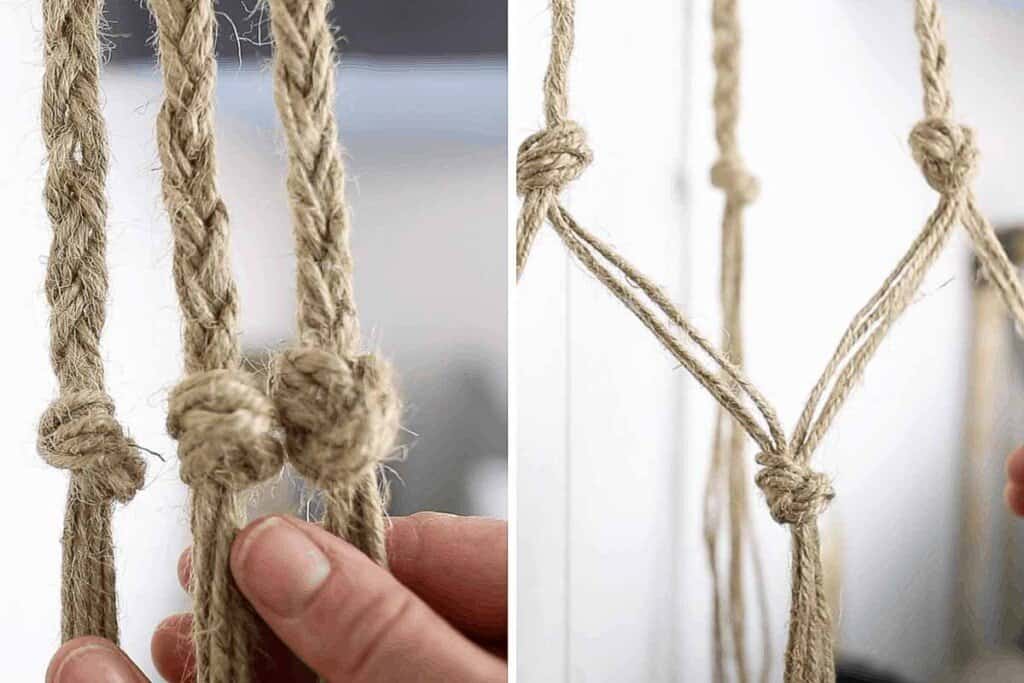 Divide the 18 strings into three sections with six strings each.
Braid each section until you reach the desired length. For an extra long plant hanger this will be approximately 24″. For just an average length, braid about 14″.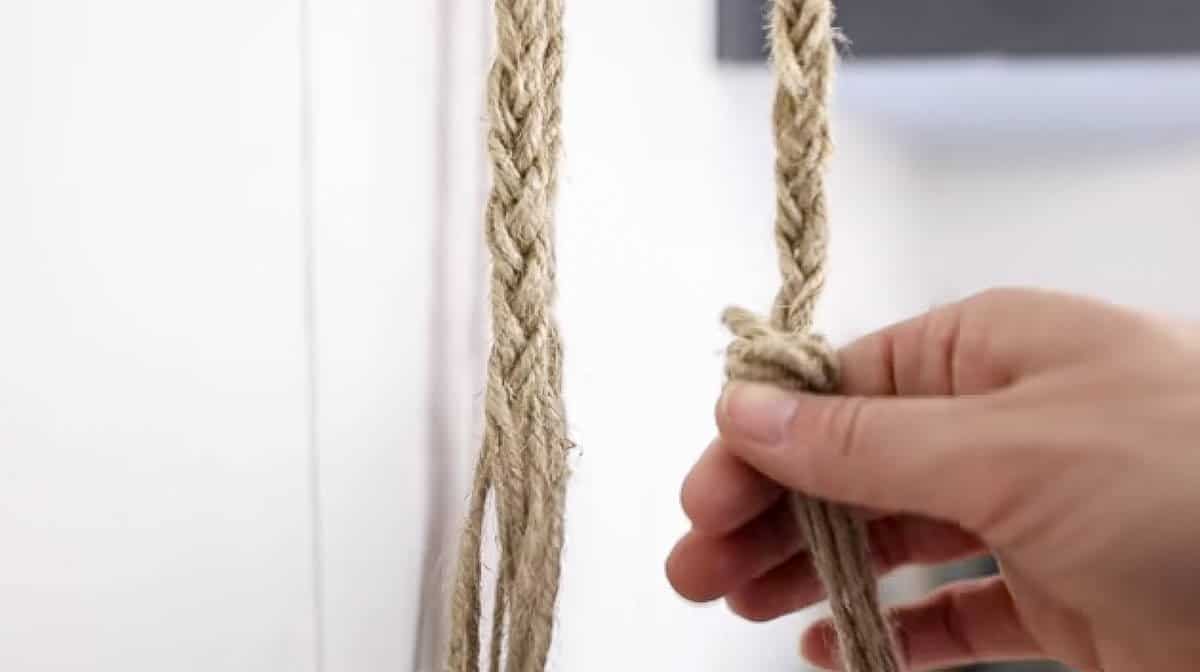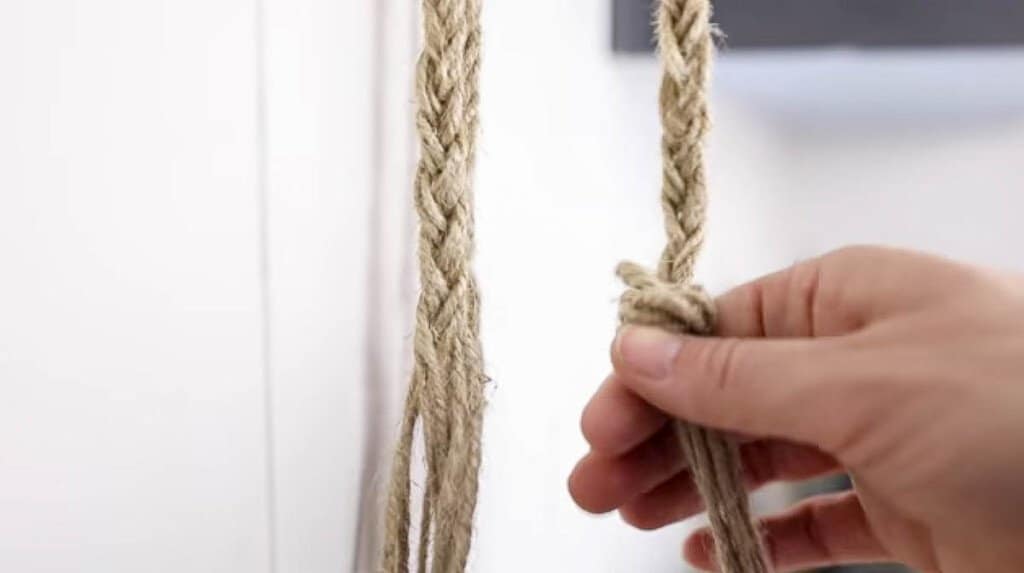 Tie a macrame knot at the end of each braid. The knots used in this project are very simple ones. Just take the strings, loop them in a circle, place the ends of the strings through the hole, and fasten in the area desired.
Next, go down from the braid knot about 6″(or less if you are making a tiny one). Divide the bottom of the braid in half, so that you have three pieces on each side.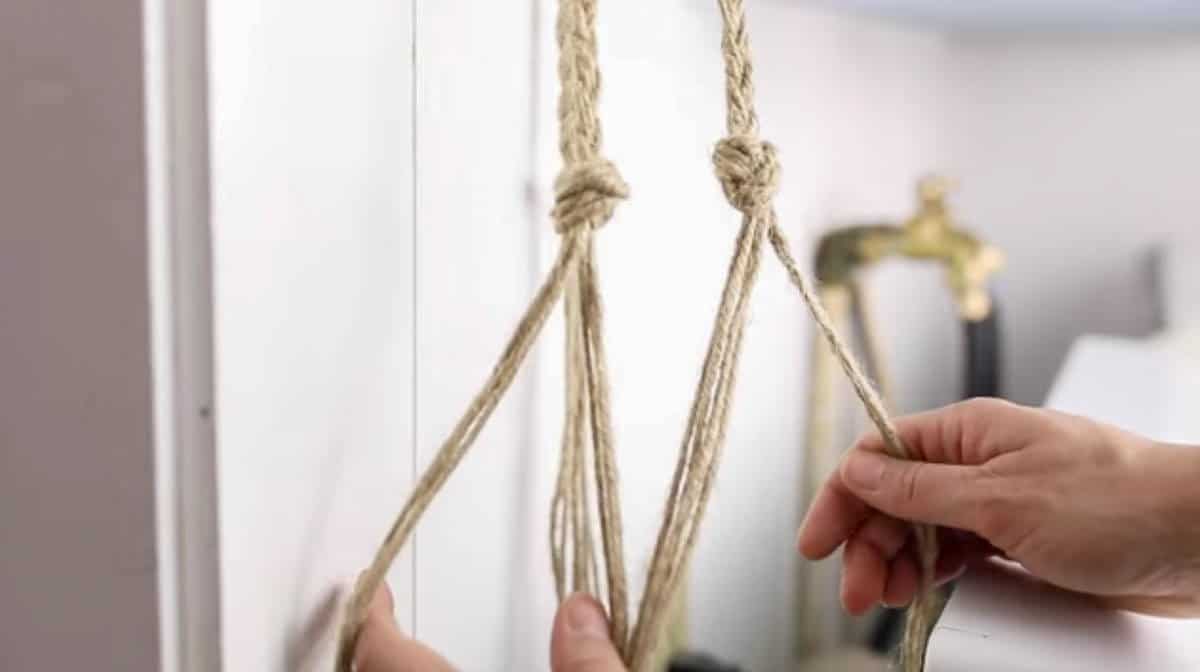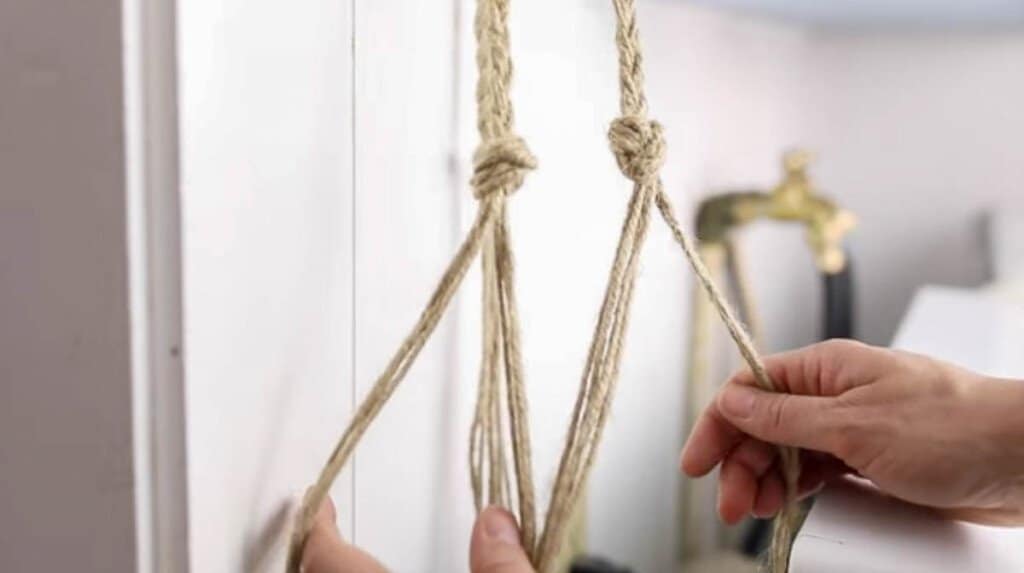 Join one braid to the next one over by tying three from each braid (six total) with a knot. Repeat in a circular fashion until all three braids are connected.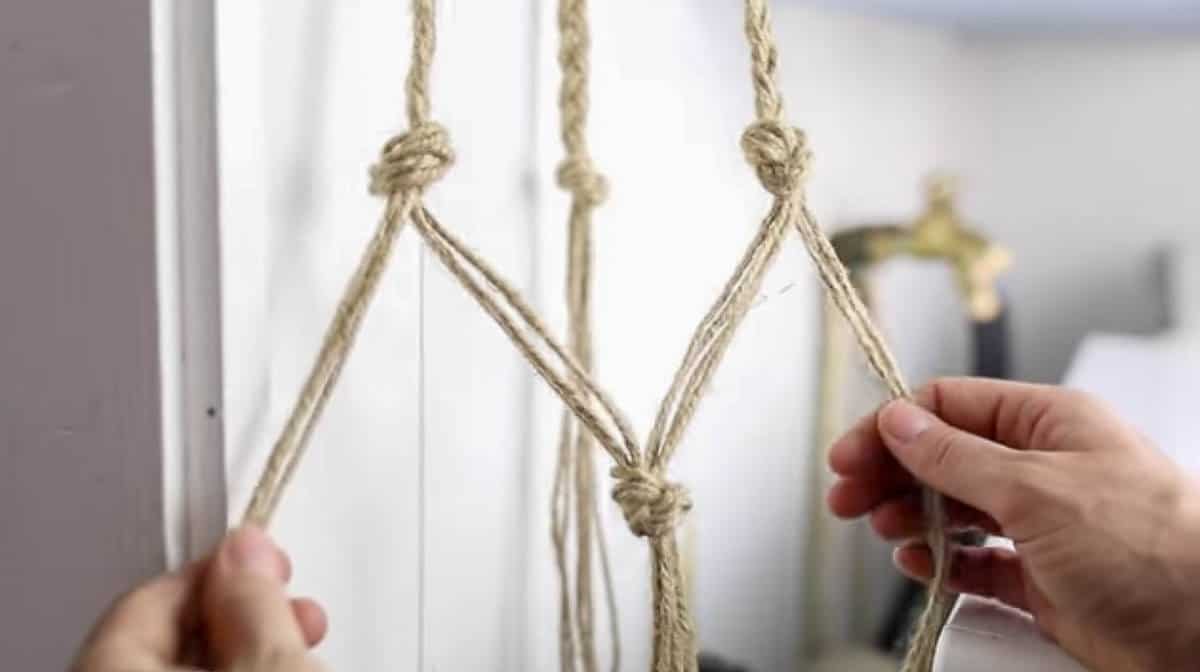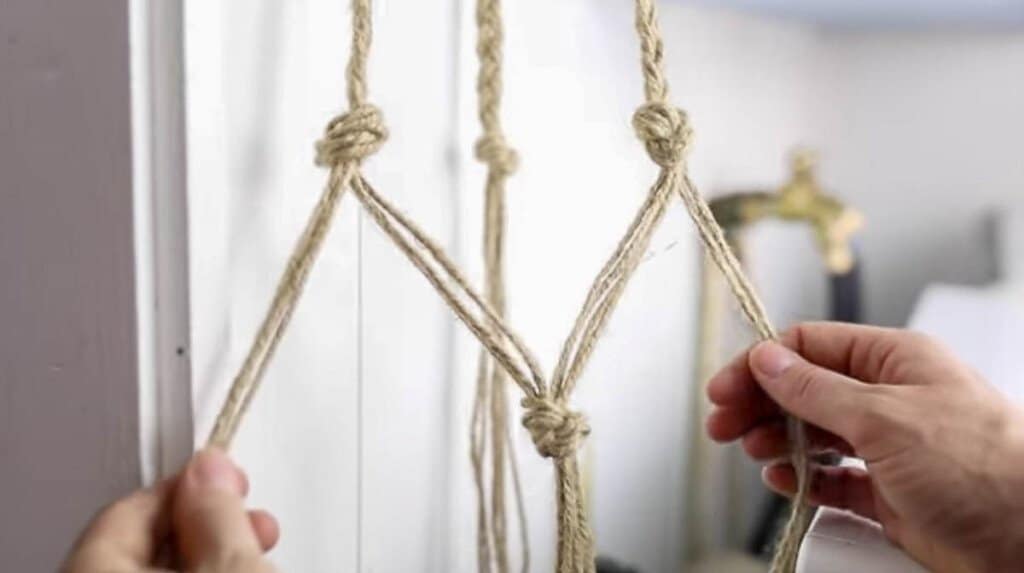 Go down about another 6″ (or less if you are making a tiny one) and make another row of knots.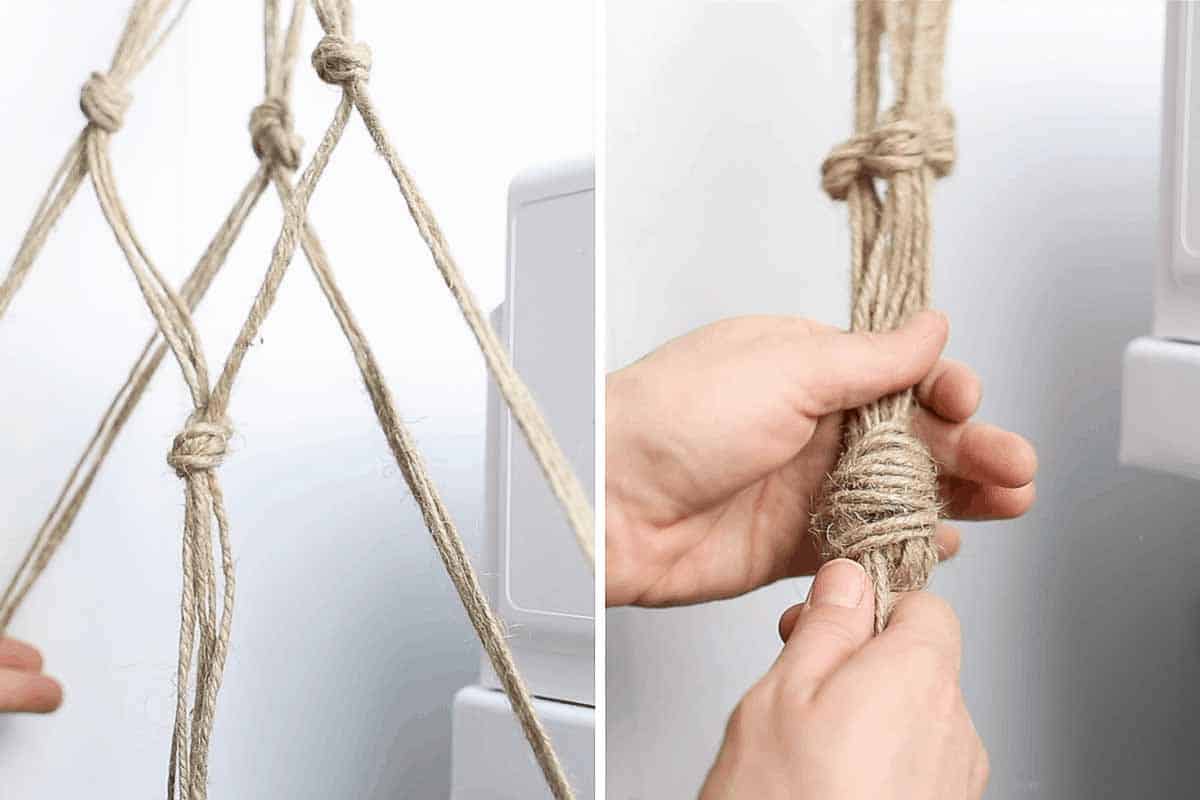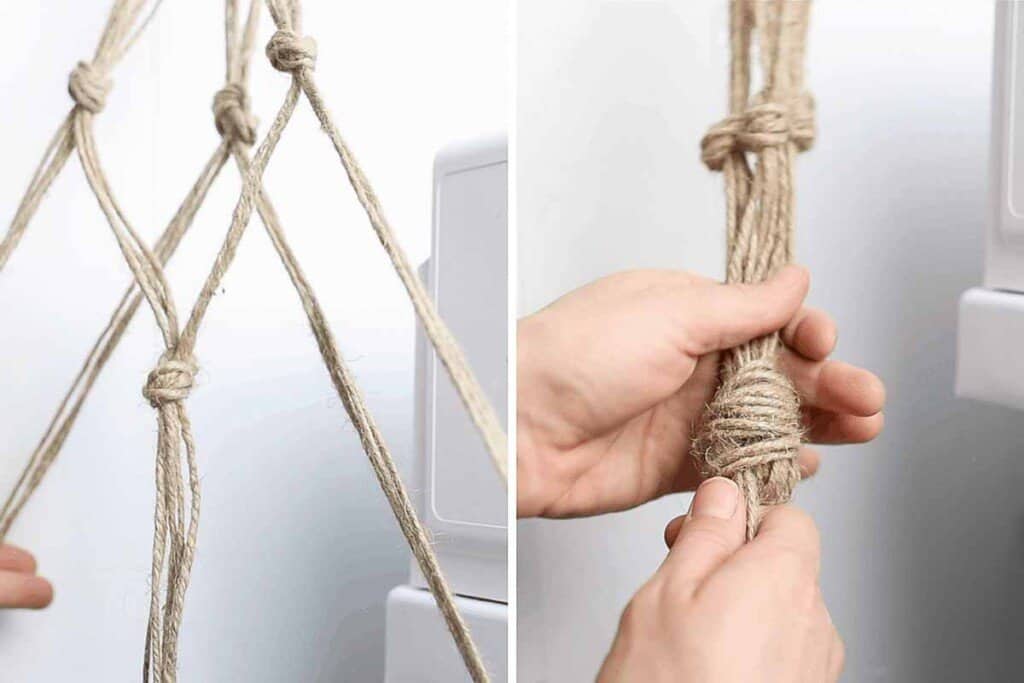 Step 3: Finish Macrame Plant Hanger With Large Knot
Finally, go down a final 6″ and make one giant knot with all 18 pieces.
Trim the strings.
Place potted plant into the DIY plant hanger.
That's it!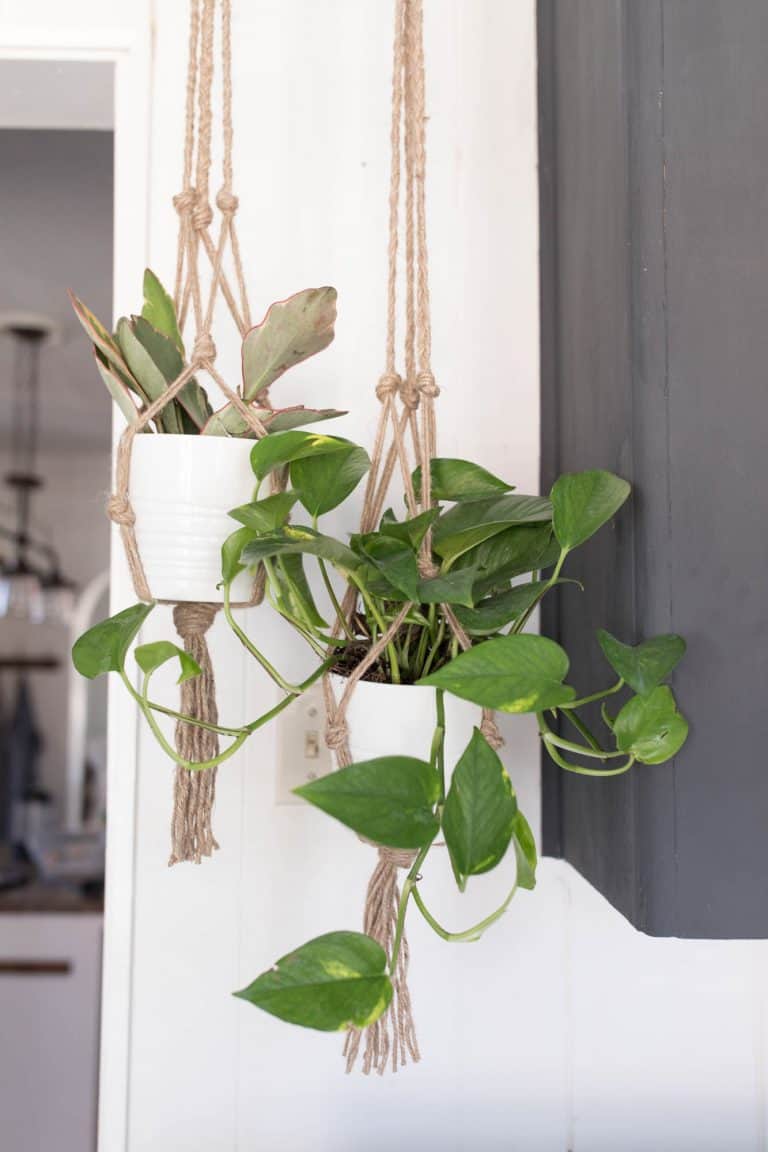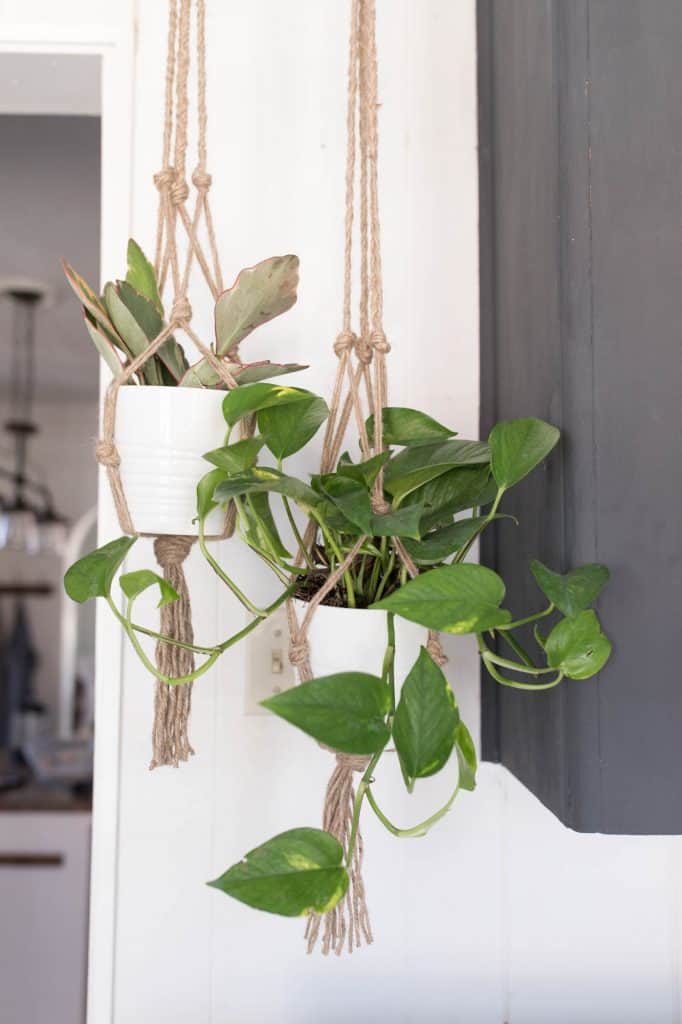 Do you follow me on Youtube? If so, you may have seen the video I did with my friend Laura from Lokey Designs on How to Make a Beautiful Succulent Arrangement.
Well… it got me thinking how beautiful these plant hangers would be with tiny succulents. Just make the braid lengths, and spaces between the knots, smaller to allow for such a small arrangement.
Pin it for later