Our little farmhouse doesn't have much in the entryway department, but for what it lacks in size it makes up in function. Come on in to see my simple spring farmhouse decorating ideas in this tiny space.
Spring Farmhouse Decorating Ideas- Entryway Video
Oh, spring, the long awaited. This year kept us waiting even longer than usual. This next photo was actually taken on Easter.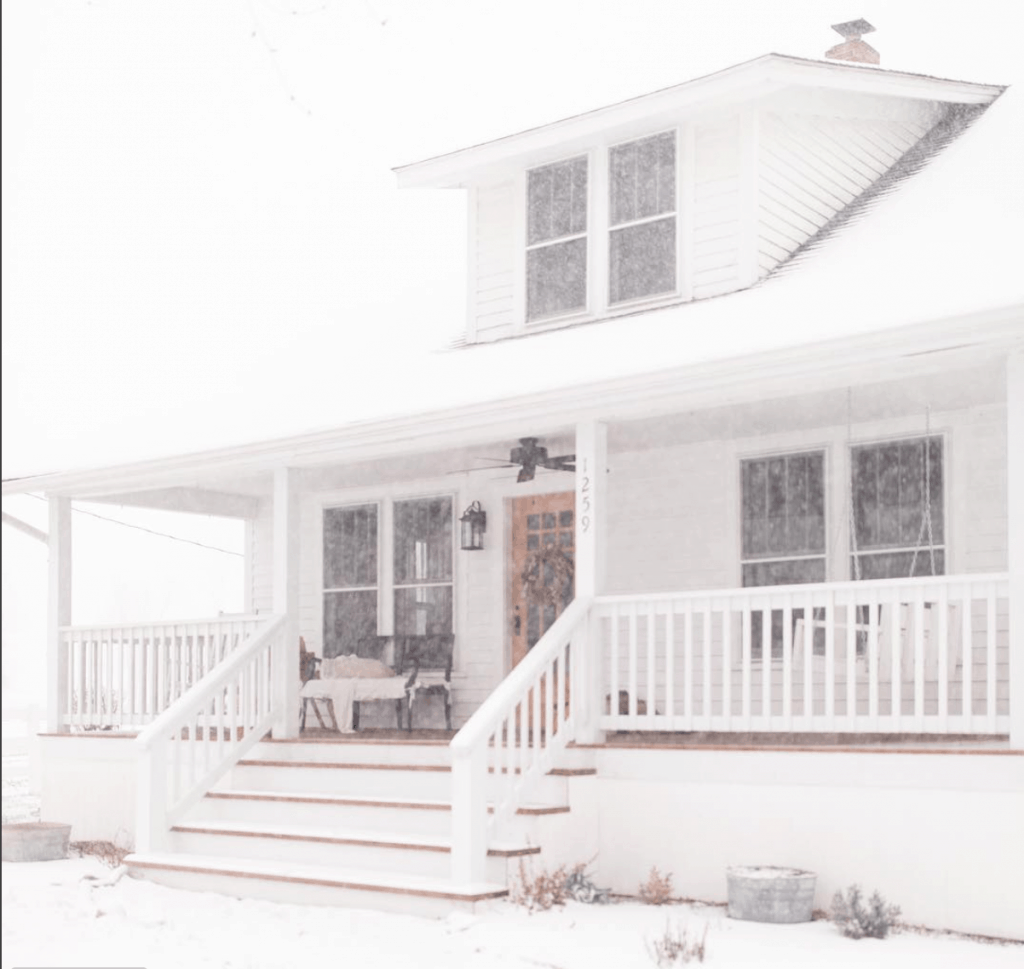 Easter! Can you believe that?! No wonder the greenery wreath was still on the front door. This isn't tulip weather, my friends.
Although its pretty, I'll be ok if I don't see snow for at least another eight months.
But, since it is April, lets talk spring decorating ideas, specifically in the entryway.
When you first come through the front door of our home you walk into one giant room. The space to the right is a dining room, with our big farmhouse table and benches. To the left is the living area, with the slipcovered furniture and built ins.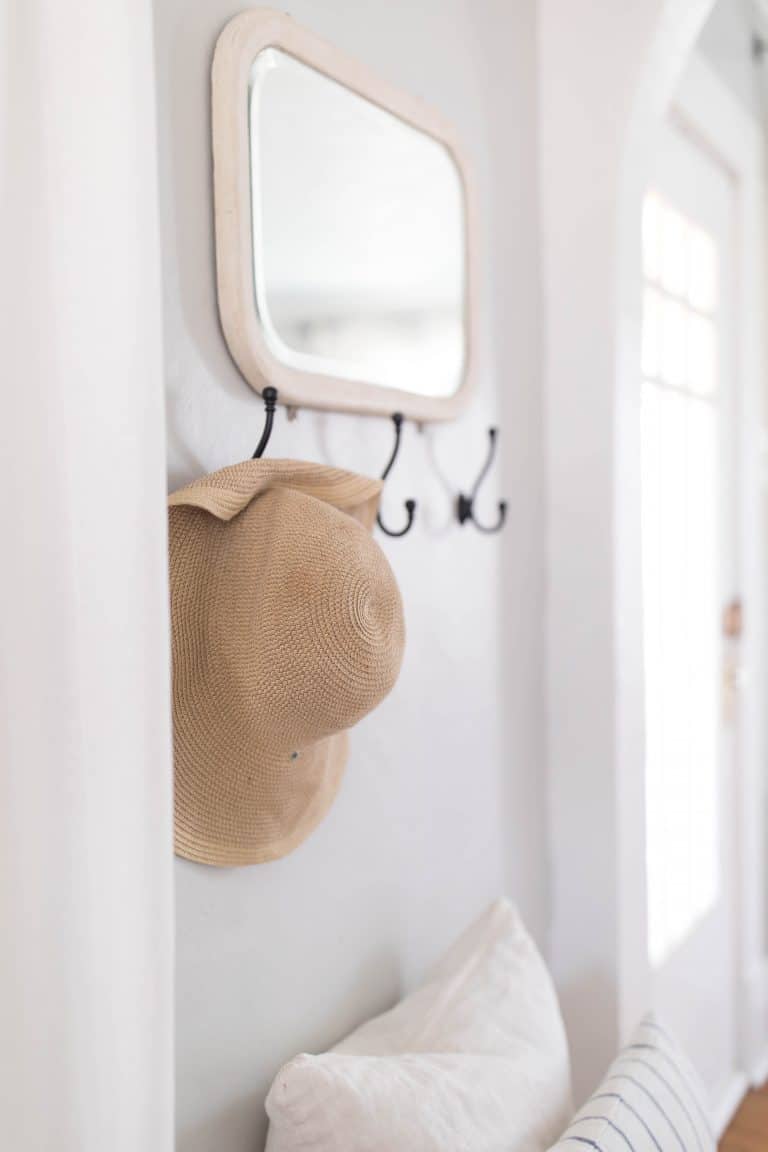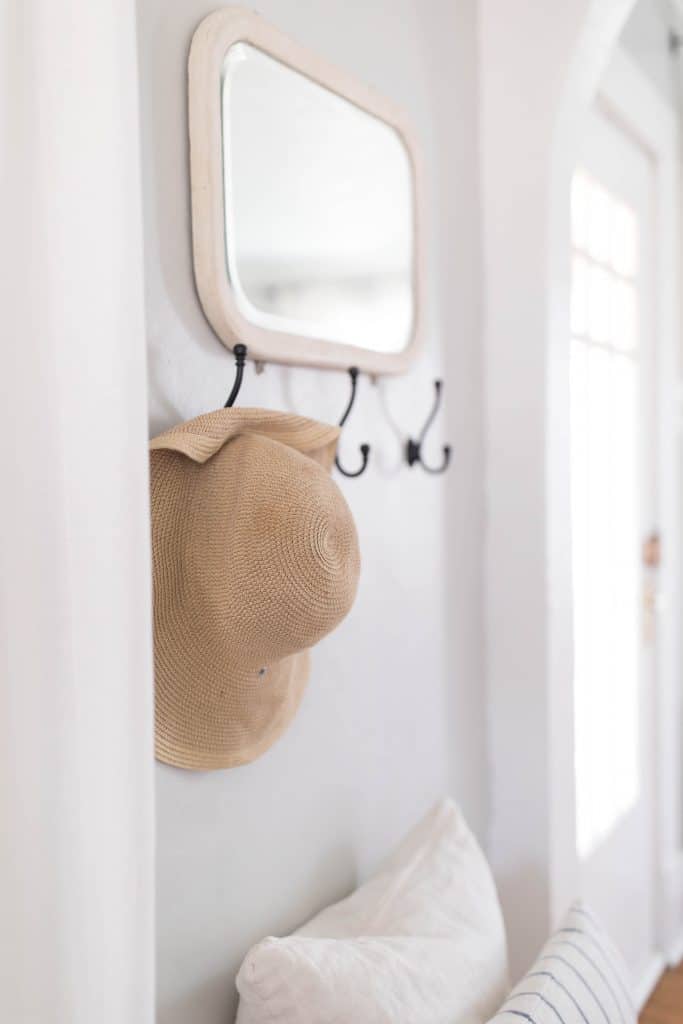 For years I have seen pretty entryways on Pinterest, with long wooden benches, coat hooks and a pair of Hunter boots. I thought they were nice, but never paid too much attention because our farmhouse didn't come equipped with an entryway area.
Finally, a year or two ago, I realized I could make lemonade out of the lemon of an entryway I was given. Yes, the space is small. But, it has everything a good entryway needs…coat storage, seating (albeit small) a mirror (that's an entryway thing, right?) and some pretty pillows.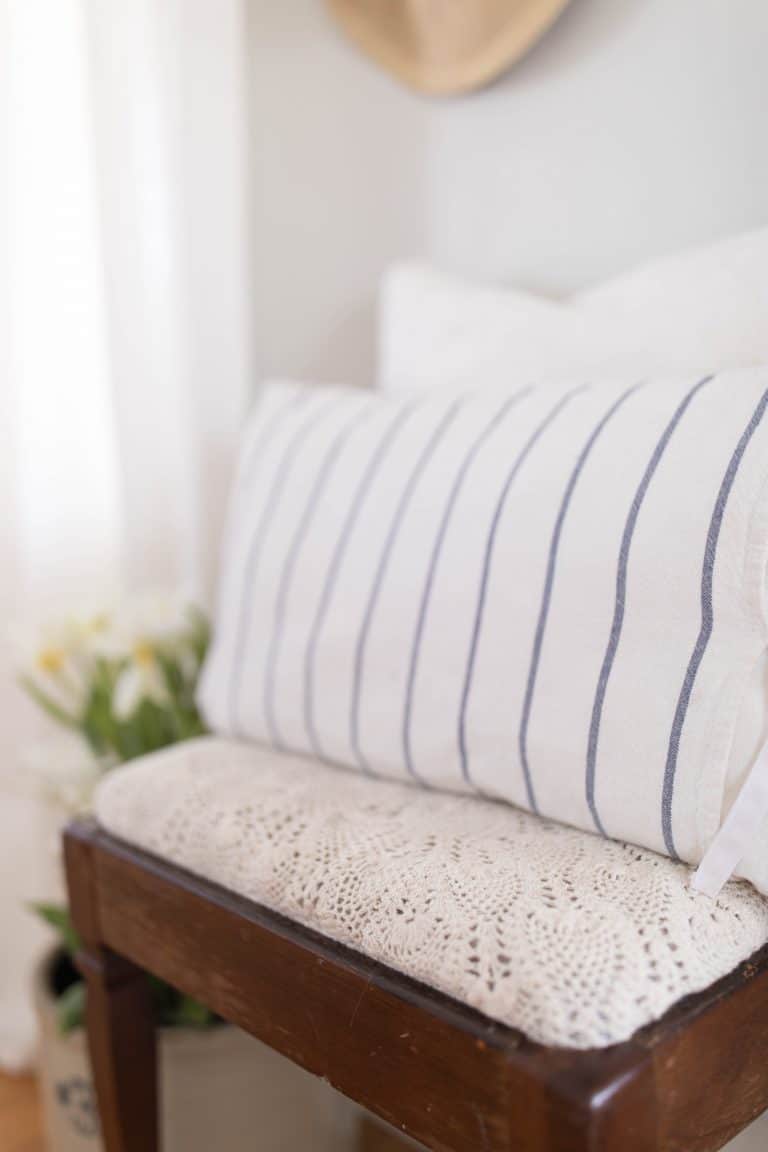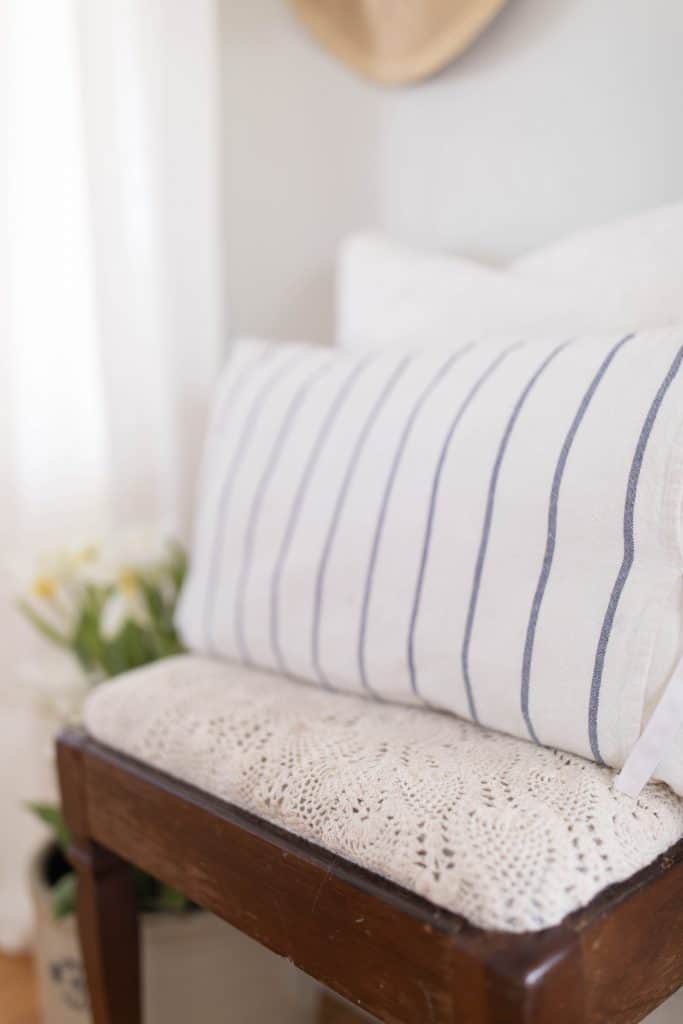 Today I gave it a spring makeover with some tulips and light colored pillows. You guys know me. I like to keep things super simple and minimal. Fresh flowers and lighter colors is the extent of me swapping things out for the new season.
Just last week I took down the fresh greenery wreath that I made way back in November. Don't judge. On the list of priorities, switching over to spring decor is way down at the bottom.
When my zinnias and cosmos are in full bloom this summer, there will be flowers all over this house!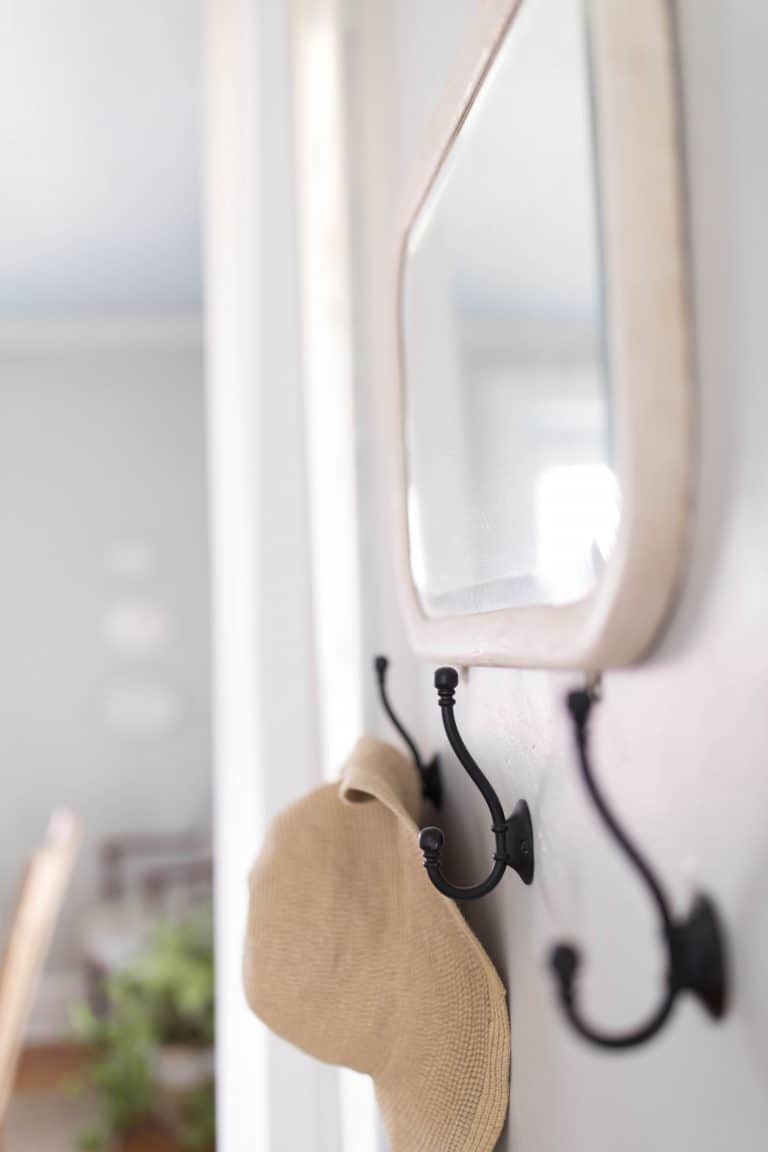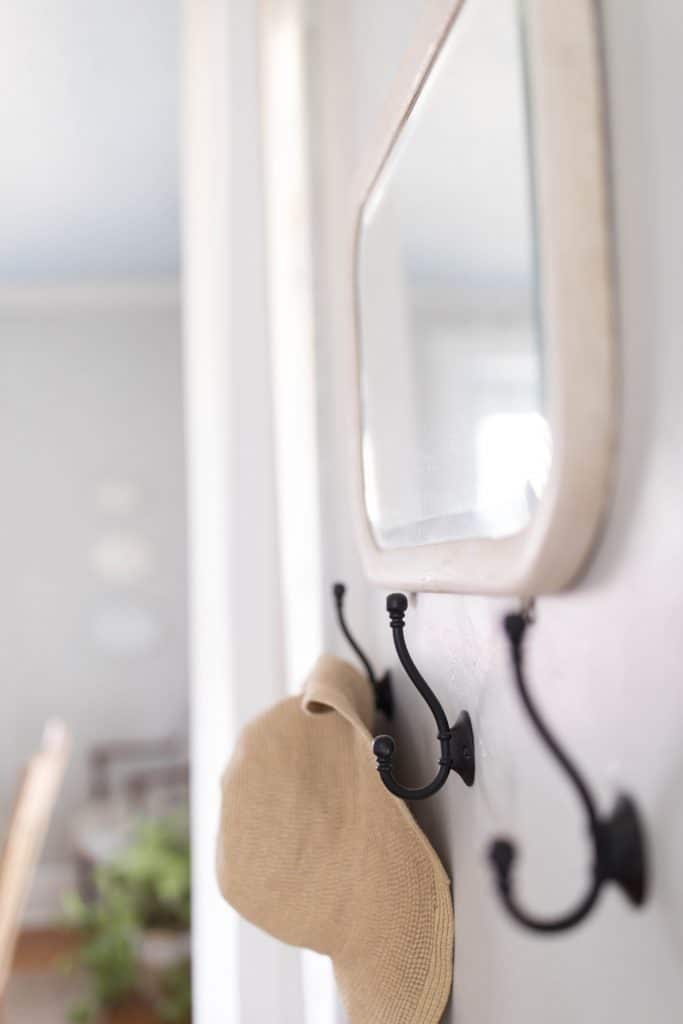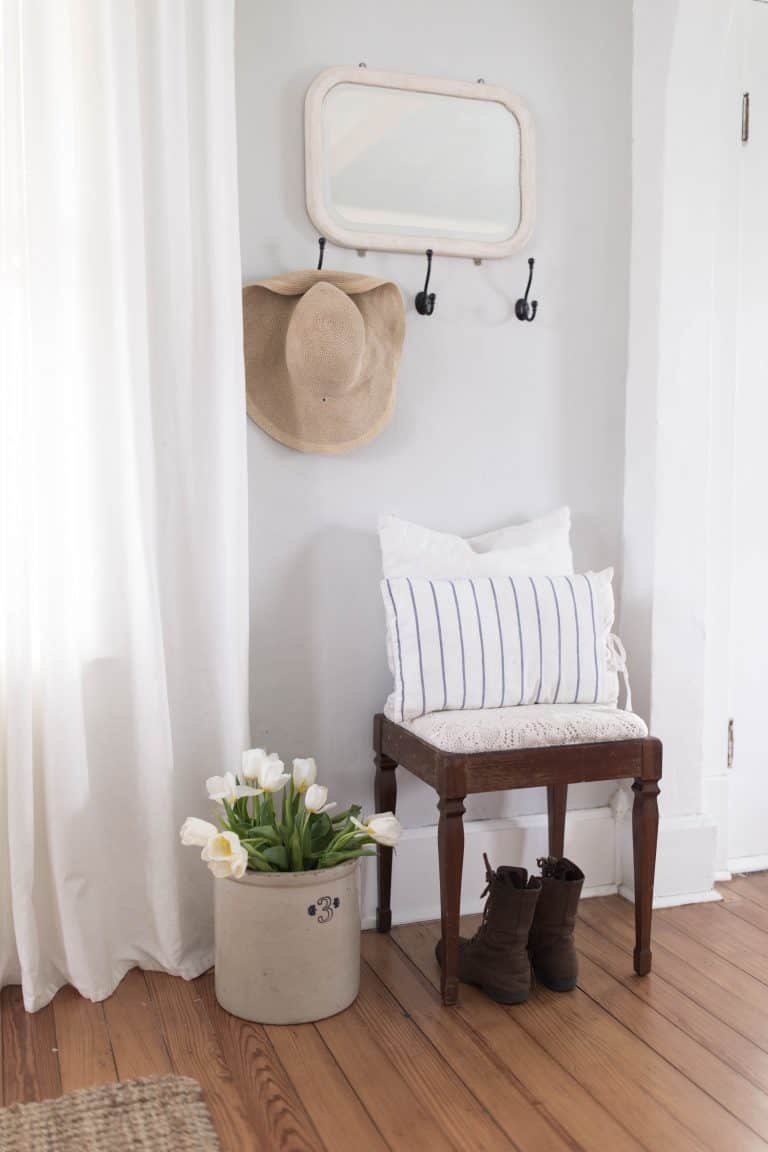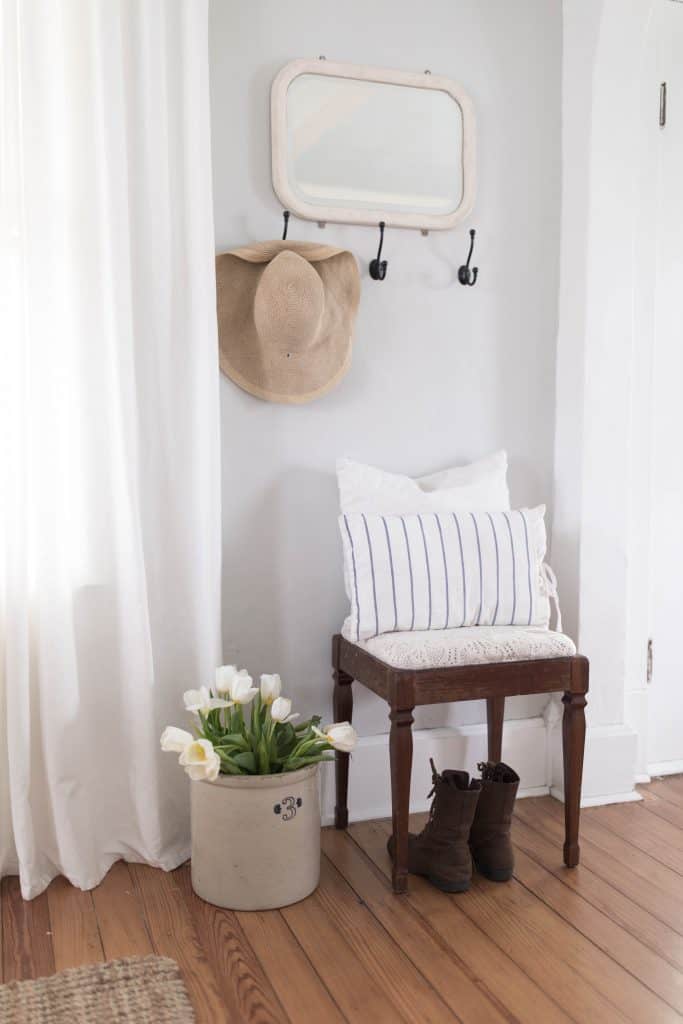 Get the look spring farmhouse entryway
These are affiliate links, which means I make a small commission at no extra cost to you. See my full disclosure HERE.
IKEA Lenda Curtains (These are way cheaper in store, if you live close to an IKEA.)
Tutorials from our spring farmhouse entryway
Sources
Paint colors- Benjamin Moore Gray Owl and Benjamin Moor White Dove
Thank you so much for stopping by the farmhouse!
Pin it for later