Come tour our summer farmhouse front porch and learn how to make an adorable – and fully customizable – DIY doormat. Antique furniture, rocking chairs, and porch swings are wonderfully nostalgic, and they can truly complete a farmhouse front porch.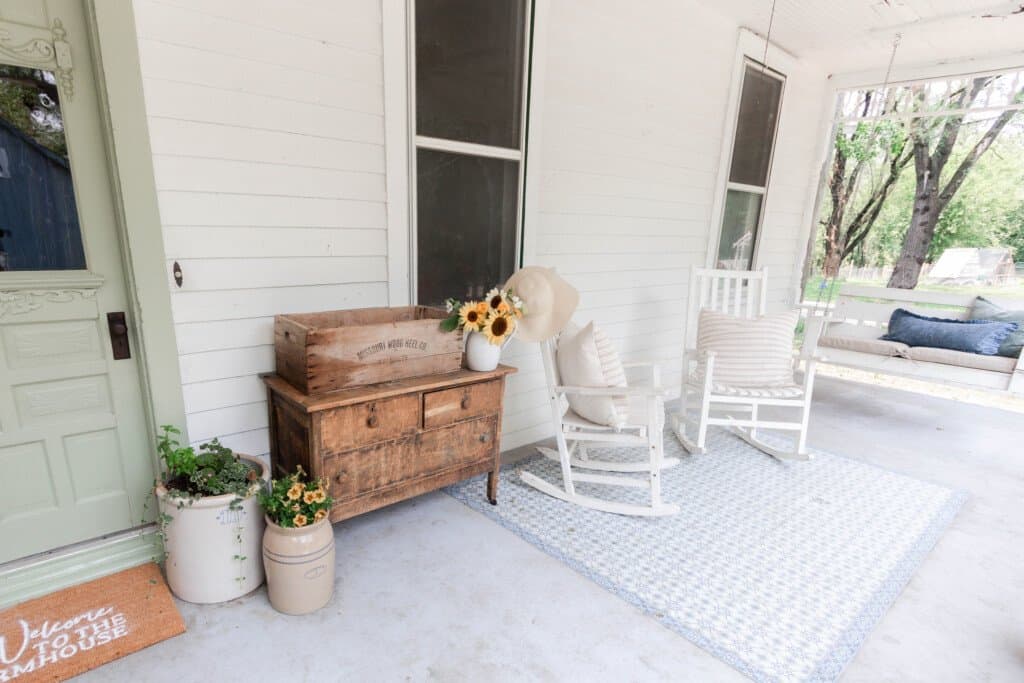 We've been working on the front porch for what seems like the whole summer. It started when we added new front porch steps, then we painted the concrete with a special, non-slip paint, and we most recently added some matching corbels.
Now that all the heavy labor is done, it's time to decorate – which is really the best part. It is when everything comes together – all the visions I had running through my mind come to life.
It's the little things, like a rug placed just right, the pillows fluffed, and old antiques added to give a space warmth. Yes, even on a front porch.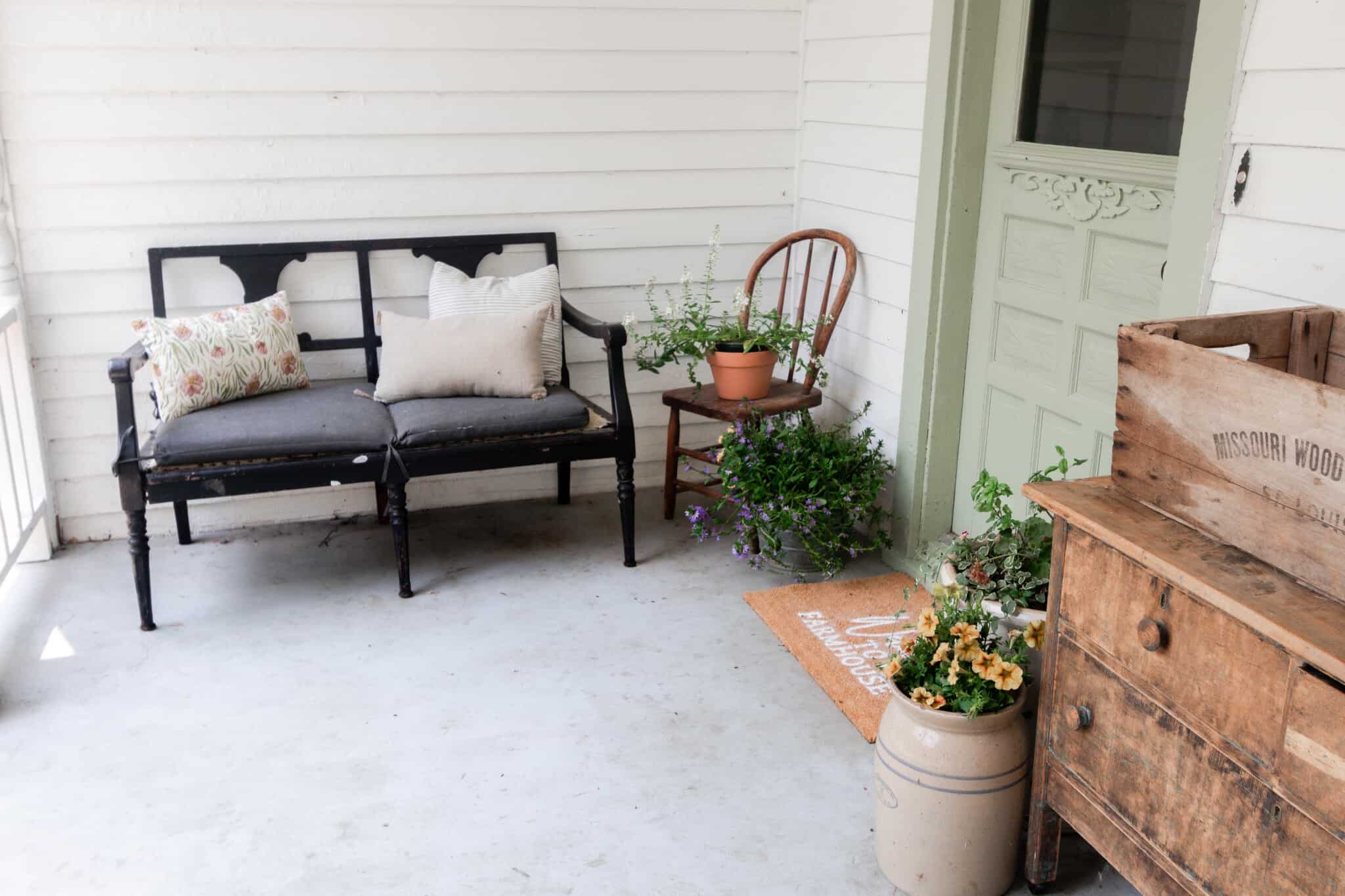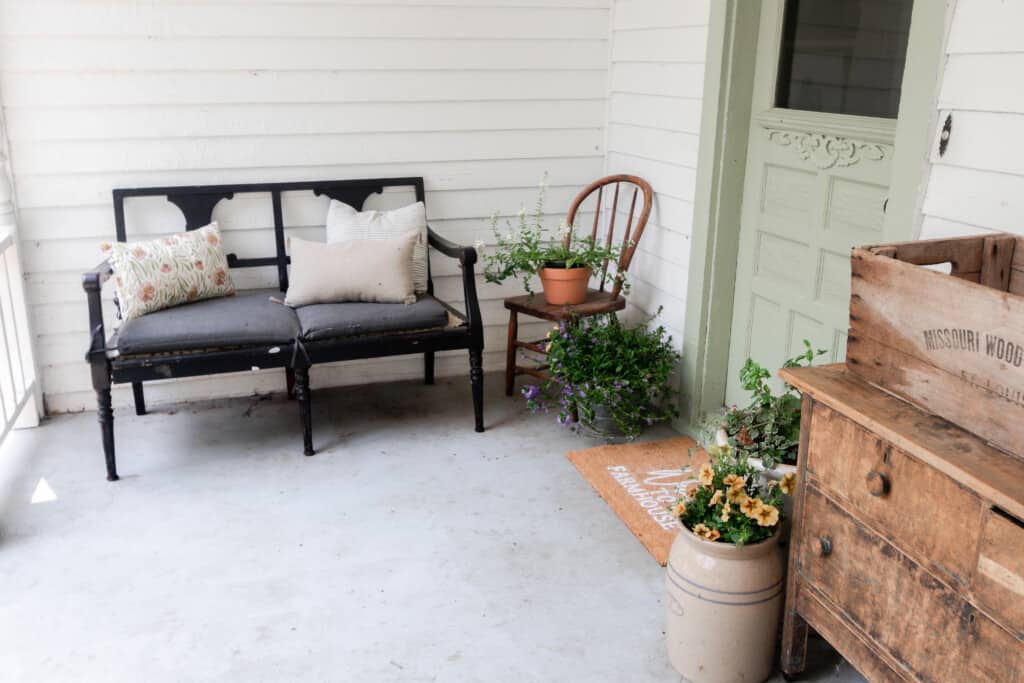 This project was so fun because I added some custom details, like handmade pillows and a DIY cricut doormat. While the front porch is still not totally done, since we are planning all new landscaping and sidewalks, it is in a place that I find pretty nearly complete. No longer is it a hot mess, and it just looks so beautiful and put together.
To finish off the space, I added a lot of flowers. Some were planted in large crocks, and some were picked from our cut flower garden and placed in a white enamel pitcher. Even though we still have two good months left of summer, our local nursery had all their plants 50% off. So, I snuck in a few more and placed them in pots.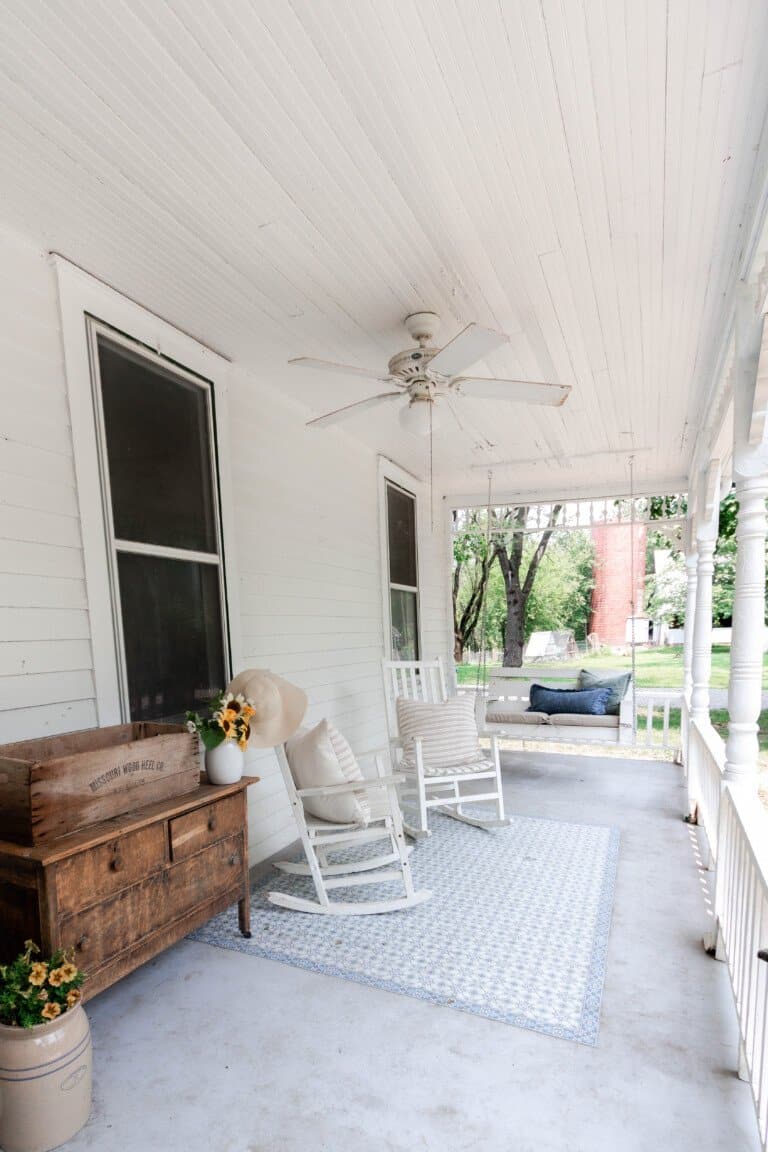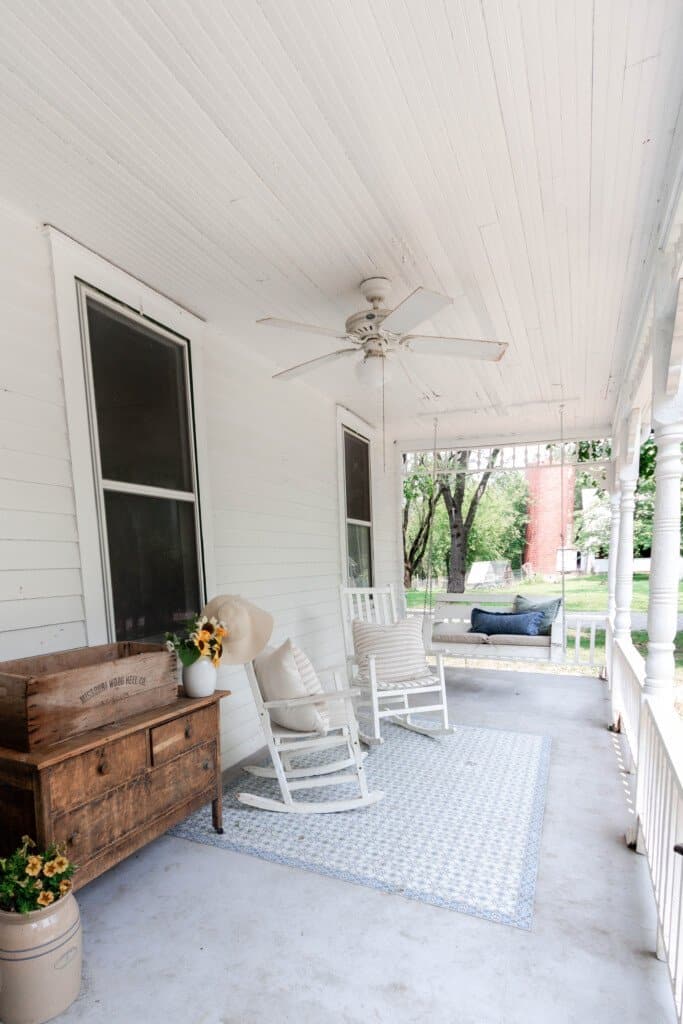 I love adding fresh plants. They add so much warmth and dimension to a space. Place them on tables, or even chairs, for a bit of whimsy.
Now that the main part is done, I'm so happy at how it turned out. It feels so inviting and comfortable. And the "welcome to the farmhouse" doormat really adds that gracious feeling when someone comes to the house. That and the bellowing animals in the distance.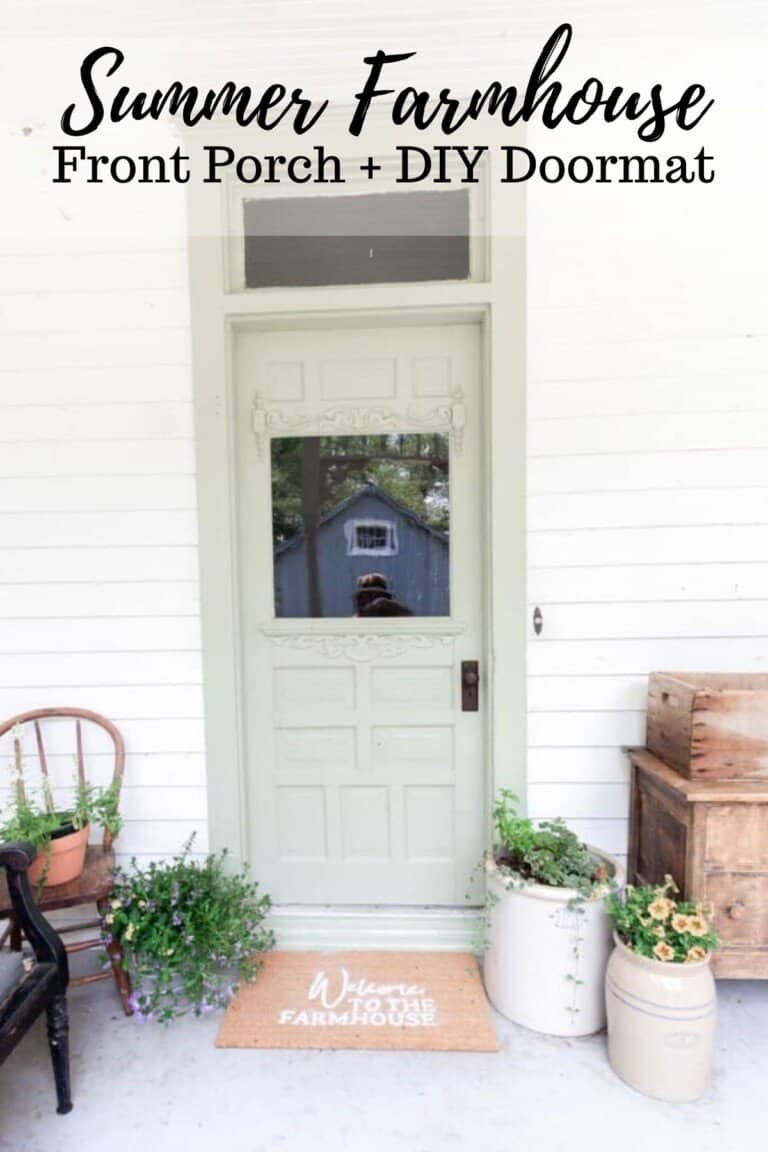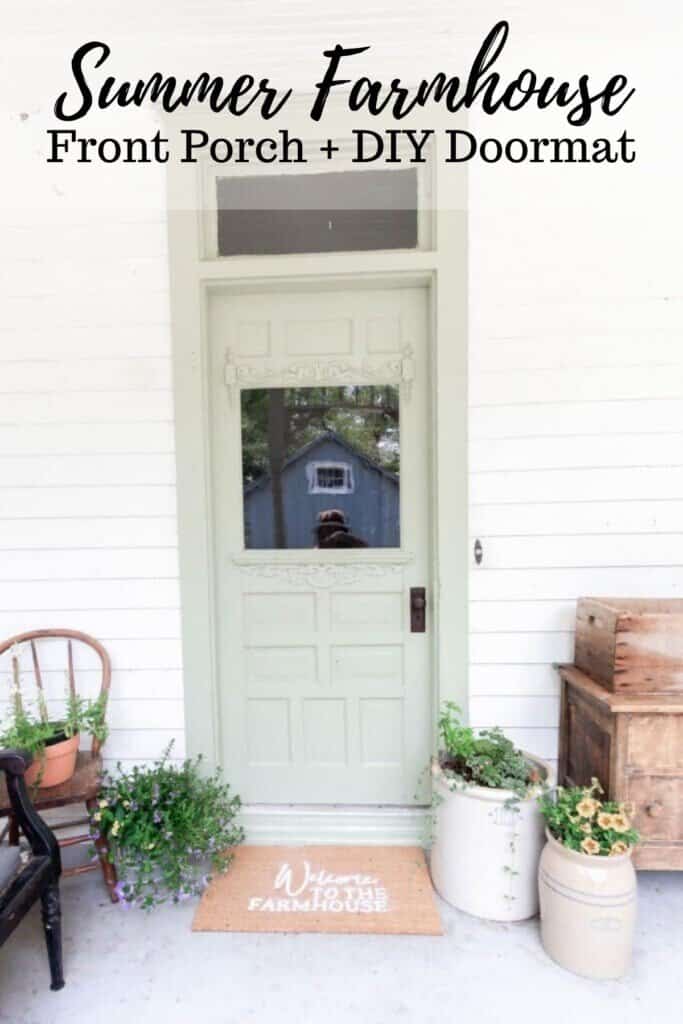 Tips For Creating A Doormat:
Use freezer paper and a heat press to make it stick better. Cut it out on freezer paper, place it on the mat shiny side down, and then use the cricut heat press on 300 degrees to make it stay in place. Press each part of the stencil for about 30 seconds.
Use a thicker font, so it is easier to fill in.
An outdoor acrylic paint or Flex Seal rubber spray paint will work best for high traffic, outdoor areas. I wouldn't recommend the regular spray paint, like we used, because it didn't fill the letters in enough.
A stiff brush to blot the letters on and not go underneath the stencil is helpful. It may need 2 or 3 coats of paint.
Finish off with outdoor mod podge or Flex Seal clear spray to make it more weather/stain resistant.
This post contains affiliate links, which means I make a small commission at no extra cost to you. See my full disclosure here.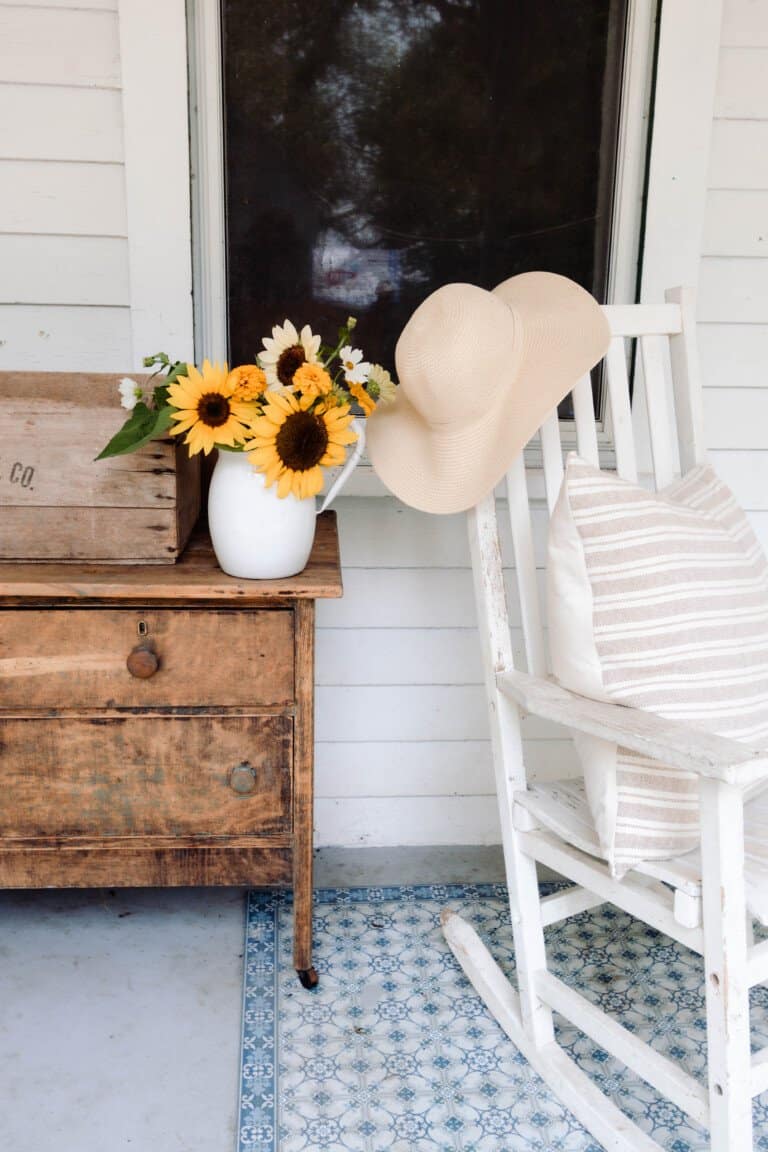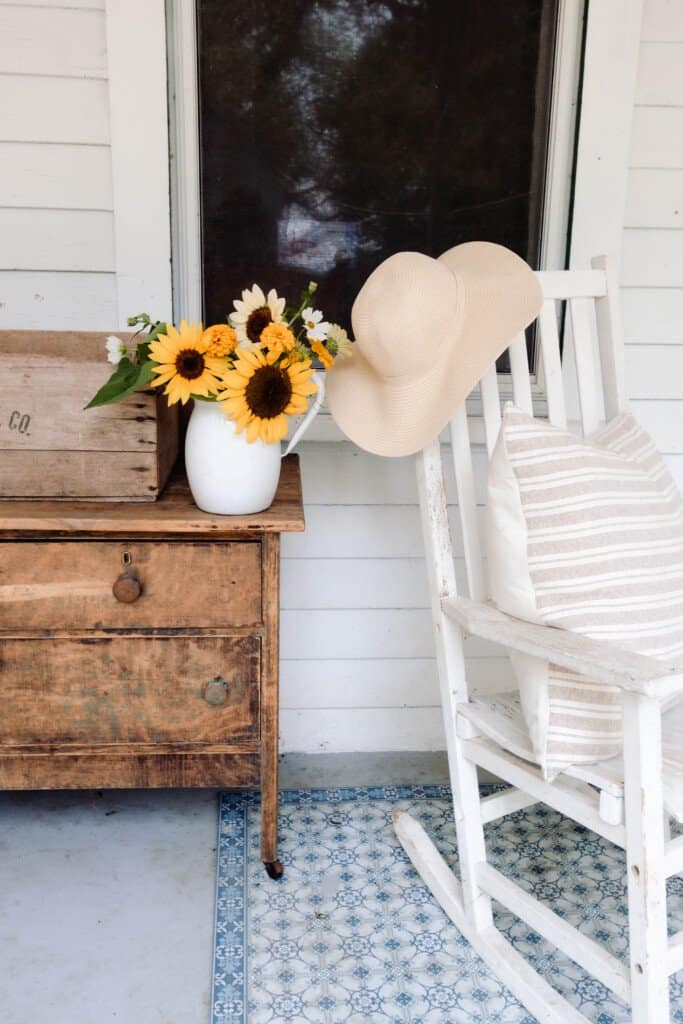 Tools you may need:
Door mat
Paint – outdoor acrylic paint or Flex Seal rubber spray paint
Stiff brush
Freezer paper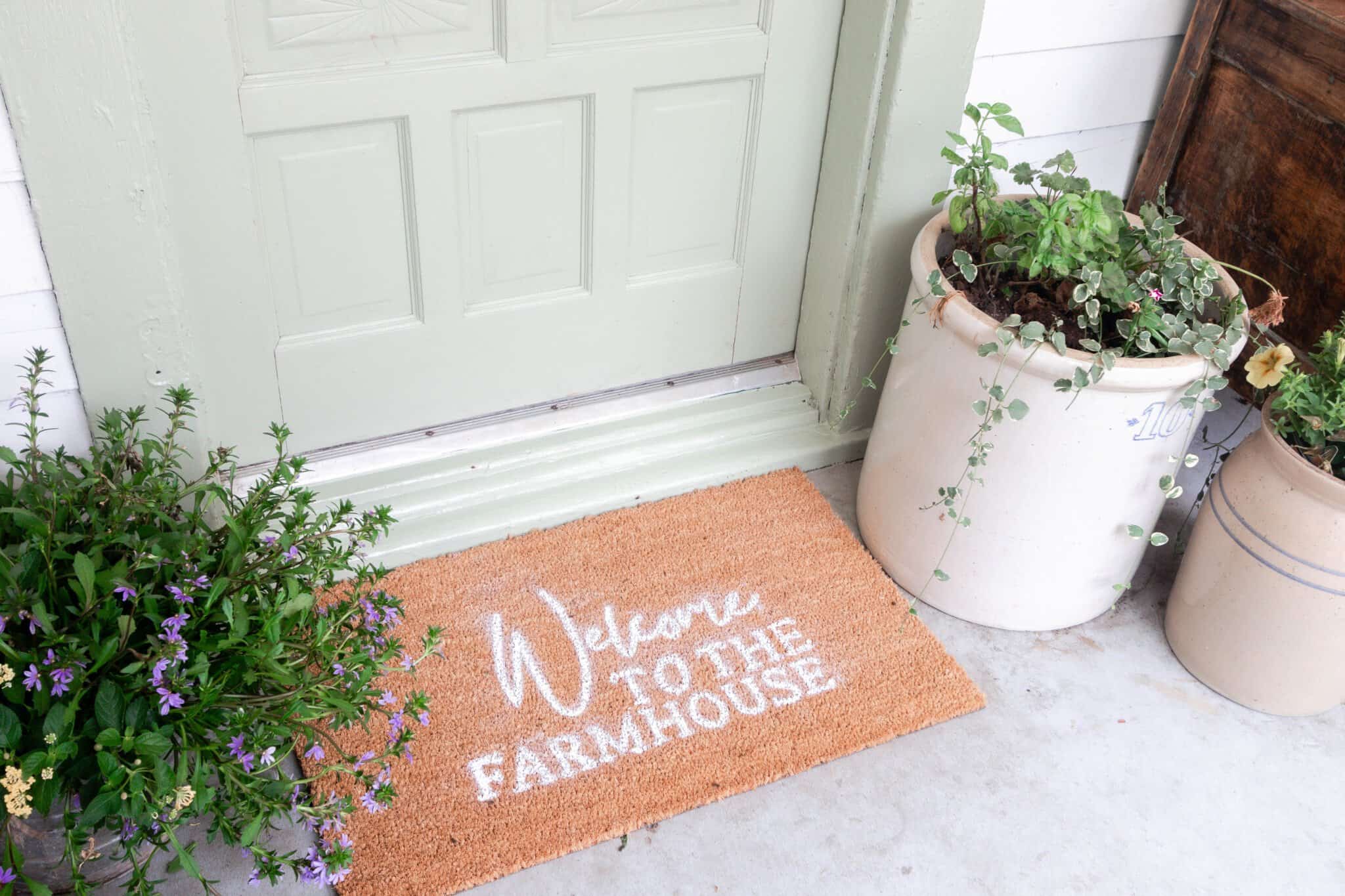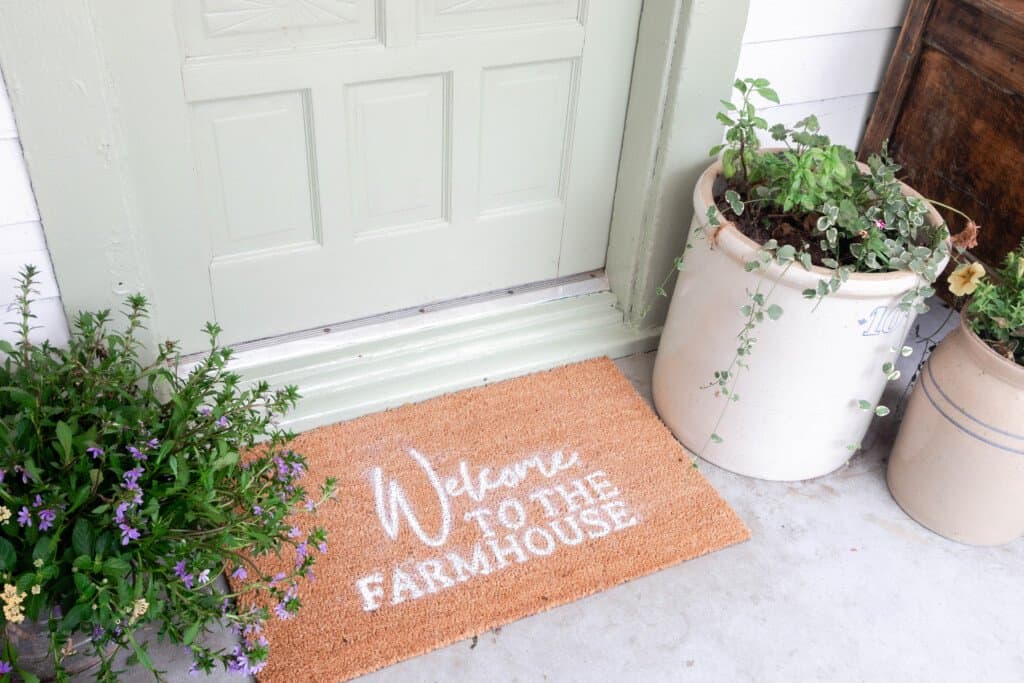 How To Make A DIY Doormat With A Cricut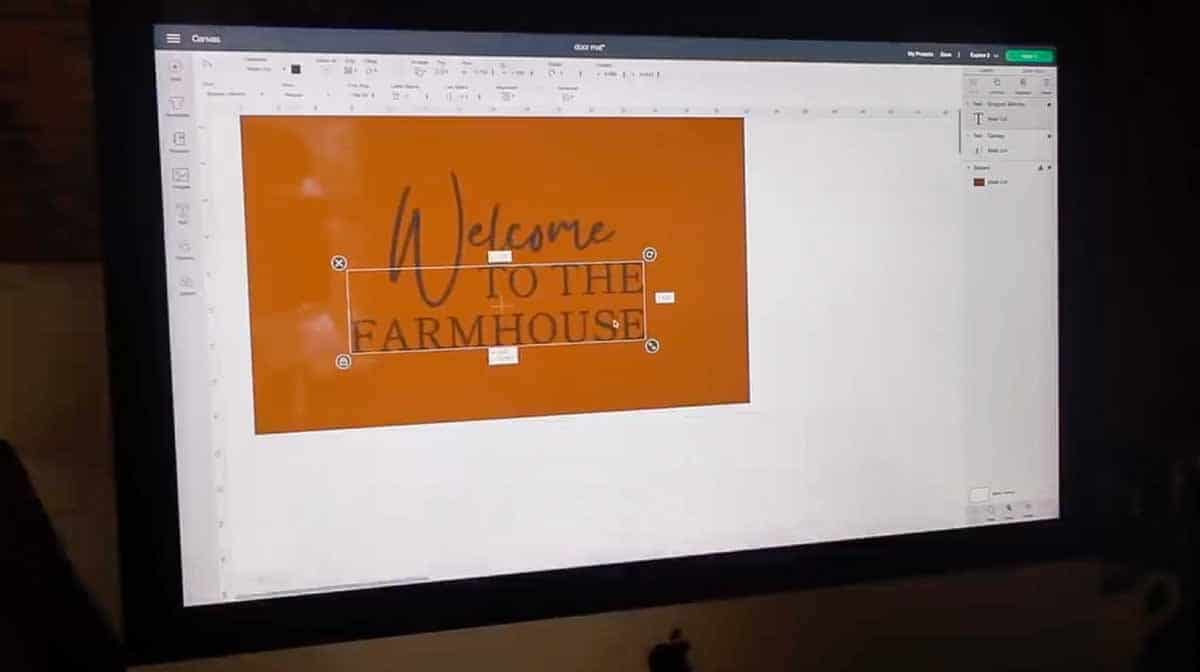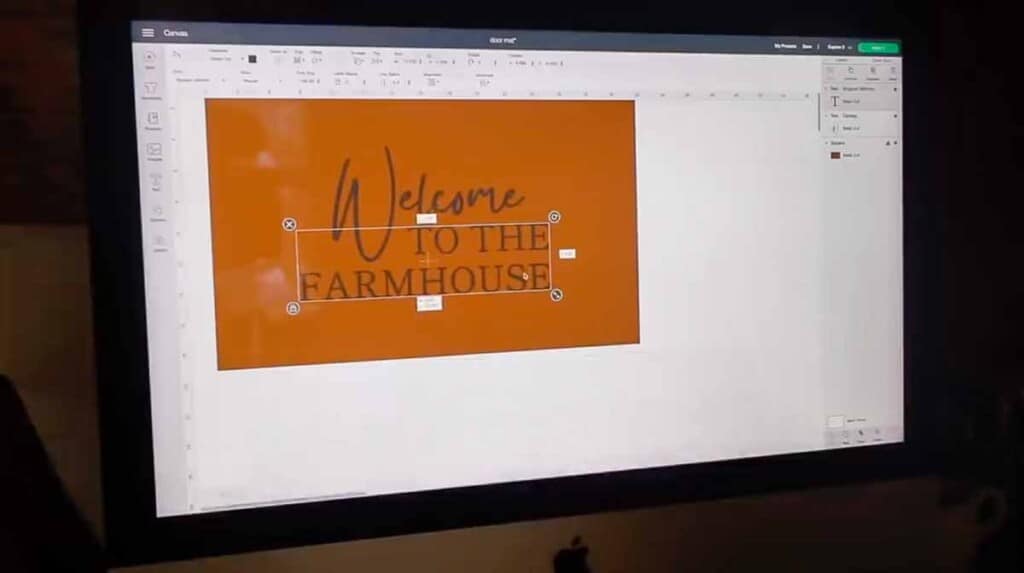 Download the cut file to create your own "Welcome To The Farmhouse" mat, or create your own design.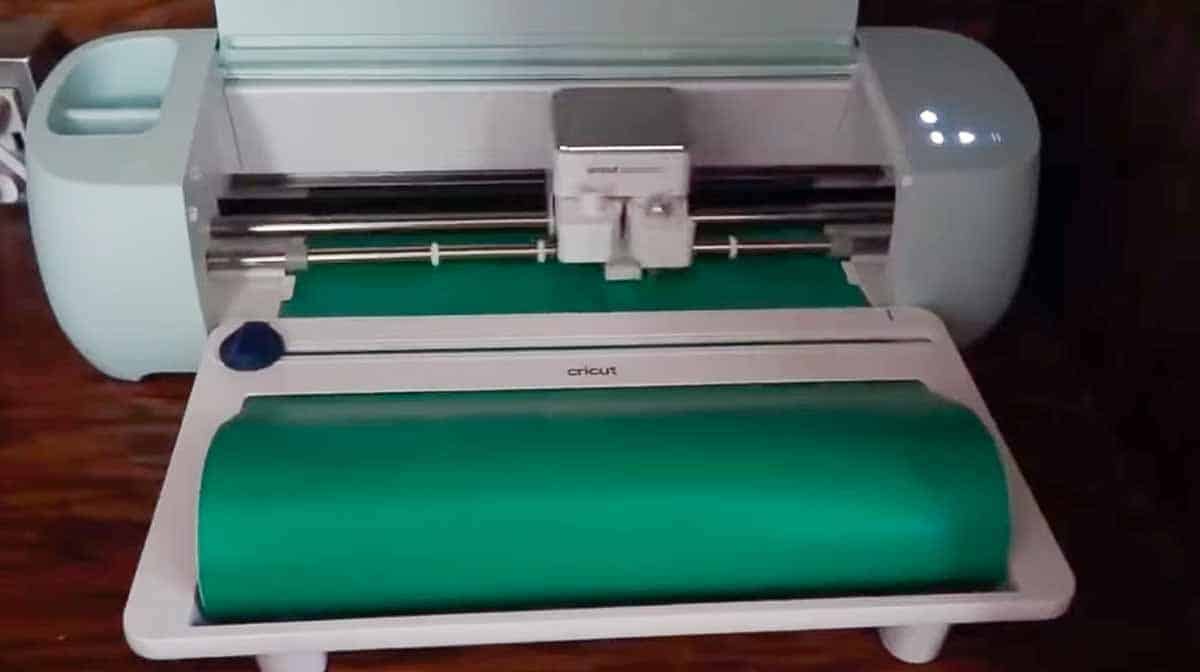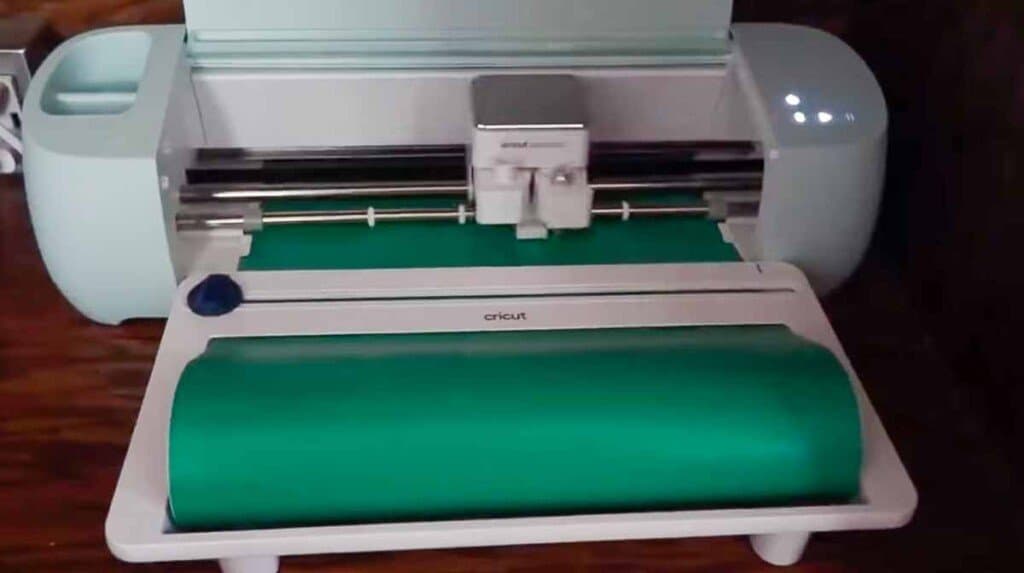 Print onto freezer paper. You could also use vinyl.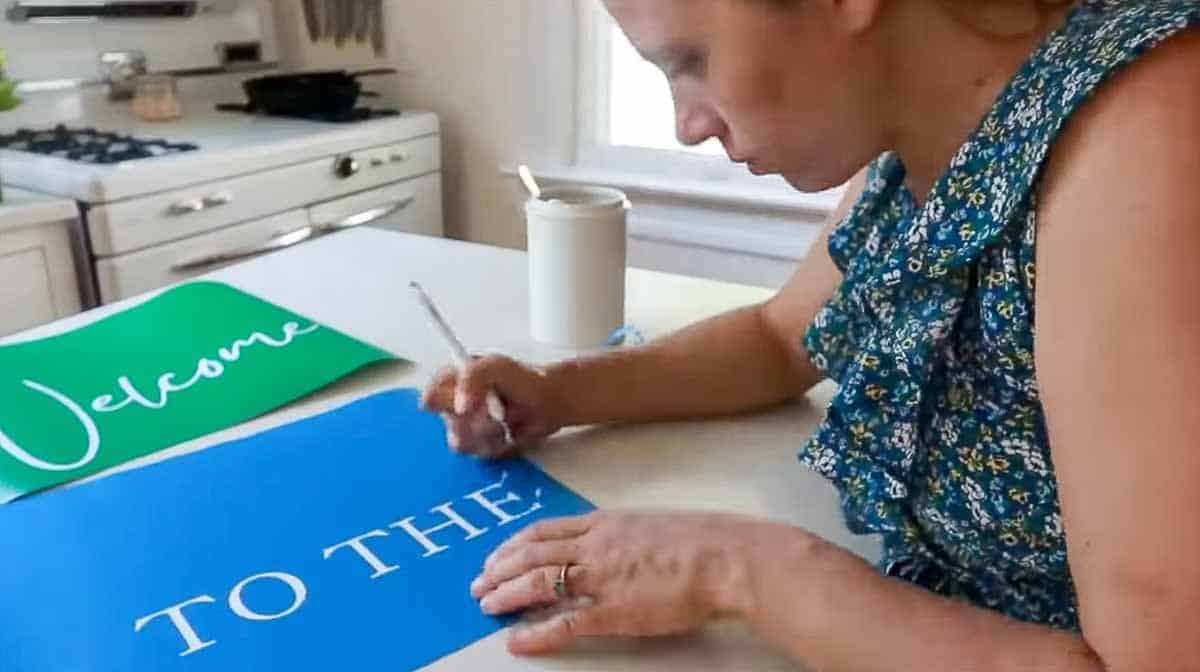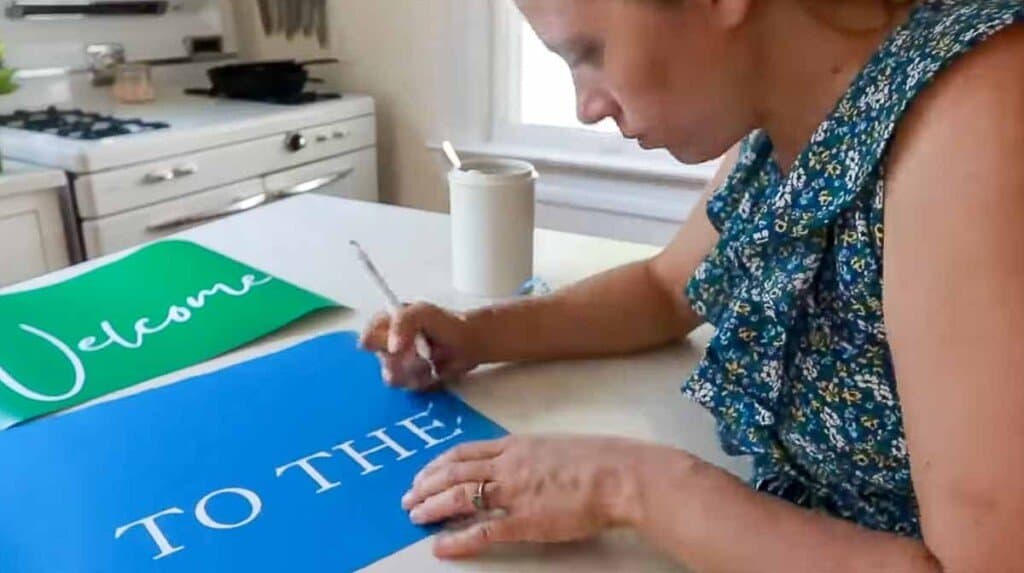 Remove all of the cut out lettering and place on the doormat where you would like the font to go.
If using freezer paper, press down using cricut heat press on 300 degrees to make it stay in place. Press each part of the stencil for about 30 seconds. Originally, I used vinyl that was sticky on one side but it still didn't stick enough, so we pinned down the design with sewing pins.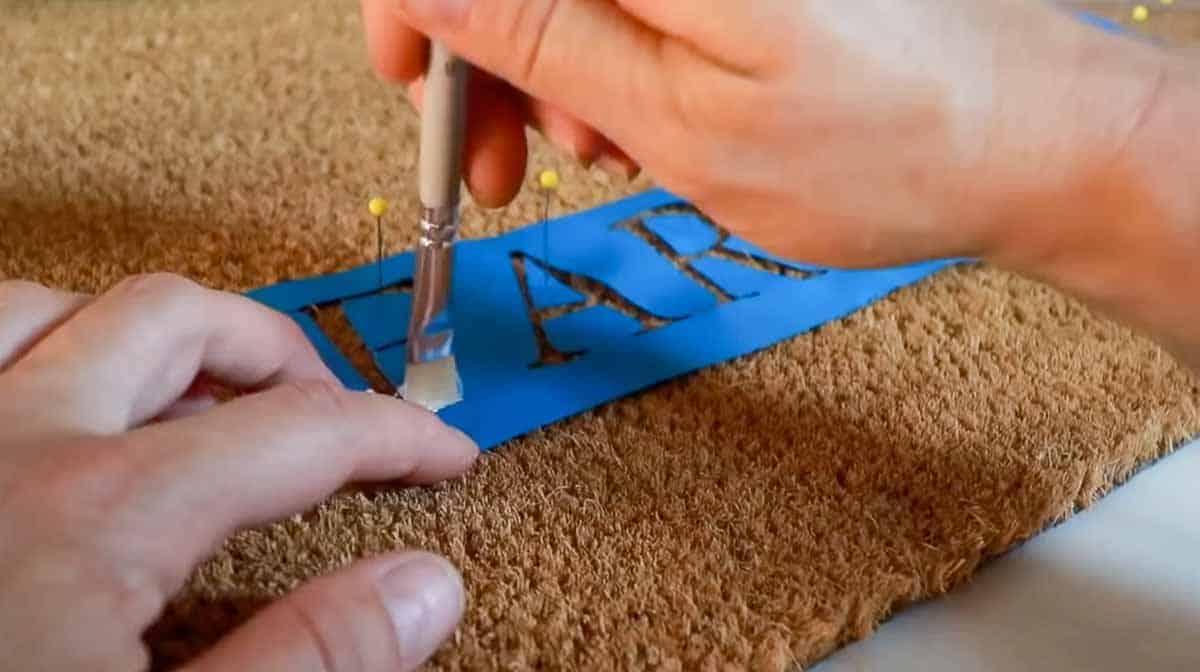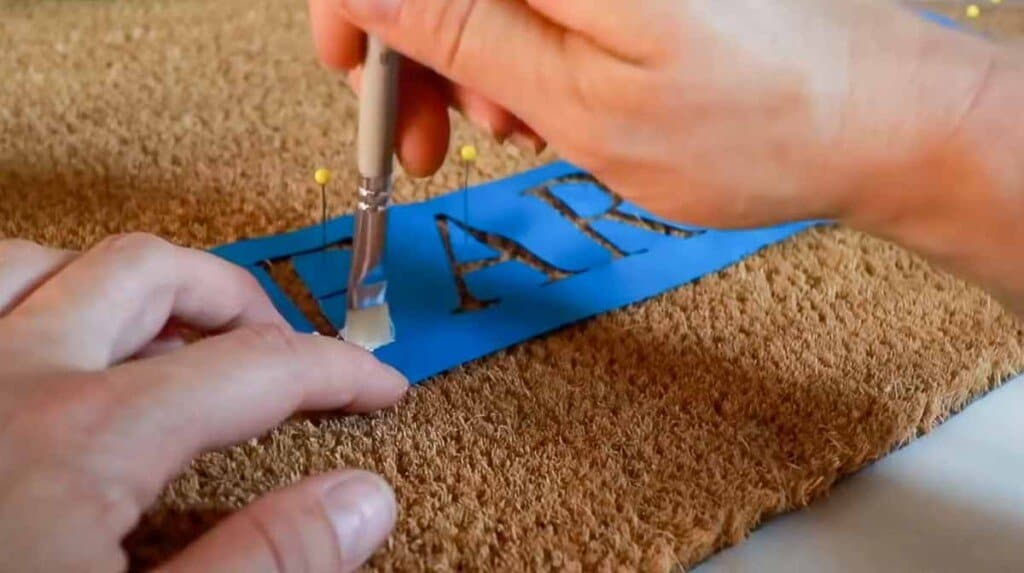 Using a sturdy brush, dip the brush into paint, tap off any excess, and then tap onto the design.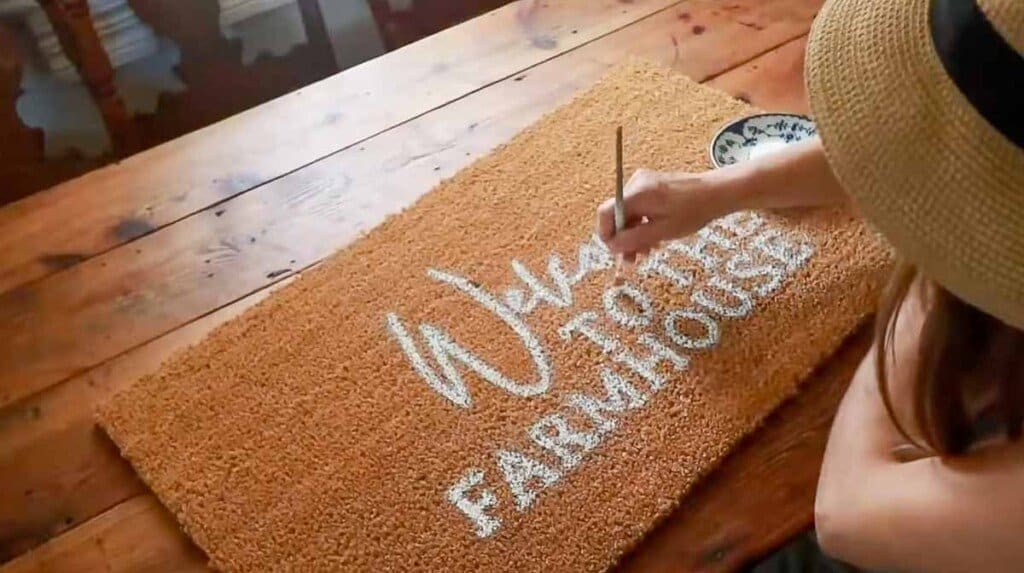 We also tried spray paint which, honestly, wasn't dark enough. So, after removing the stencil, I used a paint brush and painted over the design to make it darker.
Allow to dry completely, then finish off the welcome mat with flex seal clear spray or outdoor mod podge to help make it more durable with all the traffic going in and out of the house.
Allow to cure completely according to the manufacturer's directions, and then position to your heart's content.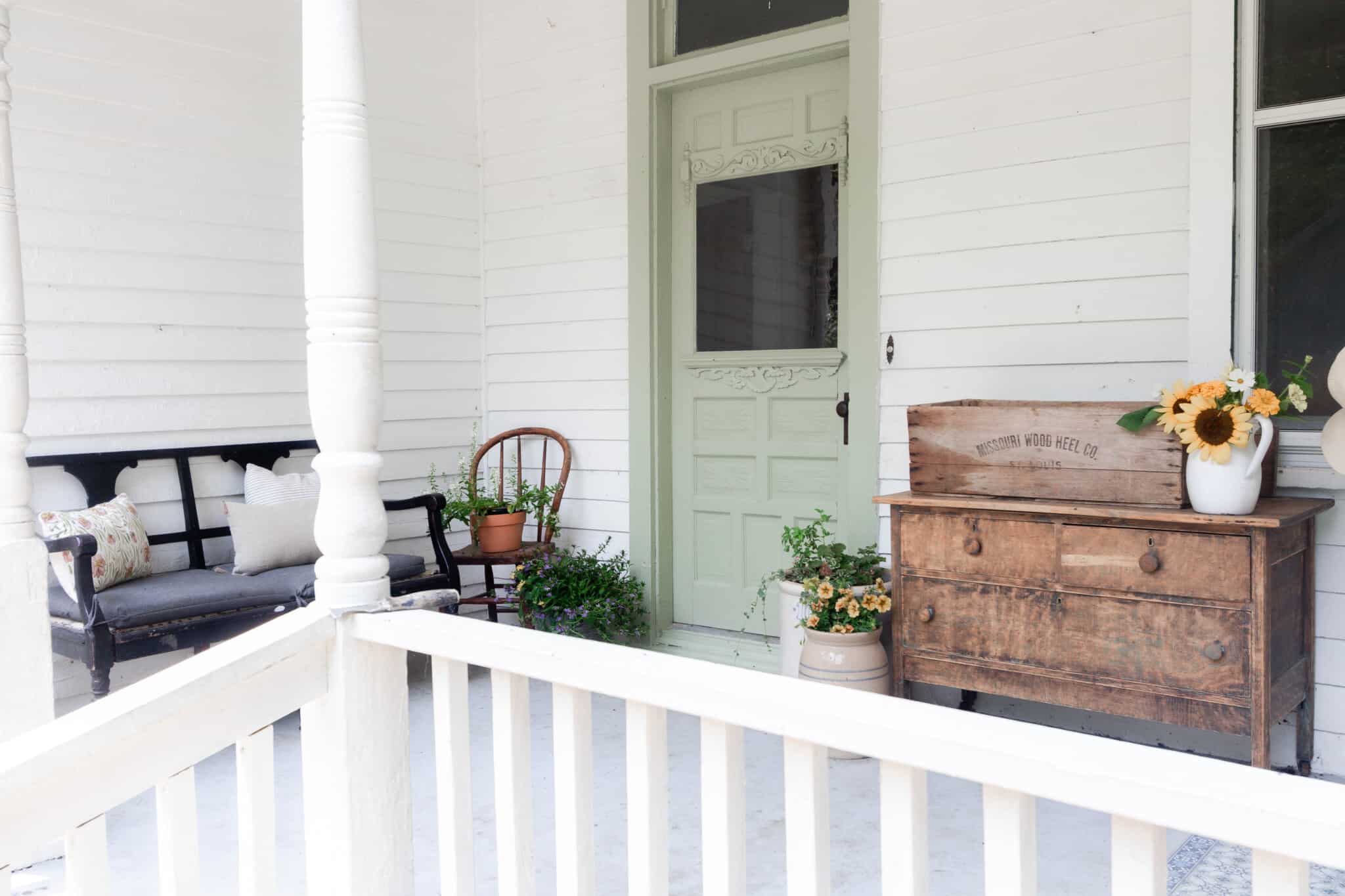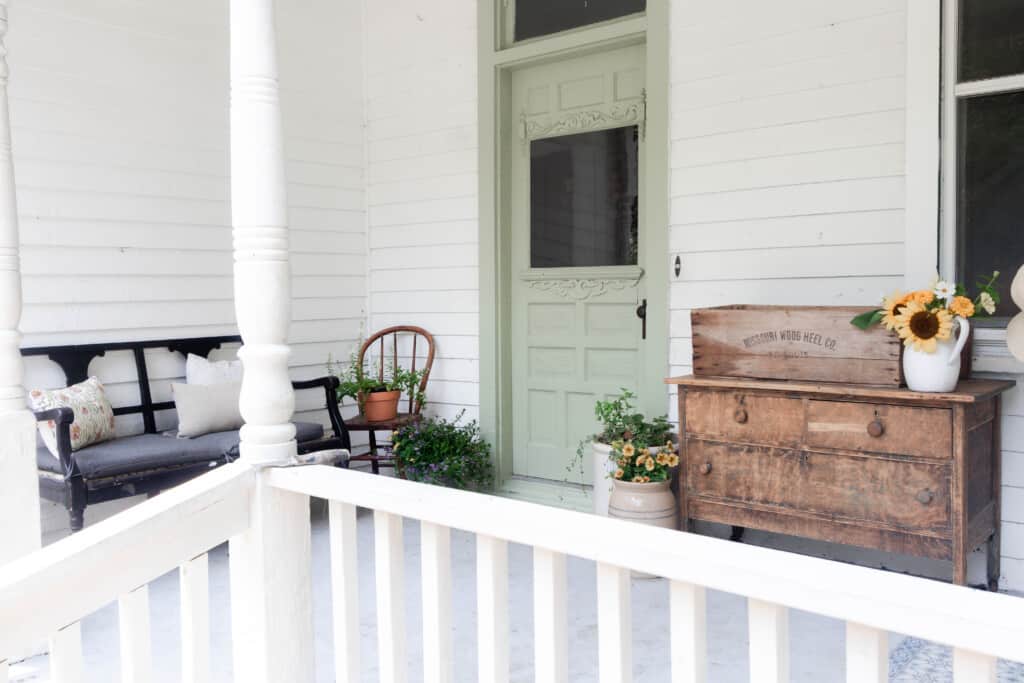 Find More Handmade Home Projects: