Cast iron really isn't that complicated, and your oil blend doesn't have to be either. This DIY cast iron seasoning oil works very well for first time and repeated seasonings on your favorite skillets.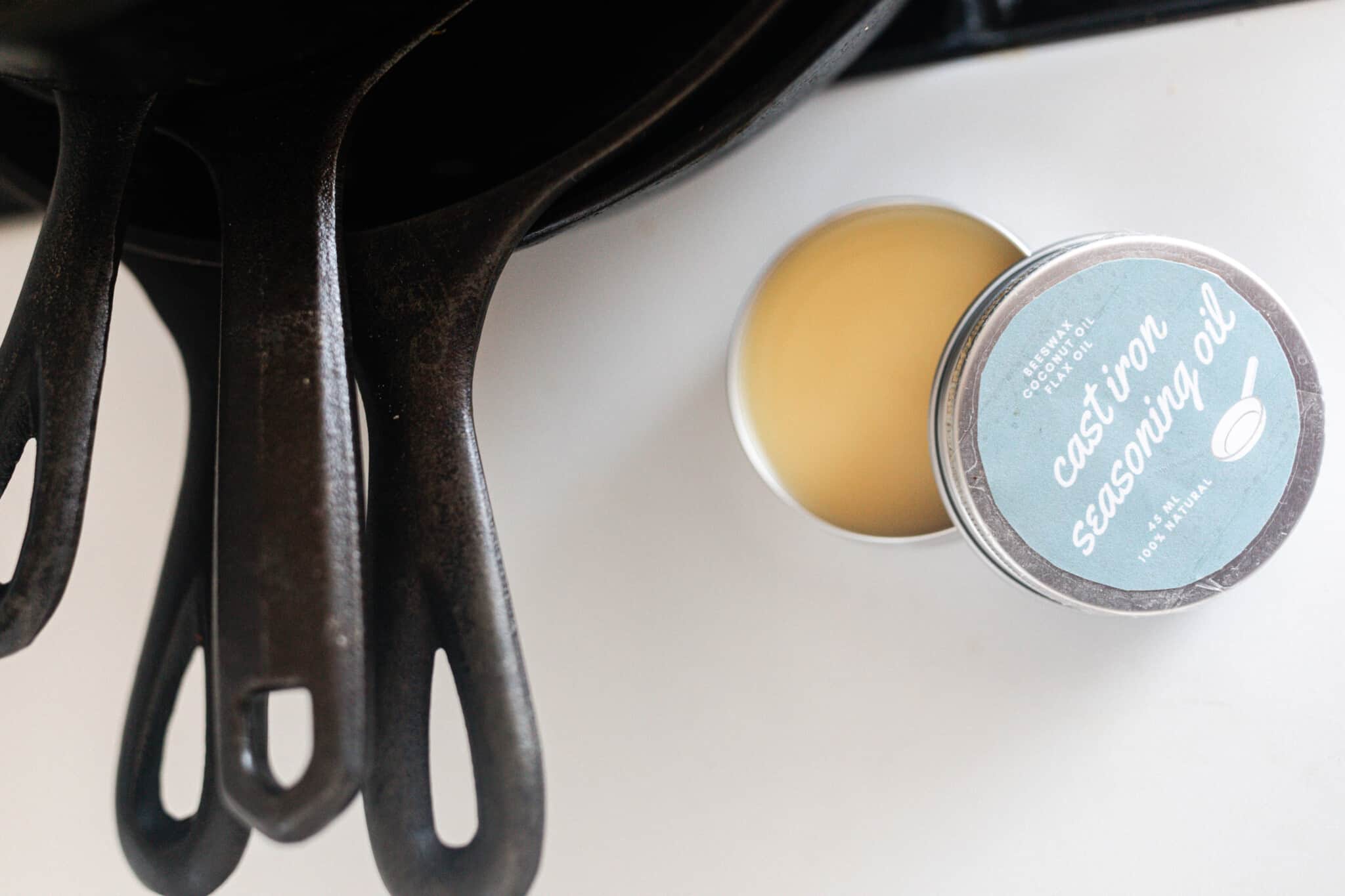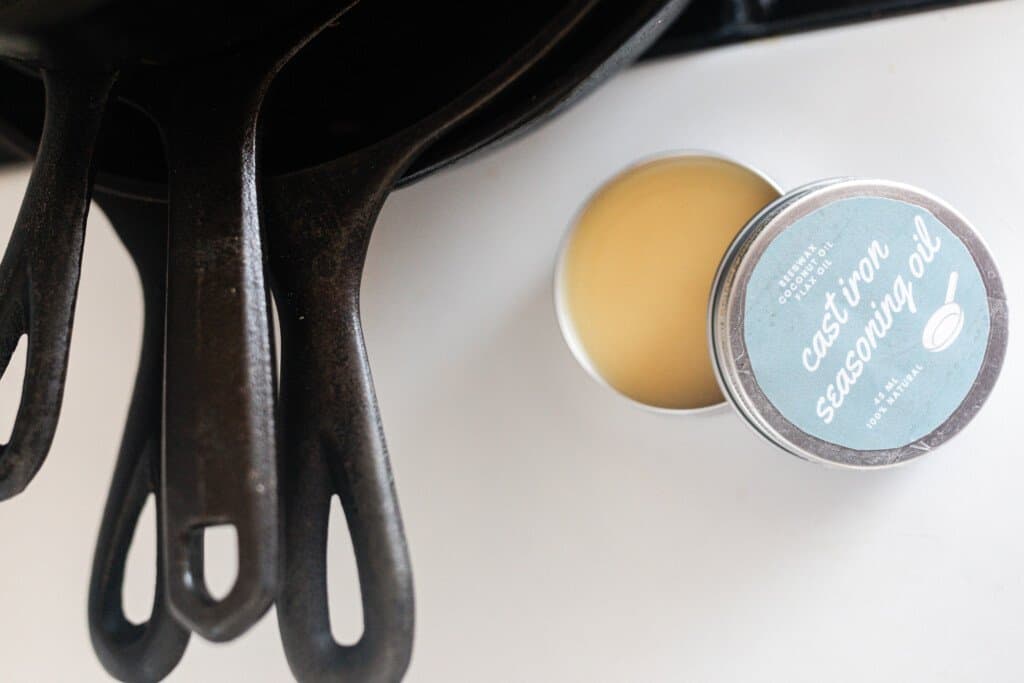 Not all skillets are created equally, and cast iron is one of those exceedingly wonderful cooking tools that you really ought to embrace. 
Do we all remember the days of teflon non-stick pans with a cringe? Or is that just me?
Cast iron offers the non-stick without the leeching. While it isn't always perfectly non-stick, correct and consistent seasoning will ensure a non-stick skillet that also stays hot longer for great frying, searing, and sautéing.
It doesn't stop there. I often bake in my cast iron skillet, and I've also been known to bake a cake, cobbler, cornbread, pancakes, shepherd's pie, and breakfast biscuits in my favorite skillet. If it's possible, I'll try to make whatever I can in it.
It is a pretty darn versatile tool in your kitchen.
People often wonder how our family doesn't have a dishwasher (we even remodeled our kitchen and didn't put one in). And this handy tool is one reason we don't need one. It makes clean up a breeze. I wrote a whole post on how to care and cook with it here.
The key to successful cast iron cooking is in the seasoning. Without a good seasoning, your food will stick, which leads to a not-so-great cooking experience.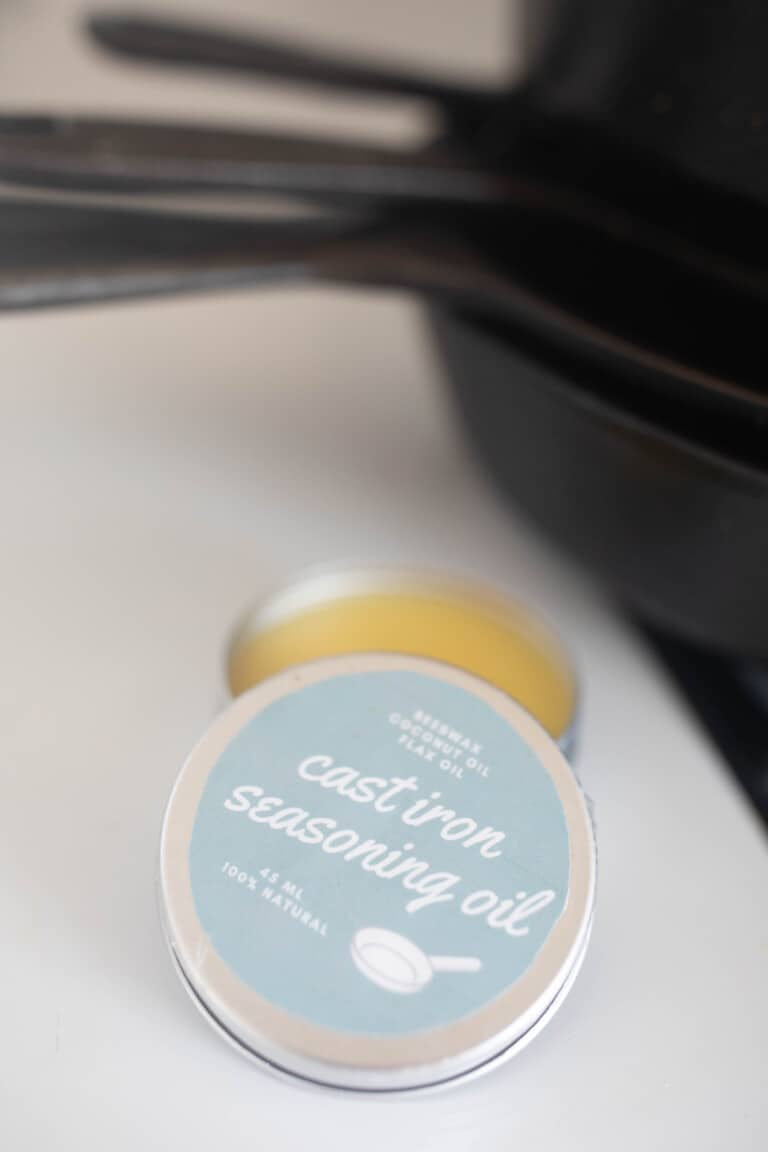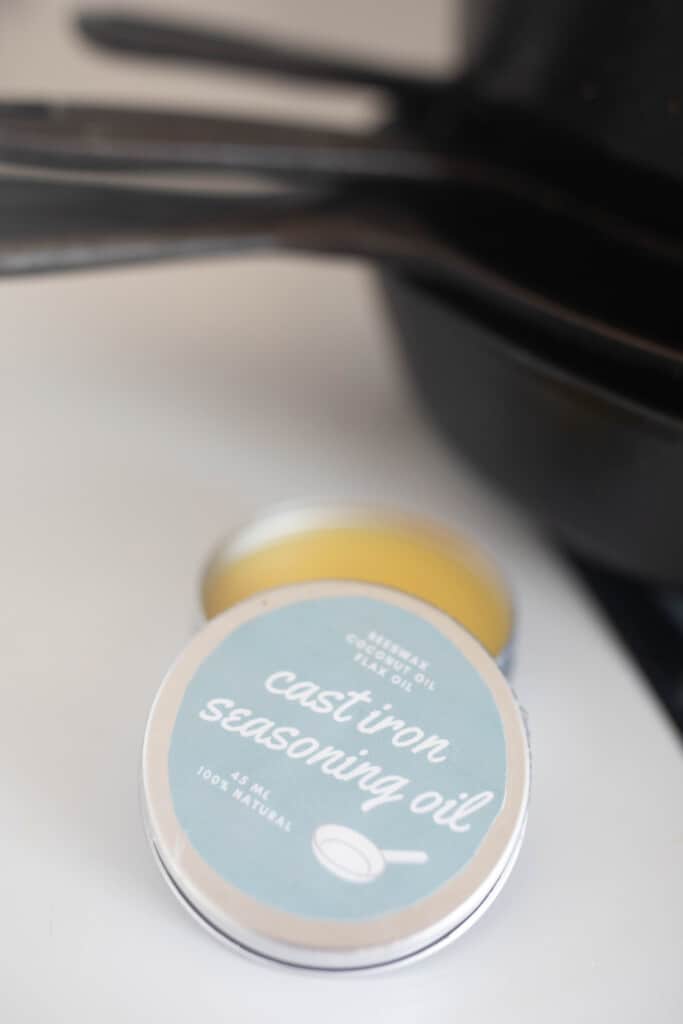 Tips For Making DIY Cast Iron Seasoning Oil
Create a double boiler by filling a saucepan with a few inches of water and placing a glass or metal bowl on top.
I wouldn't recommend substituting the coconut oil for a different oil in this recipe. Coconut oil is firm at room temperature and swapping it out with a more liquid oil would change the texture of this seasoning blend.
Cooking tip: Preheat your pan. Adding food to a cold skillet is a sure fire way to ask for sticking. It is also important to move the food as little as possible, whether that is flipping or stirring.
Use this recipe as a way to keep your seasoned cast iron in tip top shape. If you need to re-season your skillet, you can follow the directions below.
This post contains affiliate links, which means I make a small commission at no extra cost to you. See my full disclosure here.
Print a label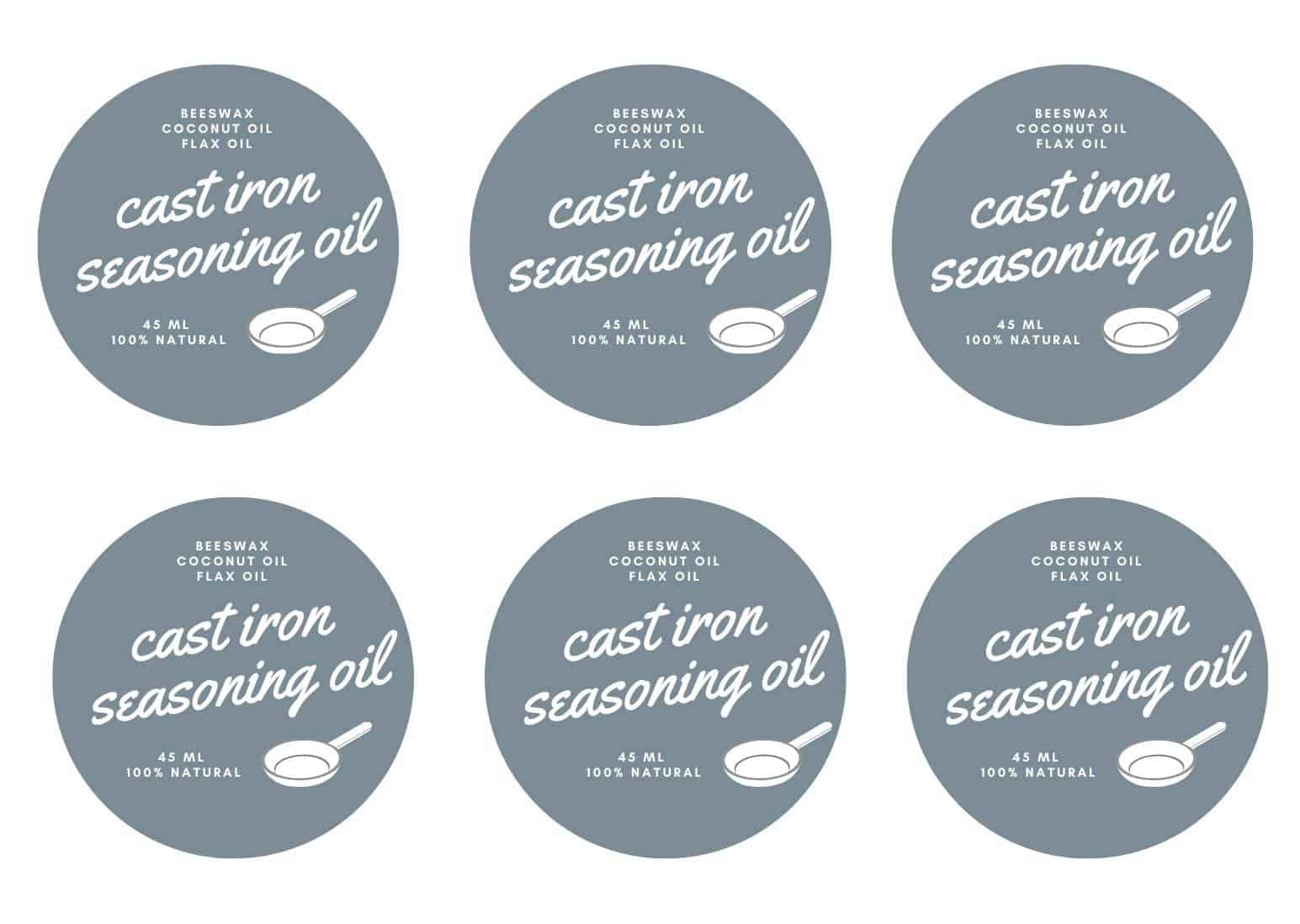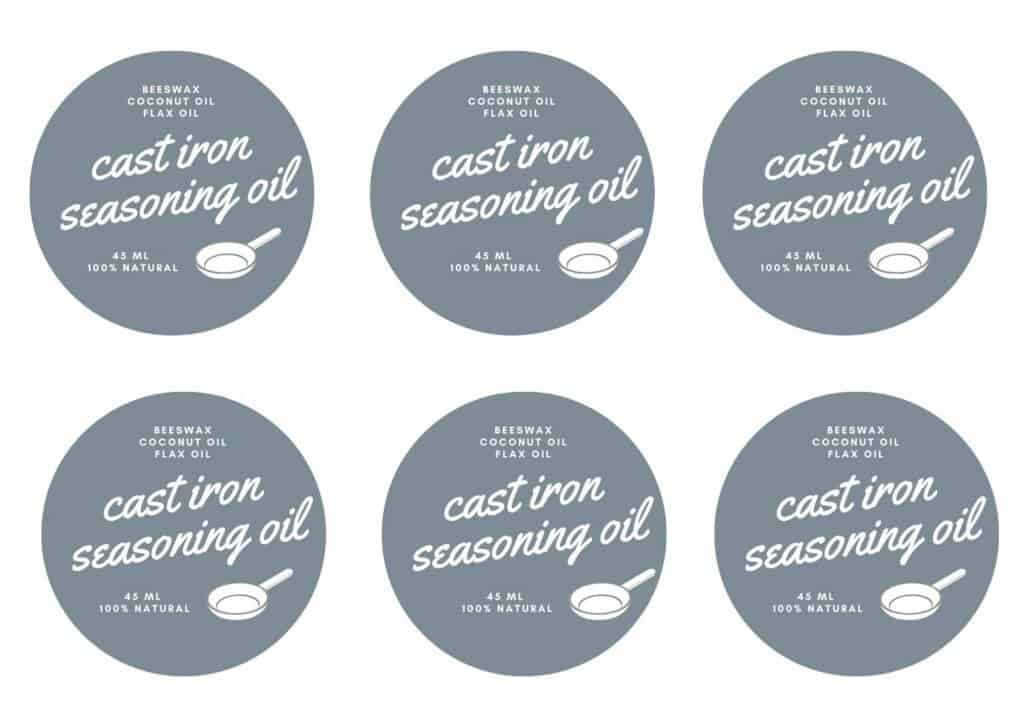 How To Season Cast Iron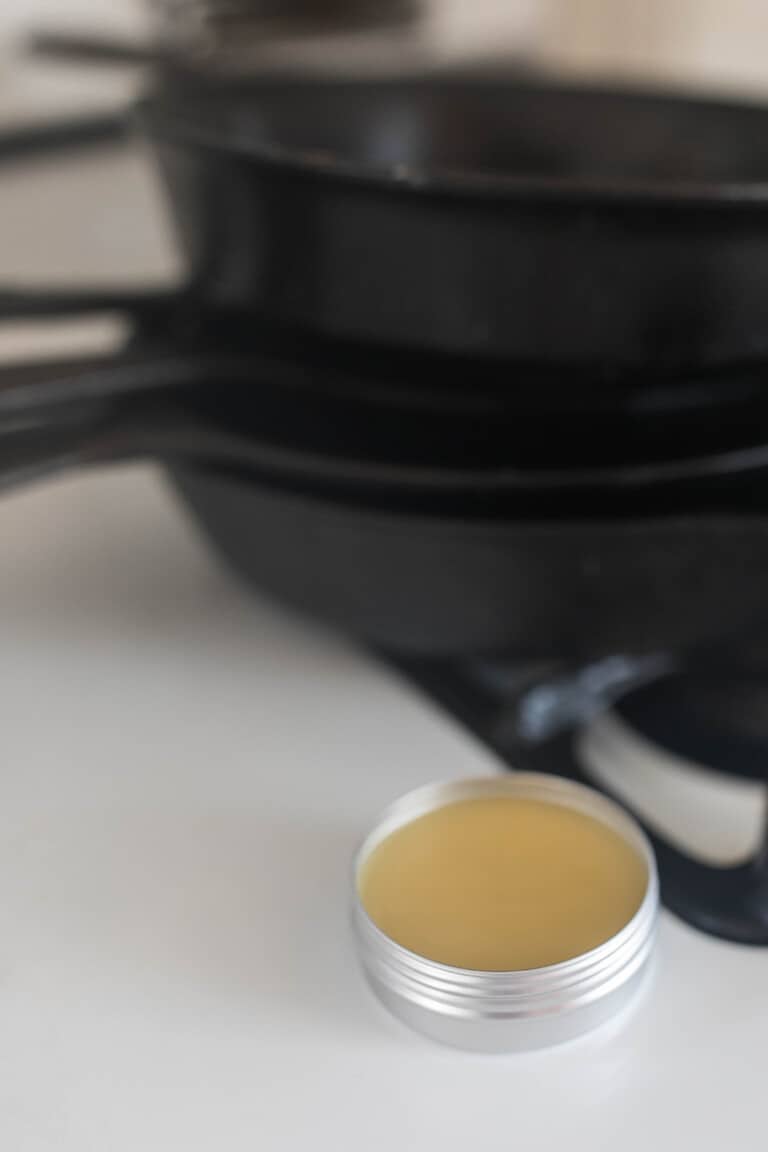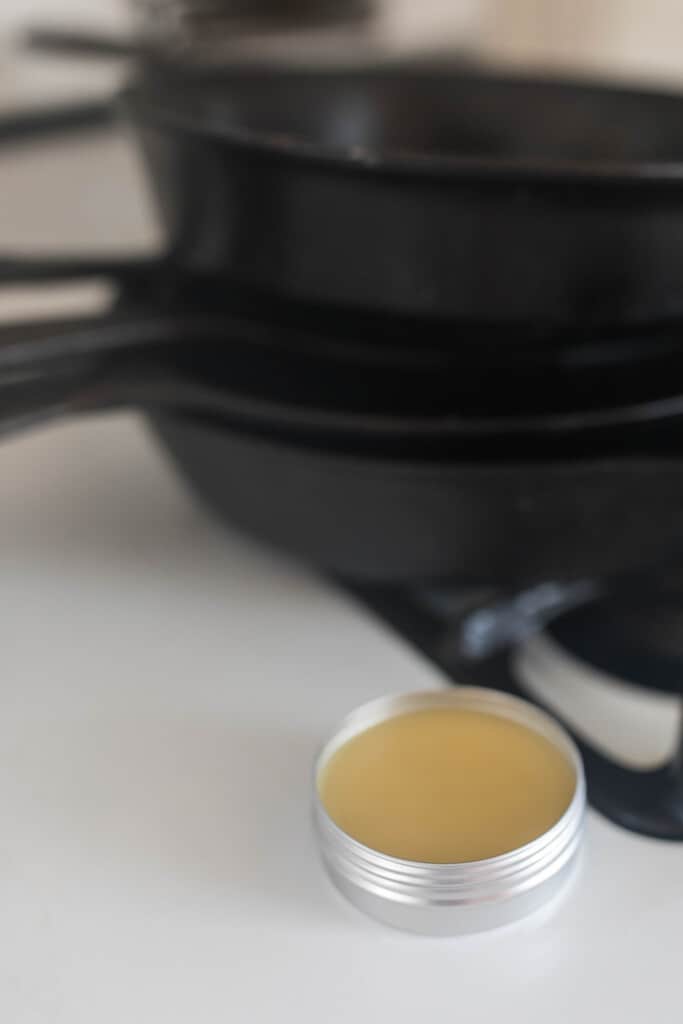 Scrub your pan with warm, soapy water. Dry thoroughly. If it is old or rusty, make sure to scrub it well with something abrasive, like a stainless steel scrubber.
Apply cooking oil (use an oil with a higher smoke point like avocado, coconut, flaxseed, etc.), all over the skillet, inside and out, including the handle and sides. Buff with a towel to leave a very fine layer of oil, but prevent extra oil from pooling when heated.
In your oven, preheated to 450, bake the skillet for 60 minutes.
After the 60 minutes are up, remove your *very hot* skillet (carefully with proper protection).
Repeat process if necessary, until the skillet is black and shiny. Sometimes it can take 3 or 4 times for best results.
Now that your skillet is seasoned, it's essentially maintenance free! Every use that involves some type of fat will add to your layers of seasoning. In addition, I like to add a light layer of this cast iron seasoning oil blend after each use of my skillet, once it's clean and dry.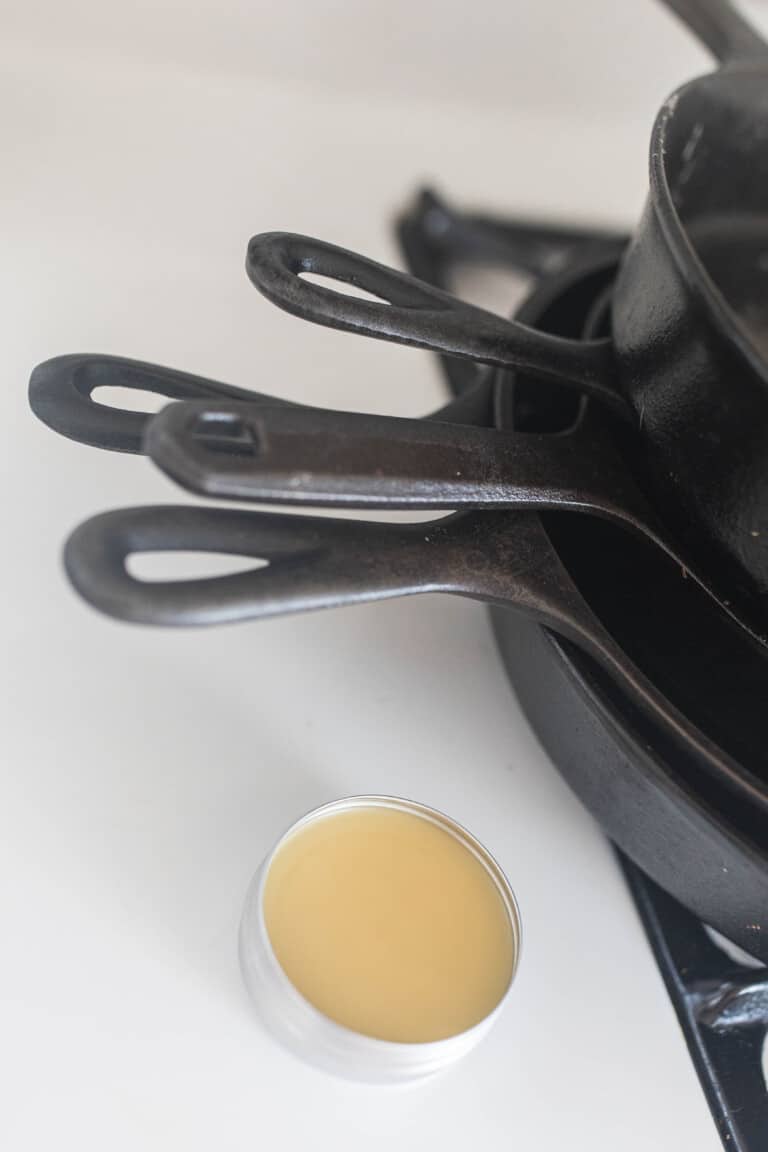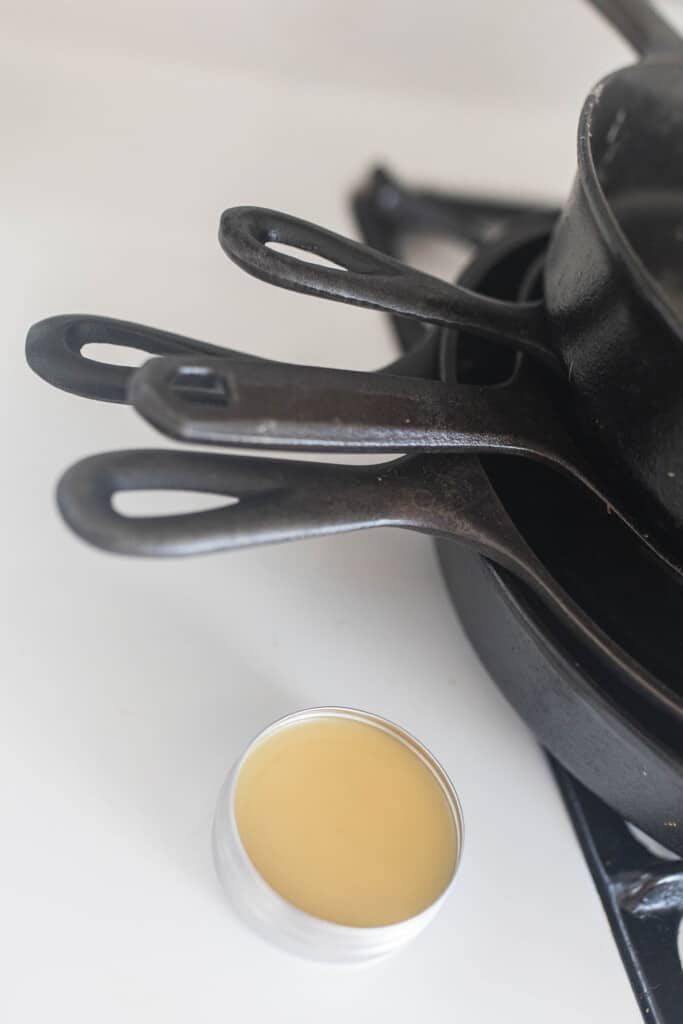 How To Clean A Cast Iron
The are essentially two rules of cleaning cast iron. 1) Don't use soap. 2) Make sure it is completely dry.
Once it is highly seasoned, you can just wipe it clean and put it away until the next use.  If something is super stuck on, remove it with a little water and a stainless steel scrubber.
Season with DIY cast iron seasoning oil before putting it away.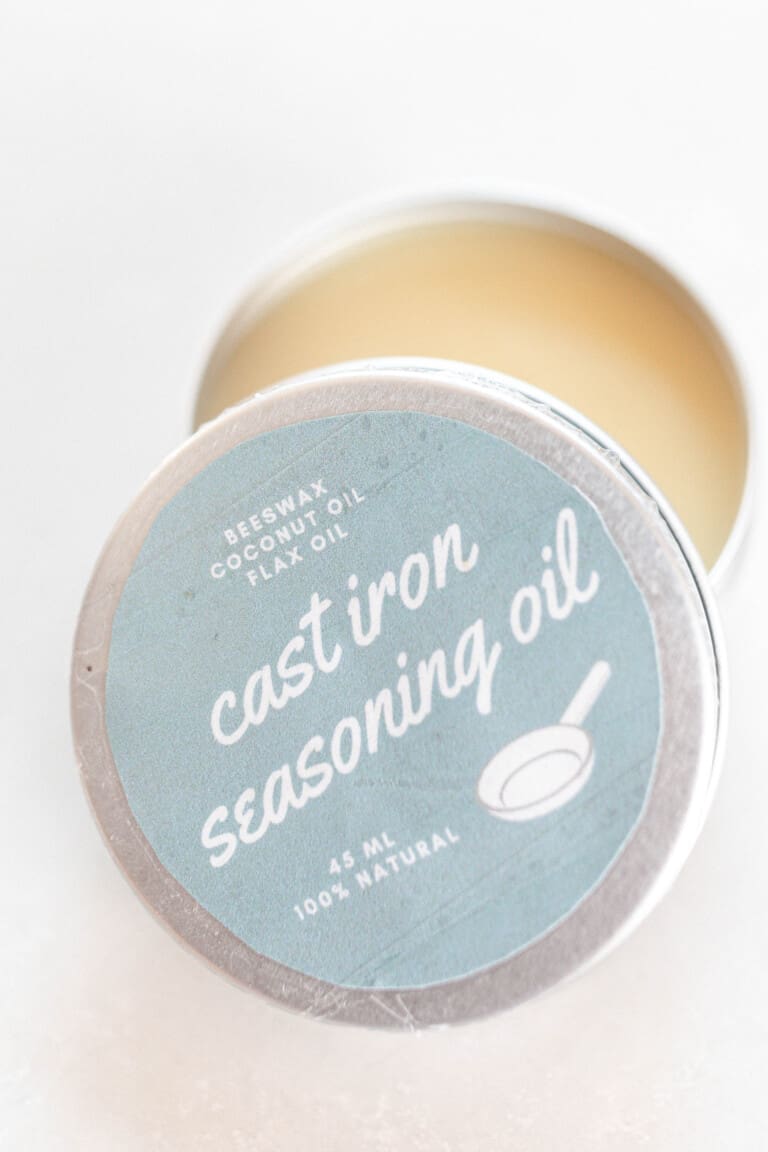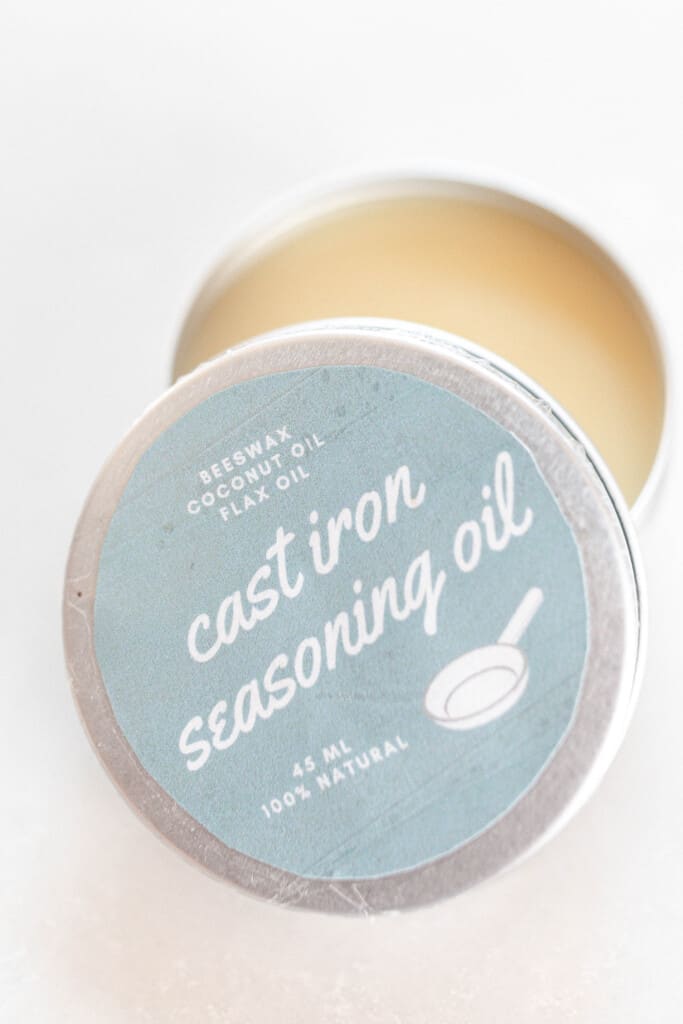 How To Make DIY Cast Iron Seasoning Oil
Combine all three ingredients in a double boiler until melted. Pour in a jar or tin.
Allow to cool completely. It will thicken up as it cools.
After washing and thoroughly drying your cast iron, rub this on with a tea towel, to condition the cast iron. It is something nice to just keep by your stove to continue seasoning well-used cast iron.
If you're a seasoned professional (see what I did there?) or completely new to the world of cast iron, I hope this information was helpful. Perhaps it was simply a refresher, but cast iron care really is simple and rewarding.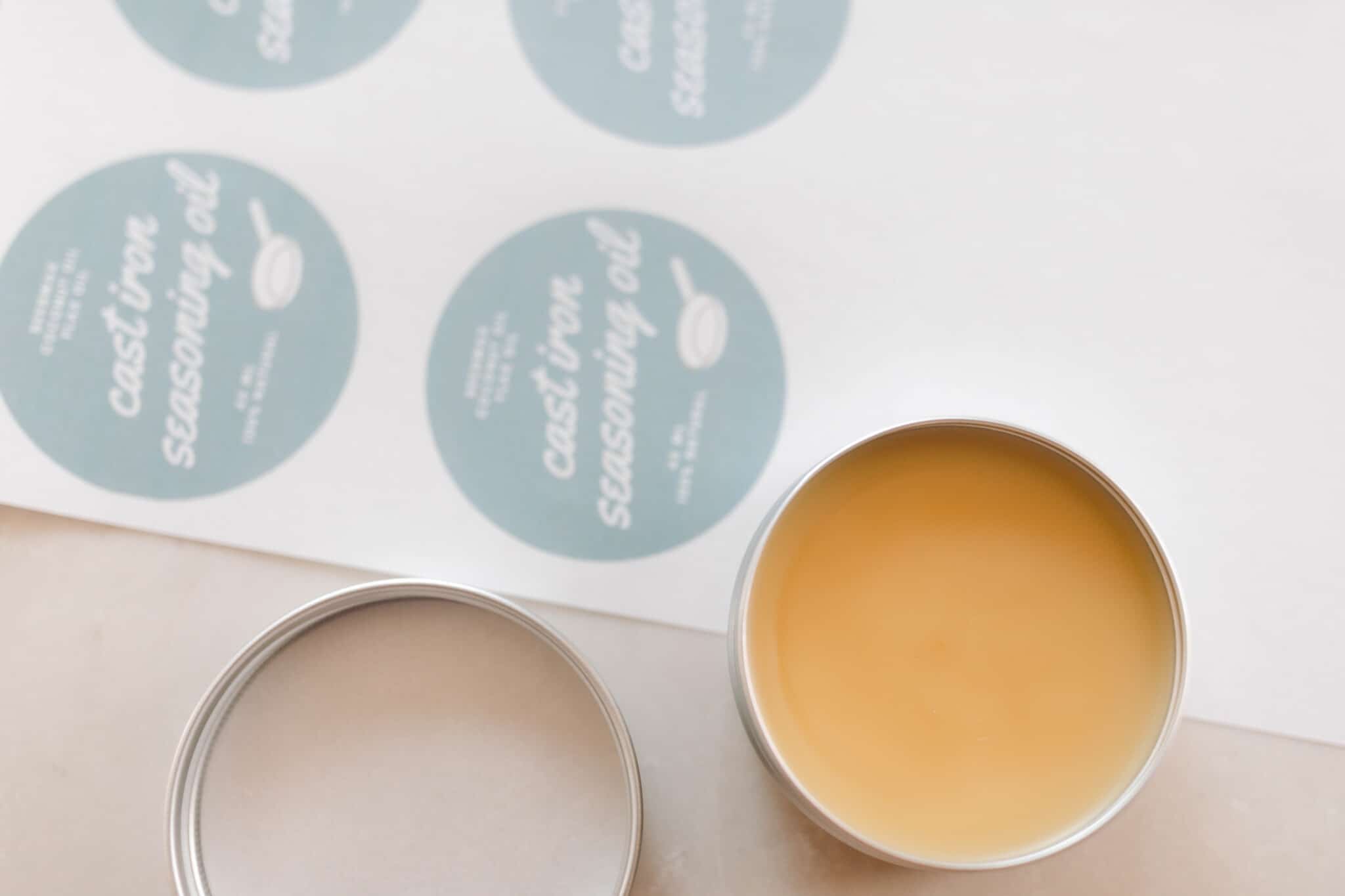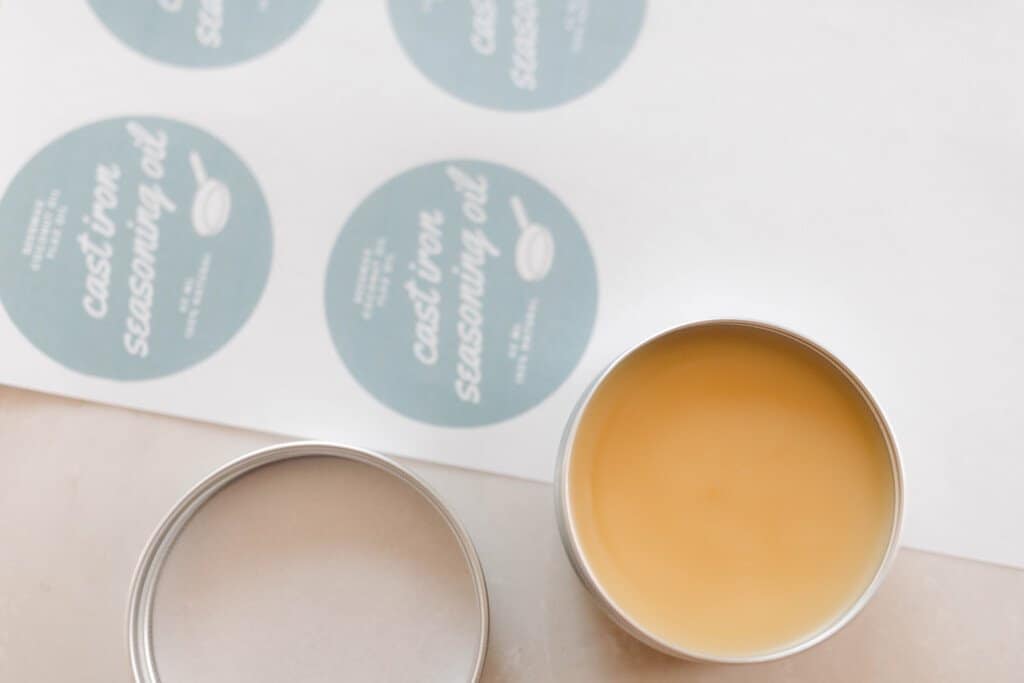 FAQ
Which oil is best for seasoning cast iron?
Oil with a higher smoke point is best for your cast iron. Stick to oils such as coconut, avocado, flaxseed, etc.
Avoid using low smoke point varieties such as extra virgin olive oil or butter.
You should never use a non-stick spray to season your skillet, as they normally contain numerous additives that can be harmful to your cast iron.
Can you use olive oil instead of vegetable oil to season cast iron?
Olive oil has a lower smoke point and isn't recommended for seasoning cast iron. If you are trying to avoid using vegetable oil, then avocado, coconut, or flaxseed would work.
Is it okay to use coconut oil on cast iron?
Yes. Coconut oil is a great tool for developing a healthy, seasoned surface on your cast iron skillets.
How many times should I season my new cast iron?
I recommend 1-4 rounds of the oil-buff-bake method, followed by a quick oil and buff after each use.
Find my favorite cast iron recipes:
If you try this recipe and love it, I would love if you could come back and give it 5 stars! Tag me on Instagram @farmhouseonboone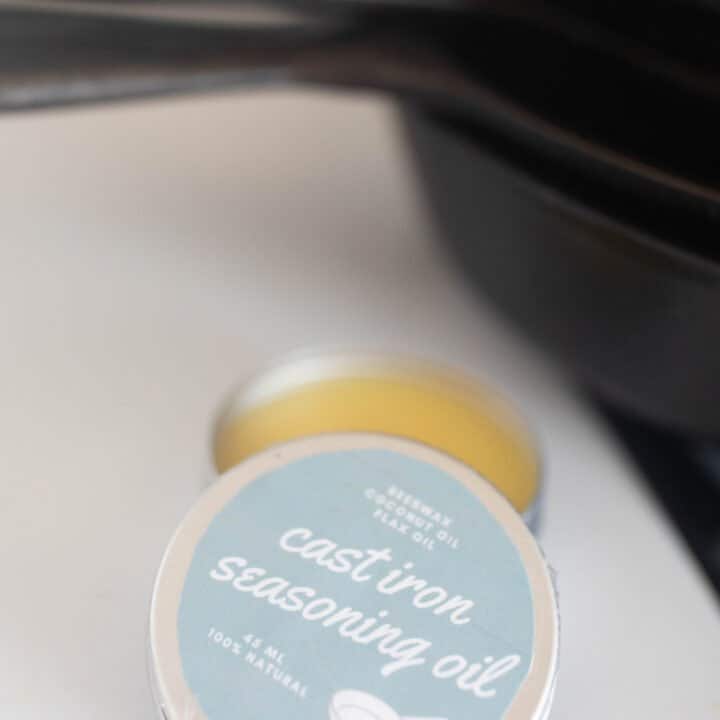 DIY Cast Iron Seasoning Oil
Make this easy DIY cast iron seasoning oil blend to help protect your skillet and keep it non-stick.
Materials
1 tablespoon beeswax melted
1 tablespoon flaxseed oil
1 tablespoon coconut oil
Tools
Double boiler
Measuring spoons
Instructions
Combine coconut oil, flaxseed, and beeswax in a double boiler over medium heat until melted.

Pour in a jar or tin and allow to cool.

After washing and thoroughly drying your cast iron, rub a little bit of this on using a tea towel to condition it.

Notes
Keep this close to the stove for easy reach, to season your skillet after each use.