Ideas for simple farmhouse bathroom decor. This post includes a 'decorate with me' farmhouse bathroom makeover video.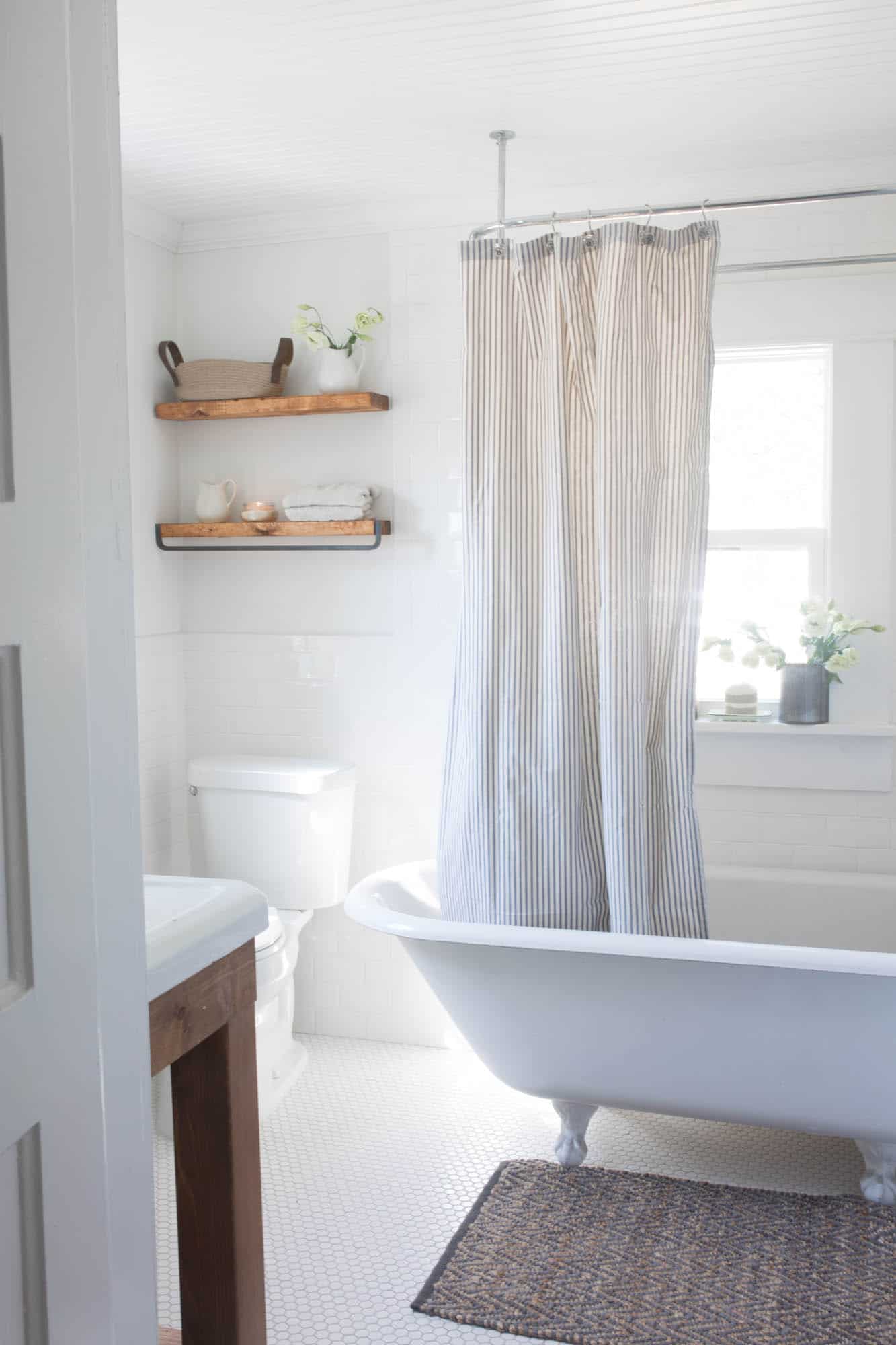 Farmhouse Bathroom Decor from Finishing Touches
Recently, I was asked if I wanted to try out a farmhouse bathroom decor box from Finishing Touches Home.
I was a little reluctant at first because I love simple colors, natural fibers, wood tones, etc…
I.e. I'm really picky.
I agreed to check out the box, but I told them I wasn't going to put up anything I didn't like.
[thrive_2step id='10763′]Click here to download my FREE Ebook on "Simple Ways to Add Farmhouse Style to any Home!"[/thrive_2step]
I was very pleased when I actually opened the box.
The farmhouse bathroom refresh box has a neutral color palette, soft patterns and plenty of texture.
I love all the extra color in our bathroom!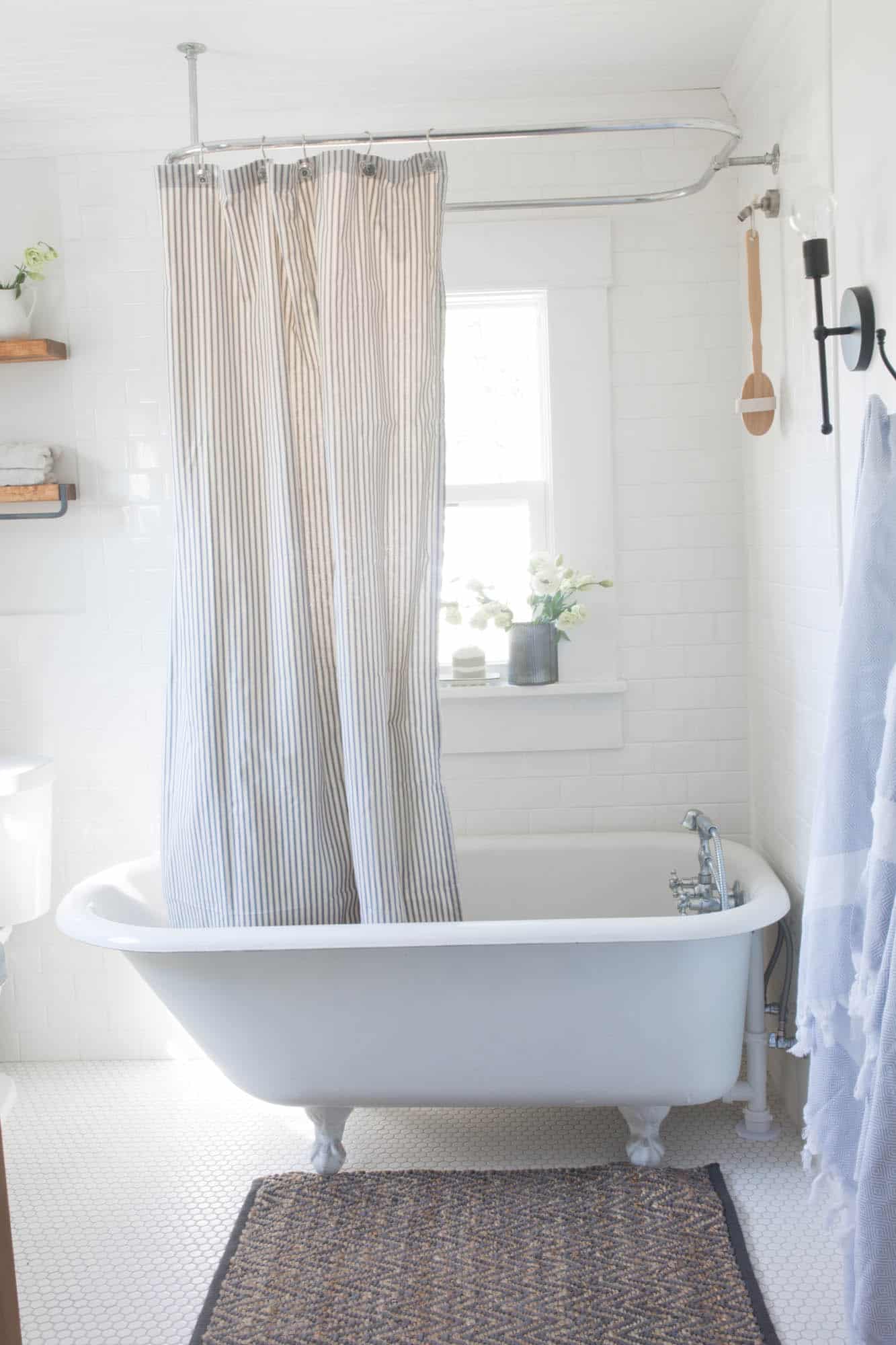 The refresh
I installed three towel hooks, something I have been meaning to do since we renovated our bathroom.
These hand woven grayish-blue Turkish towels look nice hanging next to the clawfoot tub.
I love the color and the little tassels at the end.
In the space above the toilet, I hung the handmade floating wooden shelves. They fit perfectly between the wall and the subway tile.
You can actually watch me install them in the video.
I had never hung floating shelves before, but they were super easy.
The wrought iron towel bar barely fit in the space.
My favorite thing in the whole box is the jute and seagrass basket.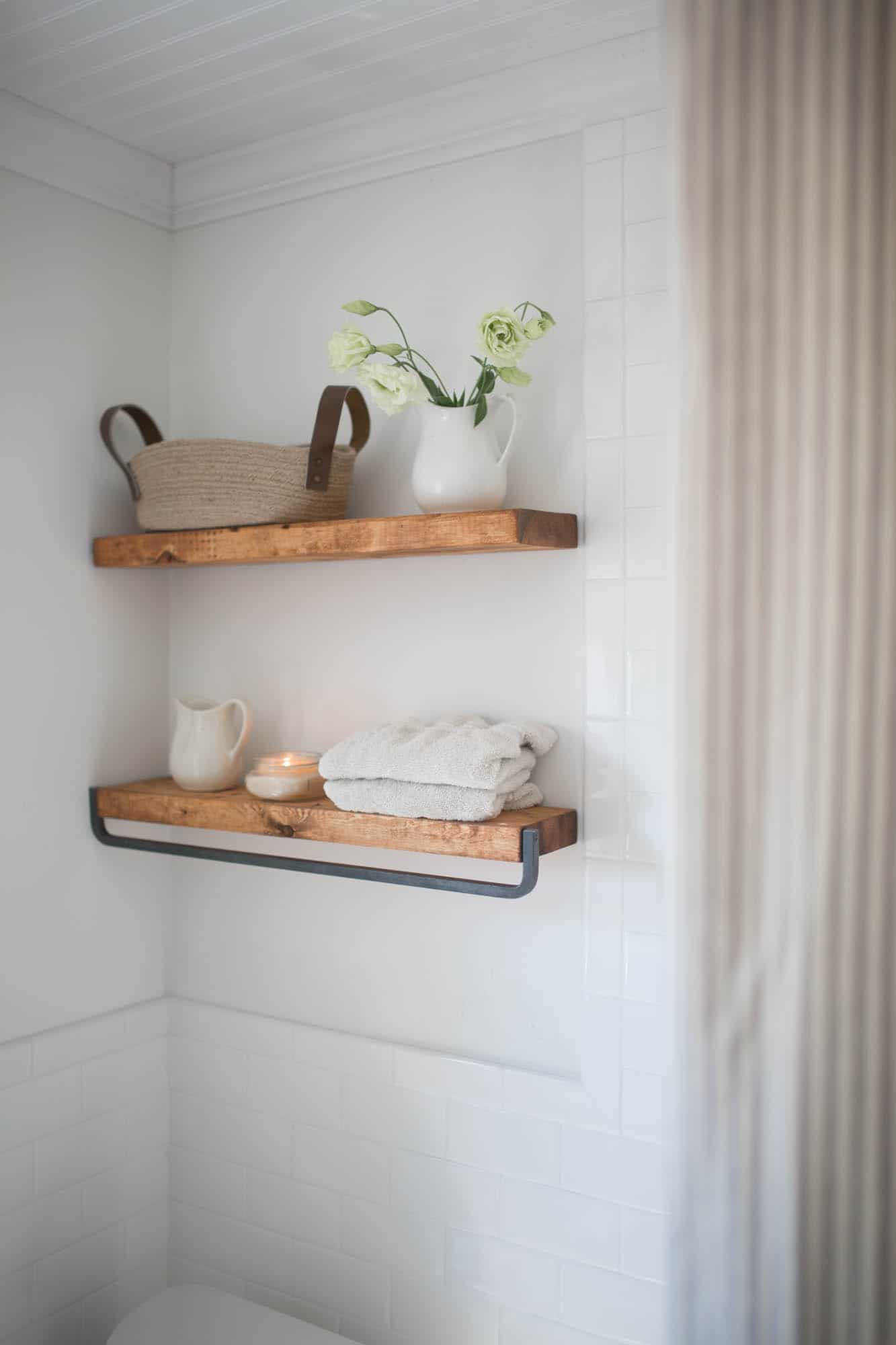 I have been meaning to add a striped shower curtain for some time now. I just felt like the room needed some pattern.
This ticking stripe shower curtain is perfect for our farmhouse bathroom.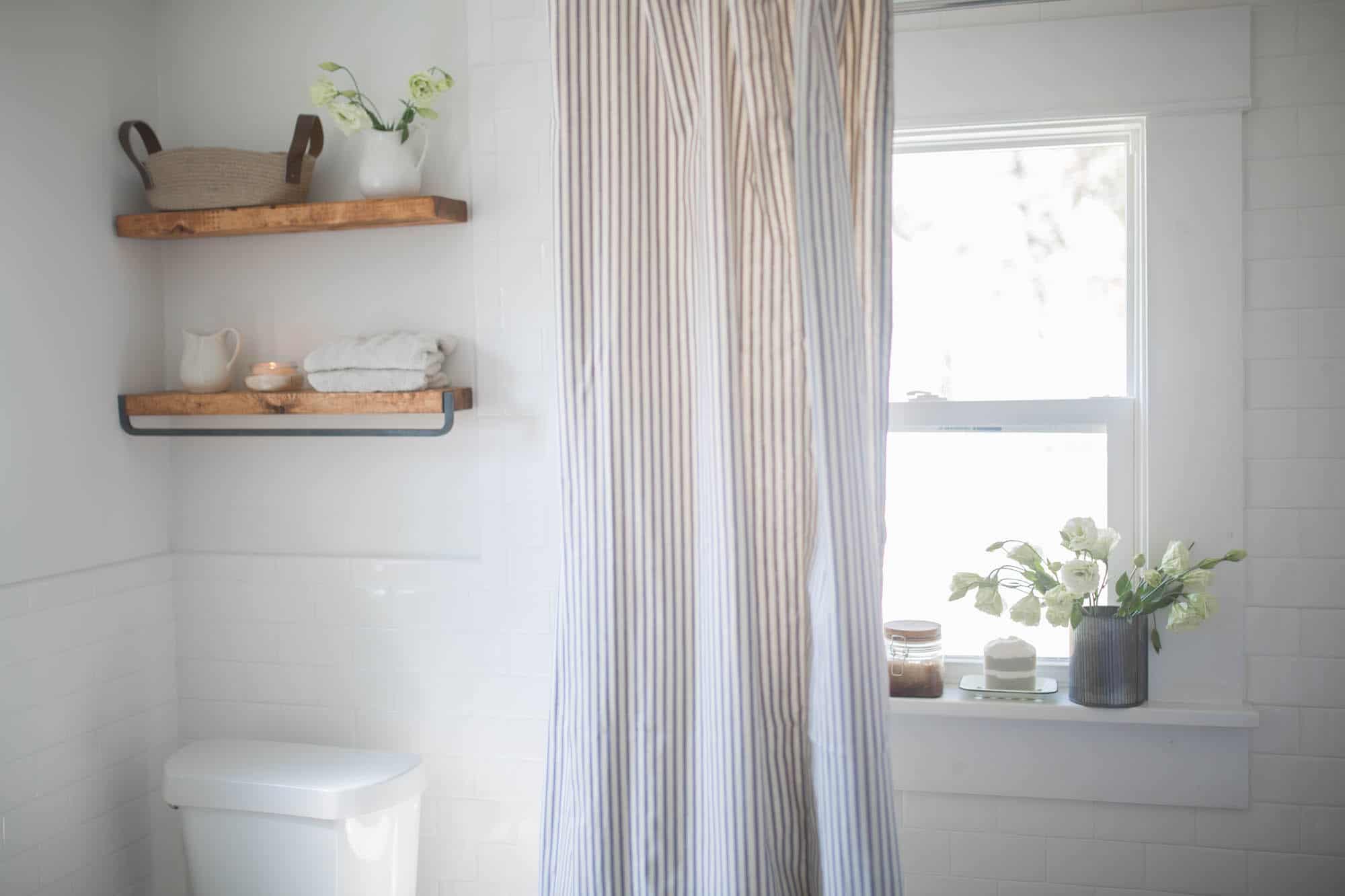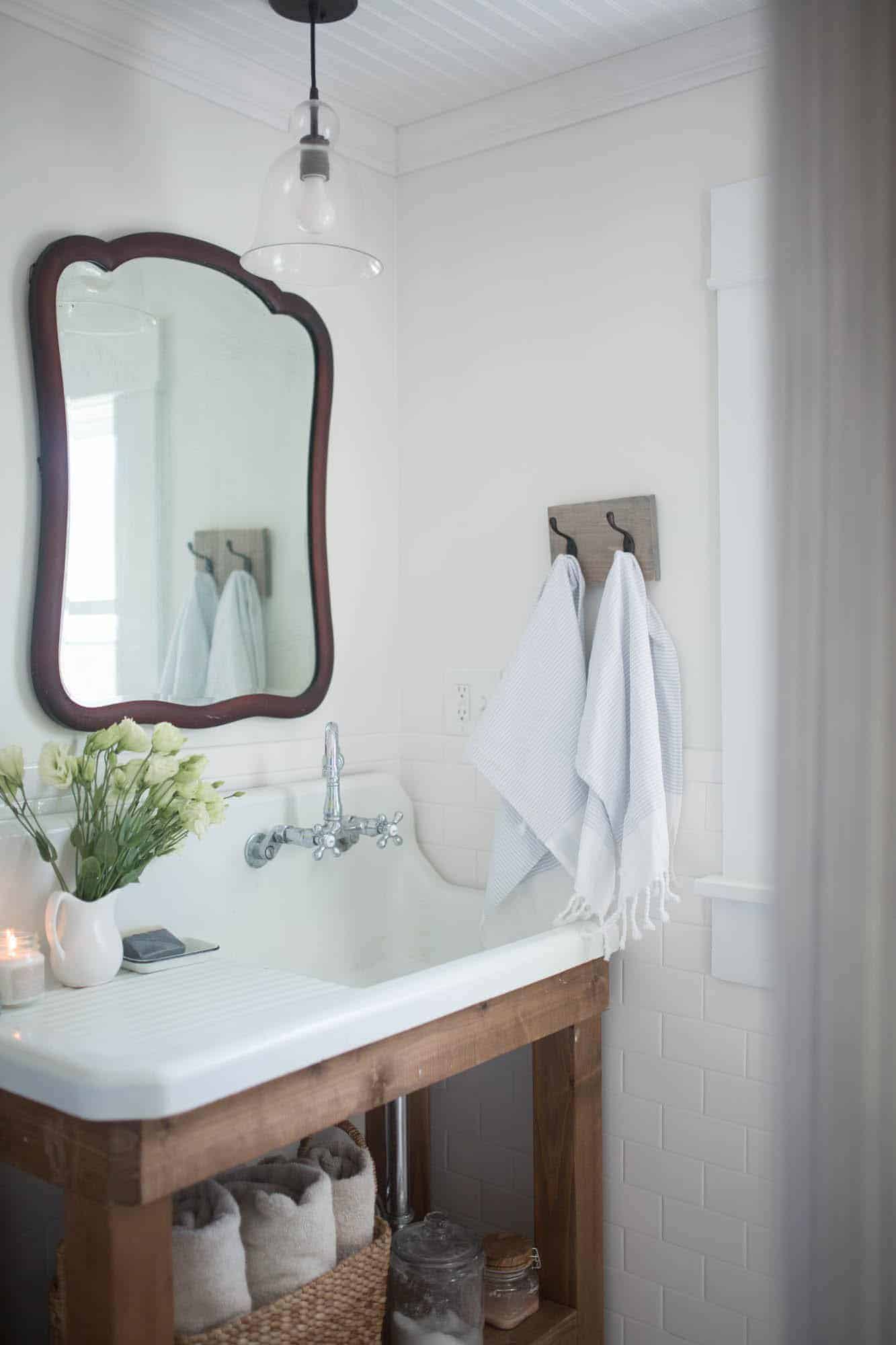 I love the color the wall hooks and Turkish towels add to the sink area.
You can read more about my $35 garage sale farmhouse sink HERE and HERE.
I found the mirror on Craigslist. Read more about the whole renovation HERE.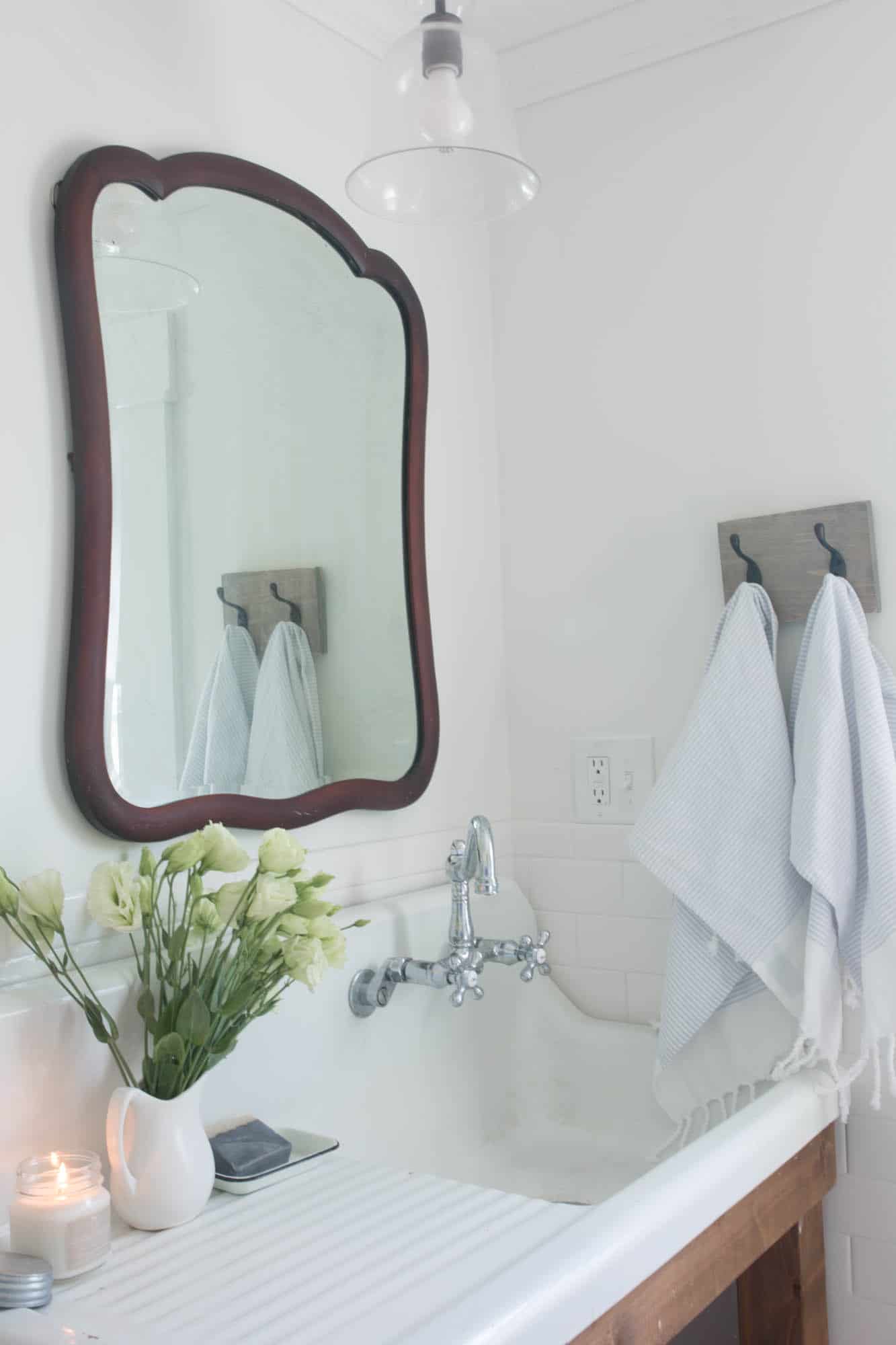 Our bathroom definitely needed some extra color and texture. This farmhouse bathroom decor box solved that problem instantly.
I did the whole refresh in one afternoon.
And what a difference it made!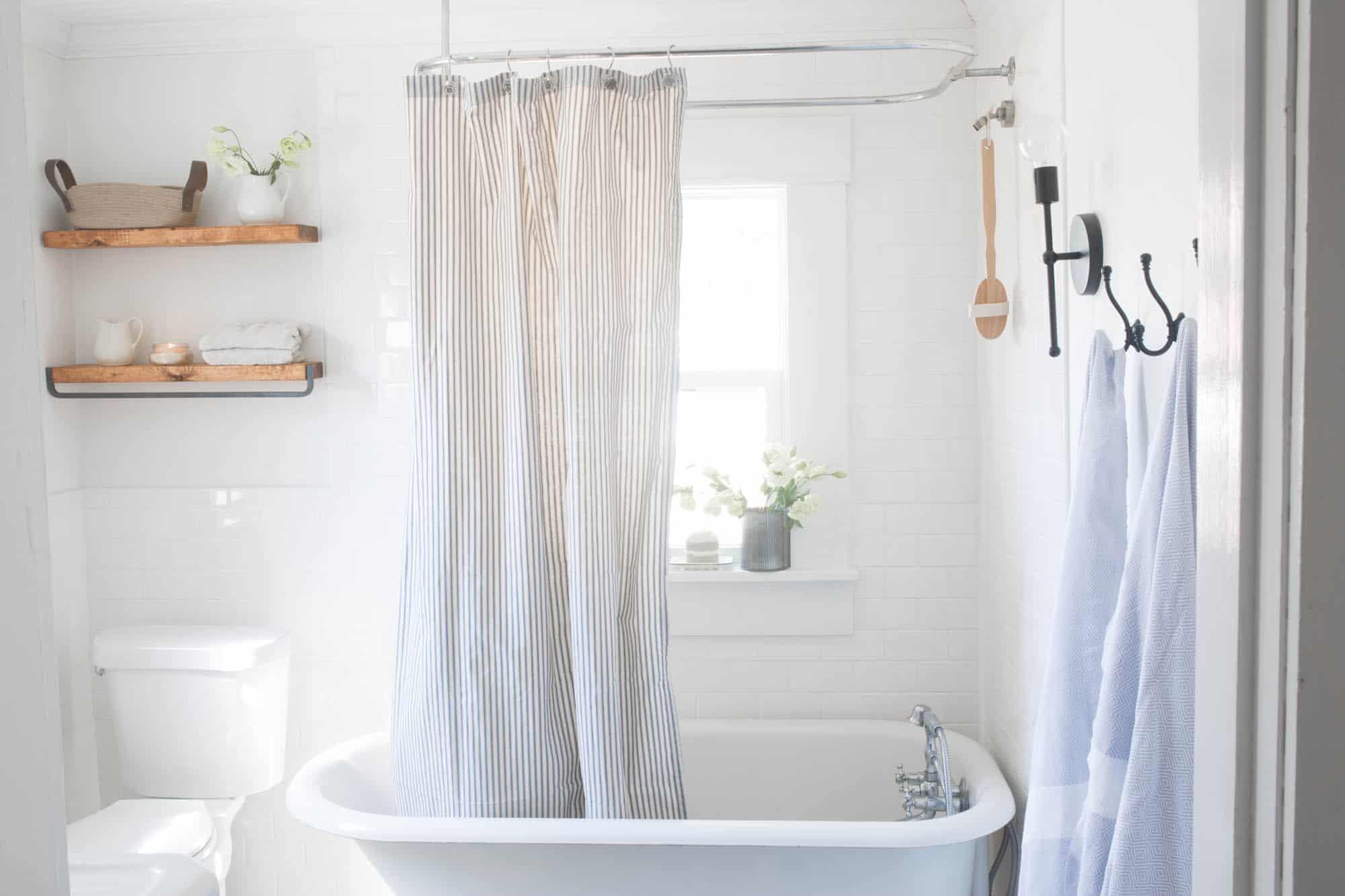 Watch the video above to see all the before pictures and the whole bathroom refresh process.
What do you think of the changes?
Thank you so much for stopping by the farmhouse.
This post contains affiliate links for your shopping convenience. See my full disclosure HERE.
Shop our bathroom

All other accessories are from the Finishing Touches Home Farmhouse Bathroom Decor Box.
Please subscribe to my newsletter for weekly updates on projects, food from scratch and life here at the farmhouse!