Come tour our farmhouse guest bathroom reveal, where we tried to turn a not-so-fantastic addition back into something that looks like it belongs in the 1800's – but with modern plumbing. A clawfoot tub, antique vanities, and marble and bronze fixtures make this space absolutely beautiful.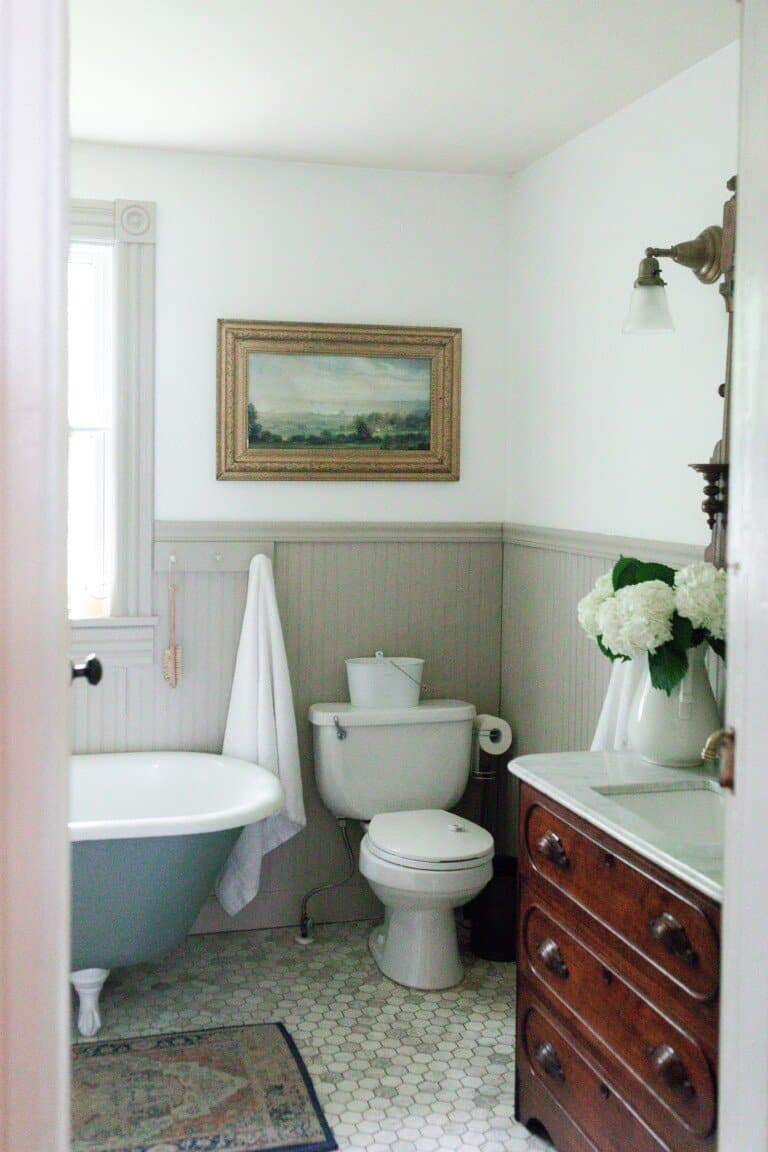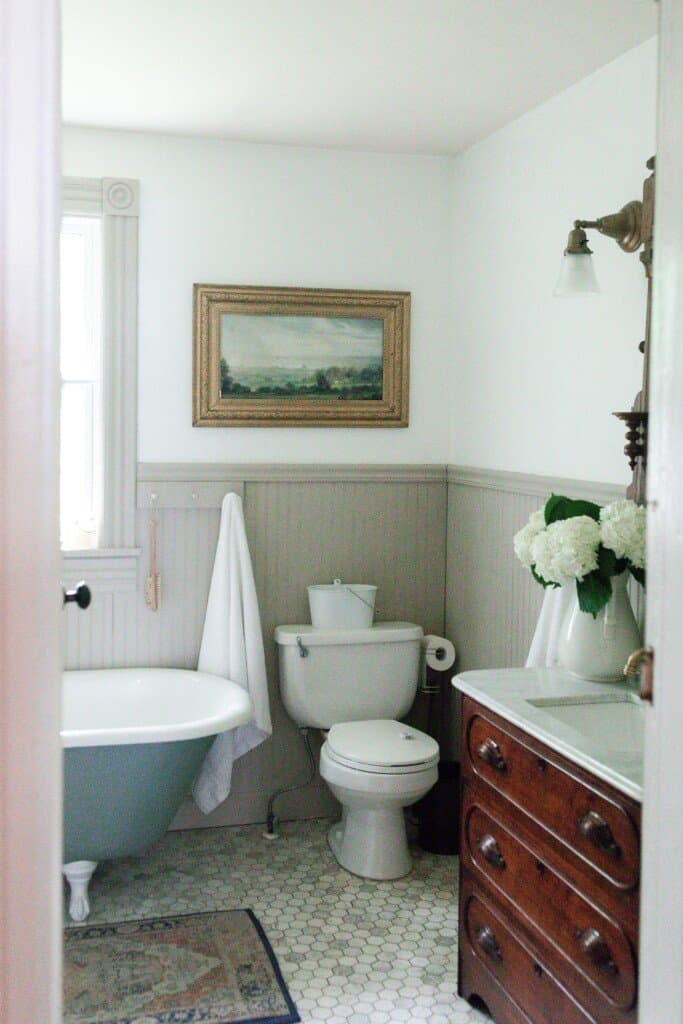 This bathroom was an addition, and it didn't have any of the charming character that the rest of the house boasted. Laminate flooring and basic trim set this room apart very poorly from the original. Not to mention, there was a sad lack of rosettes that were present in the rest of the house.
We desperately wanted to restore all that original goodness to this farmhouse bathroom and make it look like it had always been part of the house.
Since we are bringing back that original character, I headed to the local salvage shop in hopes of finding matching trim and rosettes. Thankfully, there was plenty to finish our project!
Another reason for this lovely update is that Luke and I are planning to move our bedroom downstairs to the current living room. The living room will move to the unused formal dining room. This will free up extra bedrooms upstairs for our growing family. Maybe you're thinking, "How do you make a living room a bedroom?" Let me quickly explain.
It already has doors, and since this is an 1800's farmhouse, the bedrooms don't have closets anyway. As such, we are used to having large armoires to organize clothing. Once we convert the living room into a bedroom, this new bathroom will become ours.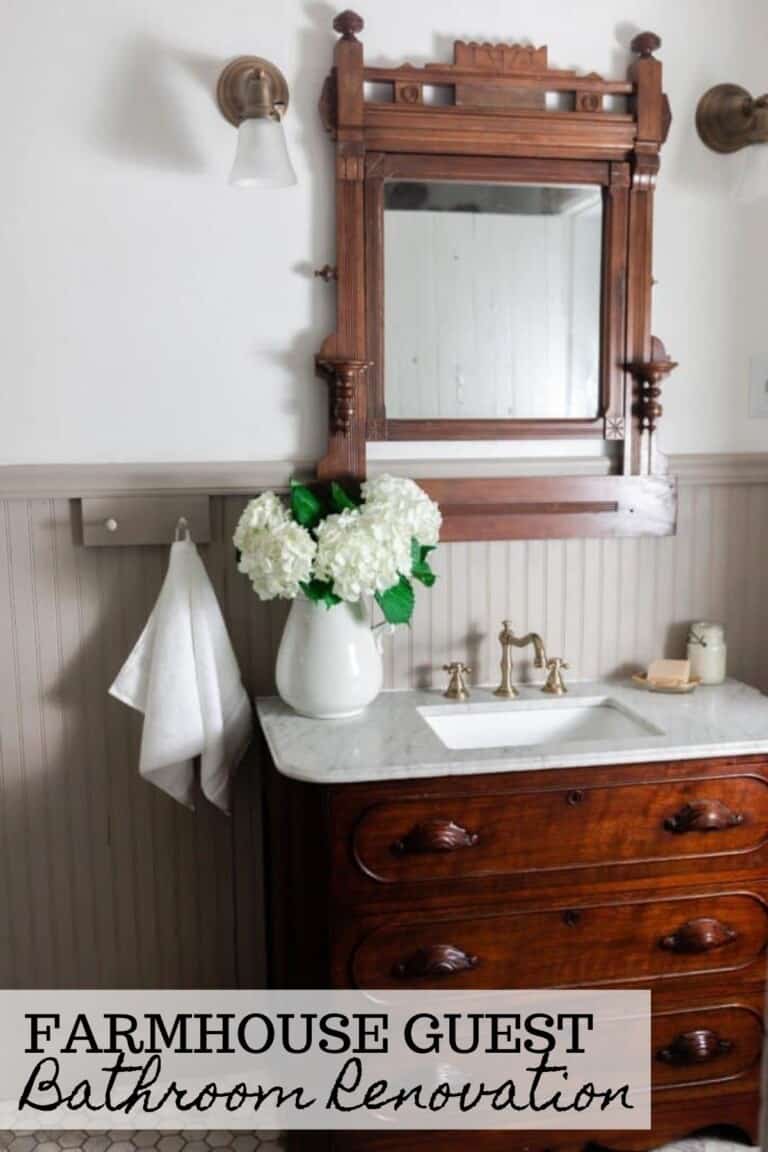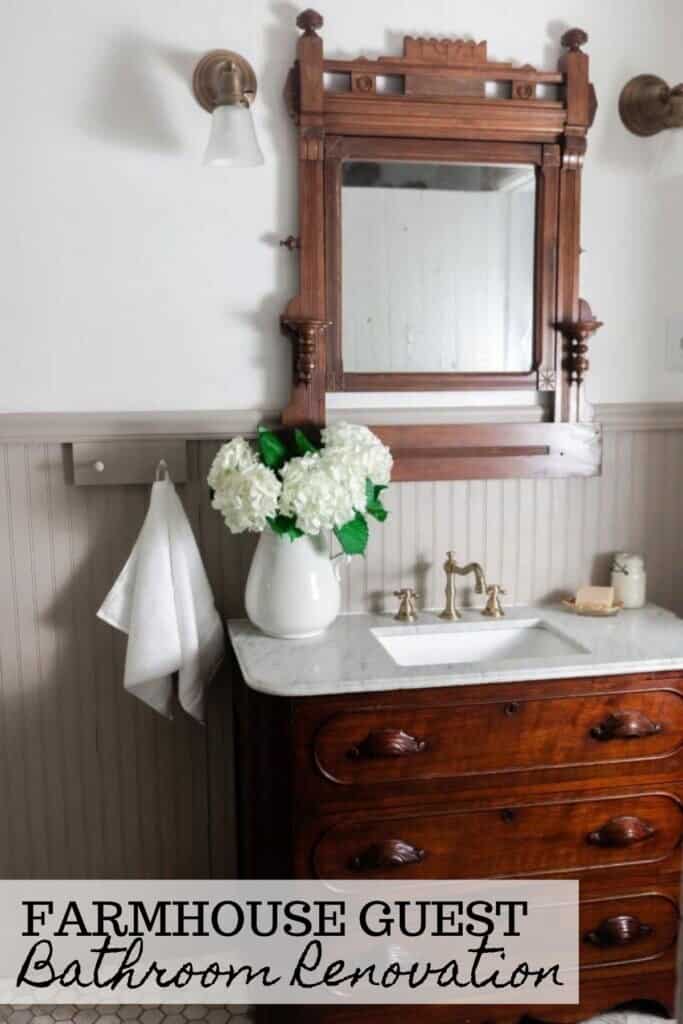 This post contains affiliate links, which means I make a small commission at no extra cost to you. See my full disclosure here.
Farmhouse Guest Bathroom Renovation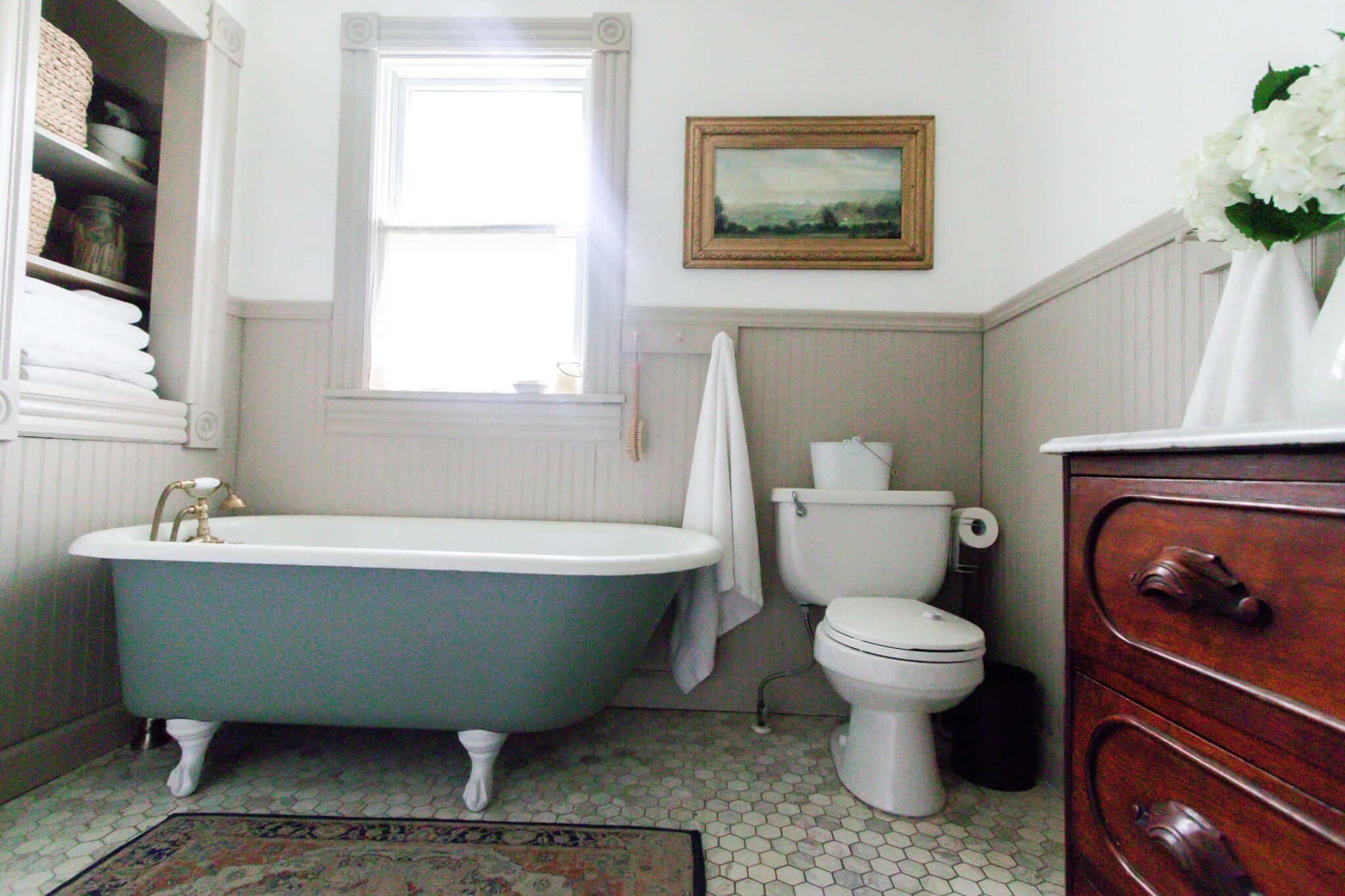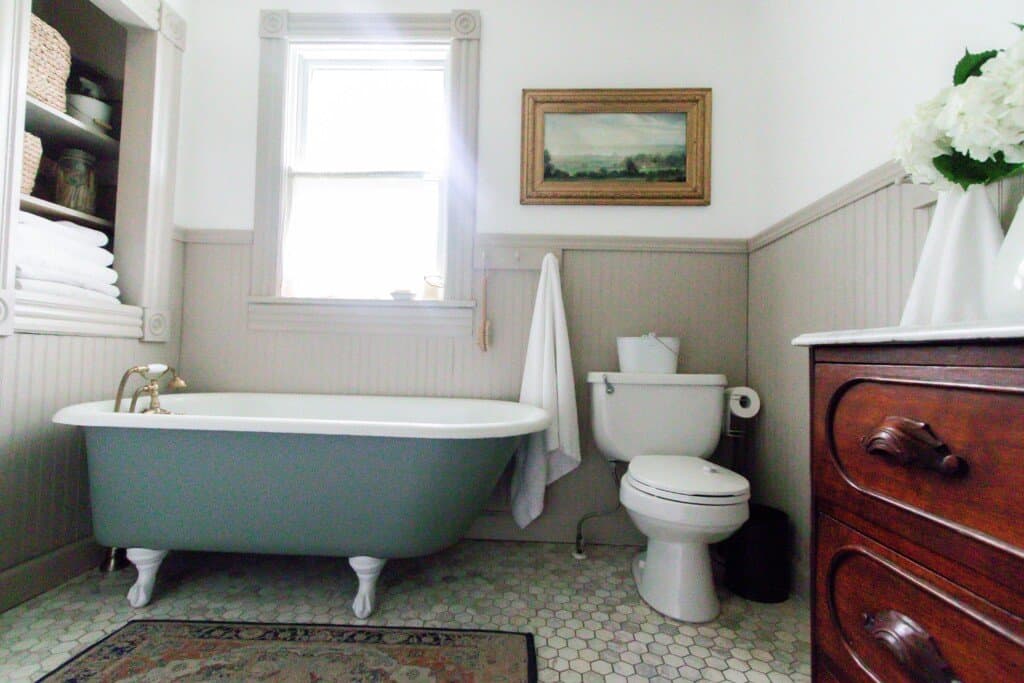 Adding The Bathtub
This bathroom project actually started last summer. We had pulled out the tub from the garden cottage during renovation of the cottage, and we had it sandblasted.
The plan was to restore the cottage, but after further investigation, we found that the cottage was beyond repair. It wasn't a good use of space on the property anyway, so we tore it down, but kept that gorgeous tub.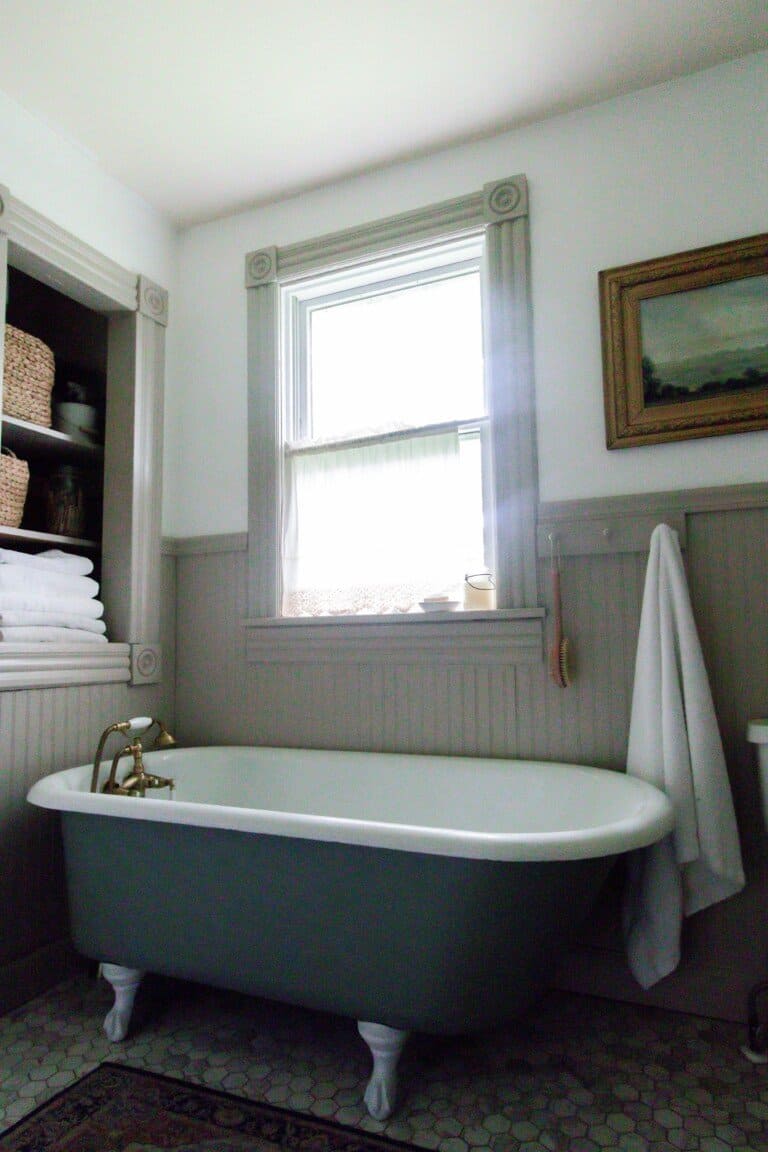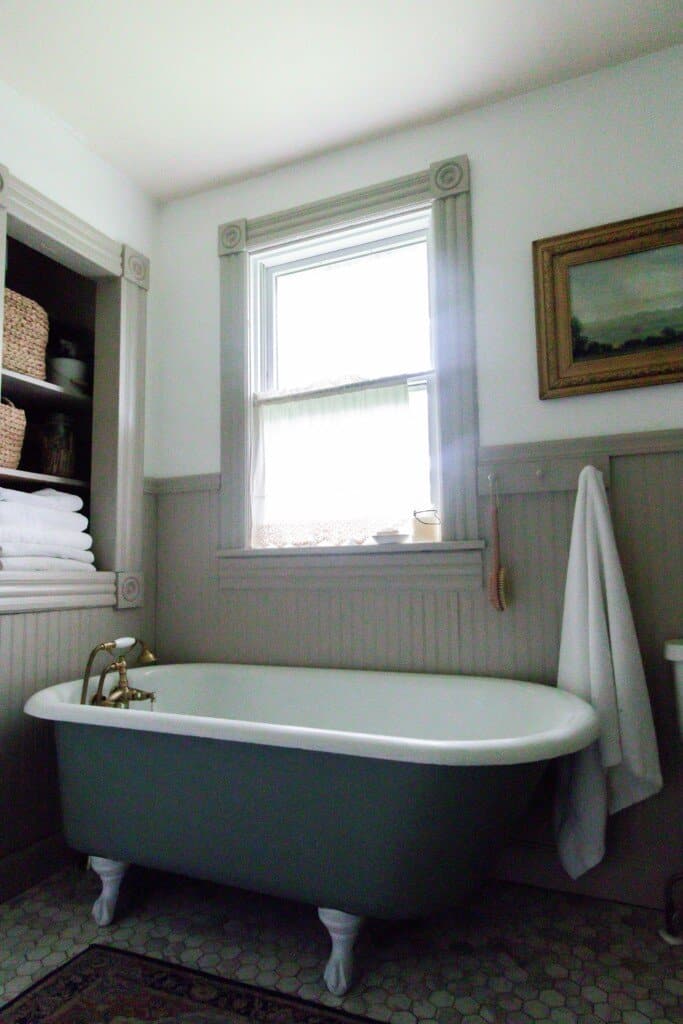 Someone came out to the farm to sandblast the tub and prime it so it wouldn't rust, and then it sat in the barn for the last 9 months.
Adding the bathtub made a huge difference in this space. I can't tell you how nice it is at the end of the day to just place the little boys right into the tub for a quick scrub. We get all the dirt off them and place their dirty clothes straight into the washer. It's been wonderful and highly efficient.
When installing the tub, we discovered that there was a closet right where the tub was supposed to go. We ended up removing it, and added some built-in shelving instead.
We used this faucet for the bathtub, and this brass overflow drain.
The Vanity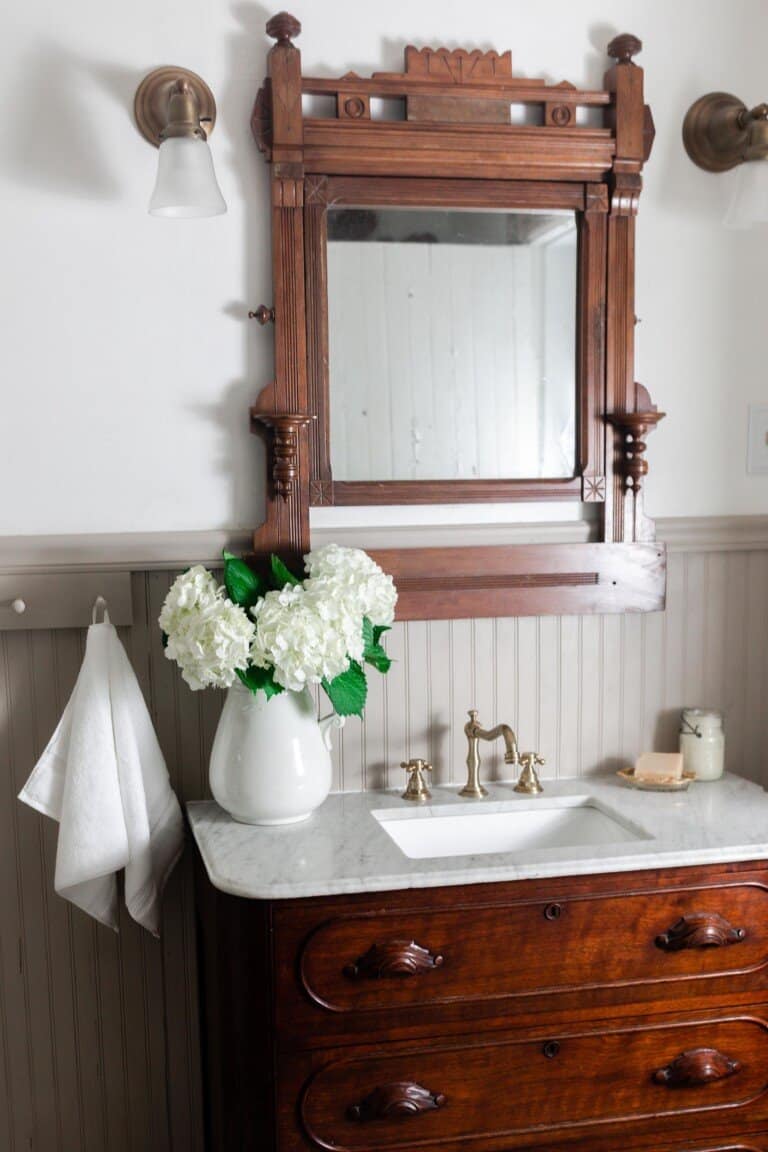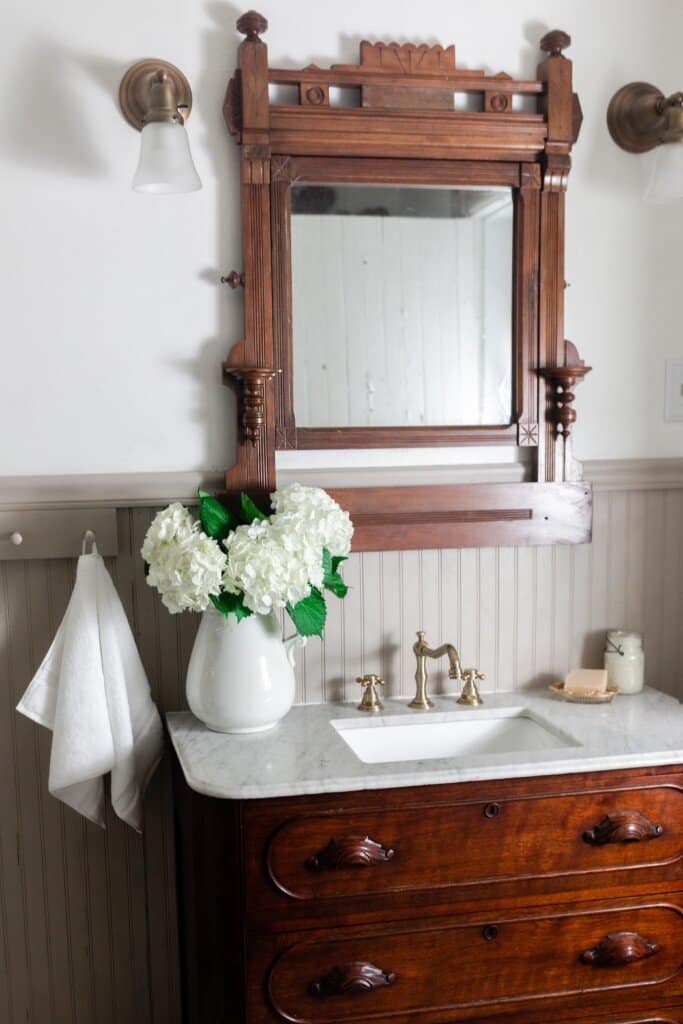 My absolute favorite project of this whole renovation is the vanity. I found this antique marble top dresser on Facebook Marketplace for around $250, and we had the marble top cut by a local marble company.
I plan to share more about the process of converting this dresser into a vanity in an upcoming post. We definitely had a few hiccups along the way, but it turned out exactly how I wanted it.
We also cut the drawers down, so we could still have some storage and compensate for the plumbing in the background.
Then we added a beautiful antique inspired faucet.
The mirror was actually pulled off another antique dresser that I bought for the little blue cottage. The mirror wouldn't fit in that space anyway.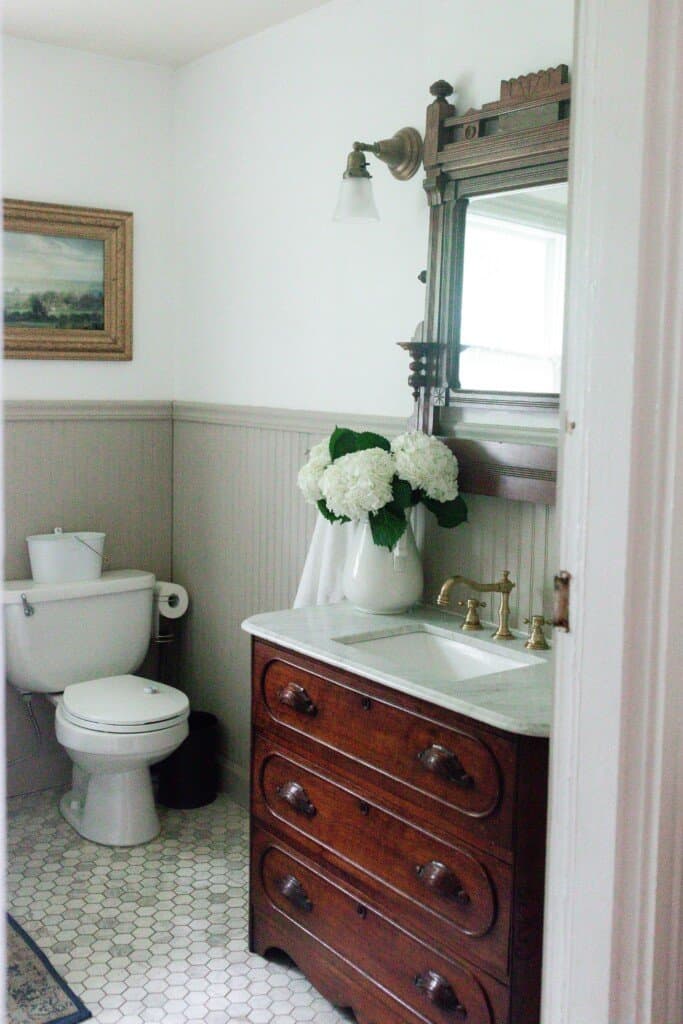 Lighting And Accessories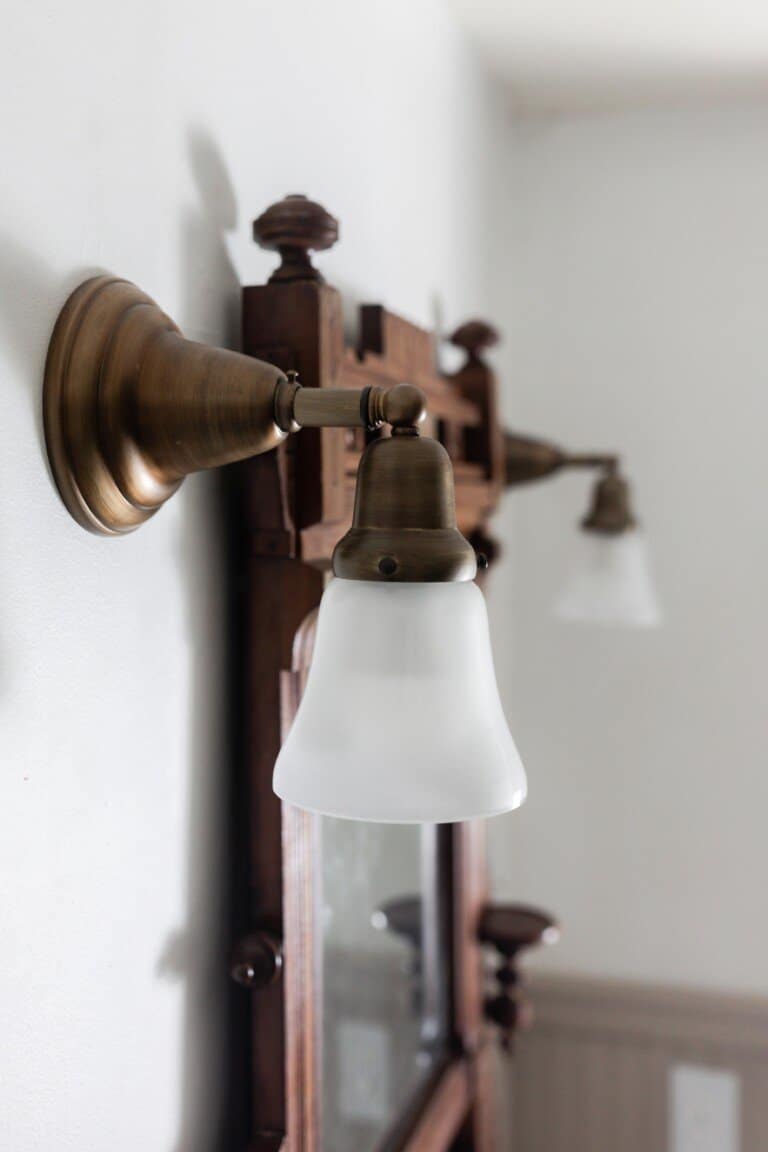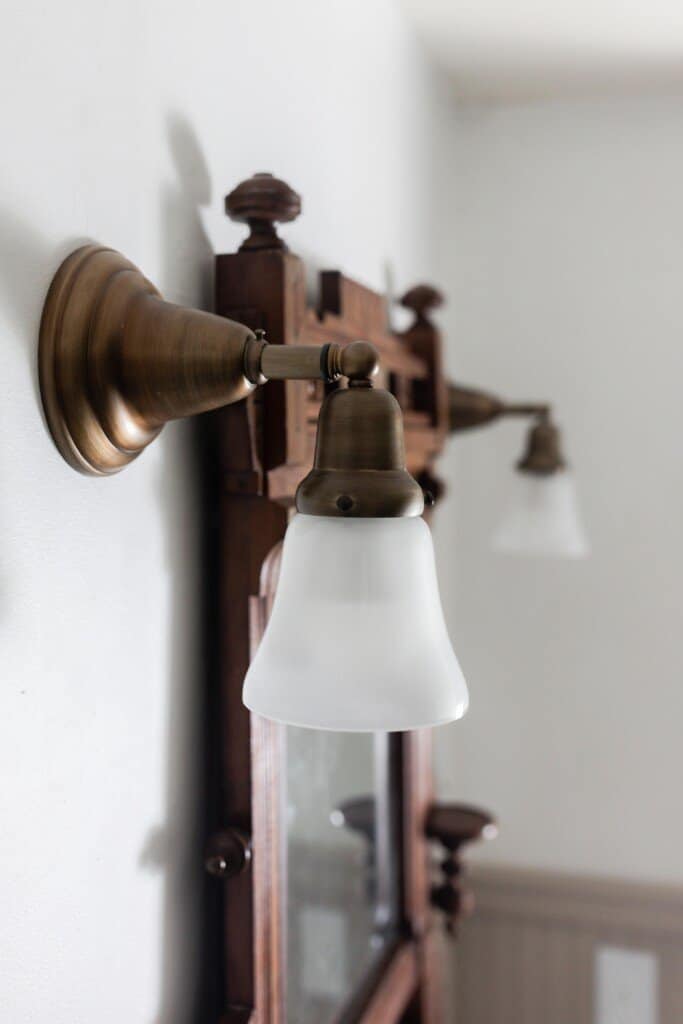 Many of the accessories are thrifted vintage.
Lighting is from a small Etsy shop. I love how it gives that historic feel while still letting us have modern amenities. 
The peg racks were actually a five peg rack (found here), and we cut it in two to give a place for towels near the bathtub and also hand towels near the sink.
The Laundry Area
As inconvenient as it is, the laundry room also shares this space with the pretty new bathroom. It is what it is, and we worked with it to make it blend seamlessly into the space, adding the bead board and chair rail behind it. 
The shelves above got some baskets and basket liners to add some charm and whimsy to the space.
The Art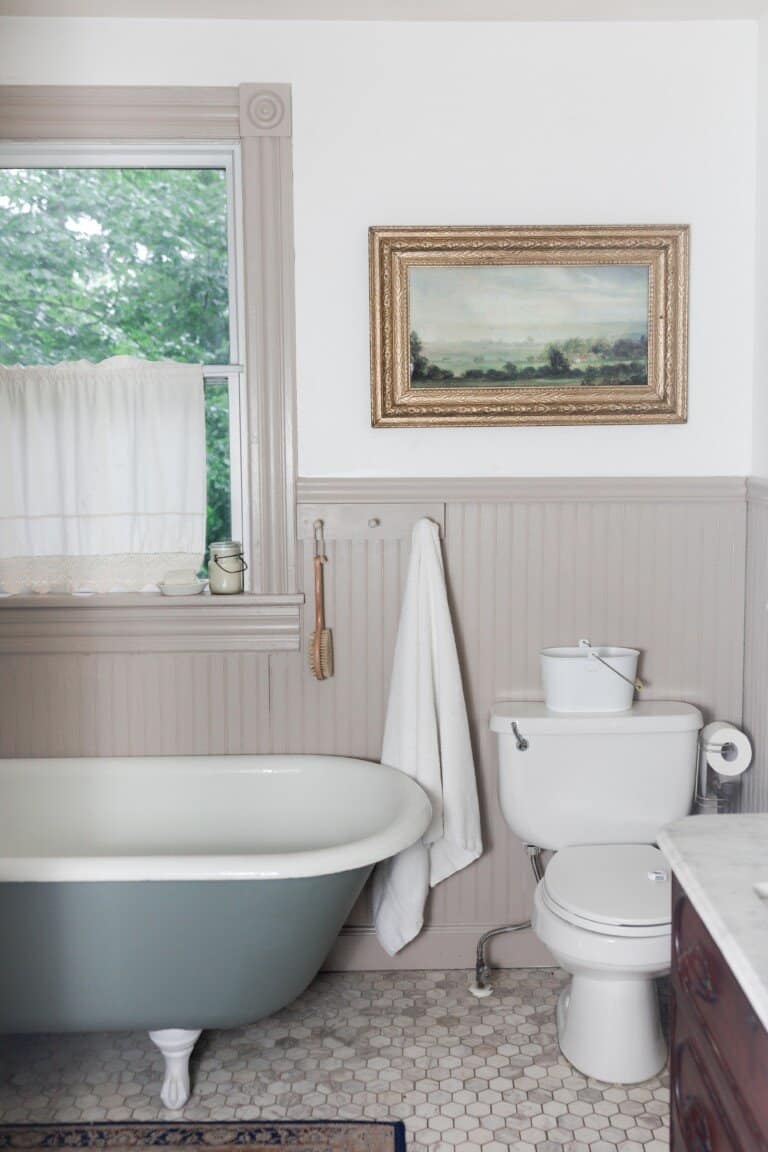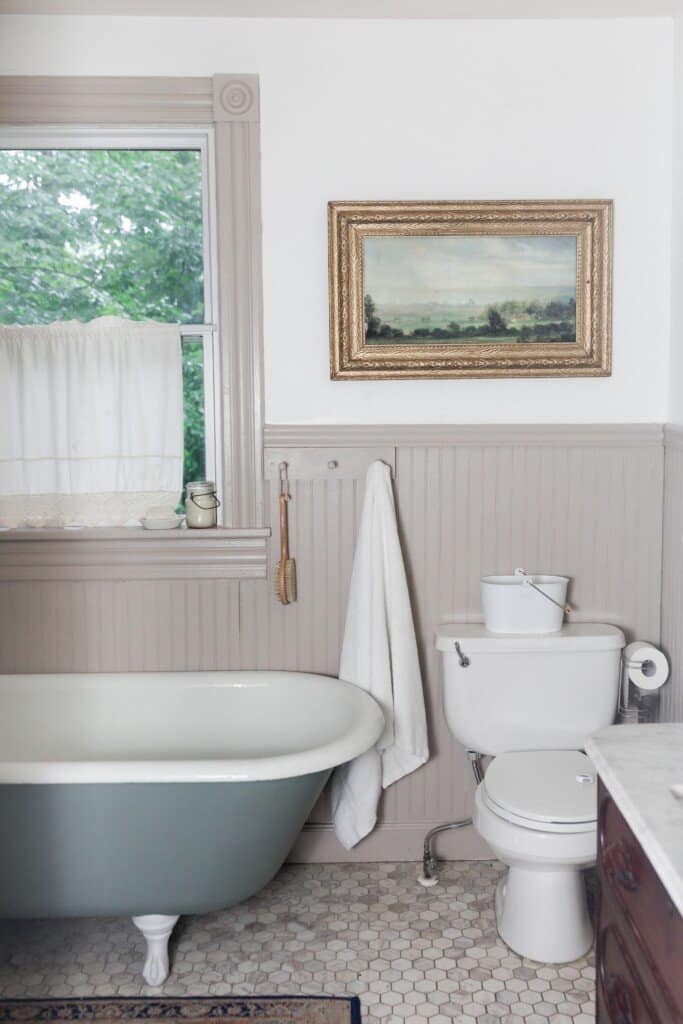 In a last second decision, the blank wall above the toilet received some art. I remembered this beautiful frame I picked up a year ago and brought it out. Here is the thing with antique frames… most likely, you won't find art that fits in them. 
So, here is my hack. Purchase art on Etsy, or your favorite place to buy art. Measure the inside of the frame. Make a custom-sized graphic on Canva, then place the download into that custom graphic and make the picture fit inside. Then download and send to a local printer in the area.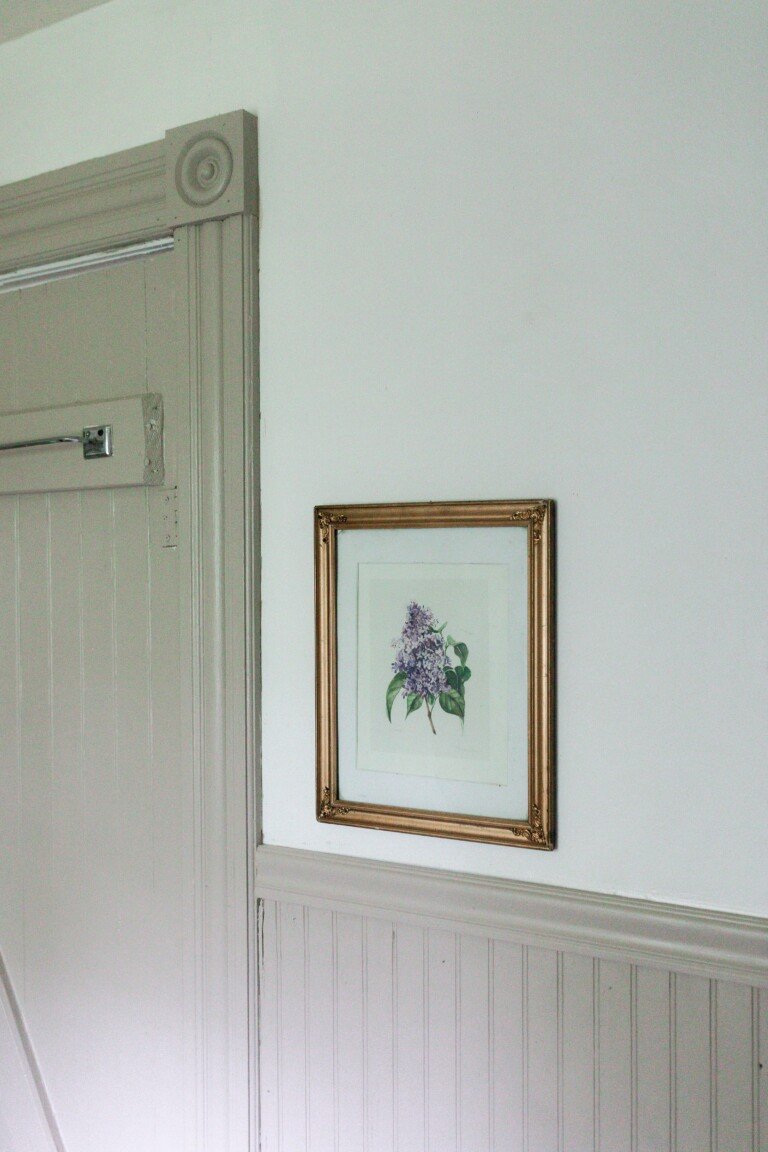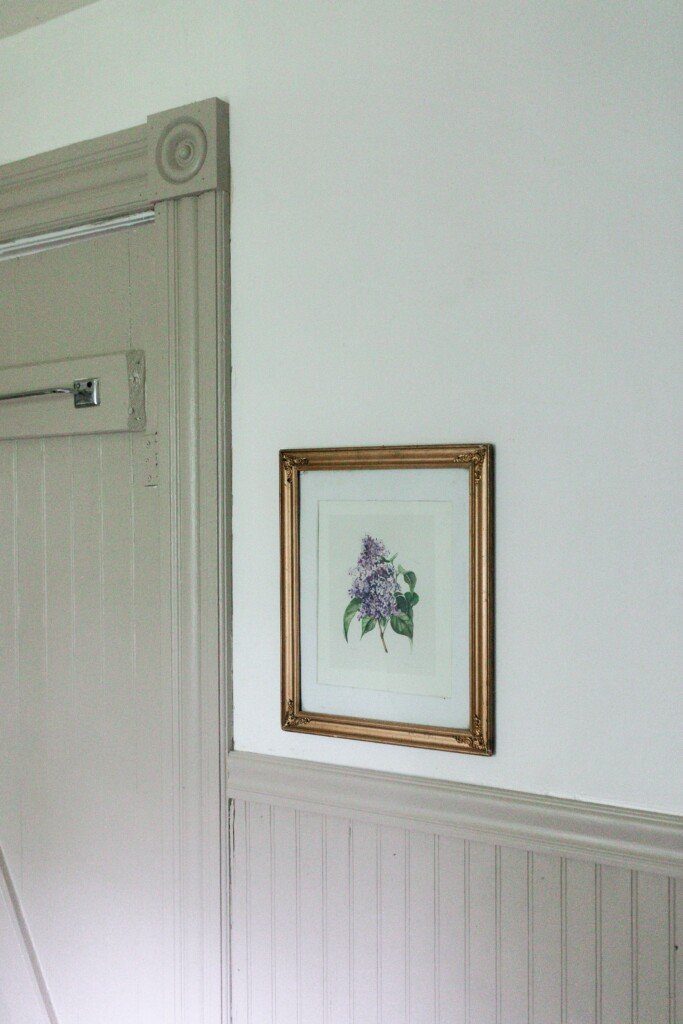 Cut out and place into your frame.
I've done this so many times now and it works wonderfully every time. I would suggest using more landscape pictures, something that won't get really distorted.
Two pictures were hung to complete the room.
Shop our farmhouse bathroom makeover
Sink faucet
Antique Brass Pop up Sink Drain
Tub faucet
Brass overflow drain
Peg rack
Sconces
Extra claw foot (I forgot to mention that this tub was missing one, and we found a replacement on Etsy!)
Landscape art print
Tile
Grout– (cobblestone color)

Paint color on trim and bead board- Sherwin Williams Balanced Beige
Paint color on wall- Benjamin Moore White Dove
Paint color on tub- Benjamin Moore Carolina Gull
Thank you so much for stopping by and seeing our farmhouse bathroom makeover.