Come tour our new farmhouse office nook. We took wasted space and created something that is beautiful, useful, and practical. The antique inspired cabinetry makes it look like it was always meant to be in this 1800's farmhouse.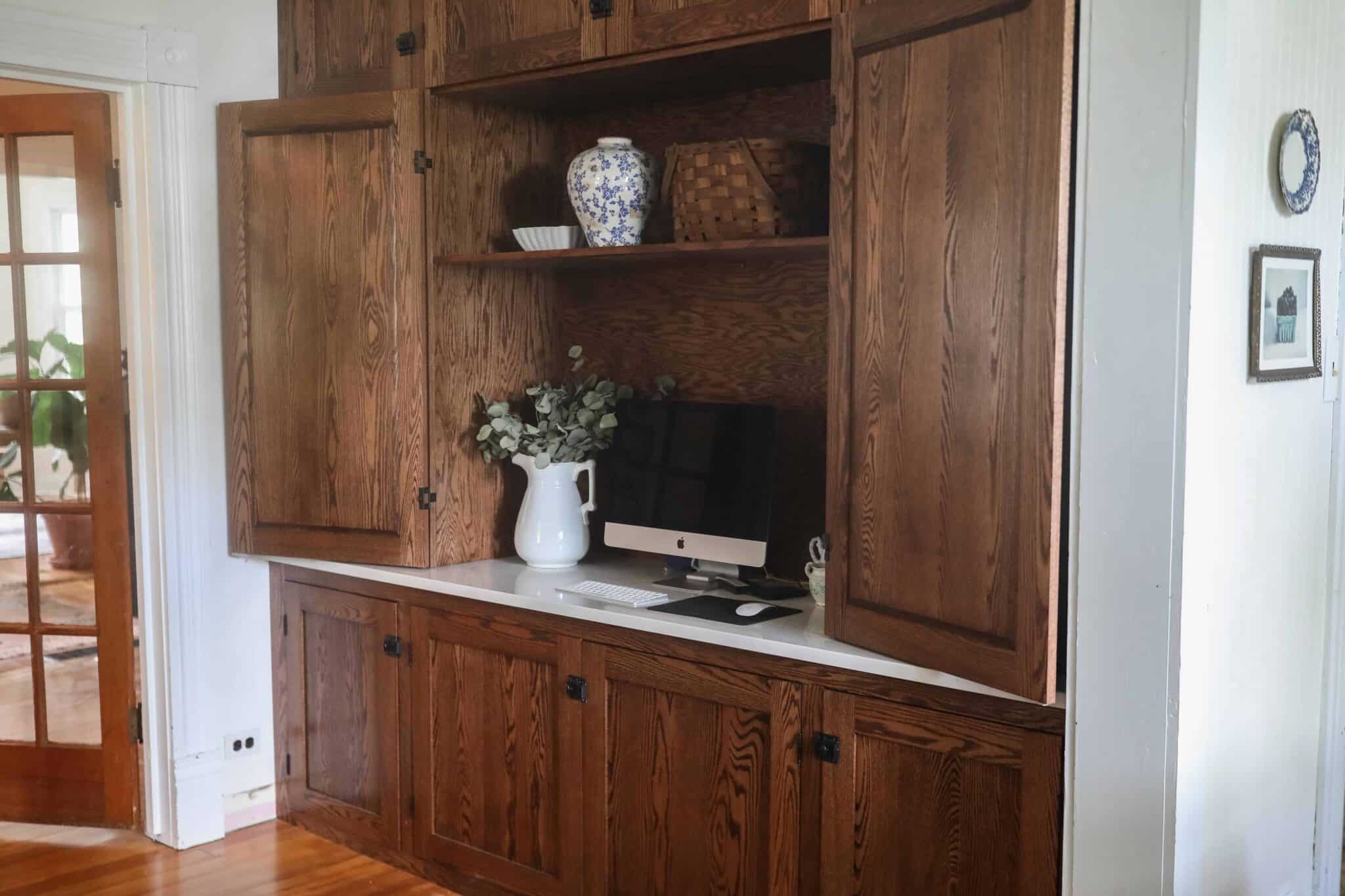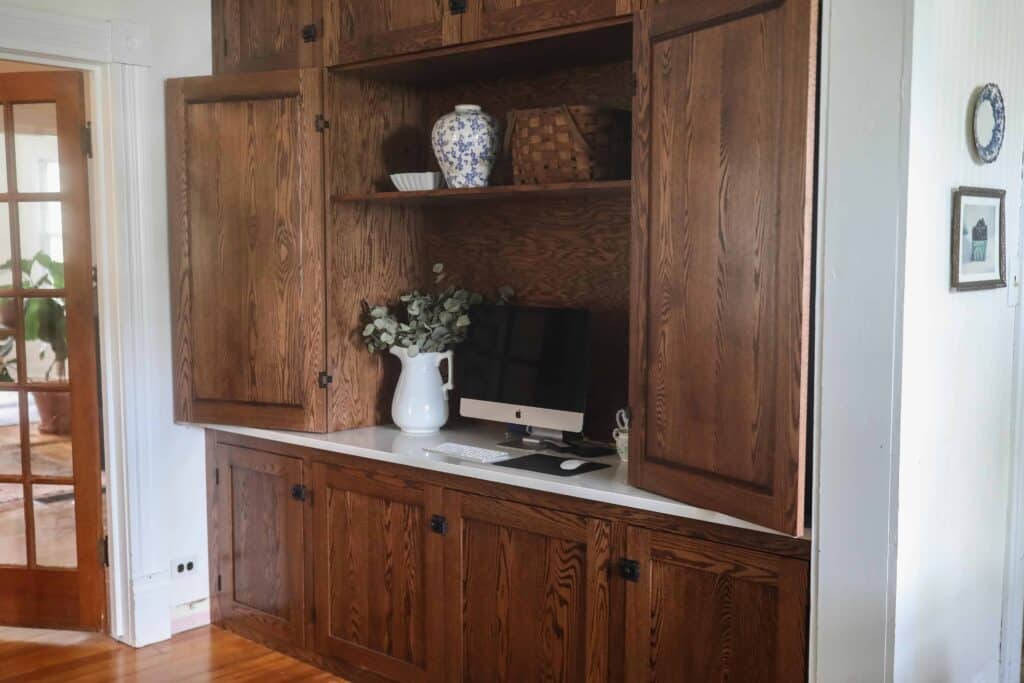 This project was dreamt up over a year ago. If you have been following a while, you may remember our Victorian farmhouse tour when we first moved in, back in January 2019.
At the time, we had five kids. Now, we have six (baby Daniel). And although this house is fairly spacious at 2,400 square feet, it only has three bedrooms, with a makeshift fourth bedroom connected to our bedroom like a closet. We use it as a nursery.
With being a full time work-at-home family (I blog full-time, and my husband stays home and helps), we needed a space for all the equipment that goes along with blogging and video production.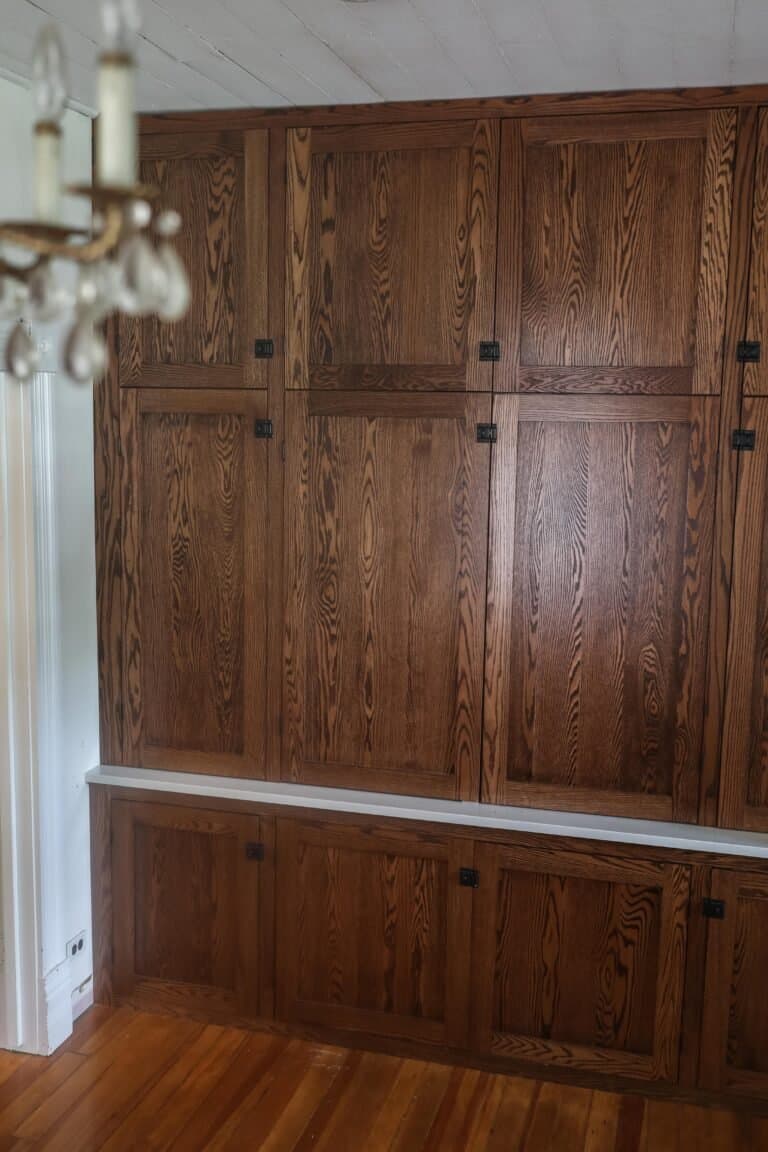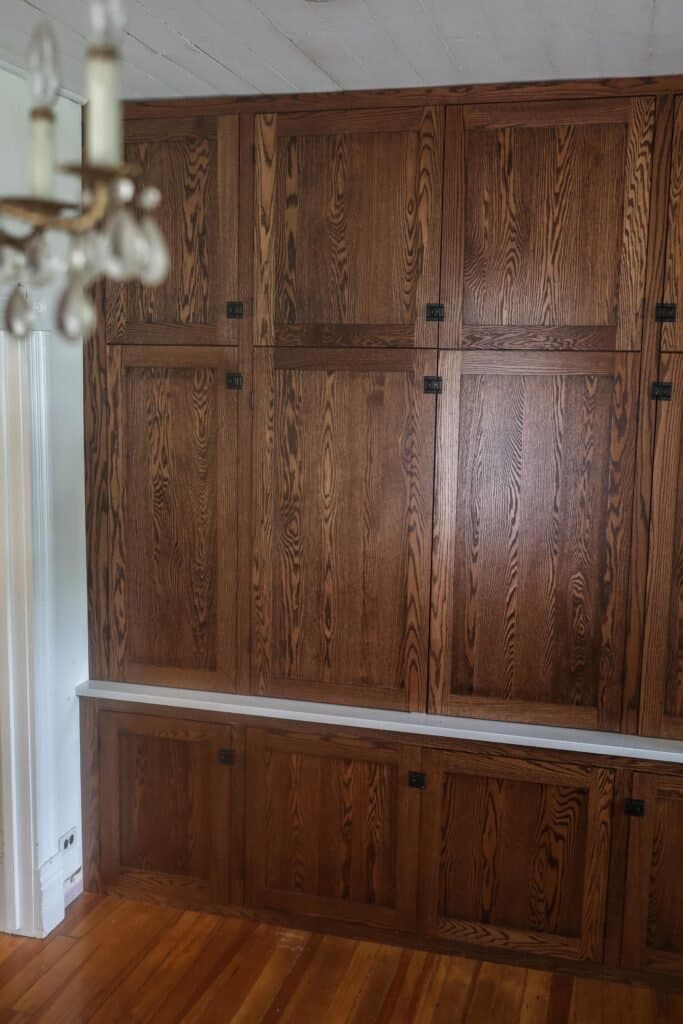 Solution: Turn An Awkward Nook Into An Office
The best solution we could come up with was an open nook right off the eat-in kitchen area. We think, at some point, previous owners had opened up the kitchen a bit and, due to the structural supports, it left this awkward bump out.
For the last year and a half, an antique sideboard has been resting there as a good place for my computer and some of my gear, but I've always thought that would be a great place for an office.
All that camera gear, printers, computers, and all the things that go along with an office. There just really wasn't a dedicated space to do that in.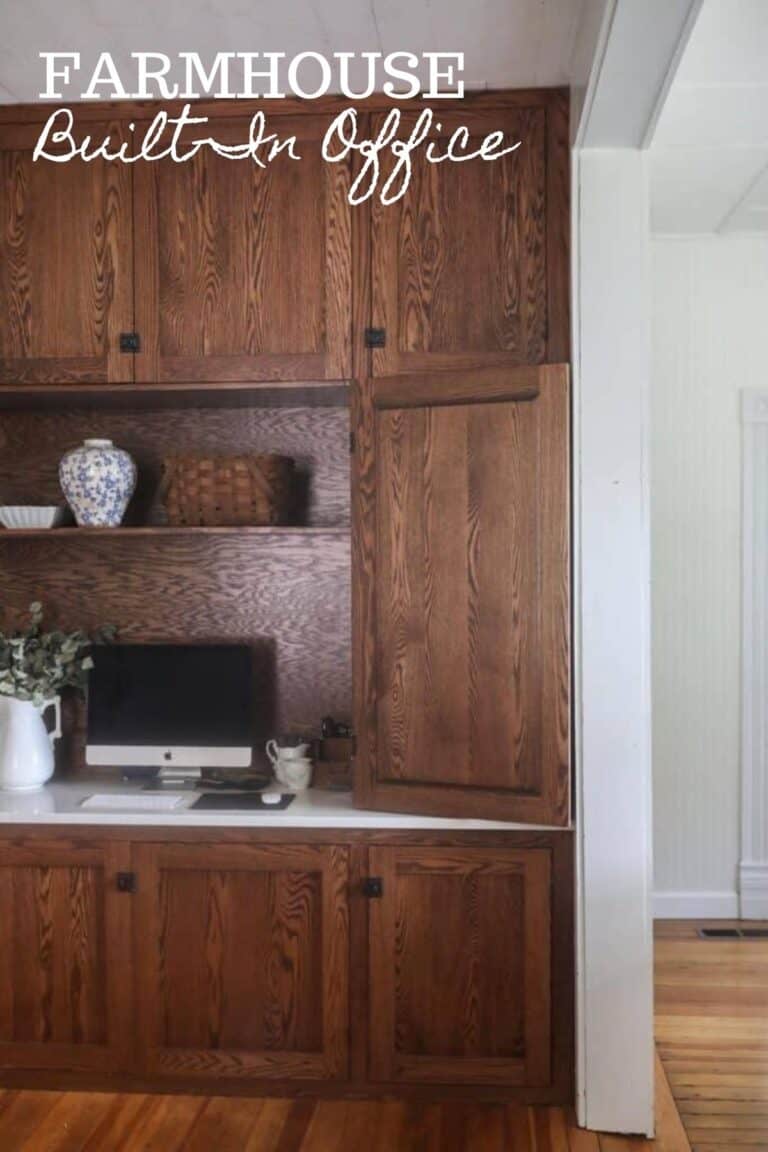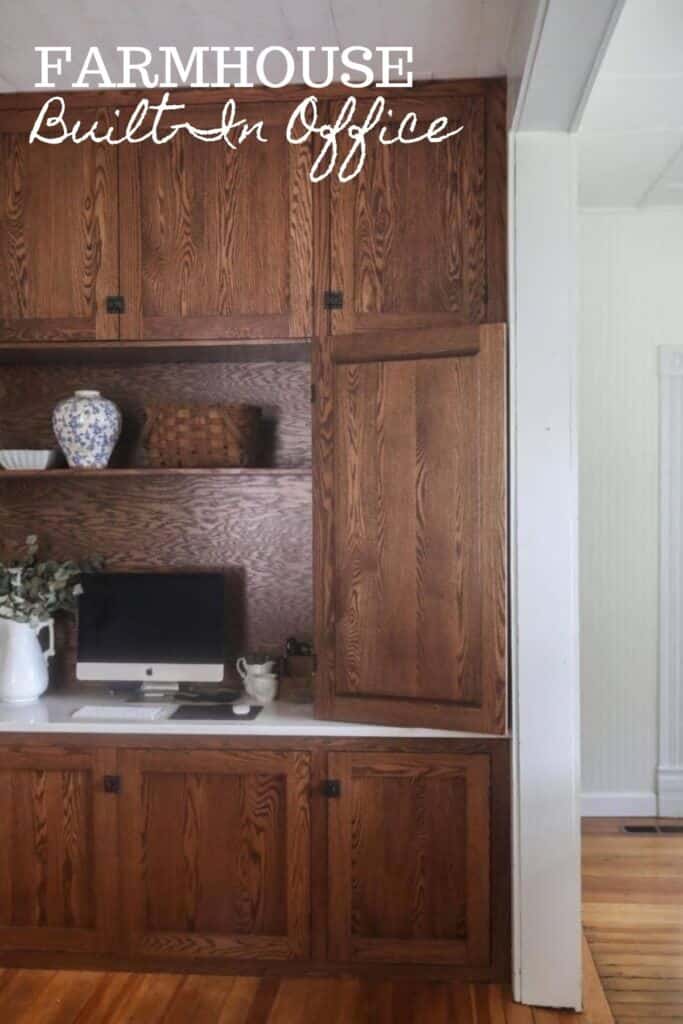 Farmhouse Office Design
When we originally designed our kitchen, I had my friend, Paige, from Farmhouse Vernacular draw up a design. I wanted to use up every square inch of this space, and I wanted it to look like it had been here forever.
The nook was the perfect spot for a full blown wall of cabinetry. And I'm in love with how it turned out. We designed it with an antique vibe in mind, utilizing the same latches that we used in the kitchen cabinetry.
I wanted it to look like an antique piece of furniture, and all the antique pieces in our house have exposed hinges, so it would look appropriate for these cabinets to have that as well.
The cabinets have the same wood and stain color as our kitchen island table, and we went with inset cabinet doors because many of the antique pieces we own have that.
We also chose the same quartz countertops as we have in our kitchen.
See The Beautiful Farmhouse Office Reveal And Organization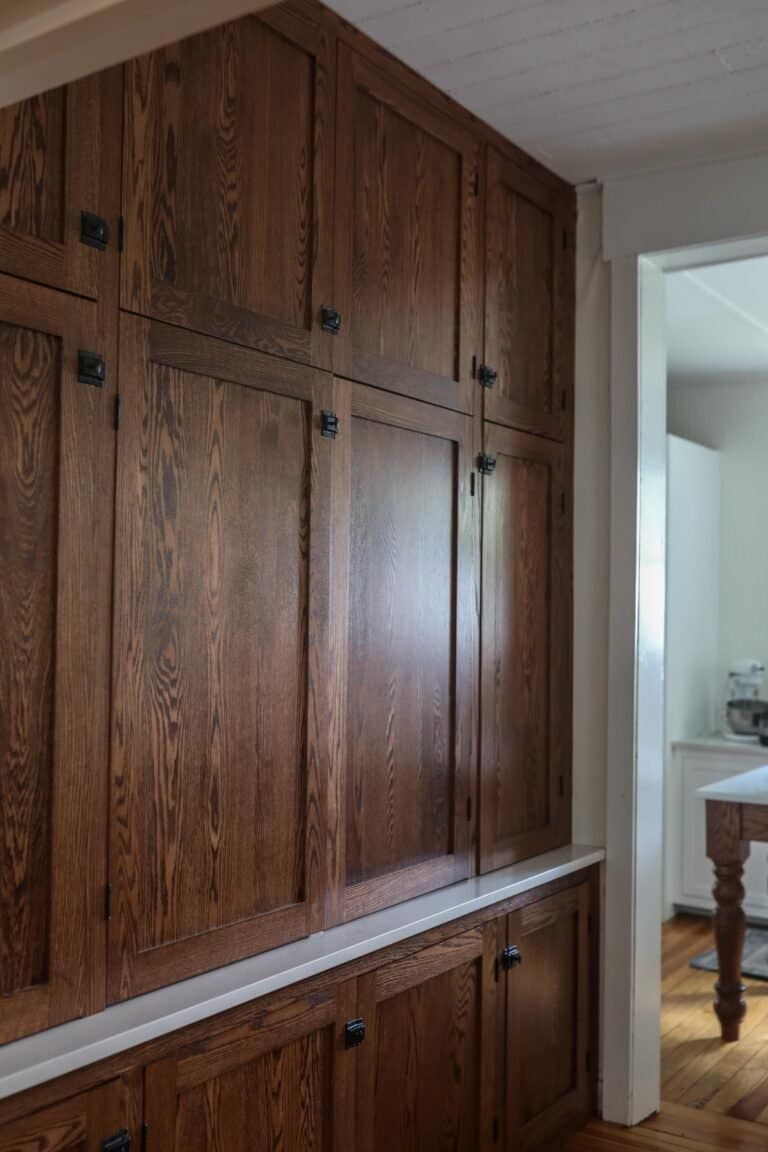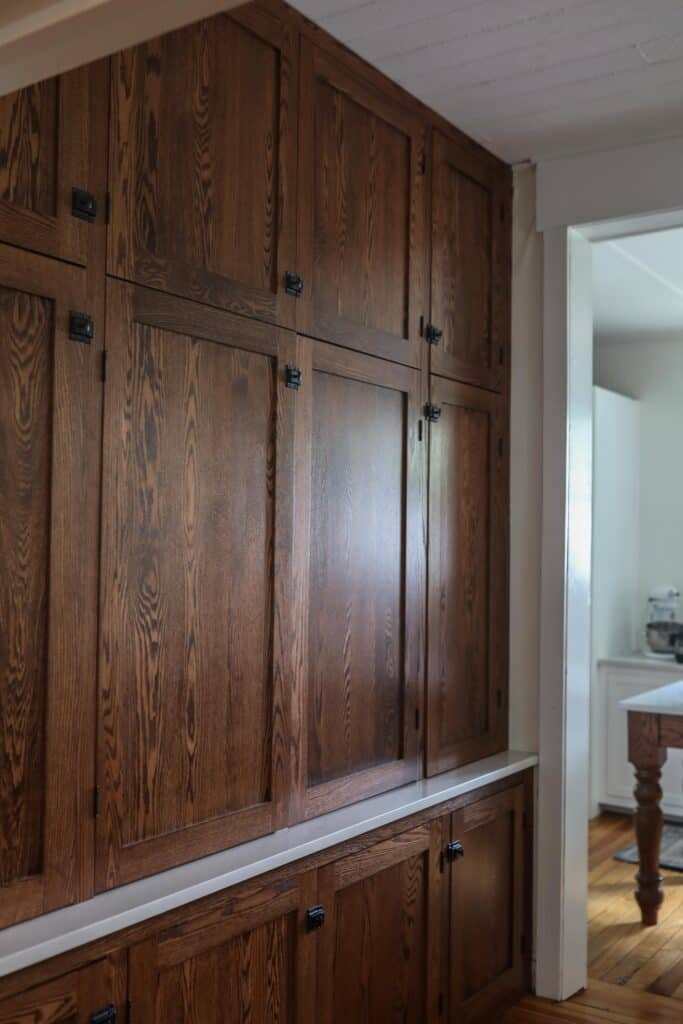 Building The Office
This was actually built in stages.
An electrician came and installed a bunch of outlets for the multiple printers and computers. He even installed some USB port-style outlets to be able to charge things without the plugs.
Several months ago, we had the cabinet maker build the base cabinets.
Then the quartz countertops were installed, and finally, a couple of weeks ago, the cabinet maker came and installed the upper cabinets.
The upper cabinets basically sit on top of the base cabinets, but they sit back shallower than the deeper base.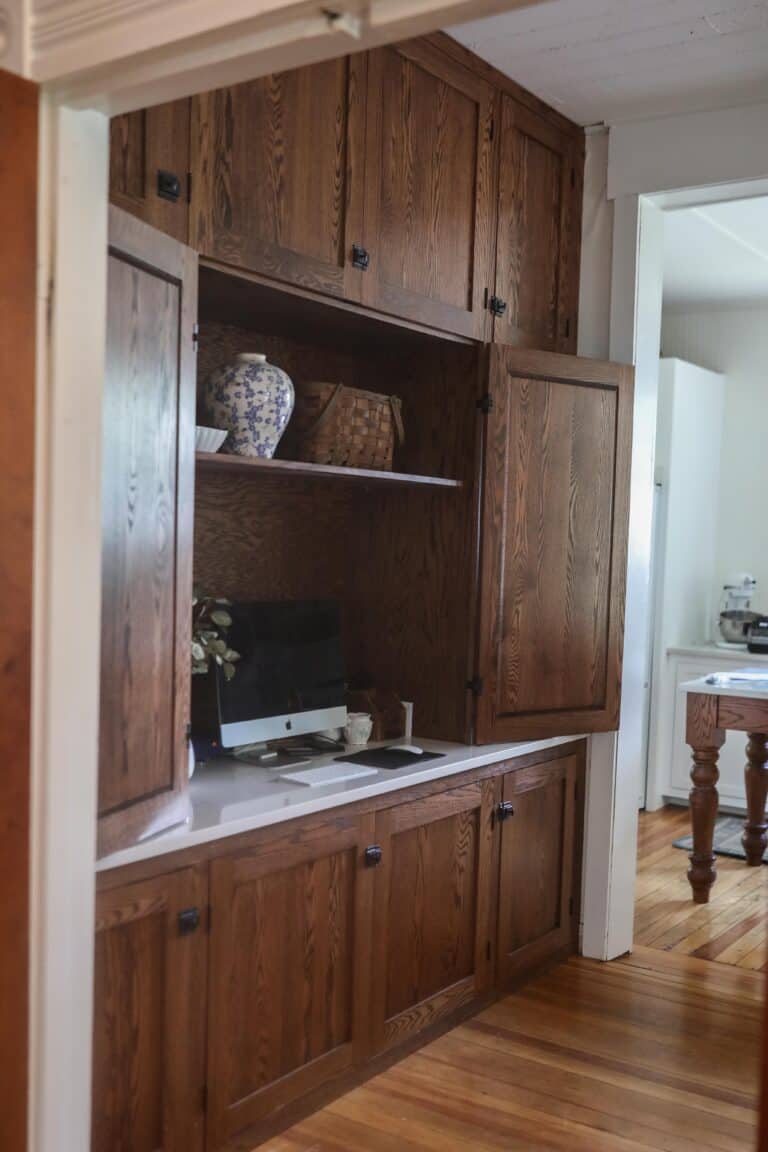 Cabinet Functionality And Organization
The two large, upper, middle doors open up to reveal my computer, while the bottom middle doors open up to give me a place to rest my feet.
Two pull-out shelves house my printers to the right and left of the area for my chair. These shelves make it easy to access the printer and just as easy to tuck it away when finished.
I love to create organized areas based on category. Naturally, I'm not that organized of a person, so I have to play around with it until I come up with something that works for me.
Above one printer, I have a packaging and shipping station with paper and labels. Above that, there are envelopes, stamps, etc.
To the left of the computer is where all the cameras, gear, tripods, and lights will be housed.
To the right of the computer, I have a designated spot for my current projects that need to be completed. For instance, right now there is some paint in there for a project I'm filming.
Before, whether I was working on a sponsored post or someone sent me something to take a photograph for, all my materials were on the dining room table. Out in the open. Now, I have a little space that is perfect to tuck it all away.
Above the shipping is where I store all my batteries, camera cords, and hard drives. I used some antique ironstone pieces and a copper container to hide them.

I'm convinced this office will work for a very long time, largely because I didn't stuff it full to capacity, but I left all the very top cabinets empty.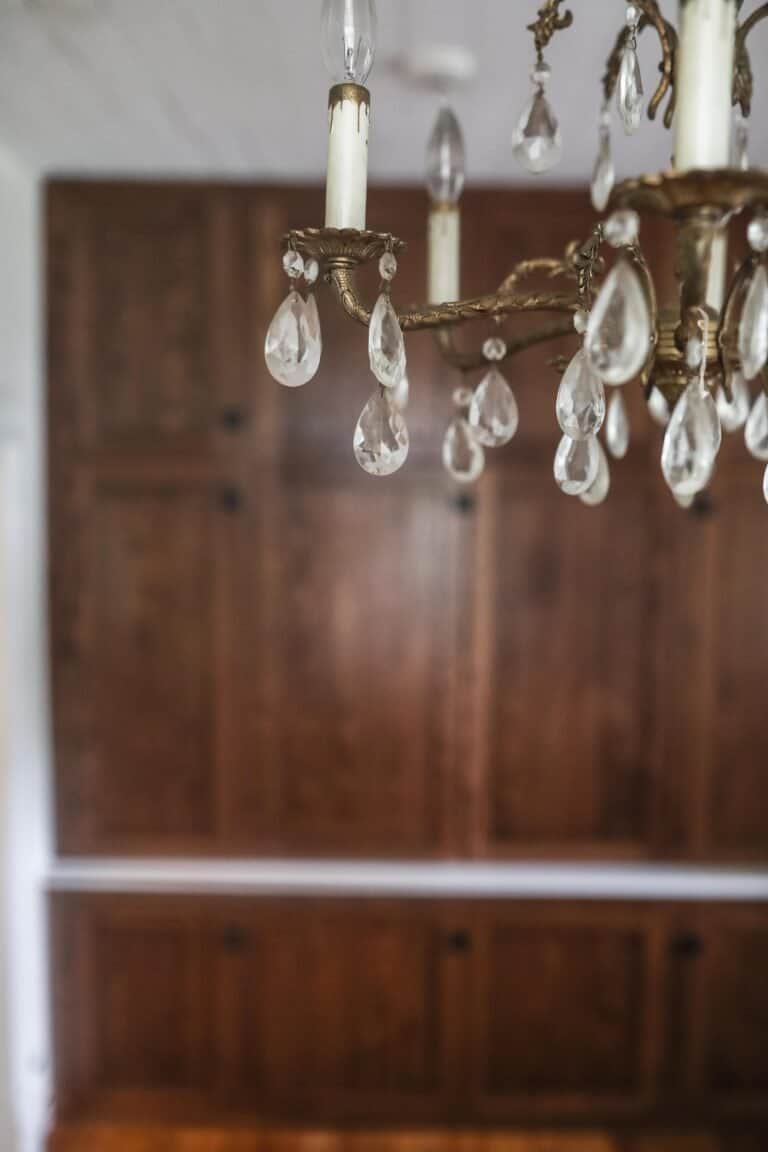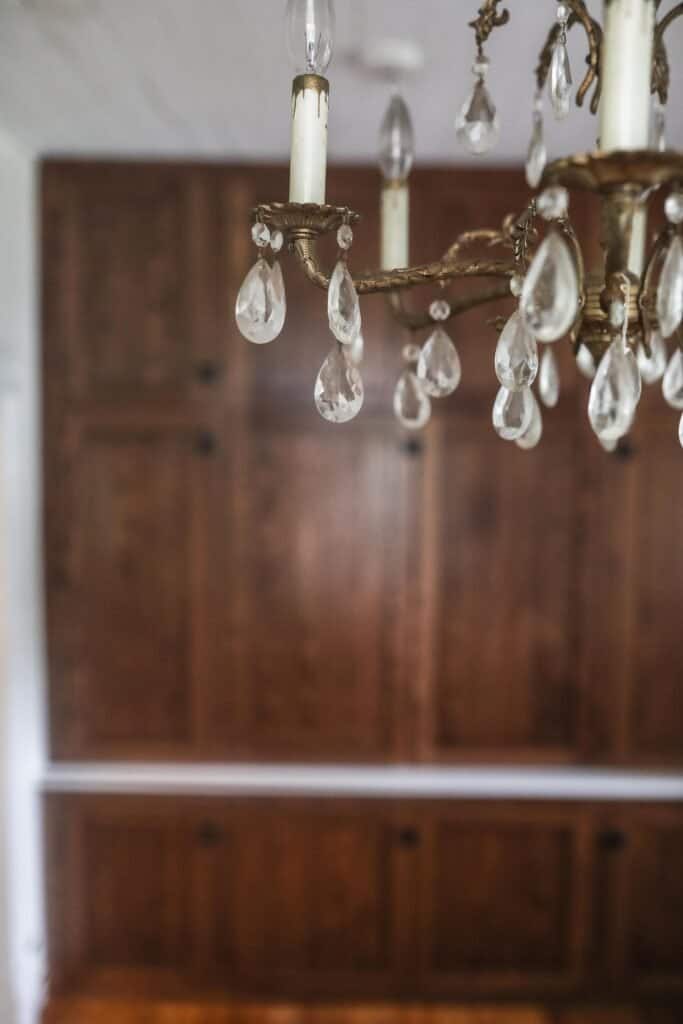 Office Chair:
In the original design, we hadn't planned on having a toe-kick at the bottom of the cabinet. Since this home was built in the 1800's, the floors were not level, and in order for the piece to look nice and symmetrical, the cabinet maker had to make a custom toe-kick to look flush with the floors.
Even if I can't pull a chair underneath the desk, I can still rest my feet under there, which I love.
Currently, I'm just pulling over one of the eat-in-kitchen chairs to work, which really is working great for us. We have plenty of chairs, and I'm not working during meal times.
I love that if we were ever to sell this place (which we are not planning on anytime soon), this cabinetry would give the next homeowners so many options. If they don't have a need for a home office, or if they don't have a bunch of kids to use the bedrooms, they could just use this space as extra storage for the kitchen. It would also make a wonderful baking station.
I truly hope you enjoyed the tour of our new home office at the farmhouse. We're so pleased with how it turned out!
Pin It For Later