We bought our Victorian farmhouse on 7 acres just over two years ago, but the place is looking entirely different now. Step inside and see what a difference paint, refinishing wood floors and a kitchen renovation makes!
Some links are affiliate links, which means I make a small commission at no extra cost to you.
We spent ten years painting, refinishing and updating our last farmhouse. Most of the work was tedious and just took a lot of good old fashioned elbow grease. It meant that there was always wet paint and part of the house off limits. We held onto the house through low markets and high markets, and ultimately made a good profit. We bought it cheap and paid it off quickly.
Fast forward to today.
Luke and I have been married 11 years, have six kids and a home based business. The thought of repainting and refinishing every square inch of our 2400 square foot farmhouse wasn't something that sounded exactly exciting. I can't wait to find the perfect furniture for the living room, vintage (or vintage inspired) oven for kitchen and cozy wood stove for the old chimney. We're looking forward to giving the bathrooms that turn of the century farmhouse style.
But, there was no way we were going start back at the very beginning of the renovating journey.
We decided instead to hire out all the painting and refinishing the floors. I am so glad we did! I feel like those simple steps propelled us about 5 years ahead. We now have a blank canvas with which to bring in our own style, and I don't feel like we are starting all over with a fixer upper. Hallelujah!
Here is a quick peek at what we have finished so far, one year in!
Our Victorian Farmhouse Exterior
Before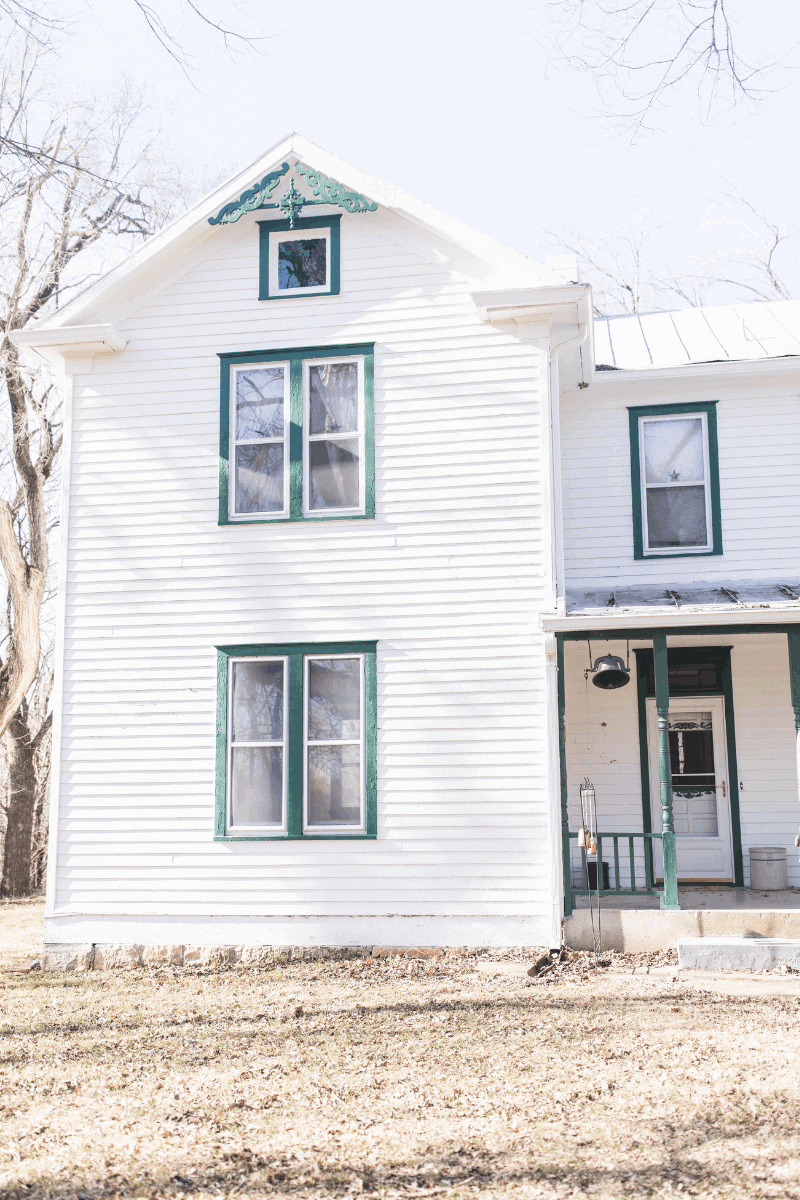 After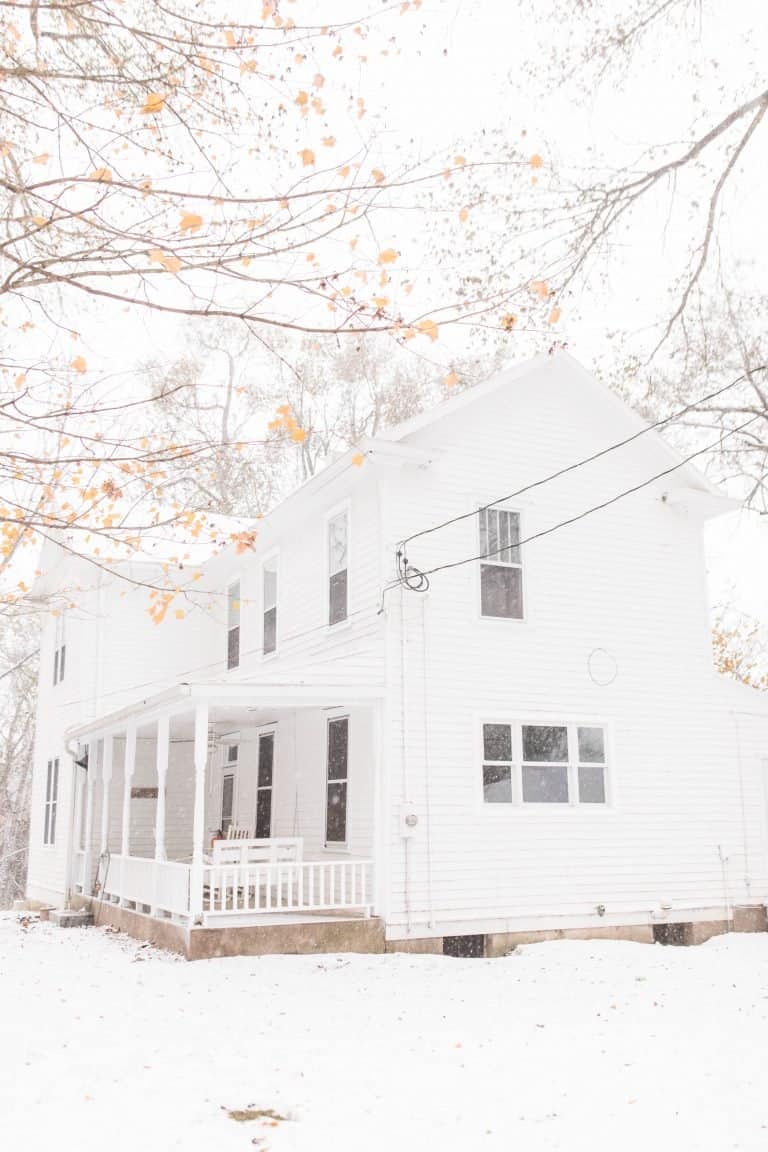 We gave the exterior a fresh coat of white. Although the green was pretty, it just didn't fit the "old white farmhouse on the hill" vibe I was going for.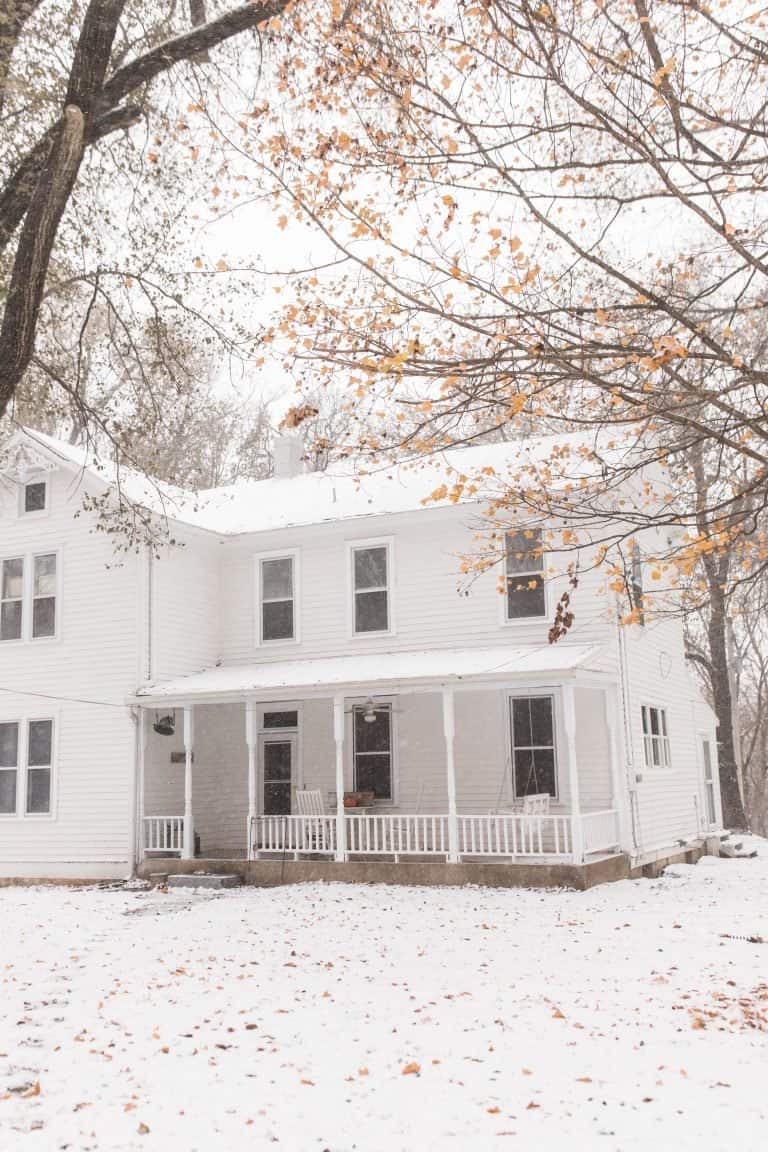 We still need to do a lot of work with landscaping. I have been pinning ideas to my "farmhouse court yard ideas" Pinterest board!
Victorian Side Porch Before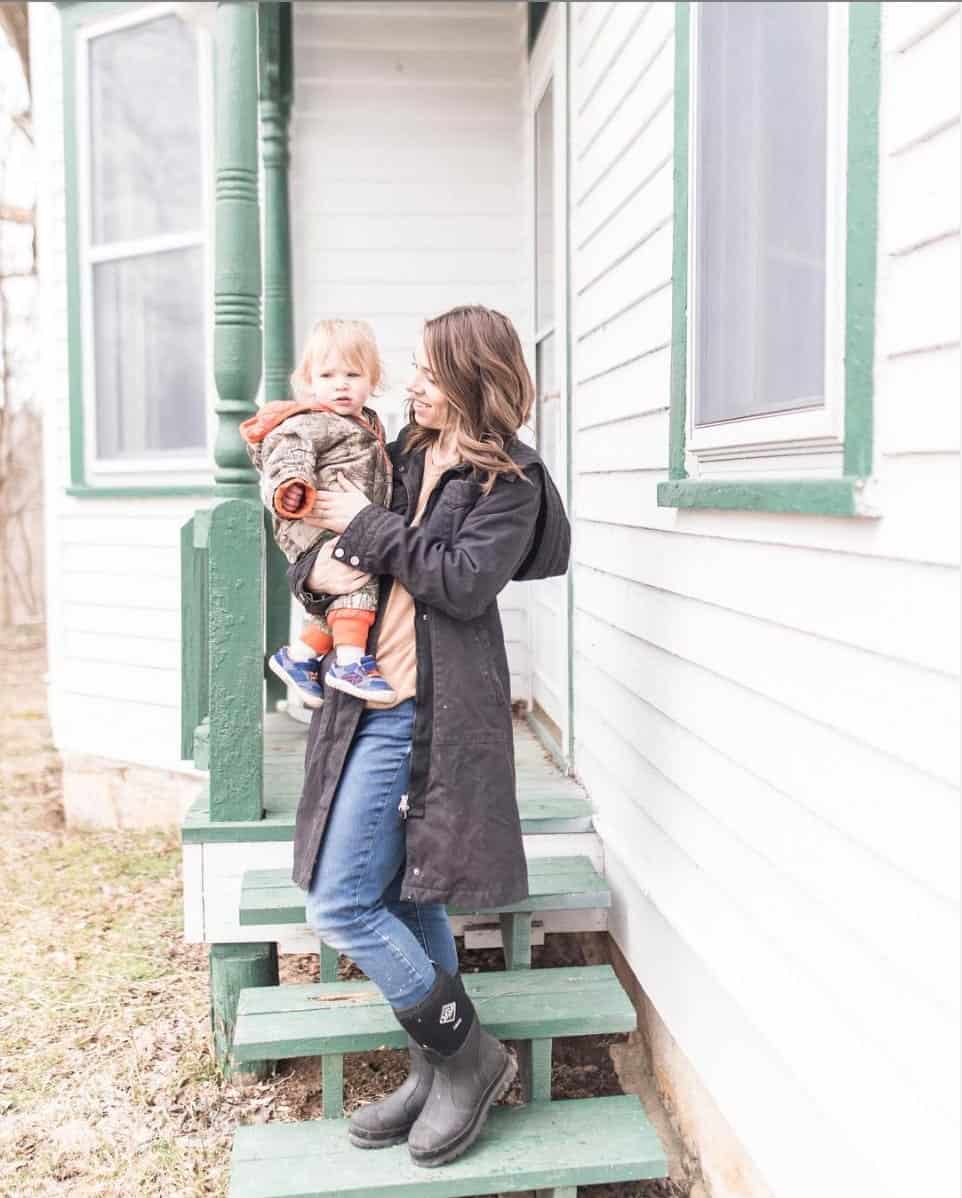 Victorian Side Porch After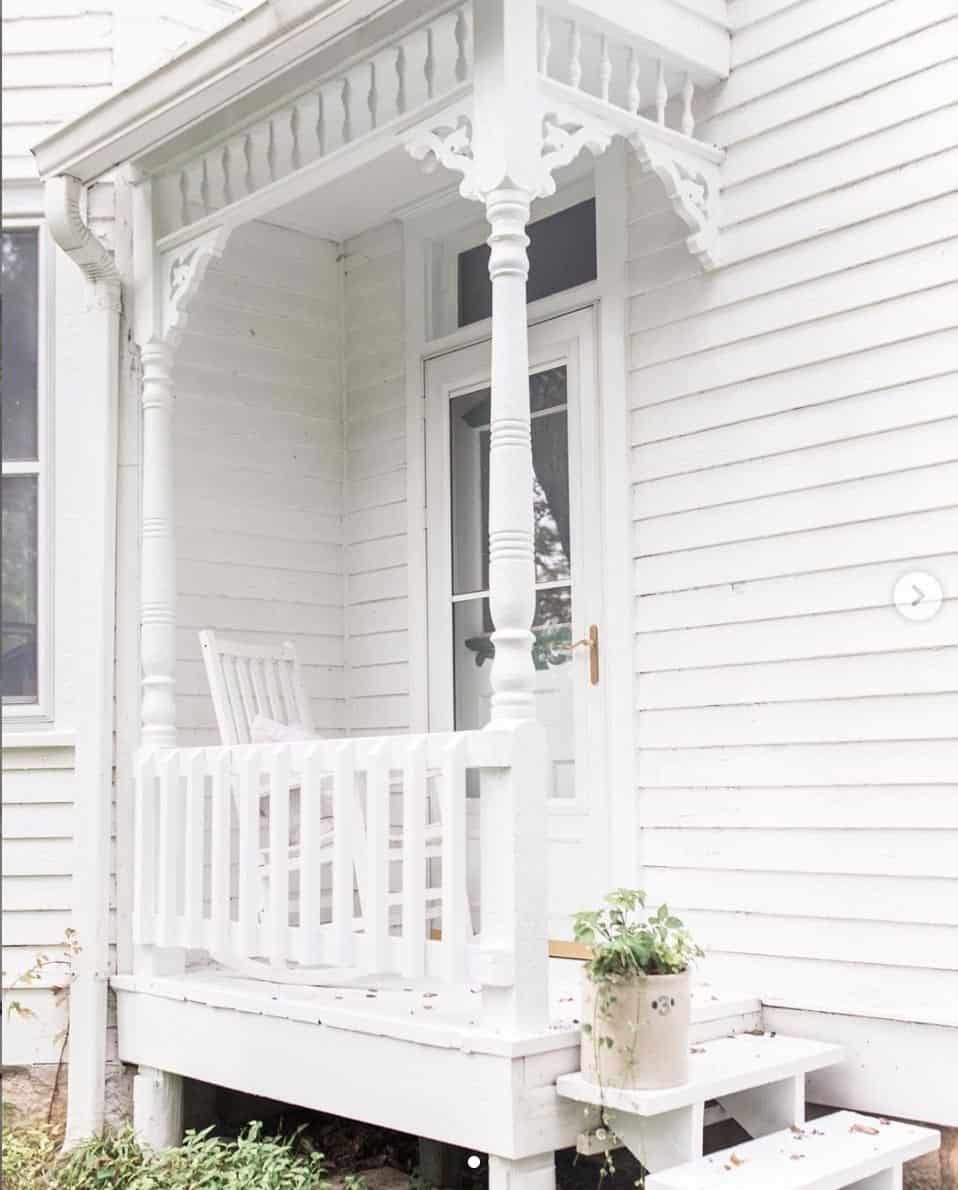 Our Victorian Farmhouse Kitchen
Kitchen Side Before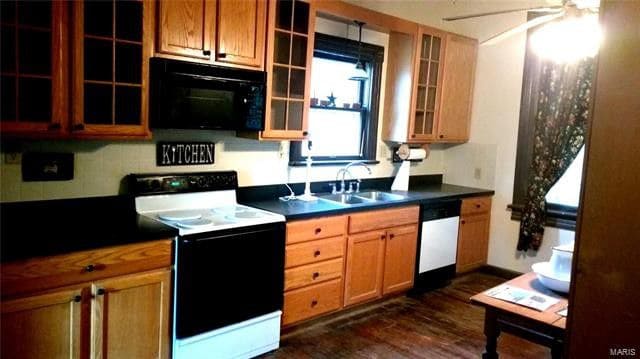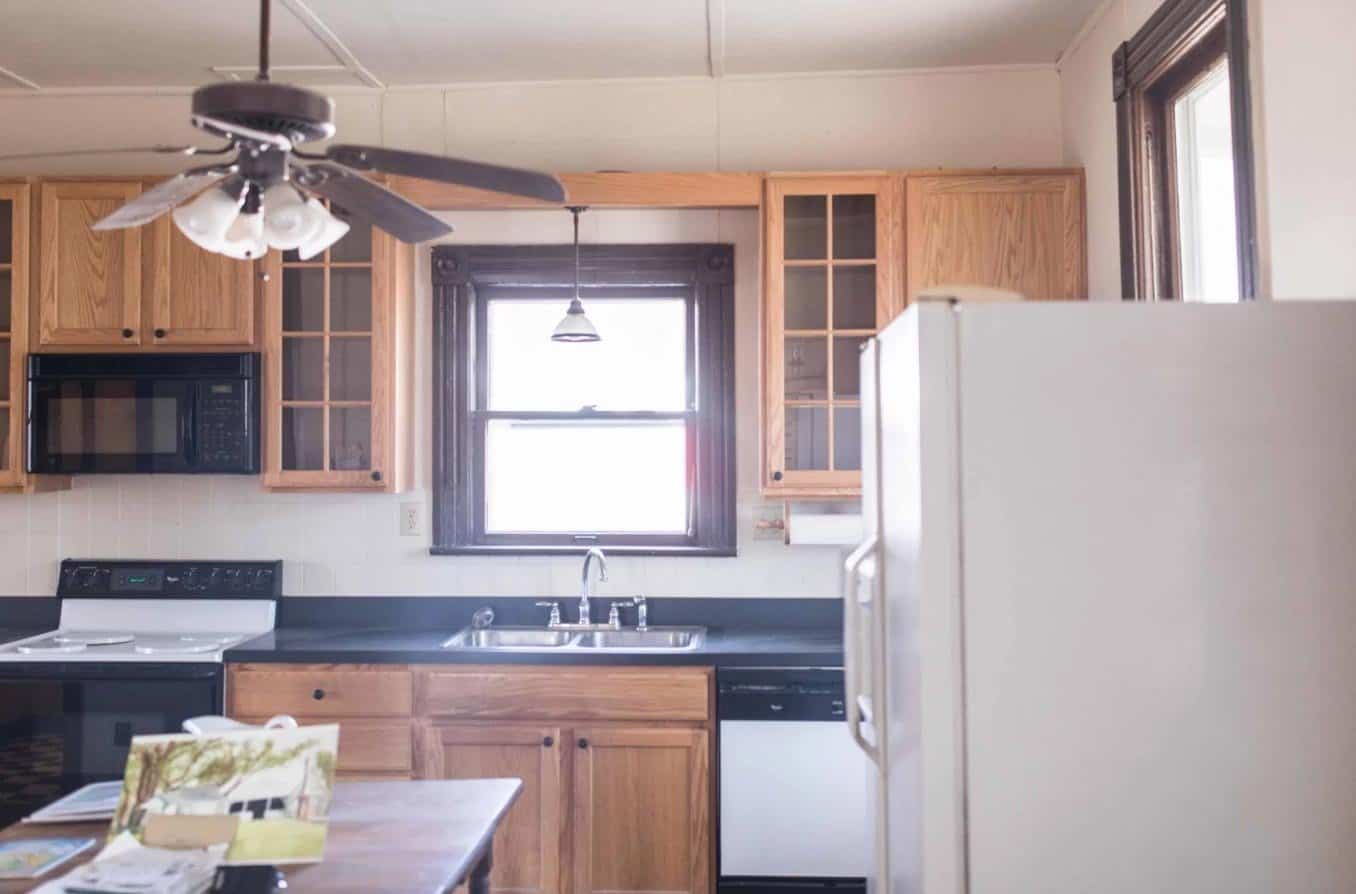 Kitchen Side After
We ripped out the cabinets and counters, added a new window, brought in a vintage oven…
What didn't we do over here?!
Get the full kitchen reveal with ALL of the details and sources HERE.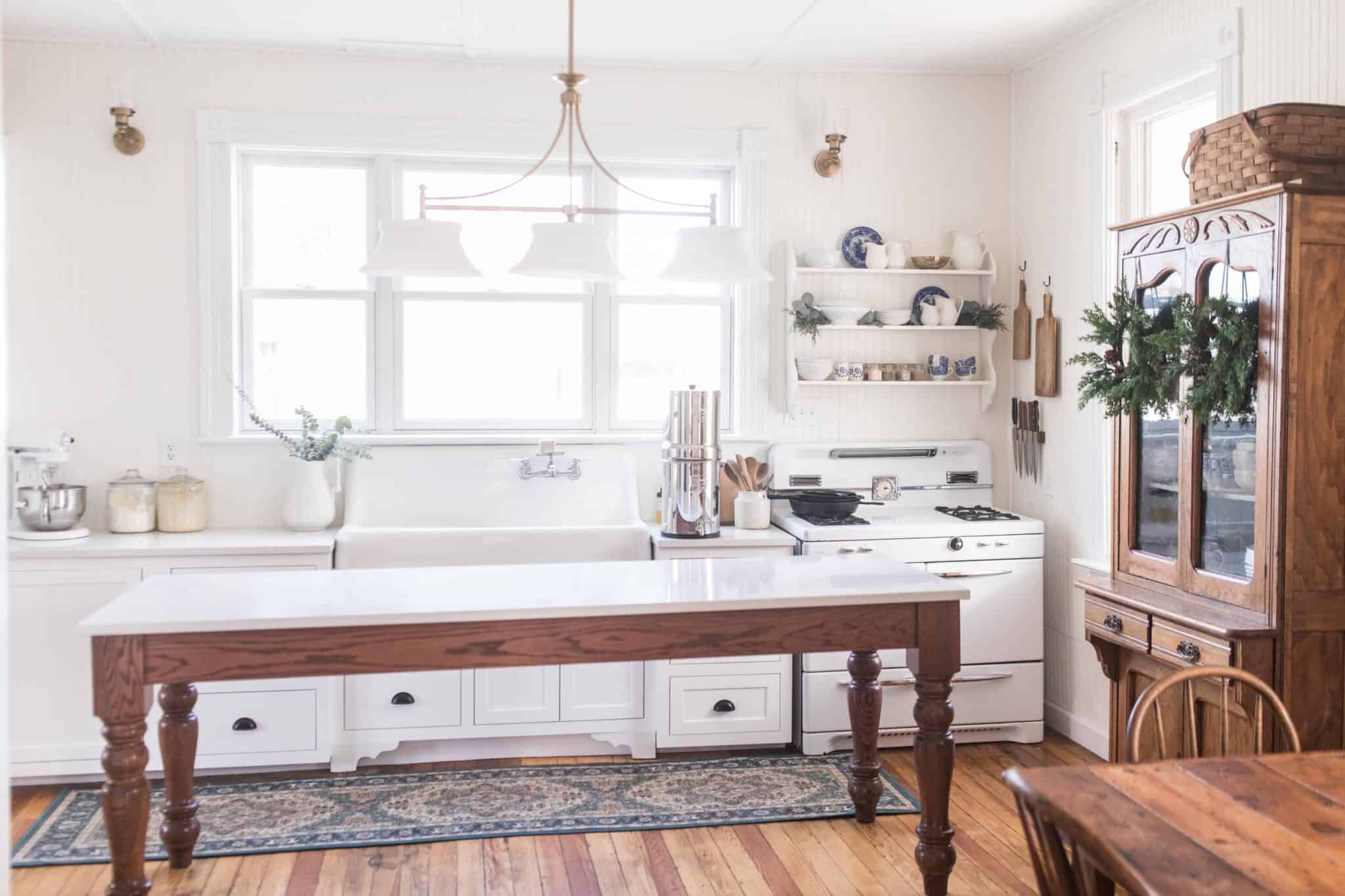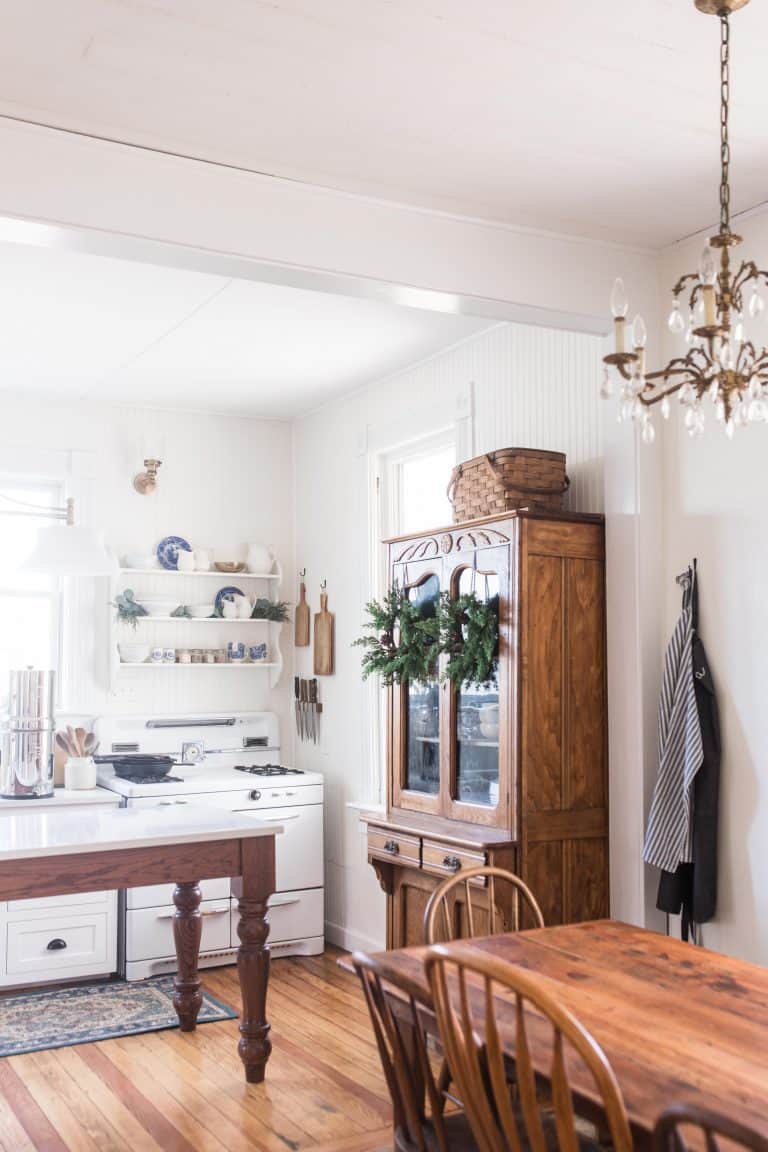 Eat In Dining Area Before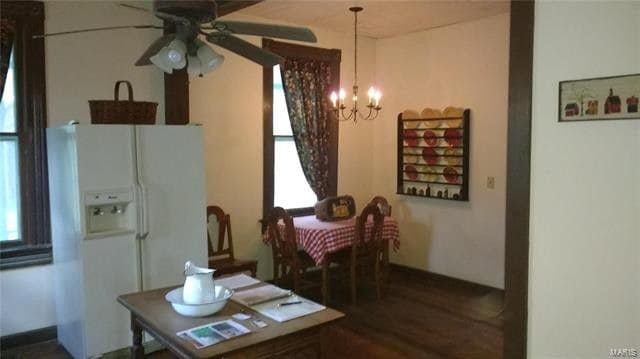 Eat In Dining Area After
We refinished the floors, painted the walls with Benjamin Moore White Dove and and made the trim bright white.
We swapped out the light for a vintage chandelier, added some plates from my collection, an antique hutch and a vintage rug. Get the full reveal with all of the details and sources for the eat-in kitchen HERE.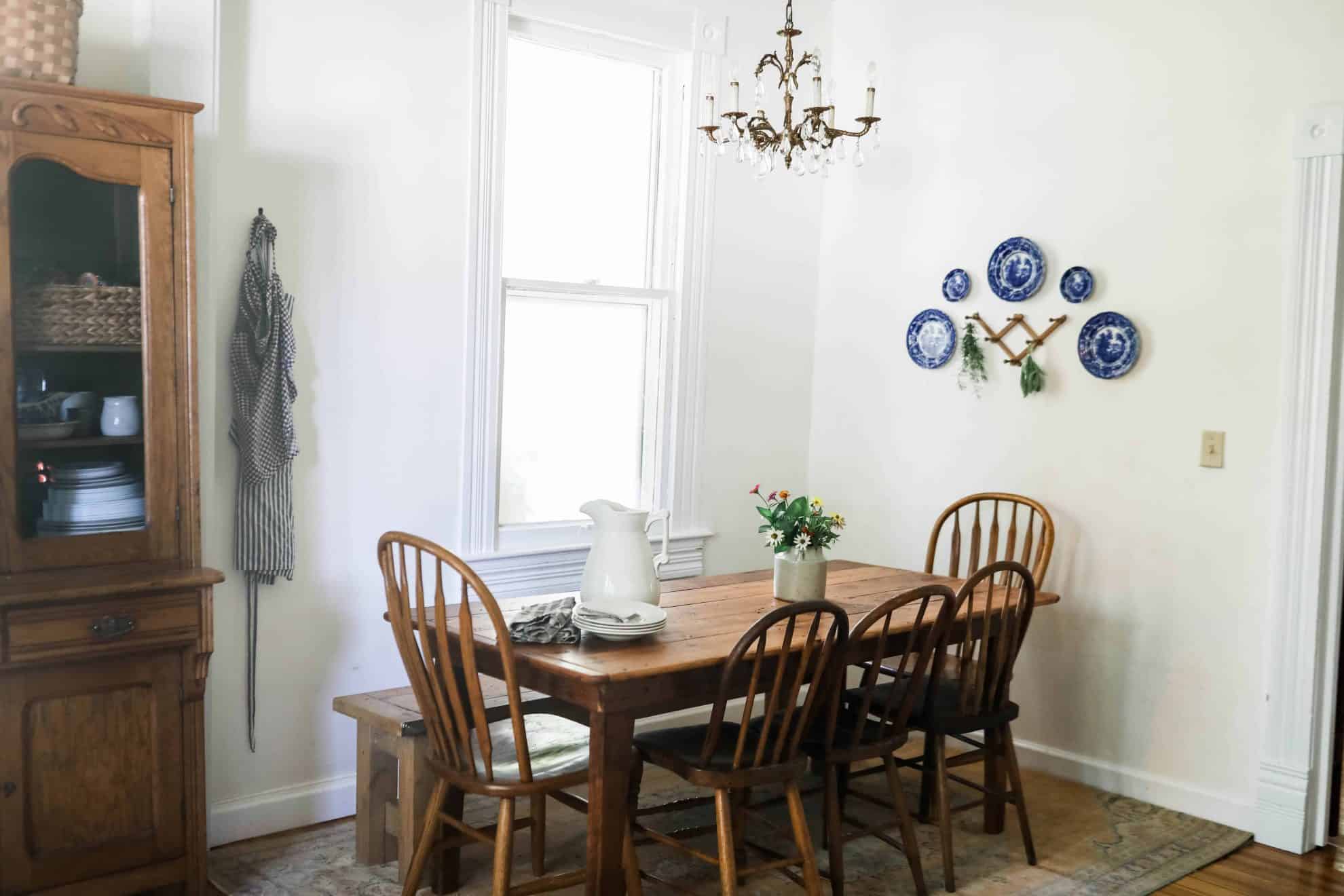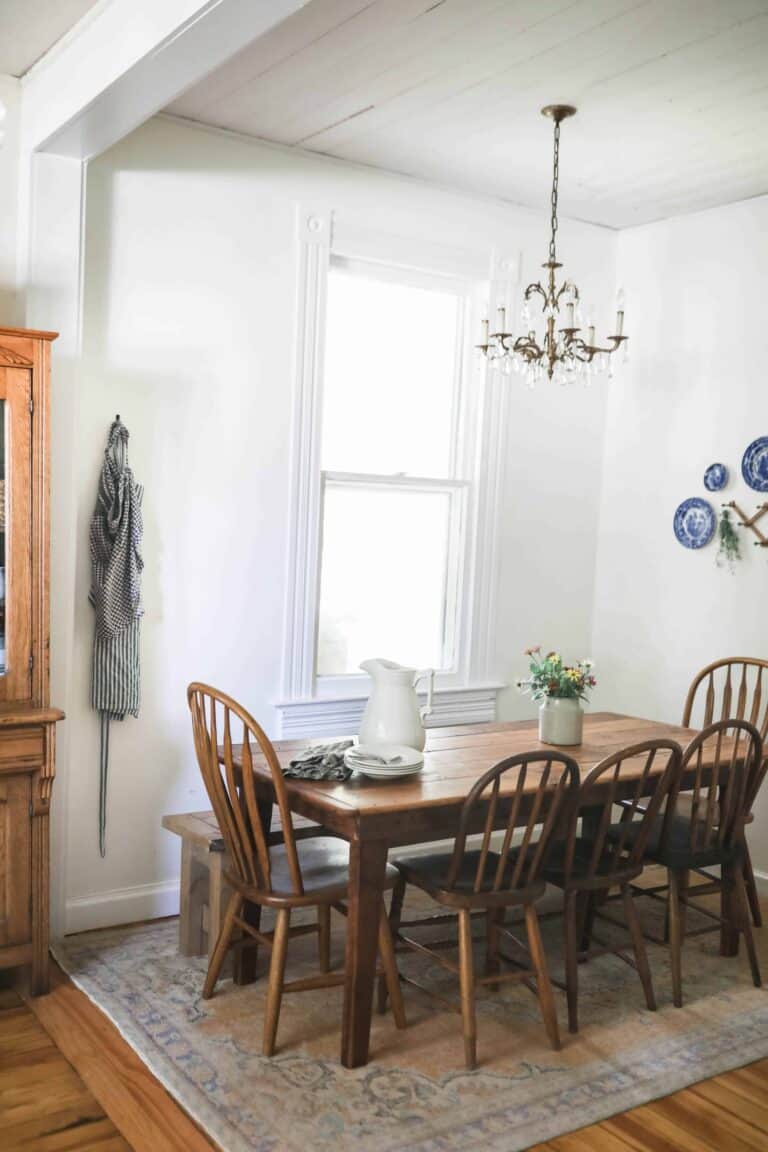 Our Farmhouse Built-in Office
Before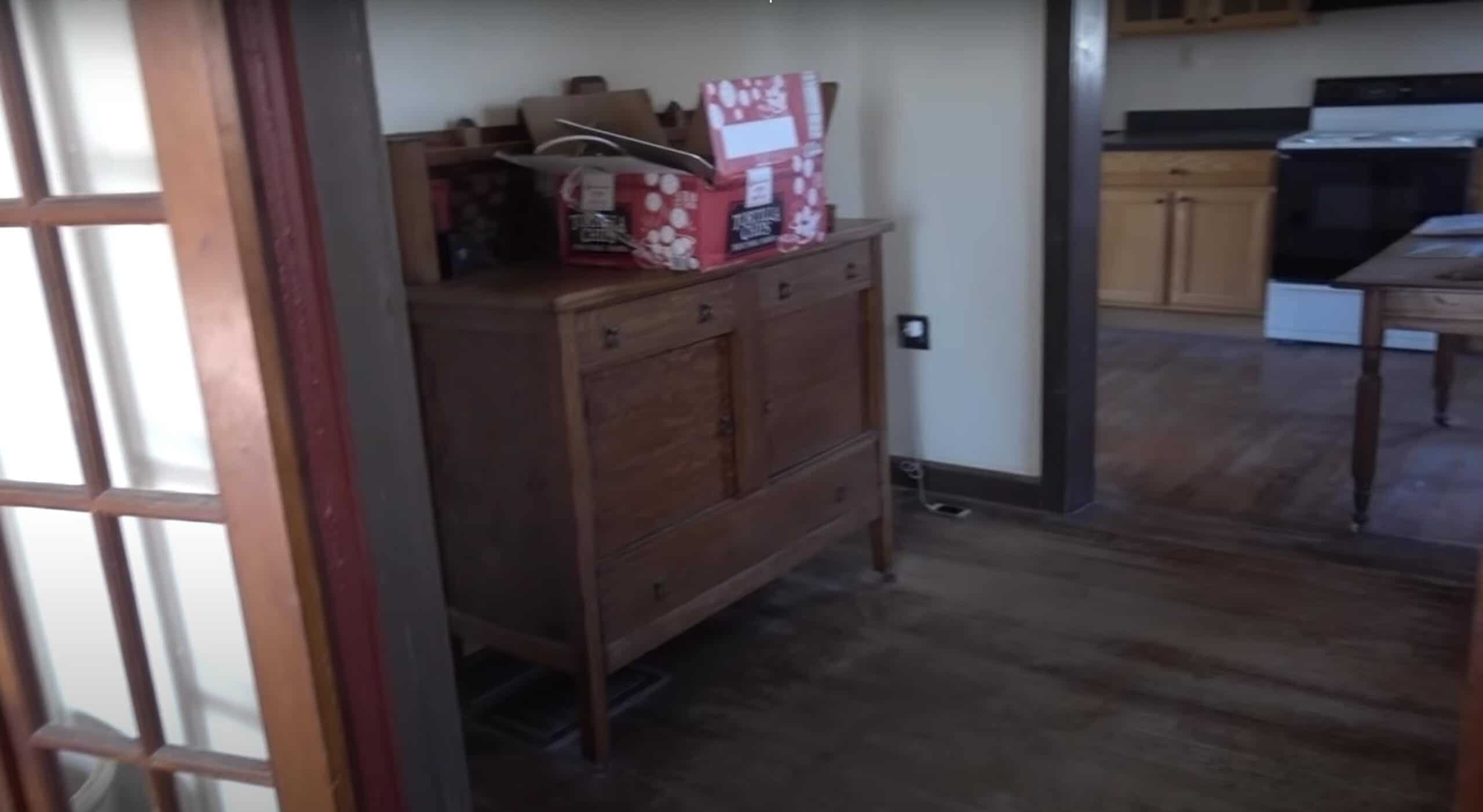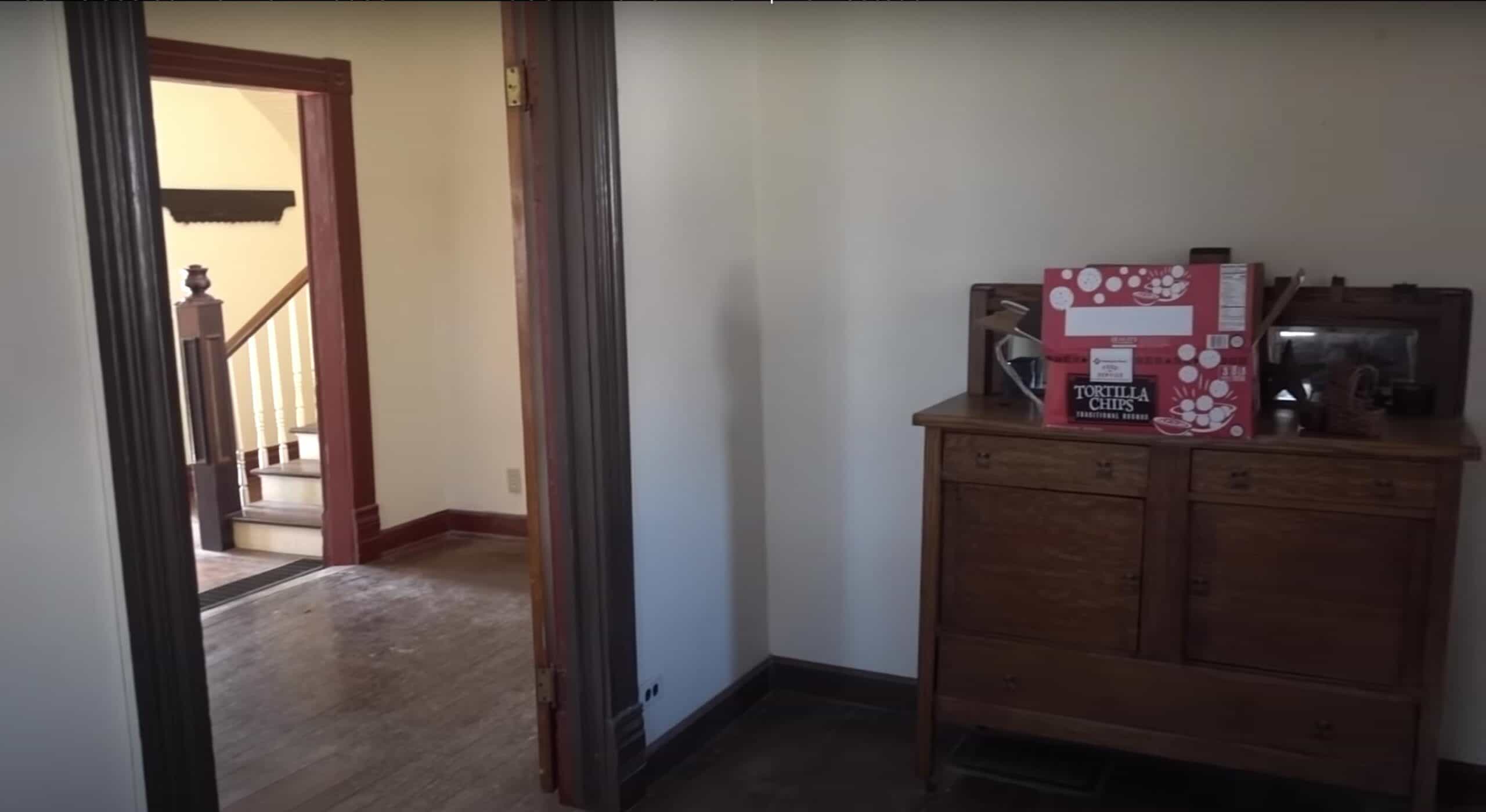 We had a little nook in the kitchen that wasn't serving any purpose (see photos above). I needed an office for my business things, so this was the perfect place!
After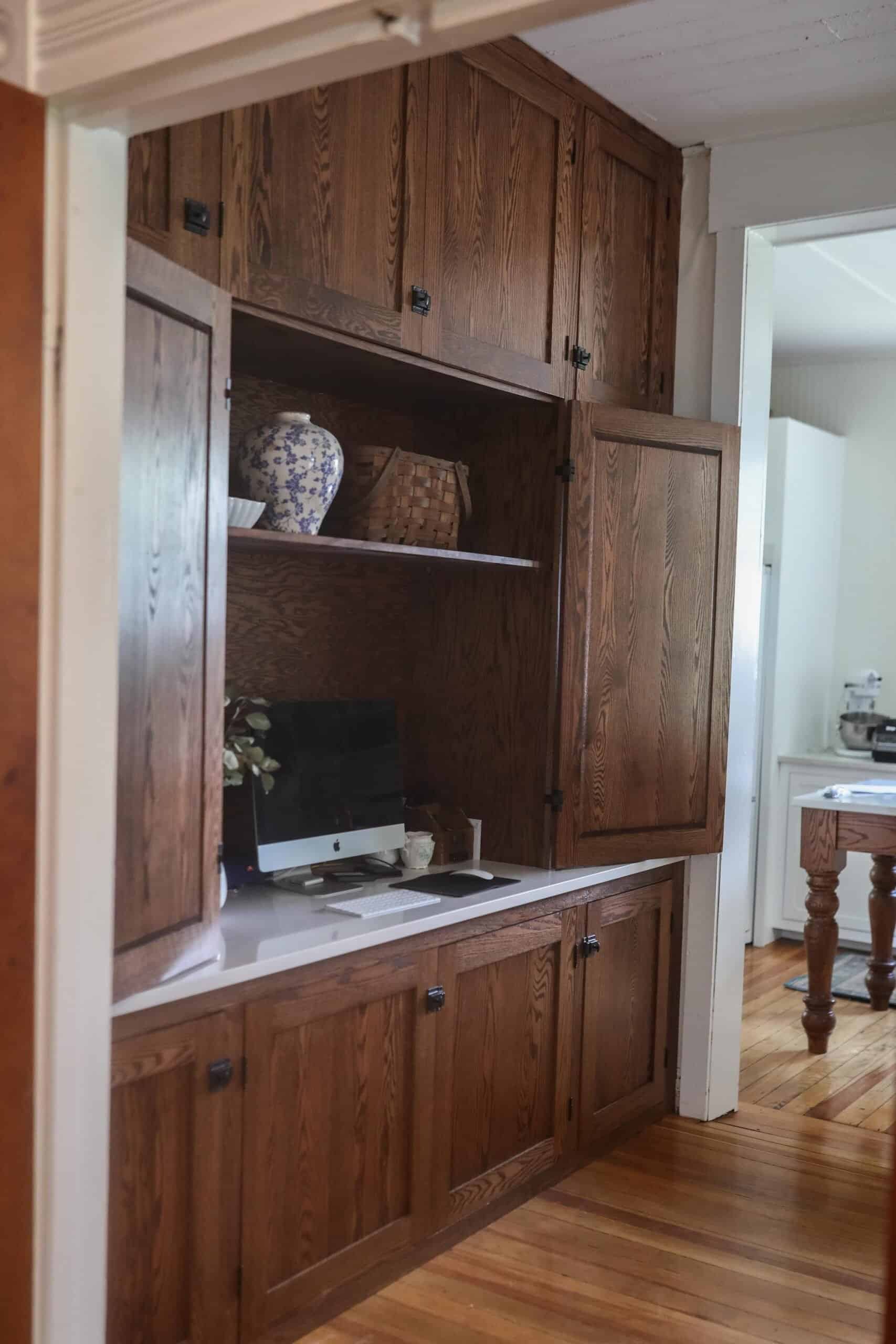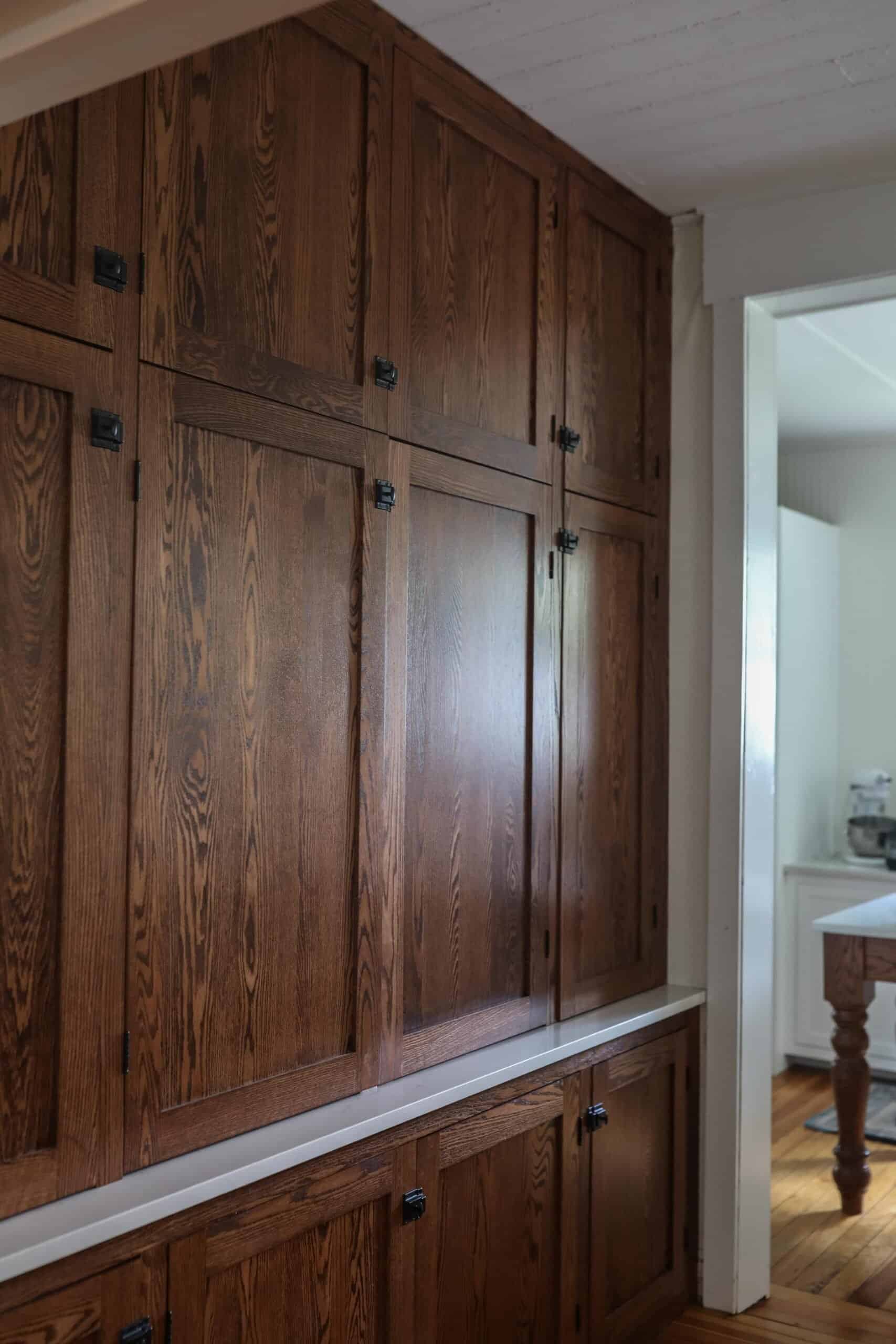 Get the full scoop on the office here: Farmhouse Office Reveal and Organization
Our Farmhouse Entryway
Before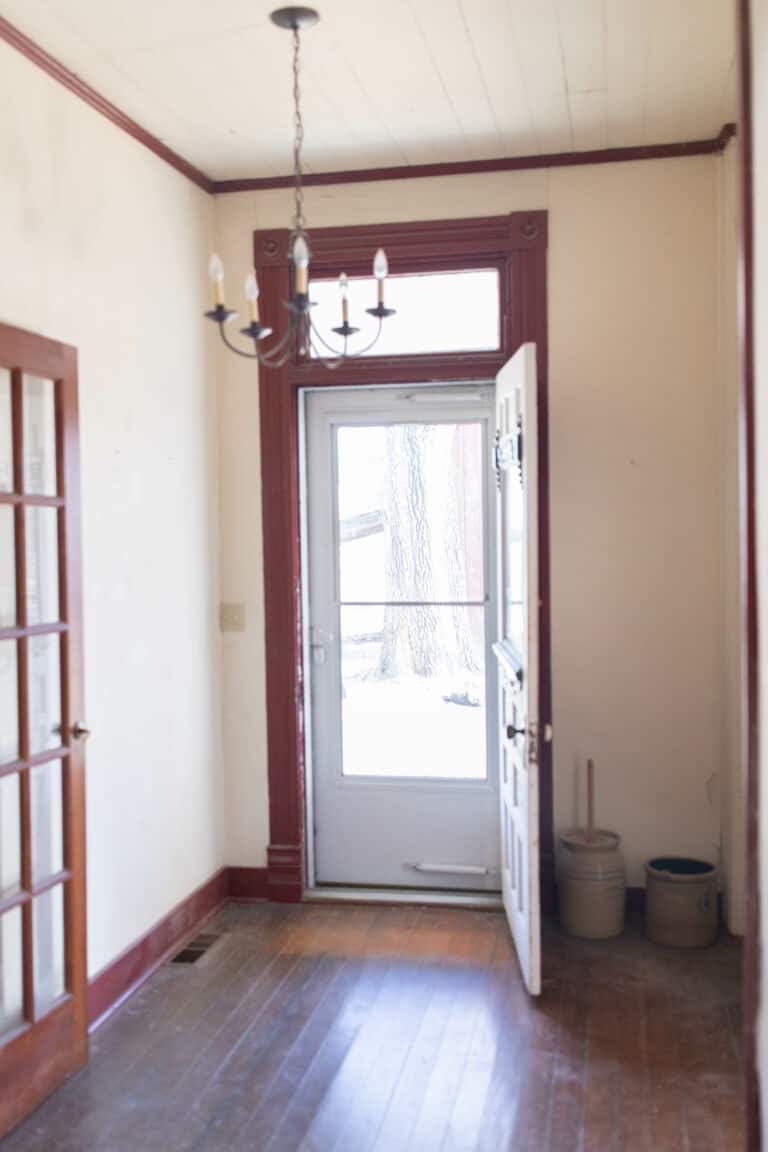 Before the trim was red, and the floors were dull and scratched up. The paint on the walls was a tired and yellow-y off-white. The ceiling hadn't been painted in many many years, and needed a fresh coat. We had the walls painted in Benjamin Moore White Dove and the trim and window done in a bright white semi gloss. The floors were sanded and given a few coats of oil based polyurethane. The planked ceiling was given a coat of fresh white.
I replaced the light fixture, and had the paint stripped off the door. Also, I brought in some entryway decor.
I added vintage coat hooks and some an entry chair.
After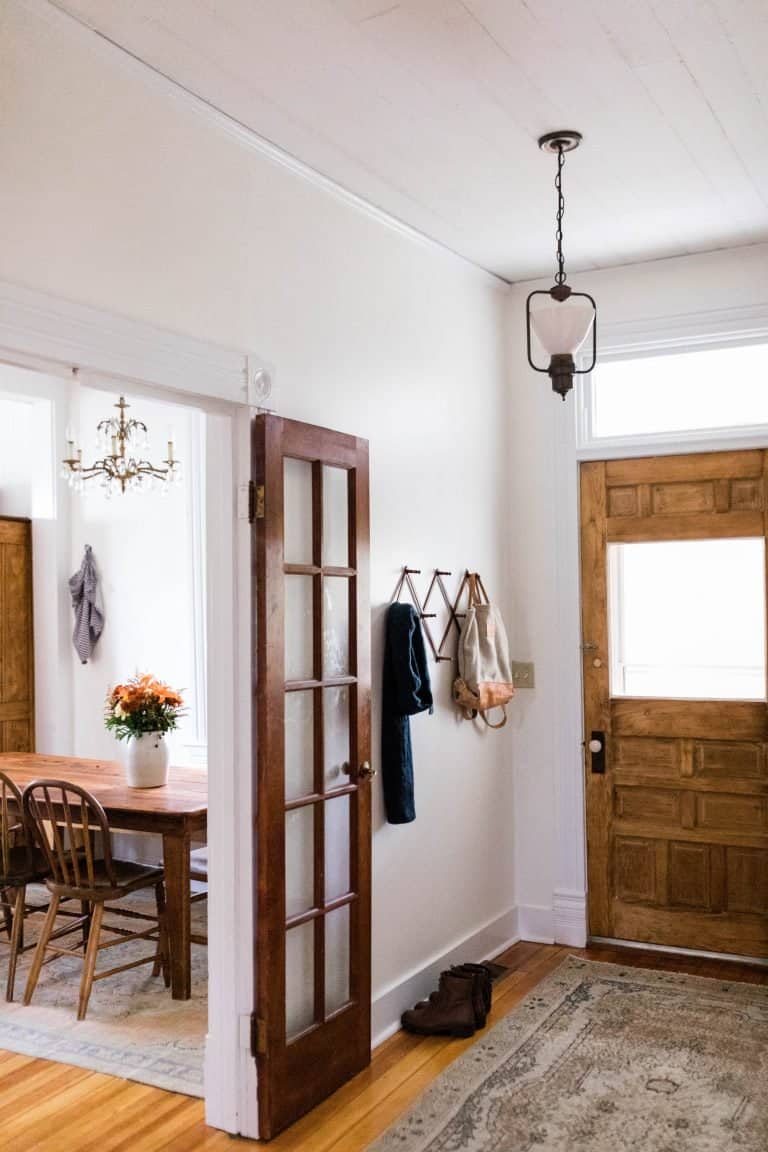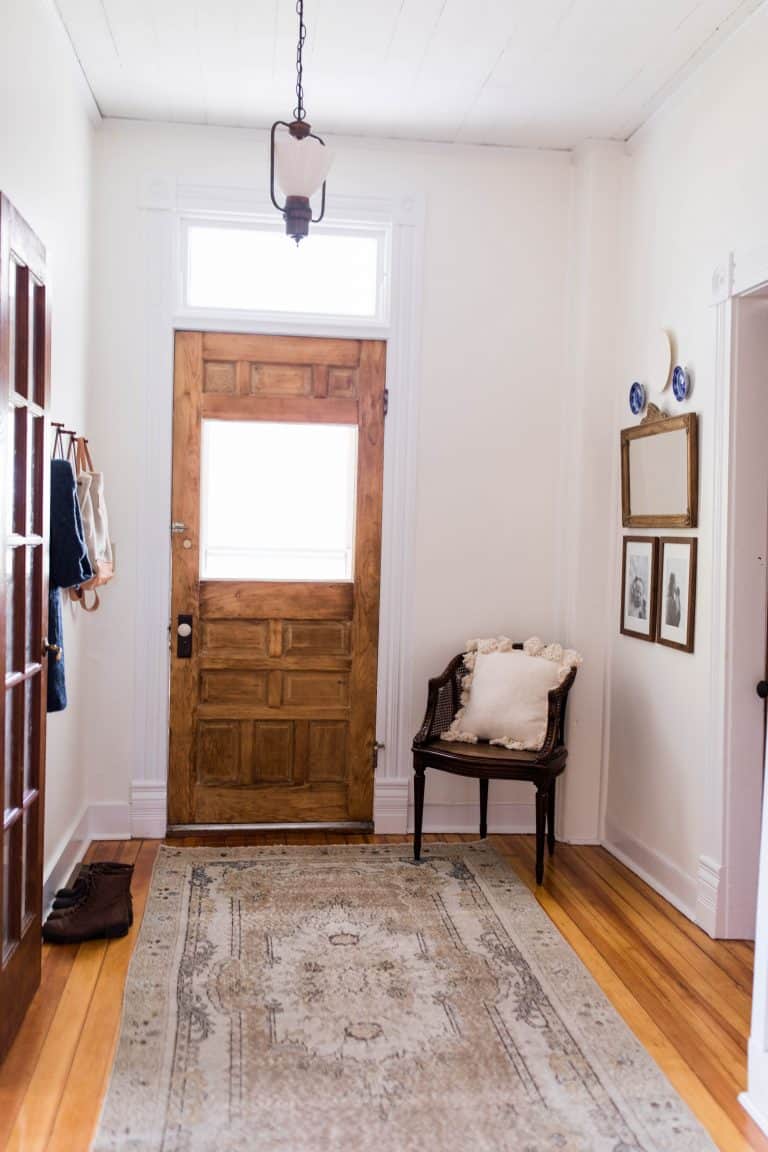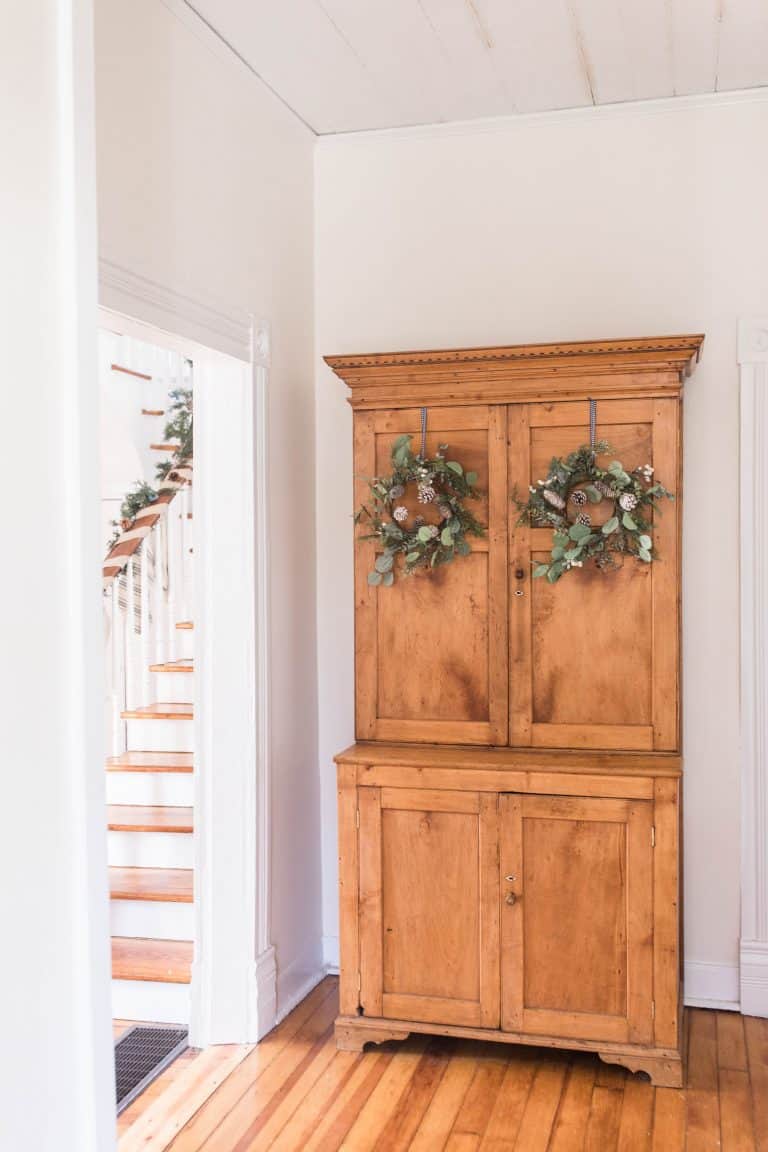 Our Farmhouse living Room
Before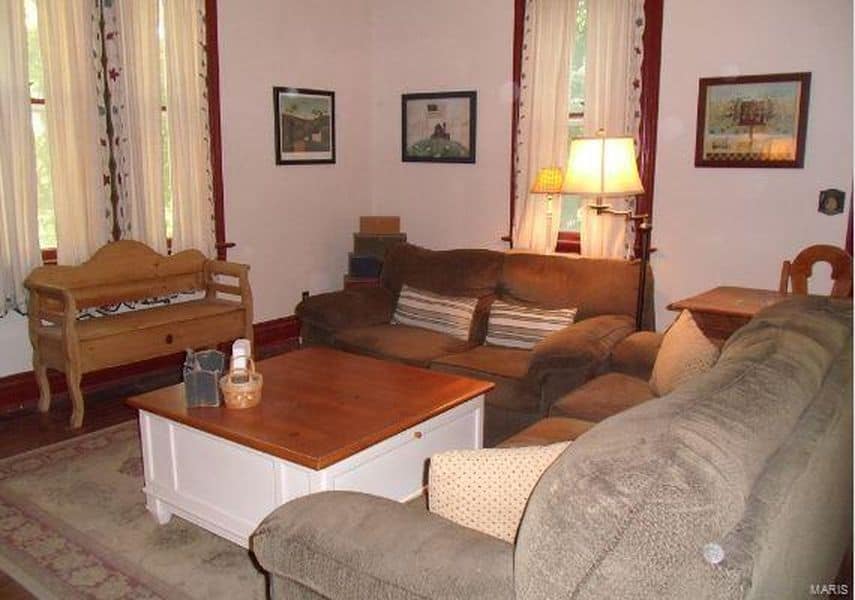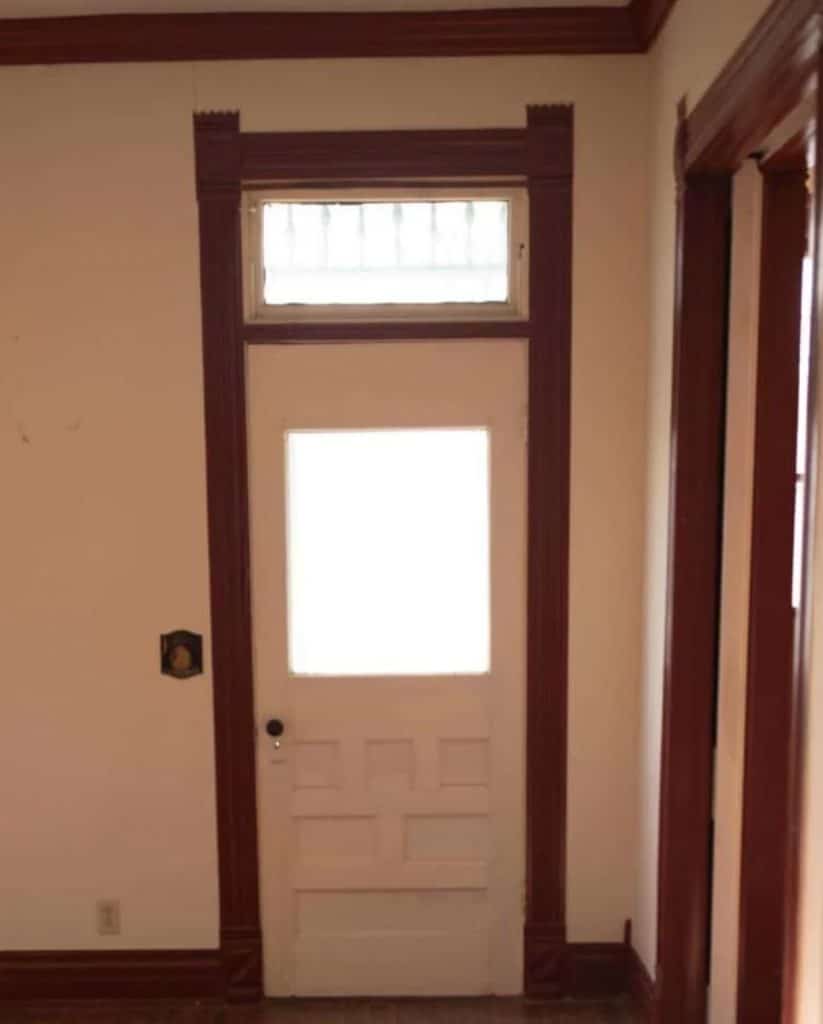 Before the floors were scratched up and dull. The window trim and baseboards were a bright red color. The walls were white-ish, but not in a way that complimented the trim. To instantly transform this room, we had the walls painted in Benjamin Moore Dune White. We also gave the trim the same bright white semi gloss paint.
I added a leather sofa, jute rug, linen curtains and cozy pillows.
I don't currently love our furniture in here. Everything just feels so small, in these giant rooms. I'm going to have to mull over this one for a while to get it how I like it. One thing I know for sure is the empty wall needs a focal point. I'm thinking a large mantle and electric fireplace.
I definitely hated the coffee table in here, so I swapped it out for my white slipcovered bench. It looked great in our old house, but not at all here.
After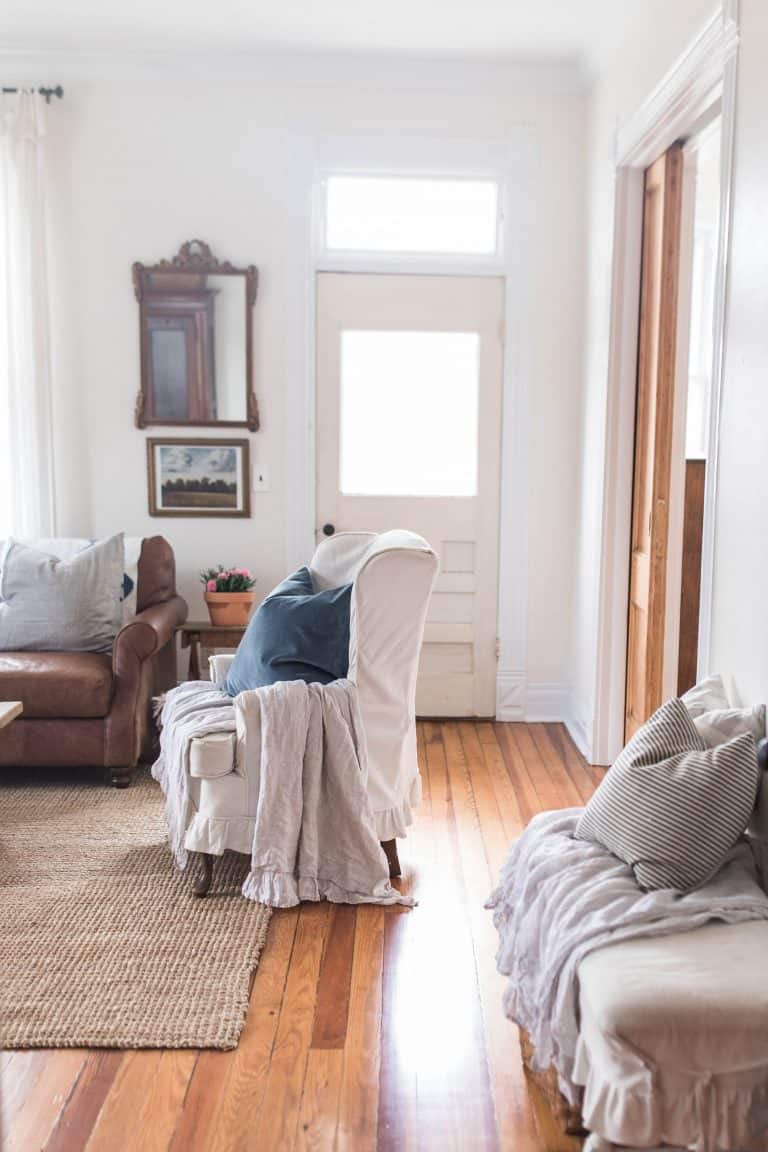 We had the door stripped at a local Dip 'n strip place to reveal the natural wood.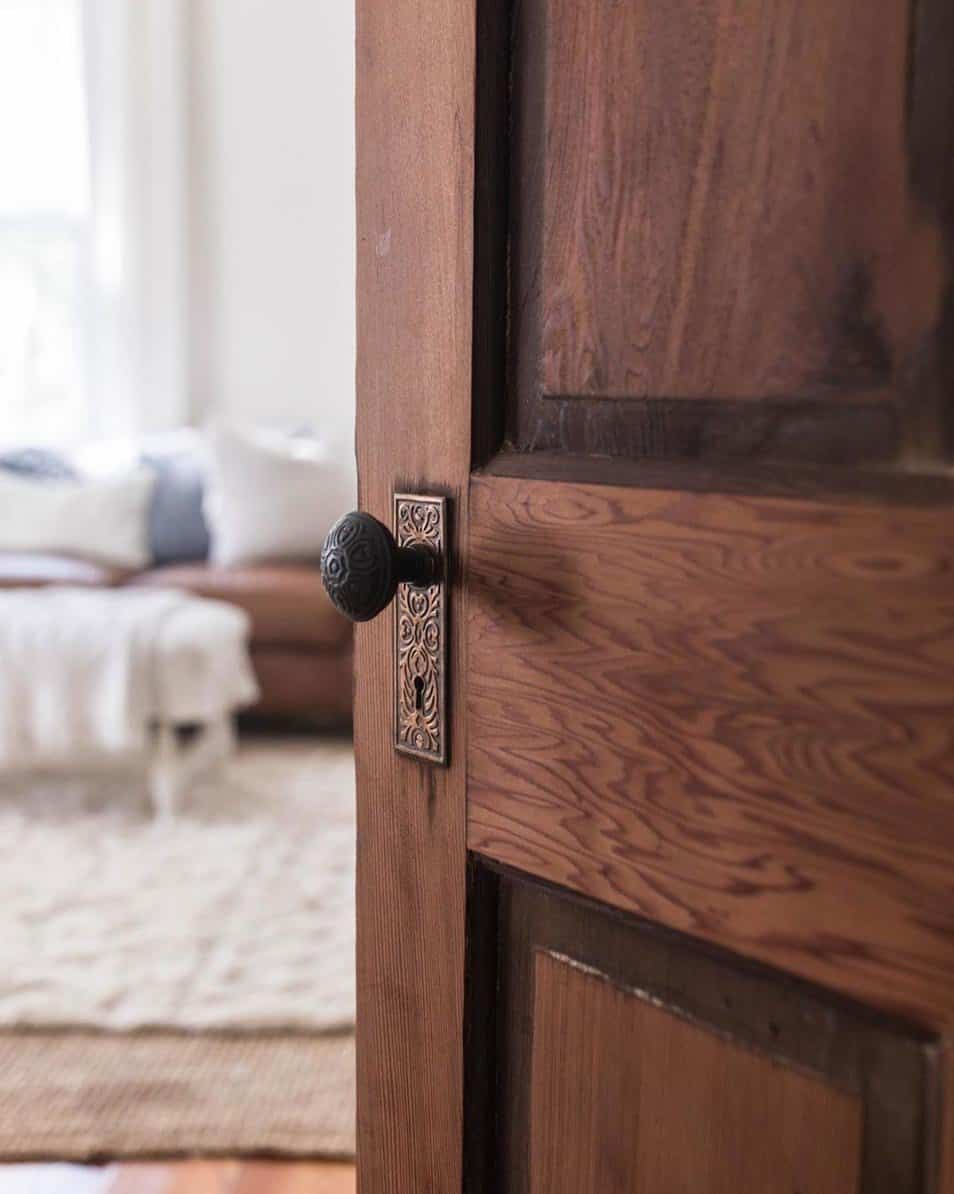 Our Farmhouse Dining Room
The dining room adjoins to the living room through a doorway with two extra large pocket doors. Just like the other rooms on the main level, the floors were tired and the trim red. We brightened up with the same color scheme as we did in the living room. Benjamin Moore Dune White on the walls and bright white on the windows and moldings.
Before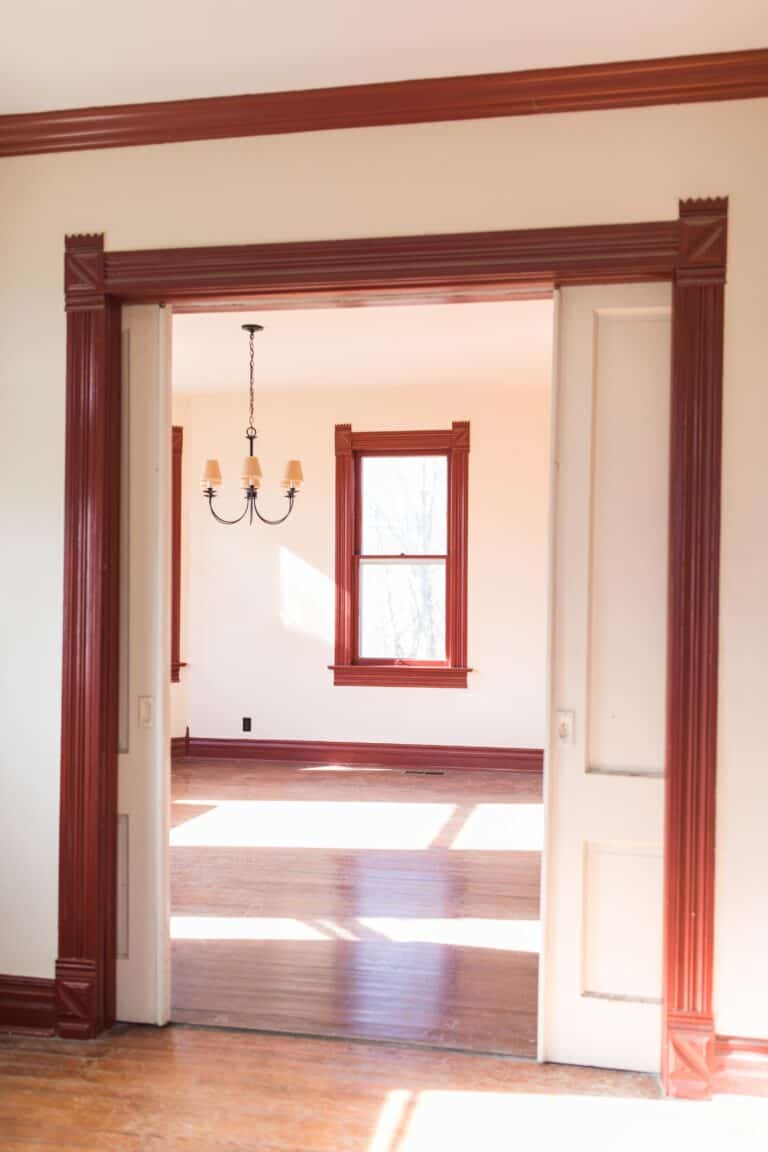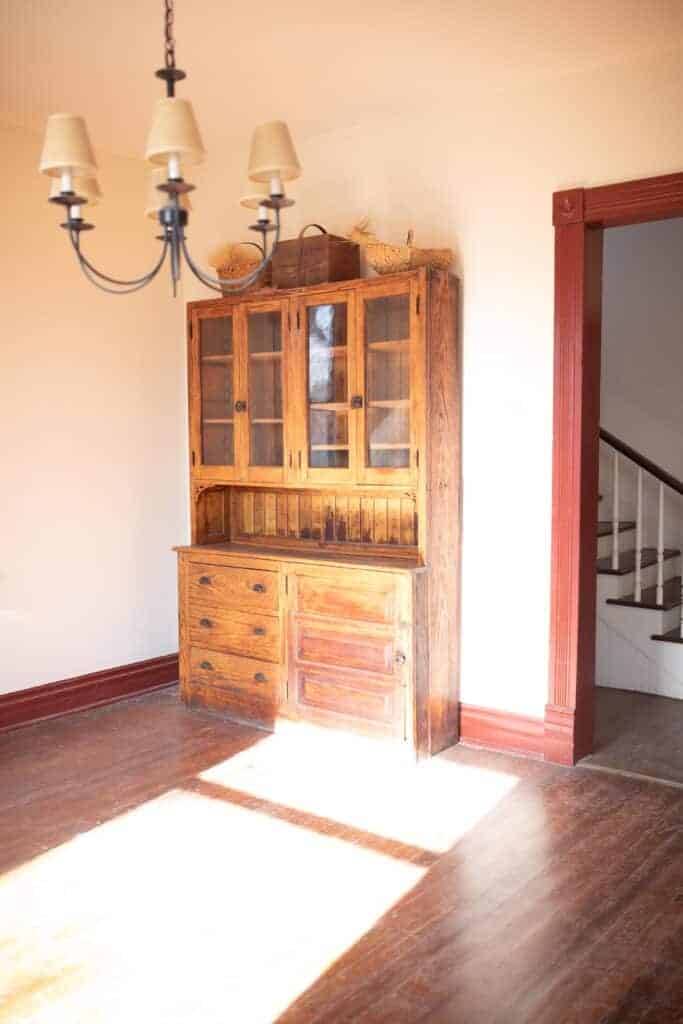 After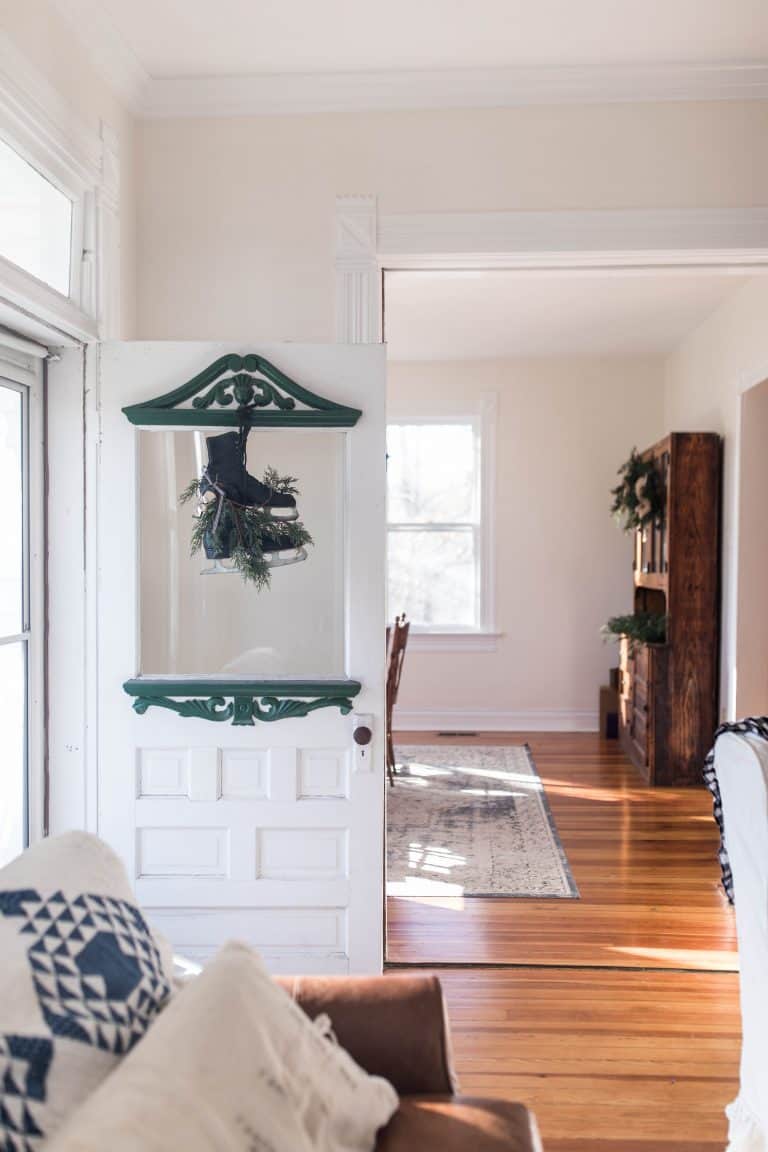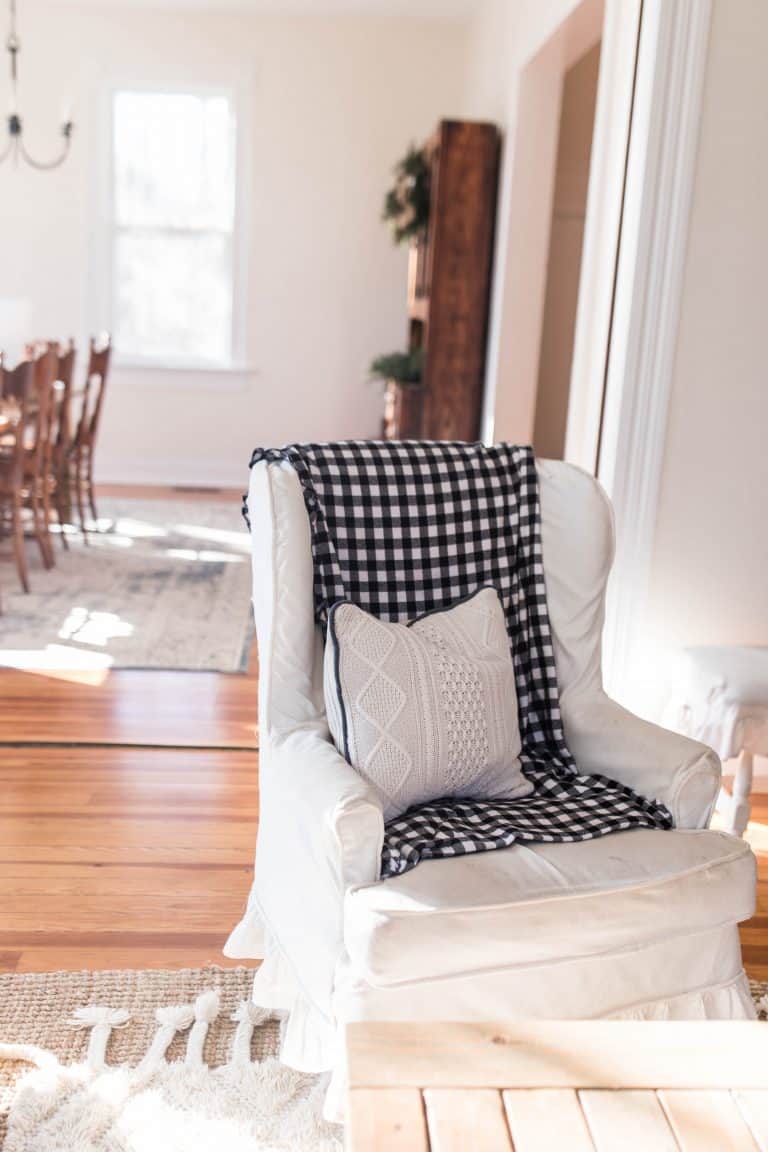 The hutch was here when we walked through the house, and the seller offered for us to buy it. After realizing how heavy this thing is we knew exactly why. You would never want to move this thing! If we ever sell this house, its probably staying. Haha. But, let's be honest, we're in love with this place. I filled the hutch with antique ironstone in white and flow blue.
You can read more about finding pottery like this in this post:
How to Find farmhouse Decor at the Thrift Shop
We didn't change the color of the hutch at all, but I just love how it pops with the blue china and against that freshly painted wall.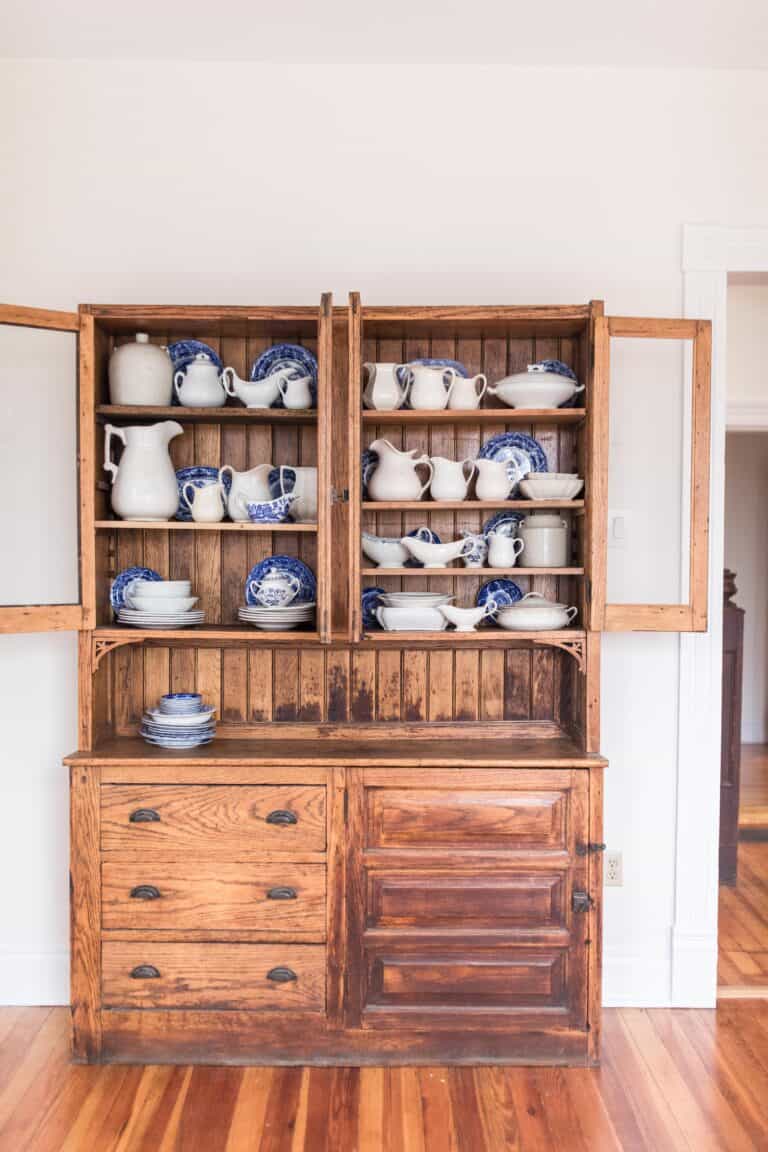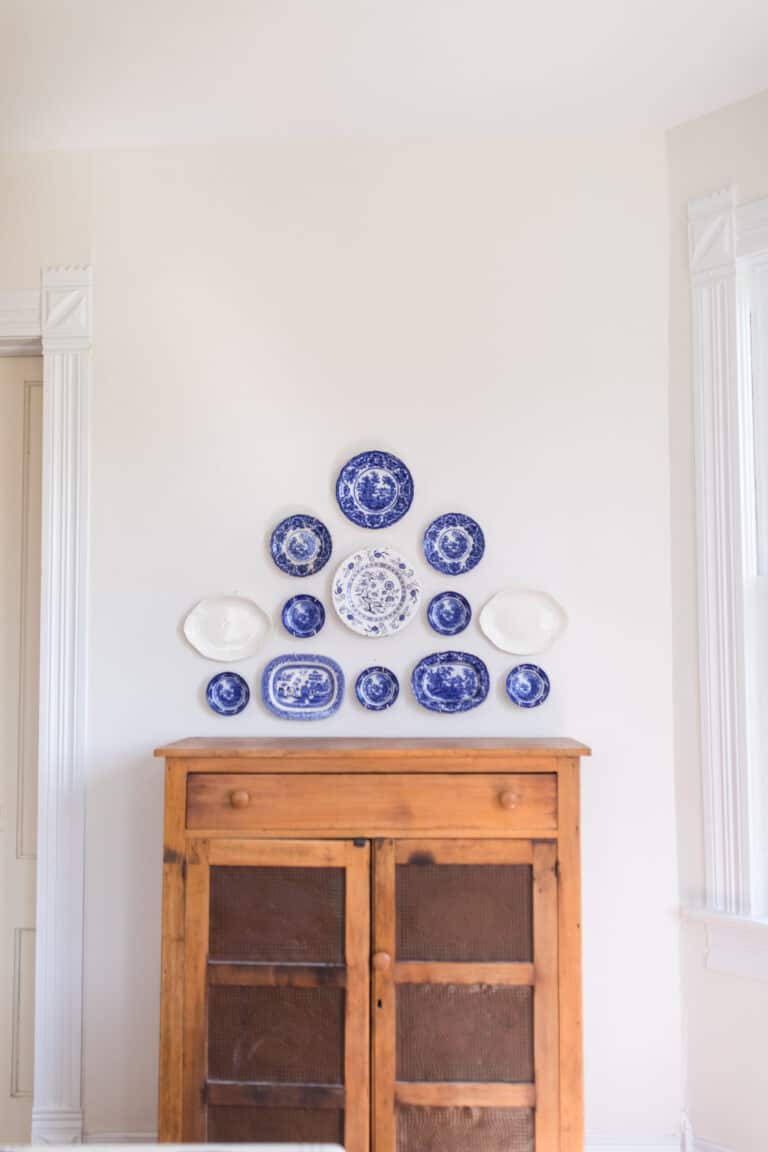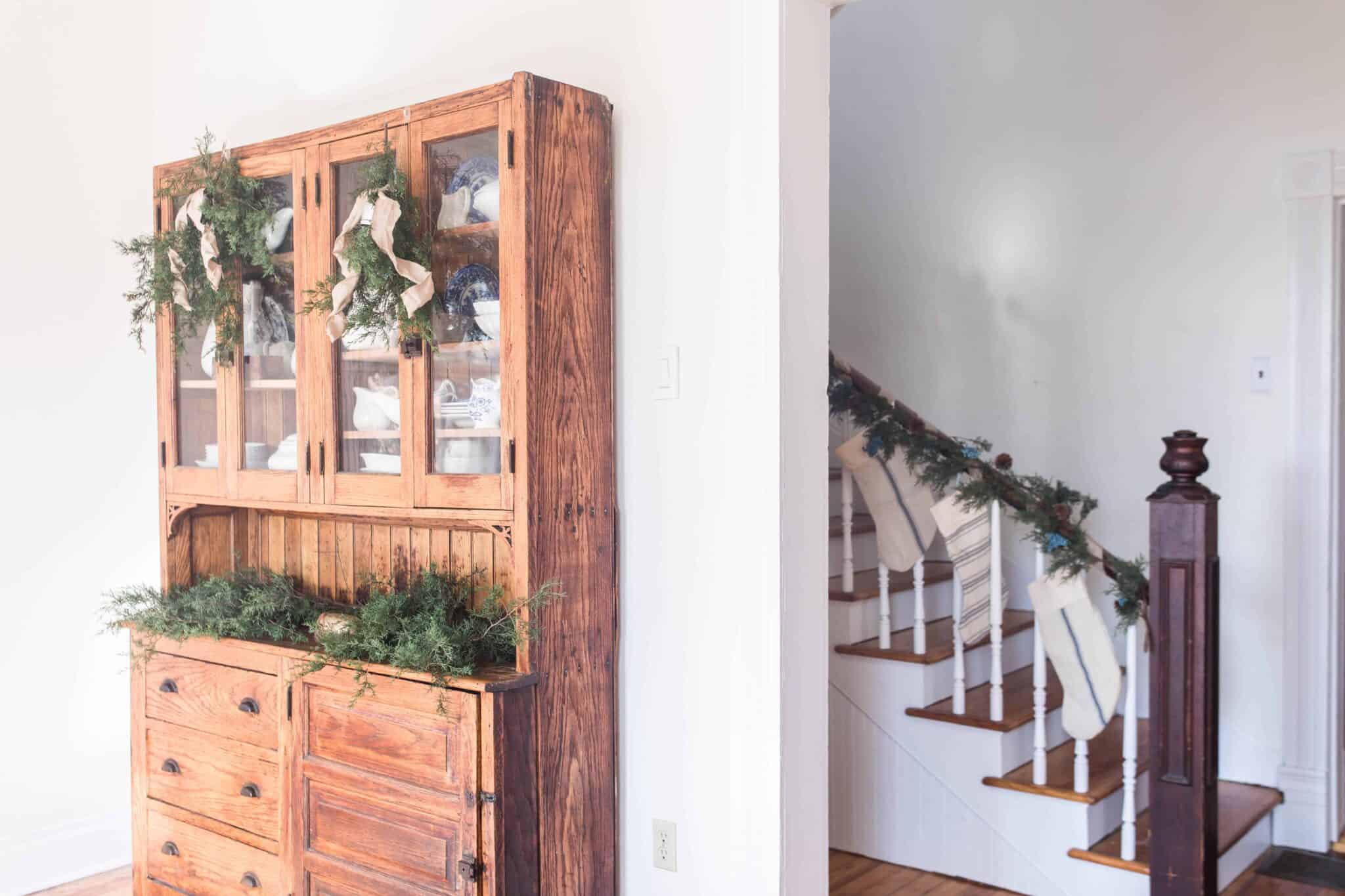 Our Farmhouse Guest Bathroom/ Laundry Room
Before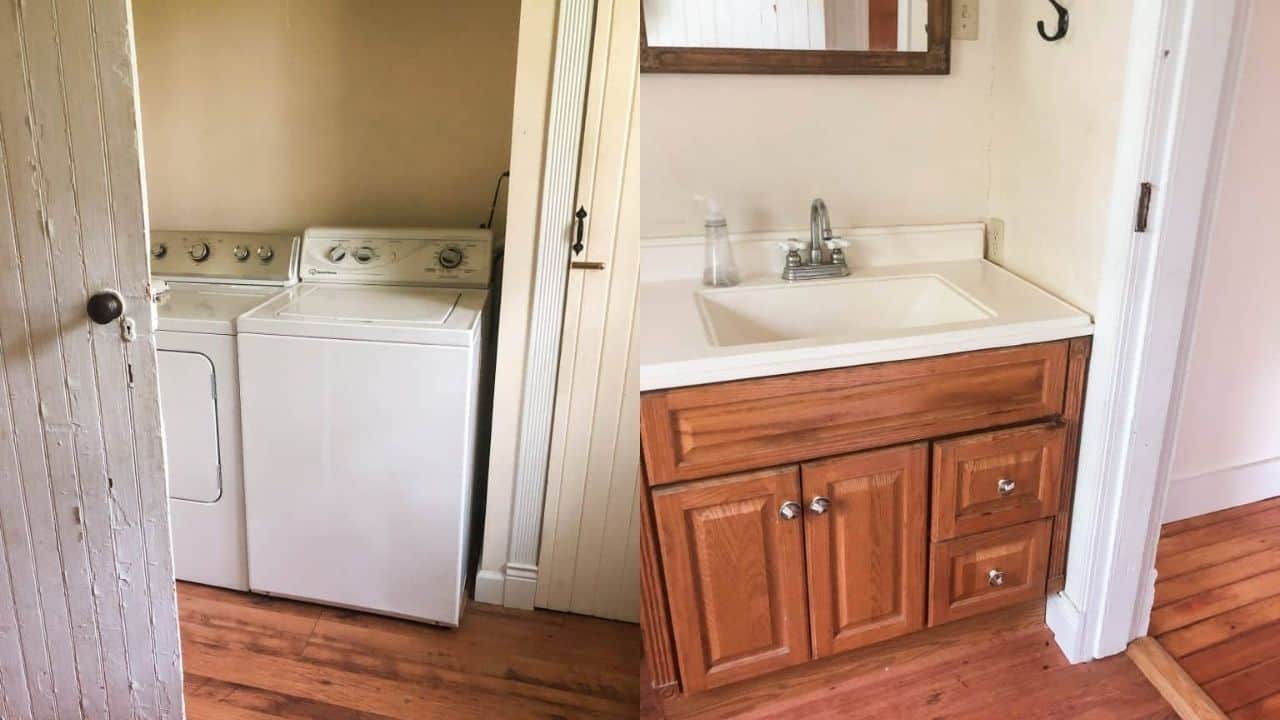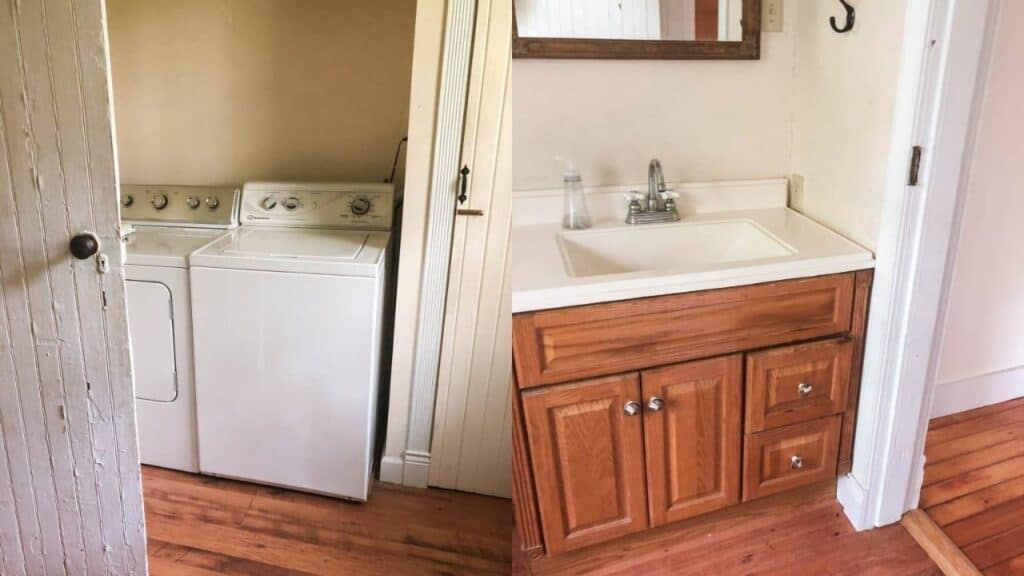 After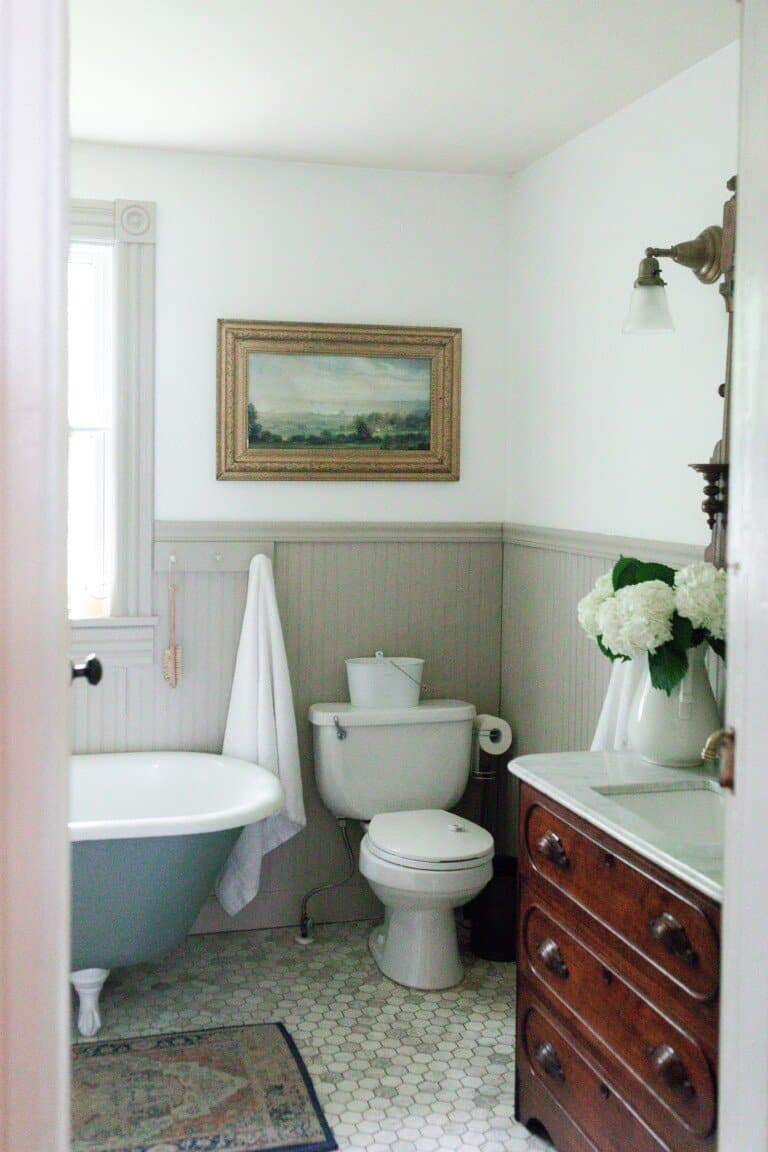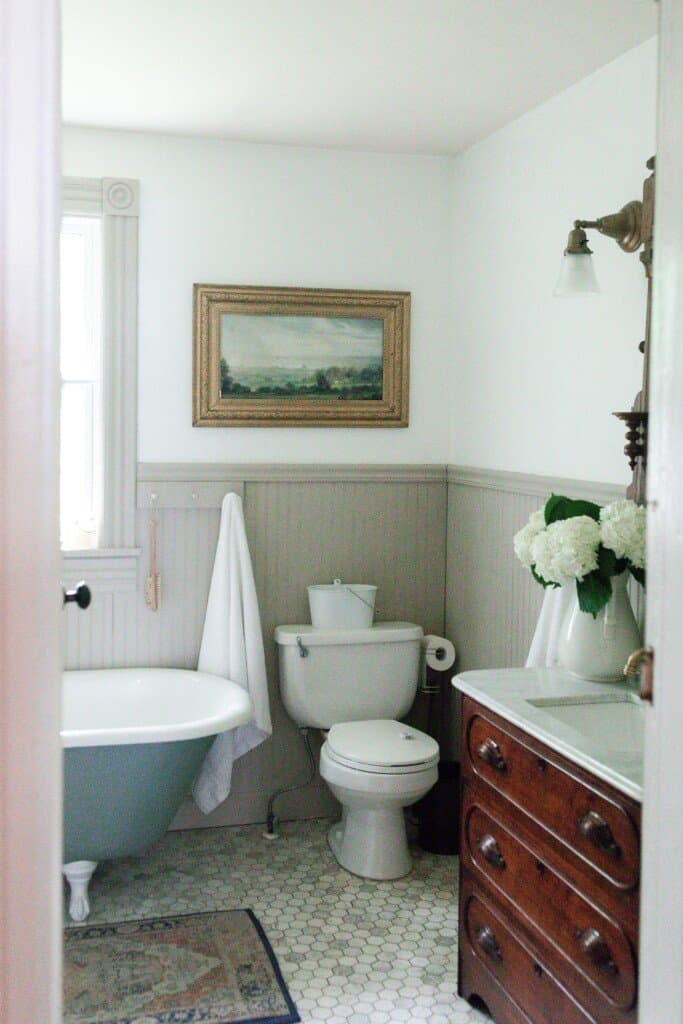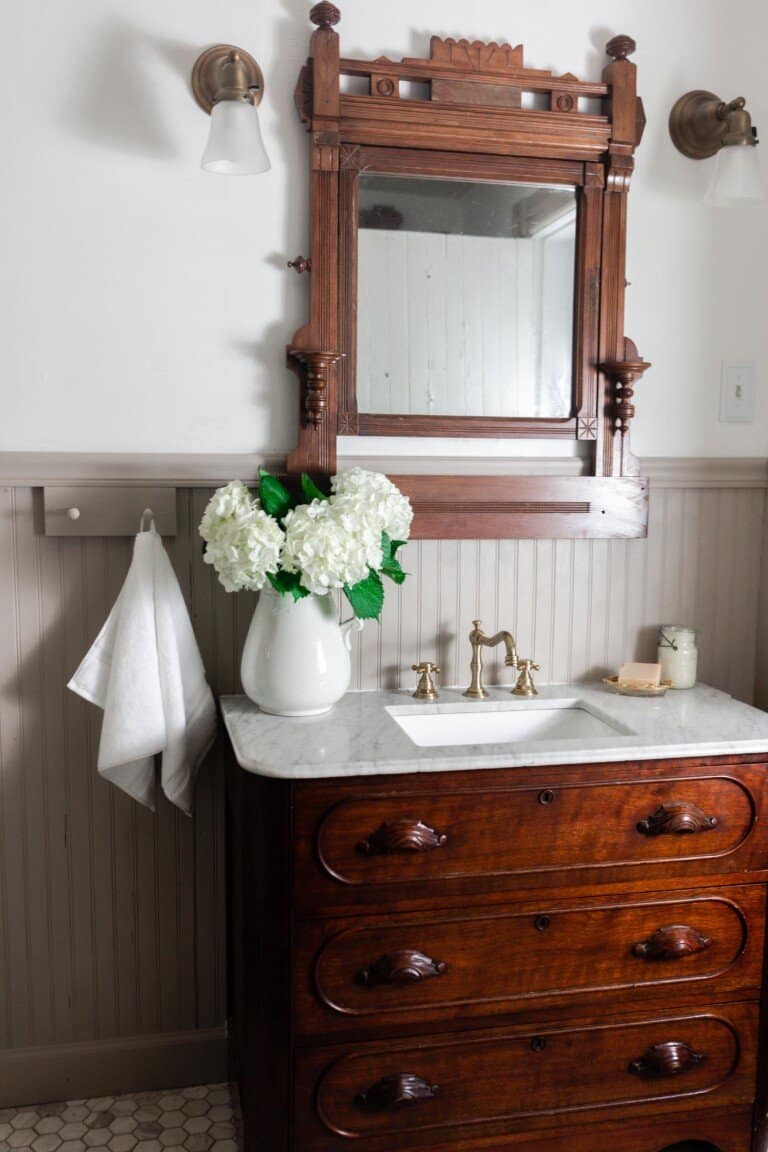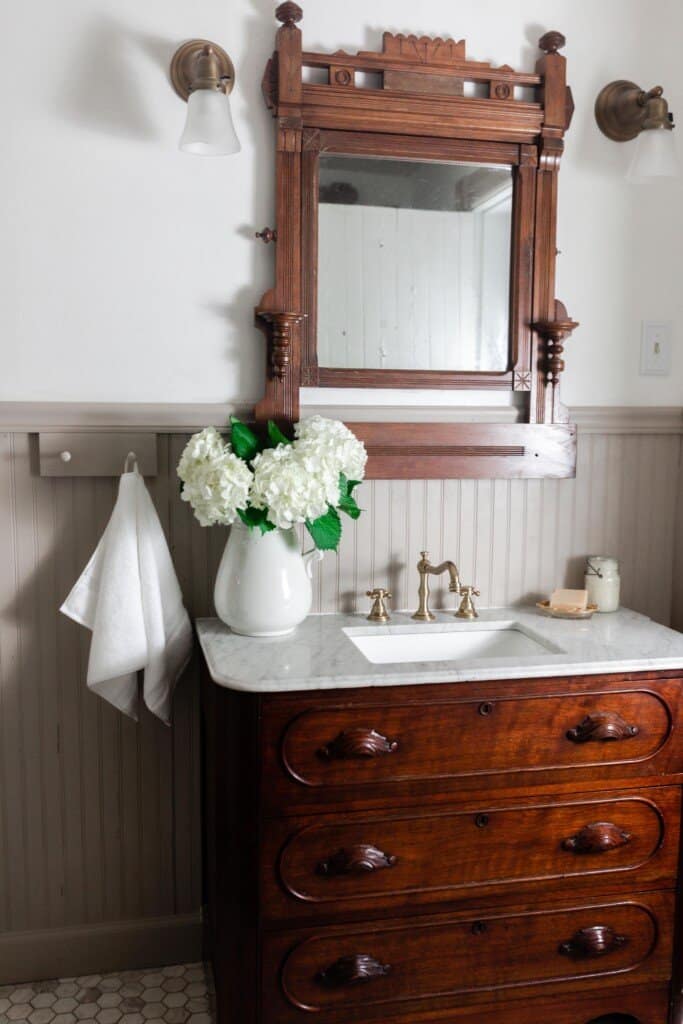 We added the clawfoot tub, so that we would have three full bathrooms. This one was only a powder room before. You can get the full reveal HERE.
Shop our farmhouse bathroom reveal
Sink faucet
Antique Brass Pop up Sink Drain
Tub faucet
Brass overflow drain
Peg rack
Sconces
Extra claw foot (I forgot to mention that this tub was missing one, and we found a replacement on Etsy!)
Landscape art print
Tile
Grout– (cobblestone color)
Paint color on trim and bead board- Sherwin Williams Balanced Beige
Paint color on wall- Benjamin Moore White Dove
Paint color on tub- Benjamin Moore Carolina Gull
Our Farmhouse Staircase
The staircase in this old farmhouse was already gorgeous. How could it not be?! It has the most beautiful curved lines and is wrapped in white bead board. That window halfway up the steps overlooking the back property could have ALONE sold me on this house. It is just breathtaking!
We spruced this area up a touch by giving the bead board, risers, spindles and window trim a fresh coat of white paint.
We also hired the hardwood floor guy to strip the brown paint off the treads. It wasn't an easy (or cheap) process, but so worth it to uncover that gorgeous wood! Just like the rest of the wood in the house, it is either heart pine or Douglas fir. I have heard differing opinions. Either way it is technically a "soft wood" not hardwood but either way the color is perfect!
Before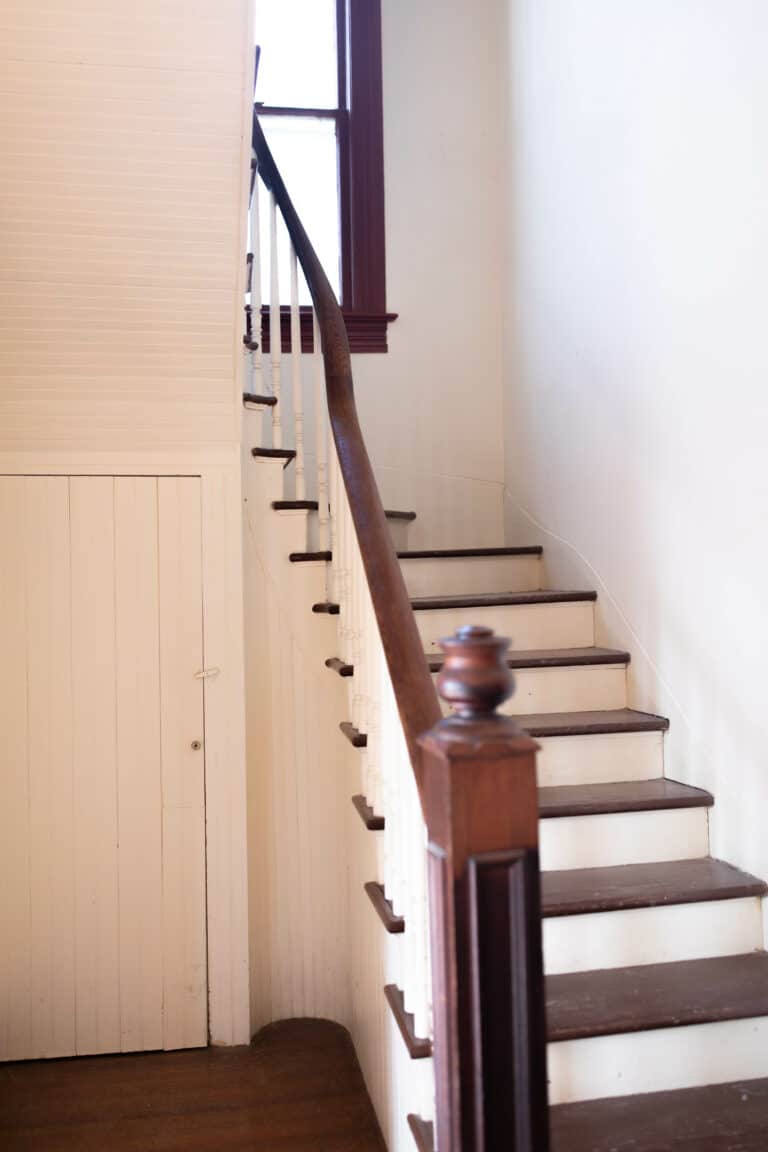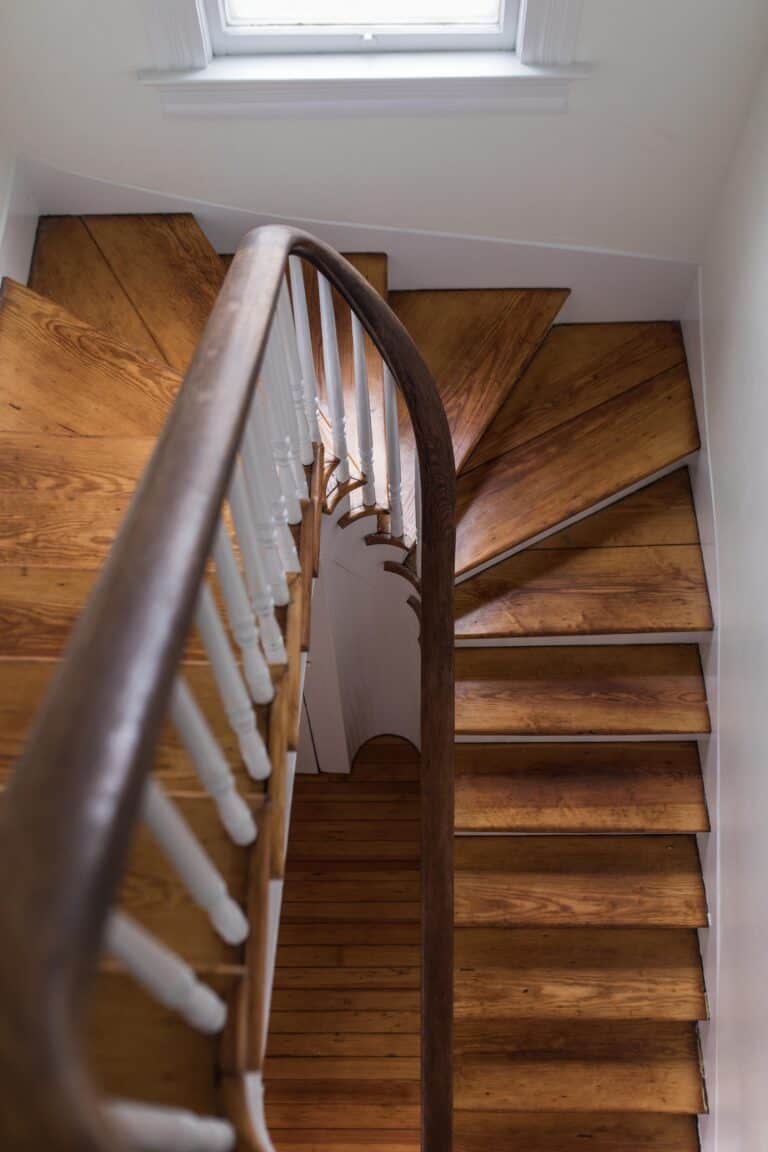 Our Farmhouse Boys' Room
When we walked through this house for the first time, I could already imagine how pretty this natural light-filled room would be with lighter colors and floor that weren't painted brown. Apparently back in the day they painted wood floors to preserve them. And preserve they did! Luke and I both agree that this room has the most dramatic outcome. Those floors were just lying under that paint in pristine condition. A lot of sanding and several coats of oil based polyurethane brought out that natural beauty. Benjamin Moore Dune White lightened up the walls, and a fresh coat of white on the ceiling and window trim bounces even more light!
Before

After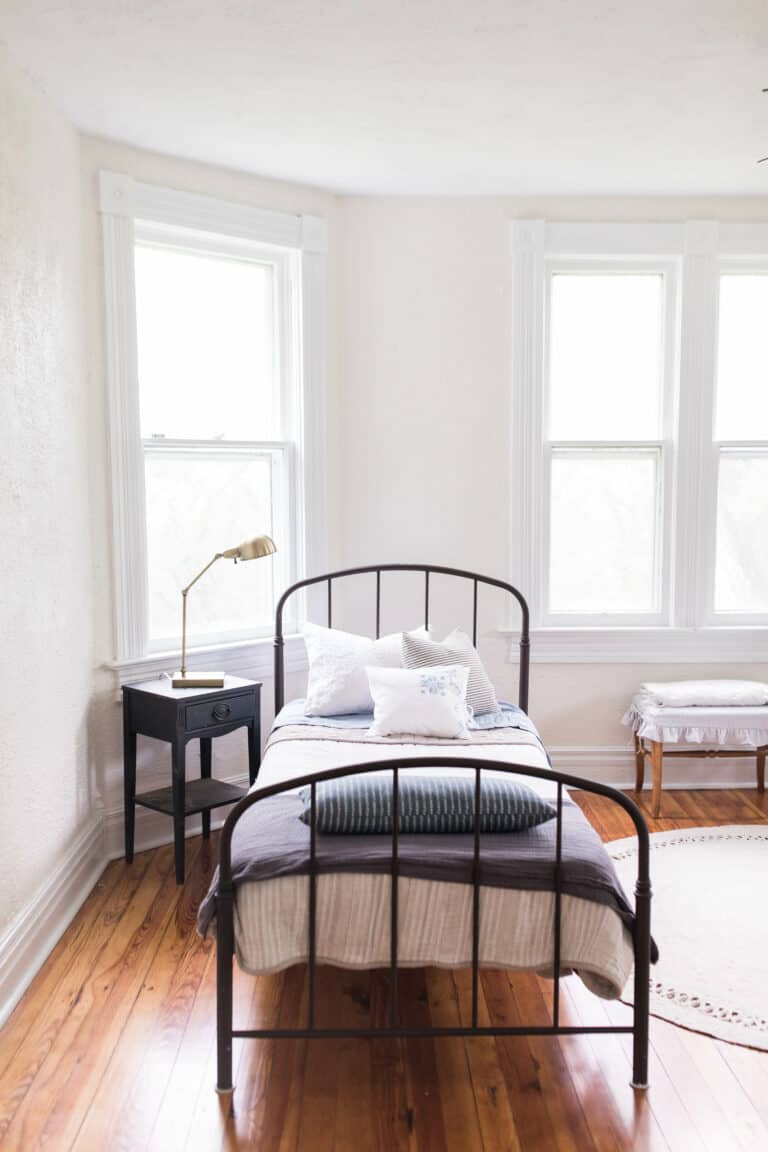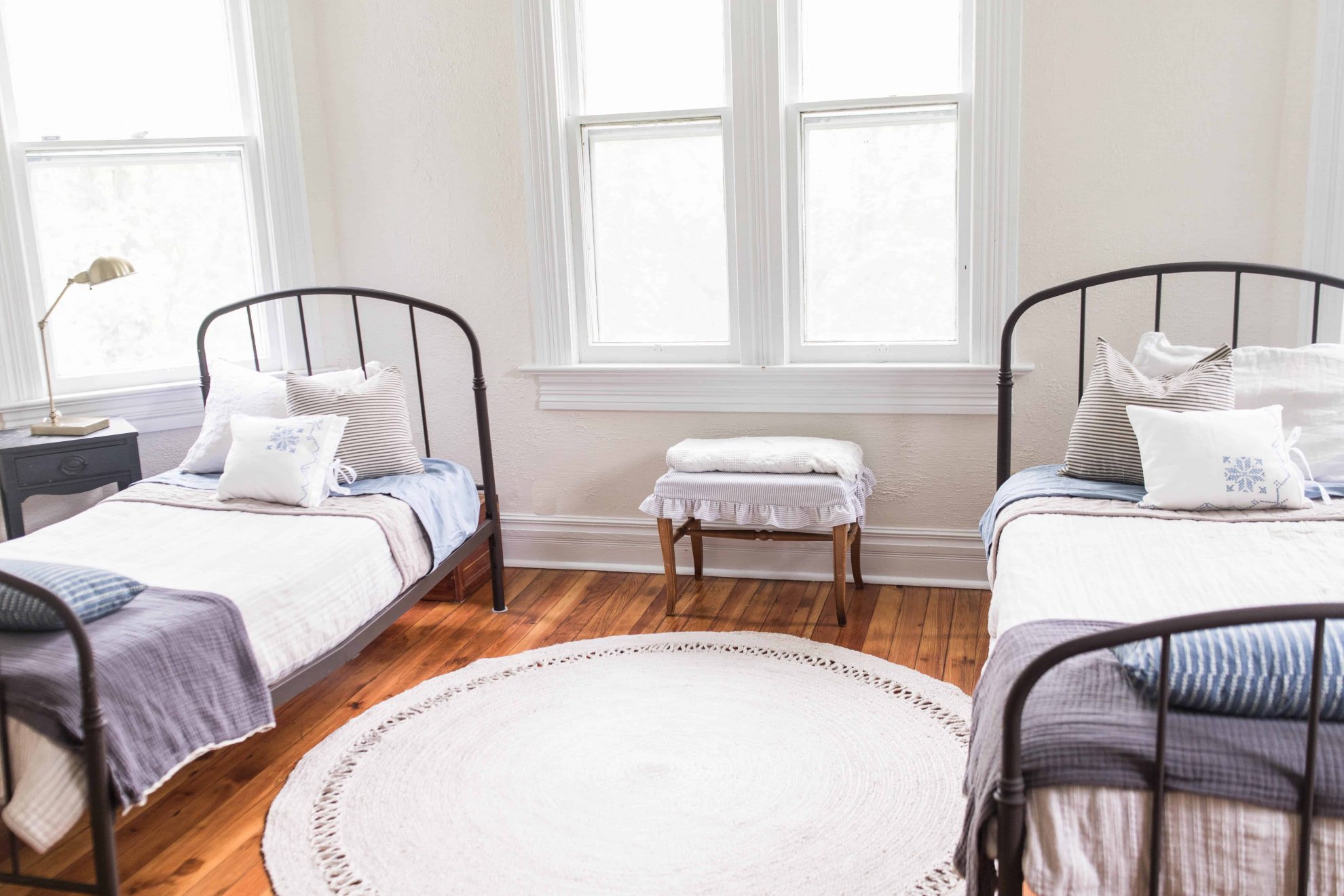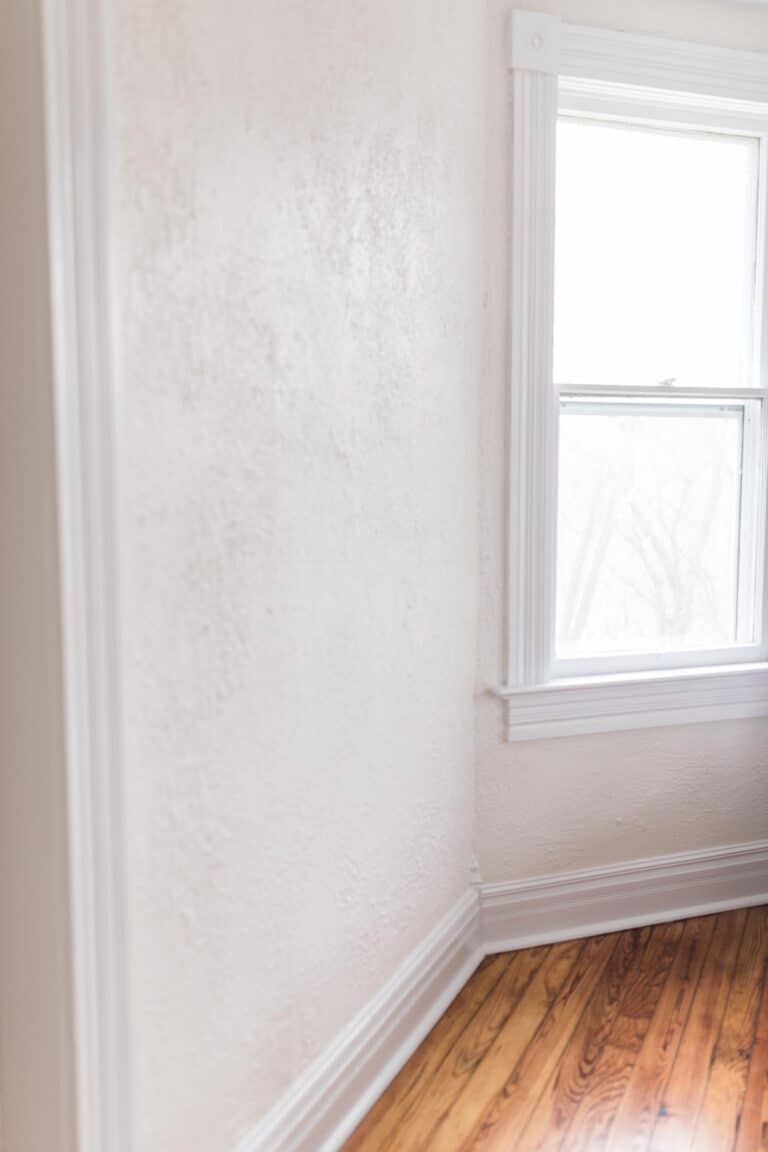 We also had the boys' bedroom door stripped down to the original wood.
Shop our Farmhouse Boys Room
Twin Iron Beds
Gray Stitched Stripe Quilt
6′ round braided area rug
Brass vintage desk lamp
Basket by the desk
Boys' Room Update
I found two 19th century rope beds for $10 apiece on FB marketplace in June 2020. Here are a few pics of the updated boys' room.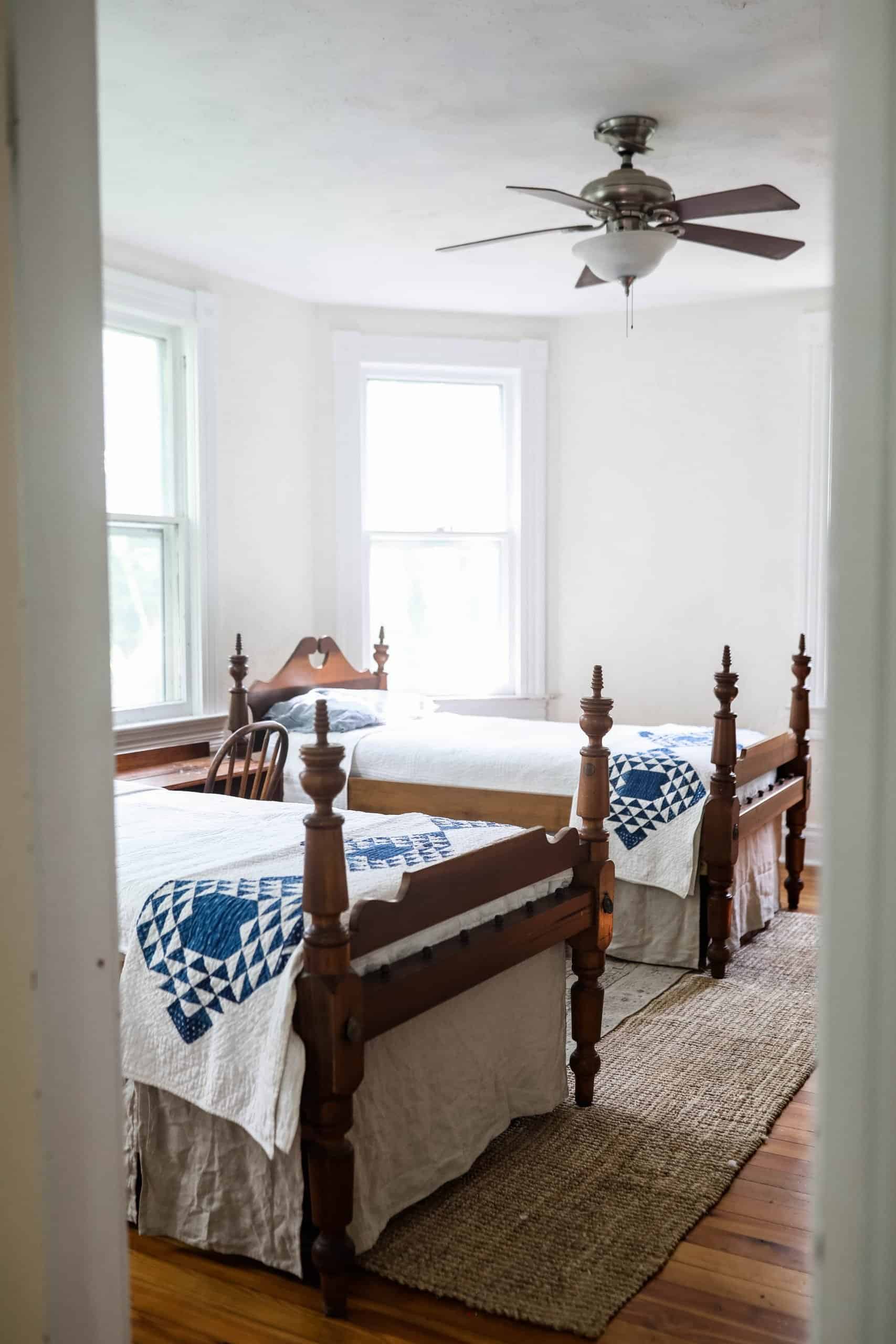 Our Farmhouse Girls' Room
This room was the only one in the house that had brightly colored trim. We unified it with the rest of the house with bright white paint. The wall in this room also saw a couple coats of Benjamin Moore Dune White. Just like the boys' room, the floors were painted a chocolate brown. We had them sanded and coated with a few coats of oil based polyurethane.
Before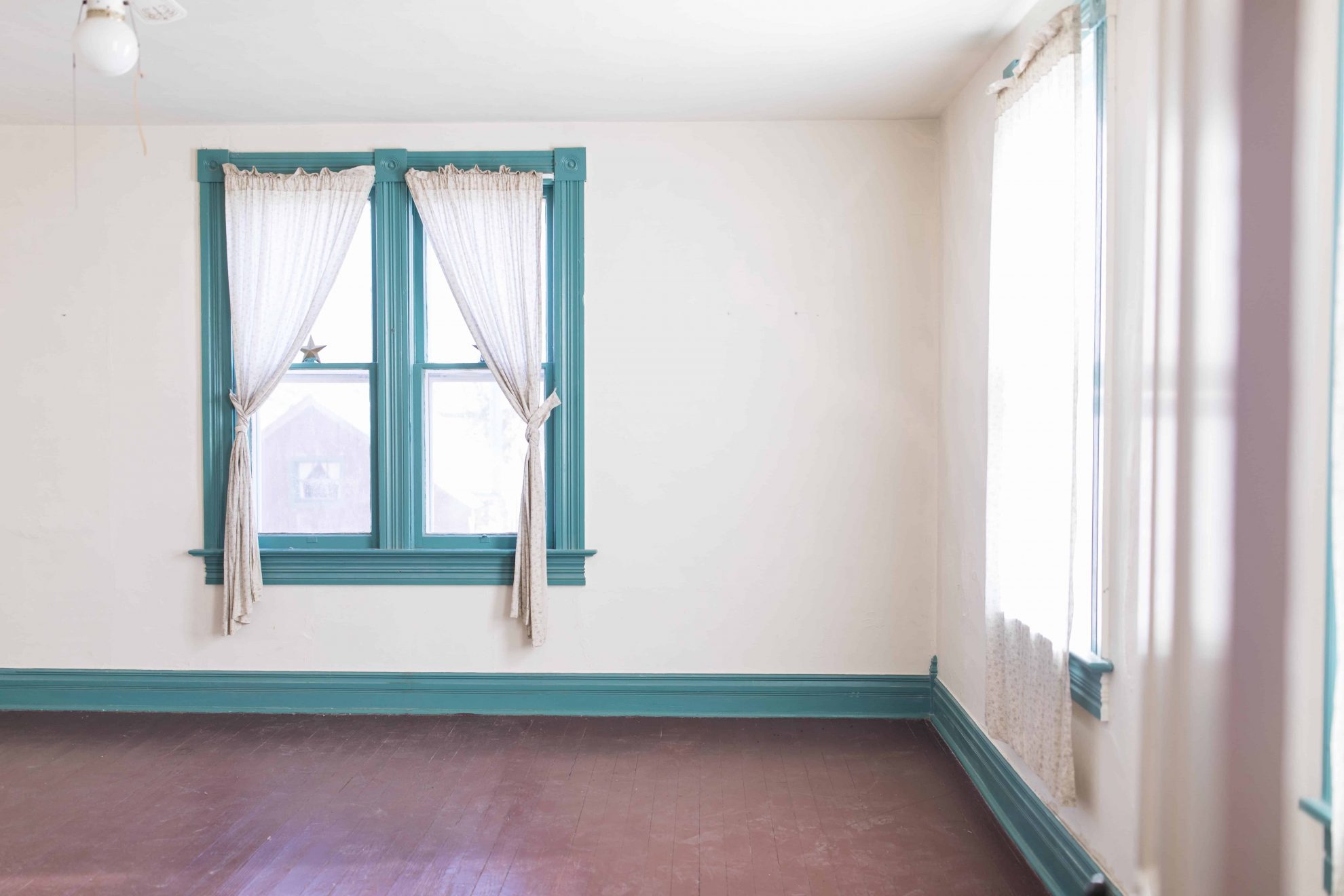 Since this room is massive, I would really love to get two antique beds on either side of the window with a big area rug. The girls have other plans.
"Hey mom…How much would it cost to get a gymnastics mat for our room?"
Apparently they love the vastness that is their bedroom floor. Momma may not want to even fight that battle, so welcome to our new gymnastics studio…
After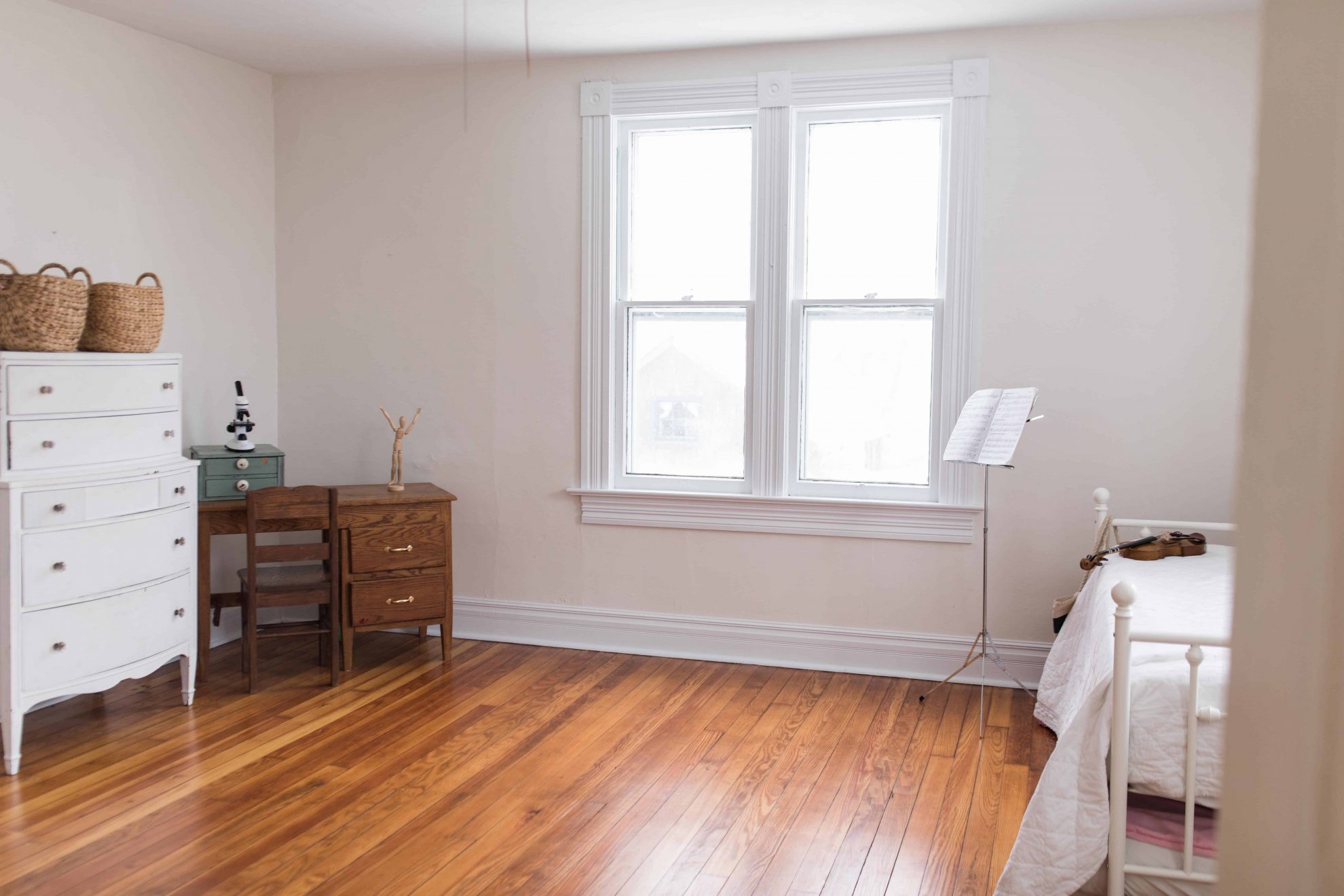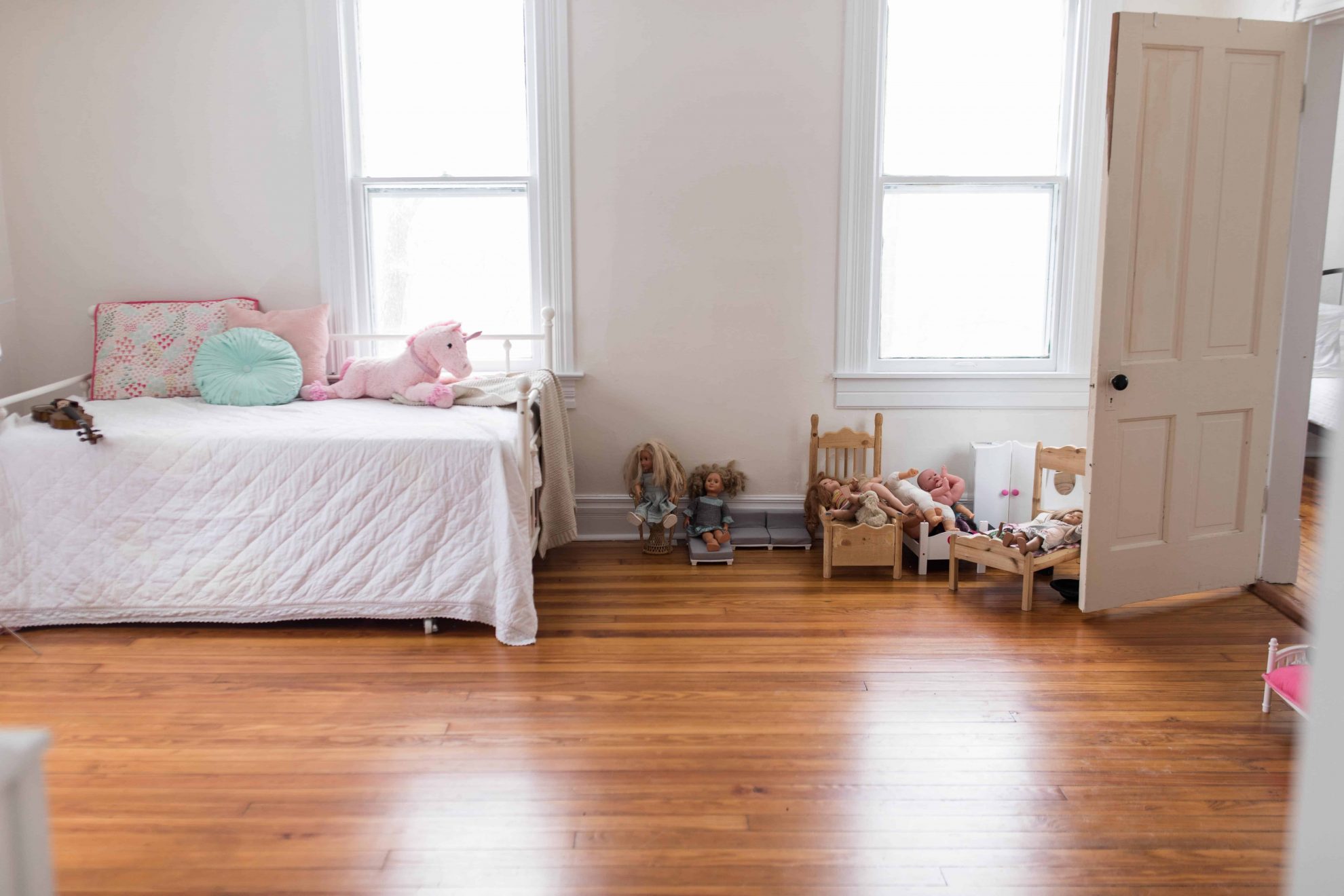 Tiny trundle bed shoved in the corner, so maybe we can fit a balance beam too.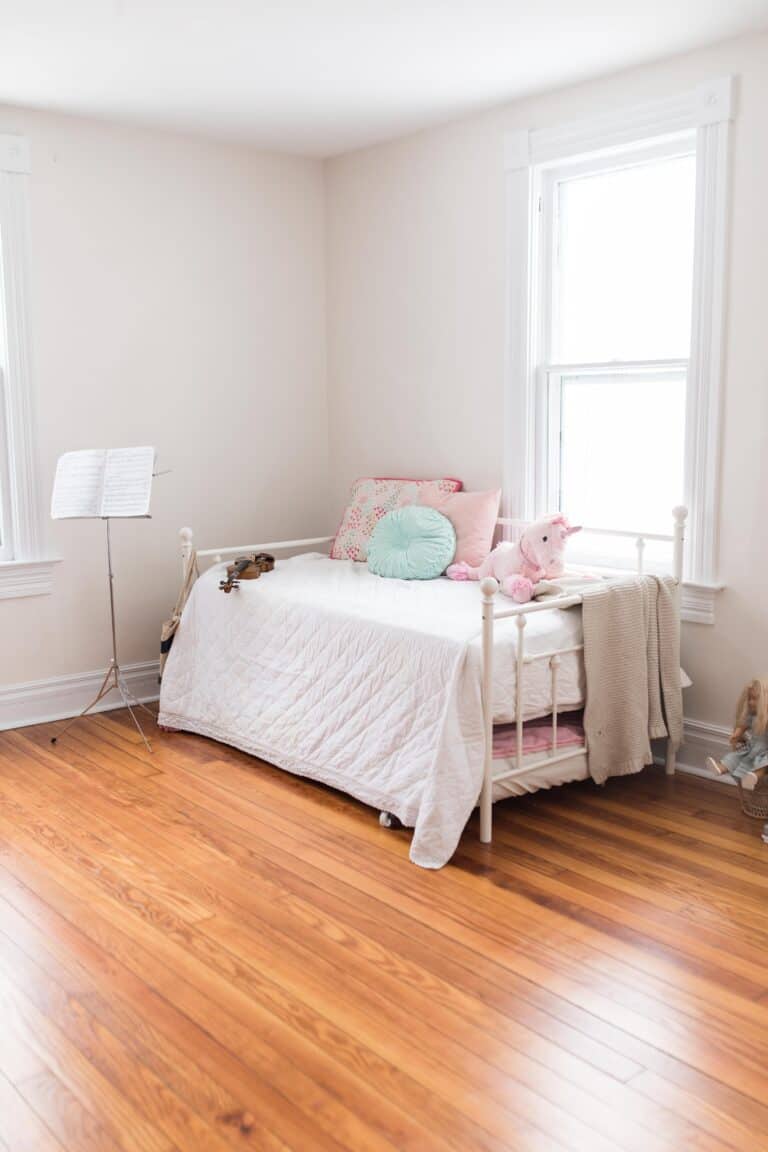 Girls Room Update Summer 2020
I finally found my antique beds!
The nursery
I've been told by many that this room to the left of the top of the stairs was either meant to be a dressing room or sitting room. It sits right off of what we call the master. (It's debatable if it was really meant to be the master, because it is actually smaller than the girls room and bathroom). No matter the original purpose, for us it is a nursery. #5kids
This is my favorite transformation.
The green paint became Benjamin Moore White Dove and the red trim bright white semi gloss. The floors in this whole section of the house weren't worth sanding, per the opinion of the floor guy, so we opted to paint them instead. We went with Benjamin Moore Tapestry Beige and used porch and floor paint.
We were in a huge hurry to move in, so I didn't want to spend anytime at all agonizing over the floor color. I knew Liz Marie from Liz Marie Blog painted her floors, so I literally just used the exact color she chose. I figure she thought long and hard about it, so why not just learn from her decision making process.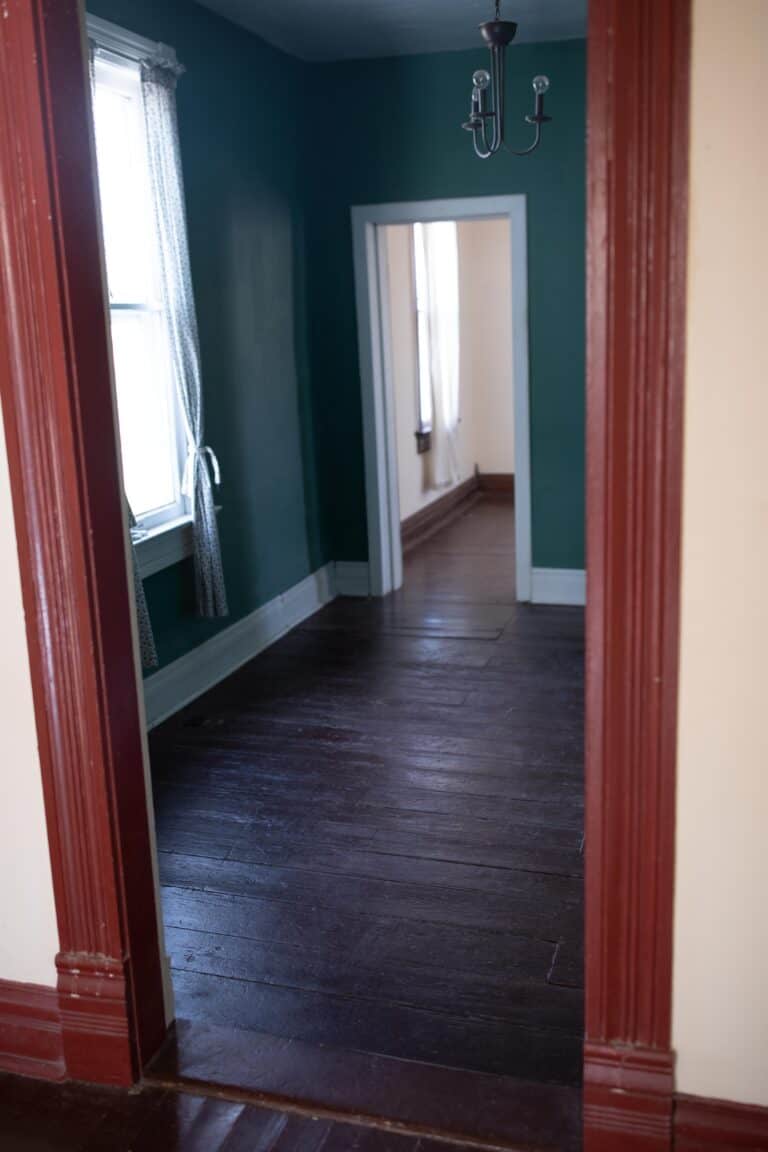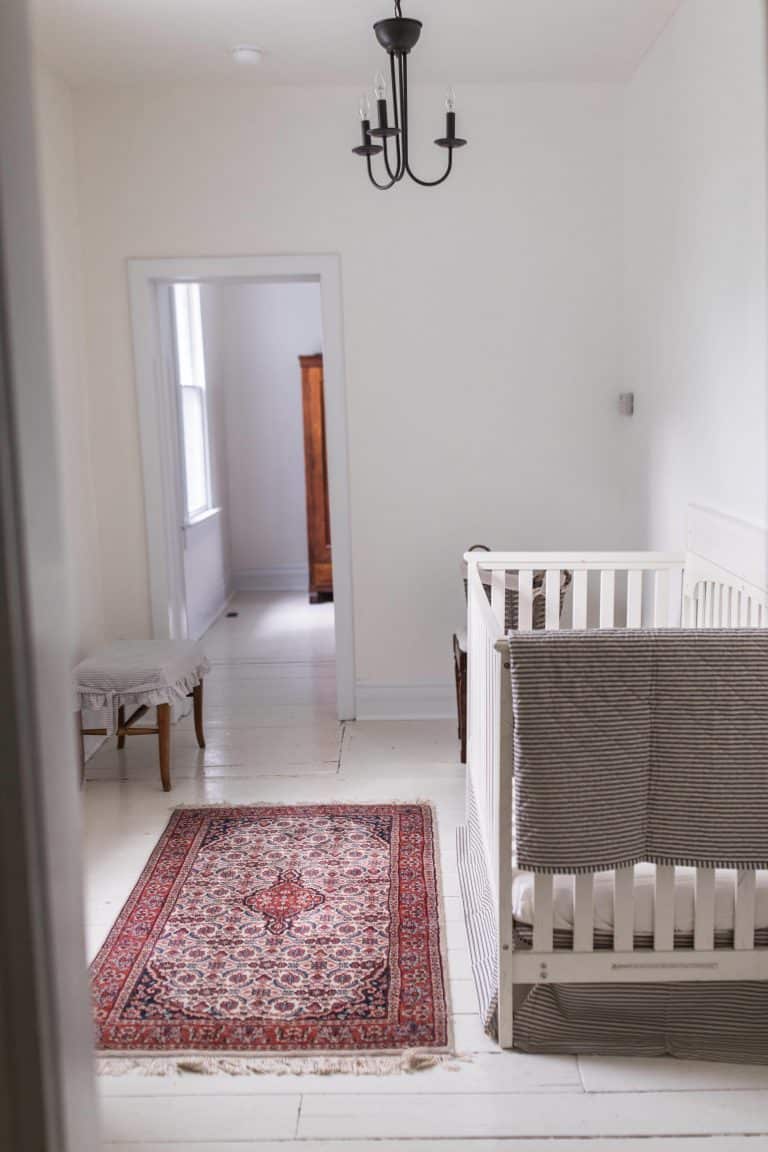 The beige floors look so pretty next to the newly sanded wood in the landing at the top of the stairs. We brought in the little dresser that Luke stripped the paint from, for Micah's clothes and diapers. Oh how I love wood and white!
Our mud room before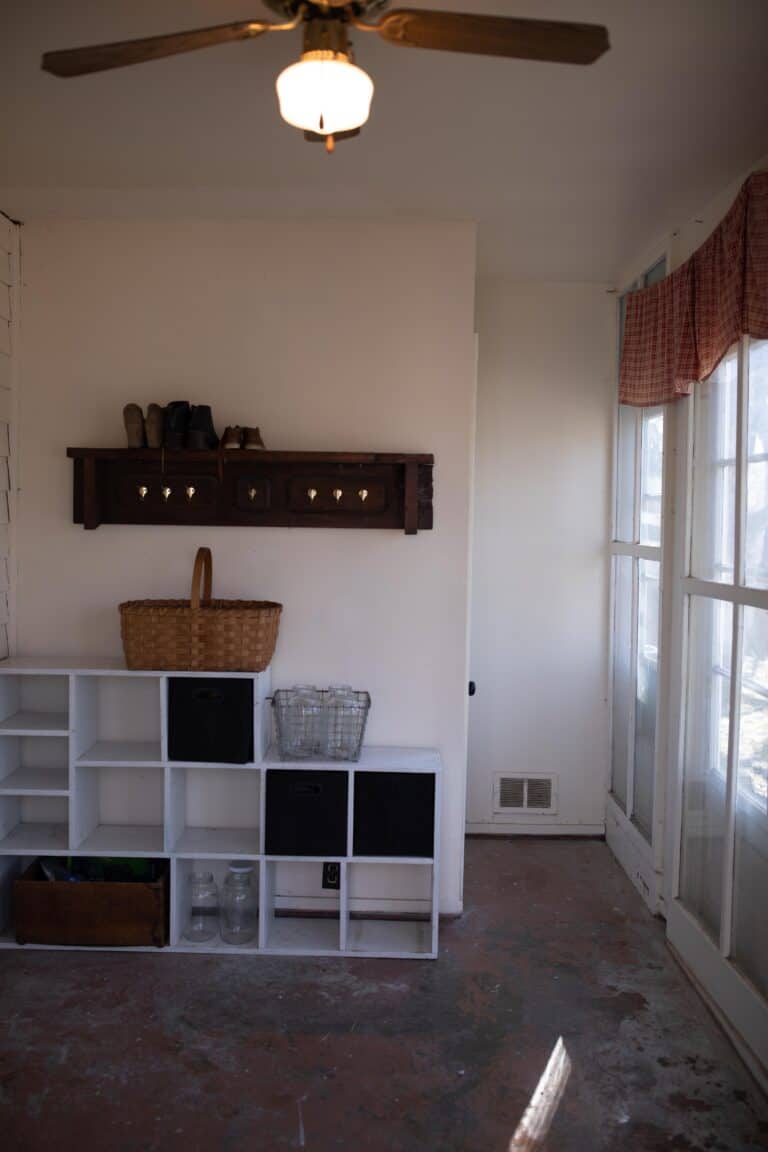 Our mud room after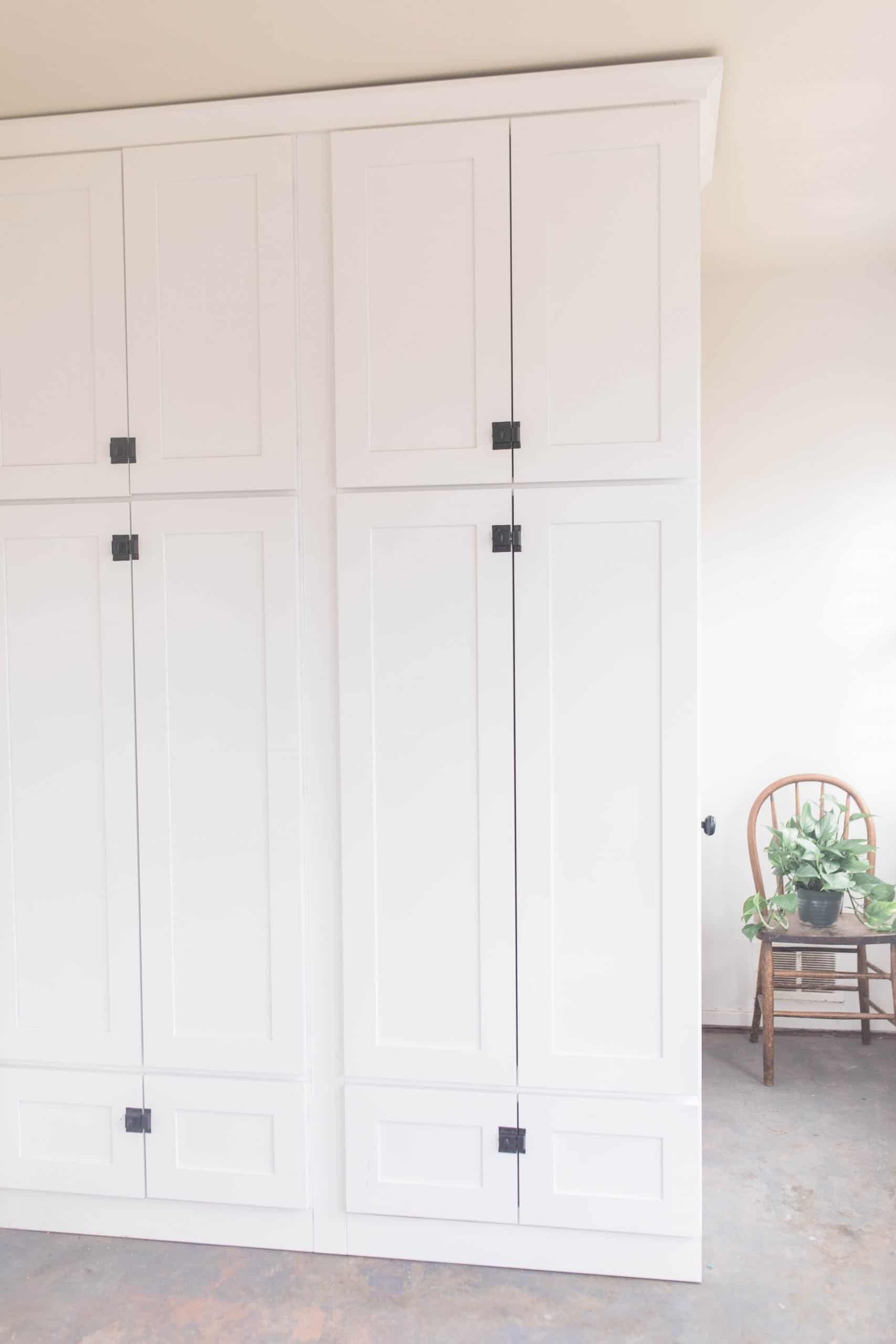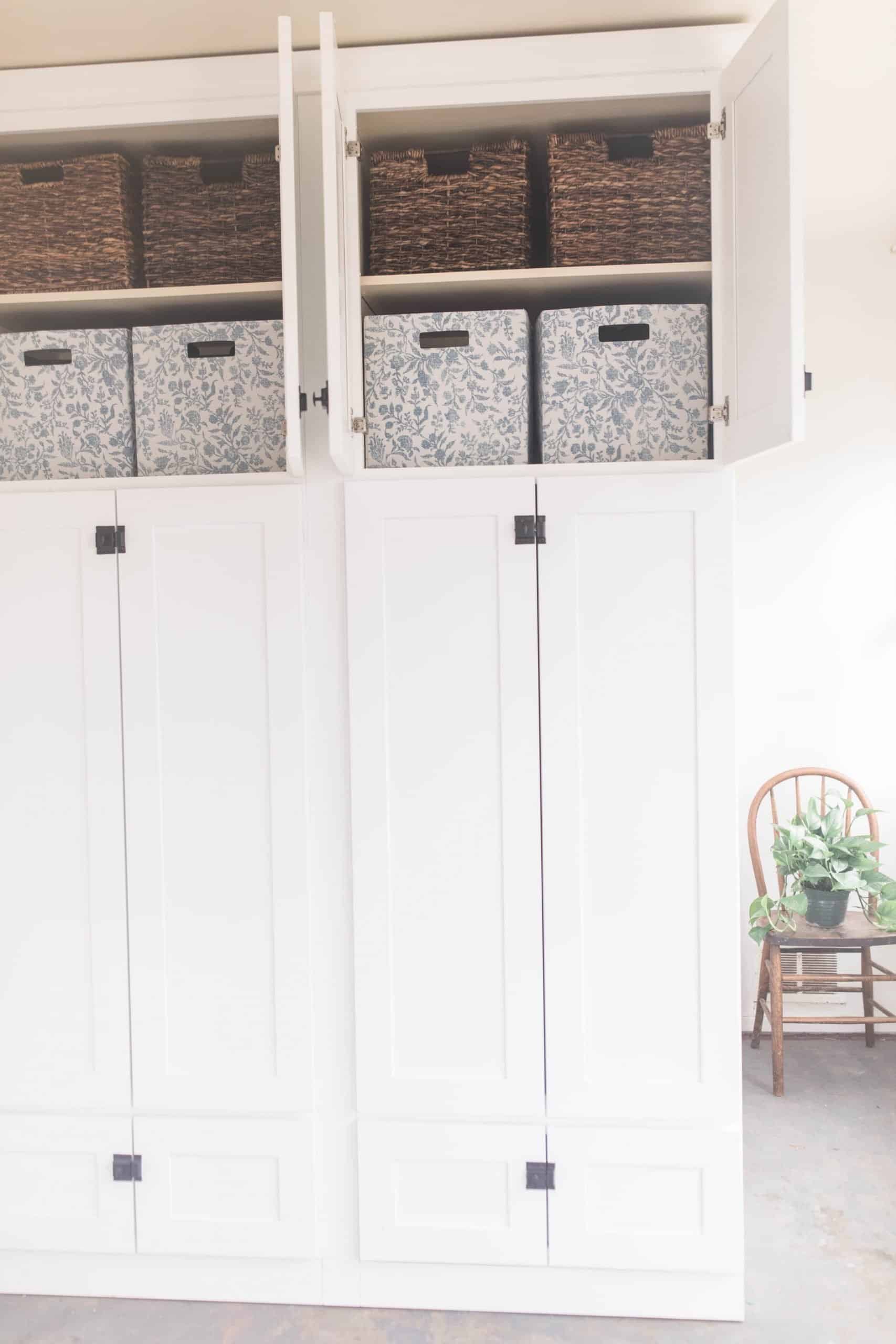 We installed floor to ceiling cabinetry to add storage to our mudroom. Get more details on the mud room makeover HERE.
Our Farmhouse Master Bedroom Before
In a lot of ways this room feels like an afterthought. The floors are patched with mismatched wood and there is a terrible patch job on the wall where they removed a chimney. Why oh why?? We unified the mismatched wood on the floors with the same BM Tapestry Beige floor paint. I also covered the large majority of it with a blue rug.
These windows were the only ones in the whole house with wood trim. To make them match the rest of the place, we covered them with the same bright white paint.
The painters made a dramatic improvement on the patched chimney area. It's still not perfect, but looks a whole lot better!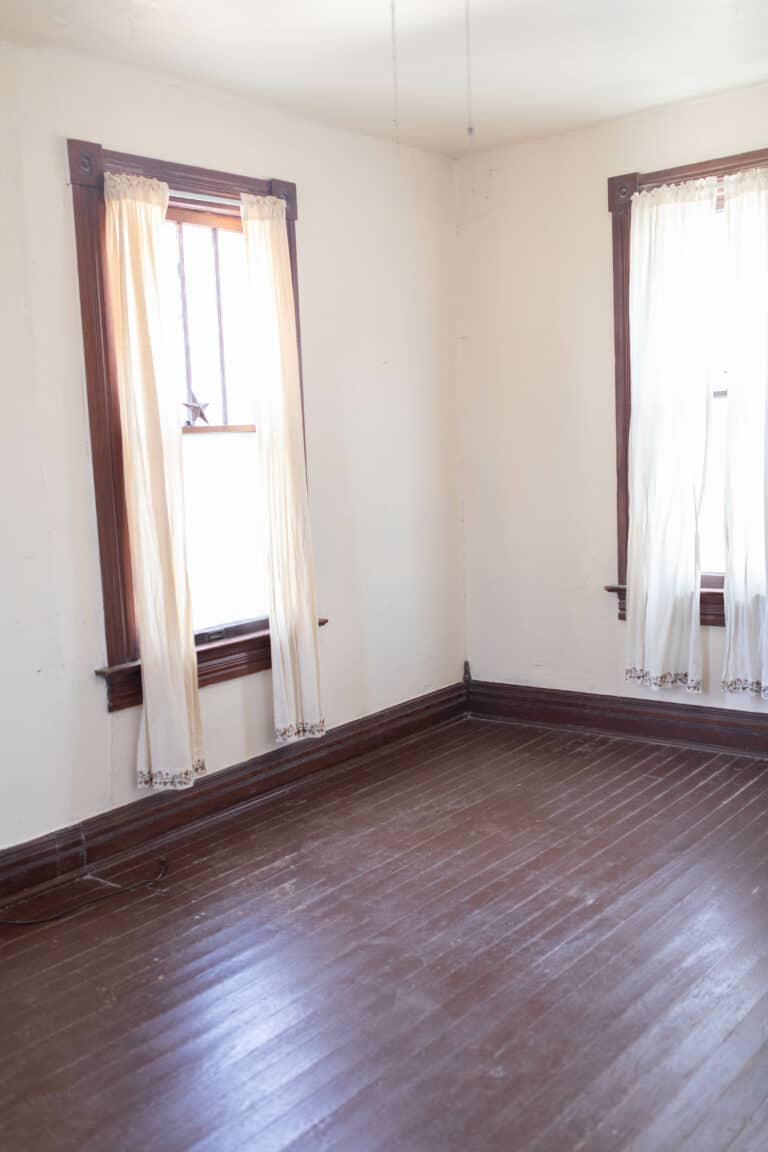 Just like in our master bedroom in our last home, we went with Benjamin Moore White Dove for the walls. I found the antique chandelier on an antique shopping day and the armoire on Facebook Marketplace. We bought the big wooden chest from the previous owners.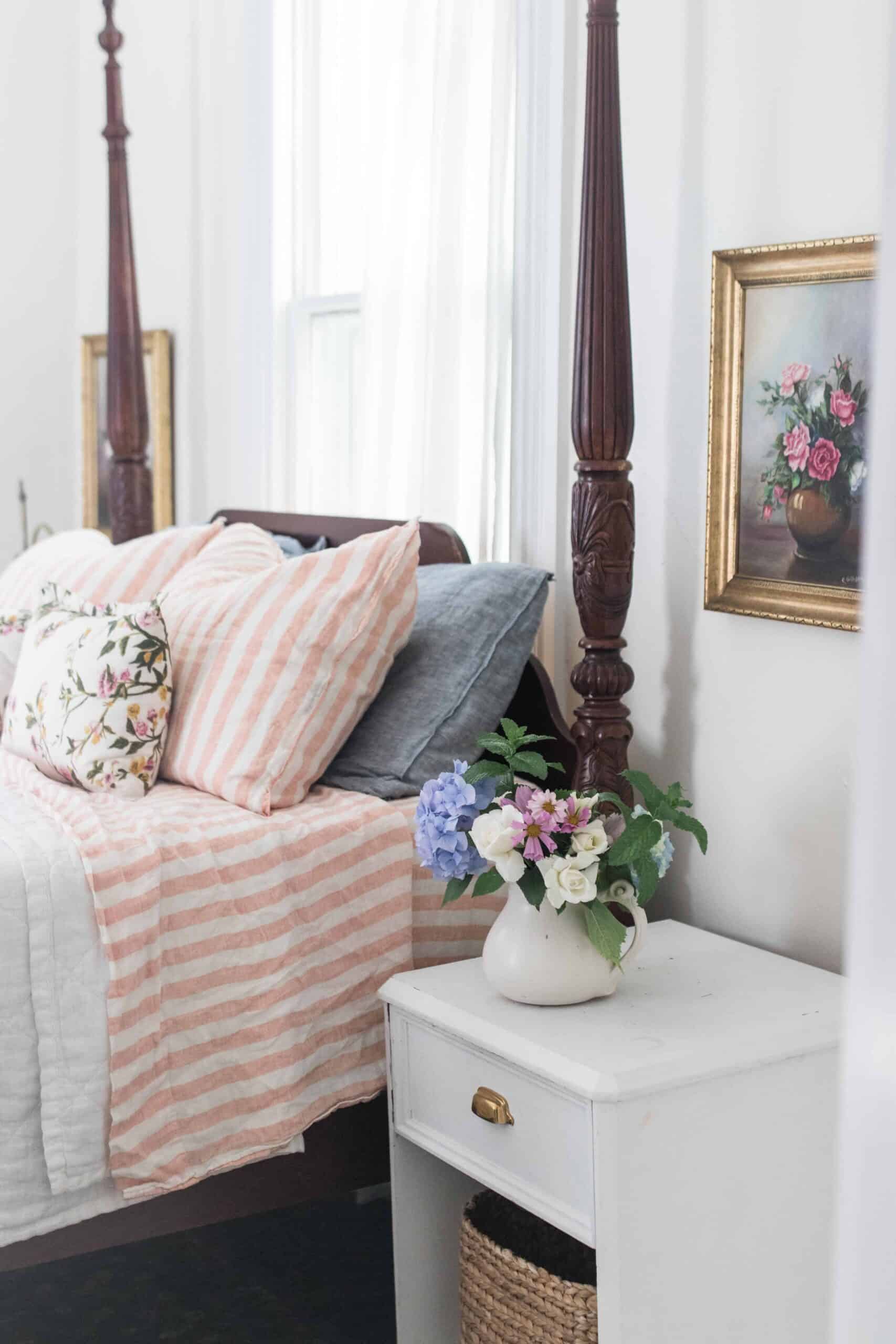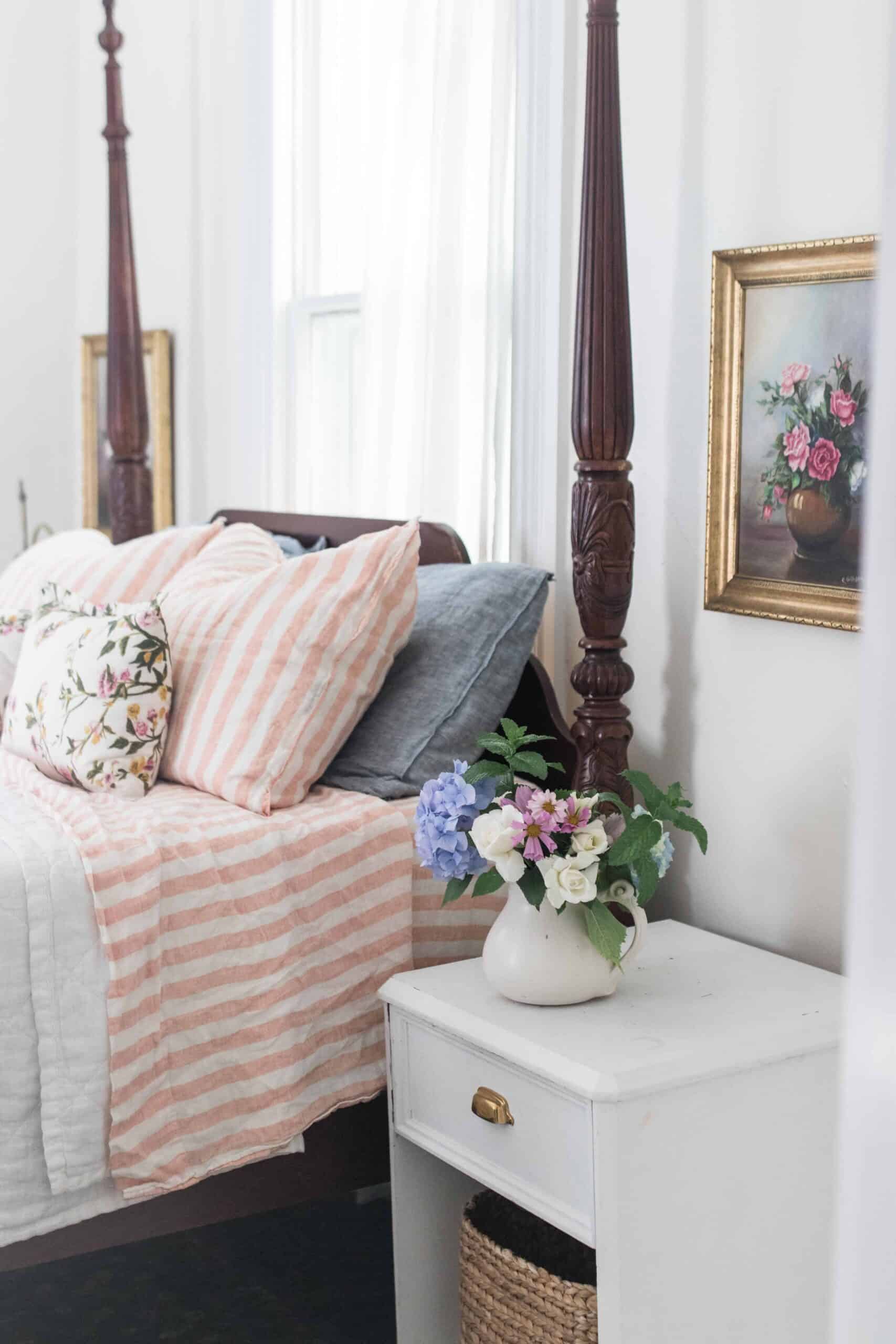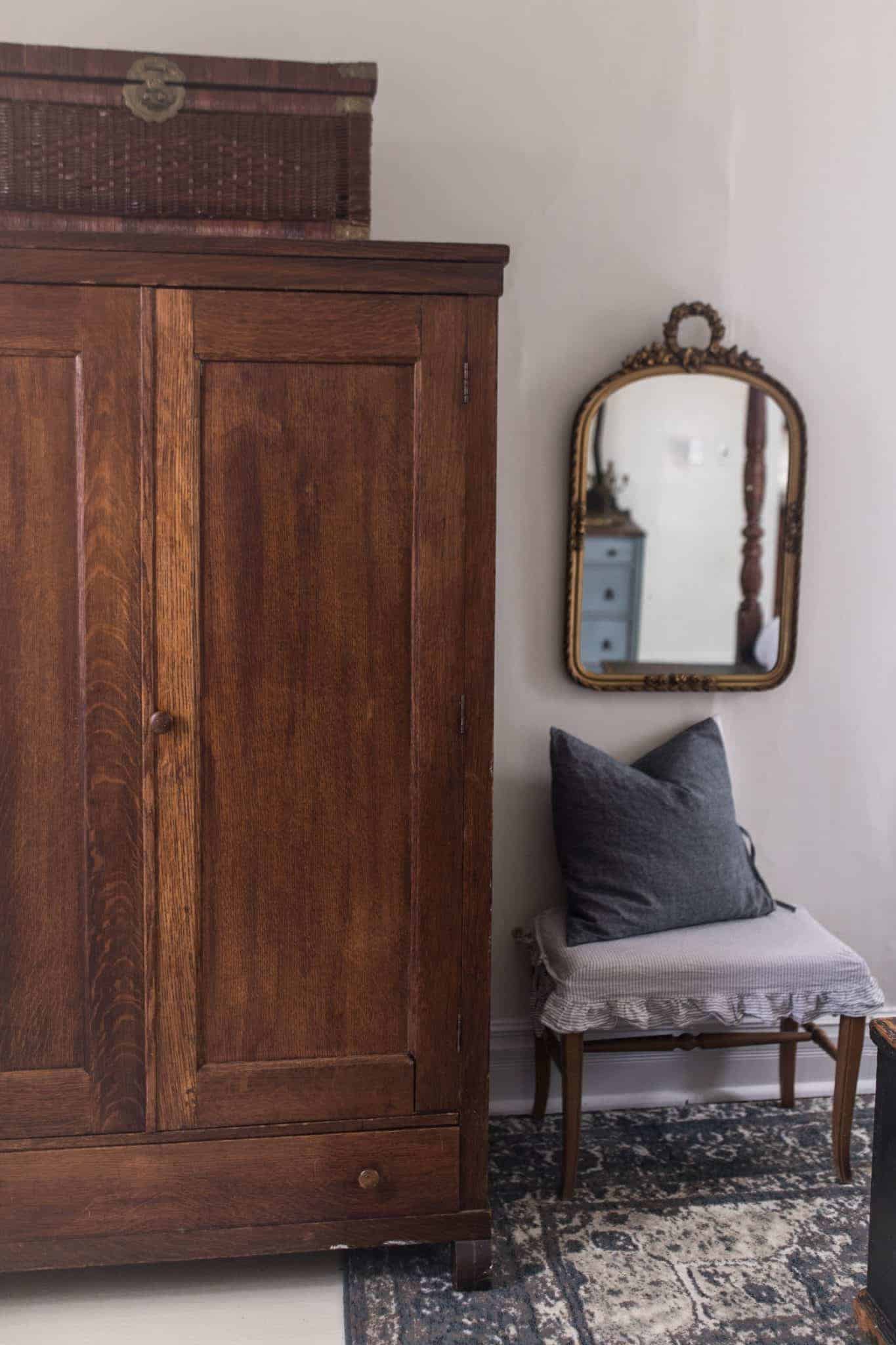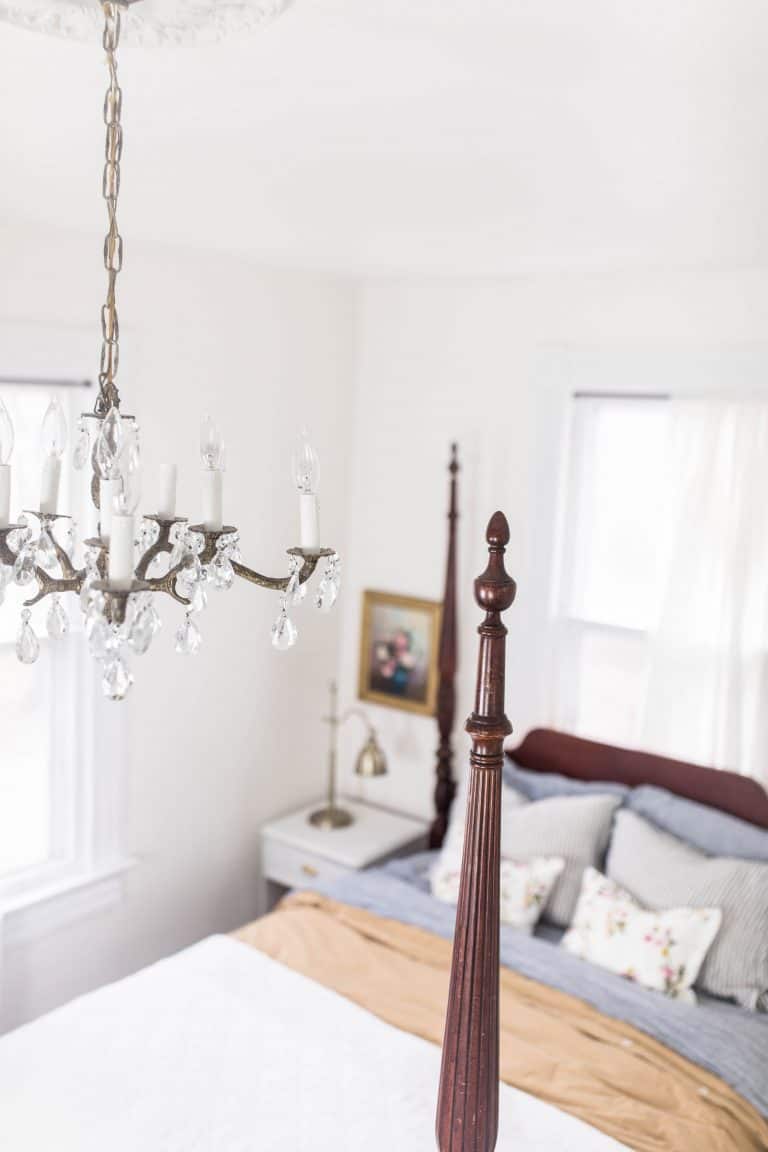 Thanks so much for touring our farmhouse and seeing the progress one year in. We are excited to continue transforming our farmhouse. Follow along with the progress on the Youtube channel.
Shop some of the items in our new farmhouse
The rug in our master bedroom
Twin iron beds in the boys room
Trundle daybed in girls room
Rugs in the living room- Jute bottom layer and cozy white top rug
Catch up with our other farmhouse restoration post and video updates:
Come See our New Farmhouse | Farmhouse Restoration Before Tour
Farmhouse Restoration Update- The Hardwood Floors
Master Bedroom Farmhouse Restoration Reveal
Spring Farmhouse Living Room Makeover
Victorian Farmhouse Kitchen Reveal
Farmhouse Eat-In Kitchen Reveal