Come on over and take a tour of our Farmhouse Summer Porch. With some greenery, vintage accents, and a few pops of color from plants and hand made items, hopefully you will be inspired with these summer porch ideas.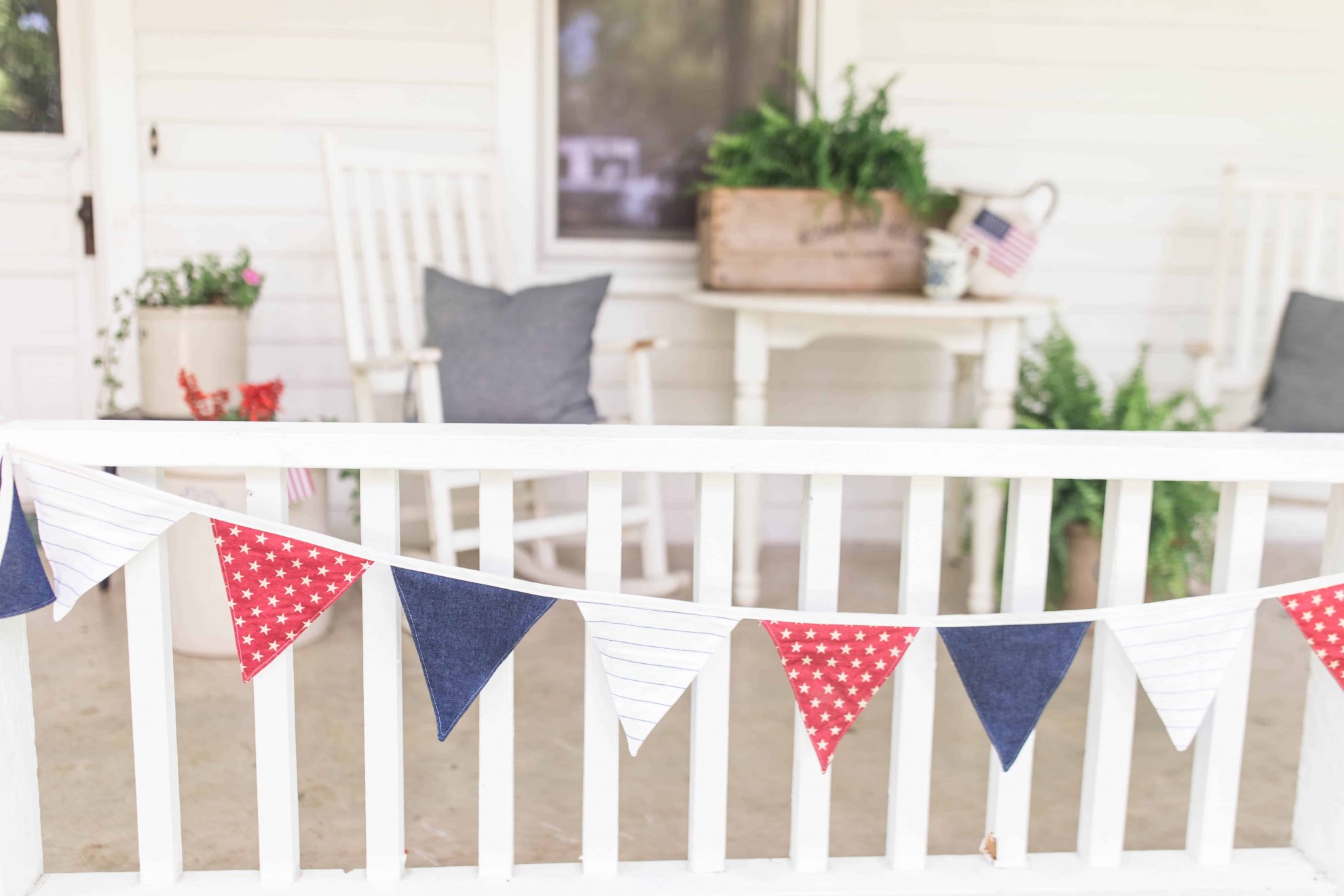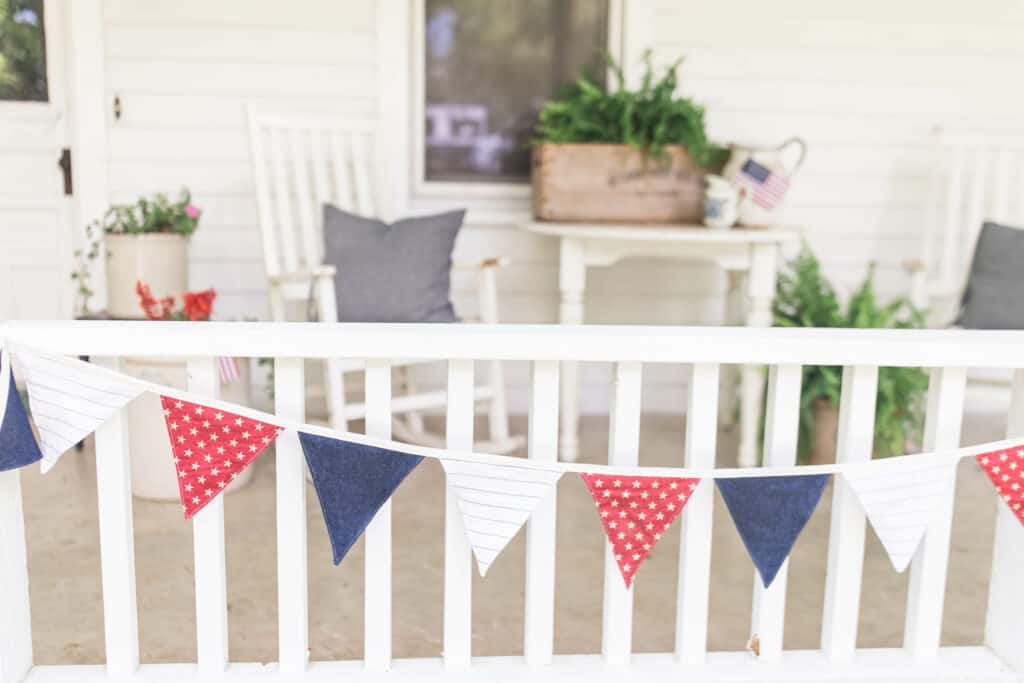 Today, I'm going to invite you to our farmhouse front porch for summer.
This was actually a post I was just going to skip until fall because I so badly wanted to get our house painted before sharing. Luckily, Luke was able to get quite a bit of it painted.
There are still a few areas in need of painting that we are going to need to hire out or get some scaffolding for in order to reach, but for the most part, the front of the house is white! Which is something I'm so excited about.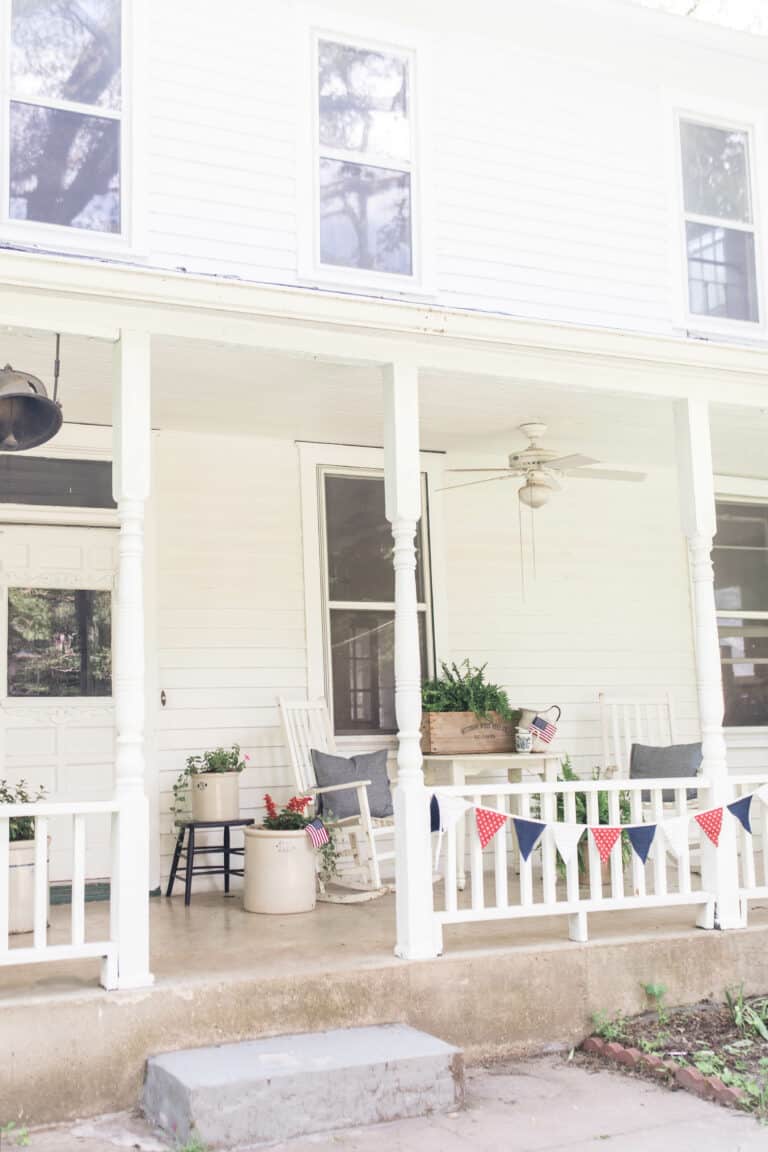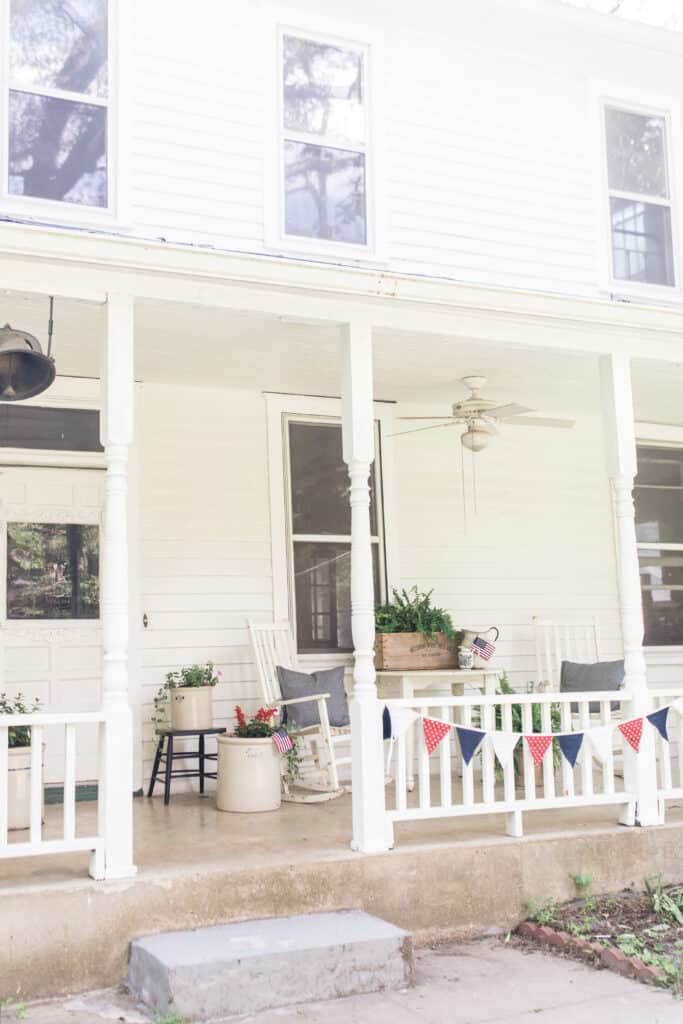 I love our cozy, white farmhouse. There are so many classic, vintage farmhouse elements that we love so much. From the bead board ceiling, to the white furniture, and white wood door, this is a place our family enjoys spending time together
For this summer, I did not go all out. If you know me, I never really go all out. I like to keep things simple. So let's take a little tour and hopefully you can take away some summer porch ideas.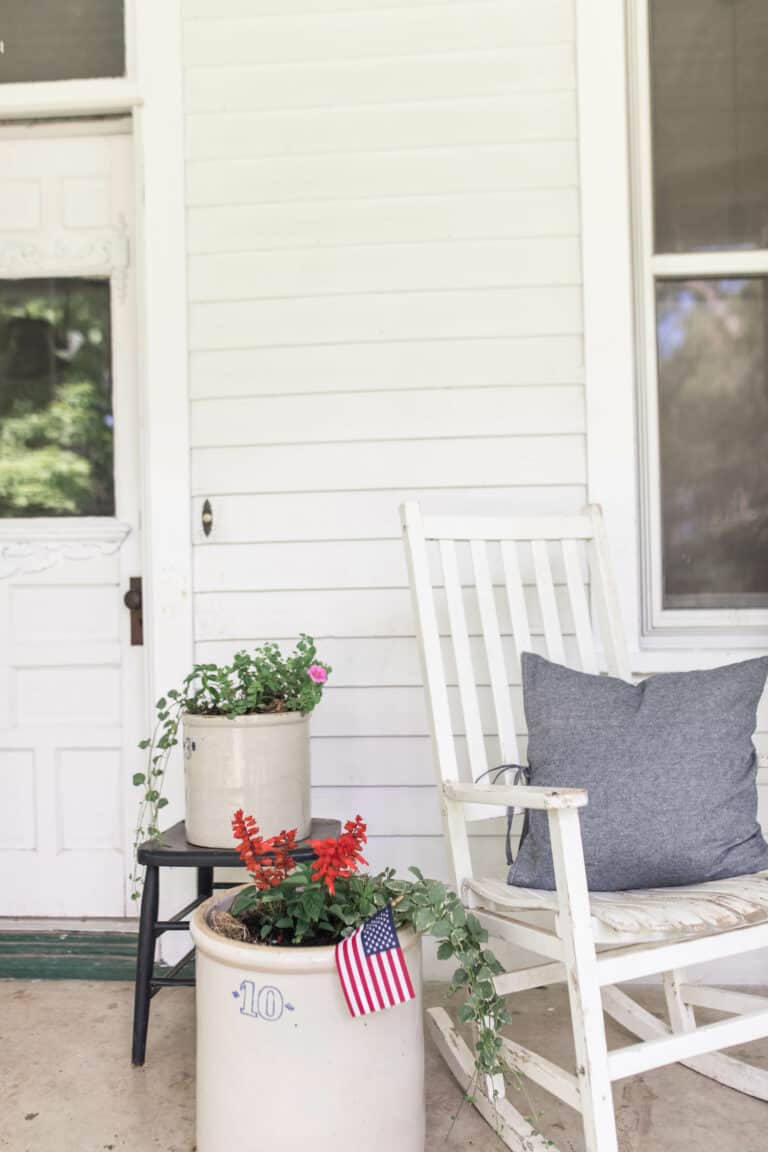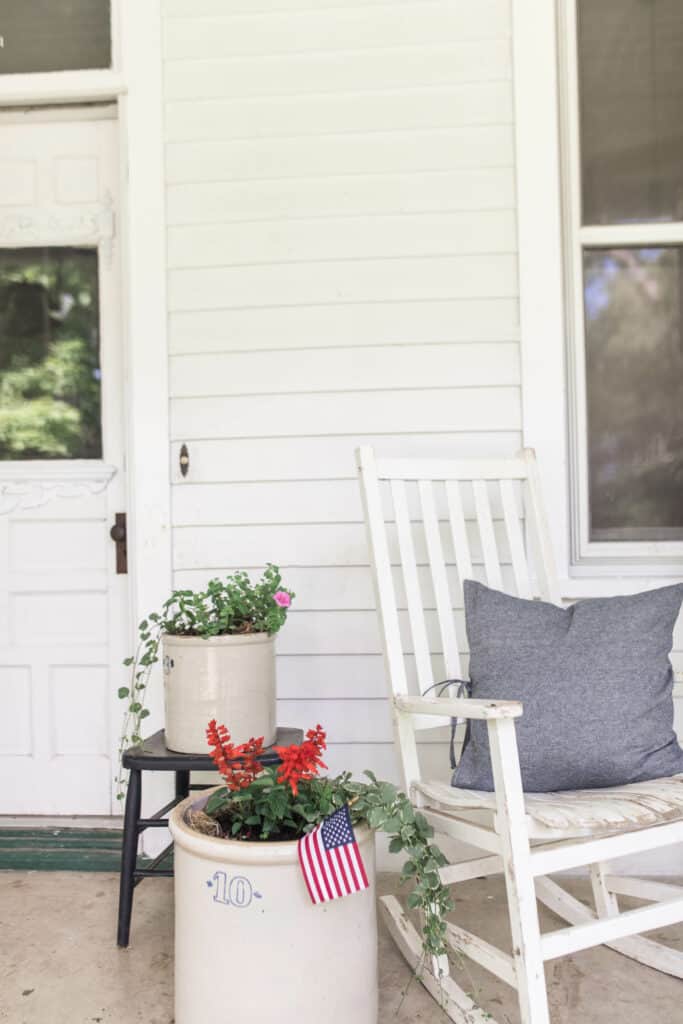 Farmhouse Plants For The Perfect Summer Porch
All I did was get some ferns, which I just love for summer, and a few flowers. Ferns are just so classic, and I love the green element that they add. The ferns were planted in a few vintage crocks and a vintage crate.
Also, I added a few pops of red by planting some Scarlet Sage – Salvia in crocks with a few American flags.
How To Use Crocks As Planters
I love using old crocks as planters, but because there is no drainage, it can be difficult.
To combat this, I will either just stick the whole plant with the original plastic planter in it, or I will put a bunch of rocks in the bottom for drainage before adding dirt and plants.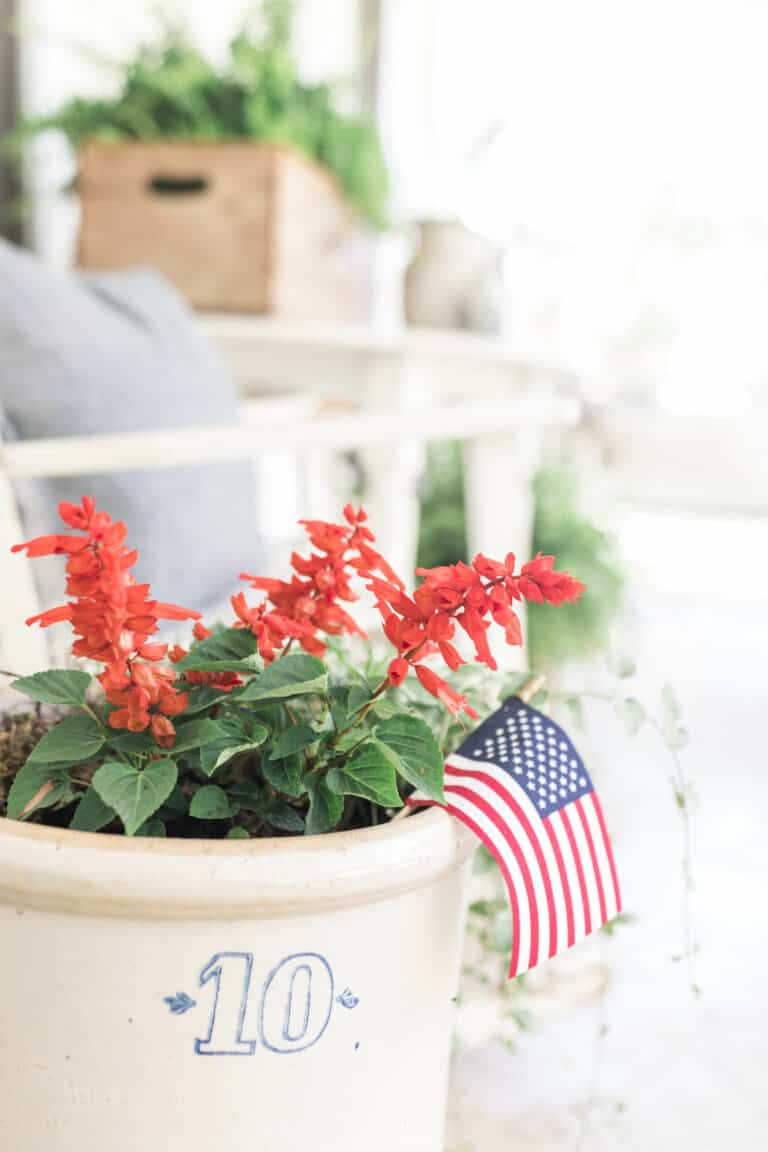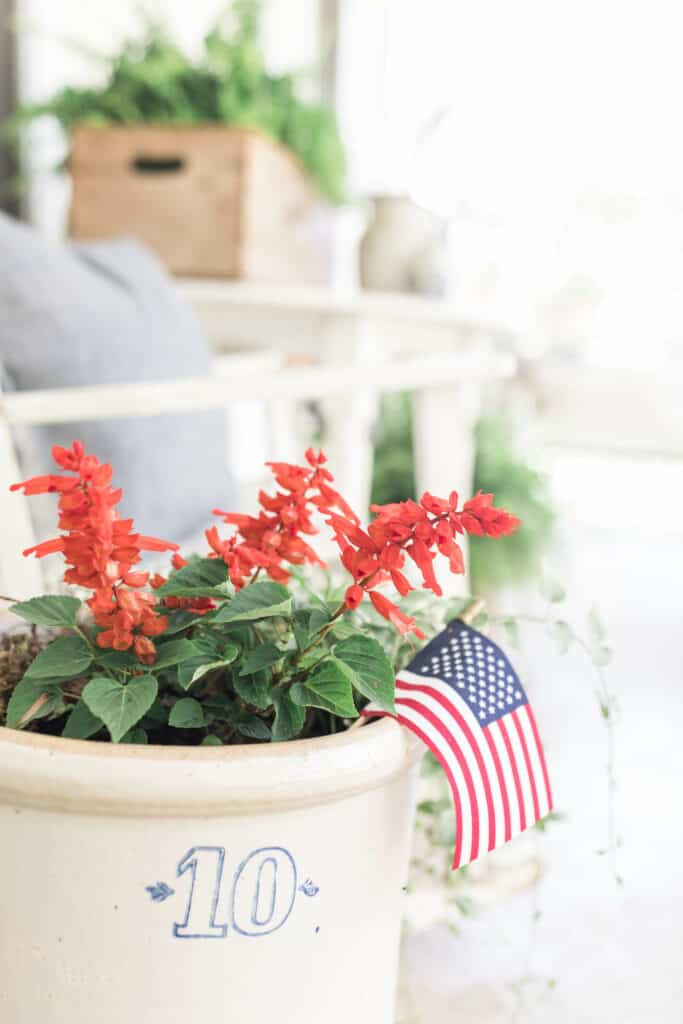 A Touch Of Classic Farmhouse Fabrics For A Summer Porch
The porch is decorated with some hand made bunting (find the tutorial here). This gives it such a festive and classic red, white, and blue theme.
The color scheme is vintage-inspired with more toned down colors, rather than the bright red, white and blue. I love the added pops of color while still keeping that classic style.
I paired the bunting with a gingham pillow that I whipped out today — the fabric was recently on sale at JoAnn's — and I brought out some more pillows from my collection. Grain-sack, stripes and just that simple farmhouse vibe.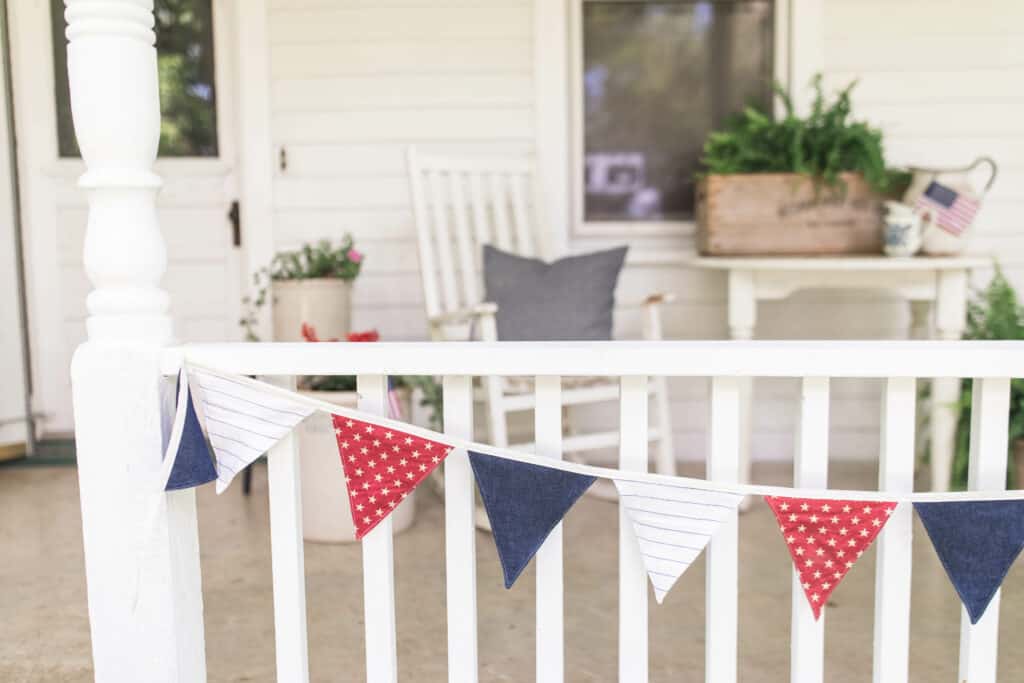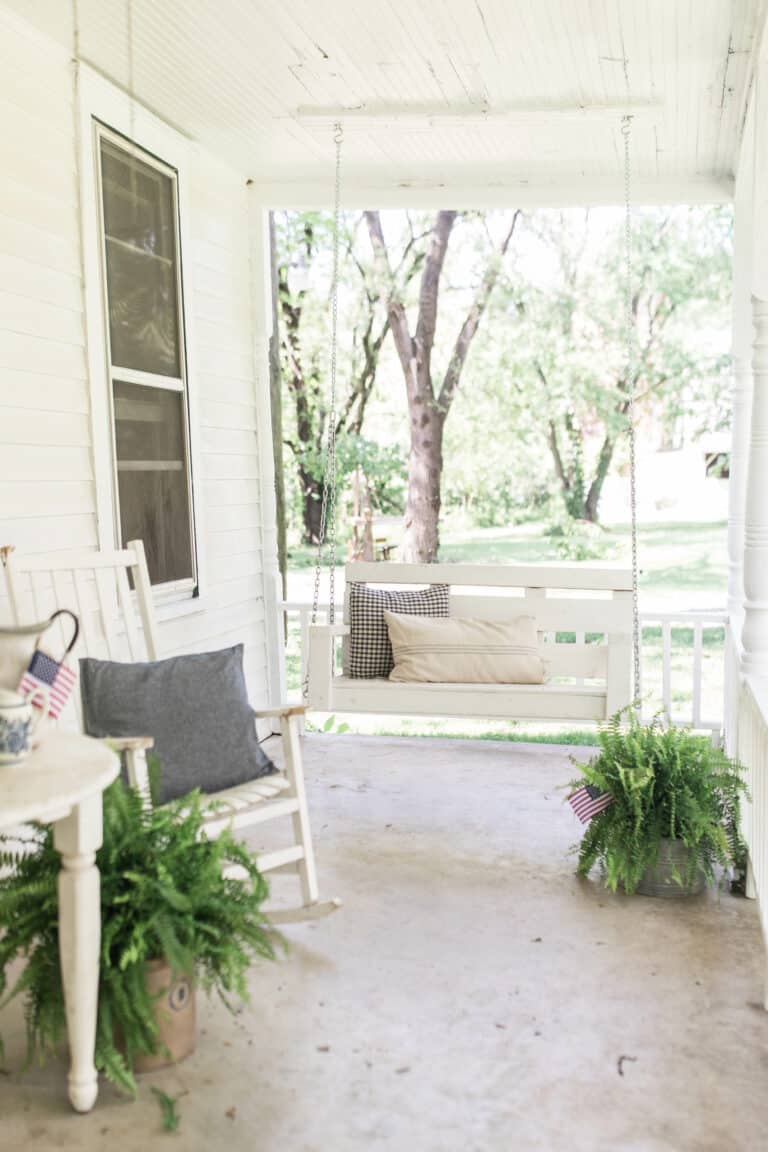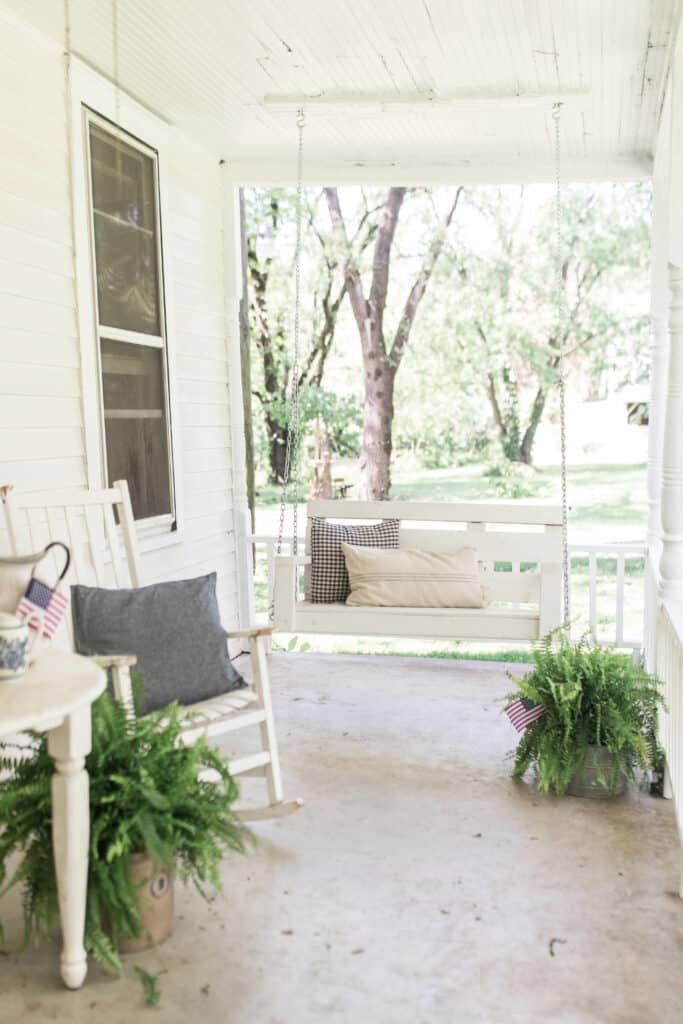 Farmhouse Porch Furniture:
We brought over the white rocking chair from our old house.
The owners actually left quite a bit of stuff, and left a white table and another rocking chair. My goal for the porch was to be really cozy and full of white furniture, so these beautiful pieces that were left here were pretty awesome.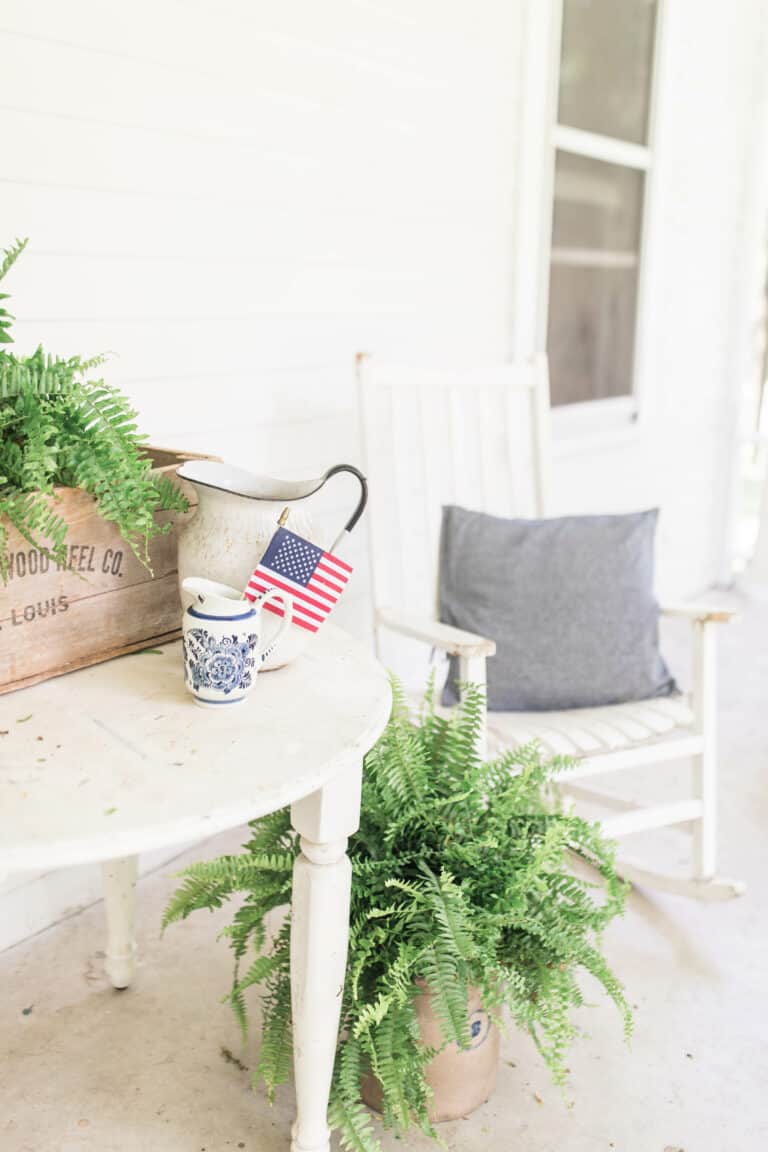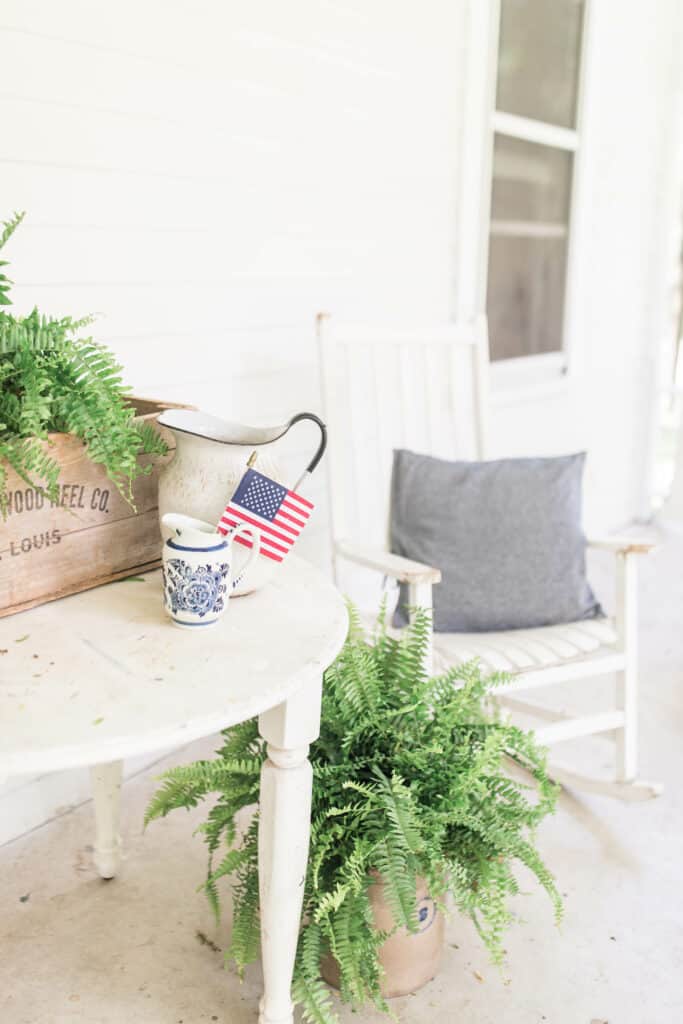 Another piece we brought to the new house was the porch swing. Luke and I built this a few years ago using Ana White plans. It was super simple to build, and we have spent many days on that swing.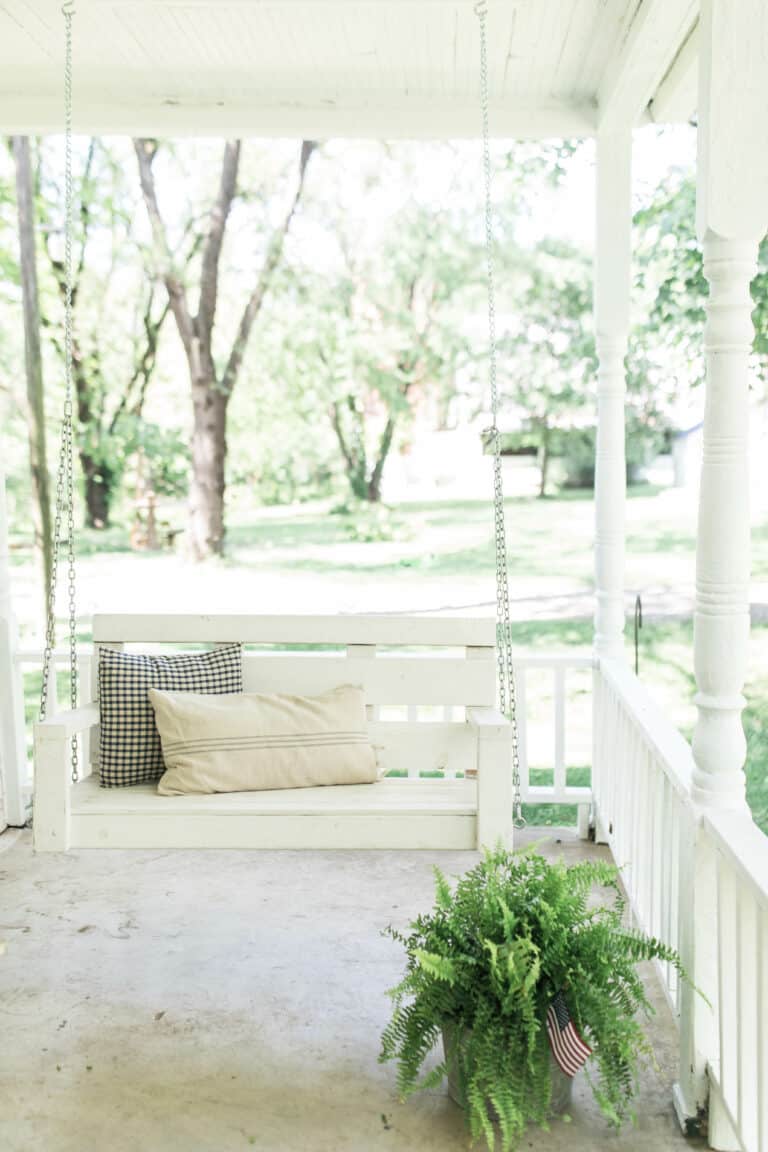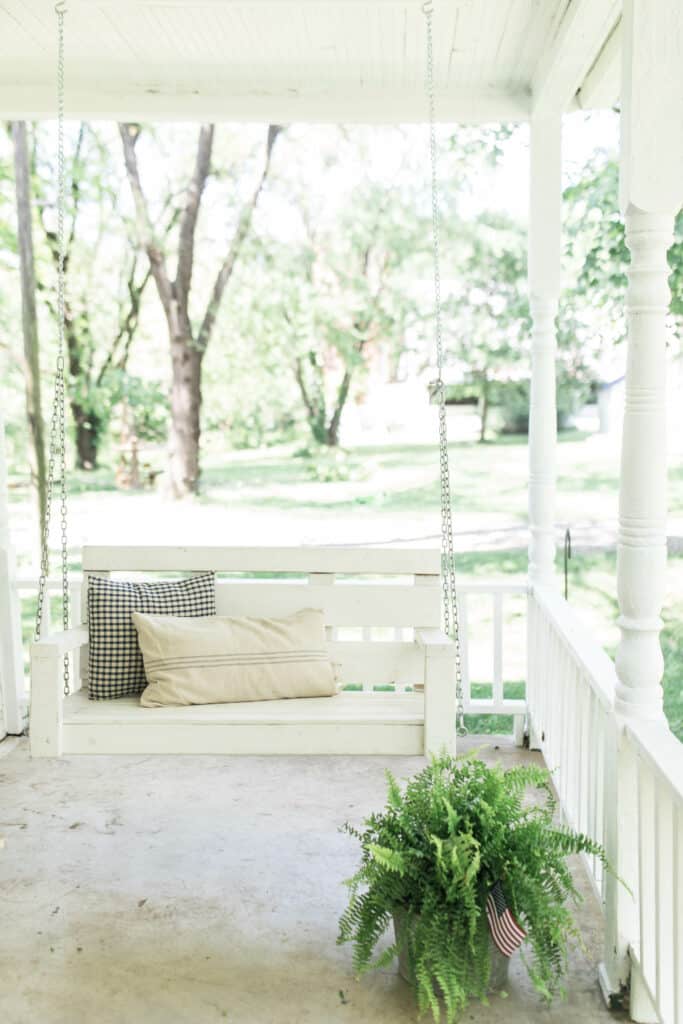 We just got to hang the porch swing today, because our farmhouse front porch has really tall ceilings, much taller than our old porch. Luke had to run out and get 18″ longer chains to hang it. It was pretty funny to see him swing on it when he used the original chains that were really far off the ground.
One of my favorite charming touches to our farmhouse porch is the bead board ceiling. It is one thing I just love about farmhouses.
The house did come with the dinner bell. I just love that feature — we actually do use it as a dinner bell. I think if our house didn't come with one, I would have to be on the lookout for one.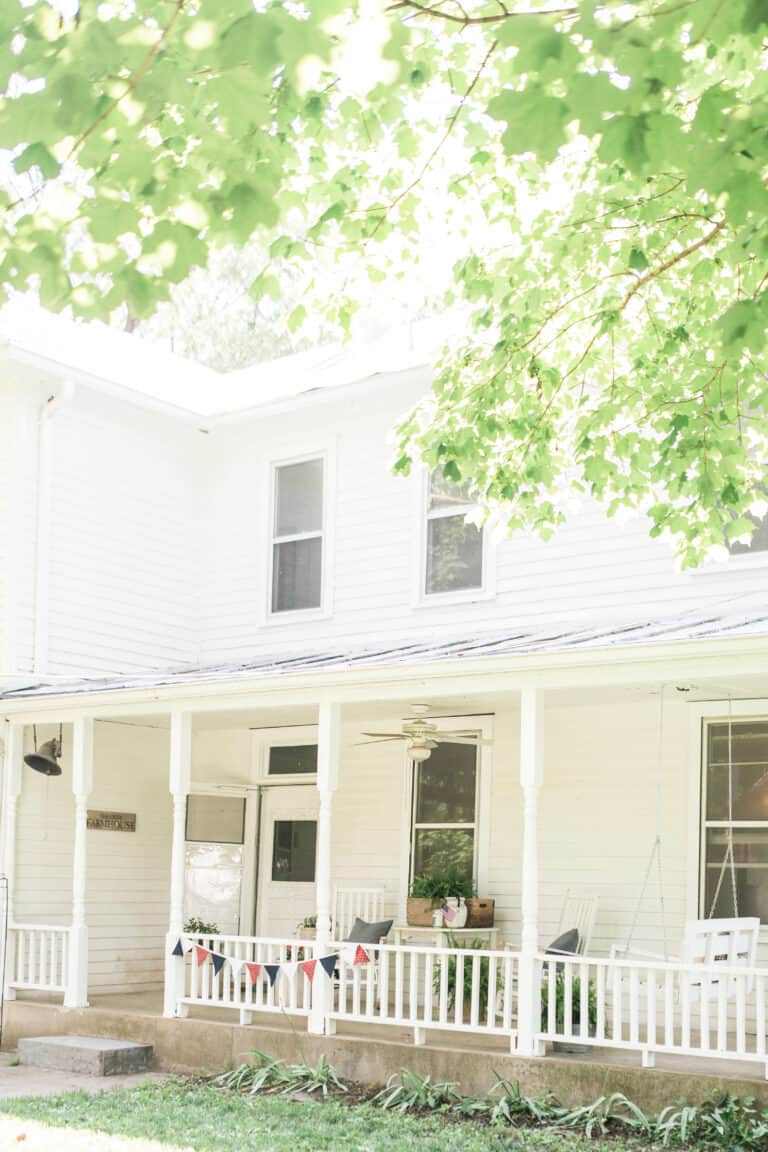 Check out some of our favorite decor ideas
Thanks so much for stopping by our farmhouse summer porch. I hope you were inspired to add some classic farmhouse touches to your home.
Farmhouse Summer Porch Ideas -Summer Decorating Video
Pin For Later