It's the age-old question: Can you freeze sourdough bread? The answer is, yes! It's a great way to have bread on hand for those busy seasons or for smaller households that have a hard time finishing a loaf before it goes stale.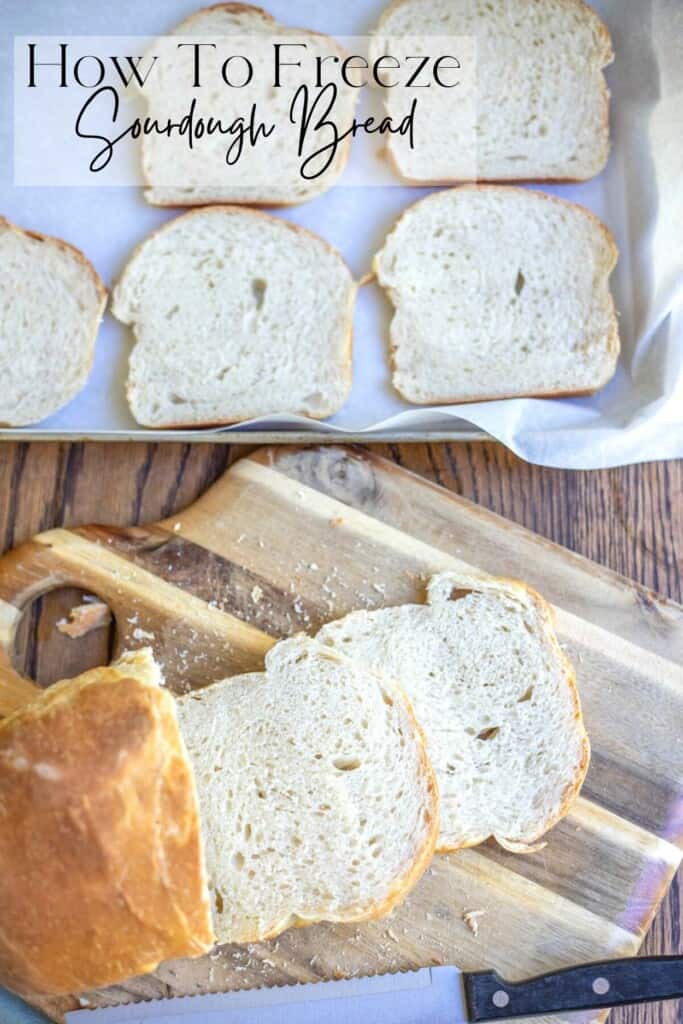 At the farmhouse, our family of 10 has no problem getting through a loaf of sourdough bread in just a few days. So, it is rare we have to worry about bread going stale.
On those occasions we do have a loaf that goes stale or doesn't turn out just right, I'll usually make some bread crumbs, croutons, or enjoy French Toast in the morning. There have been times, though, that I simply don't have time to mess with my bread before it's too late.
So, what do I do? Freeze it!
Freezing sourdough bread works great for those with small households that can't finish a loaf in a few days. It's also perfect for times when you want to get ahead on baking and have bread ready to go for a busy season of life.
If you know how to do it right, sourdough bread freezes quite well.
While there is nothing like fresh sourdough bead, there are a few ways you can freeze your bread to maintain as much of that delicious tangy taste and desired texture.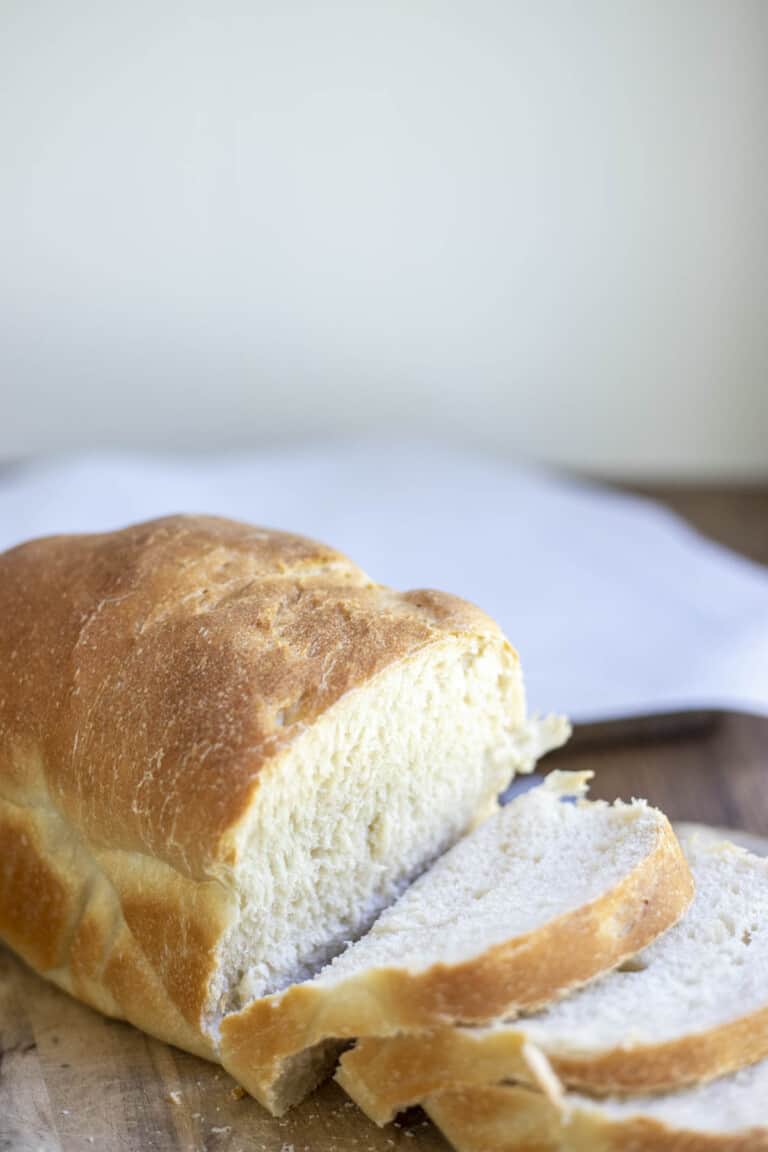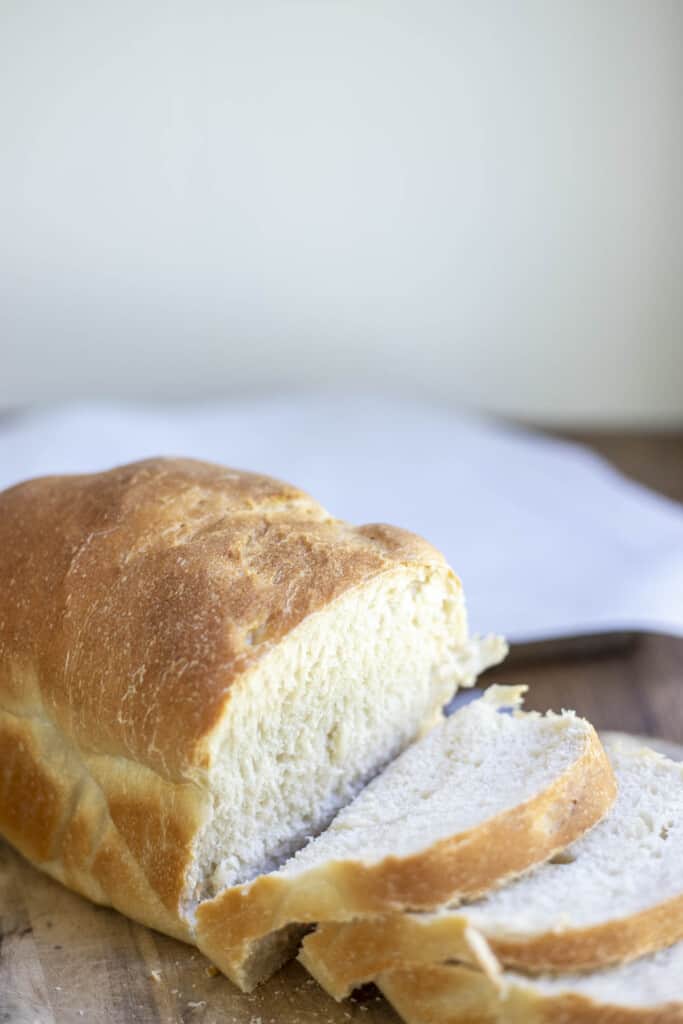 Why freeze sourdough bread?
Avoid the food waste: Can't finish a whole loaf? When you have too much bread to eat before it goes stale, throw it in the freezer for later use as breadcrumbs, croutons, or even French Toast!
Save for later use: We all have busy seasons of life. Sometimes it is nice to get ahead and make multiple loaves at a time. Freezing a few of those loaves for future use allows you to still enjoy homemade bread even with a busy schedule. 
Enjoy a longer shelf life: A fresh loaf is always best, but sometimes you need your bread to last longer. Freeze your bread in slices and get out a slice when you need it!
Get ahead for the holidays or other special occasions. Rather than worry last second about making dinner rolls to grace holiday table, you can save some time and stress by making them ahead, freezing, and just pulling them out to thaw the day before.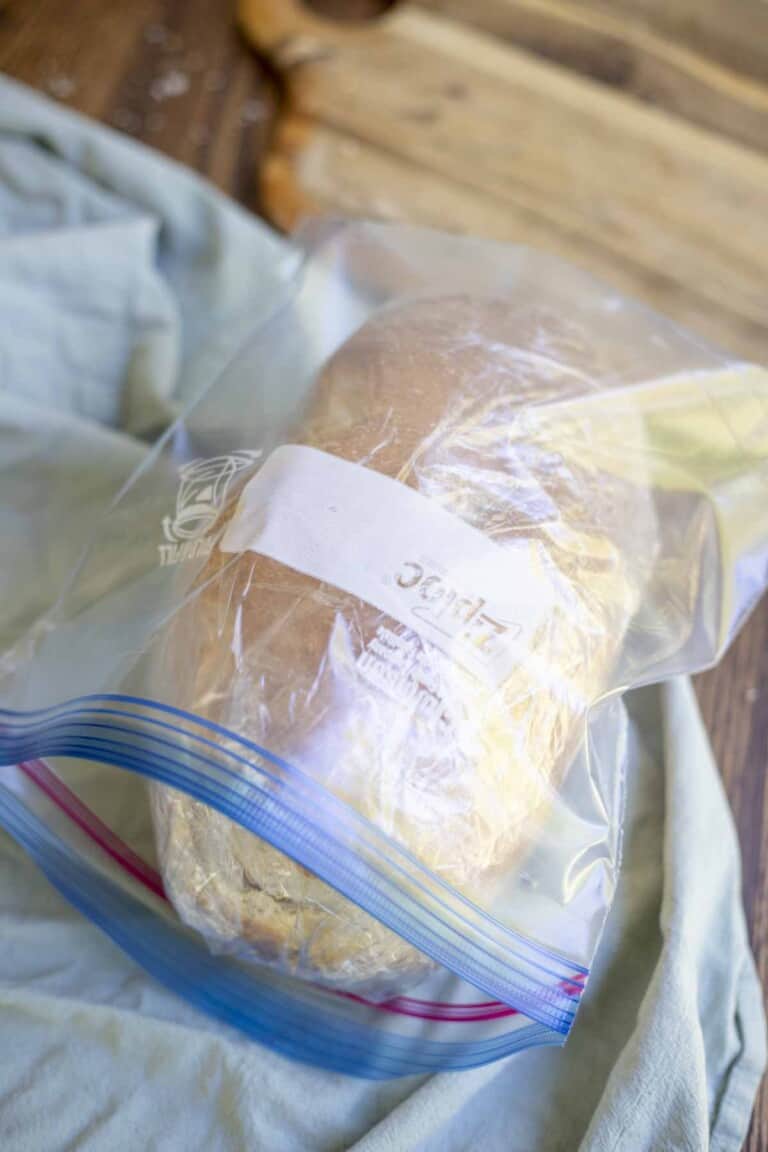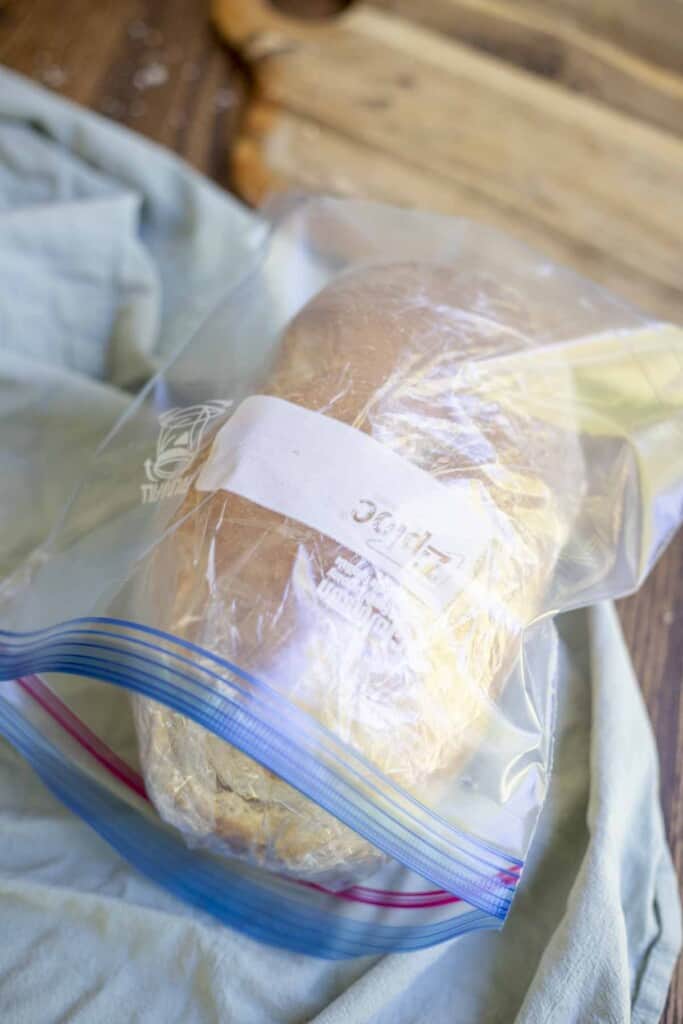 Freezing A Whole Sourdough Loaf
The first way to freeze your bread is as a whole loaf or even half loaf. It may not taste exactly like your fresh bread, but you'll still get the best results freezing whole loaves at least when it comes to maintaining taste and texture.
Whether or not this is the best method for you all depends on why you need to freeze your bread in the first place. If it is to have extra loaves on hand, this works great!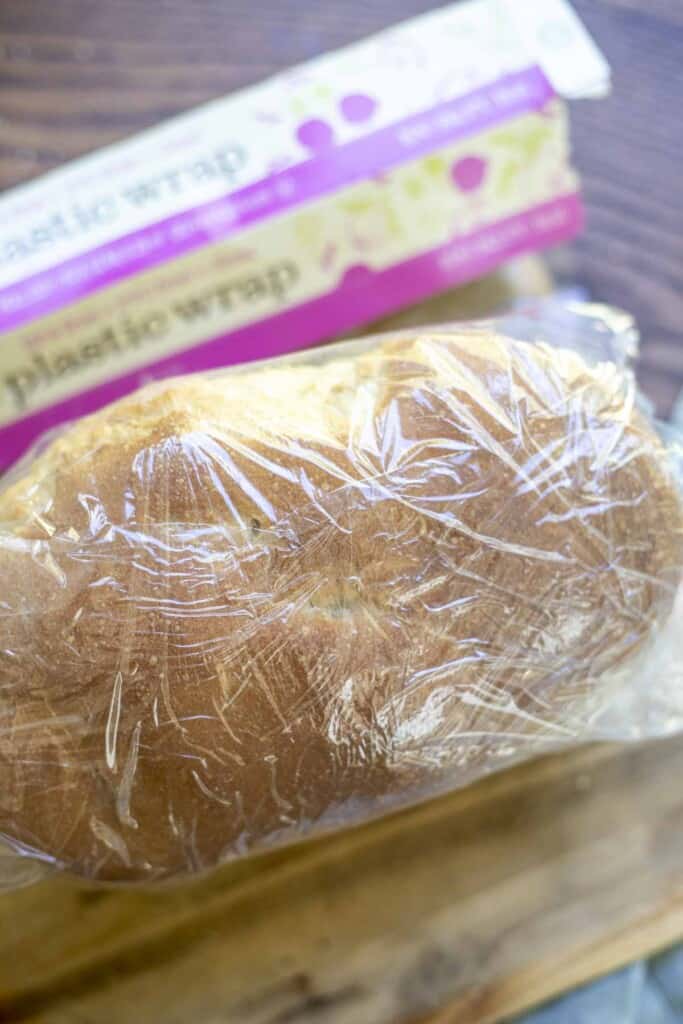 Here's how I suggest you freeze your sourdough loaves:
First, you'll want to ensure your loaf has enough time to cool completely. This may take a few hours and even up to overnight.
Once cooled, wrap your entire loaf in either aluminum foil or plastic wrap. If you only plan to keep it in the freezer for a couple of weeks, you can probably get away with skipping this step.
Place your wrapped loaf in a freezer bag or freezer-safe container that will not smash the bread.
Put your loaf in the freezer to enjoy later!
The amount of time your wrapped loaf spends in the freezer can vary. If wrapped well, it can last up to 6 months. For the best quality, use it within a couple of months.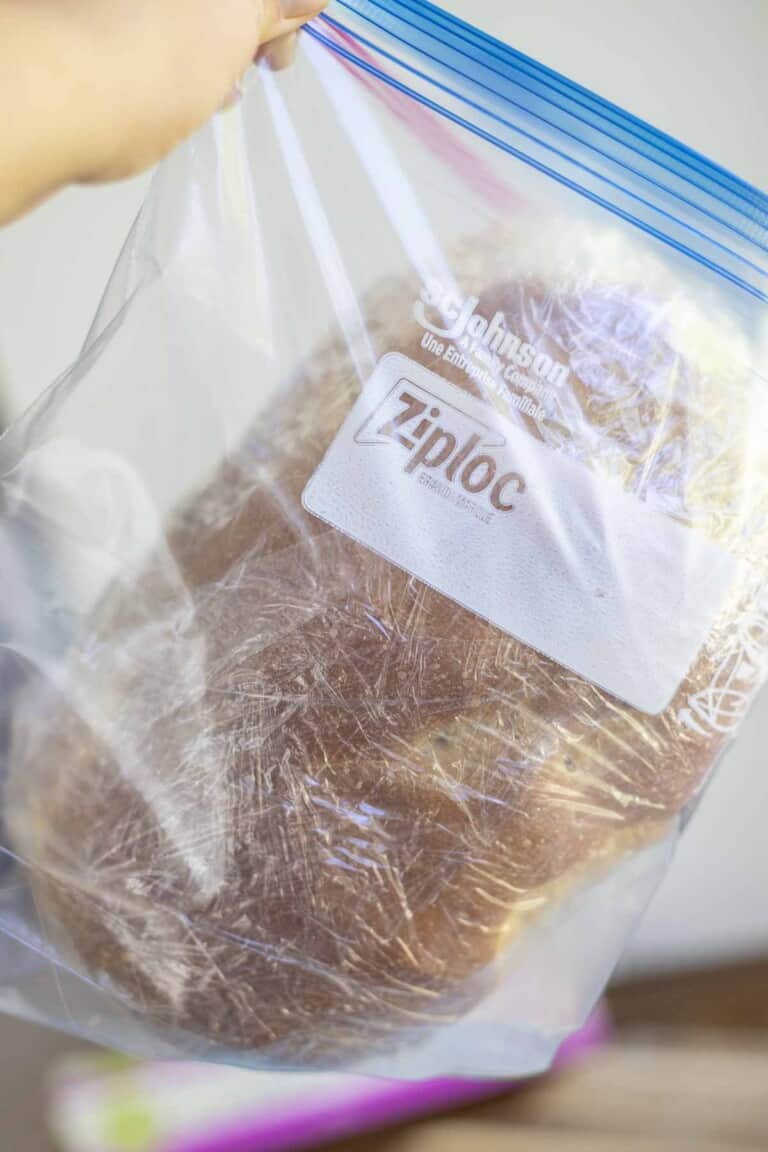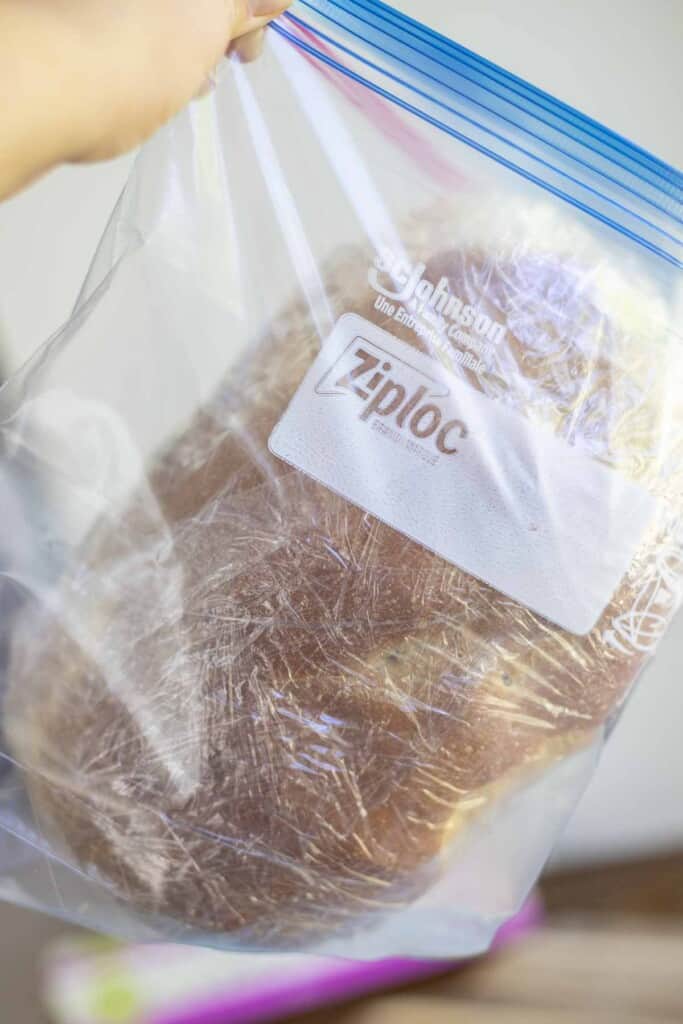 How to Thaw Your Frozen Sourdough Bread
To thaw out your whole or half loaf, you can simply let it sit out at room temperature or move it to the fridge. Once thawed, you can slice it as needed. You may find toasting the thawed out slices works best.
You can also refresh your whole loaf by heating it up in the oven at a low temperature for a few minutes. Make sure to unwrap your loaf first and wet it with a little water.
Be careful not to keep in the oven for too long, or else it will dry out. 
The amount of time you heat it up will depend on the type and size of loaf.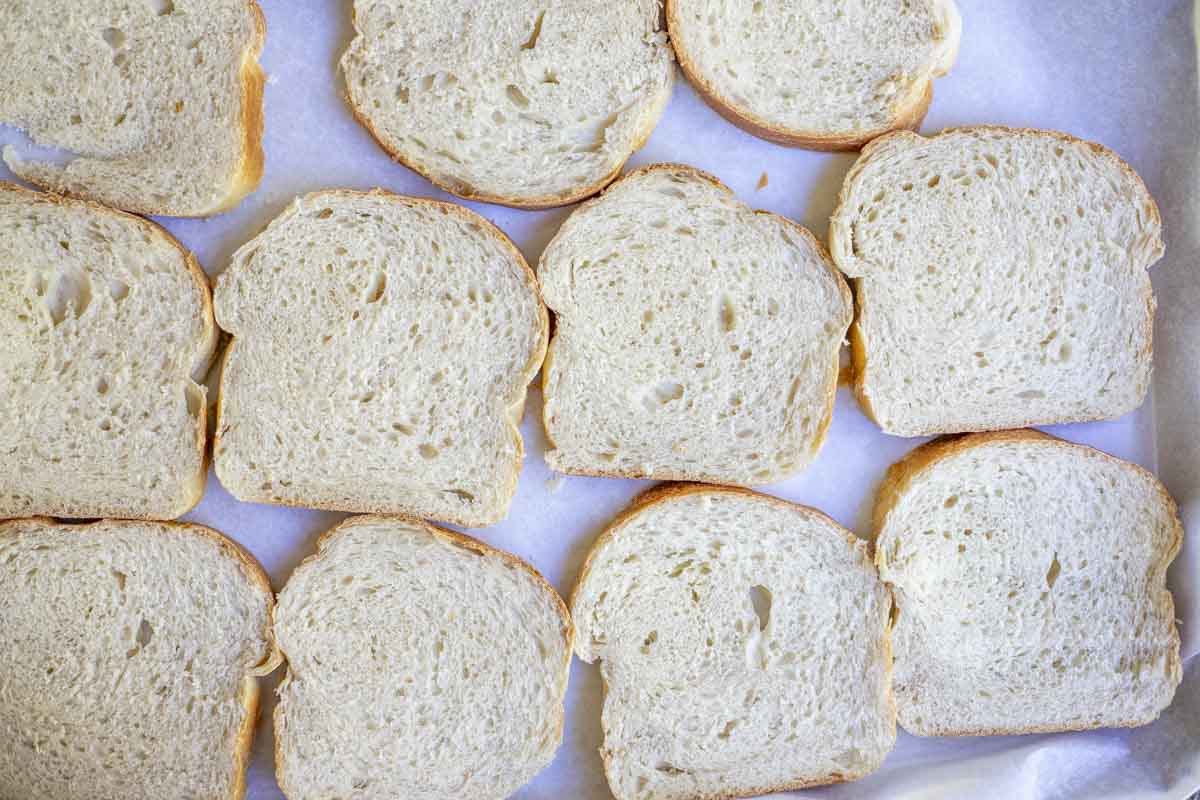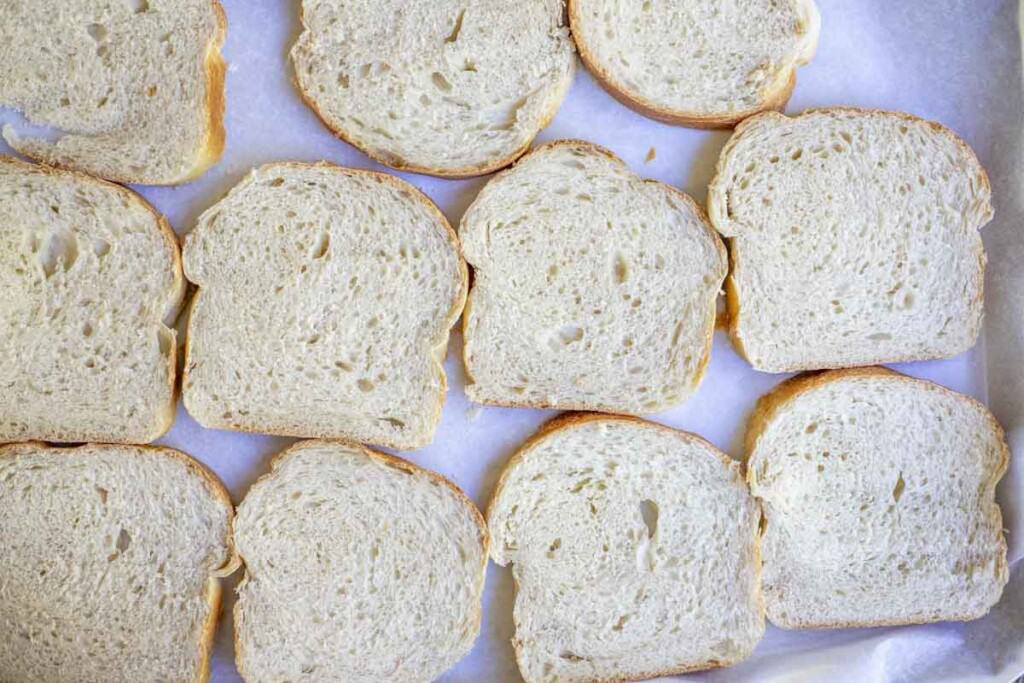 Freezing Individual Slices 
Freezing a loaf whole is great when you decide to bake in bulk and have loaves on hand for the future. But what about when you know you want finish a loaf before it goes stale?
Your best option is freezing individual slices of your bread. It's simple to do, and the reheating process is, too! This is my favorite method for freezing.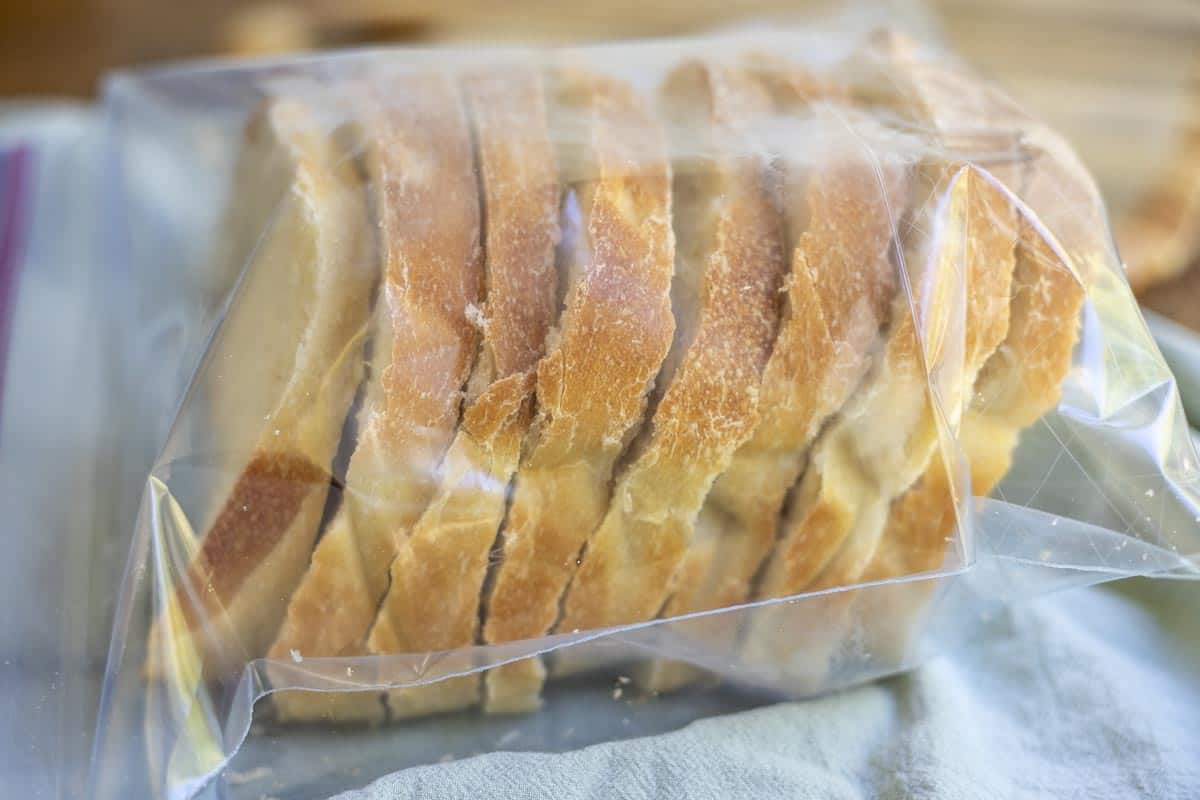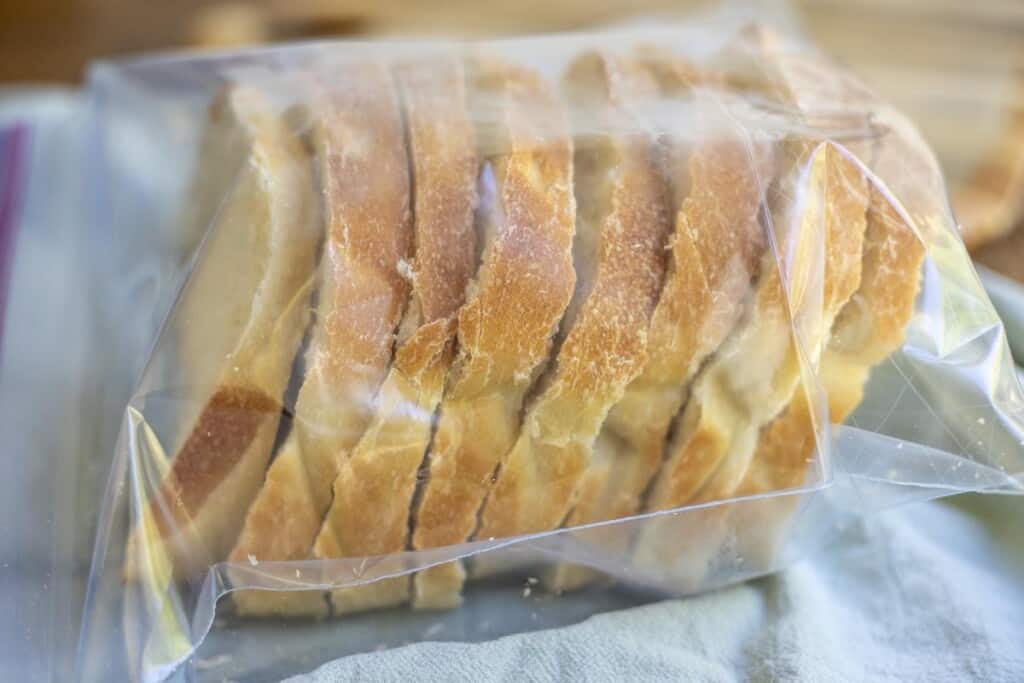 Here's a simple step-by-step guide for freezing slices:
Once again, let your bread cool to room temperature.
Slice your bread and place the slices in a single layer on a baking sheet. Line the baking sheet with parchment paper to avoid the bread getting stuck on the pan.
Put your baking sheet into the freezer until the slices are frozen enough that they won't freeze together. I find about 20 minutes works just fine.
Take the pan out of the freezer and put your slices in a freezer bag or sealed container. Place your packaged slices back into the freezer.
When you are ready to enjoy a slice, you can take it straight from the freezer to the toaster!
This method is great for smaller households or when you just like to enjoy a slice of bread every once in awhile. You can even use this method with specialty bread like my Sourdough Cinnamon Raisin Bread.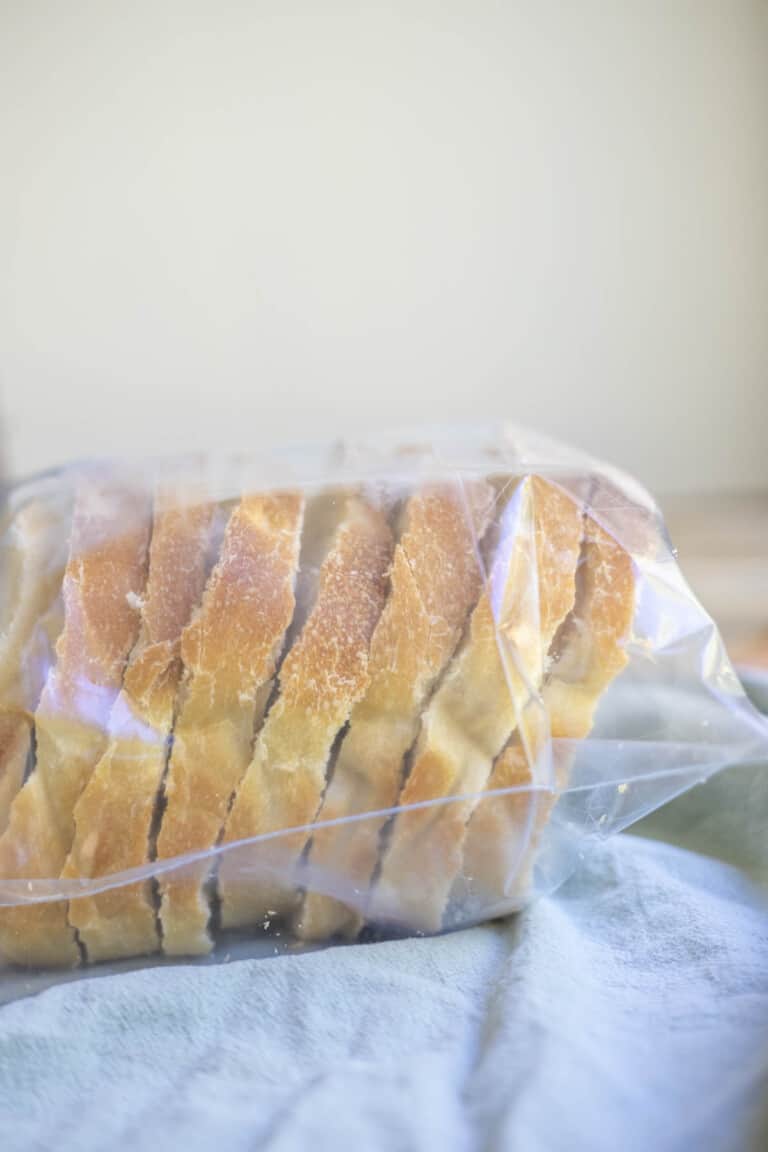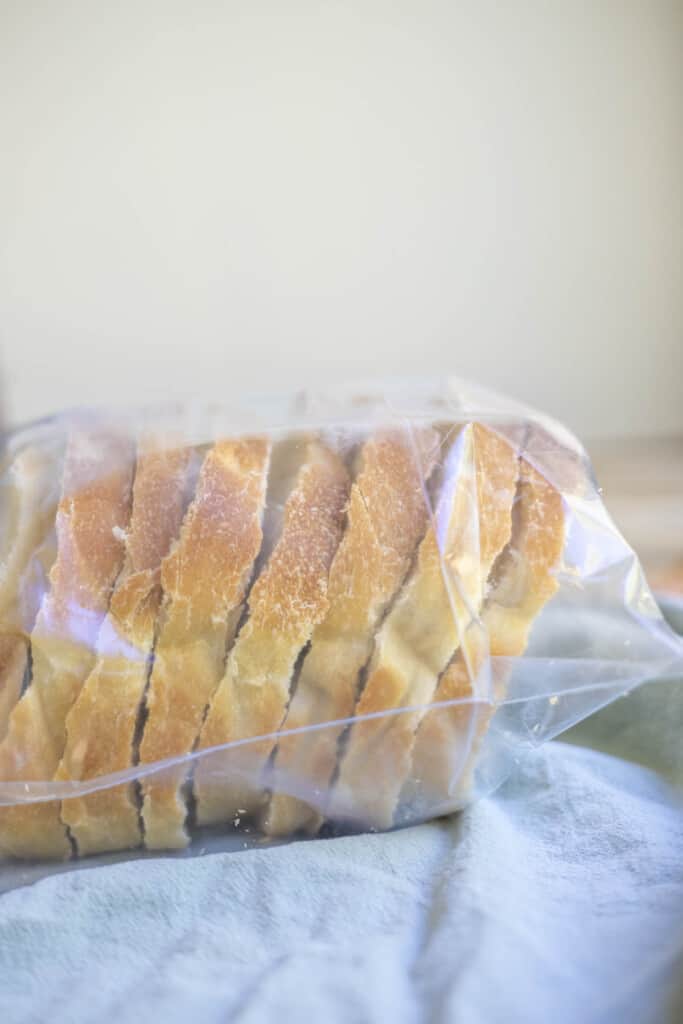 When should you freeze your bread?
Right away: If you are planning to make loaves in advance, you can freeze the whole loaf as soon as it has completely cooled after taking it out of the oven.
After a few days of enjoying fresh bread: You can also freeze leftover sourdough bread that is about to go stale. I throw it in a Ziploc bag and put it in the freezer. Then, I'll use it later to make strata, French toast casserole, or bread pudding. Since I'll be using it for other purposes than to eat on its own, I don't worry to much about wrapping it up perfectly.
This post contains affiliate links, which means I make a small commission at no extra cost to you. See my full disclosure here.
Tools you may need
Plastic wrap or aluminum foil
Freezer-safe bag
Parchment paper
FAQ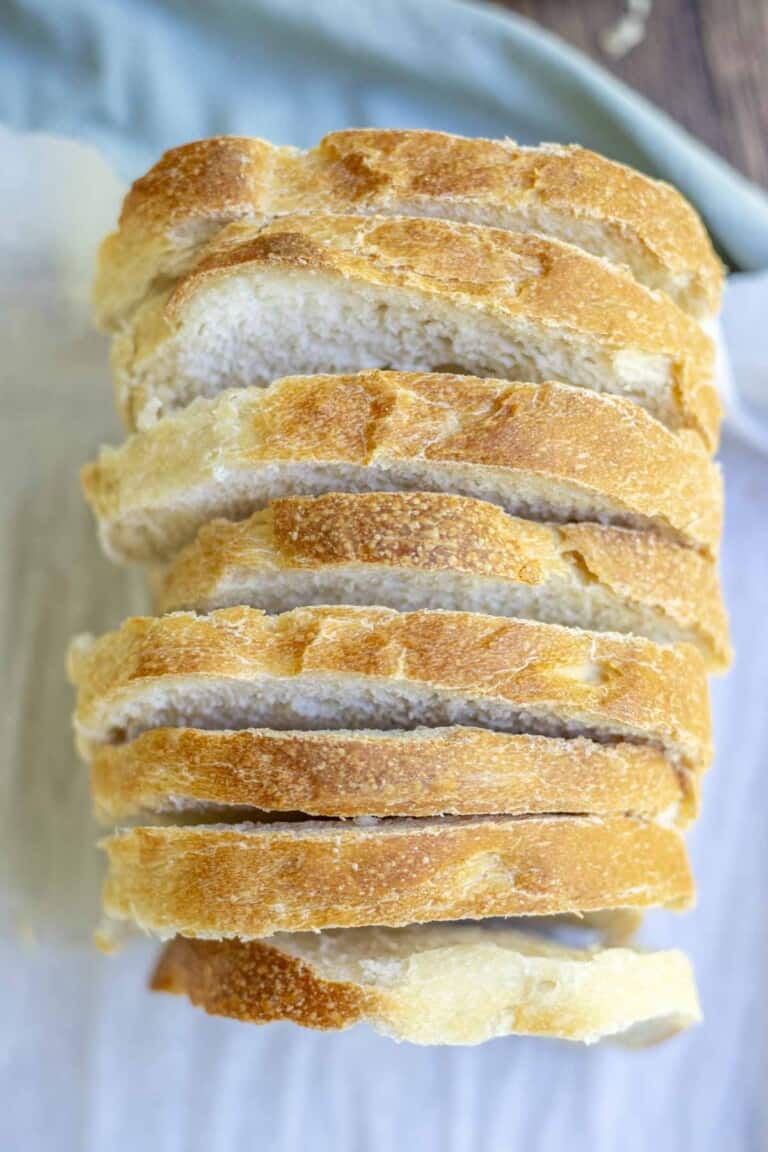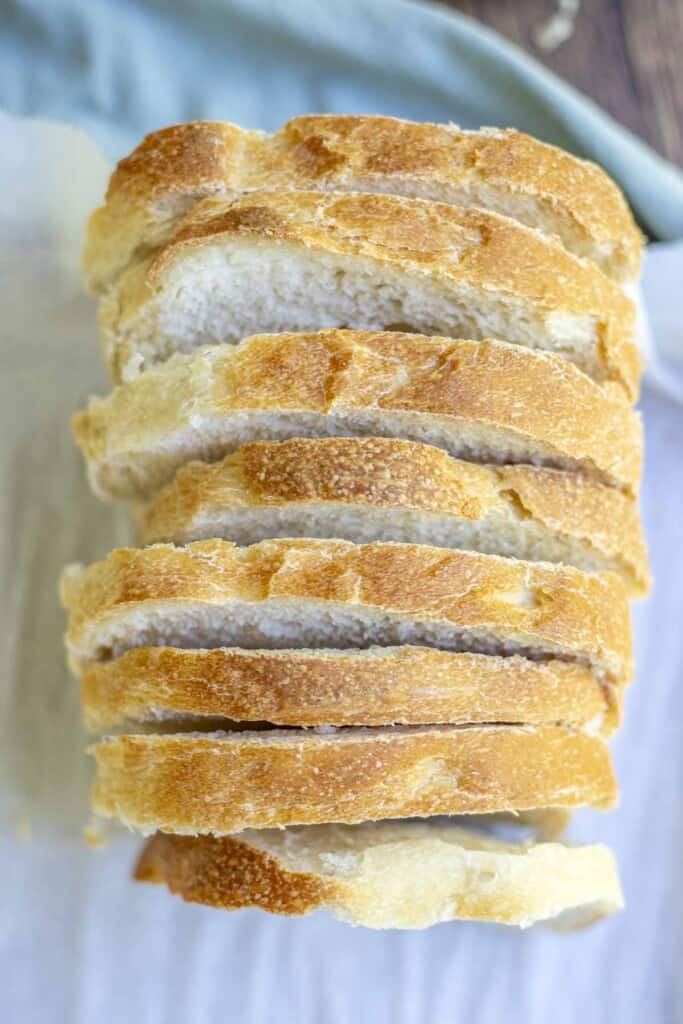 What is the best way to freeze sourdough bread?
You can freeze sourdough bread as a whole or half loaf or even cut it into slices before freezing. The best way to freeze it all depends on how you plan to use it.
Does freezing affect sourdough bread?
A thawed out loaf from the freezer will never be quite as good as freshly baked bread. However, it will still be tasty and allows you to enjoy it for future use or increase its shelf-life.
What are the benefits of freezing sourdough?
Freezing sourdough bread ensures your homemade bread doesn't go to waste! Freezing is a great form of long-term storage that reduces food waste in the home. It is great for when you want to plan ahead for a busy season in life or just can't get the whole loaf finished before it goes stale. 
Some favorite farmhouse bread recipes to freeze: