Learn how to use a Baby K'tan wrap as an easy baby-wearing solution – for newborns as well as older babies. I will show you how to use one with my two-month-old baby.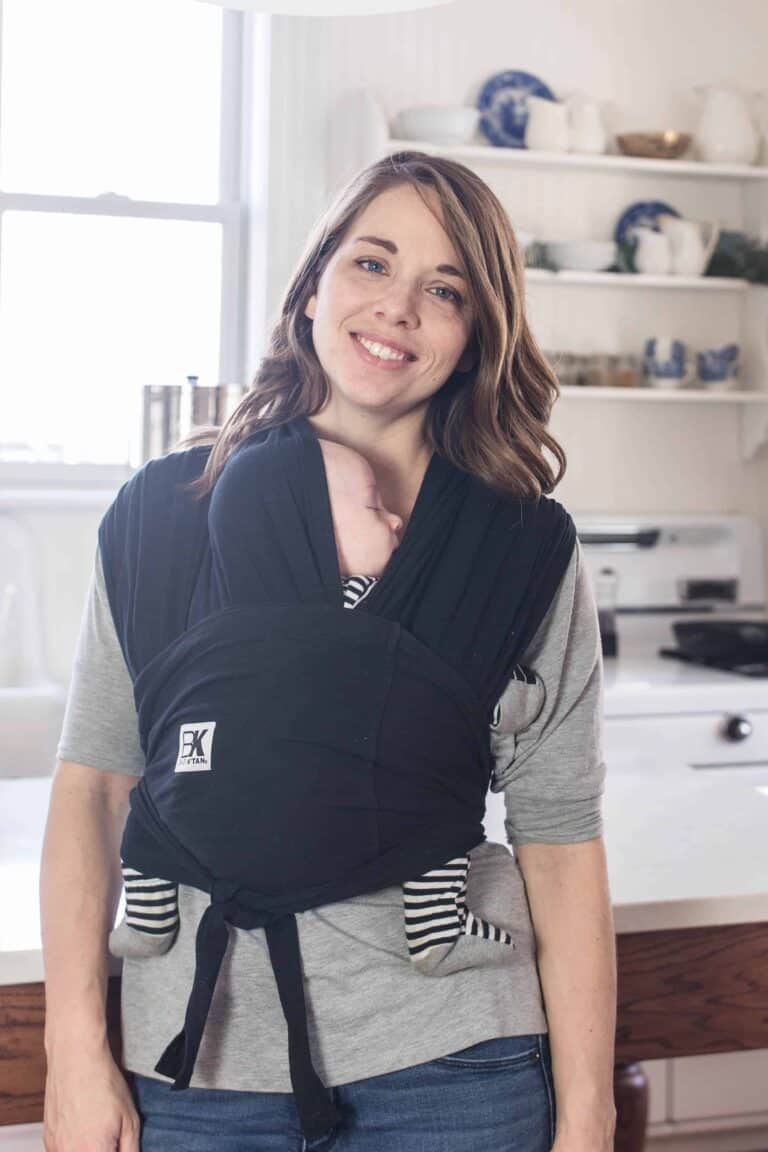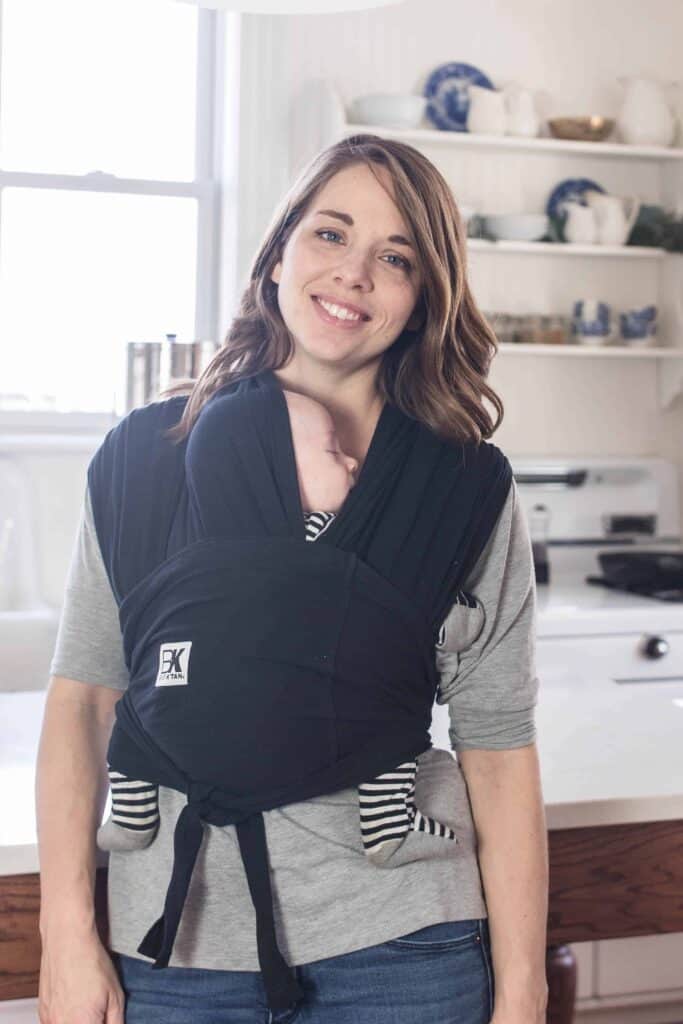 This post contains affiliate links, which means I make a small commission at no extra cost to you. See my full disclosure here.
If you are new to my blog or YouTube channel, you may notice that I always have a little one who is always in a wrap.
This is because he doesn't like to be put down. Ever. Which is totally normal for all newborns, so if you have one, you know this.
Baby-wearing lets me do the things I need to do, all while 'holding' my baby.
Today, I'm going to show you how to to use a Baby K'tan wrap.
The Baby K'tan is perfect for those who are new to baby-wearing and are intimidated by standard wraps with heaps of fabric.
This type of wrap makes baby-wearing much simpler and more streamlined.
What is baby-wearing?
Baby-wearing is carrying your baby in a wrap or baby carrier of some sort.
There are so many baby carrying options available; you can find my best baby carriers post here.
Benefits of Babywearing:
Bonding: Helps create a bond between baby and whomever is carrying them.
Soothes baby. Babies that are worn tend to cry less.
Language development: Can help boost early language development due to hearing words being spoken, observing facial expressions, and being part of the conversation.
Get more done: Get chores and other daily activities done more easily.
Physical and emotional development: because baby gets to be more involved in your world, many people believe that more brain connections are made from the different sights, smells, and experiences that they get to be a part of.
Boost milk production: Can help boost milk production because baby is right there, and can discreetly nurse.
(source)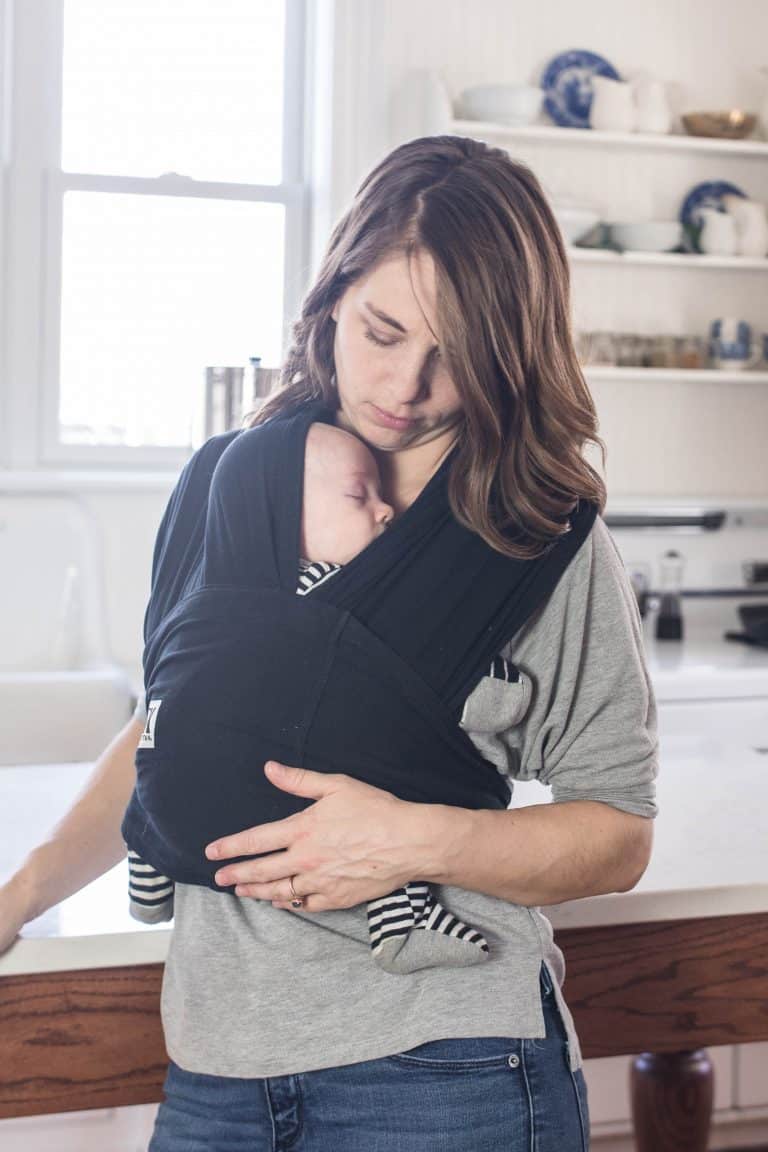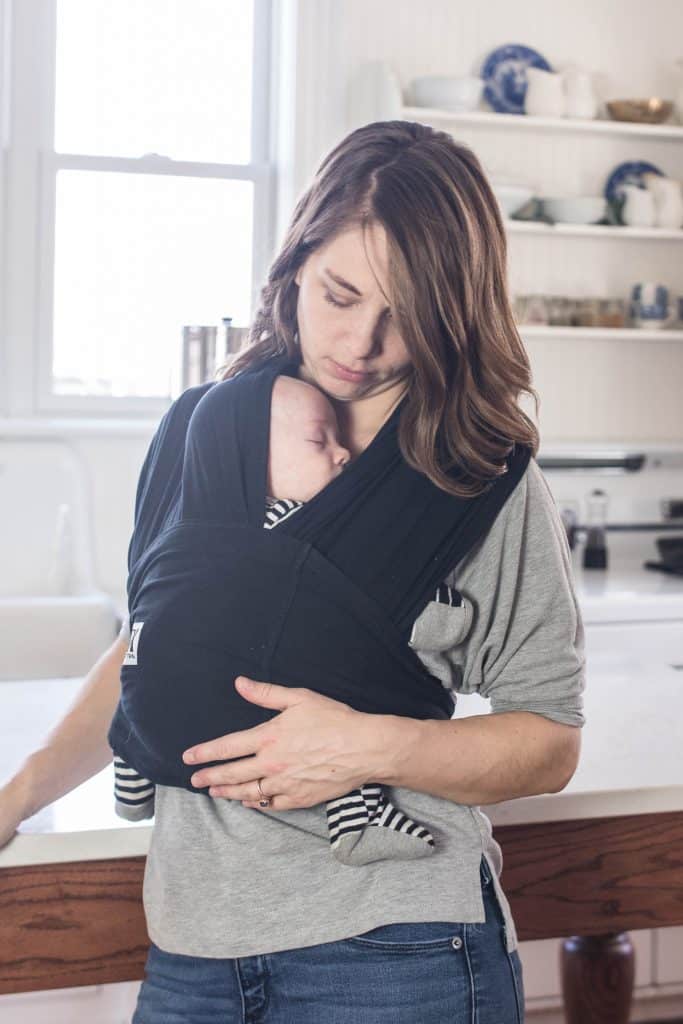 Find More Posts On Motherhood:
How To Use A Baby K'tan Wrap:
It comes with two larger loops of fabric that are joined together by a tiny loop.
Take the loops together with the small joining loop at the top.
Place the large loop over your neck, like an infinity scarf.
Slip one arm through one loop and then slip the other arm through the other loop. This will create an X in the front and back. The small loop that links the larger loops together should be higher on your back.
Take the baby in your arms with their head near your shoulder, then slip the baby's leg through one of the loops and pull the fabric up the baby's back a bit.
Take the other loop and place baby's other leg in it. The baby's legs should be in a well-supported, ergonomic M-shape. He is plenty supported right now, but we are going to add an extra layer of support.
Grab the long sash and find the middle.
Place the sash over the center of the baby, and then tie it tightly. You can tie it in the back or bring it to the front and tie it.
Notes about the Baby K'tan
The Baby K'tan is not one-size-fits-all, like the Moby, Solly, or Boba. This is because it is already pre-wrapped for you, except for the front panel.
I'm currently wearing an extra small and it fits great, but it will have to be upgraded at some point.
I go more in-depth on baby wearing and compare all the different kinds of wraps and their features here. I also discuss everything I like and dislike about each one.
Spoiler alert! The Baby K'tan is not my favorite, but it is still a great option. If it was all that I had, it would still work great. Baby Daniel is super secure, and I could go about my day doing chores while baby is nice and cozy.
Another pro is that it is much lighter than other wraps, since there is way less fabric.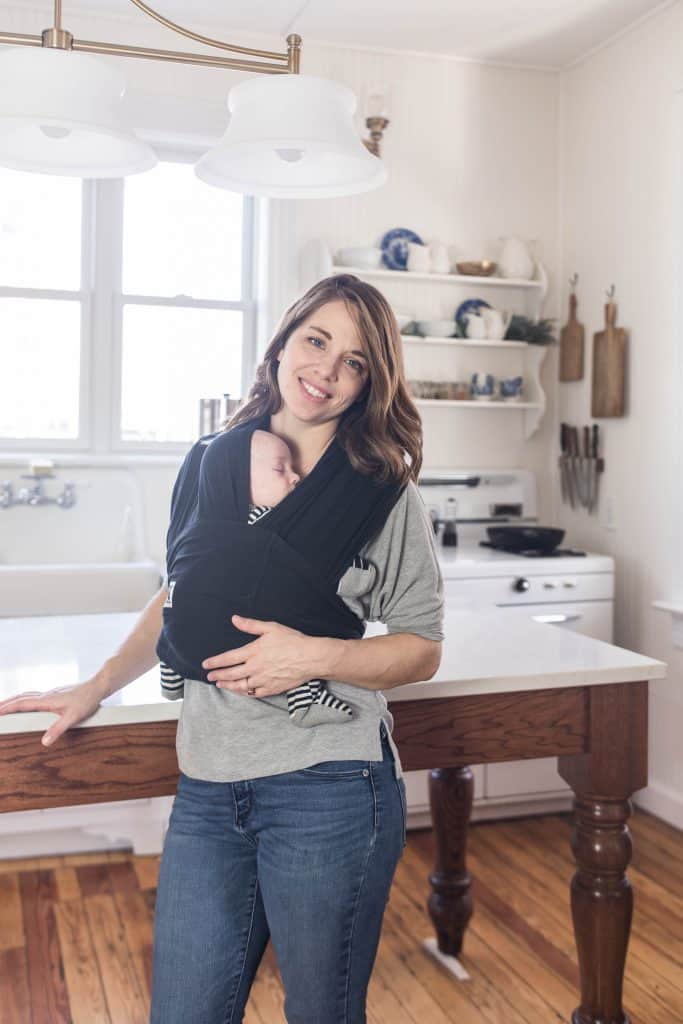 I find this type of wrap is way easier when you are going out and about. If you are trying to wrap using a regular wrap like a Boba, there is so much fabric that when you get out of the car, the fabric can pool on the ground and easily get dirty or muddy.
If you find that the other types of wraps are just too much for you, or you find them too hard to get secure, this may be a great option.
FAQ
When can you use a Baby K'tan?
They are recommended to use from birth to 35 pounds. As noted before, as the baby grows you will have to change the size you are wearing.
How tight should Baby K'tan be?
The Baby K'tan should fit snugly without being too loose or too snug. If you are on the shorter size, choose a smaller size.
Babywearing safety:
Babywearing can be such a blessing, just make sure you are taking safety precautions.
You should always be able to kiss your baby's forehead and see them breathing.
Pin It For Later