In this easy tutorial, I am going to show you how I made pillows from a vintage table cloth. The process took about ten minutes to complete, and I ended up with two beautiful pillows for my farmhouse boys' room for only 8 bucks!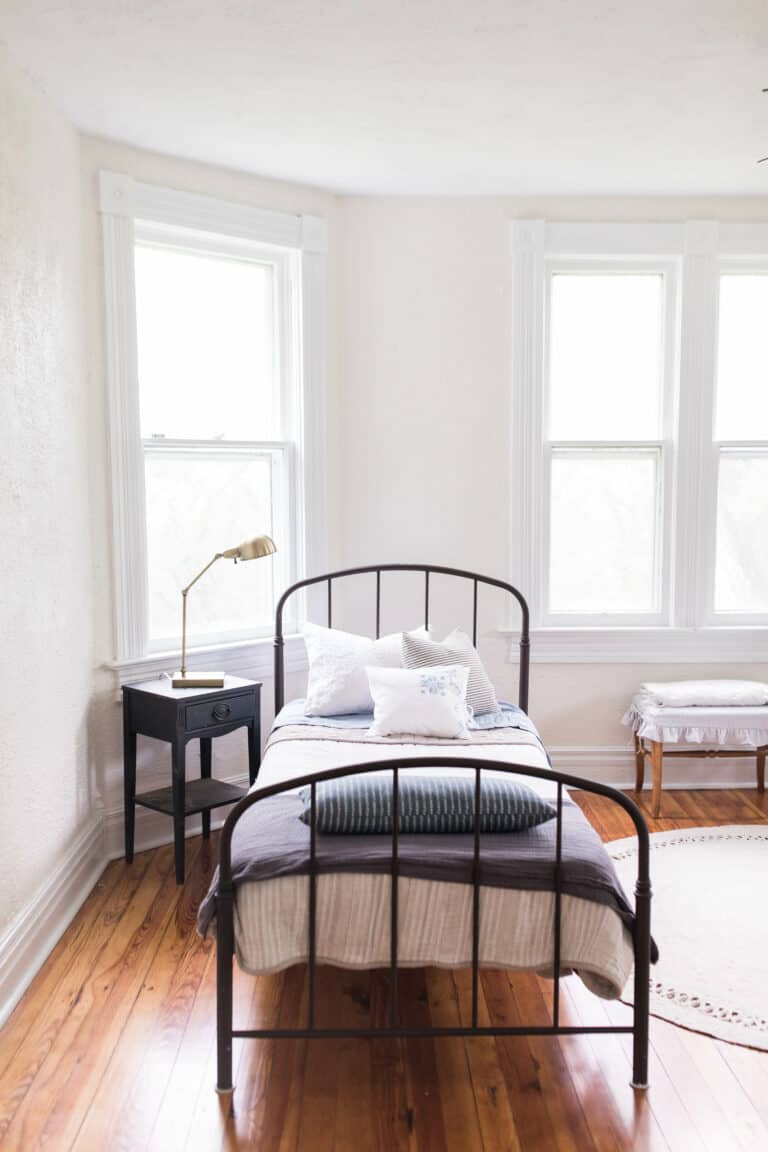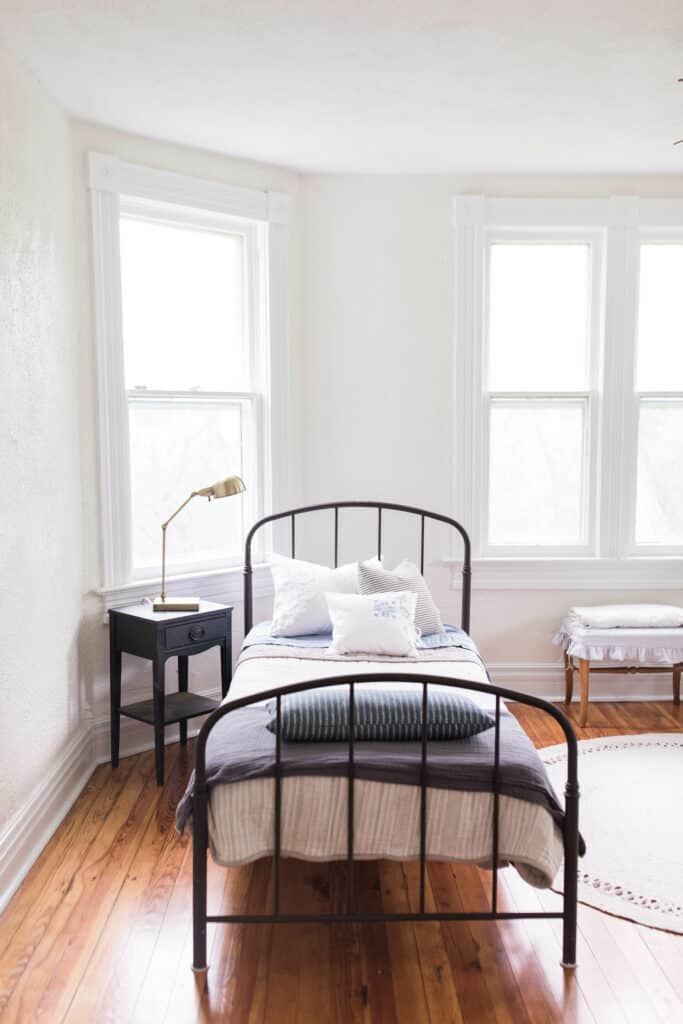 Reduce, Reuse, Refashion
Today's post is a collaboration with some of my favorite blogger friends, Chloe from Boxwood Avenue, Sarah from Rocky Hedge Farm, Sarah from She Holds Dearly and Larissa from Prodigal Pieces. Every fourth Tuesday of the month we are going to share something we made from a thrift shop find, or just something laying around the house. My minimalist heart just loves this! Getting a bargain, and transforming something old into something new and beautiful is the very reason I love DIY so much.
An extra special thank you to Larissa for putting this whole thing together. Make sure to visit the links at the end of this post to see what all of my friends came up with for their repurposed projects! Also, check back every month to see what we're all making.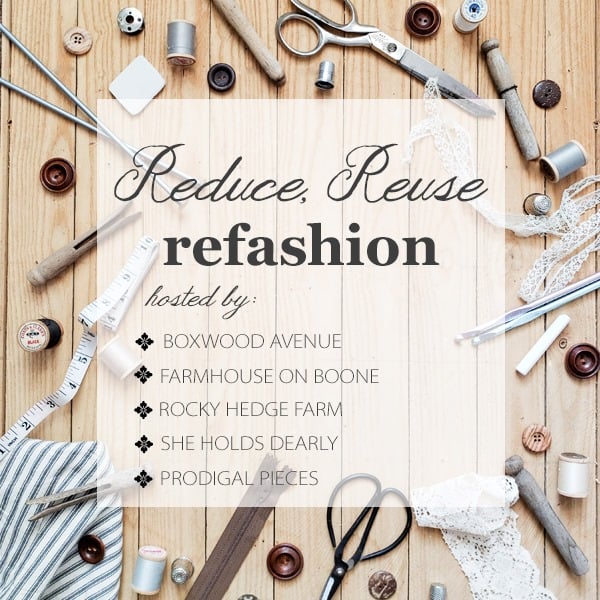 Pillows from a Vintage Table Cloth
If I haven't told you all before, Lisa from Farmhouse on Boone is a bit of a procrastinator. I put things off until the very last minute just about every single time I do anything.
Today I had a sponsored video due for a farmhouse boys' room makeover.
Guess when I even decided to start thinking about it? Ummm yesterday.
Ok, so here is how it went down. My girls and I jumped in the car and went to Target to grab a few sheets and a rug. Then, we headed to my most favorite (and predictably awesome) antique mall. If I'm in the need for a last minute item, or two, this is the one I head to. I know I'll find something awesome.
I said a little prayer on the way, because I knew if I didn't find what I had in mind I would be in trouble. We needed a desk and chair to anchor the gallery wall, which I was required to create for the sponsor. I also wanted to make something handmade and unique for the beds.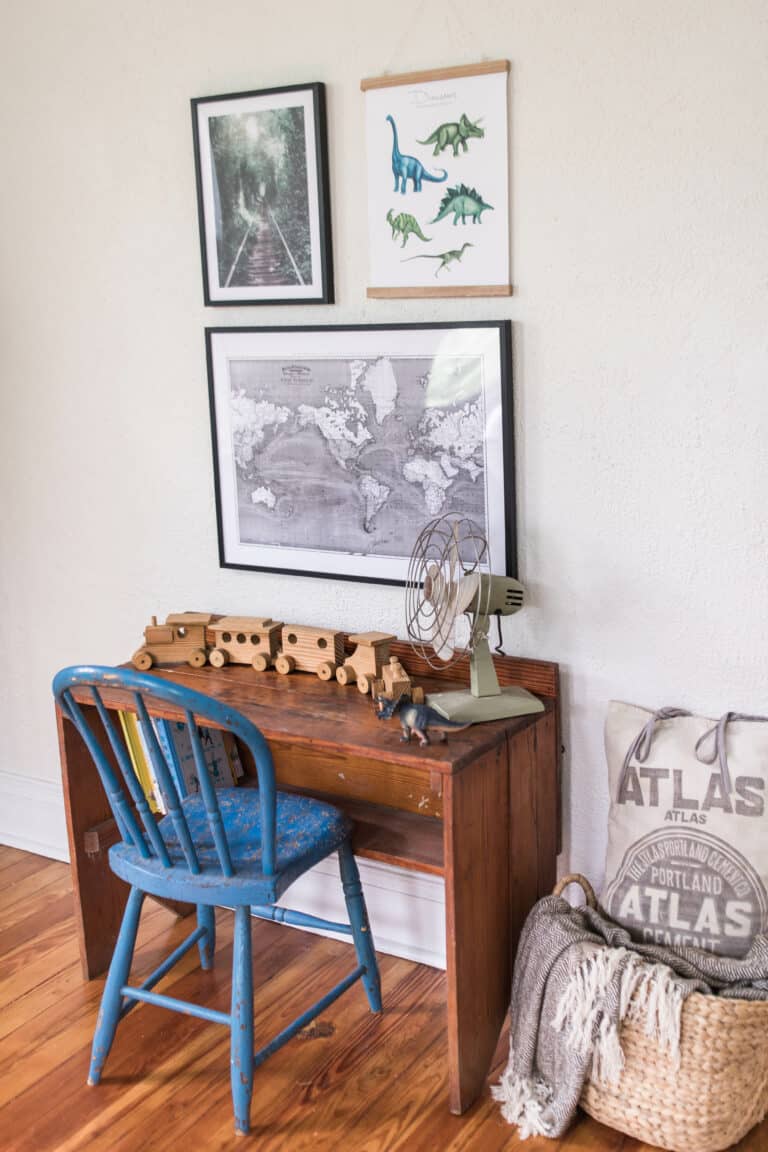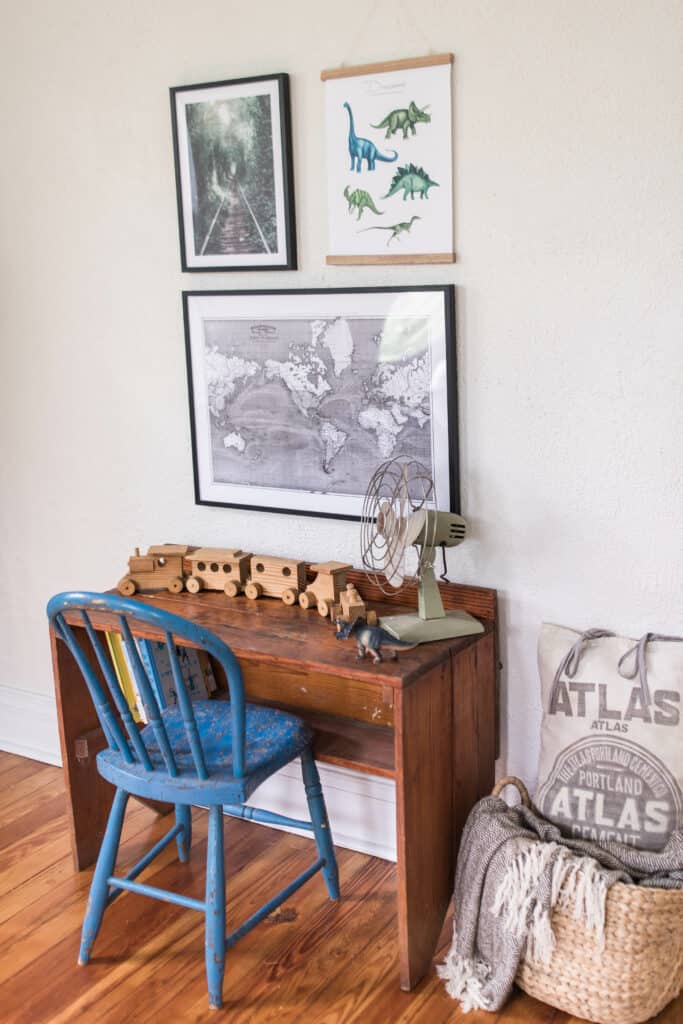 My farmhouse boys room antique finds
10 minutes later I walked out of that antique mall with the perfect size wooden desk, a chippy chair and a wooden train and fan for desk decor.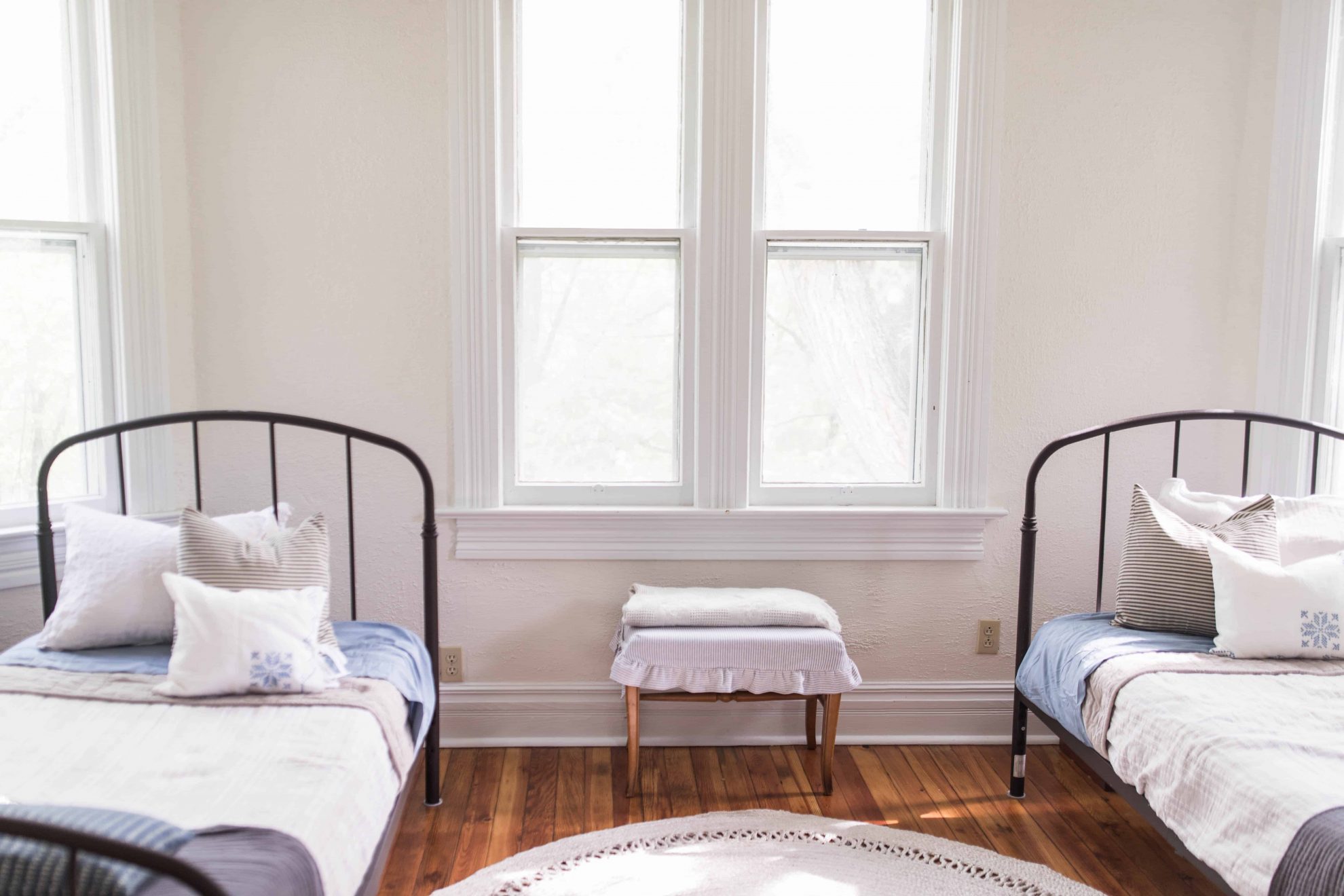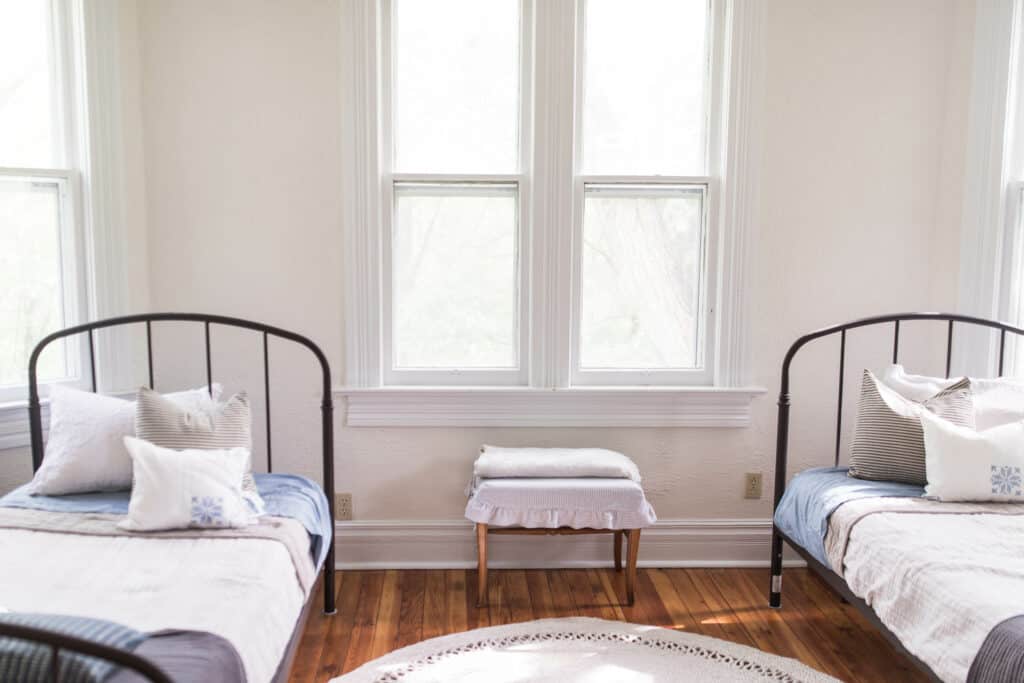 I also snagged the most adorable needlepoint vintage linen. I'm not sure if it is supposed to be a table cloth, napkin or something else. One thing was for sure, it would be perfect for the boys' room! It has that vintage look that you just can't recreate with something new.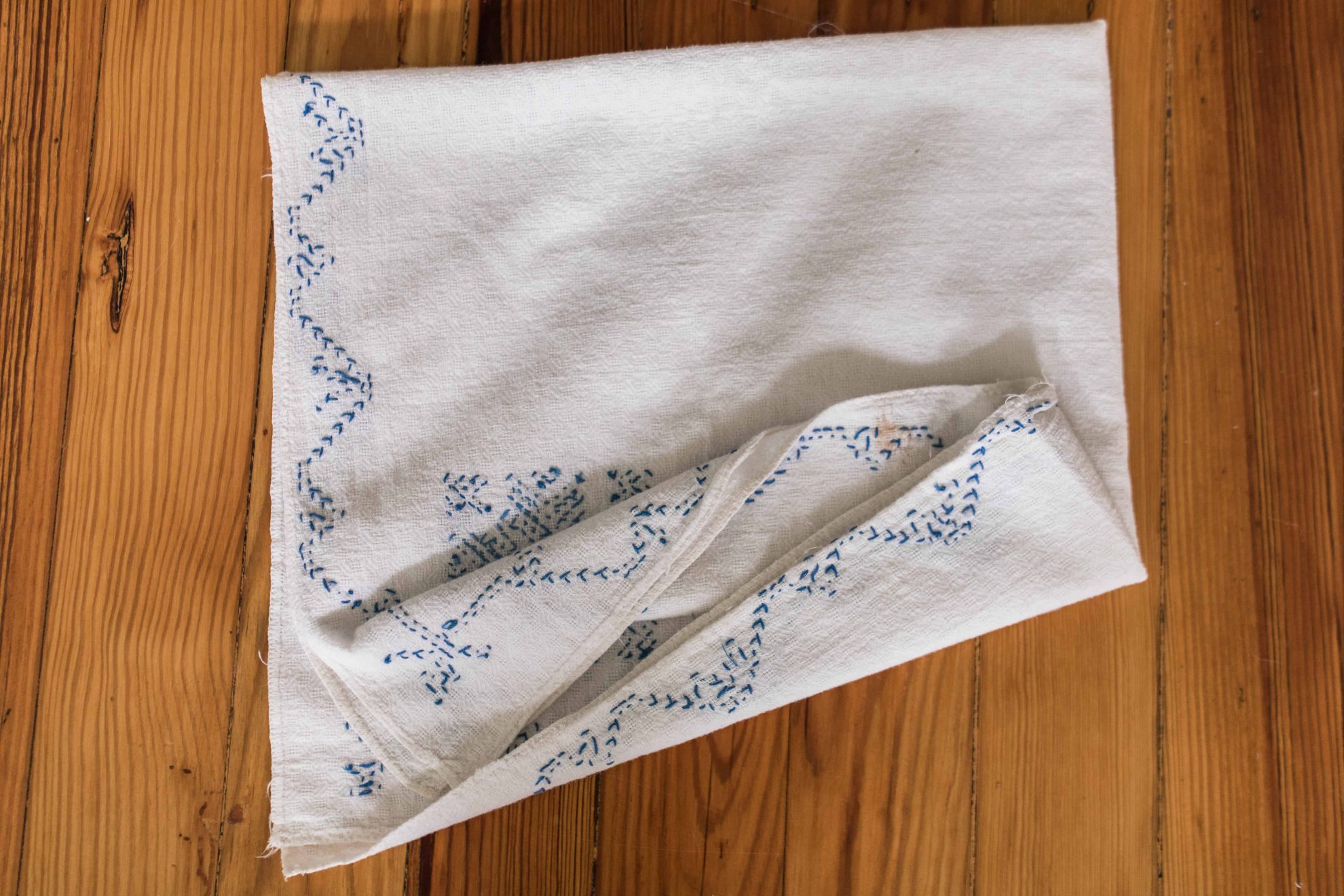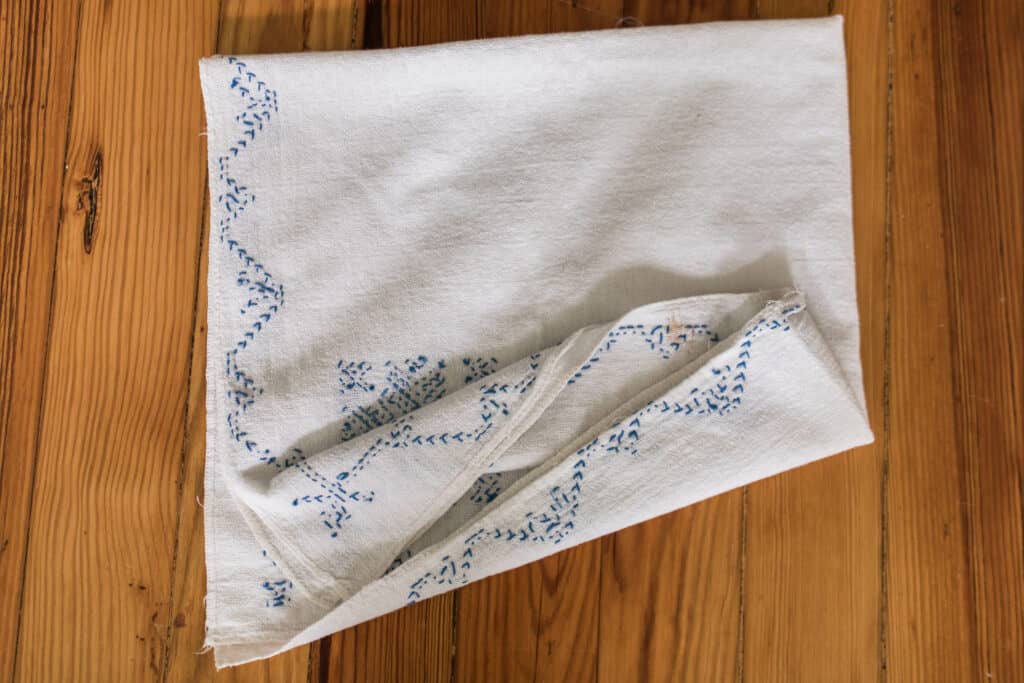 Since I was in and out so quickly (I had a whole room to transform, video and edits still to do! Yikes!) I forgot to really study my purchases. In my head, the vintage linen was larger. The whole way home, I was thinking about how I could turn it in to the most adorable blanket to drape over the back of the blue chippy chair.
I would line it with black and white buffalo check flannel and add ruffles to the ends. The perfect mix of boyish and cutesy!
When I got home, I realized it was much smaller than I originally imagined.
Onto plan B!
My second choice was little farmhouse pillows for each of the boys' beds, complete with white linen ties.
Pillows from a Vintage Table Cloth DIY Instructions
First, I cut the piece in half down the middle.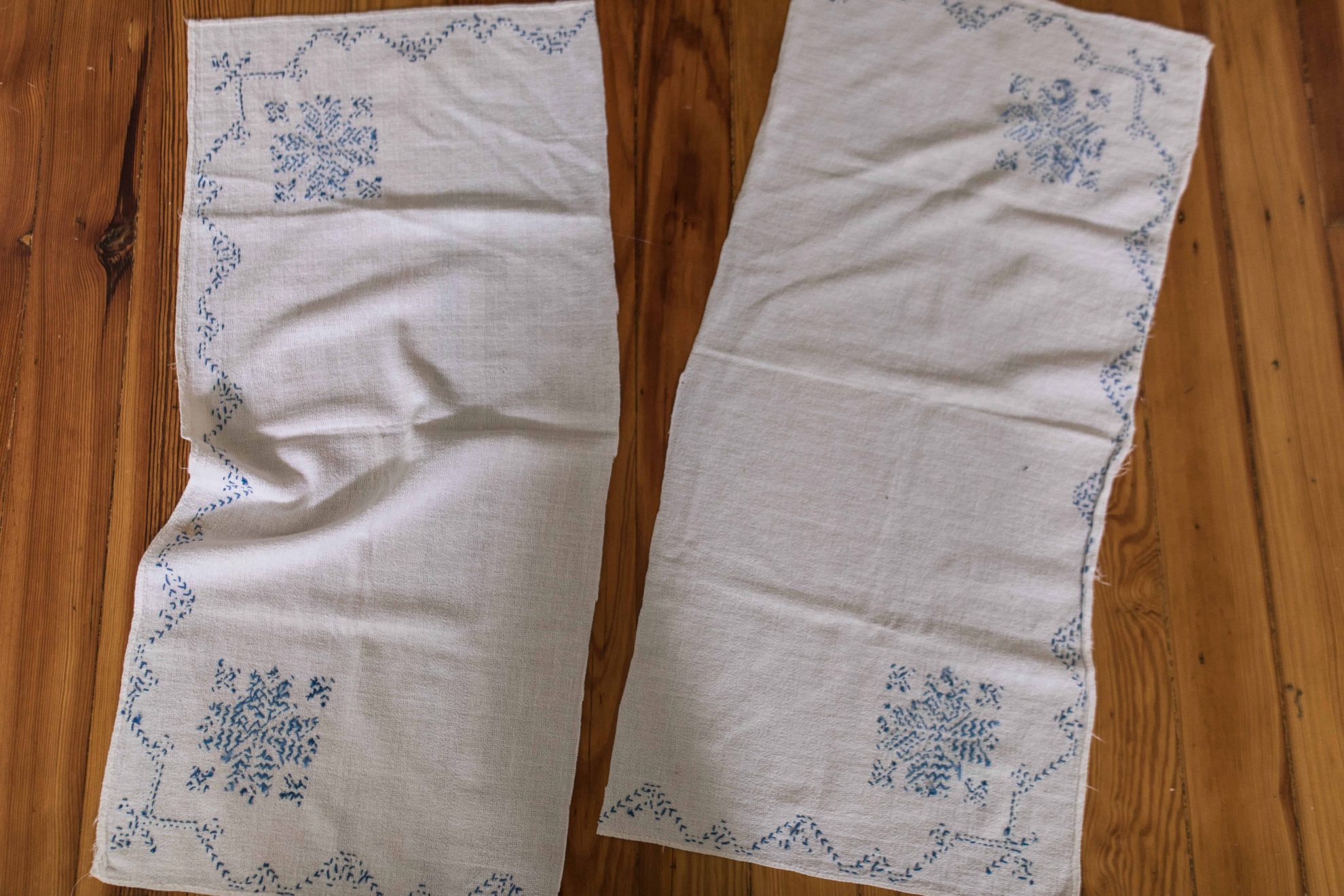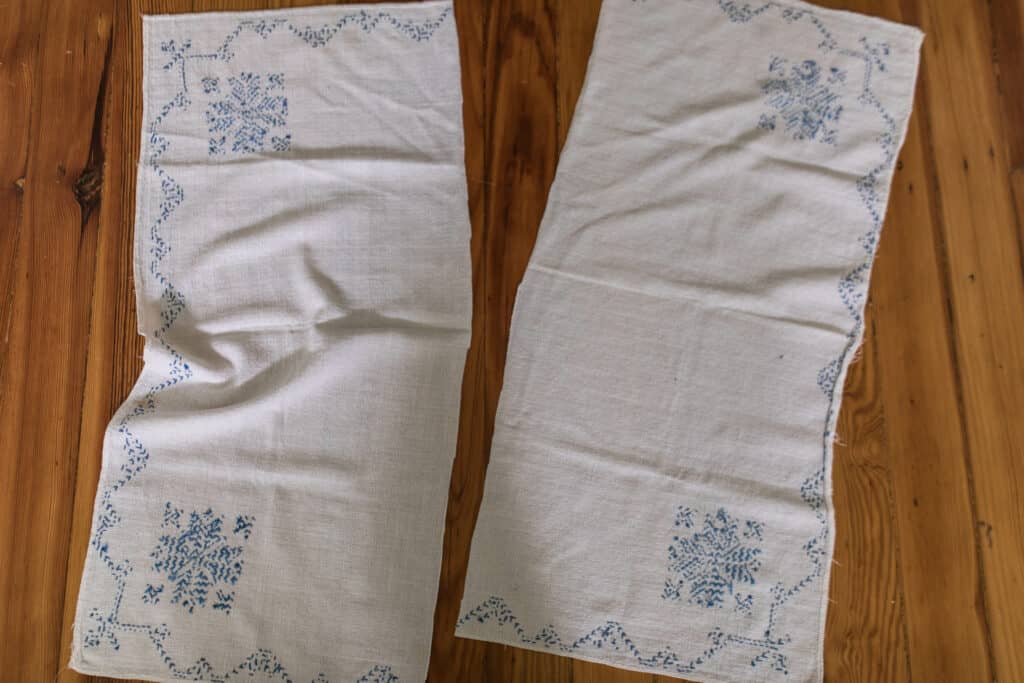 2. Next, I folded each piece in half with right sides together, and sewed around three sides. I left one of the prefinished edges open.
3. I made four linen ties.
For the ties, I cut two strips of linen 18" by 1.5"
On one short end of a tie piece, I pressed over ½" toward the "wrong side" of the fabric. I folded the tie piece in half all the way down the long side, right sides together, and sewed a ¼" seam.
I left the two ends open at this point, including the short end that was folded over. Using a large safety pin at one corner, I turned the strap right side out. I pressed the seam flat.
I topstitched all along the two long sides and the folded short side, with a very narrow seam.
Tip: If you don't have any extra linen laying around, another (and much easier way) to make ties is with bias tape, like I did in these posts:
Pillow covers from IKEA tea towels
DIY Grain Sack and Ticking Stripe Pillow Covers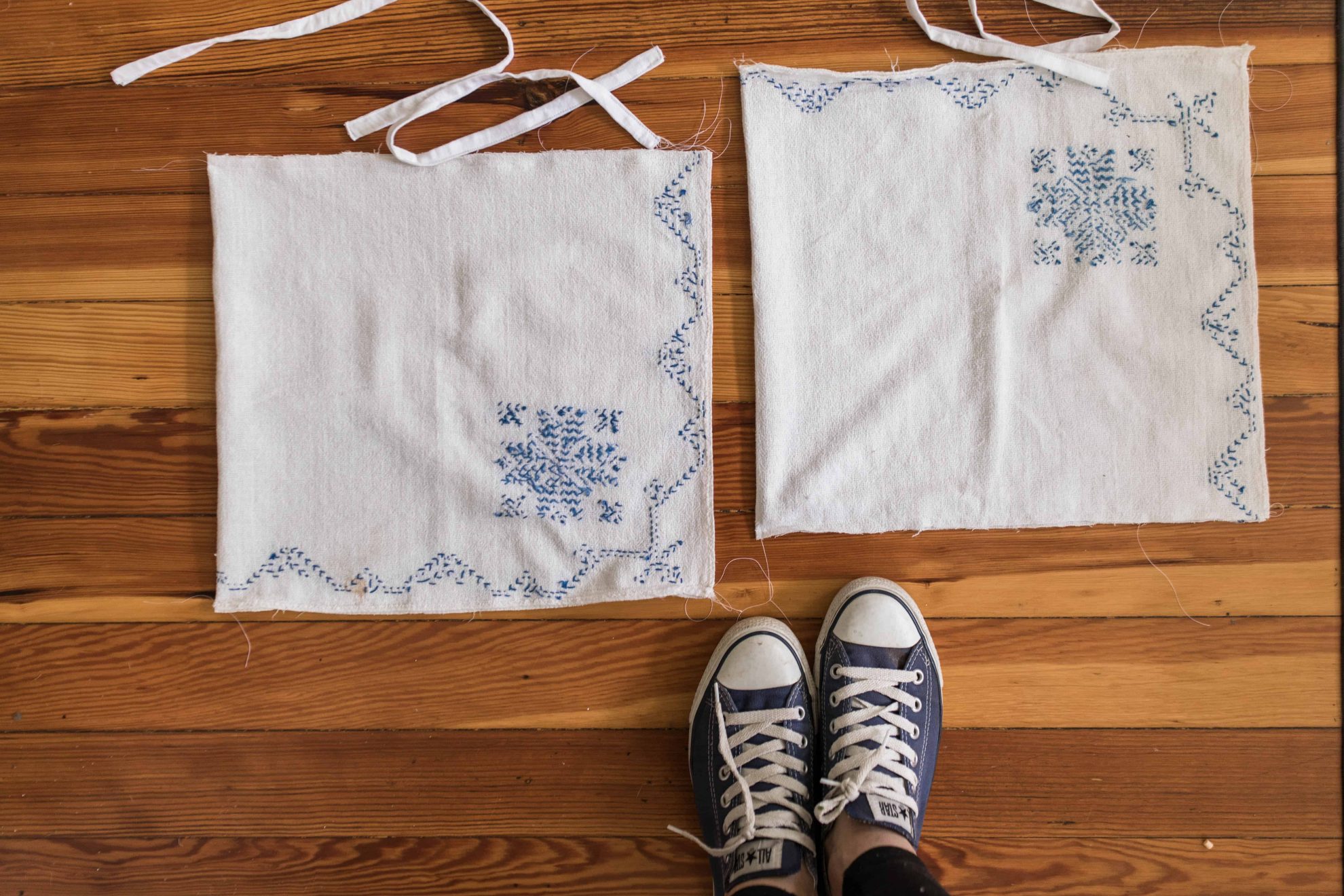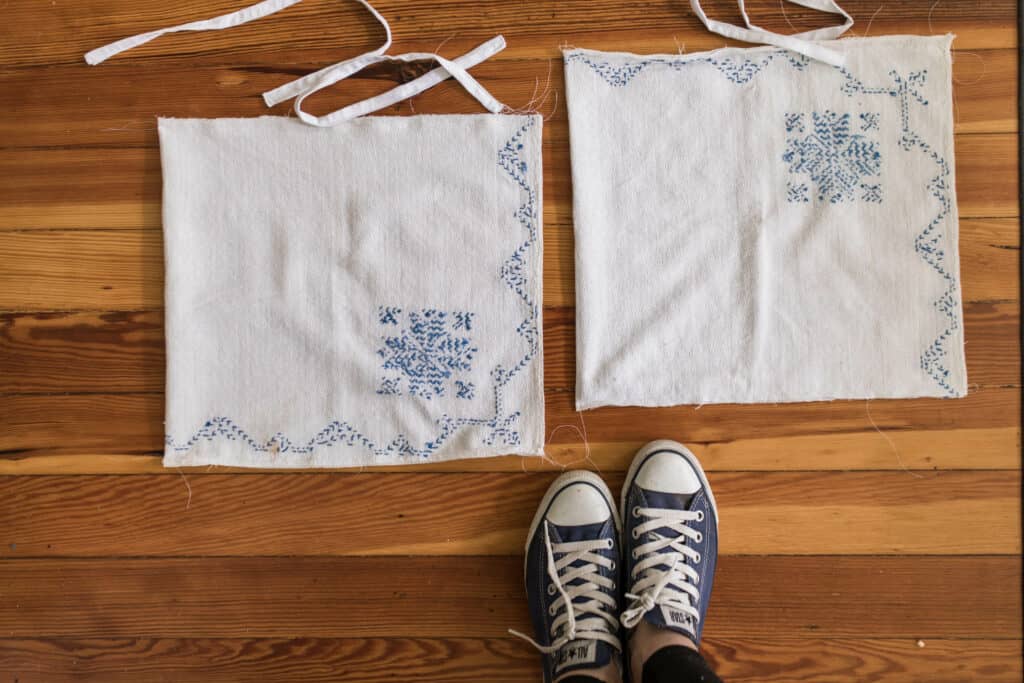 4. I sewed the ties to the open end of the pillow covers, making sure to line them up with each other in the middle.
5. I made a few pillow inserts with bleached drop cloth.
This is a great option any time you are making repurposed pillow covers, and need a custom sized insert.
For the full tutorial on how to make your own pillow inserts, check out this post:
How to Sew Pillow Inserts with Drop Cloth
And that's it!
These pillows from a vintage table cloth made the perfect little additions to my farmhouse boys bedding for the makeover.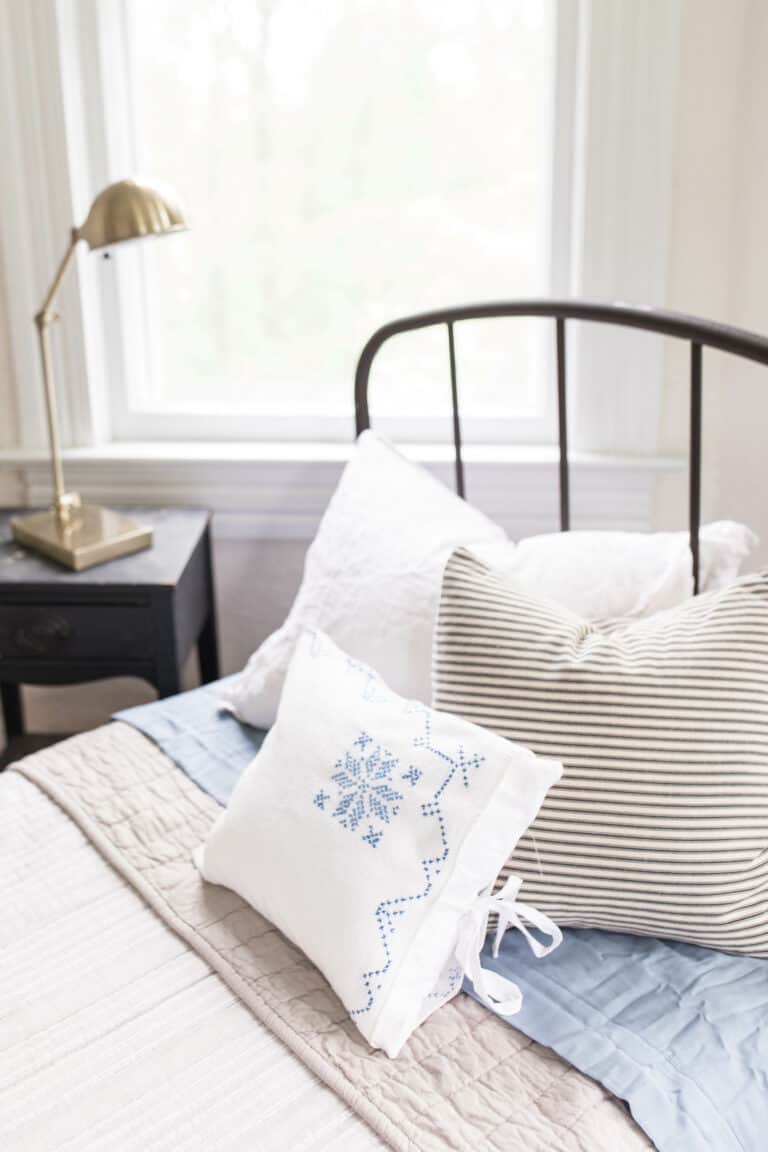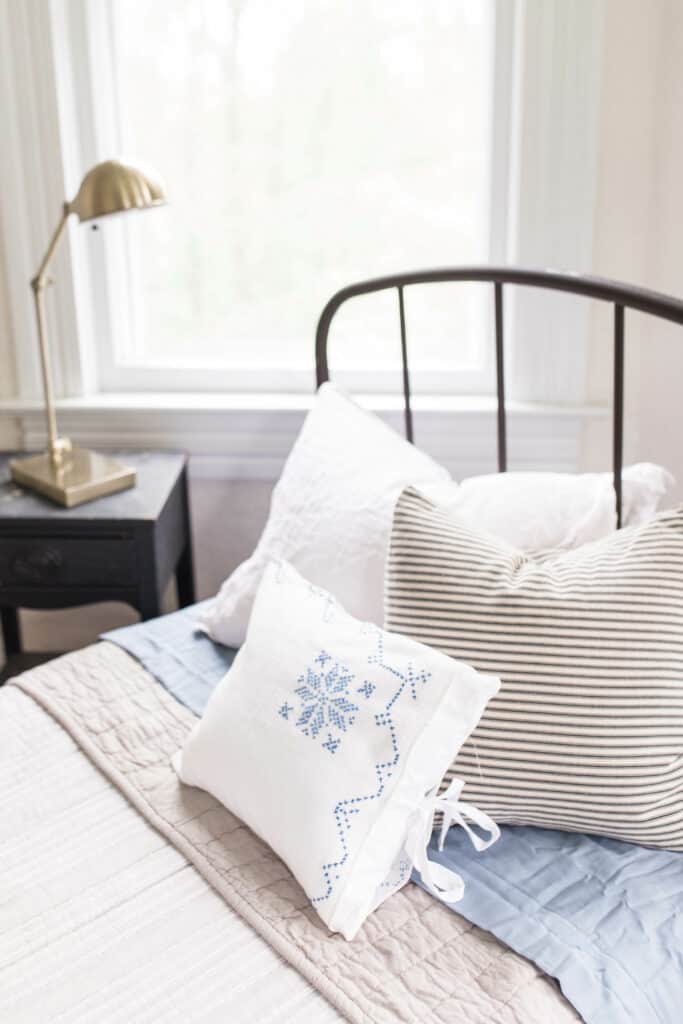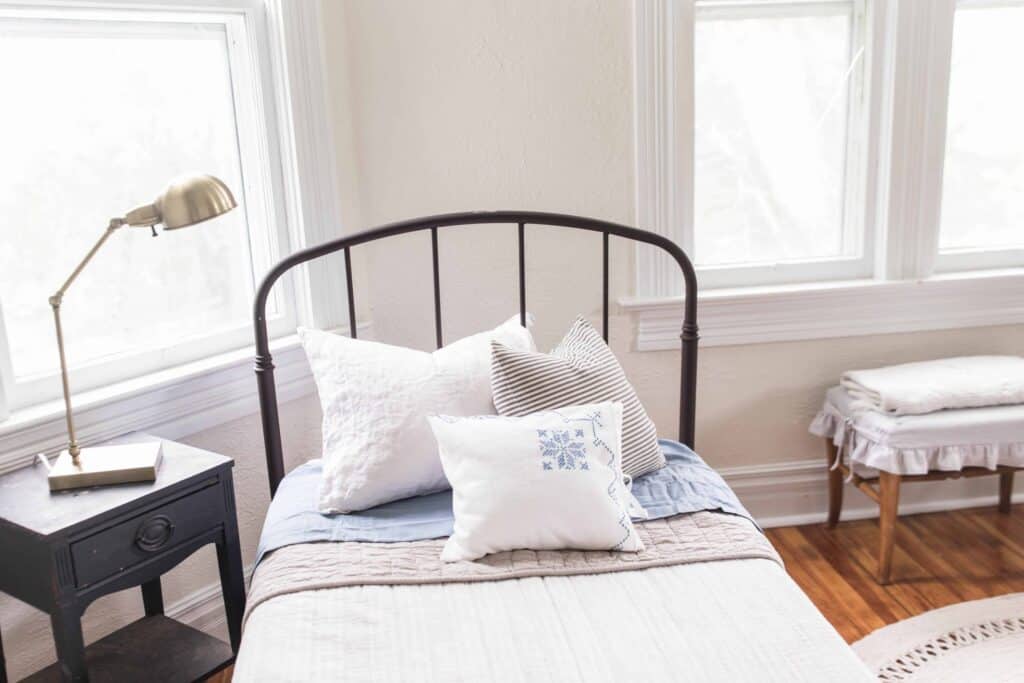 Check out all m friends' Reduce, Reuse and Refashion posts
Boxwood Avenue Homemade Rice Heating Pad
Rocky Hedge Farm Upcycled Repurposed Girls Dress
She Holds Dearly Thrifted Pillowcase Turned Throw Pillow
Prodigal Pieces DIY Childs Apron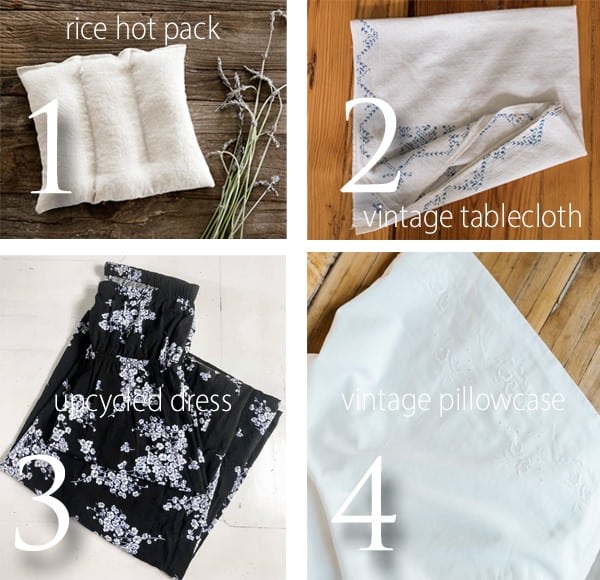 Pin it for later