Ever wondered what you should look for at thrift shops for that farmhouse style you love? I give you all my tips and tricks.
I love to go thrift shopping. It is a creative thing for me to rummage through old junk and try to figure out how I could repurpose it into something beautiful. My idea of a perfect day would involve a whole lot of coffee and as many small town thrift shops as I could find.
I want to share with you some of the things I like to look for when I am out thrifting for pieces to bring back to the farmhouse.
Ironstone
Ahh antique English Ironstone…there is a reason why this is first on the list. It looks pretty everywhere, tables, dressers, windowsills, bookshelves, and pretty much any place else you can think of.
I started collecting ironstone a few years ago, and I can say that if you keep your eyes peeled you will come across it all over the place. If you're willing to spend a little more, you could build your collection very quickly by going to just a handful of antique shops. They are filled with it. But, if you're a little more thrifty, it will take a little longer but the deals are most certainly out there!
In the photo above I found the one gallon pitcher on the far left at a garage sale for $3. The two tureens in the front were less than $2 each at a resale shop. My aunt bought me the sugar bowl at an antique shop, and it still had a little tag on it for $29. That is the price you can expect to pay at an antique store, but if you look for it long enough you will also happen upon it at thrift stores and estate sale for quite a bit less. I paid $20 for the furthest back pitcher on the right and that was a pretty good price but not a total steal. I try to find the small pitchers for $5 or less.
I also collect ironstone plates, bowls and gravy boats. Basically, if its ironstone and a good price I'm snagging it up!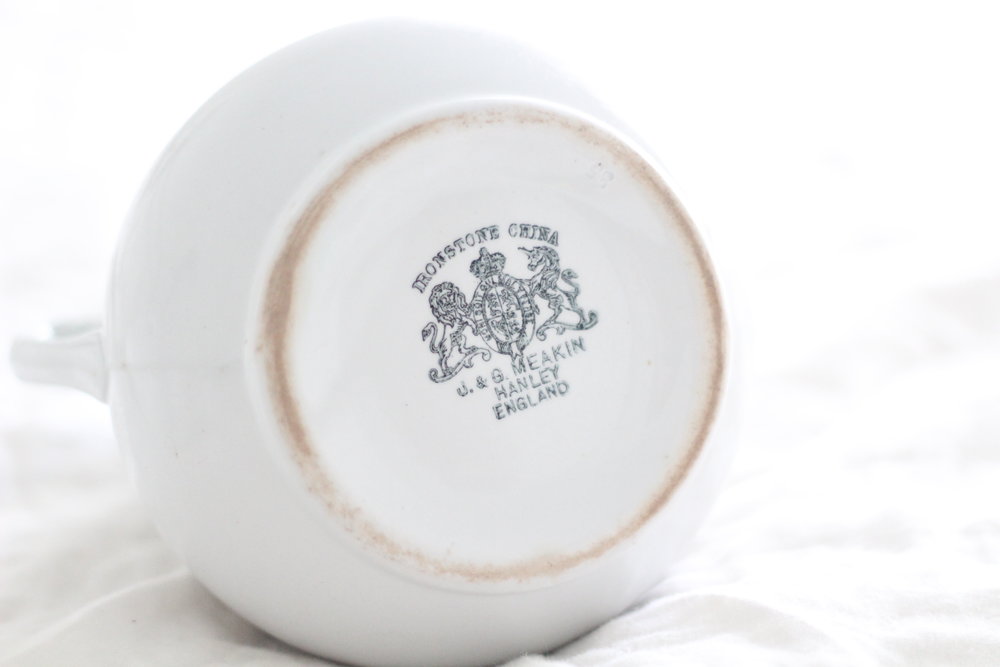 Be careful that you are getting the right shape and not just any old white pitcher. I say this because, in the beginning, I bought up every white pitcher I could find. Irealized later that I preferred the shape of actual English ironstone. After that I got a lot more picky. You can find really pretty white pitchers at Target and World Market if you aren't worried about that antique shape. This is, of course, a preference thing but I can tell you from experience I want the real deal antique ironstone with its simple shape and signs of wear. I'll take it with the brownish spots, cracks and all!
Wooden Boxes/Crates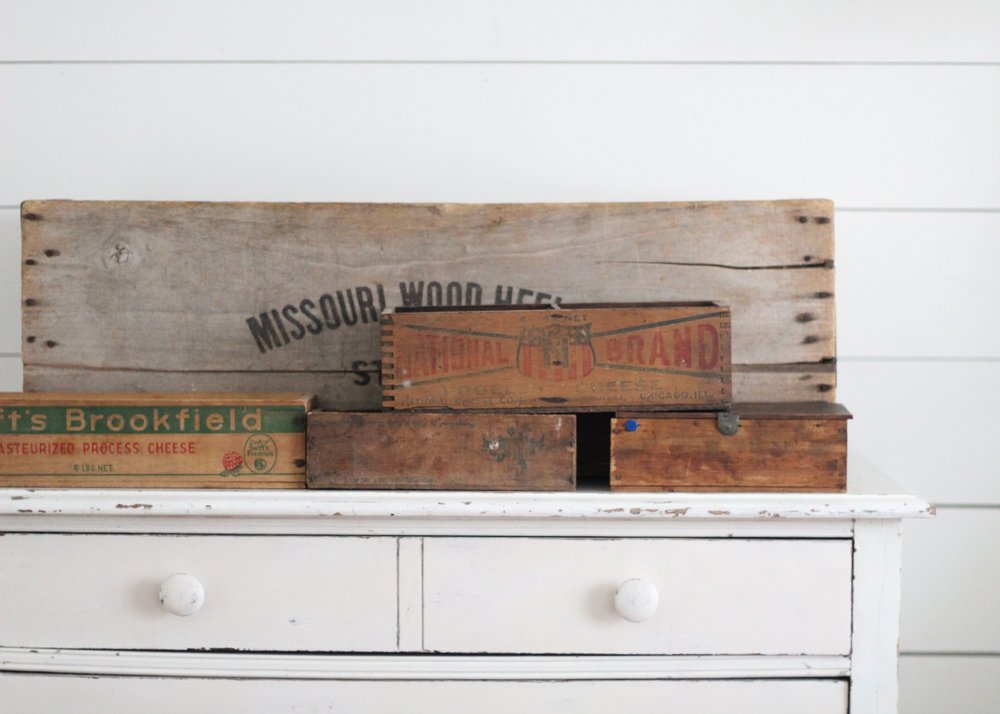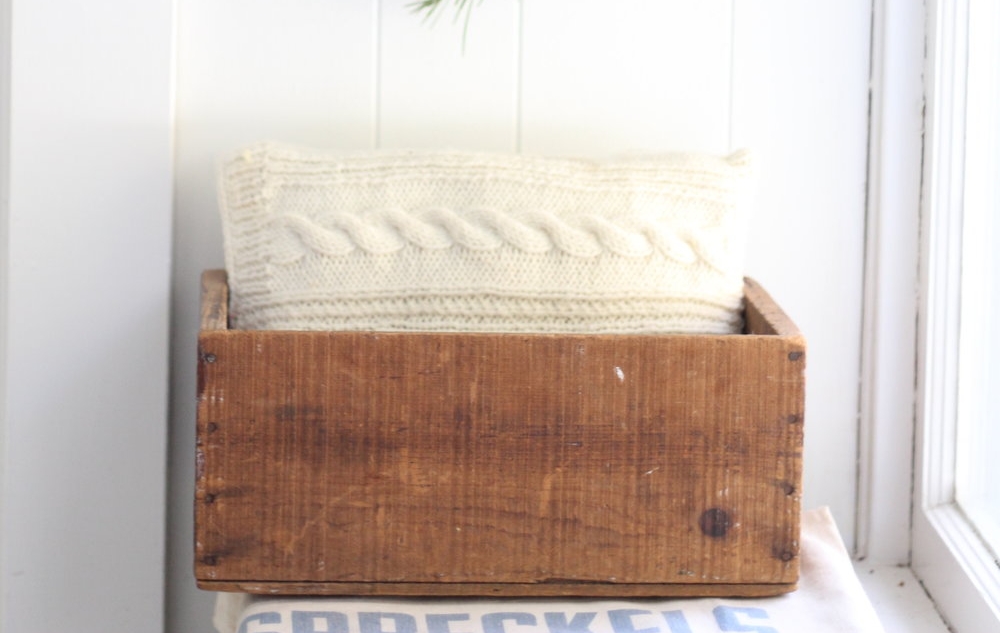 I have wooden boxes all over the house. Just like ironstone, you can pick them up all day long at antiques shops and auctions but it's going to cost you a pretty penny.
Me personally, I wait until I see them at a garage sale. I won't pay more than 5 bucks for a small box. The larger box was a dumpster score, but if I had to say how much we would have given for it probably no more than $30. I really love it, but I just don't like to pay too much because I know I will eventually be able to find it cheaper at a garage sale or thrift shop.
Furniture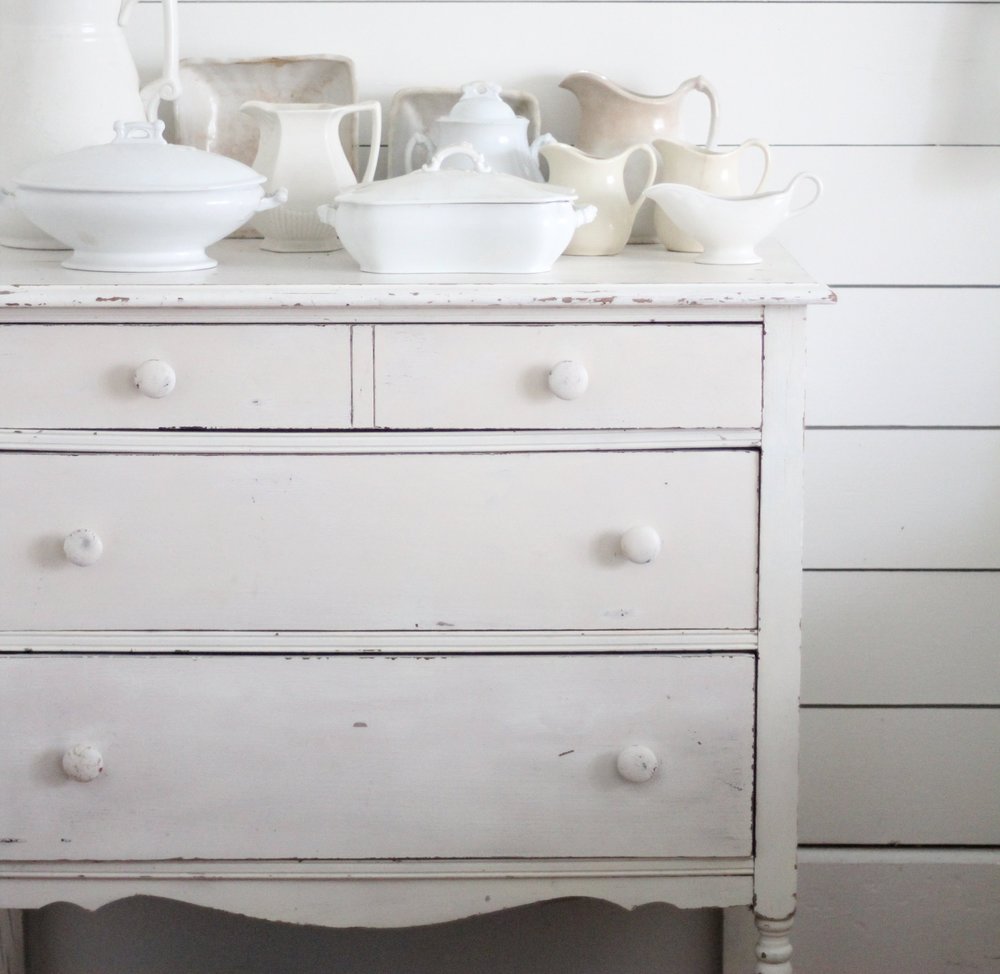 I like to look for old furniture that can be redone in some way. I painted a $50 pair of nightstands for our bedroom. We also turned an ugly $20 kitchen island into something that fits in with my farmhouse style. My favorite furniture makeover is the milk painted dresser in our bedroom.
Furniture makeovers can be some of the most profitable thrifting you can do. Hello amazing dresser for 50 bucks! BUT, this is also the area where you have to be the most careful. Some pieces of furniture aren't worth redoing. If they are wobbly and/or smelly or not really the style you want, no amount of redoing will make them worth keeping in your home.
In the beginning, I bought every inexpensive piece of furniture I could get my hands on. Before I knew it my garage was a storage until for all of my someday projects. We ended up getting rid of most of them, but I am still holding onto hope that we will get to the antique wardrobe that's been sitting in there for almost a year.
This is an area where paying more money for a nice piece makes sense. I like to keep furniture purchases under $100 but I will make exceptions for pieces I really love. The white dresser in the photo was a bit of splurge for me at $100.
Pay attention to the shape and style. Early on I didn't really know what kind of furniture style I liked, so I bought a couple of curvy French Provincial dressers and console tables. I now know that I do not like that style. I am more of a simple girl. I like straight lines. If a piece is sitting on casters I am almost sure to love it.
Chippy Wood
There are so many tutorials out there for how to create the most perfect chippy finish. I love that look and all those methods, BUT if I can find something that is already chippy from age, I'm going to snag it up.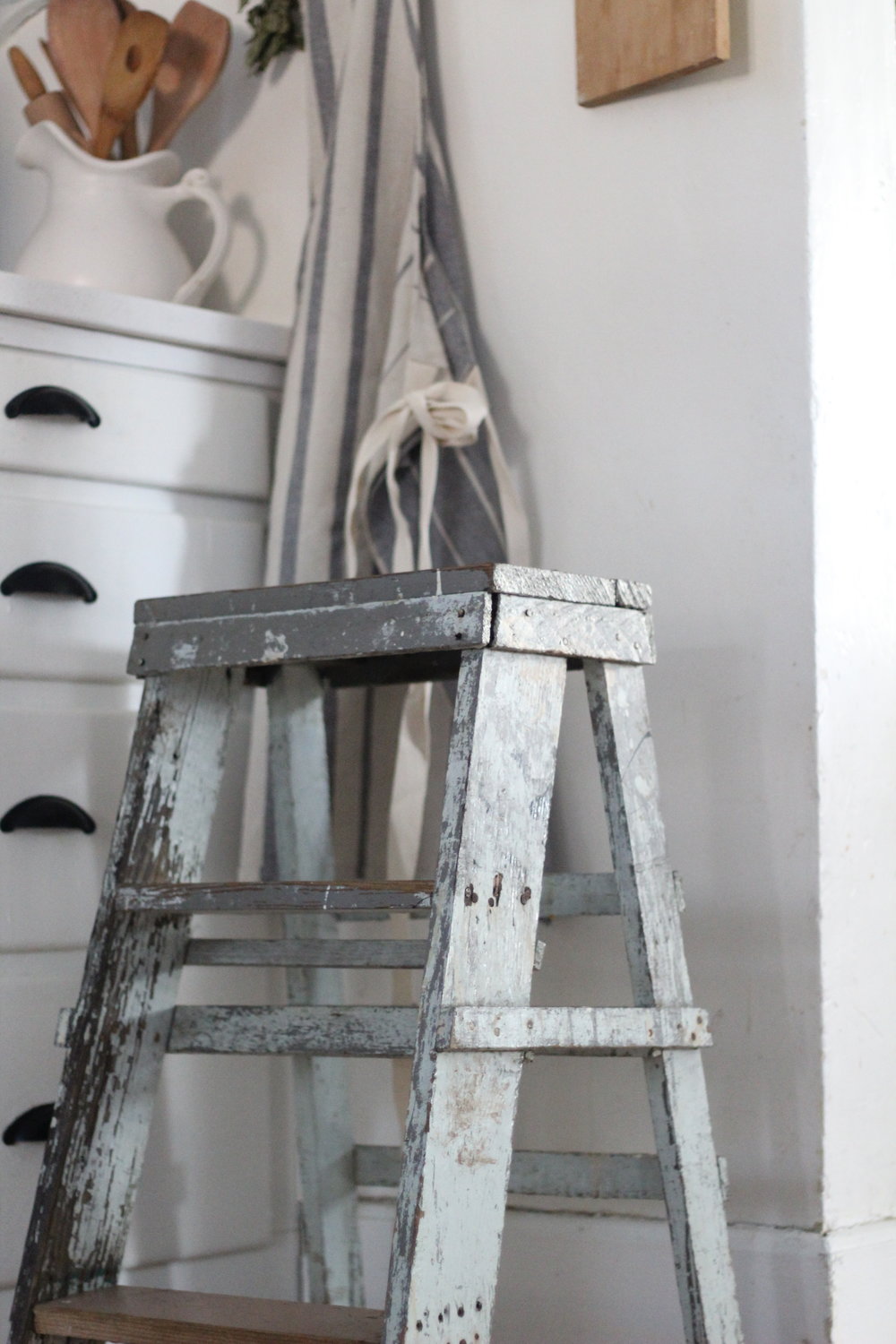 I have found chippy dressers that were painted many years ago, chippy shutters and windows and this chippy ladder.
What to pay of course depends on the item. I paid $8 for this ladder and I consider that a score. I have paid $75 and up for chippy dressers.
We also have an old chippy door that my husband saw in a dumpster. We cut it into sections and use it as a backdrop for vignettes.
Old Books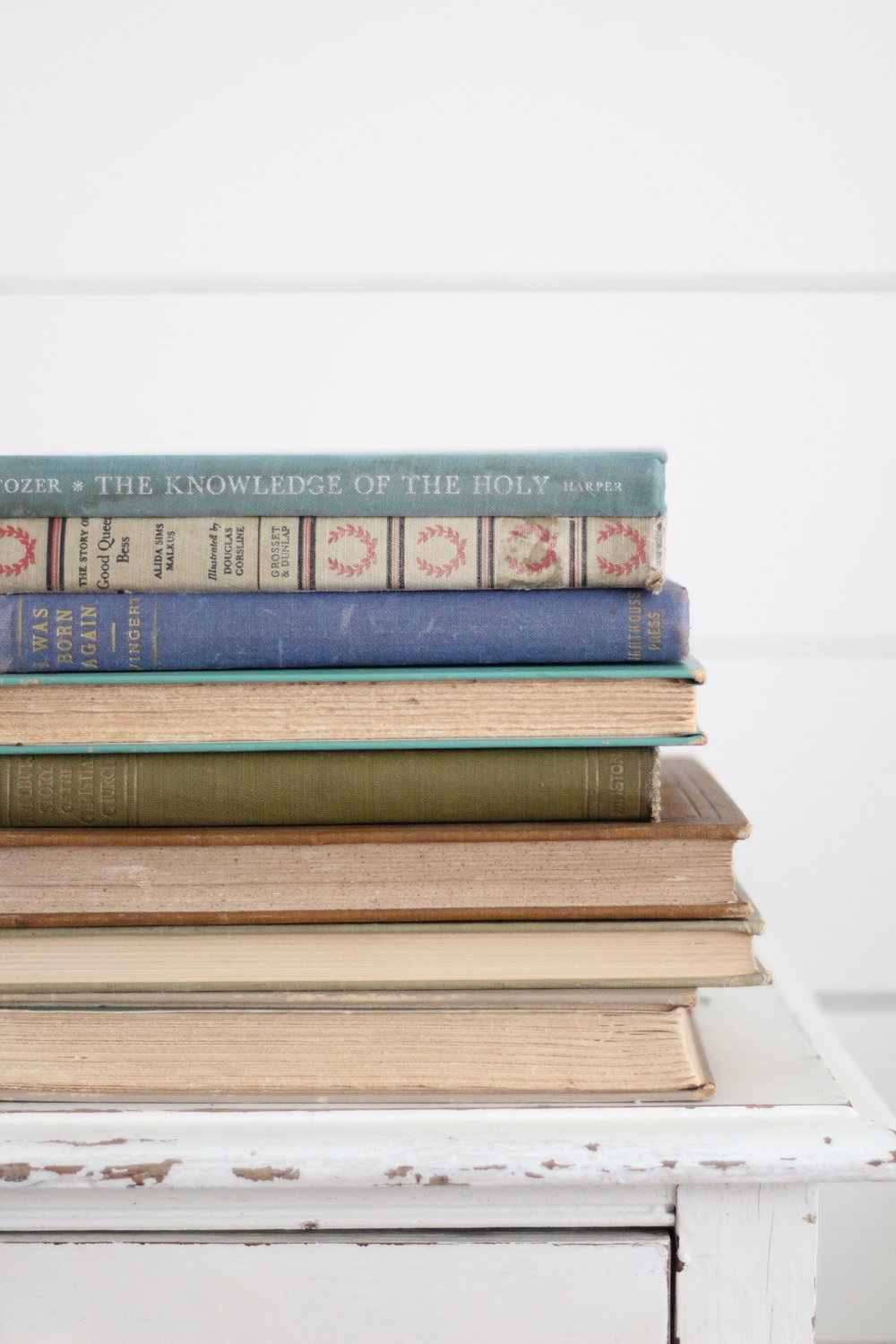 Vintage books look great on bookshelves, side tables and dressers. I like to look for ones that have faded hardcovers and brownish tattered pages. I see them at antique stores for $10 and more but I won't pay that. I wait until I find them for $1 or less at thrift stores.
Enamelware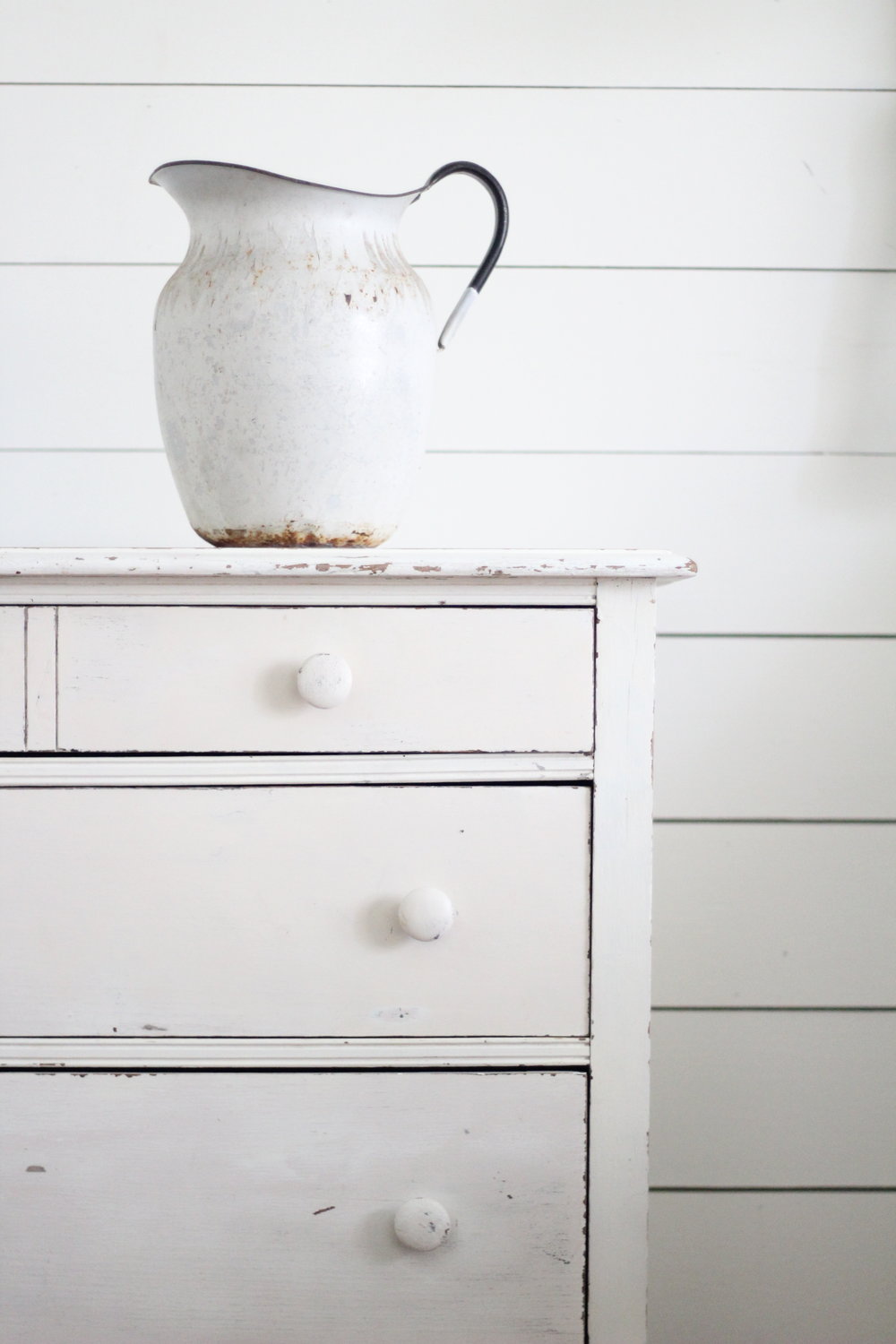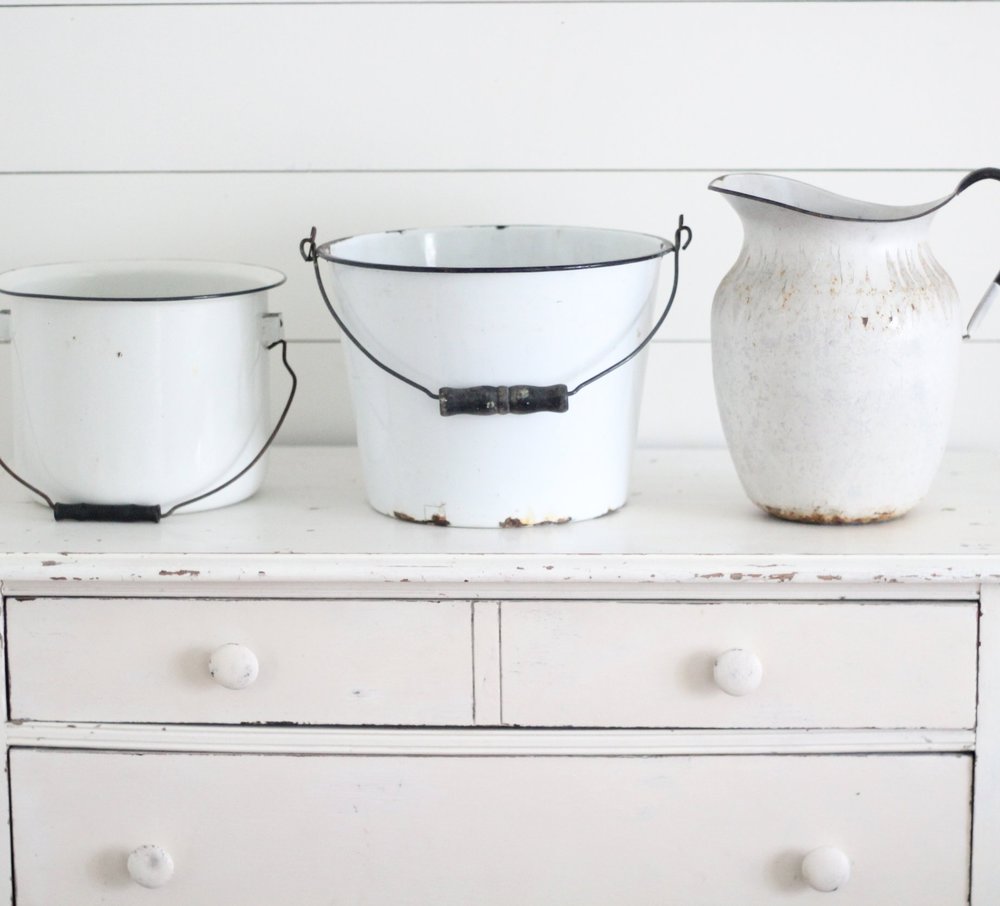 I love the simple colors and shapes of enamelware pieces. The pitcher on the right was a total splurge for me at $25. I found it an antique store, which is why it was more expensive, but I couldn't pass it up. I love that it is rusty and the paint is chipping off. I think it is going to look so pretty filled with flowers in the spring.
I paid less than $10 for each of the buckets. I use them to store old rolling pins and potted plants.
Crocks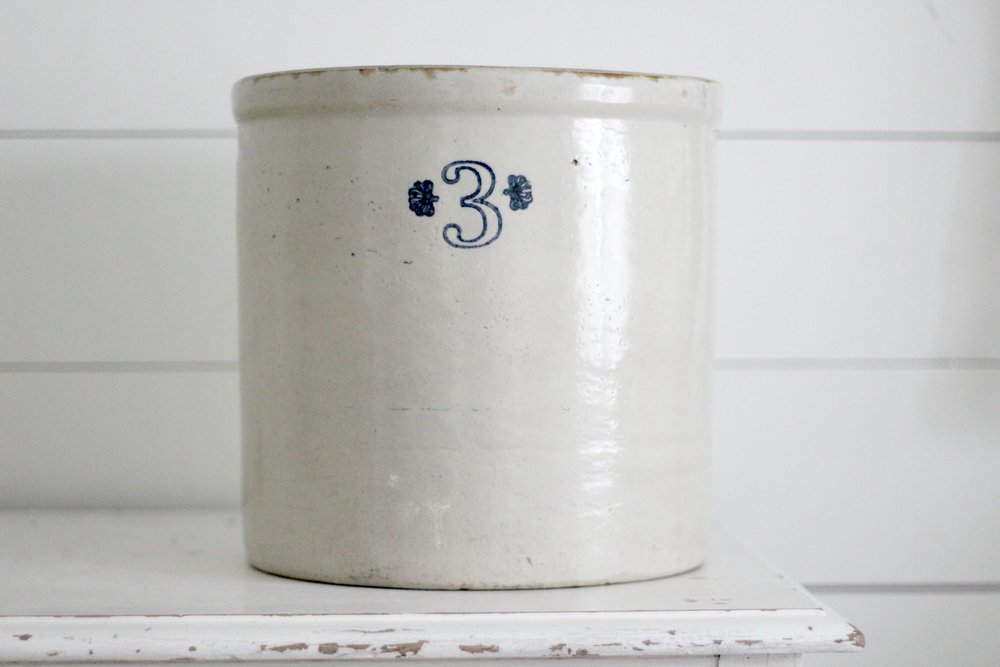 I have to be honest. I only have this one antique crock, and it isn't because of lack of availability. You can walk into an antique shop and find them all day long. It is because of my unwillingness to pay what they're worth. If you want a 3 gallon crock like this, and you want it today, you're going have to pay around $50. I just can't bring myself to do something like that.
I found this one at a flea market. The guy was asking $15, which was already plenty fair, but I offered $10. He took it and I took home my first crock. If I see another at that price I will definitely snag it up. If not, I will do just fine with one.
A few more tips from my years of antiquing experience:
1. Goodwill is a no-go. At least in my area. Please correct me if this isn't true in your area, but you want to find hole in the wall church thrift stores. The people at goodwill seem to know what things are worth and will charge accordingly. I have never had any luck shopping for antiques at goodwill.
2. Antique stores are expensive. Like almost always. You will find what you want. That is for sure. But, if you're looking for a bargain you might as well not even waste your time. I still like going to antique stores, but I almost never come home with anything.
3. Garage sales can produce in a big way but you have to be patient. Some of my best bargains came from garage sales, like the high back apron front farmhouse sink I found for $35. I also snagged up the pair of lamps by our bed for $5. I've picked up two rocking chairs for the porch, vintage boxes and ironstone all for total steals at garage sales. But, I have also been to many garage sales where I walked away empty handed.
4. Don't be afraid to bargain, especially at garage sales and flea markets. People actually set prices with the expectation that people will try to get the items for less. Don't be rude about it and throw out an insane low ball, but it isn't unreasonable to request at least 25% off.
5. Take a picture and walk away. If something is questionable and not super cheap, take a picture of it and sit on it for a minute. Go on pinterest and search the piece you are looking at. See if you can find something similar redone in the way you are envisioning. Or just consult one of your favorite bloggers and see if you spot something with similar lines and shapes in their home. If you spot the piece you are looking at all done up in milk paint and you love it, head back in there and buy it.
I have definitely had experiences where I have waited too long and missed out on pieces I was thinking about, but I have also had times when I've made purchases I regretted because I jumped in too soon. I would honestly rather miss out. There will always be more opportunities and you will get a better feel for what works for you in your home the more you do it!
This is all just my experience as a thrift shopper in the Midwest. I know the situation could look different in other areas.
Thanks for reading along!
Pin it for later