Learn how to update a kitchen island with a fresh coat of paint, new hardware, and a custom DIY island top.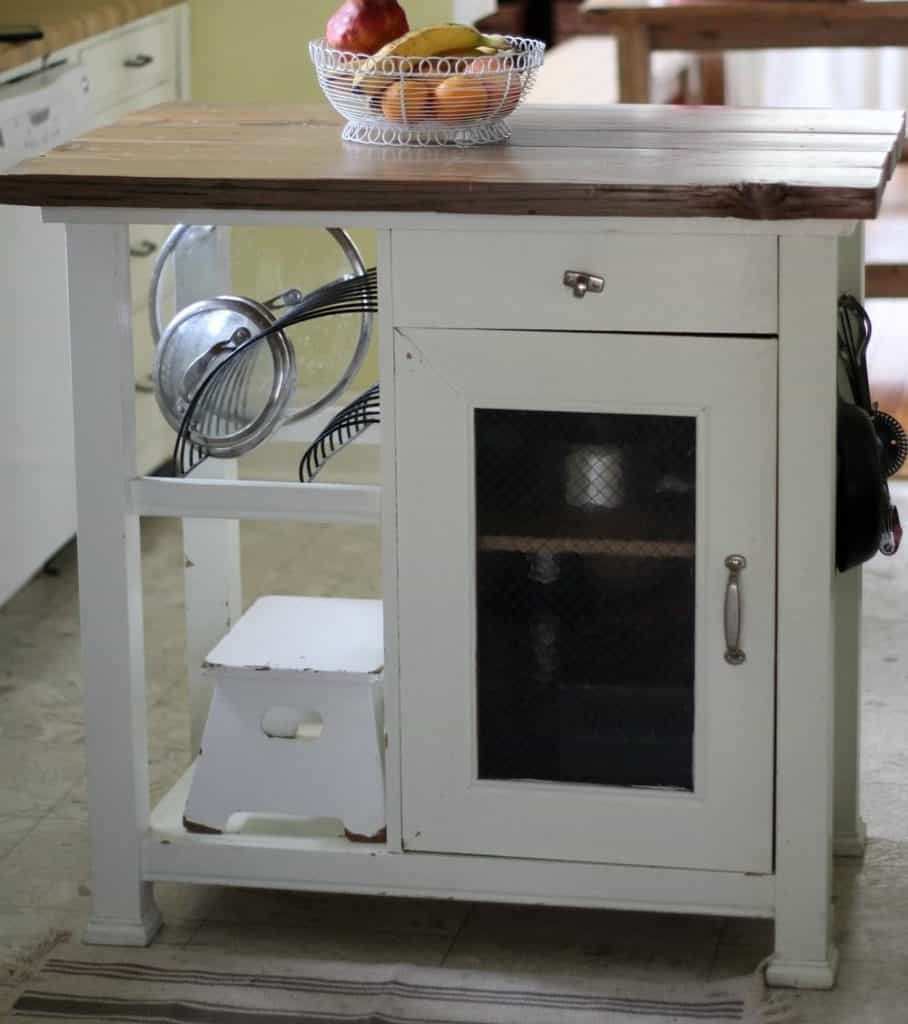 Where we found and bought our kitchen island
A few years ago, my husband and I were at a thrift shop when we found this ugly and outdated kitchen island for 20 bucks.Not at all looking like what I had in mind for my farmhouse style kitchen.
My husband had just finished building our gigantic farmhouse table that had no hope of fitting in our kitchen, so all our meals were officially moved to the nearby dining room. We were in the market for a kitchen island that would fill the space where our old kitchen table once resided.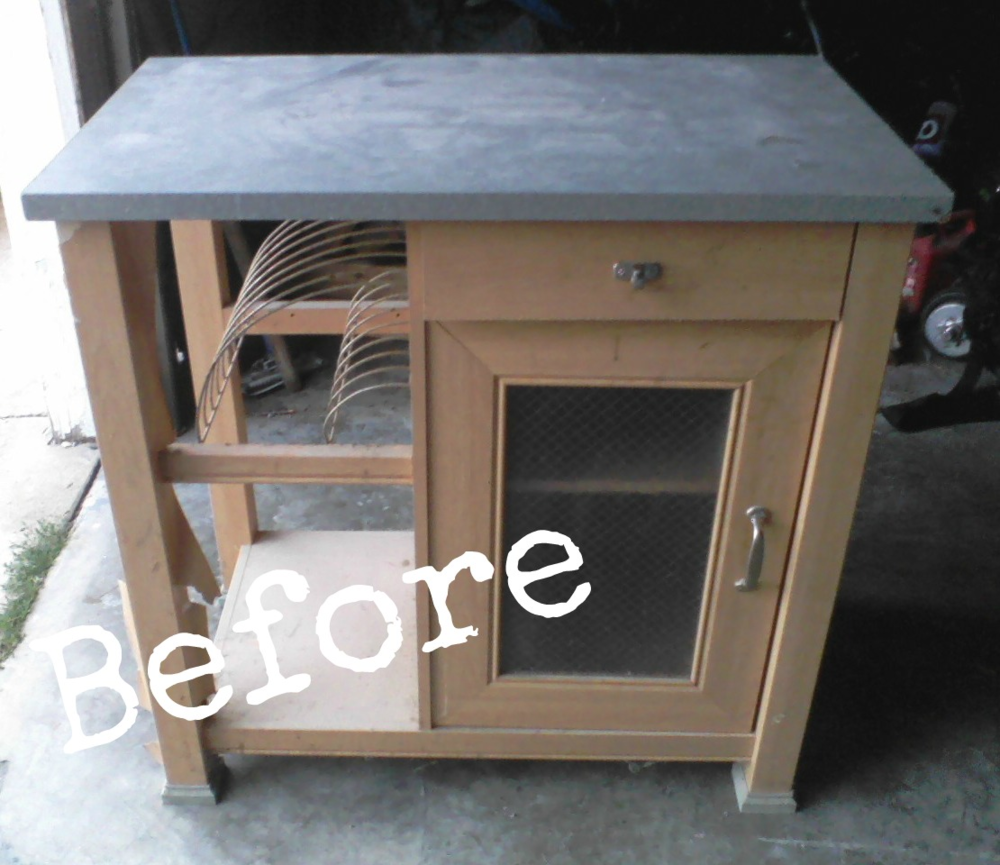 An idea
As we were deliberating whether we should buy the island or not, my husband and I inspected it to try to figure out how we were going to remove the dingy blue top without damaging its structural integrity. Then a light bulb went on in our heads and we had the obvious idea to just secure a new island top right on the old one.
Updating the top of the island with restored wood
My husband started the project by cutting the island top from weathered boards he had been storing in the garage for a rainy day. I loved the boards for their color and their knots and imperfections.
He cut five 1.5″ by 5.5″ boards so that they were 37″ in length. This made them extend over the side edges 1″ and 3″ over the front and back.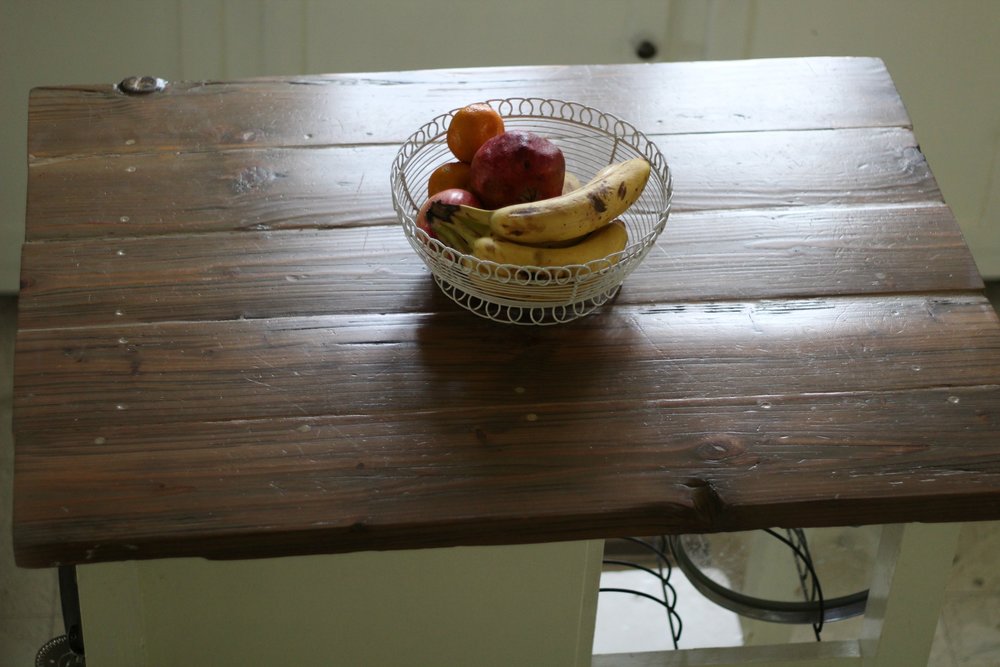 He meticulously sanded the top, so it would be smooth enough to clean easily.
He stained it with a Minwax stain and finished it off with Minwax Polycrylic. We wanted to be certain it would be properly sealed against the spills and messes that come along with hanging out in a heavily trafficked kitchen.
He use a counter sink drill bit to get the screws buried deep, so they wouldn't be visible, and filled in the holes with wood filler.
Painting the kitchen island
I painted all the wood white, the same color as my kitchen cabinets, and the edges of the old blue top the white, so it would blend right in with the wood.
I spray painted the plate rack black.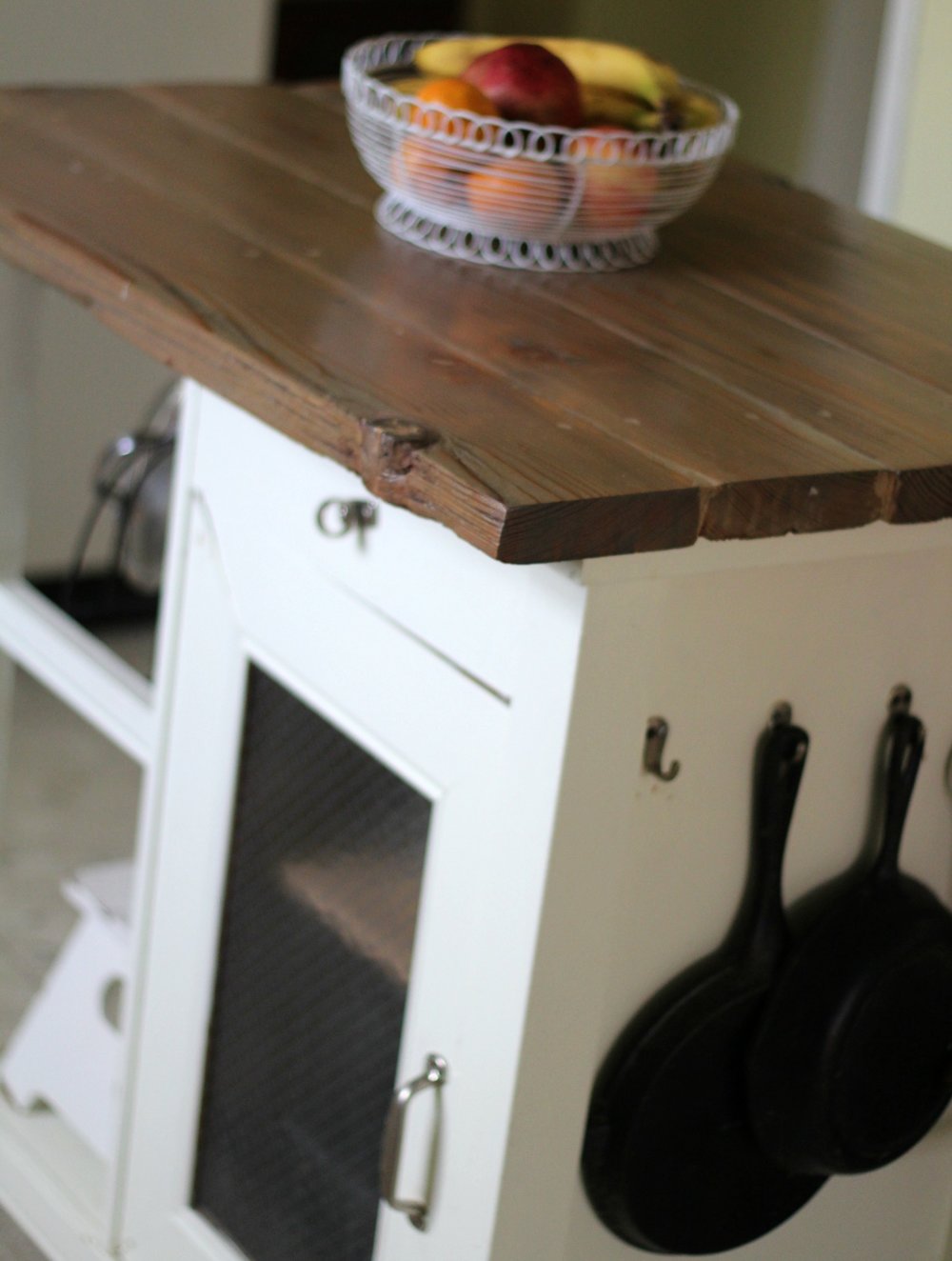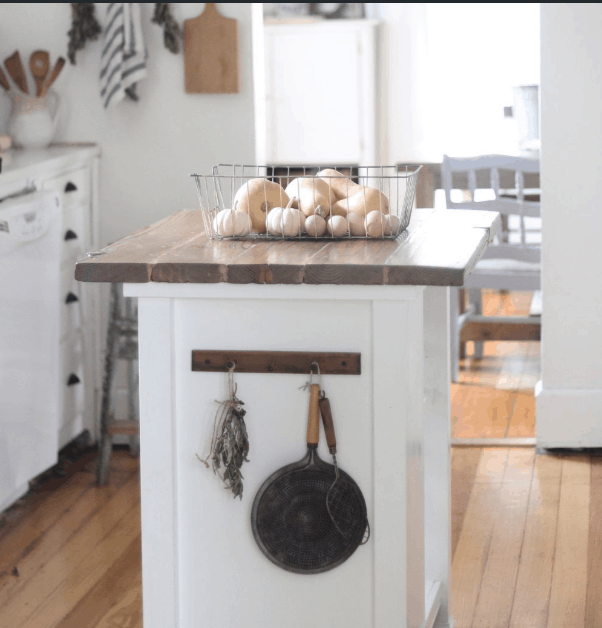 And I also hung a rack on the side of the island to hold a few pans and dried herbs.
I think it is amazing how just a few simple projects can make an old, ugly island look almost brand new! I guess you could say I am super happy with the way this project turned out.
UPDATE: We have had this kitchen island for several years now and I still think it functions perfectly in our little kitchen.
What I store in my kitchen island
I store the toaster oven and all of our water bottles in the cabinet and some kitchen utensils in the drawer.
The plate rack makes a great place for my pots and pans lids, for easy accessibility and to keep them from cluttering up my cabinets.
The kids' wooden stool fits in nicely underneath and a few of my cast iron pans have found a home on the hooks on the sides.
I will continue to use it as it is for a little extra counter space, storage and a pretty way to fill up space in our happy little kitchen.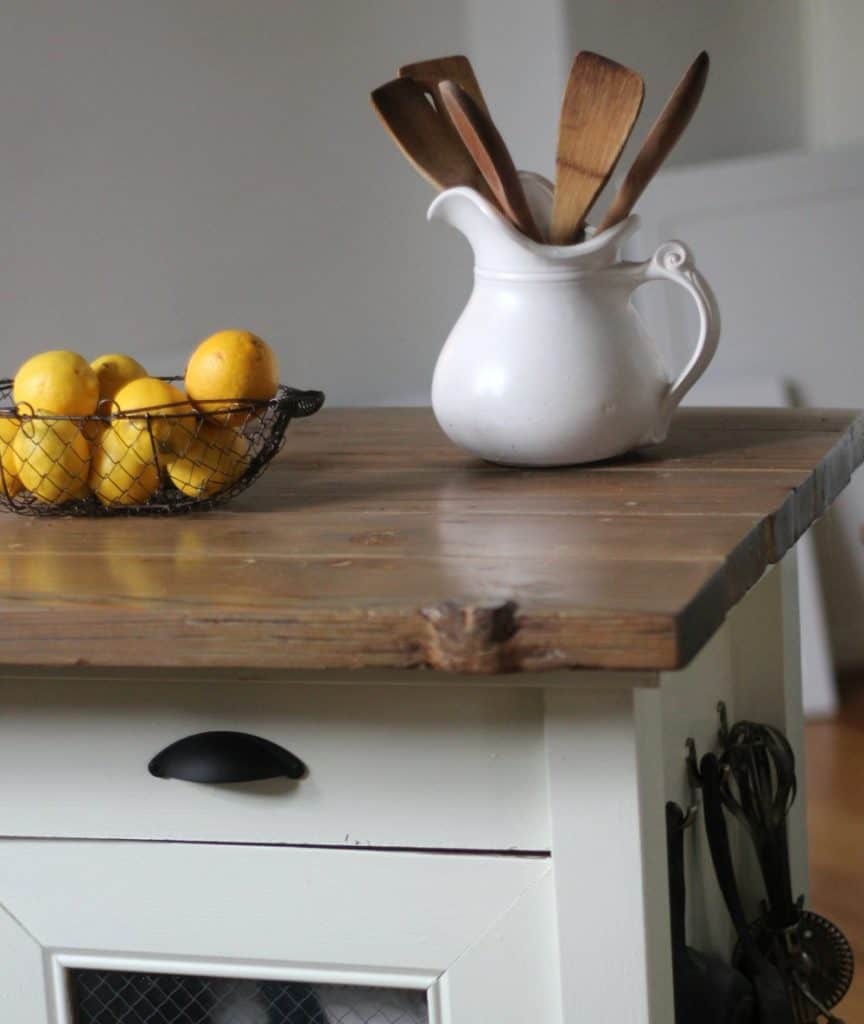 Other DIY posts
How to Strip Paint Off an Antique Wood Farmhouse Front Door
Linen White Chalk Paint Dresser Makeover
Refinishing a Clawfoot Tub Before and After
Pin for later