This delicious pumpkin frittata recipe is a healthy breakfast perfect for pumpkin season. Light, fluffy, creamy, and packed with so many delicious flavors. The saltiness from the feta and bacon paired with the sweetness from the pumpkin and caramelized onions is an amazing combination of flavors.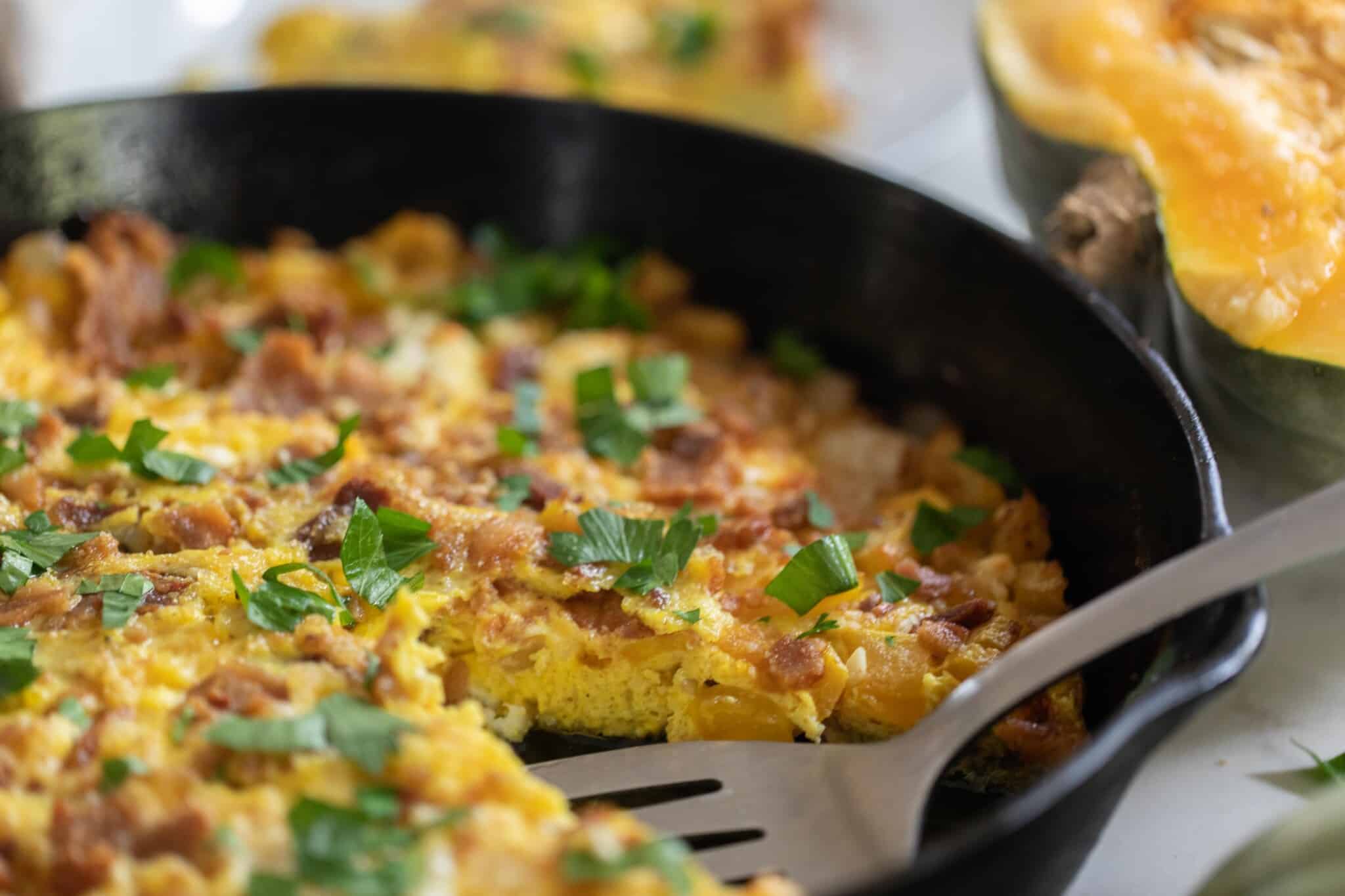 Pumpkin is such an underutilized and under appreciated ingredient. It is something I love to sneak into recipes to give it a boost of nutrition.
From bread, to nachos, to soup, dessert and even drinks… It is a delicious ingredient.
Plus, it adds such a nice flavor, and, if you like to garden, it is one of the easiest things to grow. Bonus points for it to last on your shelf for months without going bad. It's a food that basically preserves itself.
The pumpkin feta frittata is the perfect healthy lunch or weekend brunch. A fluffy and creamy fall frittata made with salty bacon and feta, slightly sweet pumpkin, flavorful garlic and onions, and all topped with sharp cheddar and fresh herbs. Yum. It is such a tasty fall frittata.
Why you will love this recipe:
Great way to use up lots of eggs: If you have too many chickens to count at this point, you are also probably still getting a lot of eggs before the winter slow down and this egg-based dish is the perfect way to use them up.
Healthy: Full of protein, healthy fat, and pumpkin (which is a very healthy starchy vegetable full of antioxidants, vitamins, minerals, and fiber).
Great for any meal of the day or easy meal prep. Make this on the weekend and then have it for a quick lunch, dinner, or breakfast during the week.
Easy: A frittata is essentially a crustless quiche making it easier and less time consuming. Use leftover roasted pumpkin to make it even easier.
This post contains affiliate links, which means I make a small commission at no extra cost to you. See my full disclosure here.
Tips:
Don't overbeat the eggs. This will cause the frittata to fall and be dense after baking.
The size of the pan matters. If you change the size of your pan then the cooking time and bake time will also change.
Customize this recipe based on ingredients on hand or your preferences. Don't like feta? Add a different cheese you like or skip all together. Choose different meats or veggies.
Pumpkin Frittata Ingredients
Eggs: Fresh, freeze dried, or water glassed will work.
Milk: I prefer whole milk. The fat in the milk lends itself to a creamy frittata.
Salt
Black pepper
Feta cheese
Sharp cheddar cheese
Bacon
Onion
Garlic
Pumpkin: Peeled and cubed pumpkin. Jarrahdale and pie pumpkins are my favorite variety to use. You could also substitute with butternut squash.
Fresh parsley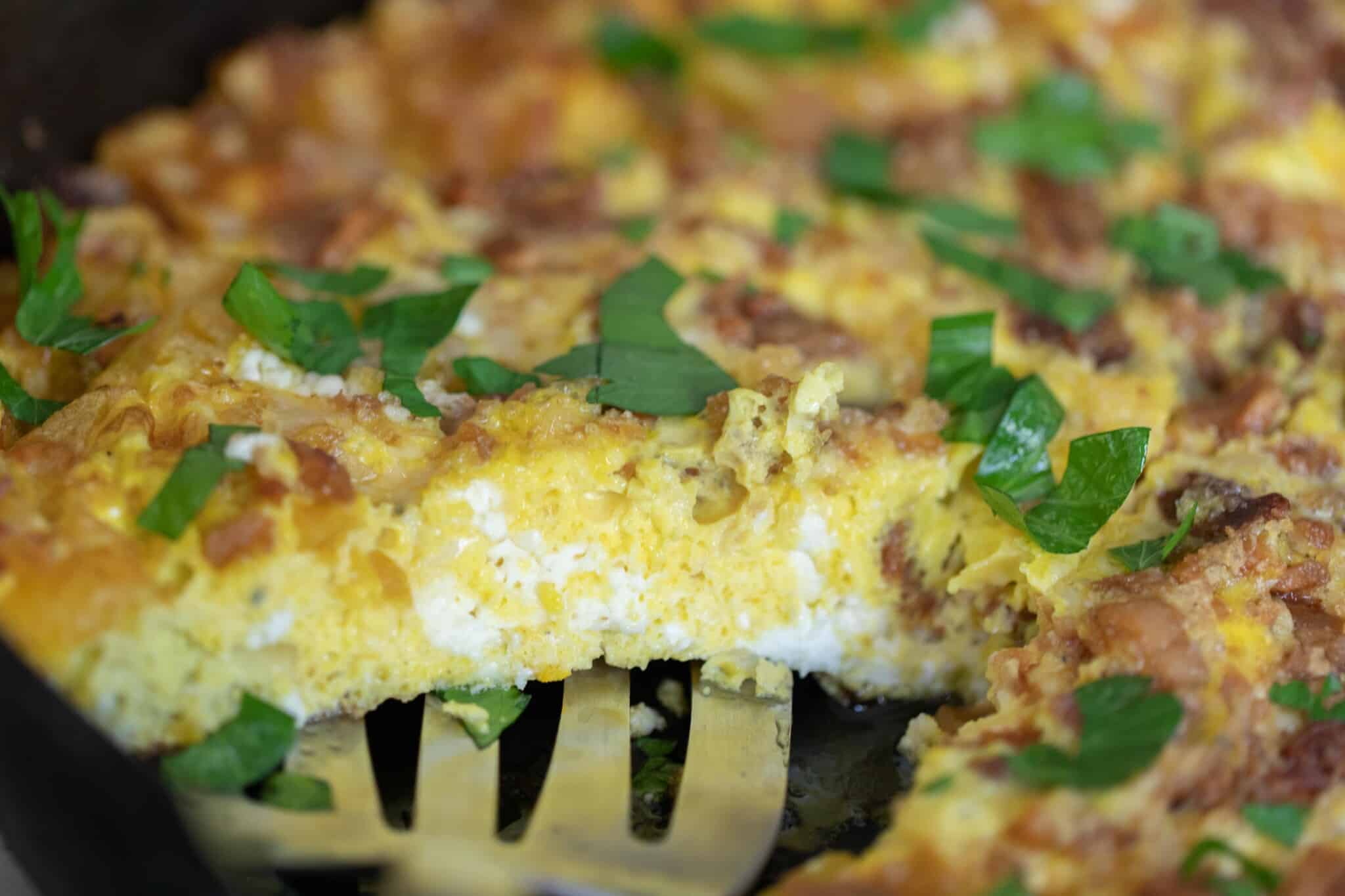 Recipe Variations and Substitution Ideas:
Use sausage or ham rather than bacon
Swap out the sharp cheddar for mozzarella, goat cheese, or you favorite type of cheese. Topping with a little parmesan cheese is also delicious.
Add spinach or other greens. For more of a nutritional boost and lovely color add some fresh baby spinach leaves or Swiss chard.
Instead of pumpkin substitute for butternut squash or sweet potatoes.
Try other fresh herbs like sage leaves, basil, oregano etc.
Tools you may need:
Cast-iron skillet
Large bowl
Whisk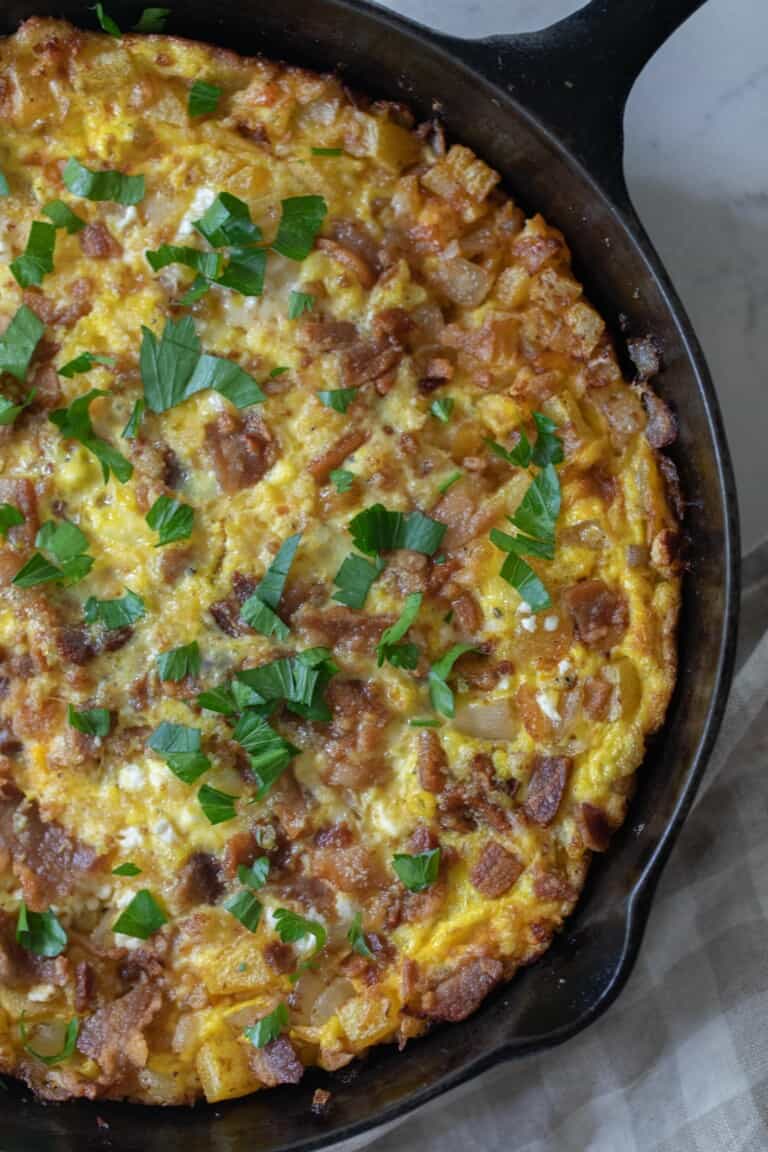 How To Make A Pumpkin Frittata
Preheat the oven to 350° F.
Cook bacon in a 12" cast iron skillet, or other oven safe skillet, until crispy.
Remove the bacon and dice into small bits. Set aside.
Drain about half the bacon grease.
To the skillet, add diced onion, garlic and pumpkin.
Sauté the vegetables in the bacon fat on medium until the vegetables begin to soften, about 5 minutes.
Meanwhile, whisk eggs, milk, salt and pepper in a large bowl until it just comes together.
Pour the egg mixture over the vegetables, while the skillet is still on medium heat.
Sprinkle the feta and cheddar cheese on top.
Cook for another 5 minutes over medium heat. The edges will begin to cook and pull away from the side of the pan.
Transfer the skillet to the oven and cook for an additional 18-20 minutes, or until the eggs are set.
Top with diced parsley. (Optional)
Storage:
Let the frittata cool completely and then store in an airtight container in the fridge for up to 4 days or in the freezer for up to two months. You can freeze whole or cut into slices and individually wrap in plastic wrap and then place in a freezer bag for easy meal prep.
What to serve with a pumpkin frittata:
Side salad
Biscuits: I love these sourdough biscuits
Rolls: Like classic dinner rolls or these herb and cheese rolls.
Fruit salad
Soup: This recipe would be delicious with some tomato soup.
FAQ:
What's healthier, frittata or omelette?
A frittata and omelette are made with almost the exact same ingredients, except a frittata typically includes dairy like milk or cream. While dairy can add more fat and calories, it also adds vitamins, minerals, and protein. So the debate of which on is healthier may be just that, a debate.
How does the frittata get its fluffy texture?
The dairy included in a frittata is what gives it its delightfully creamy and fluffy texture. Skipping the dairy will give you a more dense egg dish.
My Favorite Pumpkin Recipes:
If you try this recipe and love it, I would love if you gave it 5 stars! Thank you!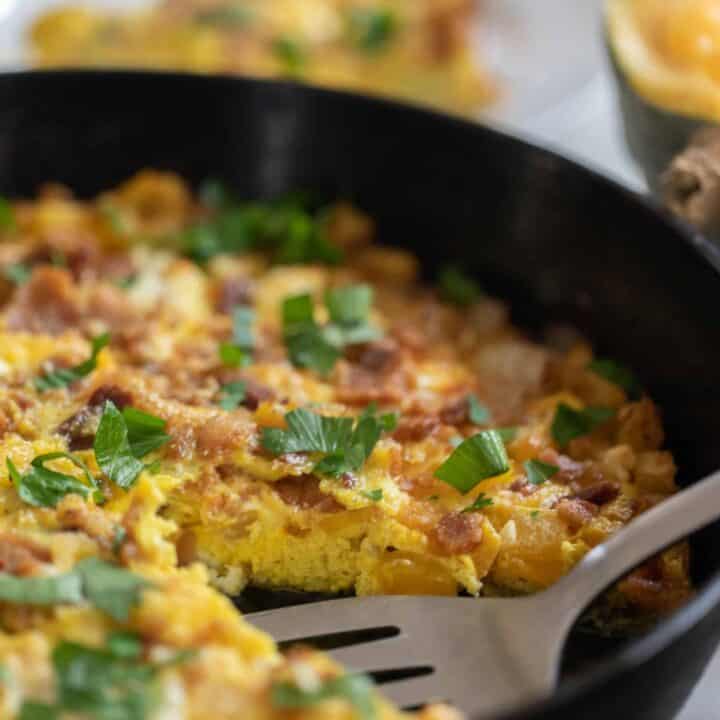 Pumpkin Frittata
Ingredients
12 eggs
1/2 cup milk
1/2 teaspoon salt
1/4 teaspoon pepper
1/2 cup feta cheese
1/2 cup sharp cheddar cheese
6 pieces bacon
1 onion, diced
2 cloves garlic, minced
2 cups pumpkin, peeled and diced
2 tablespoons fresh parsley, chopped
Instructions
Preheat the oven to 350°
Cook bacon in a 12" cast iron skillet, or other oven safe skillet, until crispy.
Remove the bacon and dice into small bits. Set aside.
Drain about half the bacon grease.
To the skillet, add diced onion, garlic and pumpkin.
Sauté the vegetables in the bacon fat on medium until the vegetables begin to soften, about 5 minutes.
Meanwhile, whisk eggs, milk, salt and pepper in a large bowl until it just comes together.
Pour the egg mixture over the vegetables, while the skillet is still on medium heat
Sprinkle the feta and cheddar cheese on top.
Cook for another 5 minutes over medium heat. The edges will begin to cook and pull away from the side of the pan.
Transfer the skillet to the oven and cook for an additional 18-20 minutes, or until the eggs are set.
Top with diced parsley. (Optional)
Nutrition Information:
Yield:

8
Serving Size:

1
Amount Per Serving:
Calories:

257
Total Fat:

17g
Saturated Fat:

8g
Trans Fat:

0g
Unsaturated Fat:

8g
Cholesterol:

311mg
Sodium:

570mg
Carbohydrates:

7g
Fiber:

1g
Sugar:

3g
Protein:

18g