Farmhouse kitchen organization has never looked so pretty. Come with me as we tour and explore how we organized our new kitchen. Find easy and smart kitchen storage solutions with everyday items.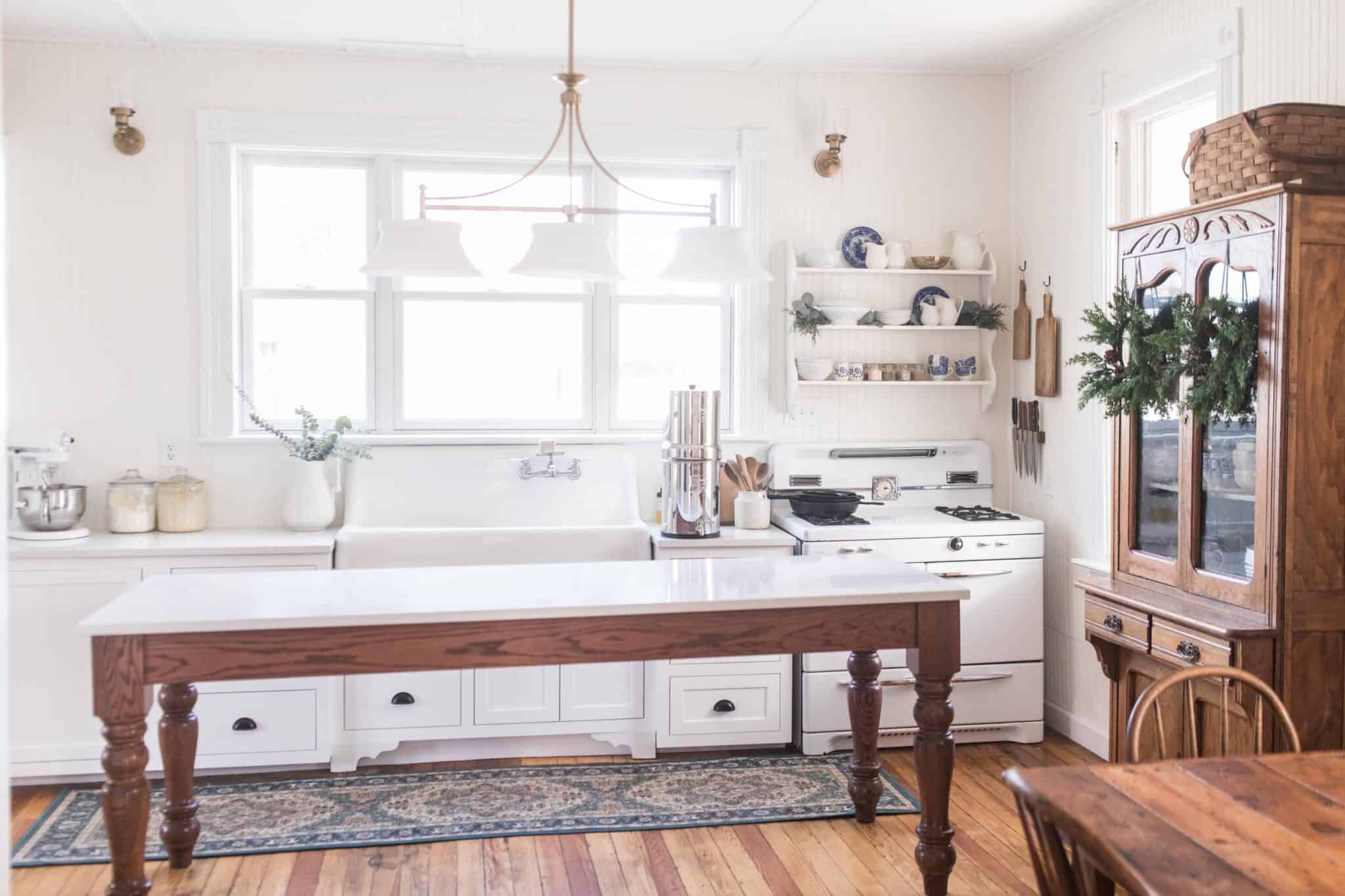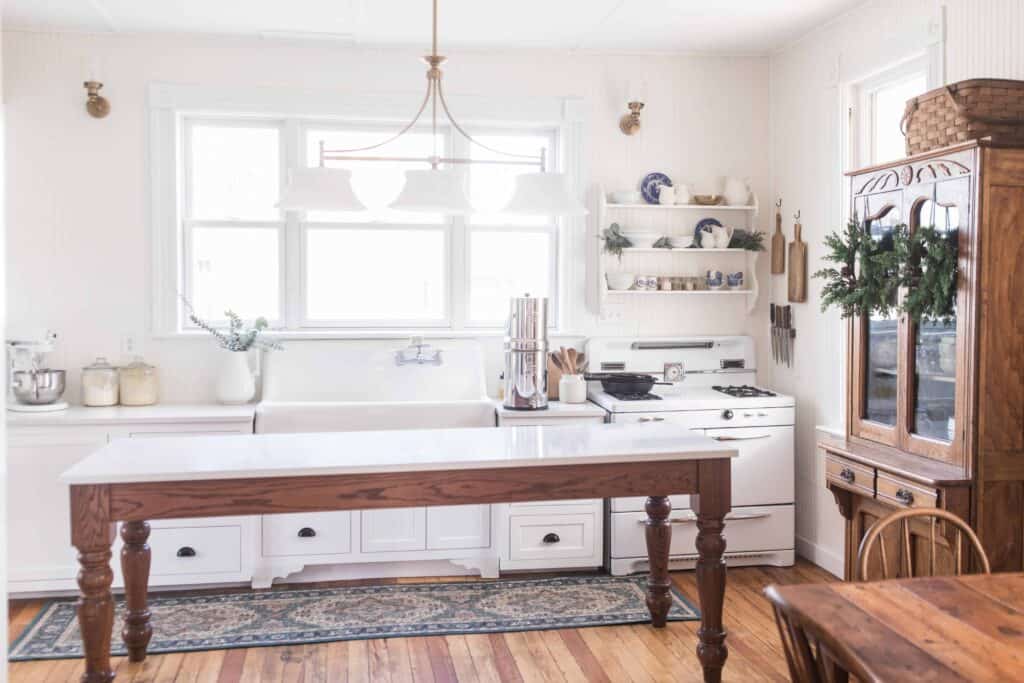 Today I want to show you how I organized my newly-renovated Victorian farmhouse kitchen. 
Throughout my social media channels, so many people asked, "where do you put everything?" Or, they said they needed more storage in their kitchen.
Would you believe me if I told you I have more kitchen storage than I know what to do with? 
We ripped out all of the upper cabinets and replaced them with some open shelves, but clearly, those shelves are mostly decorative.
When I take you through all of my drawers and into my pantry, you'll see that there is more than enough room, and that there are even empty spaces.
Some people will think that we're stashing away things somewhere else, but I promise you we aren't. There is a large china hutch in the dining room, but it only stores my display dishes.
We've always tried to keep a minimalist approach to life and you will see just that.
As far as the kitchen organization and storage, I'm going to take you through everything today. So let's go.
This post contains affiliate links, which means I make a small commission at no extra cost to you. See my full disclosure here.
Kitchen Organizations Ideas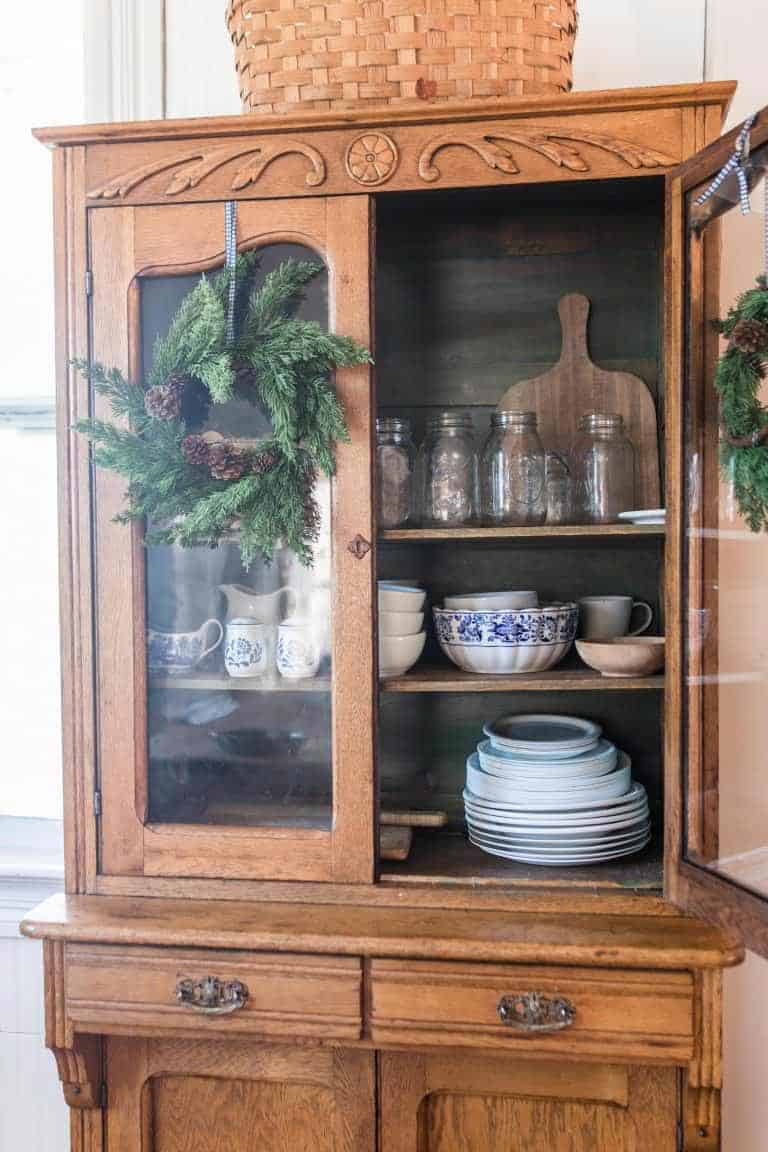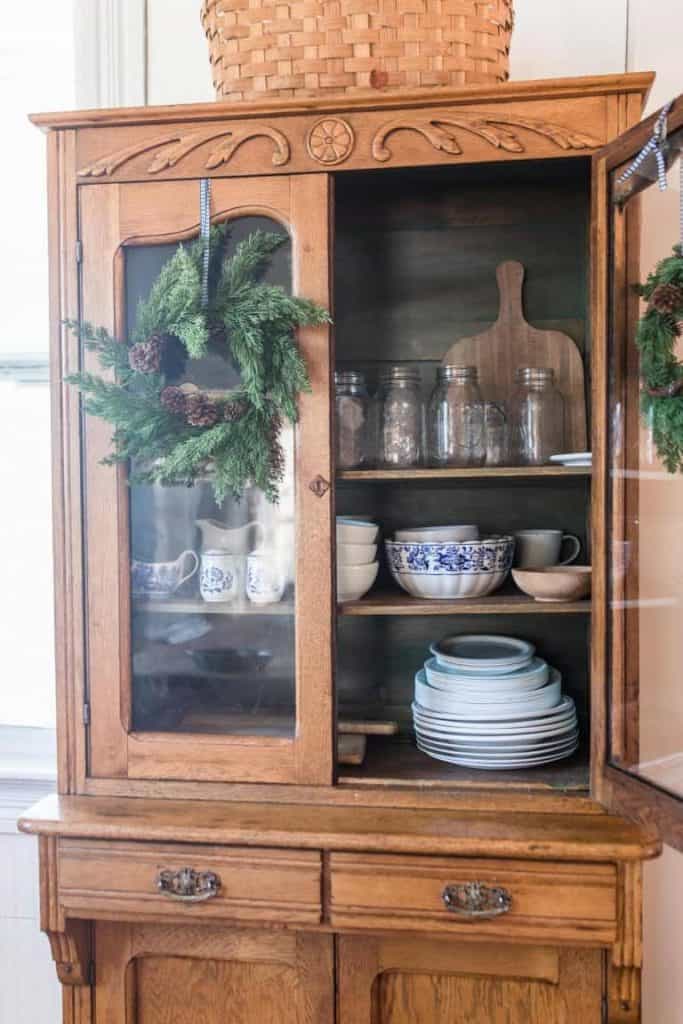 The Hutch
We keep a large antique hutch in our kitchen that stores many of our everyday dishes. On the top shelf is drinking glasses (we just use mason jars) and a basket full of extra spices.
Below that is our bowls. Since it is a glass hutch, I keep the prettier bowls in the front. There is also a sweet little tea set that my girls like to play with.
I also store some pretty bowls that I really just use for chicken scraps when I'm cooking.
On the bottom shelf rests a large stack of white plates. We mostly just use the top and middle Corelle plates. The large plates on the bottom are rarely used, and usually they are just used for blog pictures.
Next to the plates are a few mugs. The white mugs are near the front for aesthetic purposes, with a few mismatched ones towards the back. They are placed on a cutting board so the china hutch doesn't get damaged from putting wet mugs on it.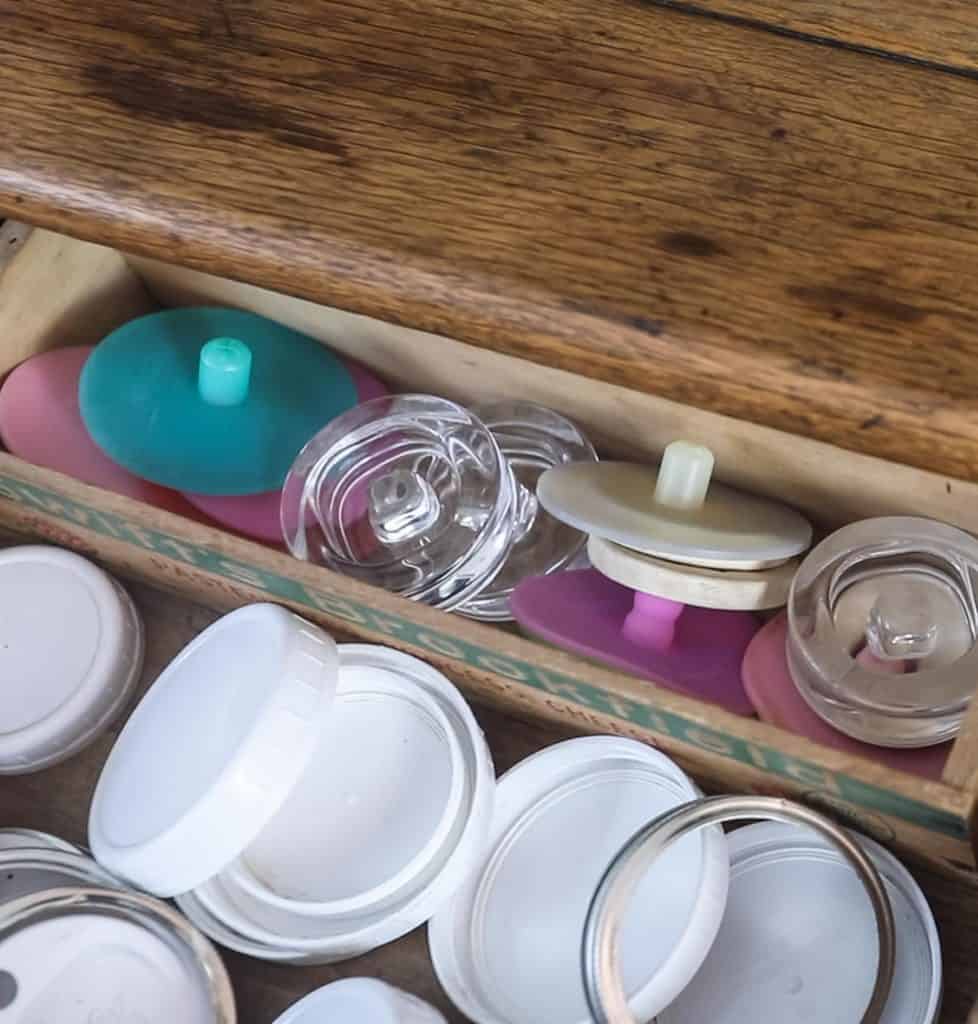 In the drawers below, we keep reusable straws for smoothies, mason jar lids, and smoothie lids for the mason jars. In the back of one of the drawers, I keep a small antique box full of all my fermenting lids and weights.
The cabinet below stores all our pans and lids that we don't use all that often, including some stainless steel pans, a cast iron waffle maker, and a dutch oven.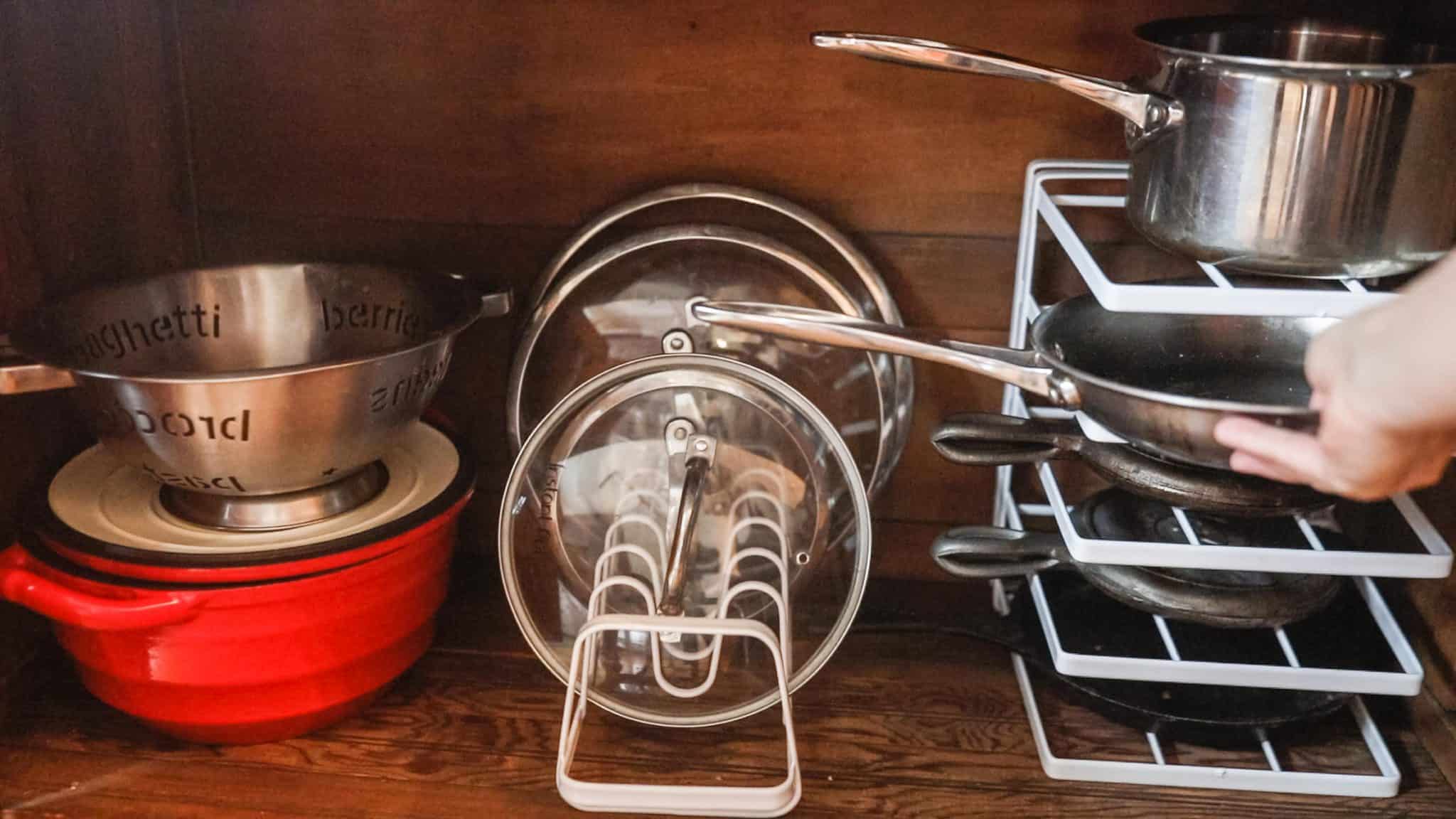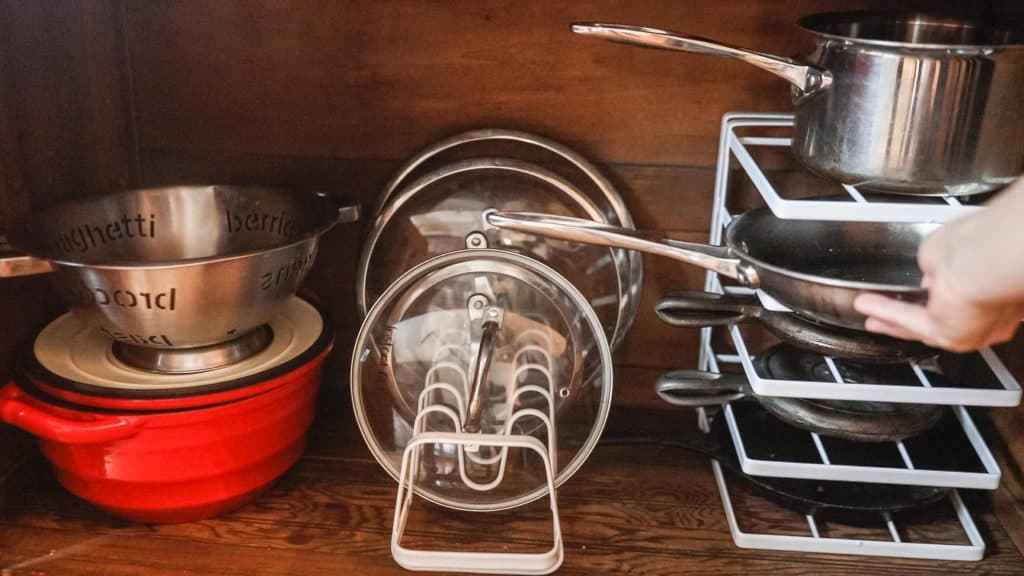 They are organized using a pot holder shelf and a lid organizer, which gives more vertical space. It's also nice because it is right next to the oven, so all the things pertaining to cooking are right there.
Find More Organization Ideas
Open Shelving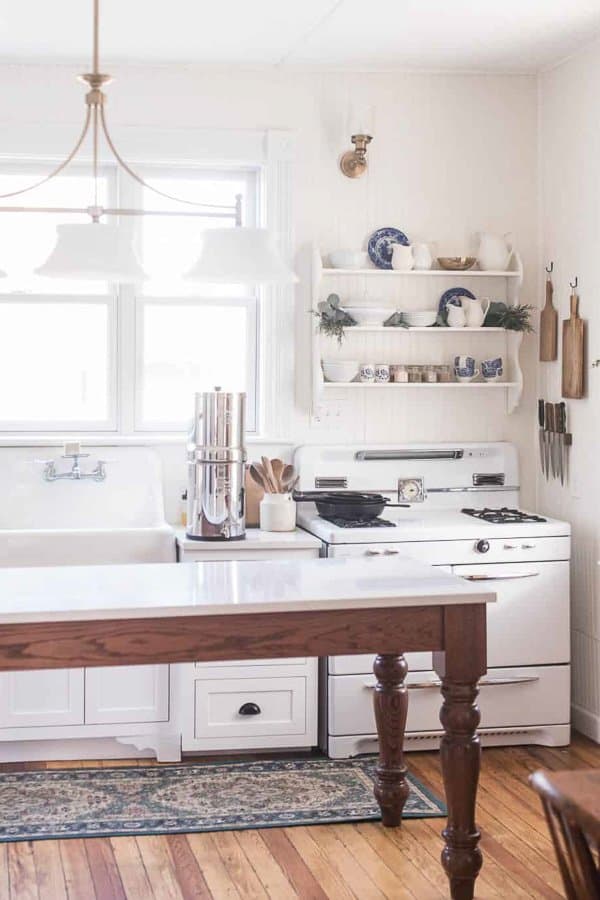 We hung an antique shelf above the stove and placed some decorative items, but it's also great storage for some of the things we use most. 
Little spice jars filled with our most-used herbs and spices sit in the perfect place for cooking. They're so easy to grab and add to dishes.
An antique salt and pepper shaker are placed next to the spices, and then a stack of bowls that are really there for decor, but we could use them if needed.
The top two shelves are for all my pretty dishes and ironstone pitchers that I rarely use. 
Knife Storage
To the right of the stove, I hung a wooden walnut knife magnet that contain my most-used knives, and then above it, I hung my favorite pretty cutting boards. They are really accessible to grab and then chop on my beautiful, large work island.
Baking Dish Storage
One thing I didn't know when buying a vintage stove is that it looks like a double oven, but in fact, one side is just for storage. So only one side is for baking, which isn't a huge deal. I thought it might be, but so far we haven't really run into any problems with it. 
I did try making a big batch of granola, and ended up having to make it in two batches because there wasn't enough room. Honestly though, not a huge deal.
On the storage side of the oven, we keep all of our 9×13 baking pans and then in the drawer below, we keep all the matching lids, plus some lids to my glass bowls that are stored to the left of the oven in a cabinet.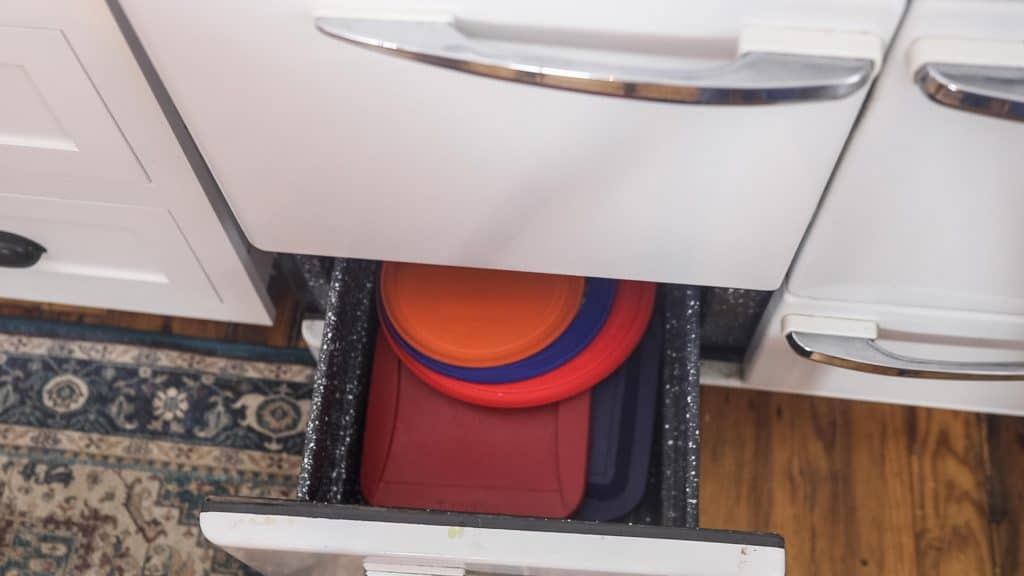 Kitchen Storage Solutions
I love keeping wooden spoons in a vintage crock to the left of the oven for easy reach when cooking.
To the left of the stove is a set of kitchen cabinets full of drawers. The top drawer contains a lot of cooking items I use frequently, like a garlic press, immersion blender, and some not-as-pretty cooking utensils.
The middle drawer contains some odds and ends, like my cheese grater, pot holder, funnels, and my knife sharpener.
In the bottom drawer, I have some stackable bowls that fit perfectly.
Sink Cabinet
Honestly, we keep hardly anything under the sink. Just some castile soap for cleaning dishes, a few essential oils (lemon essential oil for deep cleaning any grime off), a spray bottle, and some Lime Away from when I deep-cleaned the sink when we first purchased it.
A few sponges sit in the suction sink caddy sponge holder in the sink. I like to keep it simple.
Kitchen Drawers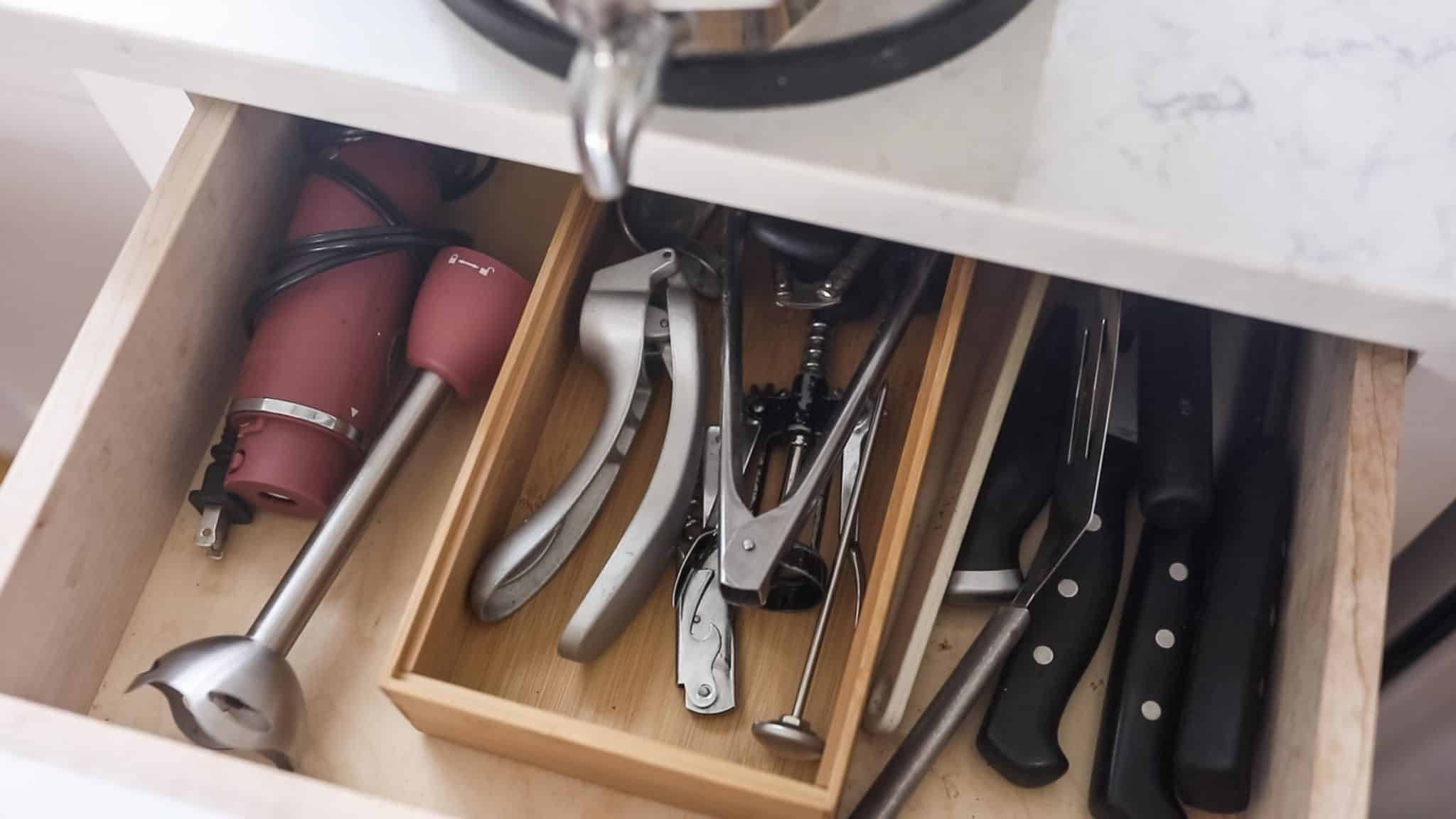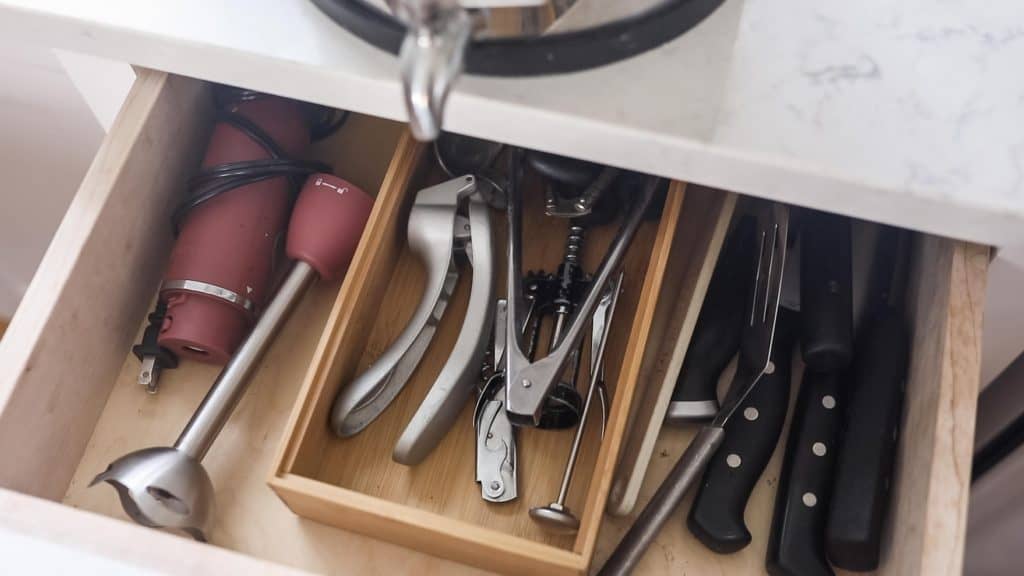 We had quite a few drawers put in rather than cabinets, and I think these store so much more in them. To the left of the sink, the top drawer cabinet contains all our dish rags and towels. P.S. we never fold them; we just wash and throw them right in there.
Below that holds all our water bottles, sippy cup accessories, to-go coffee mugs, etc. Before the renovation, we never really had a place for these items, and it kind of drove me crazy. And now that we have a home for those things, it is so great. 
Baking Organization
This has become kind of my baking station. On the counter sits my sourdough starter and milled einkorn flour, right next to my KitchenAid stand mixer.
The drawer below has all our silverware that is nicely stored in wooden organizational dividers, and all my measuring cups sit to the left.
Underneath in the middle drawer, I have a baking drawer that has all my baking supplies in one convenient spot. I'm so excited about this. Before the renovation, I had a baking basket in the pantry that I would have to grab and pull out every time I wanted to make something, and now it's right in the kitchen in one convenient place.
Everything baking-related like sugars, some flours, cocoa powder, mason jars full of salt and baking soda, egg beater, and liquid measuring cups – they're all right there at my baking station.
The bottom drawer holds all my glass storage containers and their lids, plus some ziplock bags.
My absolute favorite kitchen storage solution is in the last base cabinet. It contains my Nutrimill and storage for my wheat berries for milling. It is amazing because I have an extension cord that can plug in the Nutrimill, so I don't have to lug everything out all the time and can mill grain right there.
Above the Refrigerator 
The cabinet above the refrigerator stores all of our cookie sheets, muffin tins, pie dishes, and cake pans. It's not the best place for them, but since we don't use them very often, it works.
Kitchen Pantry Organization
Moving into the pantry, this is a space we are going to redo and add cabinetry and shelving. I'm really excited about that.
But for now, I will show you what we have going on in there.
Dry Good Storage
The third shelf up is all of our dry goods. Without there being cabinets here, I tried to organize them as best as I can. 
I organize pantry items by sections. I have a grain section with quinoa, popcorn, rice, oats, and some chia seeds (yes, I know it's a seed, not a grain).
Next, we have tomato products, like tomato sauce, canned tomatoes, ketchup, and salsa. Then we have our coconut product section, with coconut cream, coconut butter, oil, coconut chips, etc . If you have listened to my pantry staple podcast, you may know that we love coconut in our house.
To round up the pantry organization, we have canned fish, like salmon and tuna, some dried beans stored in pretty glass jars, oils, vinegars, and a few snacky things, like peanut butter and dried fruit.
Coffee Bar Station
On the other wall, there is the perfect set up for a coffee station. Luke comes in every morning, grinds the fresh beans, places the grounds in the French press, and pours over some hot water. There is electricity in the pantry, so he can do everything right there in one place.
Small Appliance Organization
On the second shelf of the pantry is where I keep all of our small kitchen appliances that we don't use everyday, like the ice cream maker, Instant Pot, food processor, or Bosch mixer. Still easily accessible, but out of the way.
The bottom shelf stores all my large mason jars for fermenting.
The very top shelf are for things that I use rarely. Like the kids' Easy Bake Oven that they won't let me get rid of, their cake decorating supplies, and some personal files.
Cleaning Organization
One thing I really hope to improve on when we redo the pantry is the cleaning section.
Currently, it consists of a broom, mop, and dust buster all shoved in a corner. Hopefully we can create a space to keep it out of the way. 
Thank you so much for stopping by the farmhouse today to check out our new kitchen and how we organize it.
Pin It For Later