It doesn't take many products to keep a clean house. Just a few basic items can cover all the bases and make the job a simple task. In this post and video, I share my basic minimalist cleaning essentials.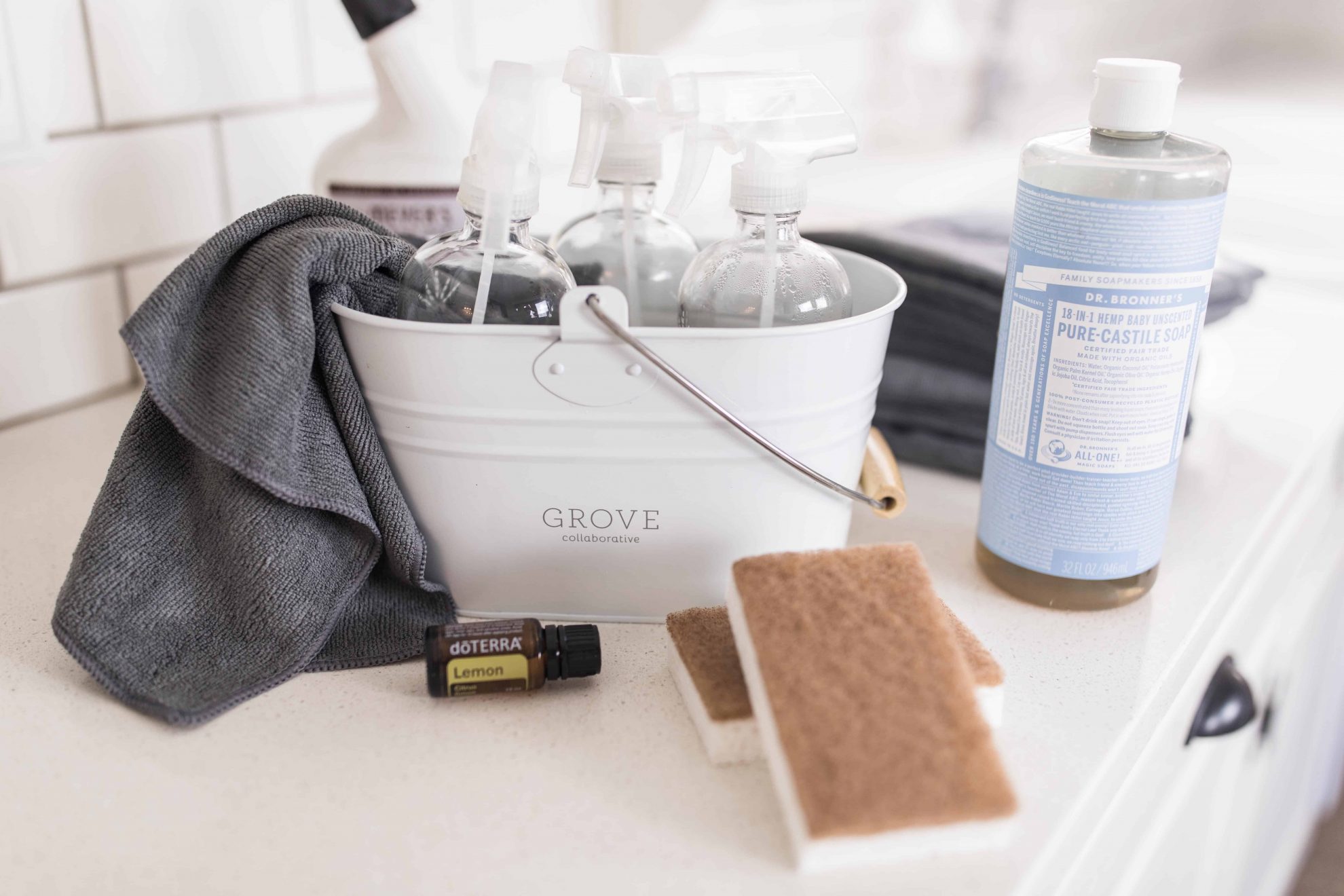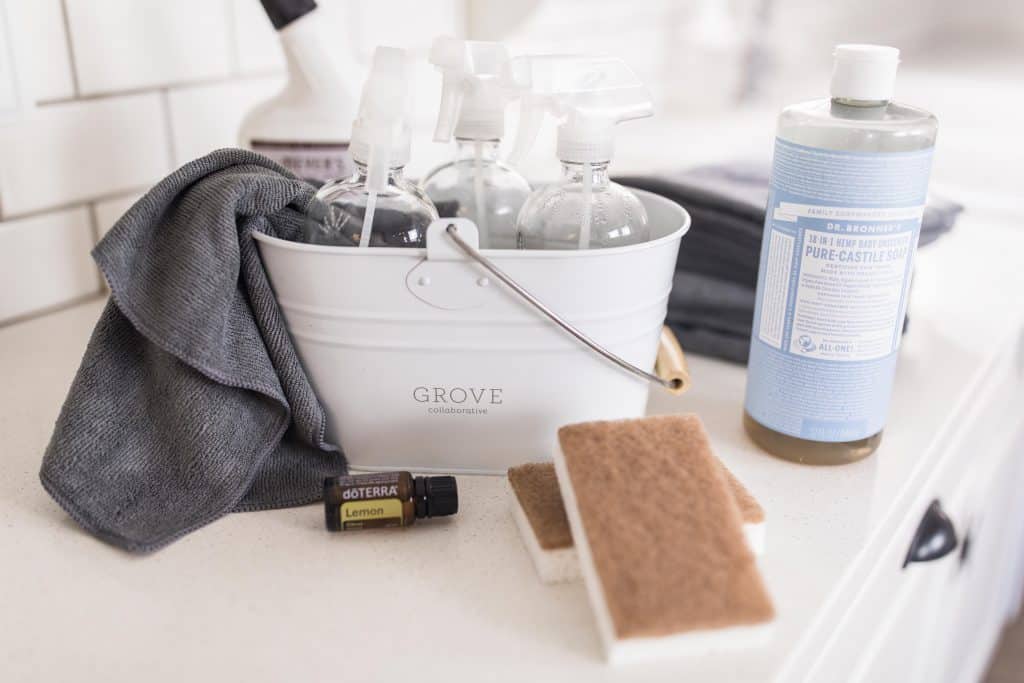 This post contains affiliate links, which means I make a small commission at no extra cost to you.
Minimalist Cleaning Essentials Video
https://youtu.be/okfR2Fc_hww
Grab the free cleaning kit from Grove Collaborative HERE.
Minimalist Cleaning Essentials
Essential Oil Based Cleaners and Glass Spray Bottles
As I mentioned in the video, I really love to use the products from Grove. They are super simple. All you do it pour a tube of the cleaning concentrate into a glass spray bottle and fill it up the rest of the way with water. I like that Grove has the color-coordinated silicone sleeves for the bottoms of the glass spray bottles. This way you always know what you're grabbing for.
Green is for glass, blue for tub and tile and gray for all-purpose.
I also like the caddy it comes in, so they can be stored easily under the sink between uses.
Grove is offering a FREE cleaning kit, with a $20 purchase, for all new customers. In it you will get one glass spray bottle, the three different cleaning concentrates, two walnut scrubbers and the cleaning caddy. You can get that deal HERE. (If you are already a Grove customer, you won't get the free cleaning kit but they will send you a couple of the walnut scrubbers.)
If you would rather make your own, you can check out my free Cleaning with Essential Oils Ebook HERE.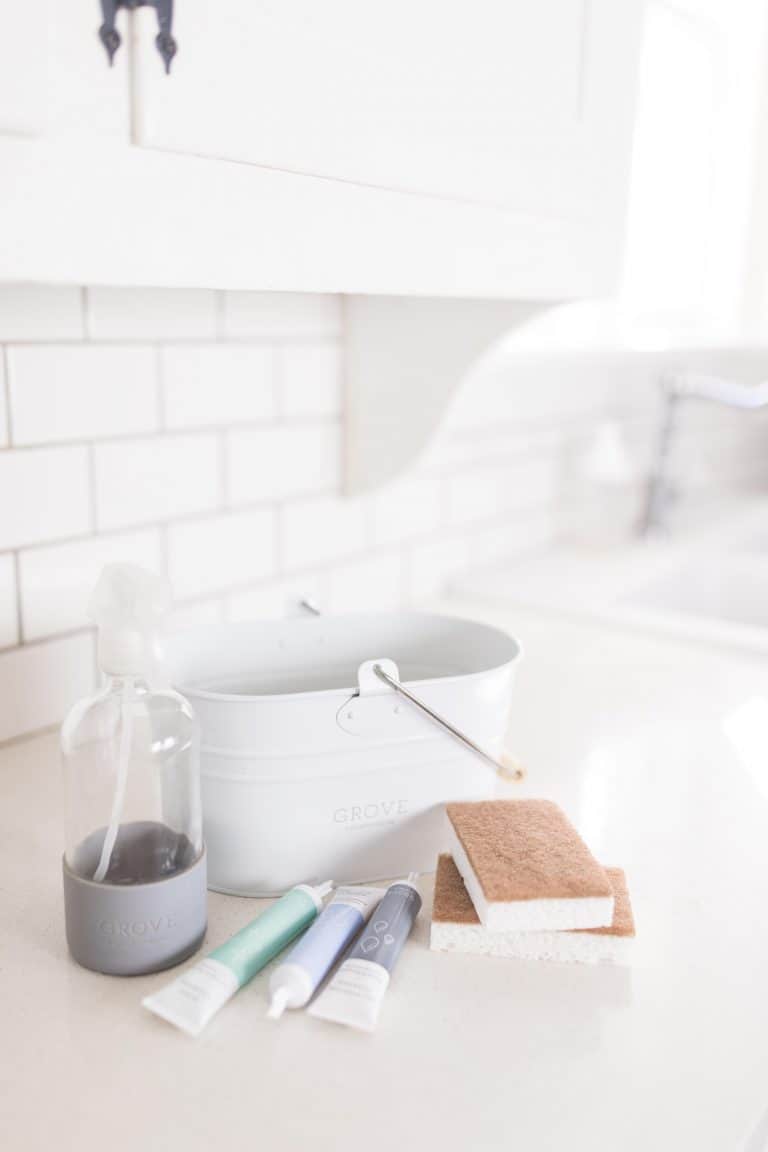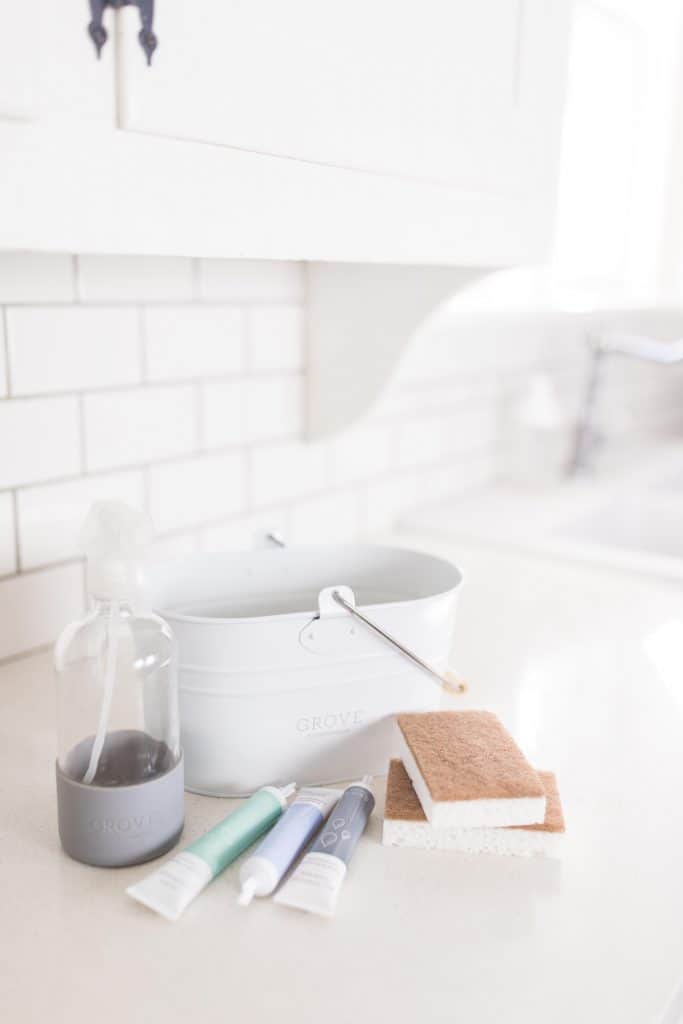 Microfiber Cloths
I love the way microfiber really allows you to get in there and scrub hard to remove spots. I like to use them on windows, floors, counters, tubs and wood floors. They are an all around great addition to my minimalist cleaning essentials.
I just grabbed a 12 pack on Amazon. You can fund the ones I have HERE.
Lemon Essential Oil
Nothing cuts grease and grime quite like lemon essential oil. I like to sprinkle it on my clawfoot tub, farmhouse sink, counters, and bathroom sink. Anytime I have a spot that isn't coming out I use lemon essential oil.
To use, I just sprinkle a bit on the problem area, allow it to sit for 5-10 minutes and then wipe it away with a microfiber cloth.
You can get my free essential oils class HERE.
Castile Soap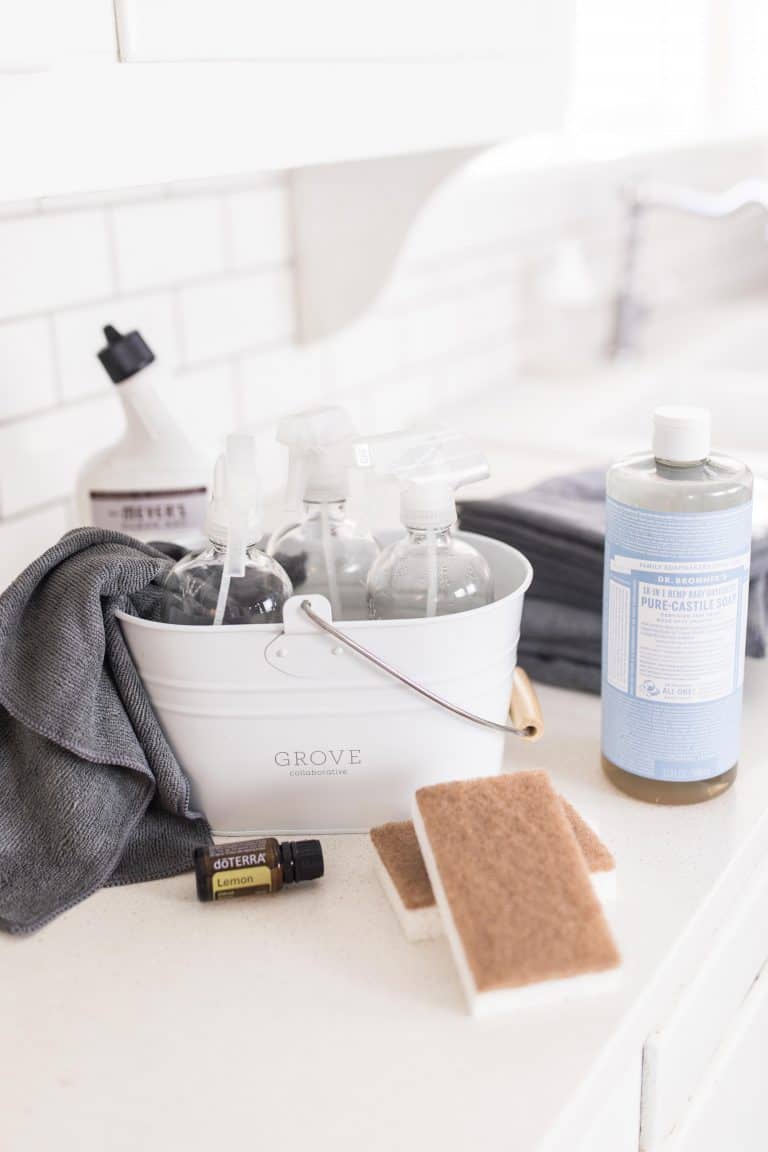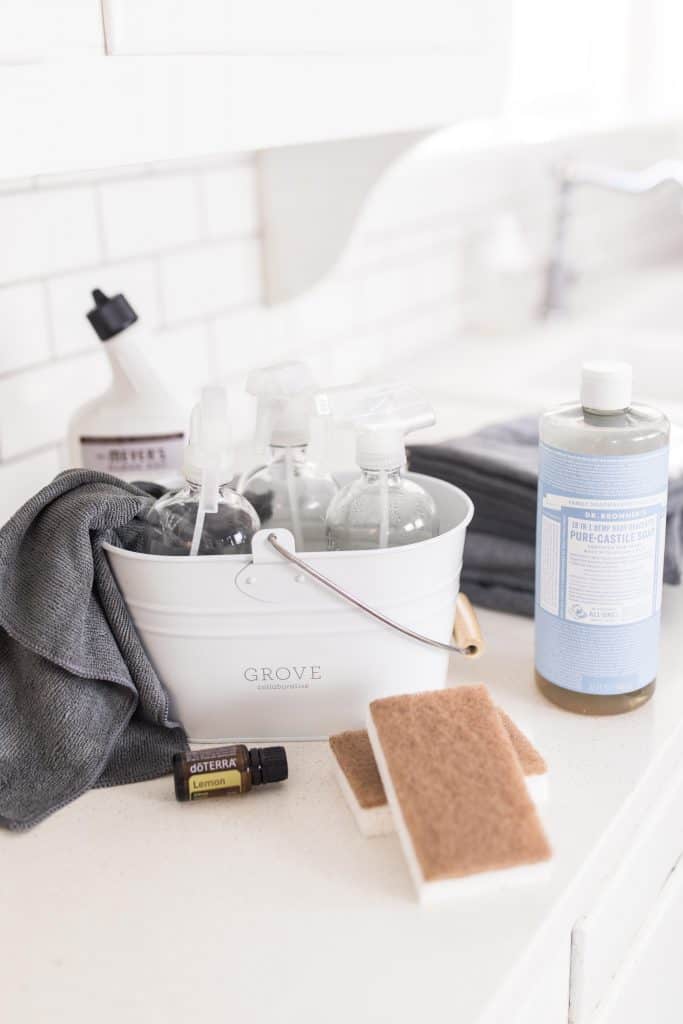 I love unscented Castile soap in our home. I often make DIY Foaming Hand Soap with it, to use for dishes, hands and some light cleaning. It makes a great all-purpose cleaners for countertops and the sink in between the more deep cleaning times. It always sits out on our sink ready for use!
Black and Decker Dust Buster
I seriously can't live without this thing! It goes around the house with me to pick up crumbs, dust, dirt, and mud. It is also the perfect tool to get kids in on helping. They can carry it around with them because it is so small. I often have my kids go clean under the table and under Micah's high chair after a meal. Sometimes I even have them vacuum up the food crumbs on the table before I scrub it down with a microfiber.
I also like to use it instead of a dustpan. I just gather all the dust and dirt into a pile with the broom and then vacuum it up with the Dustbuster. It makes it much easier to not miss that last little line that the broom and dustpan always seem to leave behind.
You can find the one I have HERE.
Walnut Scrubbers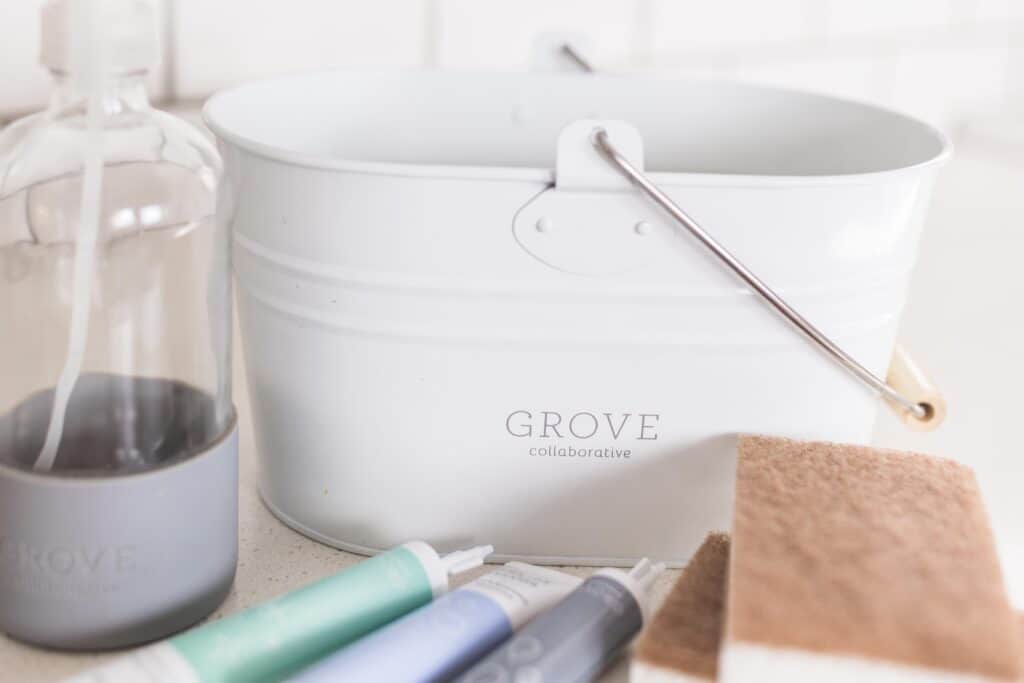 I always like Mohave something in my minimalist cleaning stash that is a little rougher than microfiber, for super tough cleaning areas. One example of this is my glass top cook stove. Another is when my kids get something sticky stuck on something. They are perfect to get a little extra cleaning power. They can also be found from Grove in the cleaning kit.
Shop my minimalist cleaning essentials
Grove Cleaning Kit (You can get this free with a $20 purchase if you are a new customer.)
Black and Decker Handheld Vacuum
Pin it for later