The last few days have been bittersweet, as we pack everything in boxes and load into my parents' horse trailer. Finding a way to organize every random item, package it safely and not lose my mind as the kids steal another toy from the box I just filled, has been pretty successful at keeping my mind off the big changes ahead. We have spent the last 10 years restoring, decorating and making this old 1925 craftsmen farmhouse our home.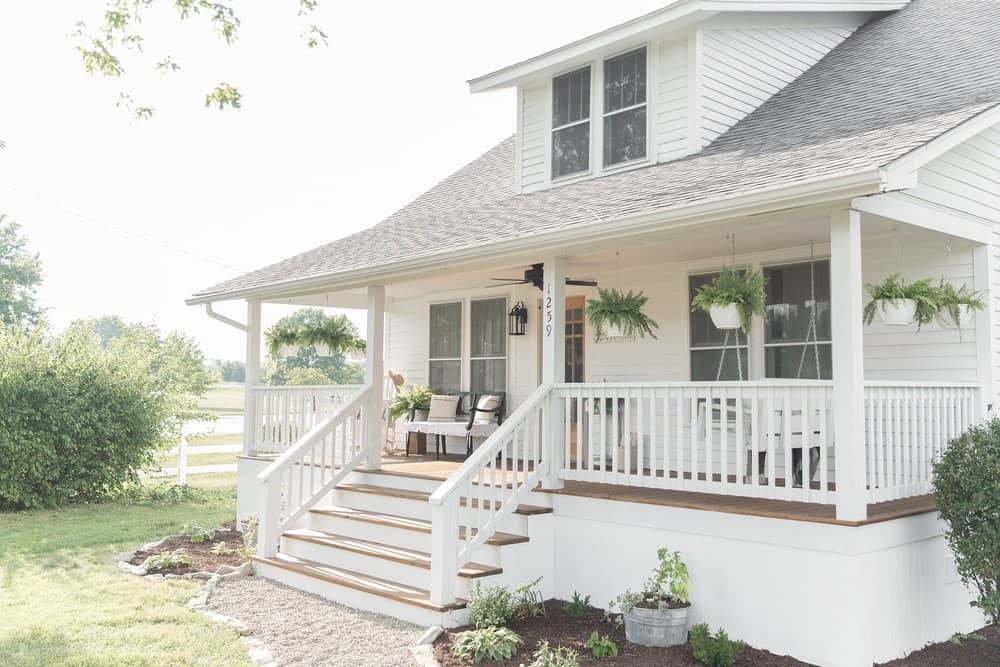 We're looking forward to new memories in an old house about 45 minutes from here, but we will probably always call this county "home".
Full Farmhouse Home Tour Video
Our farmhouse on Boone
I made a final full farmhouse home tour video as a way to remember this place where we lived the first decade of our married life and had our five babies. Heck, I feel like I practically grew up here!
I was 22 when we moved in, 8 months pregnant with our first baby. Luke and I were married just under a year, and pretty much had no idea what we were doing.
Yesterday I was doing an interview for an upcoming magazine story, and the writer asked why we chose the house we did. I giggled and said, "because it was cheap". I know she wanted to hear how I fell in love with the crown molding, open shelving, five panel doors, hardwood floors and spacious porch. In reality, we wanted to pay of the mortgage super fast and live simply. Unless you have a big income, a fixer upper is the only way to do it.
I knew we could make the house cute. I had no doubt of that. But it took me a few years after we settled in to really notice all the charm and character in the home we had purchased. First of all, the hardwoods were all buried beneath blue carpet, and the five panel doors had each panel painted in a different wacky color with a sponge painting technique. All the finishes, the bathtub, sink, faucets, light fixtures were all cheap and ugly.
A long renovation process
It took almost the full ten years to really restore that original antique beauty. We did two complete bathroom renovations, a kitchen renovation and an overhaul on the front exterior. We made a shiplap wall, planked ceilings, refinished the hardwood floors and added builds ins upstairs and downstairs.
I painted every surface in the house literally twice. (Long story short I painted all the trim, cabinets and doors off white when we moved in, and all the walls different colors. I went more bright white a few years later.) There probably isn't one square inch of this place that wasn't touched with a paint brush, sander or nail gun.
We made it ours.
Moving on to a new farmhouse on a little homestead
The time ultimately came, though, where we desired a little more land for the kids to run. We wanted privacy, quiet, simplicity and a homestead. We found a place that has just that. Soon will be giving that place the same time and attention we gave this one. It is bittersweet, but we're ready.
Read below for all the sources, DIY projects and makeover details from many many different posts on this blog!
SHOP OUR FARMHOUSE
Some links are affiliate links, which means I make a small commission at no extra cost to you.
LIGHTING
Pendant Lights over our Farmhouse Table
Lights above the Farmhouse sink
Lights over kitchen island
Dining room and living room rugs
BEDROOM
Iron bed
Linen duvet
Linen sheets
Rug
GUEST BATH
Hexagon floor tile
Turkish towels
Medicine cabinet and mirror
Light fixture
Wallpaper
Shower head
Sink faucet
Wood vanity
MASTER BATH
Black Sconce by Clawfoot
Turkish towels
Faucet for my garage sale sink
Clawfoot tub faucet
Ceramic Hexagon tile
KITCHEN
Runner rug under the kitchen sink
TUTORIALS MENTIONED IN THIS VIDEO
How to Slipcover a Wingback Chair
DIY Farmhouse Living Room Built ins
How to Build a Farmhouse Coffee Table
Blog Posts from this video
MAKEOVERS FROM OUR FARMHOUSE
Farmhouse Bathroom Makeover (guest bath)
Farmhouse Bathroom Makeover (master bath)
Farmhouse Boy's Room
Farmhouse Girl's Room
Pin it for later