Grab a cup of coffee and join me as I reveal our Victorian Farmhouse Kitchen update. Check out the new lighting, cabinets, antique stove, and island. It's a beautiful blend of victorian farmhouse with modern classic charm.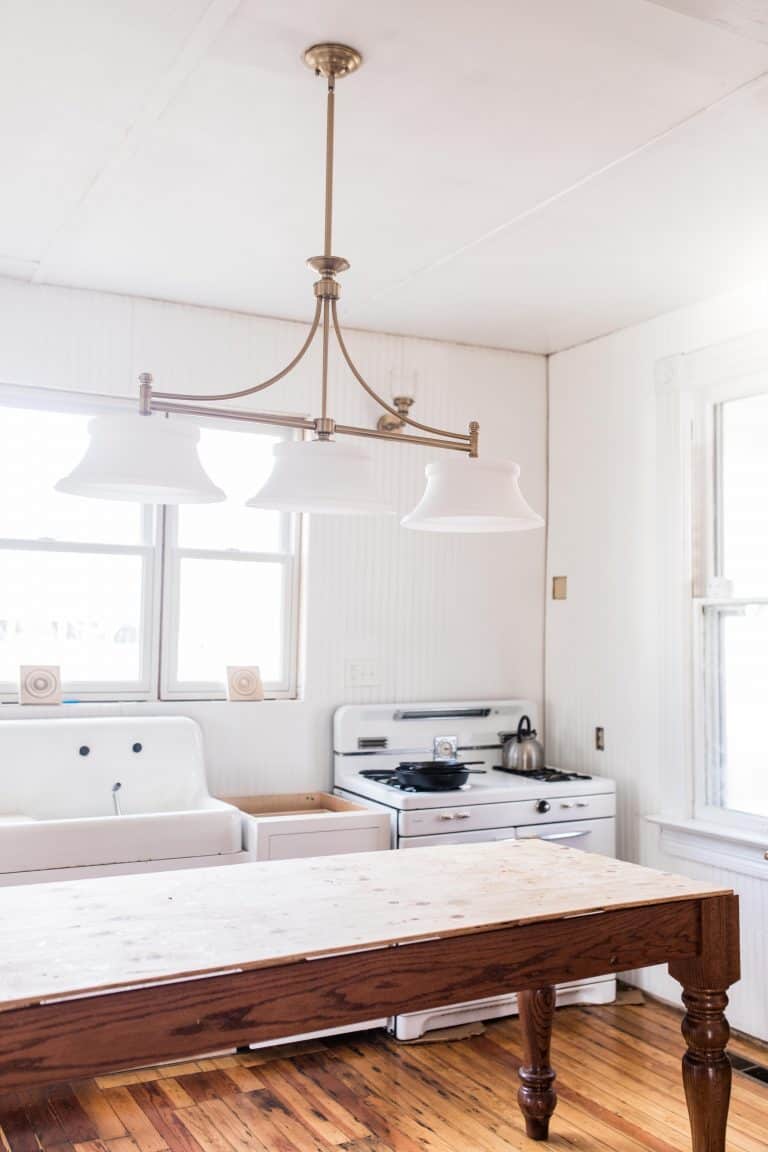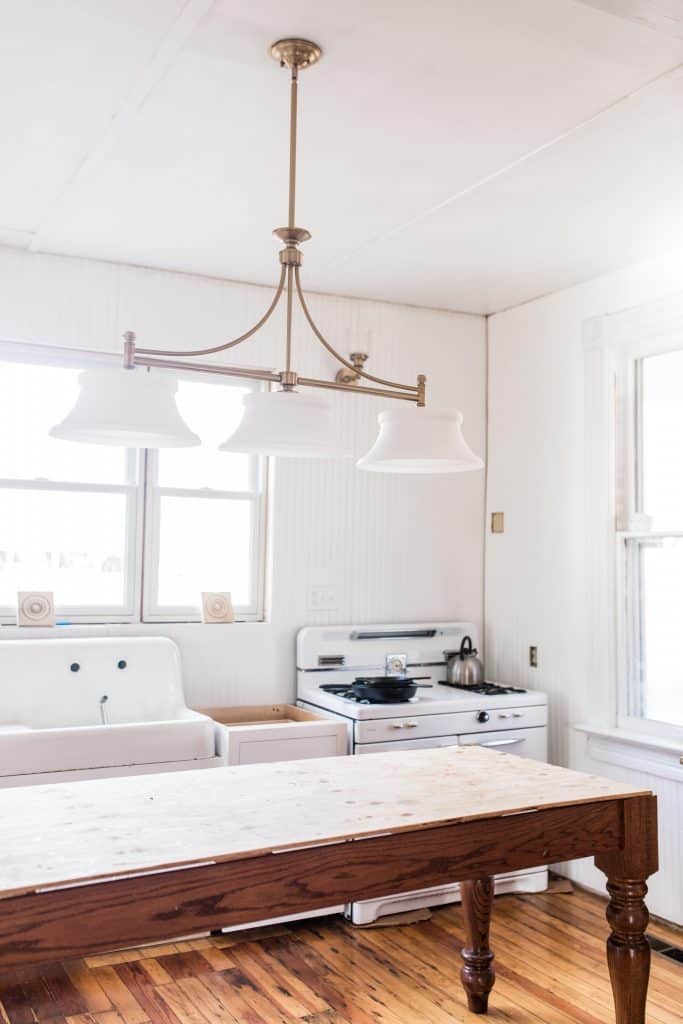 It's been months since we started our kitchen renovation, but it feels like it's been forever. I don't even want to look back and see exactly how long it has been since we demoed this place.
I shared the plans we drew here.
Today, I want to show you the whole process of turning those plans into reality over the last 6 months, and all the things that have gone right – and gone wrong – in that time.
Currently, we have the eat-in dining room totally done; you can check it out here.
My goal for this whole victorian farmhouse was to look clean and bright but without looking super pristine. We wanted it to fit into the era with the vintage stove and sink, and cast iron hanging on the walls.
The idea for this place is to feel like a mix of classic, country, and homey.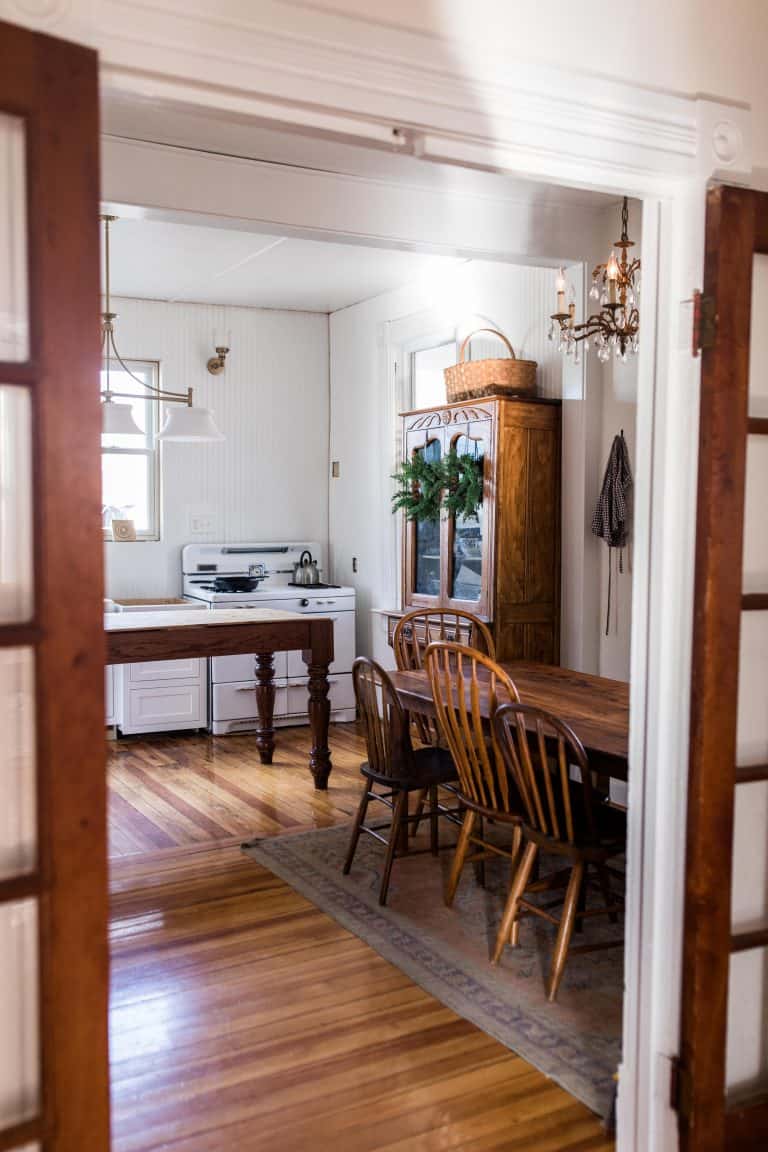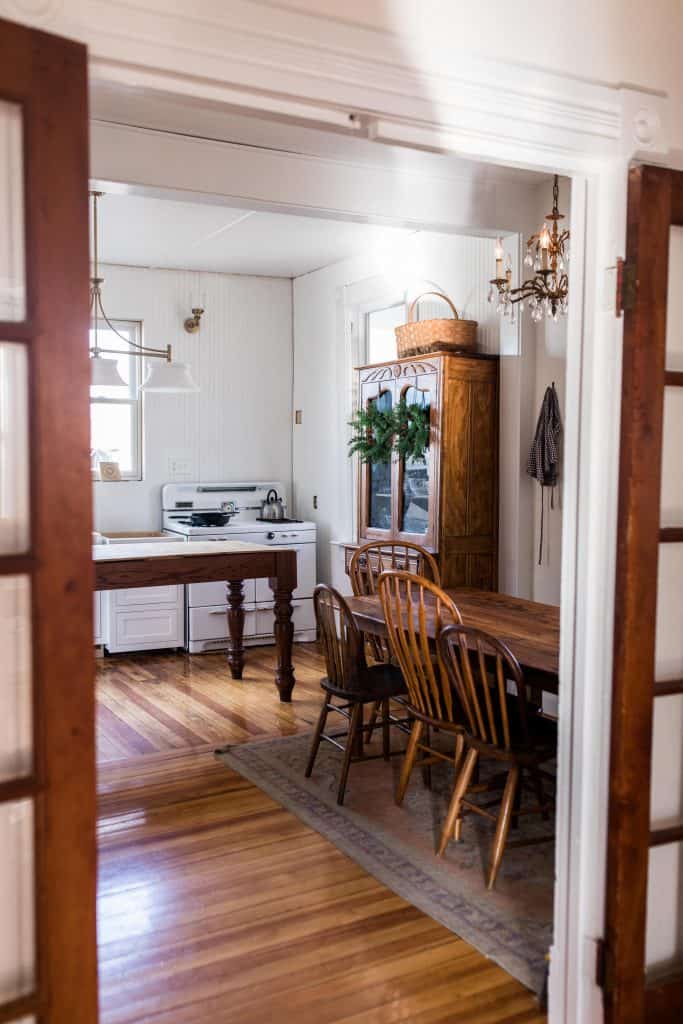 Victorian Farmhouse Kitchen Update – The Layout:
The base cabinets were just installed. We went with a white refrigerator with an upper cabinet hanging above, and next to that are some base cabinets.
Then, we have a vintage farmhouse sink, on top of a custom cabinet that has two drawers and two doors.
Next to the sink is another set of cabinets, and then the antique stove that we had fully restored. We originally purchased the stove for $300 from Facebook marketplace, and then put almost $1000 into it to restore it and run the gas line.
It was painful to put that much money into an antique, but it was totally worth it, and the stove cooks like a dream.
This post contains affiliate links, which means I make a small commission at no extra cost to you. See my full disclosure here.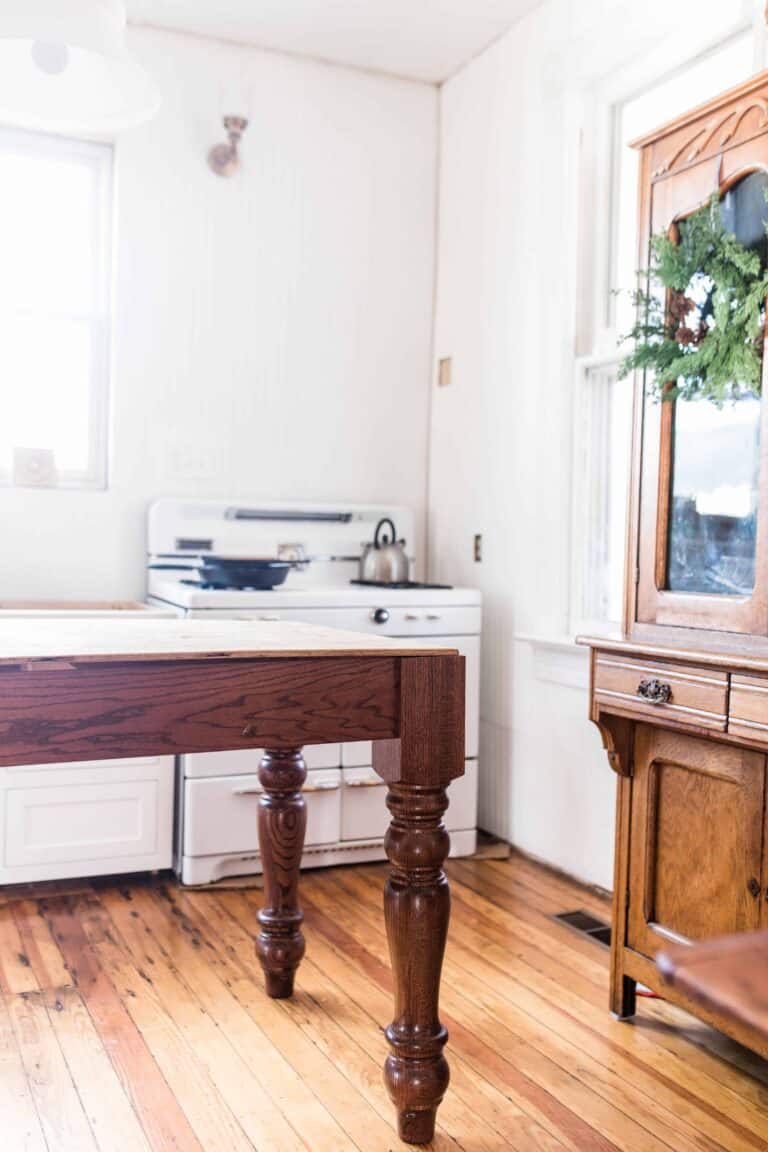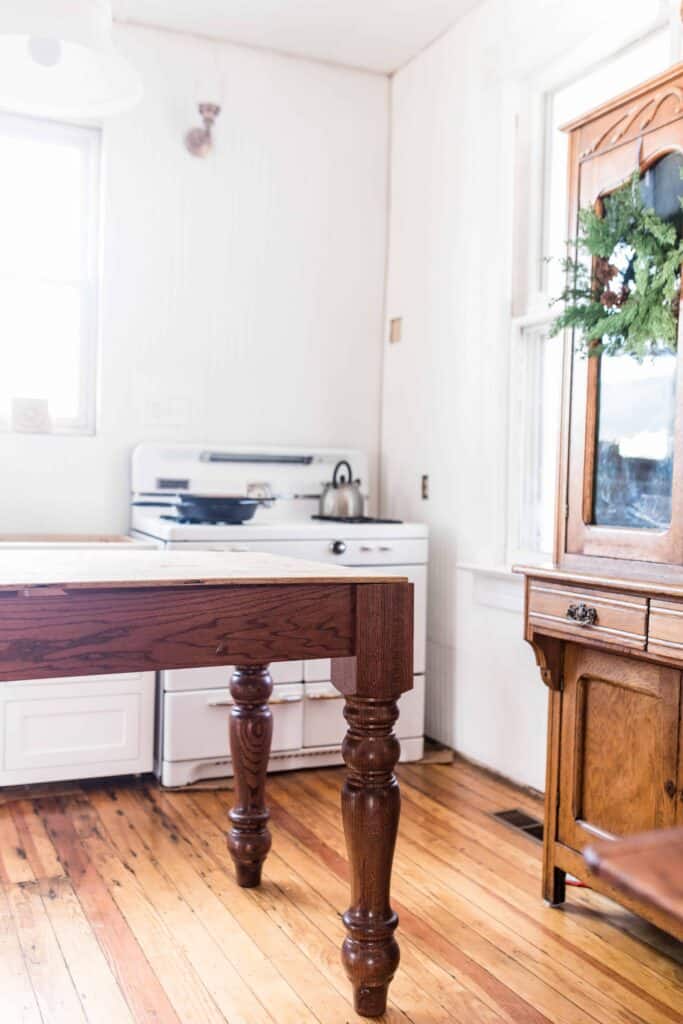 Handmade Island
Our "island" is a large custom table that the cabinet maker built. It measures 90.5" by 32" from the outside of the legs. The countertops hang 1″ over on each side.
I wanted more of a work table instead of a true island because my goal was to have something visually lighter.
The beautiful turned legs leave the bottom open, allowing you to see through, which is nice because our kitchen is smaller.
The kitchen is so close to completion, it is getting really exciting. We had someone come out to measure for the countertops, so those should be installed here shortly.
Then, we can put all the finishing touches into the kitchen like hardware, open shelving, and the small details that will pull it all together. I can't wait!
Things That Went Wrong
On the back wall, we wanted to pull down all the old paneling and replace the drywall, but the contractor's estimate was out of the budget. So instead, we decided to cover it up with bead board.
I wasn't sure I was going to like the bead board next to the original plaster, but I'm actually really loving it. The eat-in kitchen is part of the original house and has a planked ceiling, whereas the kitchen is an addition, and doesn't have the planked ceiling.
So the planked ceiling is kind of mimicked in the bead board in the kitchen, which really just ties it together.
Everything will get trimmed out next week, which will give all of it that finished touch.
Victorian Farmhouse Kitchen Lighting: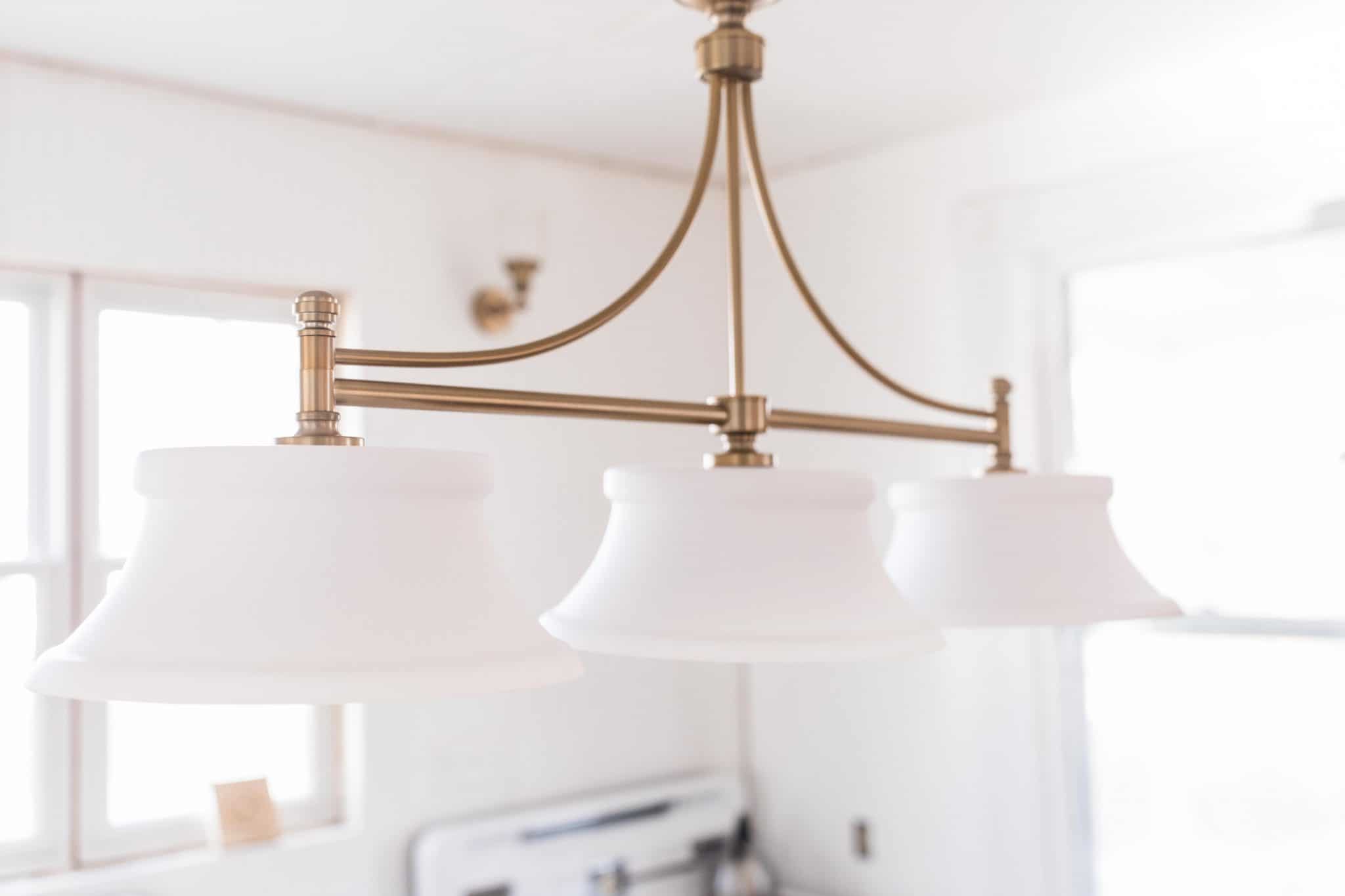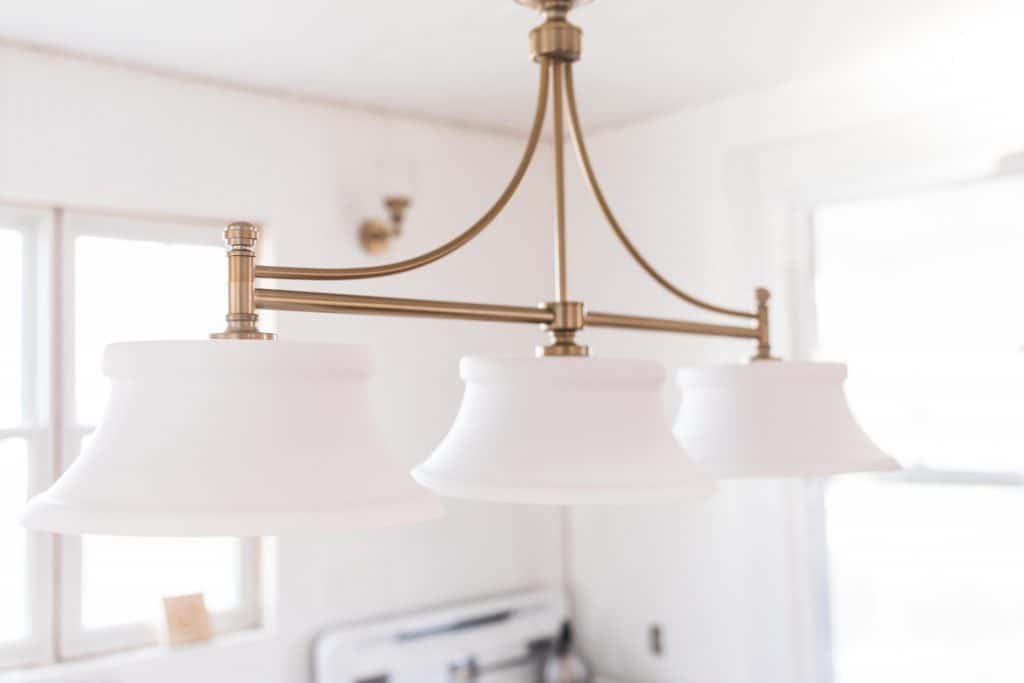 I found this amazing light fixture from Riverbend Home. It's amazing, has an antique feel, and adds a beautiful warmth with the brass finish. It flows so well with the vintage chandelier in the eat-in kitchen.
Originally, I had this glass school light that was really pretty, but it was too short, and it only had one bulb. The one bulb looked odd over the long table, so we needed something longer. This Riverbend Home light fits the bill.
Also, I love how it adds three lights without having to rewire the electrical.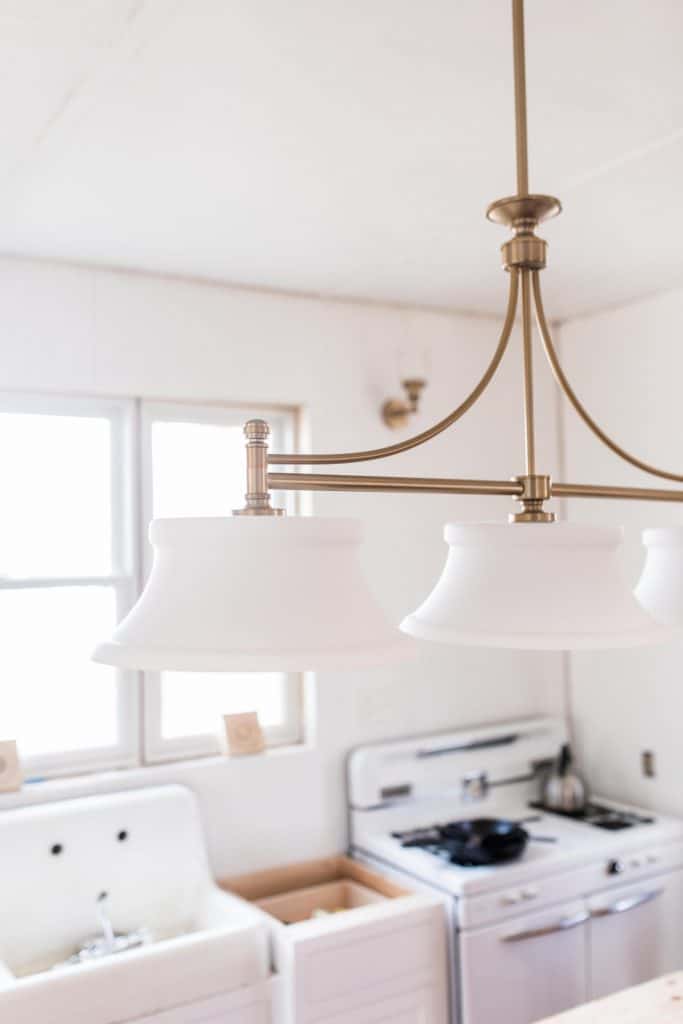 We also added some brass sconces to the back wall, which was a little tricky. The electrician had to do the wiring for the lights before the bead board was installed, so we had to know exactly where we wanted them before any of the cabinets or sink were installed.
Talk about pressure!
Thankfully, I really like where we decided to install them.
Find More Farmhouse Decor Ideas:
Vintage Sink: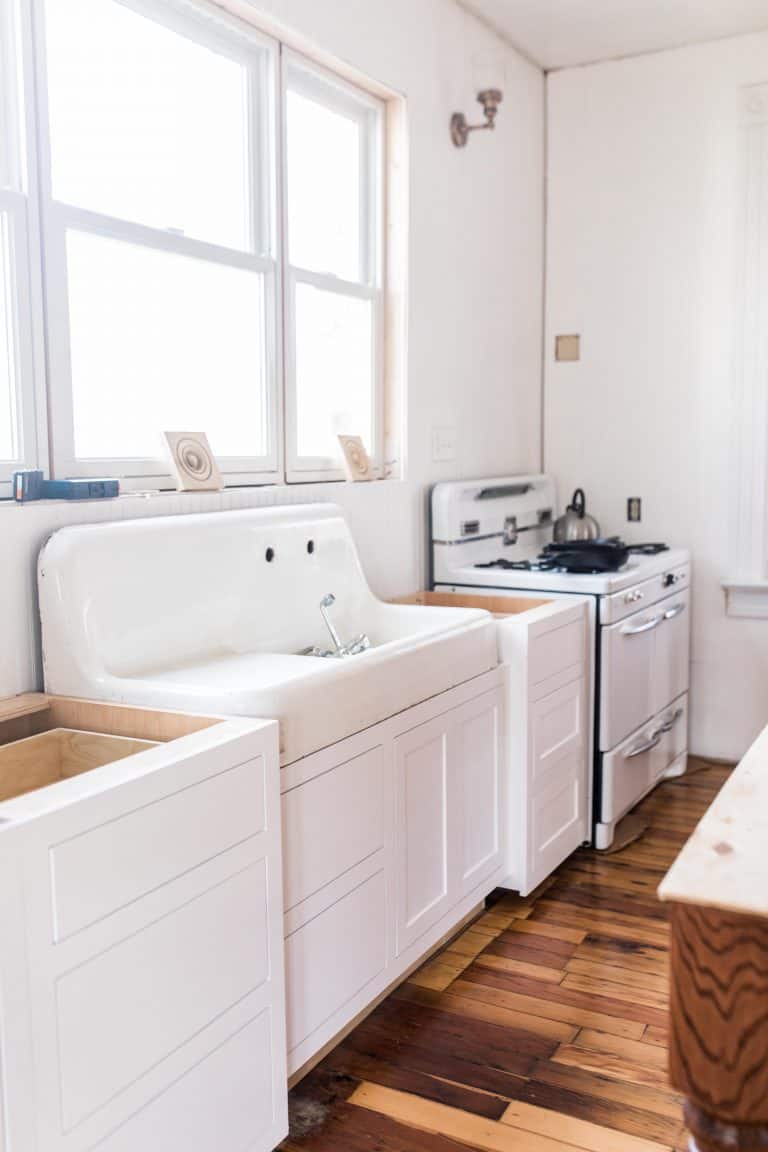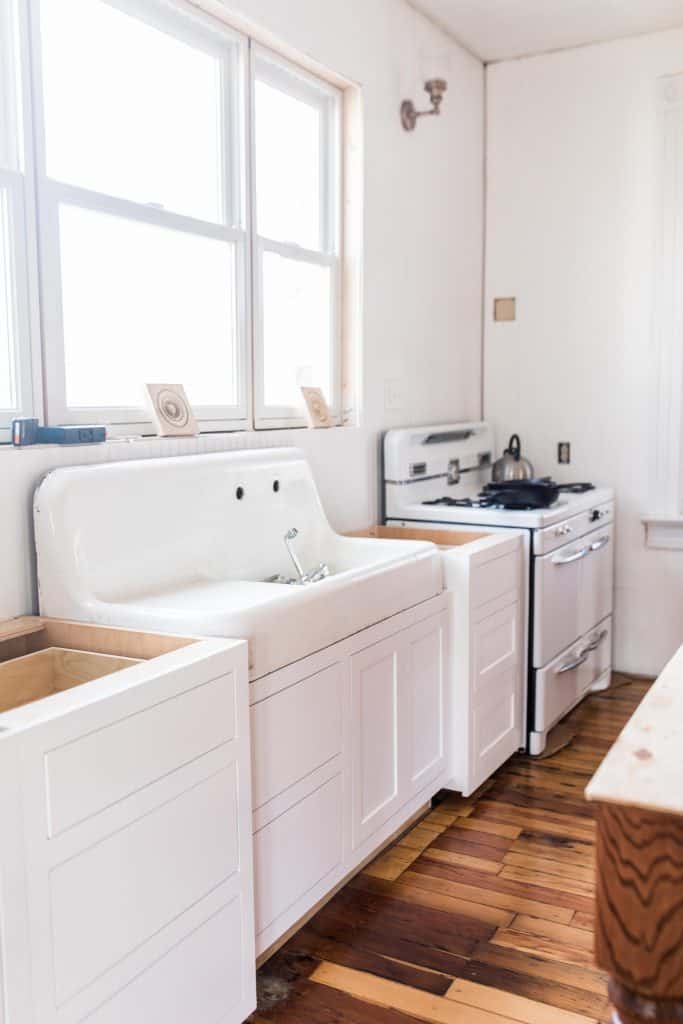 The new kitchen includes this really beautiful vintage farmhouse sink. I found the most beautiful faucet, but didn't consider that the sink is much more narrow compared to sinks today. The faucet came out almost to the edge of sink and would've splashed everywhere if we were washing dishes.
That was obviously not an option, so I had to find an equally-pretty faucet that doesn't come out so far.
Originally, I wanted to use this beautiful vintage cabinet that I found as the base for the sink, but it ended up being too long, and it was going to be easier to build a new cabinet.
The sink cabinet that was originally built ended up being too high and wouldn't allow for a window sill, so it had to be rebuilt again shorter.
Since I want it to look more like a piece of furniture, rather than a cabinet, we are going to make some pretty feet for the cabinet and paint them white.
New Window:
Since there is so much work that happens on a daily basis in the kitchen, we wanted it to be really bright with lots of natural light; so we enlarged the window over the sink. This was actually one of the first things we did, and now all it needs is some trim and the antique rosettes to match the rest of the windows.
The trim is being custom made by a local woodworker to match the rest of the house, and then we are going to install a window sill. I cannot wait to add an ironstone pitcher with fresh flowers on top of the window sill.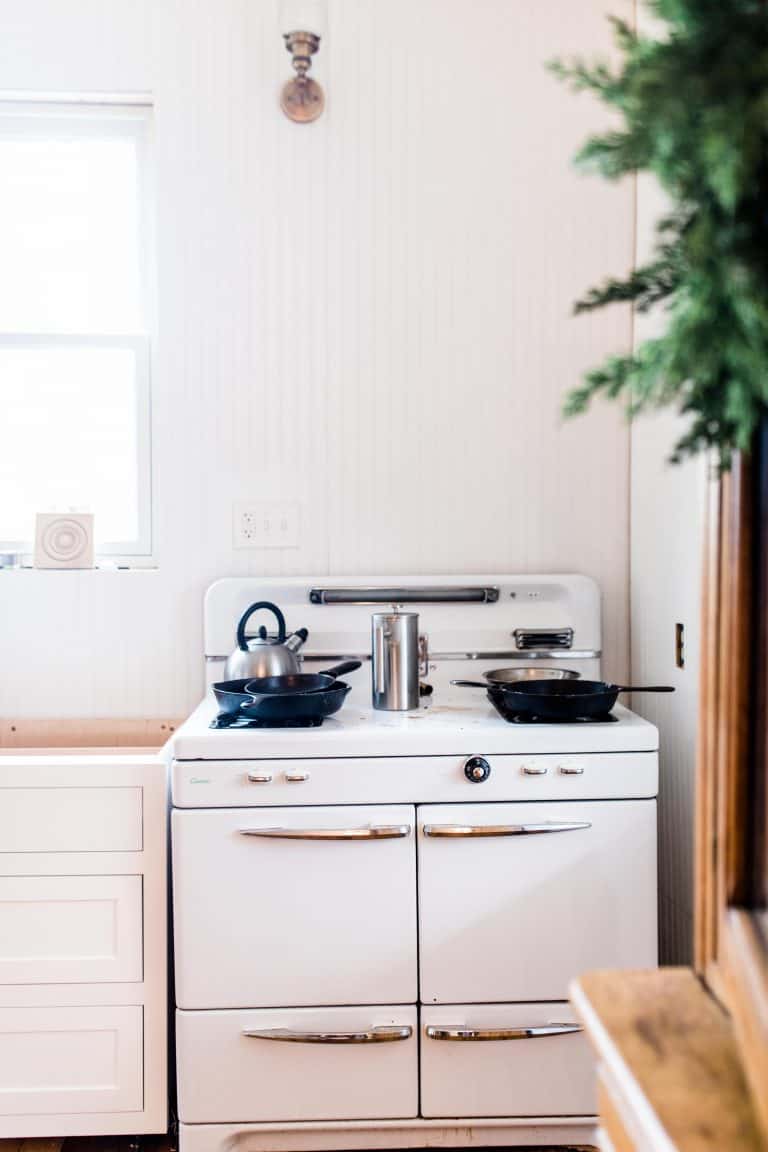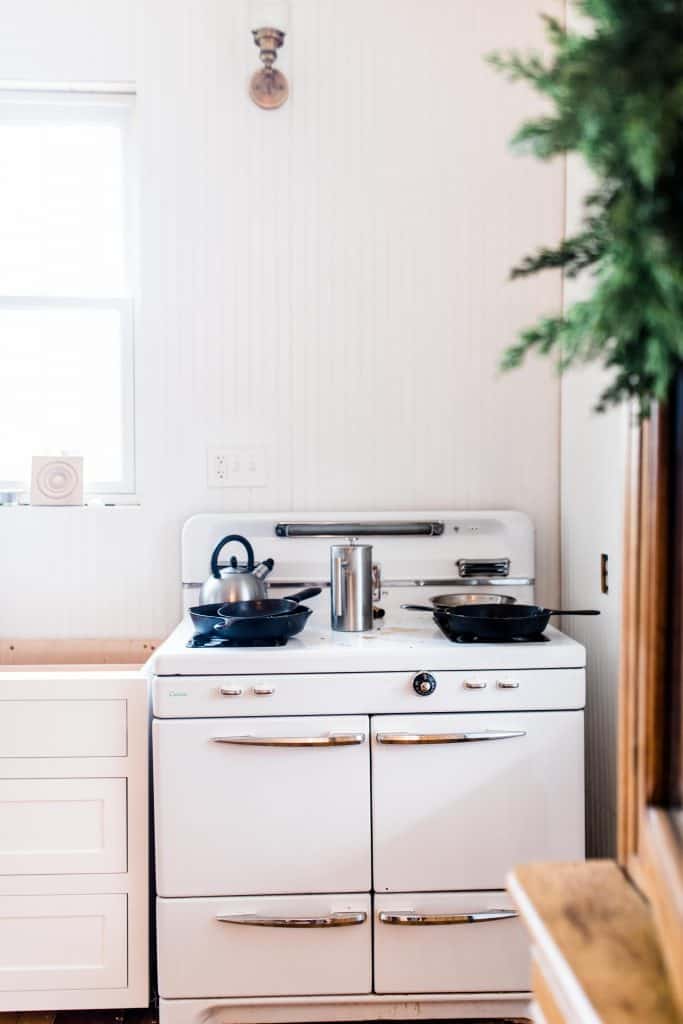 Adding Vintage Touches:
Recently, I found the most perfect vintage shelving piece while I was out antiquing, and it will go above the stove. It has three shelves and will be perfect to store things we use regularly, plus display some pretty touches.
Above the refrigerator, there is a gap that needs to be there because the fridge needs adequate air flow to work properly.
I really dislike the gap. While I was on a girls' trip the other weekend, I found an old piece, probably from a vintage piano, and I snatched it up to help fix that gap.
After it is trimmed to size and painted white to match the cabinets, it will fit perfectly and add some visual interest, all while still allowing the airflow for the refrigerator.
Victorian Farmhouse Kitchen Update – The Final Stretch:
I cannot wait until next week when the counters come. Then we can put the hardware onto the cabinets and hang the shelving, and then I can start adding all the pretty things.
This is when the fun part happens. Be on the lookout. The kitchen will hopefully be all done by Christmas. I may need an extra week or so to bring in all the pretty things I've been collecting to style it.
Hopefully, in the first part of the year, I will be sharing the full-blown reveal.
It will be so exciting to be filming my videos in my kitchen, on our antique stove, rather than in my dining room.
The wait has been worth it, and our victorian farmhouse is turning out just as I wanted it to. Even though it took way longer than we ever wanted it to, it gave us the time to pick the perfect details.
Pin Our Farmhouse Kitchen Update For Later