Put your Berkey to the test! Learn how to do a Berkey red dye test to ensure your filters are working optimally, or to see if the filters need to be replaced.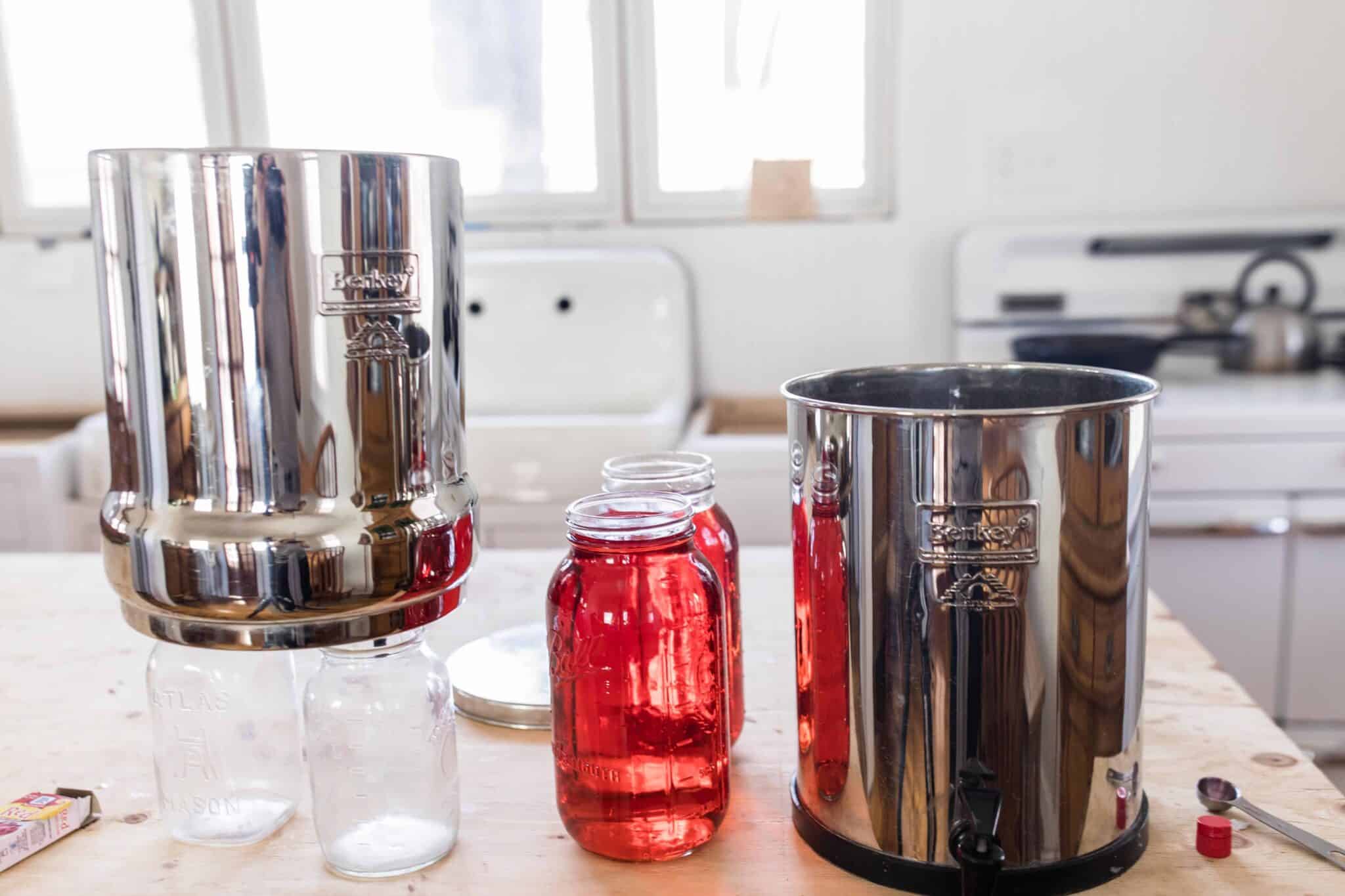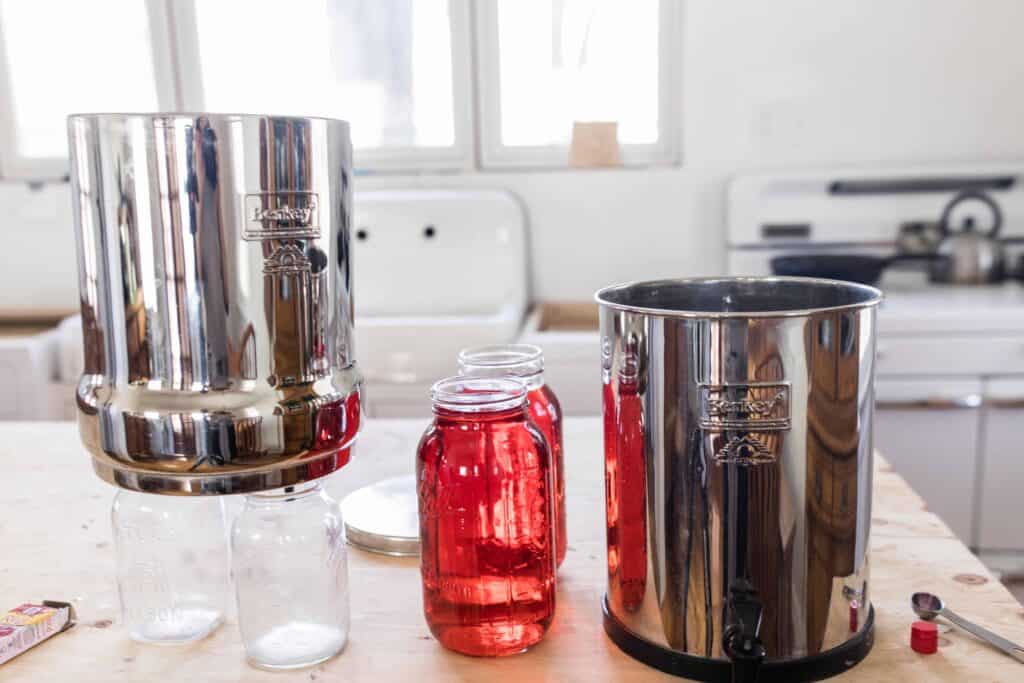 If you haven't seen any of my other posts on my Berkey water filter, I've done a full review on it and why we chose it for our family, and shown you how to clean your filters.
If you have seen those posts, you've probably heard me talk about the Berkey red dye test. This test is done to ensure that the filters are still performing as they should and filtering everything out of your water.
The Berkey black filter elements will filter out artificial red dye. This test is good to do if you've had your filters for awhile, or to see if the filters have been damaged or compromised in any way.
One time, one of my children knocked the Berkey over, and I thought one of the filters might have been damaged, but I couldn't tell. I performed this test to make sure everything was fine, but I found red dye in my filtered water.
The impact of the fall had cracked one of my filters, but the crack itself was invisible! I would have had no idea my filters weren't working as they should if I had not done the Berkey red dye test.
Now, if you are new to natural living and want to know the importance of filtering your water, you can find out why we do it here.
Alright, let's get to this fun test.
This post contains affiliate links, which means I make a small commission at no extra cost to you. See my full disclosure here.
Tips For Doing A Berkey Red Dye Test:
It is a good idea to perform this test yearly to make sure the filters are still functioning properly and/or haven't been damaged.
Filter into mason jars to see which filter isn't working.
Replace only the filter that isn't working. If only one isn't working well, you don't need to replace them both.
If your filters are running slow and it seems that they are taking forever to filter, try cleaning them first before replacing them.
Tools you will need:
Berkey water filter – I'll show you how to get a good deal on it here.
Red dye
Mason jars: I used two half-gallon mason jars and two quart-size mason jars.
Measuring spoon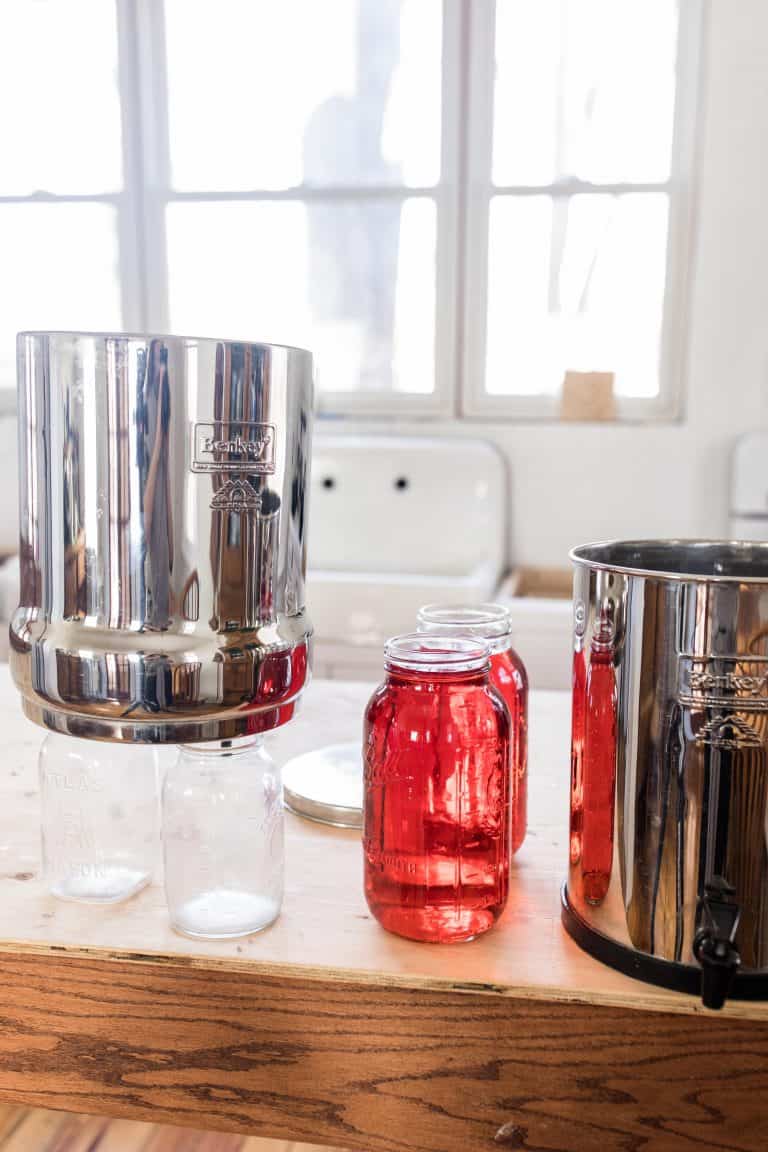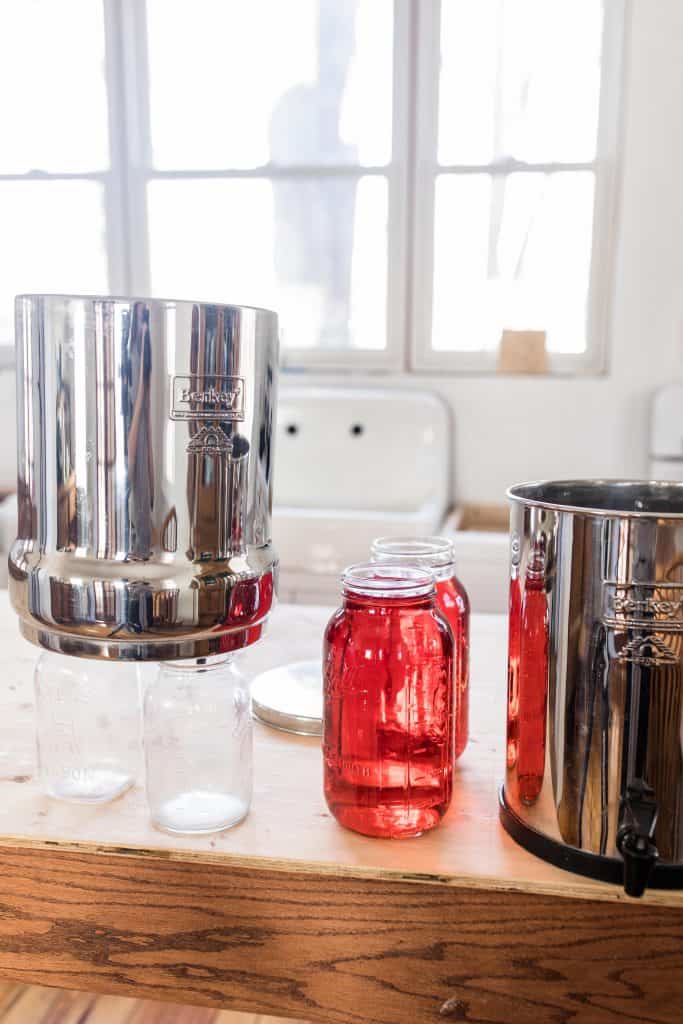 When should I replace my Berkey water filter?
A Berkey water filter should be replaced every 3000 gallons per filter, or 6000 gallons for two filters. They will last about 3 years with normal use.
You should also replace filters if they have possibly been damaged. Try this red dye test to figure out if they have been damaged before their three-year lifespan.
How To Perform A Berkey Red Dye Test:
Start with an empty Berkey. I've emptied out all the water from the top chamber.

This will help ensure you get the right amount of dye per gallon of water.

Take two quart-size mason jars and set them on your counter.
Next, pick up the top chamber of your water filter and place it over the mason jars, with each filter spigot going over the jars.

The reason I like to do it over the mason jars rather than allowing the water to go directly into the bottom chamber is because I like to see which filter isn't working.

Make sure all the filters and plugs are in there nice and tight so water won't leak out or bypass the filters.

We use two black charcoal filters, but you can use four, so that is why there are plugs in the other two spots.

To a gallon of water, add 1 teaspoon of red dye and stir. Do this before adding it to the Berkey.
Pour red dye water into the top chamber, and watch as the water flows through to the mason jars.
If any red dye comes through the filters, it is time to order new filters and change them out.

Our Berkey Red Dye Test Results:
Honestly, I was surprised by the results. One seems to be working just fine while the other is not.
We moved this year, and with our kitchen renovation, we have probably moved the filter 10 times. So from all that transportation, it probably got damaged at some point.
I probably should've done this test way sooner after the move to make sure the Berkey was working the way it should.
Ordering New Filters:
As the red dye test water was filtering, I instantly noticed the red dye coming through one of the filters, so I hopped online and ordered some new ones.
The filters only come in pairs, so I will just put in three filters. This will allow the water to filter through faster.
Since there was free shipping, I ended up also purchasing a metal spigot and shower filter.
Shop the Berkey we have for our family of 8 HERE. We use the Royal size.
Find Ways We Use Our Filtered Water:
Learn more about the Berkey water filter
How to Setup a Berkey Water Filter
How to get a Berkey Water Filter for a Deal​
How To Clean A Berkey Water Filter​​
Pin It For Later