If you love sewing, or want to start learning to sew, these five dress patterns for girls are perfect for beginners and experienced sewers alike. Find my tips below for making these beautiful projects.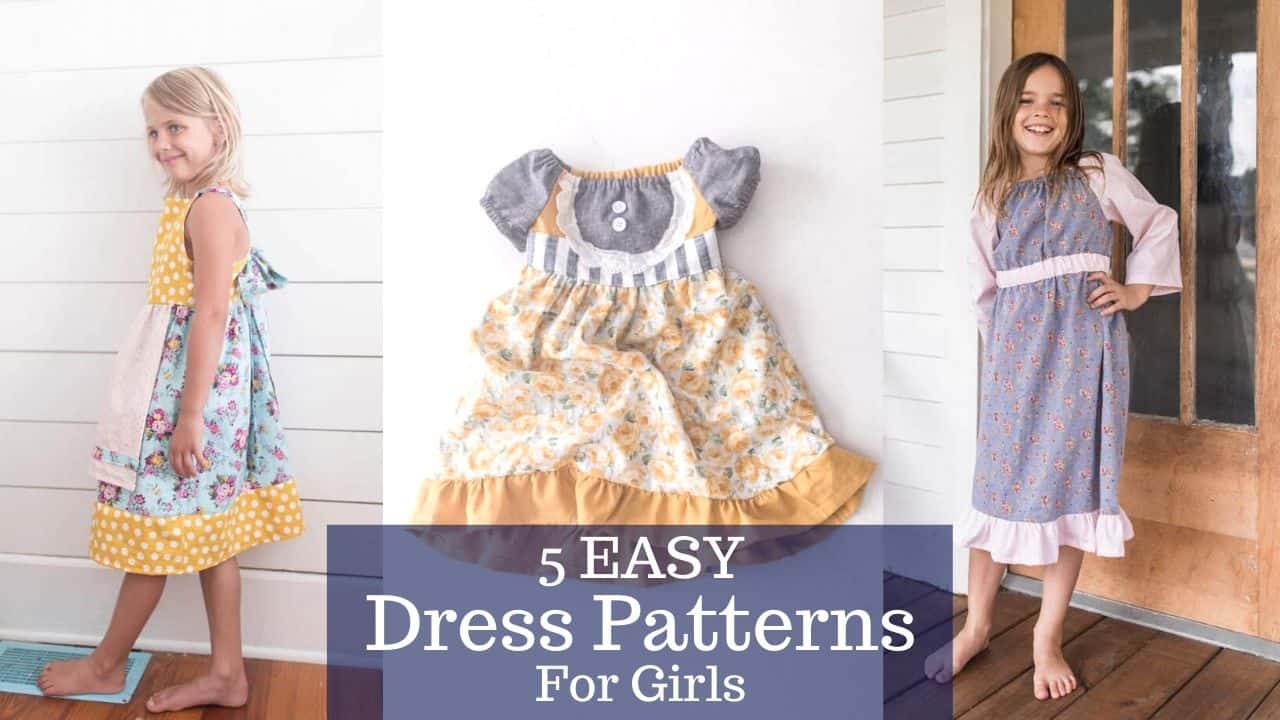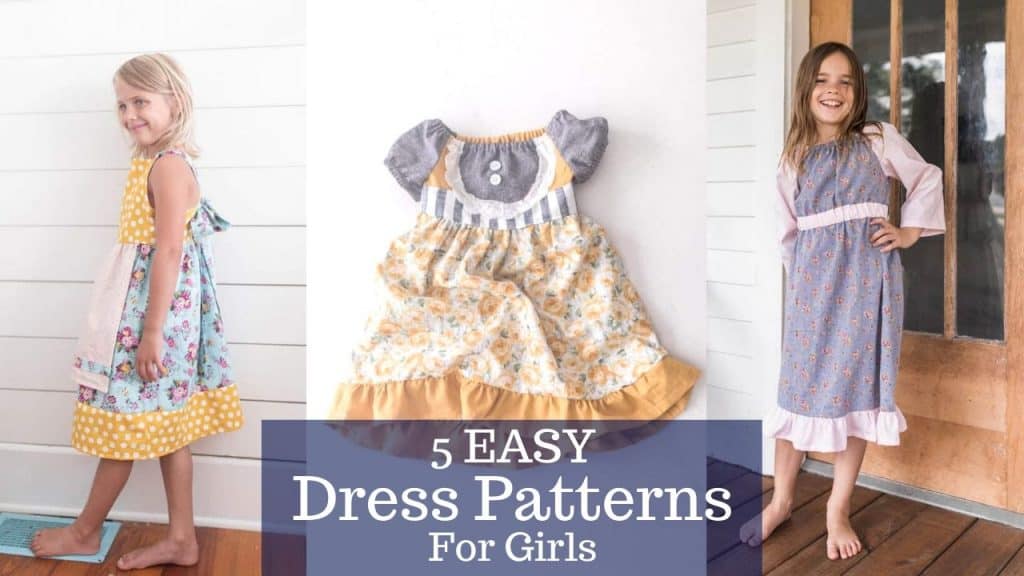 If you've been around a hot minute, you may know I have a deep affection for sewing.
It's this reality that I can take some simple fabric and turn it into 
cozy home decor
, 
recover a chair
 to give it new life, or make adorable dresses for my girls.
There's something about using your hands to create something that makes it feel more special and sentimental. 
And while I used to make my girls many of their dresses when they were little, I don't really get to do it as much as I would like nowadays.
The dress patterns in this collection that I'm going to show you today are pretty simple.
You just need some basic sewing experience. If you are totally new to sewing, make sure to check out my Simple Sewing Series. It will walk you through all the skills you need to make these projects.
Tips For Making Girl Dresses
Start by picking out coordinating fabrics. Back when my girls were little, I loved coordinating their dresses. I would pick out a handful of patterns and mix them up to make similar dresses that were coordinating but not perfectly matching.
Add embellishments like flowers, buttons, or bows. 
Have fun with it and don't get hung up on perfection, especially when you are starting out. Start with basic projects, and then work your way up to more challenging ones.
This post contains affiliate links, which means I make a small commission at no extra cost to you. See my full disclosure here.
My Favorite Sewing Tools
Find More Easy Sewing Project Ideas
5 Easy Dress Patterns For Girls
The peasant dress pattern is one of my favorite dresses, simply because it is so easy and can be changed based on the seasons, style, etc. Make it longer with a ruffle, add long sleeves or short sleeves, and finish it off with some pretty embellishments.
There are so many ways to make it, and I include the measurements for sizes 12 months to girls size 10/12.
Perfect for a summer or Easter dress, this strapped dress pattern includes a fun bow in the back and an adorable apron in the front.
I love mixing the patterns and colors in dresses like this, and adding the simple extra touches like the polka dot apron with a floral stripe.
This is the most recent project I've completed, and I'm totally in love. The little puffs on the sleeves, the lace, the buttons, and a mix of colors and patterns that go together perfectly … what's not to love?
It's a different take on the peasant dress, and seriously, the cutest on little girls toddling around. 
Now while I did make this as a women's summer shirred dress, you can definitely make this for a little girl. The process is exactly the same. Refer to the tutorial for the process and the measurements below for approximate kids' sizing. The measurements are very forgiving, so you can easily increase for older girls or decrease for a tiny baby size. That's the beauty of stretchy elastic! I have made this dress anywhere from knee length to ankle length for my daughter. The options are endless!
The process of shirring is when you use elastic thread to bunch together some fabric to create a super easy waistband or bodice. This type of dress allows a lot of wiggle room, which is perfect if you are new to sewing.
In the case of this shirred dress I made for my daughter Ruthie eight years ago (oh so tiny!) I put the shirring only on the back, so the front would still be flat: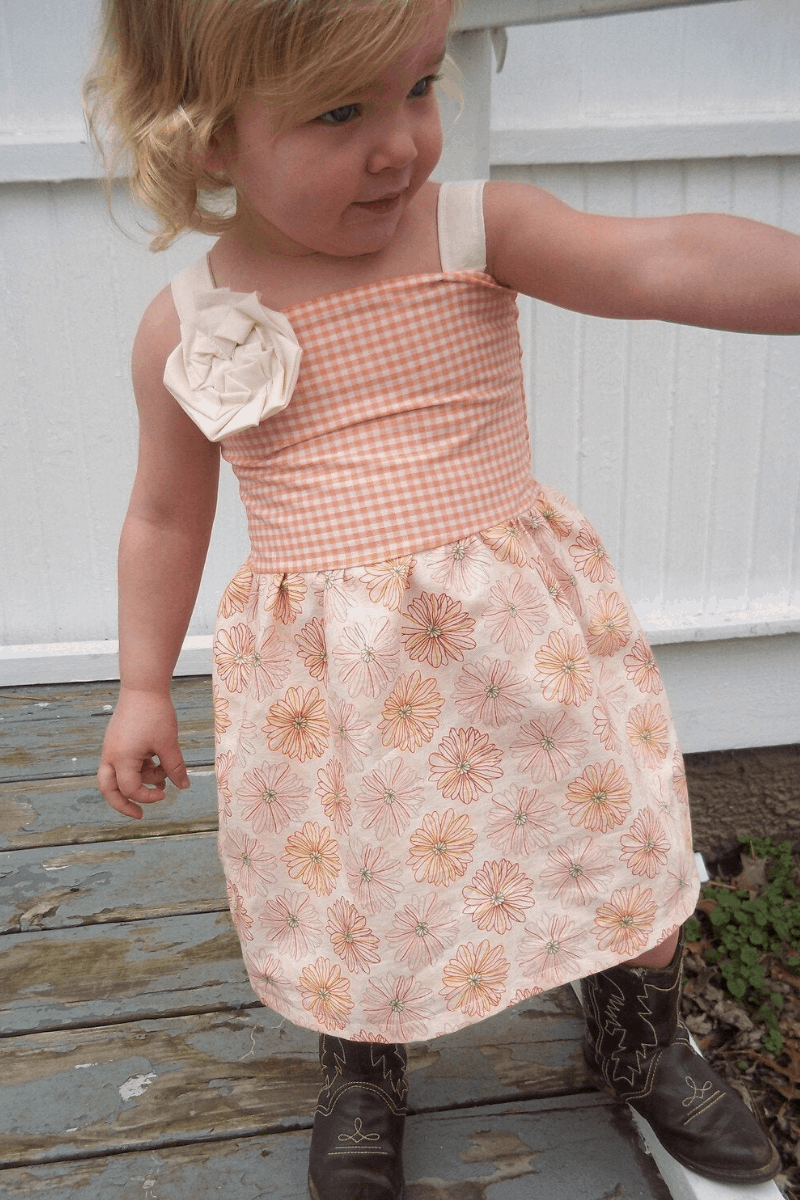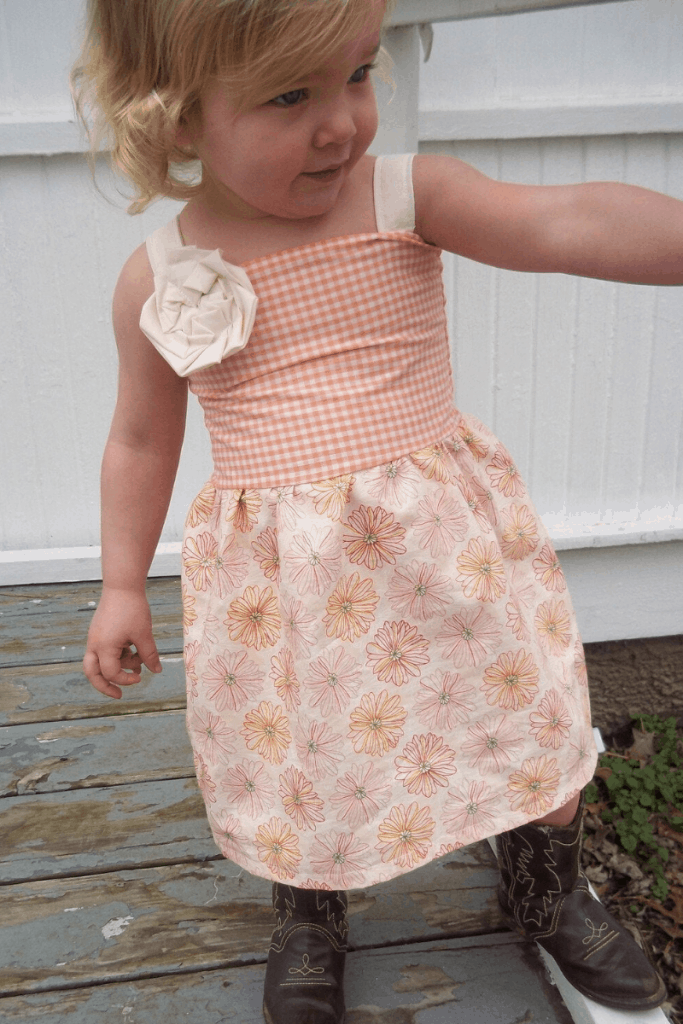 And here is my sweet Ruthie in a shirred dress that I made well before I had any photography skills: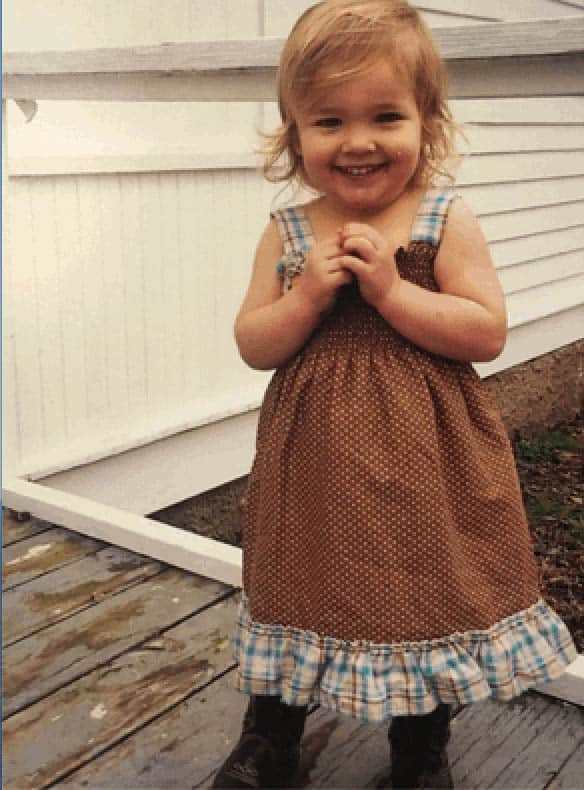 They are such easy summer dresses!
Size 12-18 months 
Cut 2 (for the main dress) – 21″ long by 18″ wide
Cut 2 (for the ruffle) – 4″ long 27″ wide
Cut 2 (for the strap) – 10″ long by 3″ wide 
Cut 1 (for the tie) – 47″ long by 3.5″ wide
Size 2T
Cut 2 (for the main dress) – 22.5″ long by 18″ wide
Cut 2 (for the ruffle) – 5″ long 27″ wide
Cut 2 (for the strap) – 10″ long by 3″ wide 
Cut 1 (for the tie) – 50″ long by 3.5″ wide
Size 3T
Cut 2 (for the main dress) – 24″ long by 18″ wide
Cut 2 (for the ruffle) – 6″ long 27″ wide
Cut 2 (for the strap) – 10″ long by 3″ wide 
Cut 1 (for the tie) – 53″ long by 3.5″ wide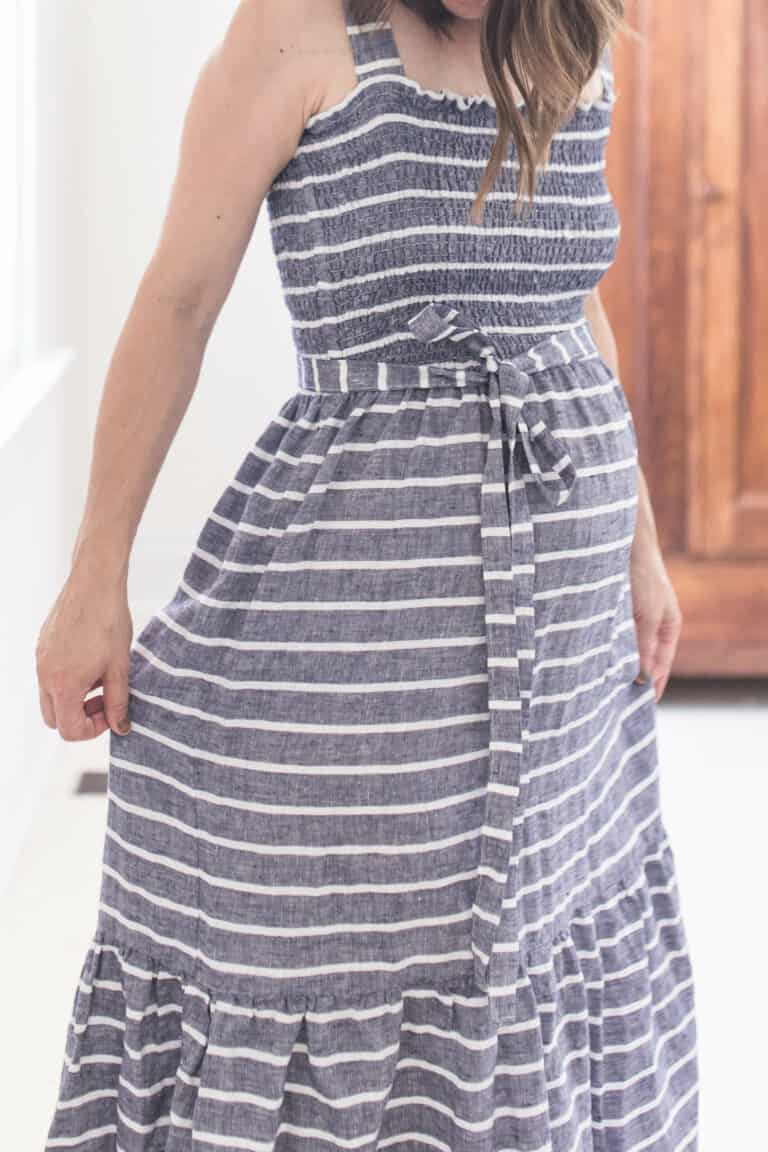 If making a dress is a little intimidating, then this T-shirt dress from Lil' Luna is the perfect beginners project. This sewing project utilizes a new or used shirt (this is a great way to upcycle an old shirt) and the only sewing is the simple skirt.
A simple ruffle, a hem, and a seam. That's it. If you are just starting out sewing, you should take my Simple Sewing Free Course, but also after watching those three tutorials (and following the directions on the post), you could make this dress.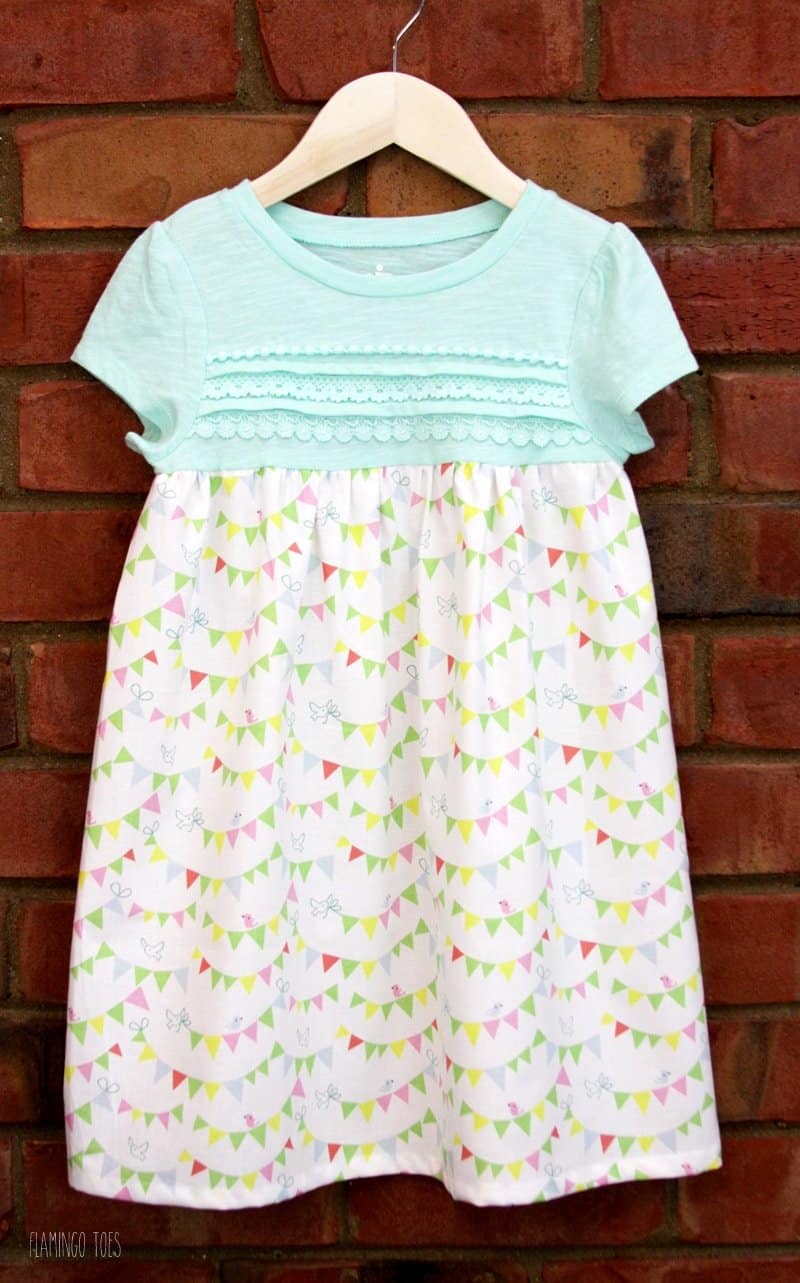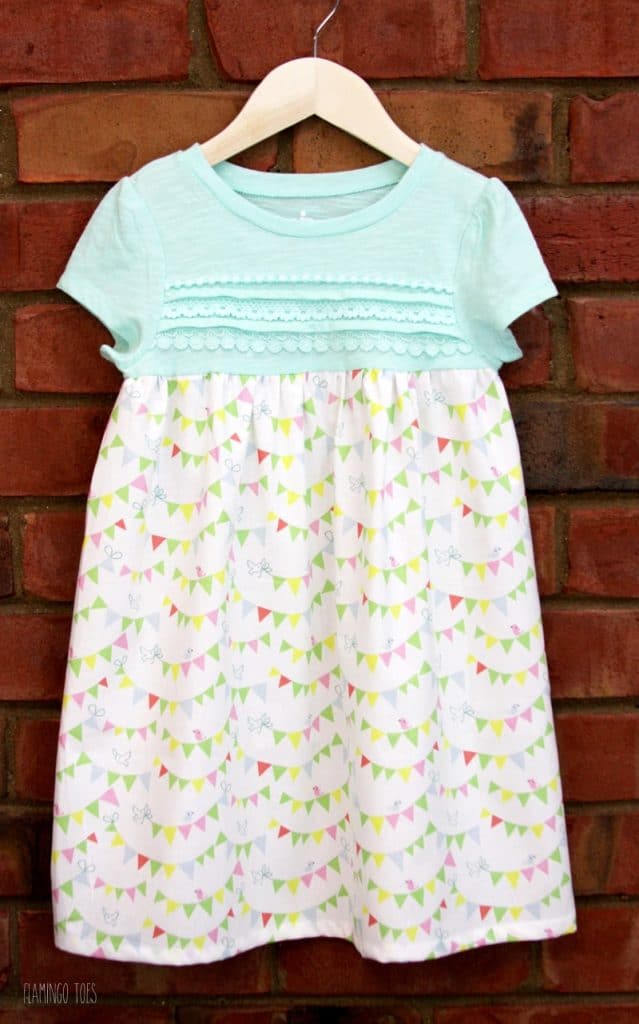 Pin It For Later