Create a beautiful, fall window box full of autumn flowers, shrubs, and ornamentals. Keep your fall flower box beautiful with a few simple touches.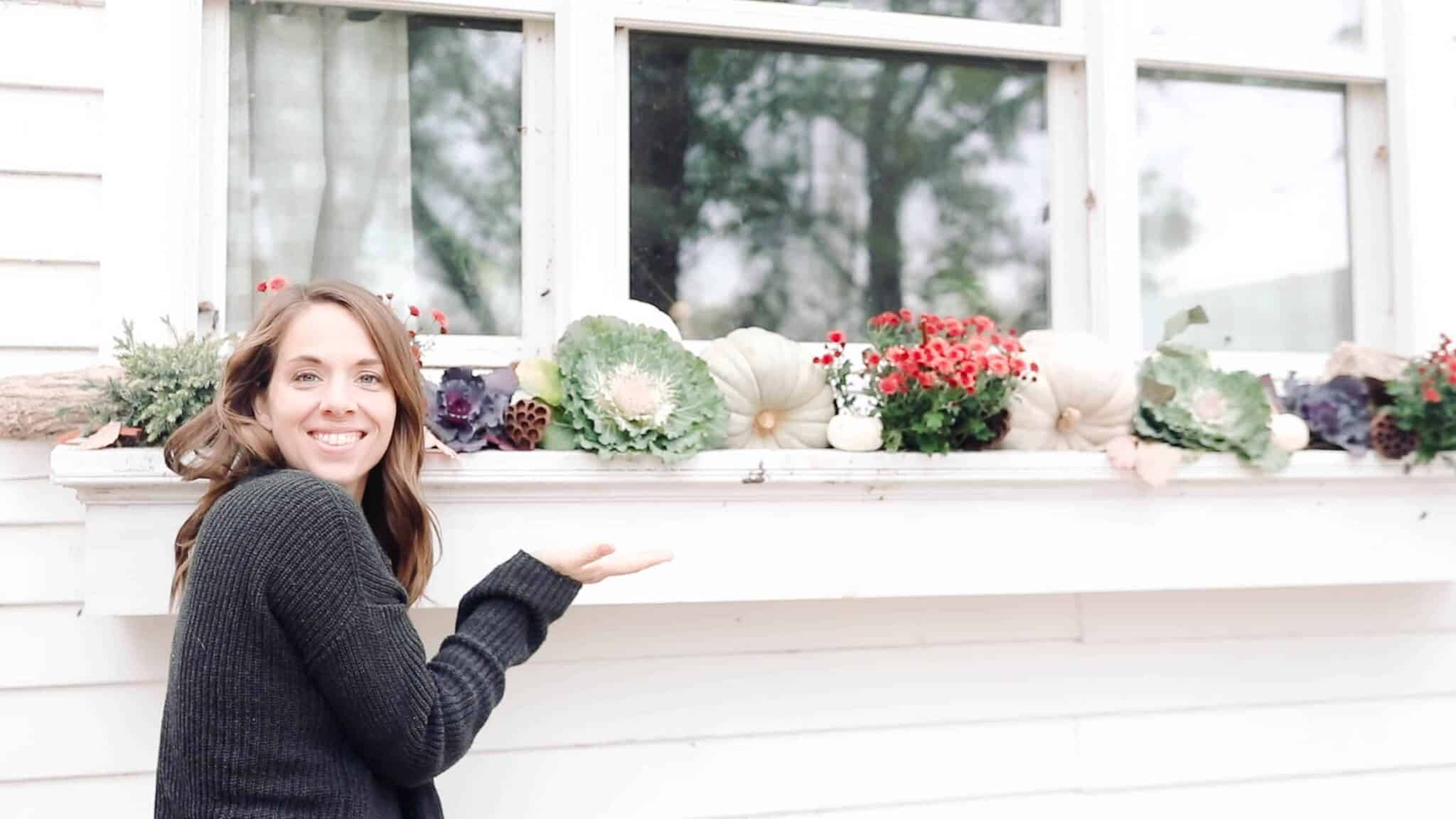 It's starting to get cold, with temperatures really dipping down after dark. The wood stove is installed and ready to faithfully warm the house. We have to put on our jackets each morning before heading out to do farm chores, and the crunchy, vibrant leaves have blanketed the entire property.
As many of you know, we are planning a wedding here at the farm. My little sister is getting married in just a few weeks.
So, we are preparing the farm for a fall wedding and welcoming fall in all its glory. The wedding will be outdoors. Well, technically in our barn, but there will be lots of string lights, mums, pumpkins, and all things autumn.
We are really hoping the leaves will stay on the trees, because at the moment, it has been really dry here and the leaves seem to be dropping much earlier than usual.
Hopefully, the trees will still have some of their glorious colors, because right now I feel like they are at their peak.
So, I wanted to create a beautiful, fall window box. I'm really trying to create these little fall moments all over the property. And my window boxes still have the summer flowers in them.
They still looked beautiful up until about a week ago, but I wanted to pull everything out anyway. The frost would kill it, regardless. The parsley could have stayed, since that usually winters well, but I decided to pull it, too.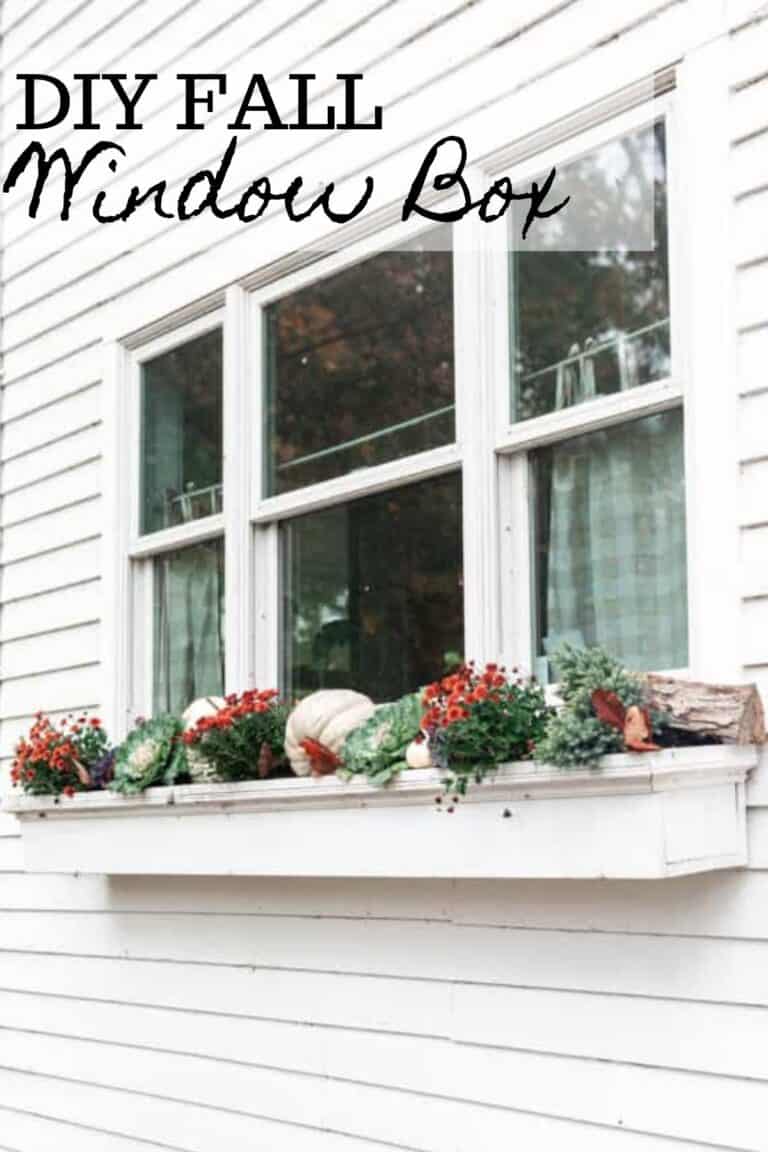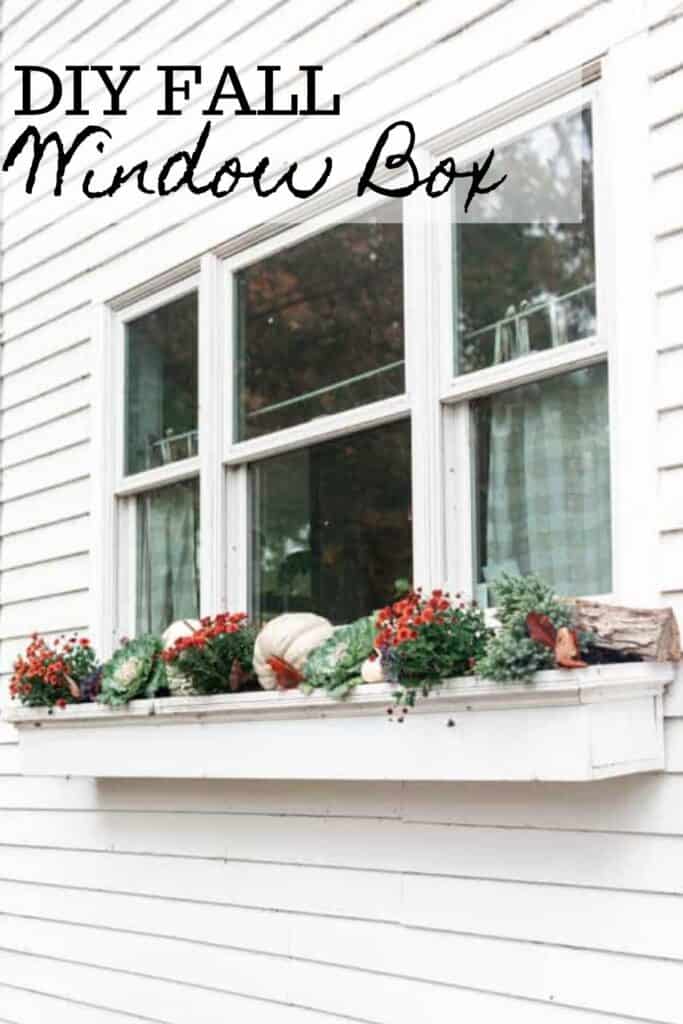 What do you put in fall window boxes?
I like to focus on a few things when deciding what to put into a fall window box. What can withstand the cooler temps? Does it add beautiful fall colors like oranges, yellows, reds, purples, creams, and dark greens? I also like things that add texture like pine cones, grasses, and even pumpkins.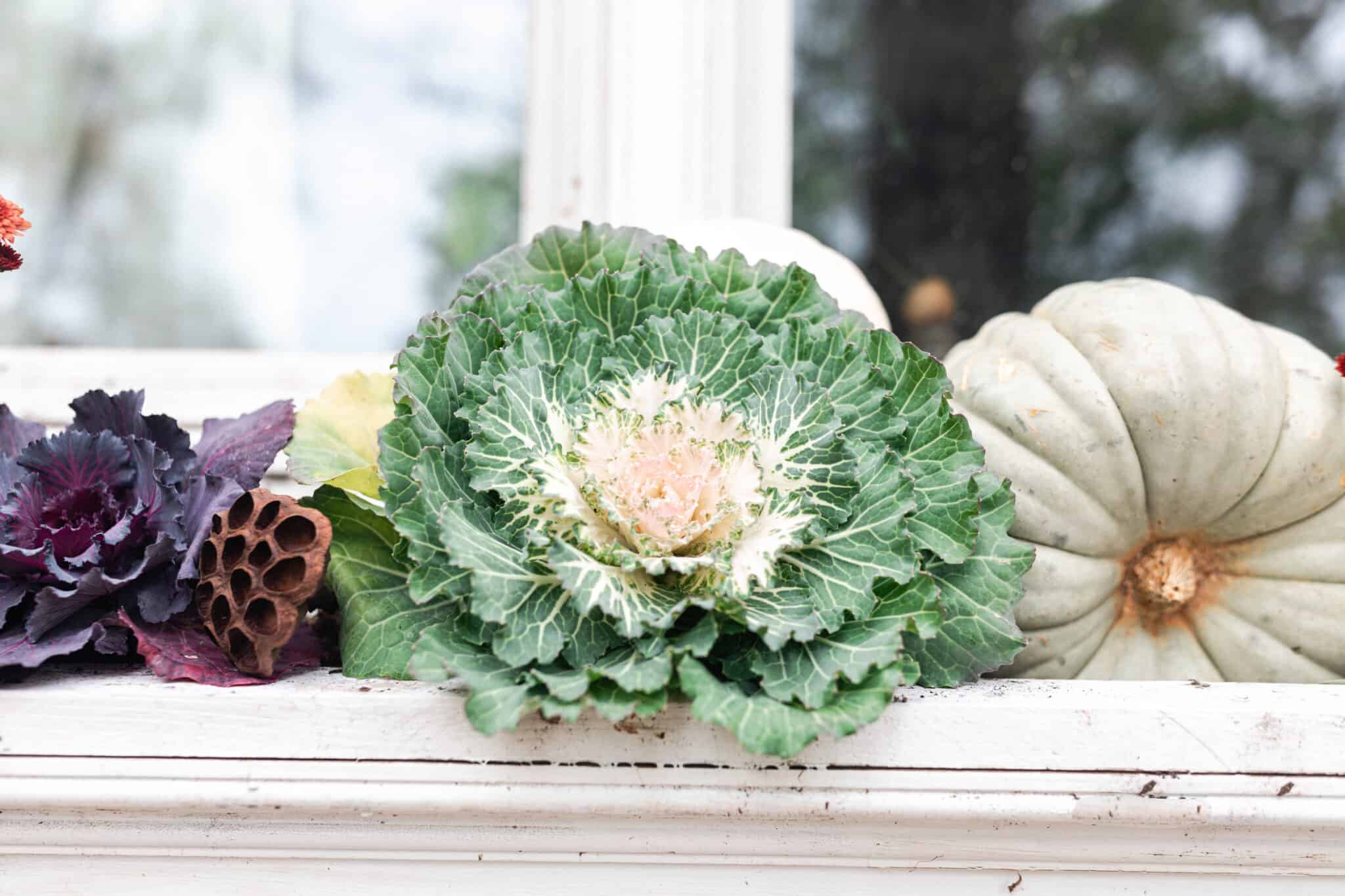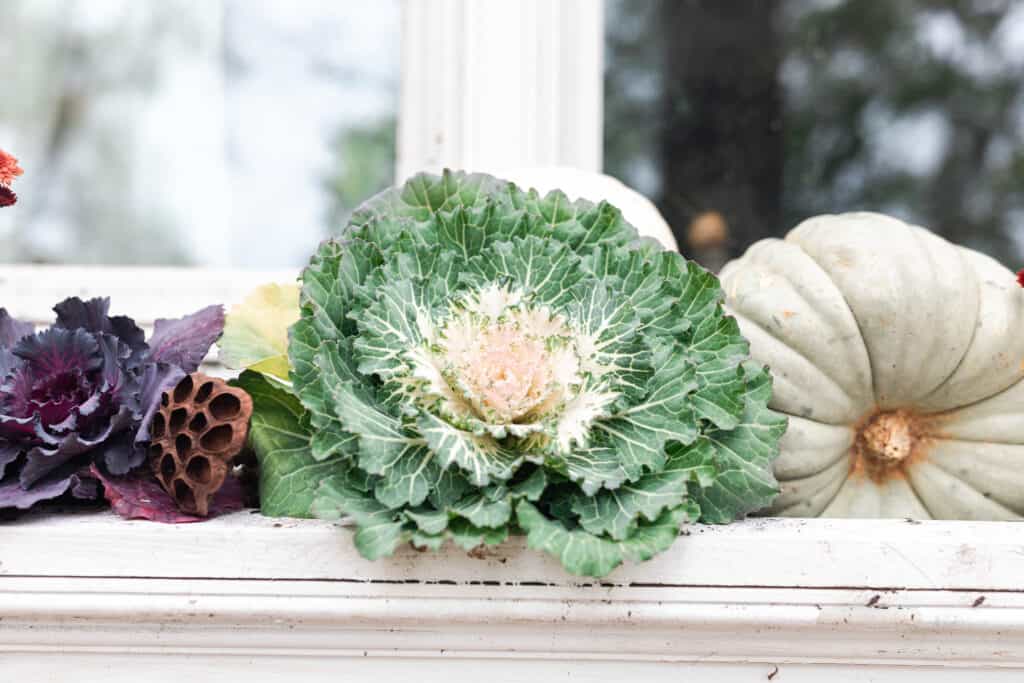 Can you put mums in window boxes?
Yes. Mums make great additions to window boxes, because they add bright pops of color, will stay pretty even with colder temps, and can easily be divided.
How Do You Build A Window Box?
They are rather simple to build and you just need a few tools and materials. You can find the tutorial on how to build one here.
Watch The Tutorial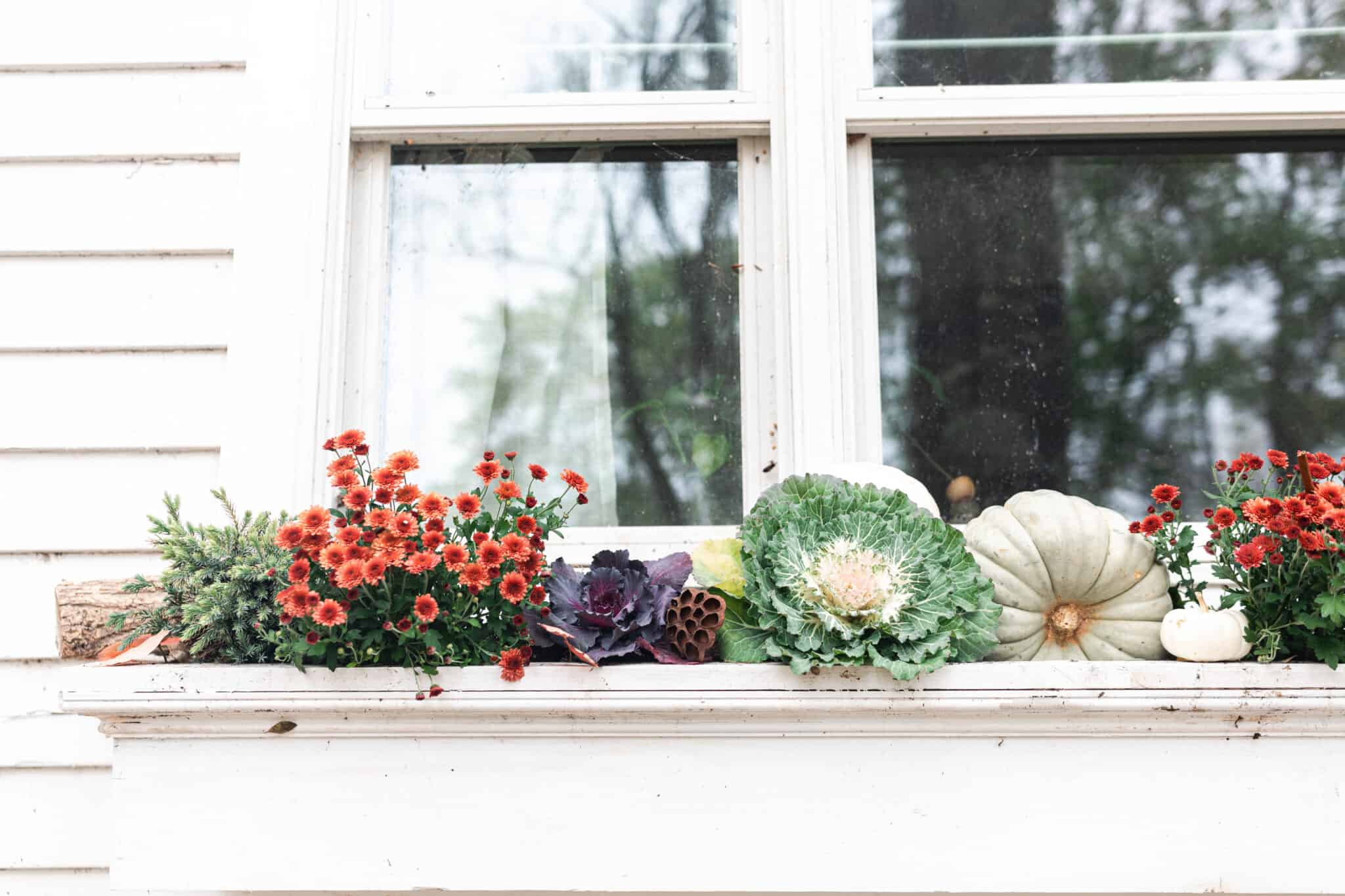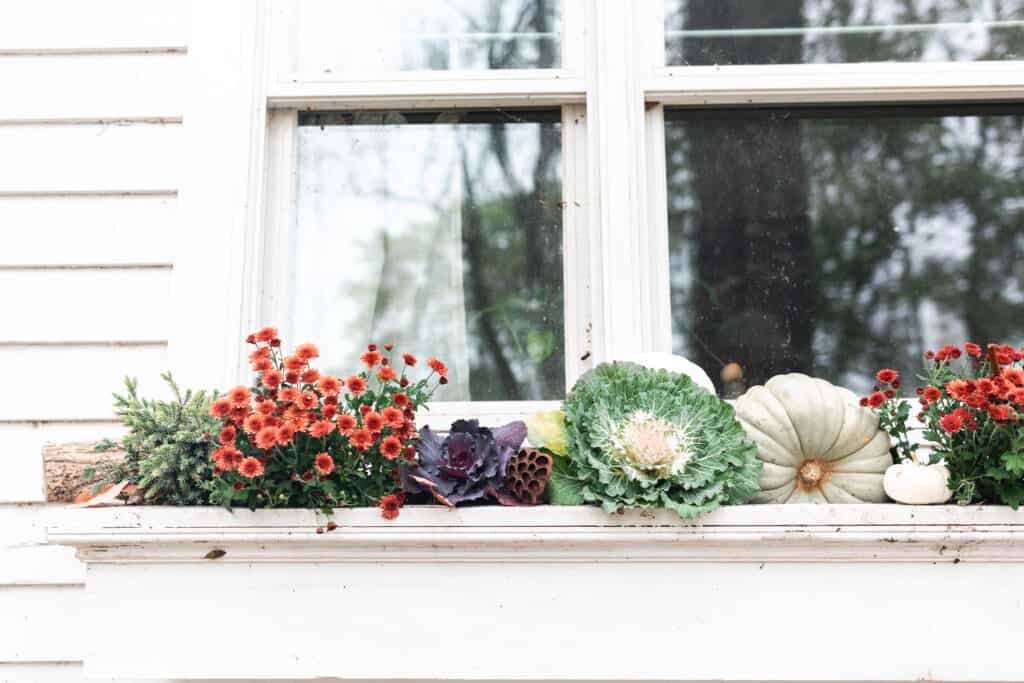 How To Create A Fall Window Box:
Pull out your summer flowers. If you don't have a window box, you can find my easy guide to creating a window box here.
Add more soil, if needed.
Add a variety of cold-tolerant herbs, flowers, and perennials.
I started by anchoring the ends with some Blue Star Juniper. This is a lovely evergreen that will continue looking great through the winter.
Next, add a variety of colorful kales and cabbages. Two large, green and white cabbages and two, small, purple ornamental kales.
Add mums. I grabbed one large, potted, orange mum and divided it into three sections.
Alternate the plants until it looks beautiful and even.

For example, I did Juniper, mum, purple kale, white cabbage, mum, white cabbage, purple kale, mum, and then Juniper, in that order.

Next, add larger pumpkins throughout and add textures like pine cones, tiny pumpkins or gourds, dried leaves, logs or sticks. I'll even add some dried or fresh eucalyptus.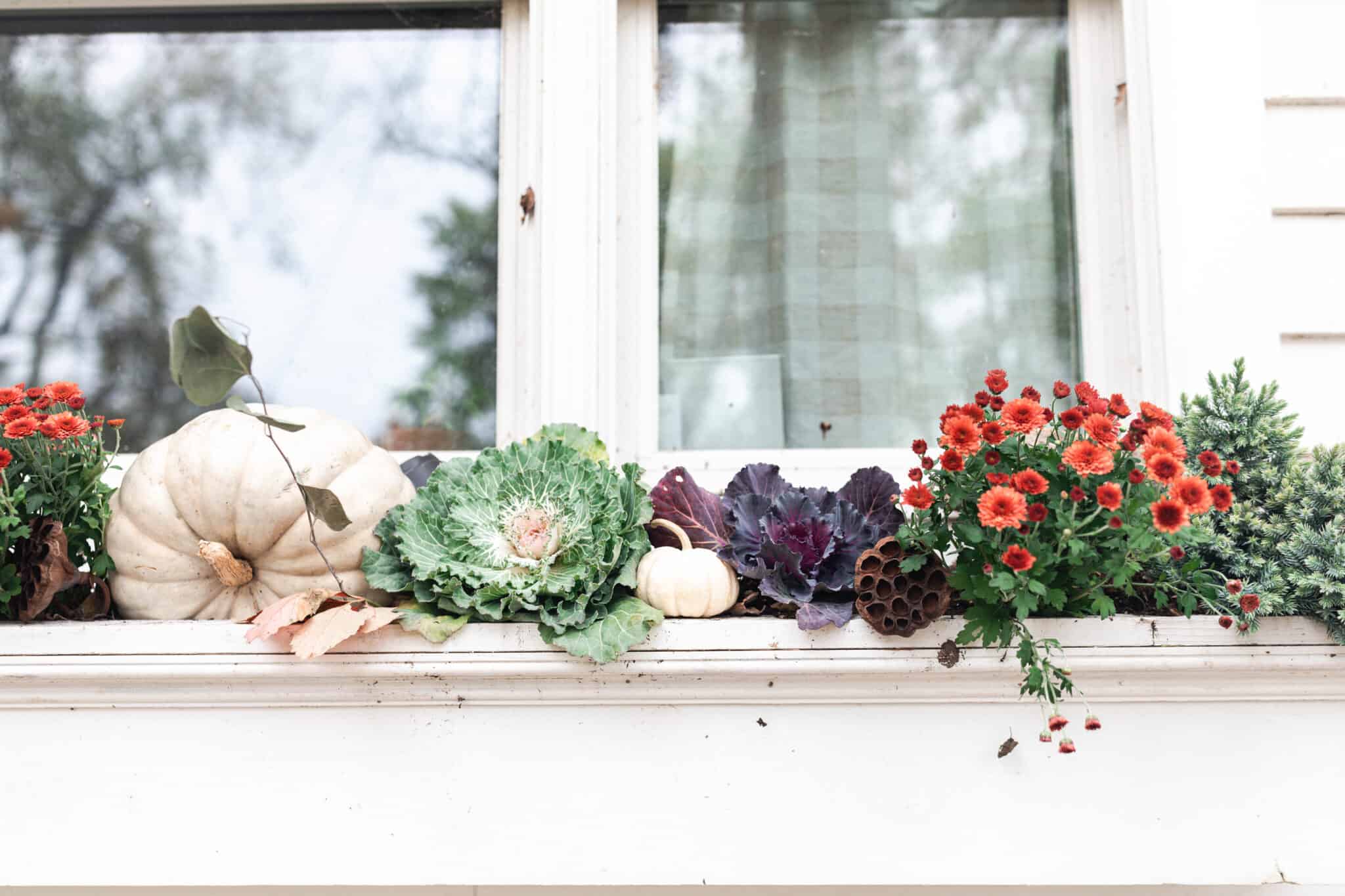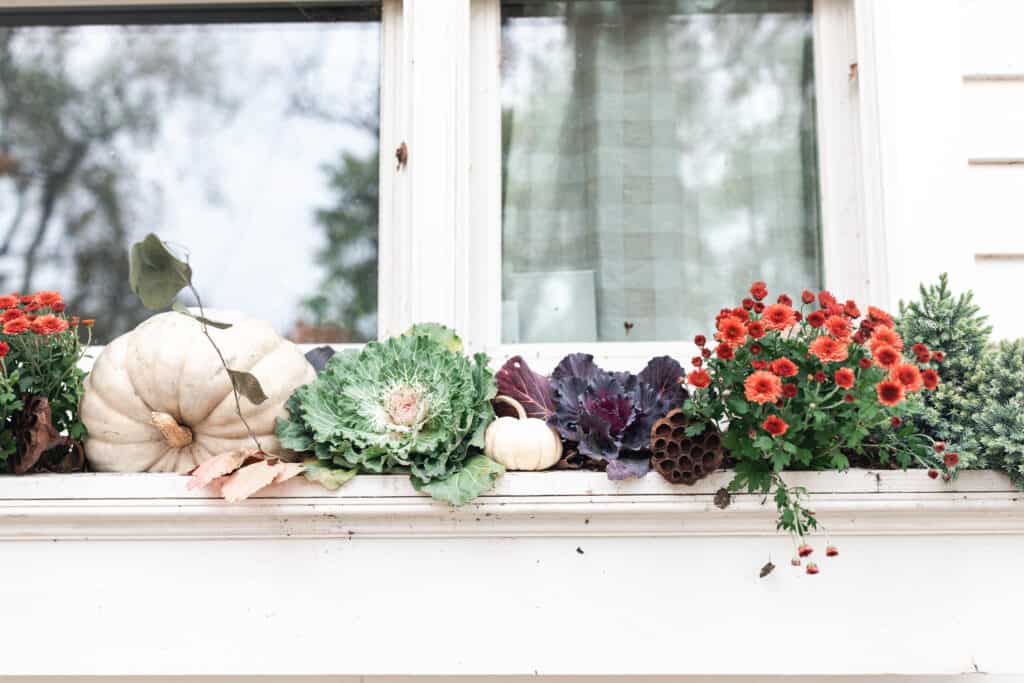 I love the way this project turned out. It adds so much color and fall inspiration to the farm. Stay tuned, as I'll be documenting how we are decorating the farm for the wedding. We will be working on creating little moments all over the property.
Find More Inspiration From The Farmhouse:
Pin It For Later