These beautiful farmhouse wall art ideas will help make your home feel cozy and collected, without costing a ton of money. Check out my tips and tricks on where to find inexpensive art and collections.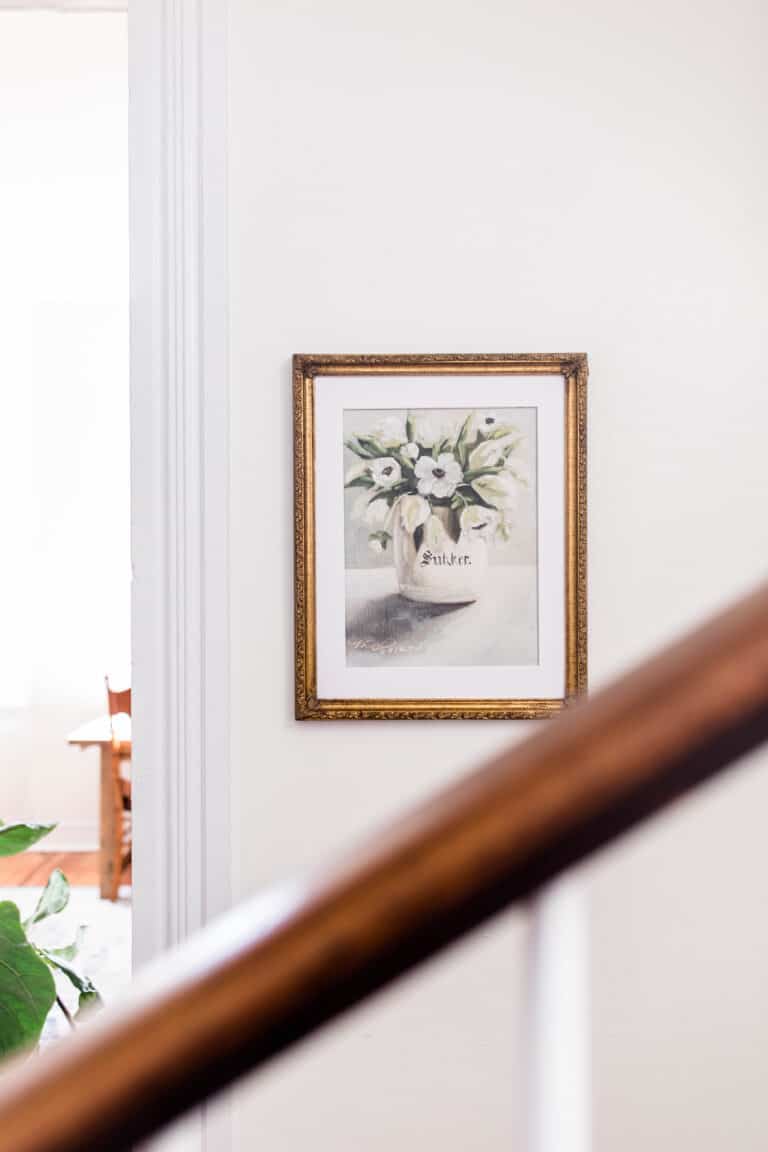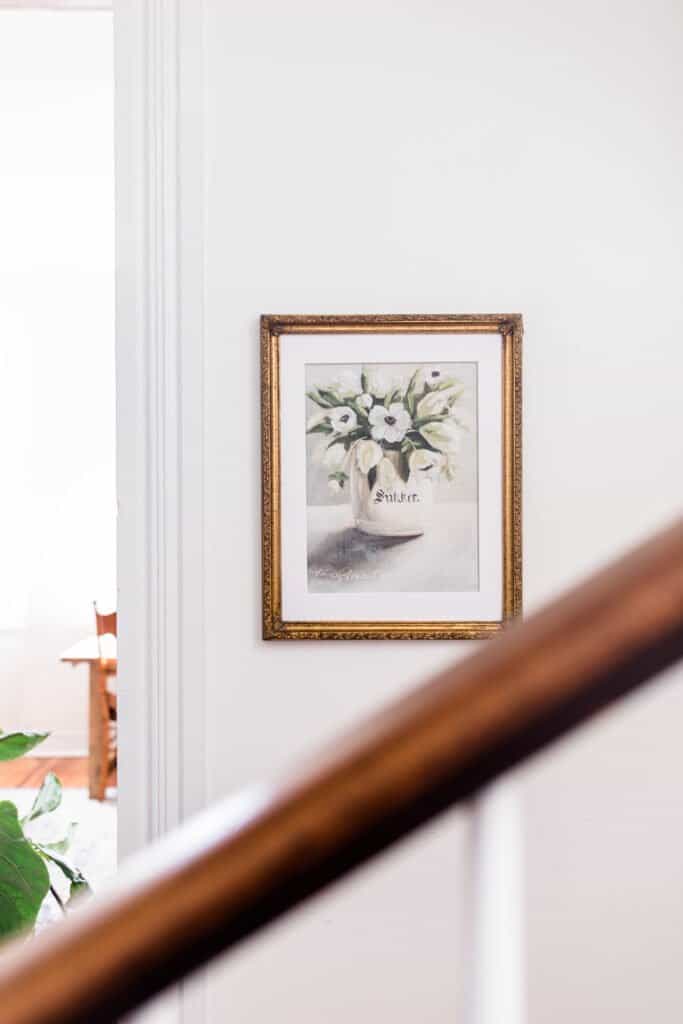 I've been wanting to add so much more farmhouse wall decor around the farmhouse. Appropriate, right? I've been collecting a lot of things, and today, we finally checked off a bunch on our list.
Over the last few months, I've been collecting lots of vintage frames. The only problem is that it can be a challenge to find artwork that's not only beautiful, but also the right size to fit inside the frames.
No worries, I found a little bit of a solution for that, which I'll touch back on shortly!
During the spring and summer, all my focus and energy is outside, as we get the garden beds together, the fencing completed, and all the farm animals welcomed home.
But now that summer is winding down, my attention is going inside to spruce up the house and make it more cozy. Maybe I'm just preparing for winter.
Speaking of which, the temperatures are starting to dip a touch, so we are getting a wood stove installed this week.
It's the encouragement I needed to start adding layers of wall decor inside to really give it that collected look.
Watch How To Incorporate Farmhouse Wall Art
Farmhouse Wall Art Ideas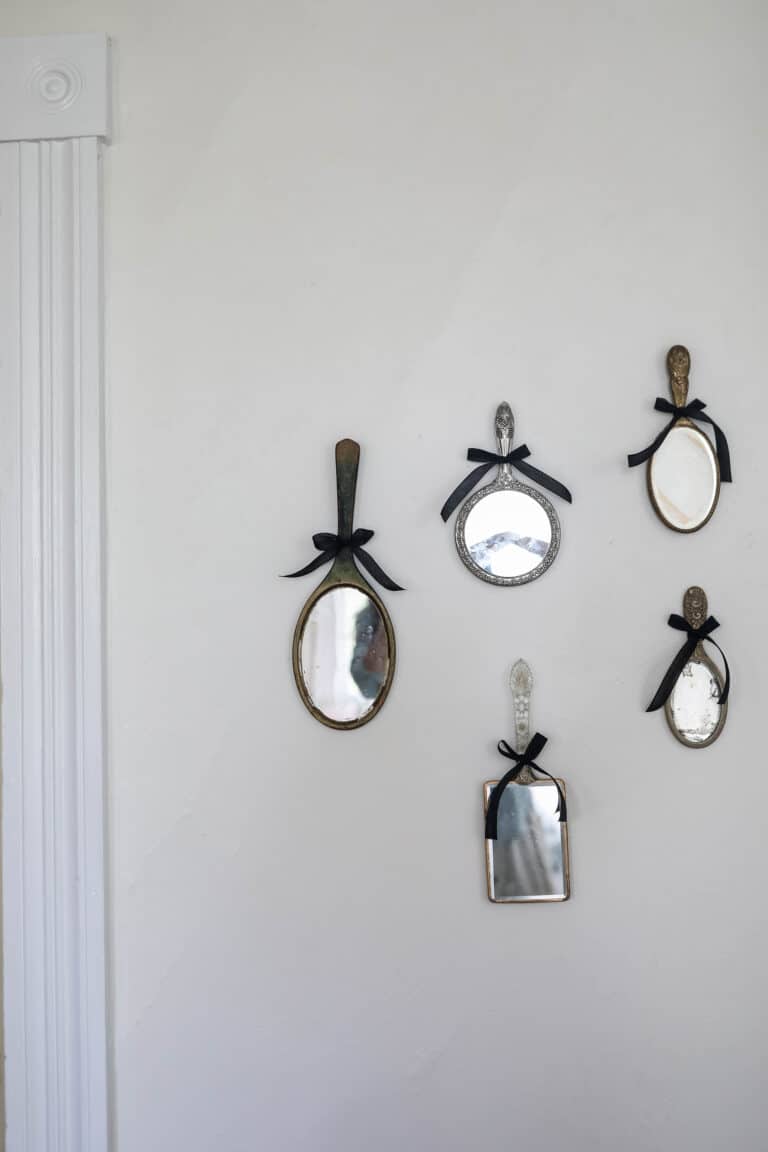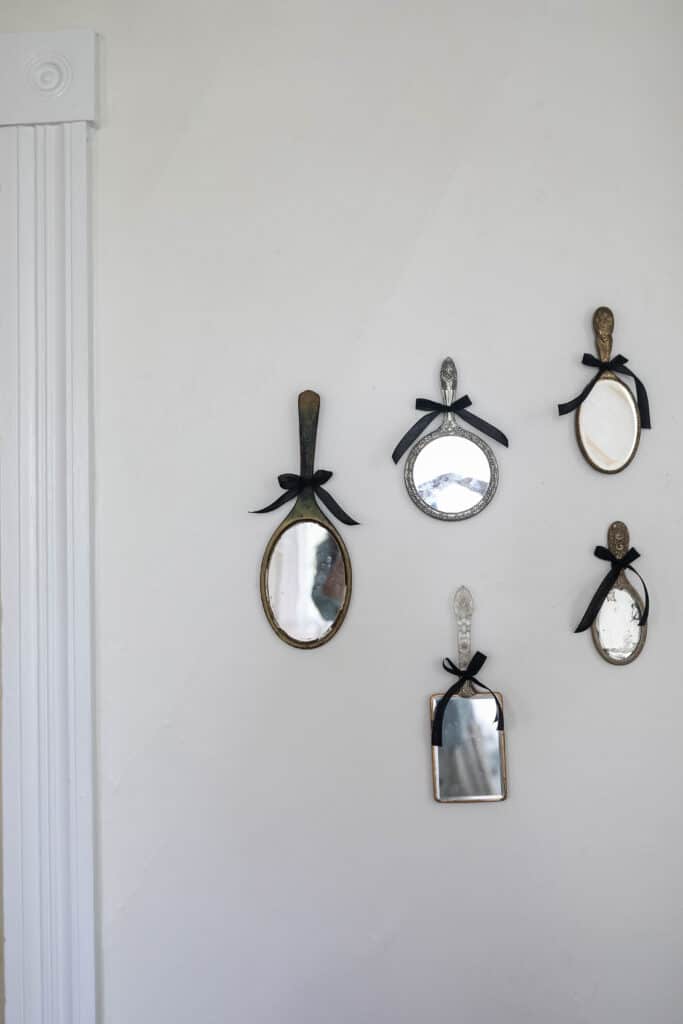 This post contains affiliate links, which means I make a small commission at no extra cost to you. See my full disclosure here.
Grouping Together Antique Collections:
I've seen this idea on Pinterest. Find a collection, like antique hand mirrors, and hang them on a wall together. I found one hand mirror at an antique store recently, and I will just be tucking it away until I can get a collection of five or so.
Recently, my friend Deb at Seeking Lavender Lane (see link below) shared a collection of sun hats she hung on the wall of her daughter's room. It was just so darling.
This can also be done with cutting boards (either hanging on the wall or resting together on a countertop), rolling pins, or full-size vintage mirrors, making a gallery wall of large mirrors.
I've even seen it done with white spools of thread. One spool of thread isn't anything special, but arrange it with a few and it can look really beautiful.
In a few places around the farmhouse, I've hung my collection of antique blue plates. It's so rewarding to be able to beautifully display something that you love.
Art Prints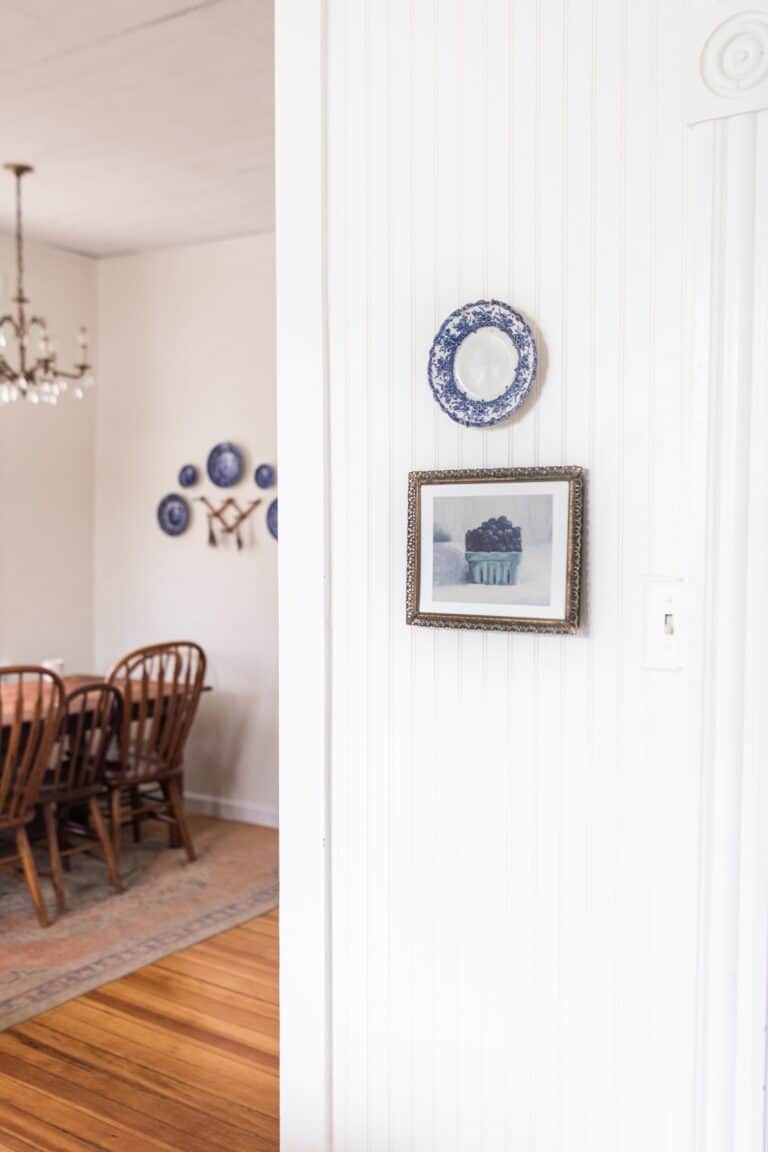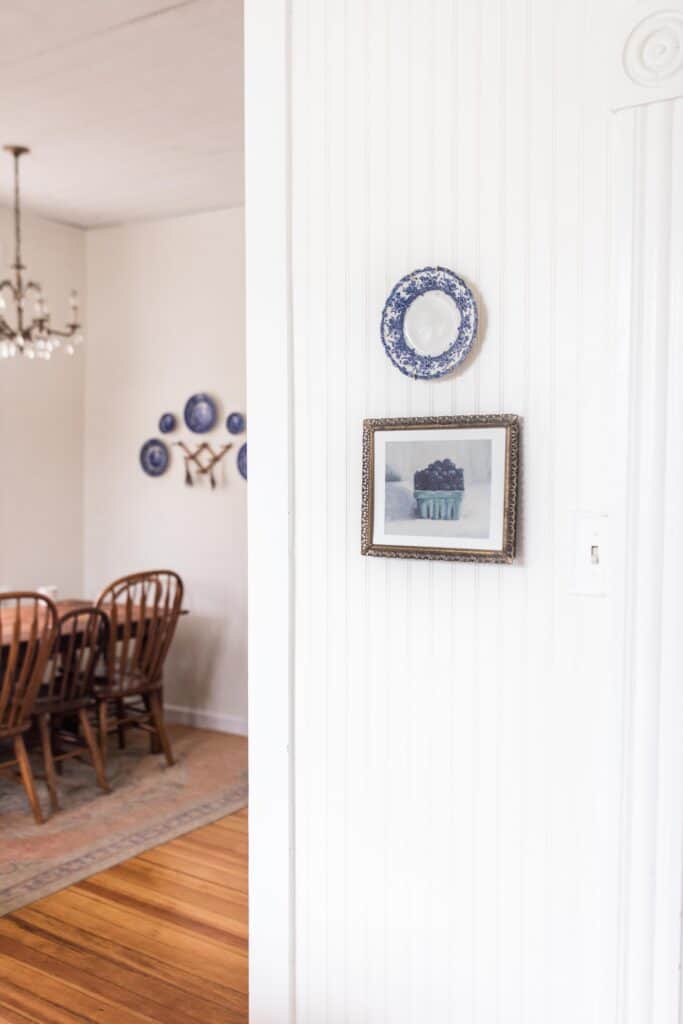 Like I mentioned earlier, I've been collecting antique frames from antique stores, thrift stores, and yard sales. If it was cute and around ten dollars, I would snatch it up with the intentions of filling it with family photos, art prints, or paintings.
Turns out, it is very difficult to find just the right size. So, I went to a website called Society 6, where makers sell their own artwork (originals and prints), home decor, curtains, etc. I browsed and found a bunch of prints that were the right sizes for my frames.
My friend Deb, at Seeking Lavender Lane has an amazing collection of prints you can order, or even purchase digital downloads.
Another good option is my friend Andrea from Pine And Prospect Home. She offers a variety of downloads of her beautiful original artwork for a really inexpensive price.
Many of the prints I chose were from the Miss Mustard Seed collection. The colors and landscapes fit my home's aesthetic perfectly. I also hung this beautiful lilac print in the laundry room.
Something to keep in mind with using antique frames is that you may need custom mats and custom photos in order for it to fit just right. Things weren't always so standardized back then. If you find a frame the doesn't have glass, you can get glass placed in it at a frame shop, or a craft store like Michael's. It isn't super cheap though.
Usually, I print the prints at Mpix.com and choose the matte finish.
Even having to go that route, if you find a cheaper frame, you can be all in with art for less than $30 -which is much less expensive than buying an antique oil painting.
In the kitchen, I hung the blueberry print from Miss Mustard Seed. Above it is the cute little blue plate that I found at an antique store recently. They turned out so beautiful together.
Pratical Things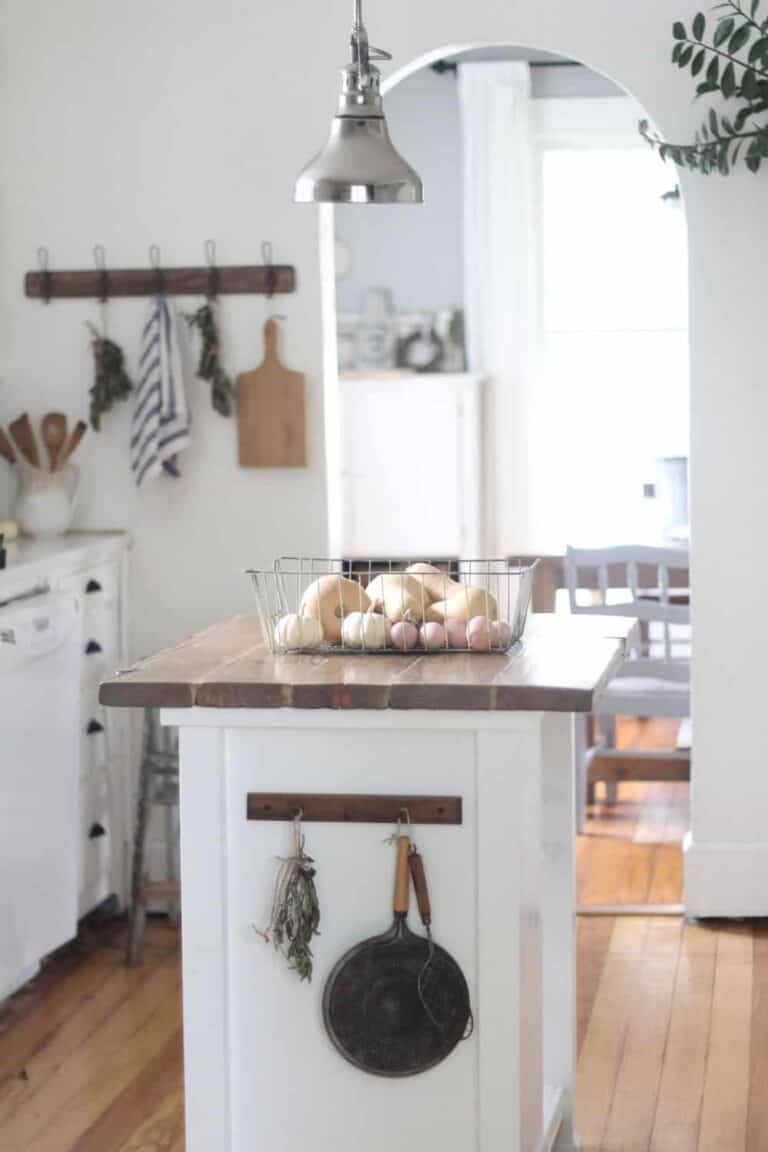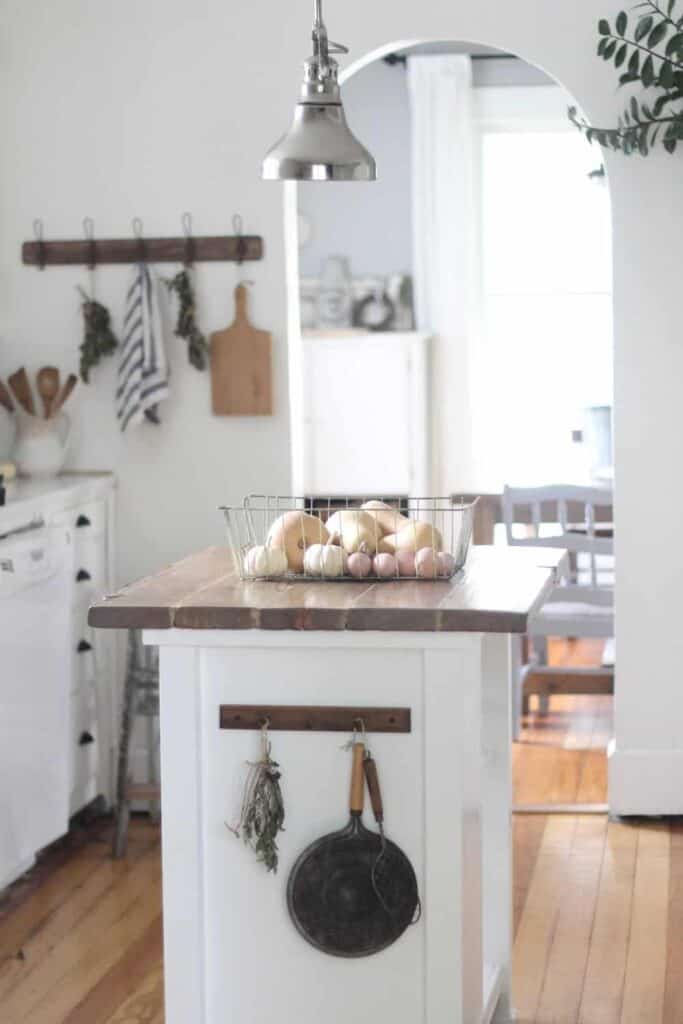 Farmhouse style is all about utility, blending beauty and practicality, and nothing embodies that more than using everyday items. Ideas like hanging aprons on the wall, or cutting boards, rolling pins, hats, coat hangers, baskets, or linen totes hanging by the back door… practical, beautiful things out on display.
China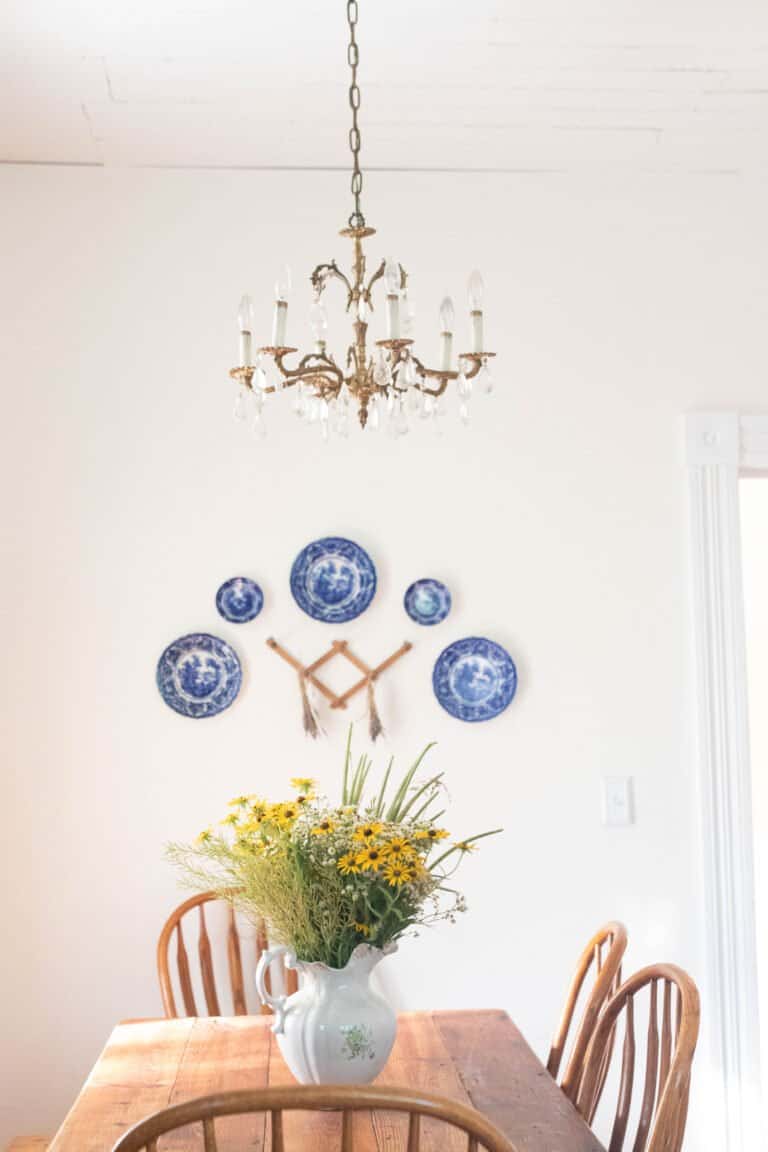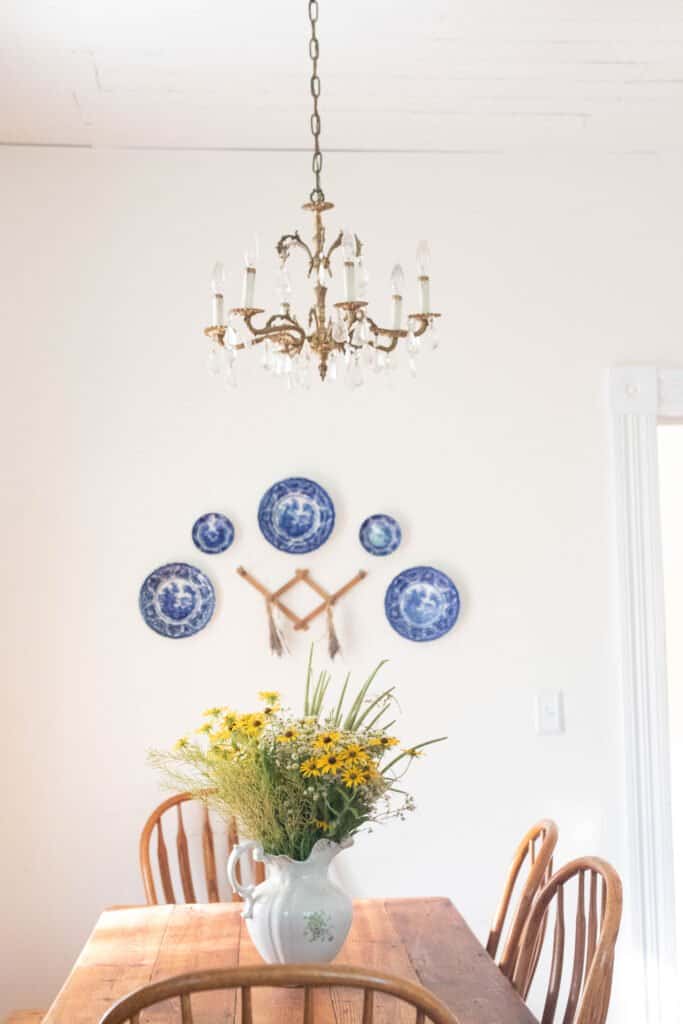 Plates, terrine lids, platters… I've utilized china wall decor all over our house. Honestly, probably too much, but I just love it.
These dishes are just so pretty, yet not something I'm going to cook with or serve my family with, so they are artwork in themselves.
I have a gallery wall of plates in my kitchen dining area with a wooden peg rack, with dried herbs hanging from it. There are a few plates in the entryway over some family photos and an antique mirror, and some also positioned over a hutch in the dining room.
Vintage Hooks And Peg Racks
I just love hooks and peg racks, like the one shown above in our eat-in kitchen area.
They are a great way to add farmhouse decor because you can use them practically to hang jackets, hats, and bags or you can use them to hang decor like frames, herbs, rolling pins, etc.
They just have that farmhouse charm that adds a layer of coziness to the walls.
Family Photos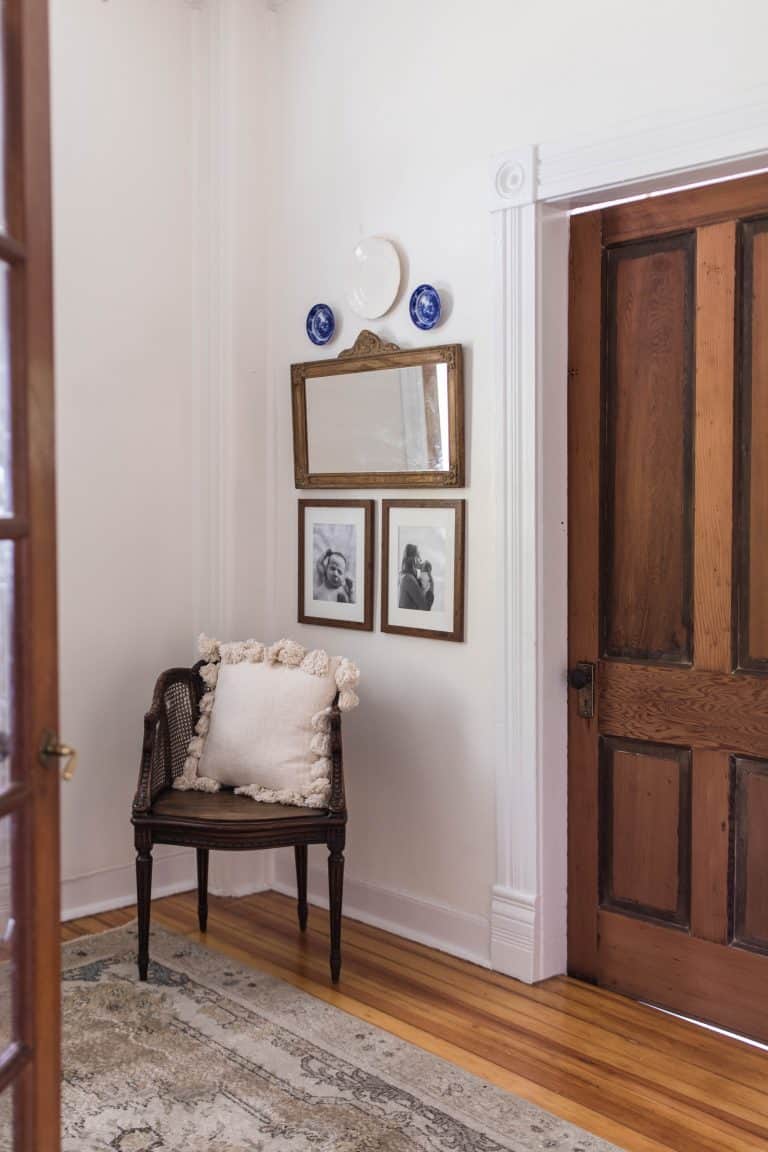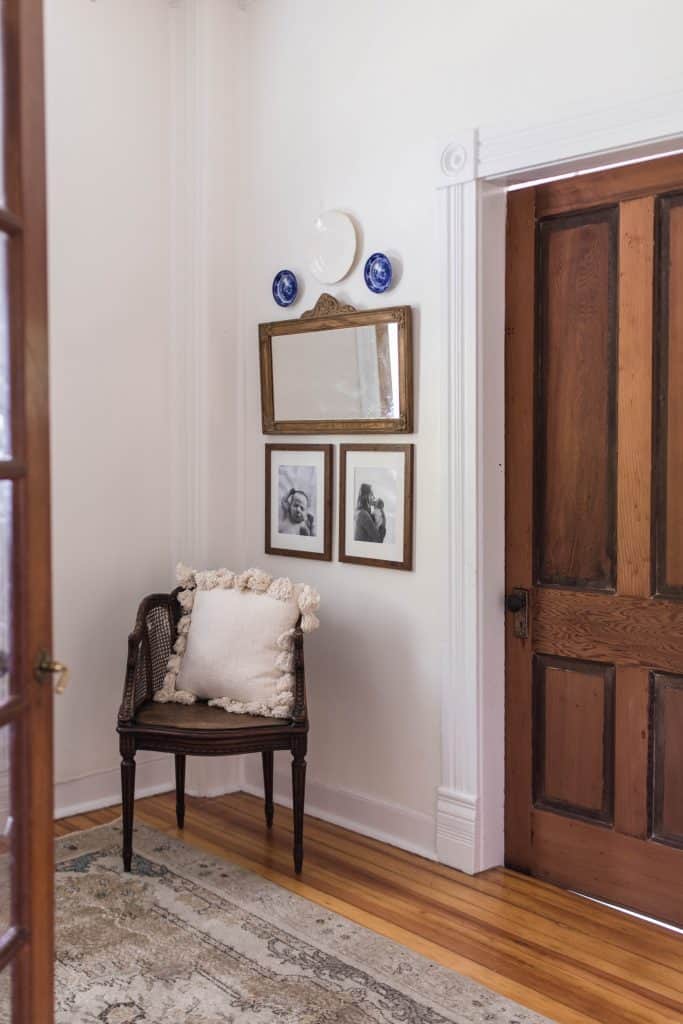 Family photos, whether getting them done professionally or doing them yourself, can be a great way to decorate your wall with something personal.
I've hung baby pictures of Daniel, some of Micah, and pictures of myself with the kids to really show the beauty of motherhood. I love being able to look back at old pictures to see how our family has grown and changed.
Dried Herbs And Botanicals
Since it is summer, my garden is bursting with florals and herbs. I've been tying up herbs and lavender all over the place to add a little bit of color.
My friend Sara Jo at Bryarton Farm has the most gorgeous, large bundles of herbs hanging on a chandelier over her kitchen island. 
Angela from Parisienne Farm Girl also creates beautiful bouquets of fresh herbs to hang around her home.
Drawings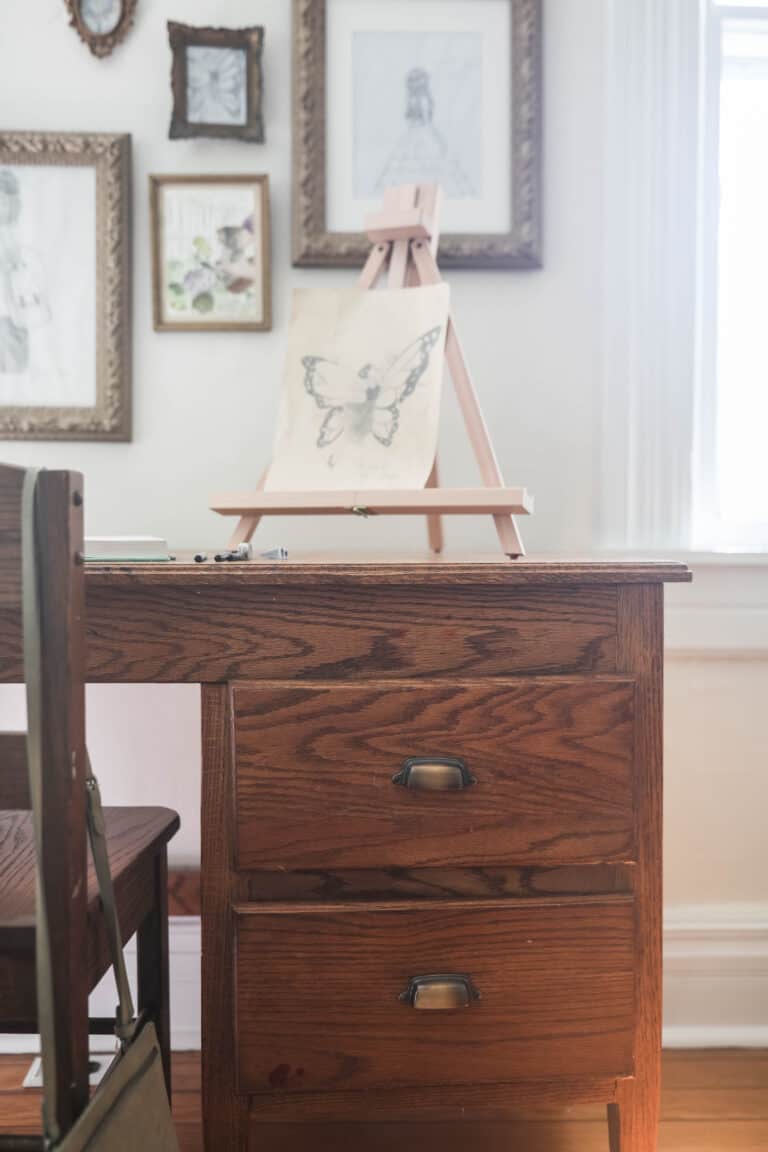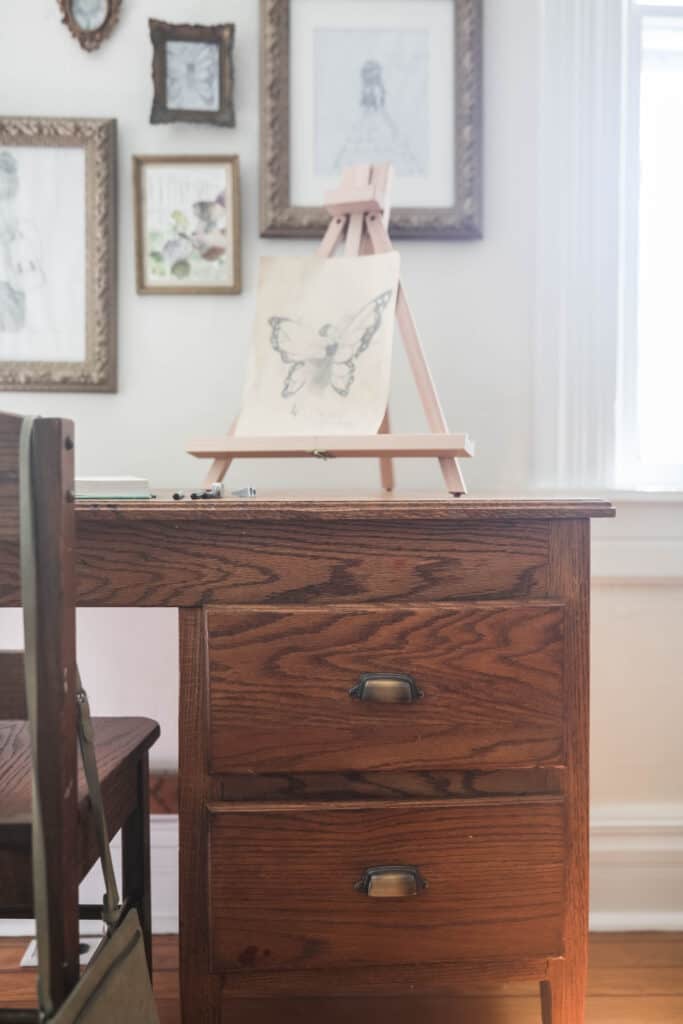 While I'm not very good at drawing, my daughter is. I actually commissioned her to draw a few pictures for the girl's room redo and placed the drawings in vintage frames.
Vintage Needlepoint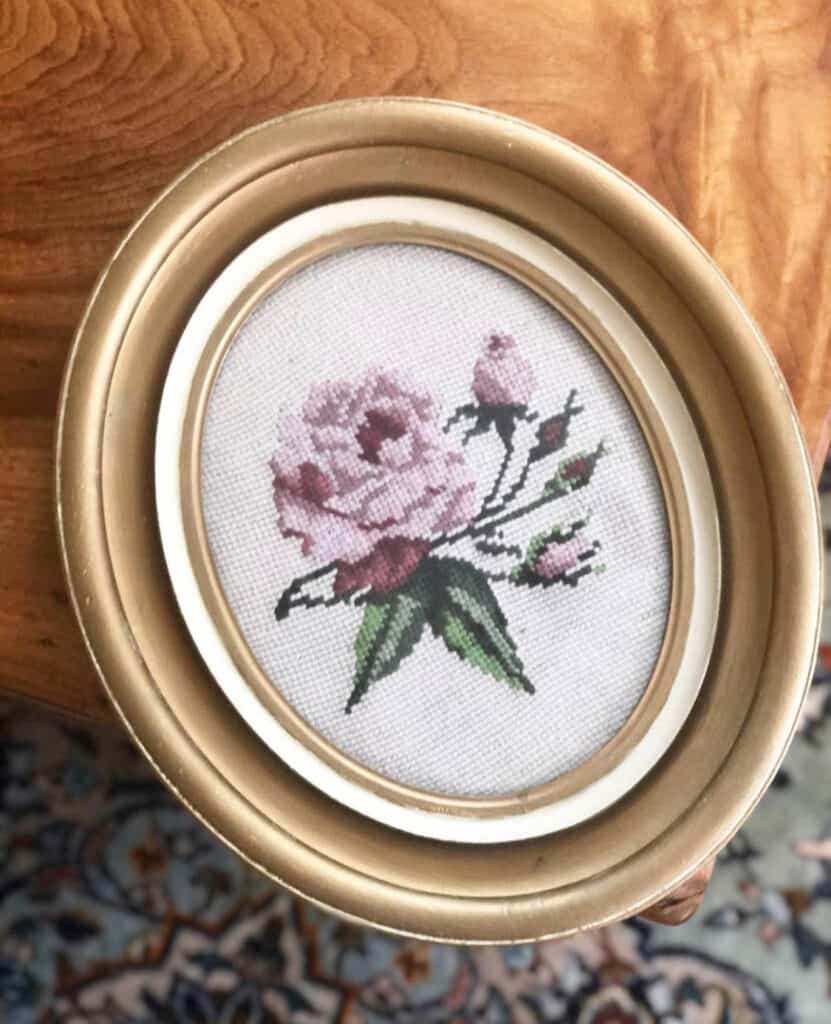 This is new to me. I just picked up my first vintage needlepoint from Facebook Marketplace. It was a pretty floral piece from the 1930's in an oval gold frame. It's so beautiful.
Right after I picked that piece up, I noticed two more needlepoints at a local antique store. They are actually really common and easy to find.
Property Throughout The Seasons
A reader gave me this idea and I just love it. She suggested I take photos of the barn or the garden during each season and hang them up in beautiful frames.
You can see and admire the beauty of the barn or garden during each one of those seasons.
Antique Oil Paintings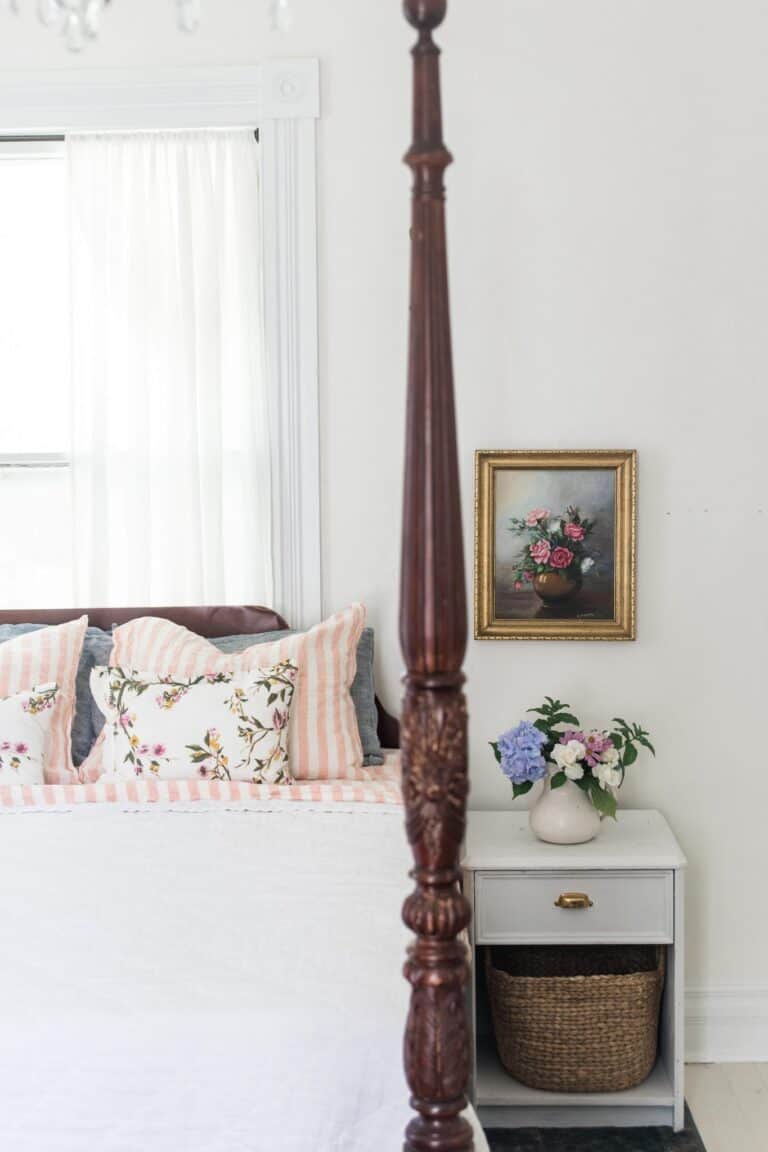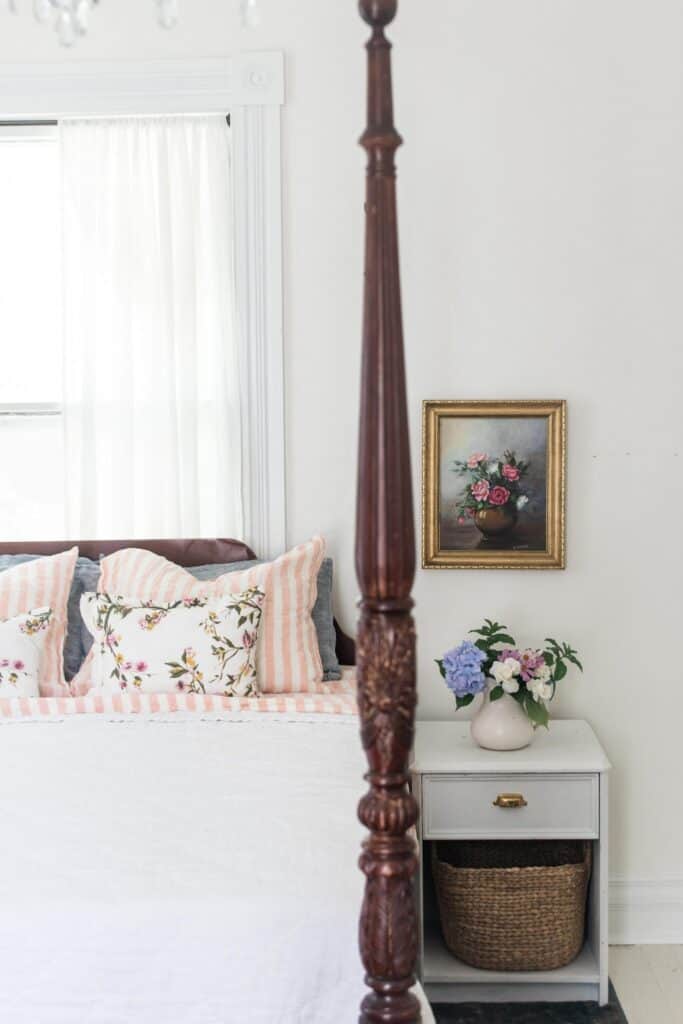 Okay, wrapping up here, but this is something I've really been getting into lately, and I'm spotting them everywhere. Antique oil paintings can be pricey, but I would argue that they are worth it. They tend to steal the show!
I bought two oil paintings recently on Facebook marketplace for $25 each and hung them over our nightstands.
Another landscape painting was hung at the top of the stairs.
It is something I will always keep an eye out for, but only for the right price. Some people want a whole lot for these antique paintings, while you can snag them for a great deal from others. Just keep your eye out.
All right, there you have it, some ideas for inexpensive farmhouse wall decor, perfect for your farmhouse. It has been so fun decorating our farmhouse and taking you along with. 
Find more farmhouse decor inspiration:
Pin It For Later