Learn how to create a gorgeous, outdoor, fall table setting perfect for a wedding, date night, or just a beautiful evening with friends. Simple finds from around the farmhouse come together to create a cozy look.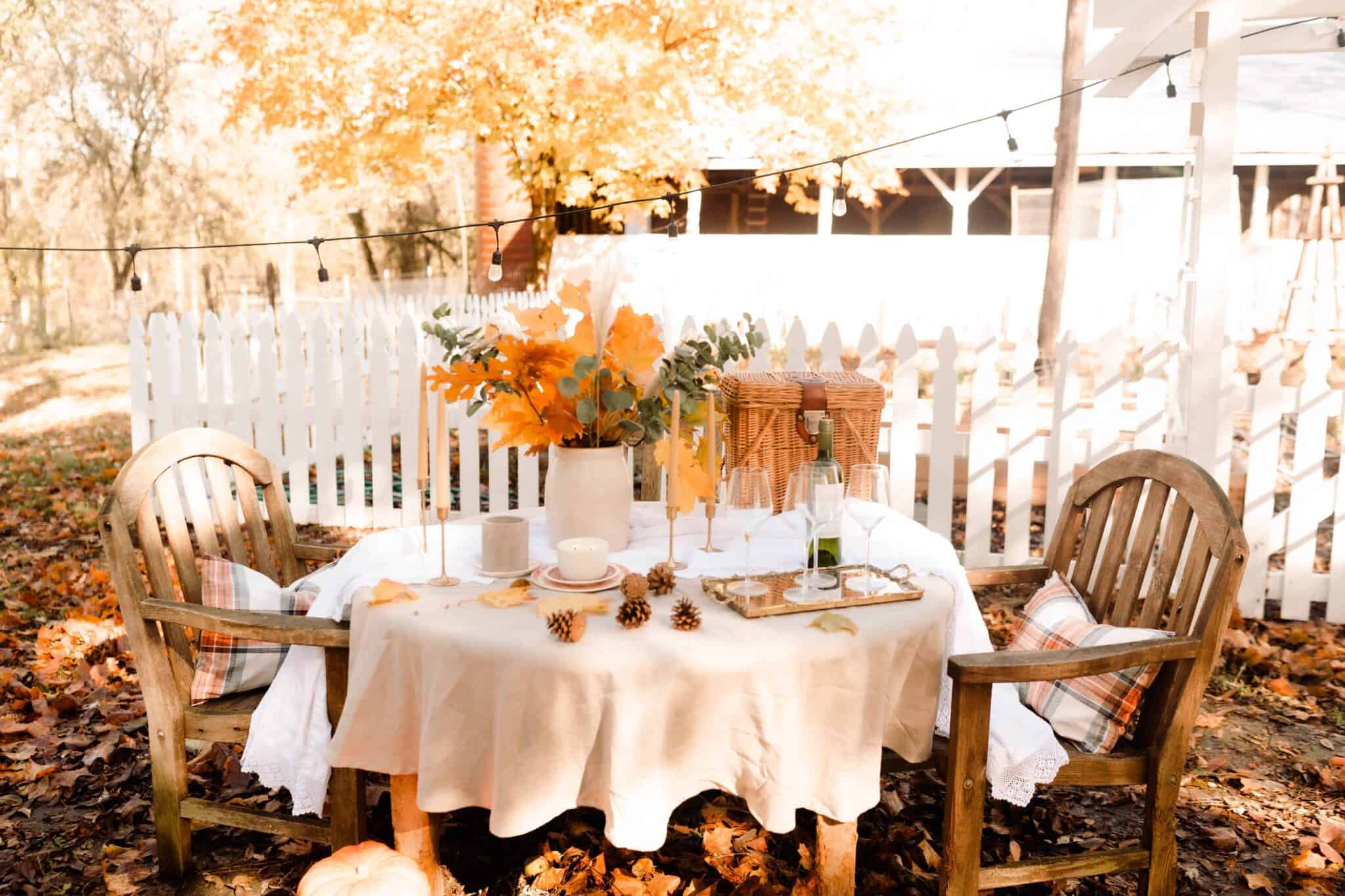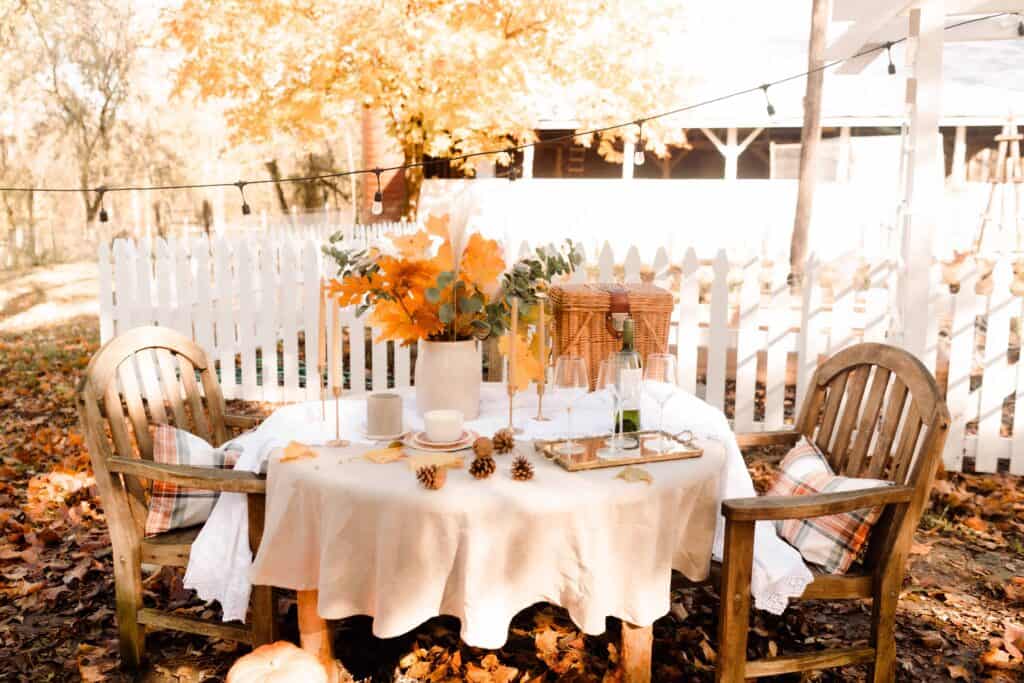 Our little homestead has gone through many changes this year. The first year here on the farm, we focused on getting the inside comfortable and livable, and this year, we changed our focus to the outside.
As the leaves are showing off their amazing hues of orange, red, yellow, and brown, blanketing the ground with vibrant quilts of color, I love to reflect on these changes that we have dreamt about for a long time. 
As I head out to undertake the morning goat milking, bucket in hand, the crunchy leaves beneath my feet are a welcome ode to the cold seasons.
The temperatures continue to drop, ushering in colder mornings and evenings.
I can't help but feel a deep sense of thankfulness for what our farm provided us this year. The life that we have always dreamed of has become a reality.
Autumn on the homestead is when things get put to rest. The gardens get tucked away until next year, and the projects get focused back into the warm indoors.
But as a last hoorah, my youngest sister asked to hold her wedding here at the farm, and I couldn't resist.
So, in the last few weeks, we had a final push to get things done. We cleaned out the barn to create a beautiful place for friends and family to come and celebrate this new marriage.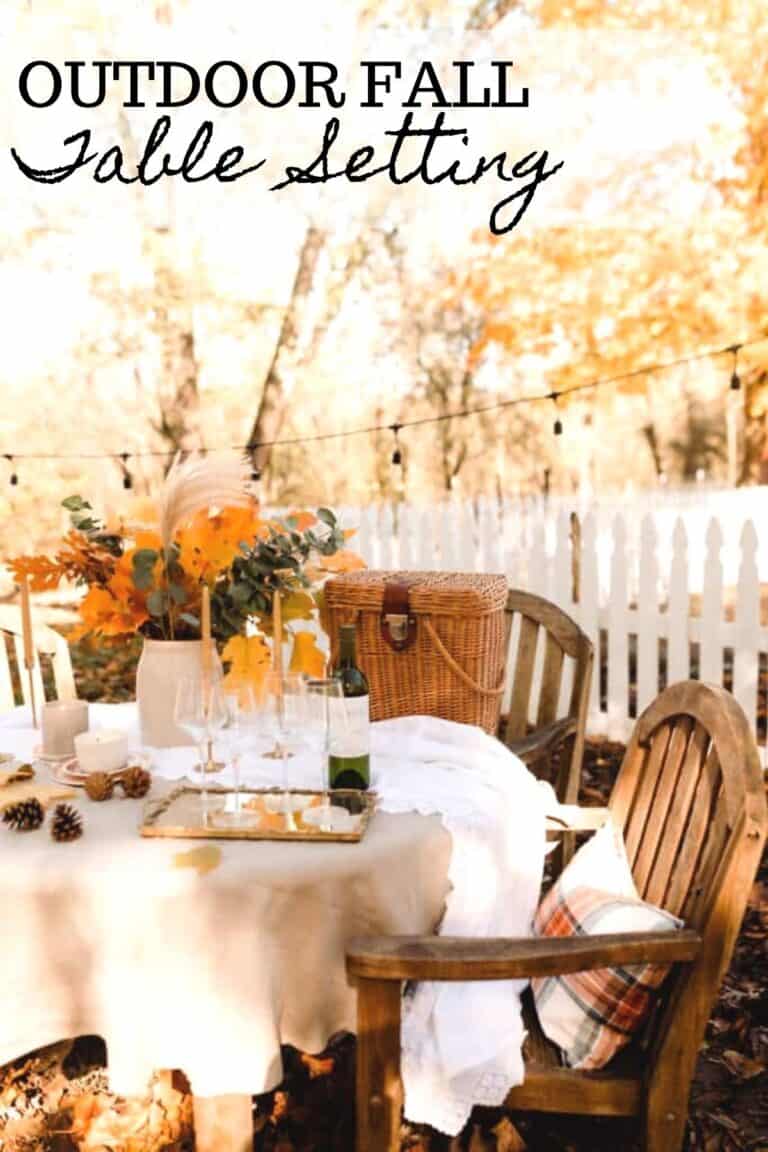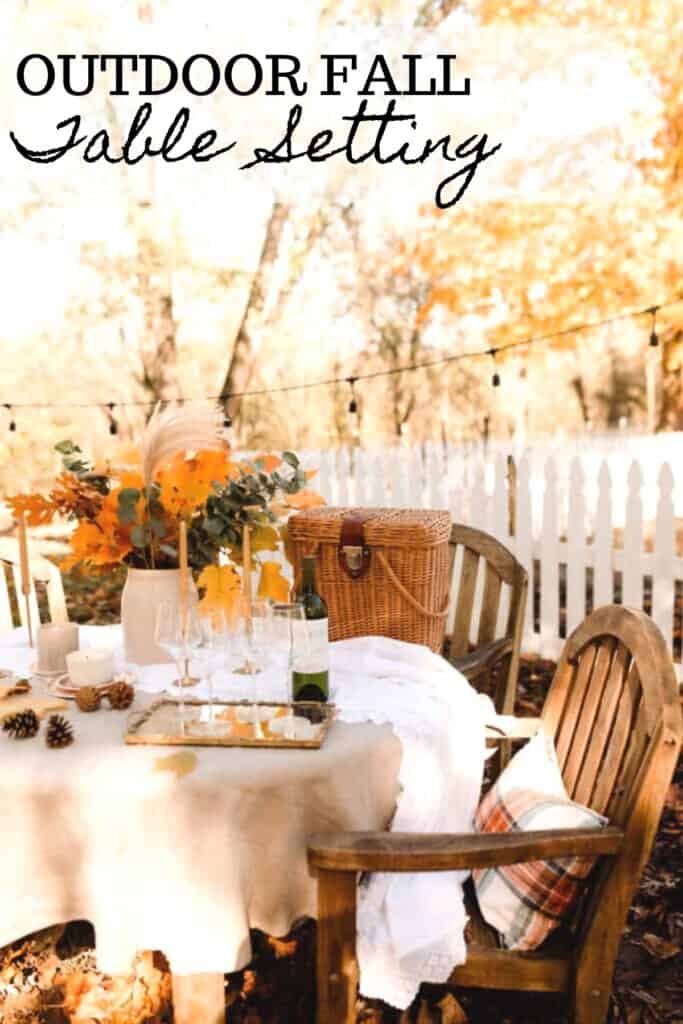 The goal was to make it like a fall wonderland, while praying the leaves would keep their gorgeous color.
Throughout the property, we created little touches of fall splendor wherever we could.
Last week, I shared this fall window box. Today, I'm going to show you how to create a beautiful, fall table setting, perfect for indoors or outdoors.
Watch The Tutorial
How To Create A Fall Table Setting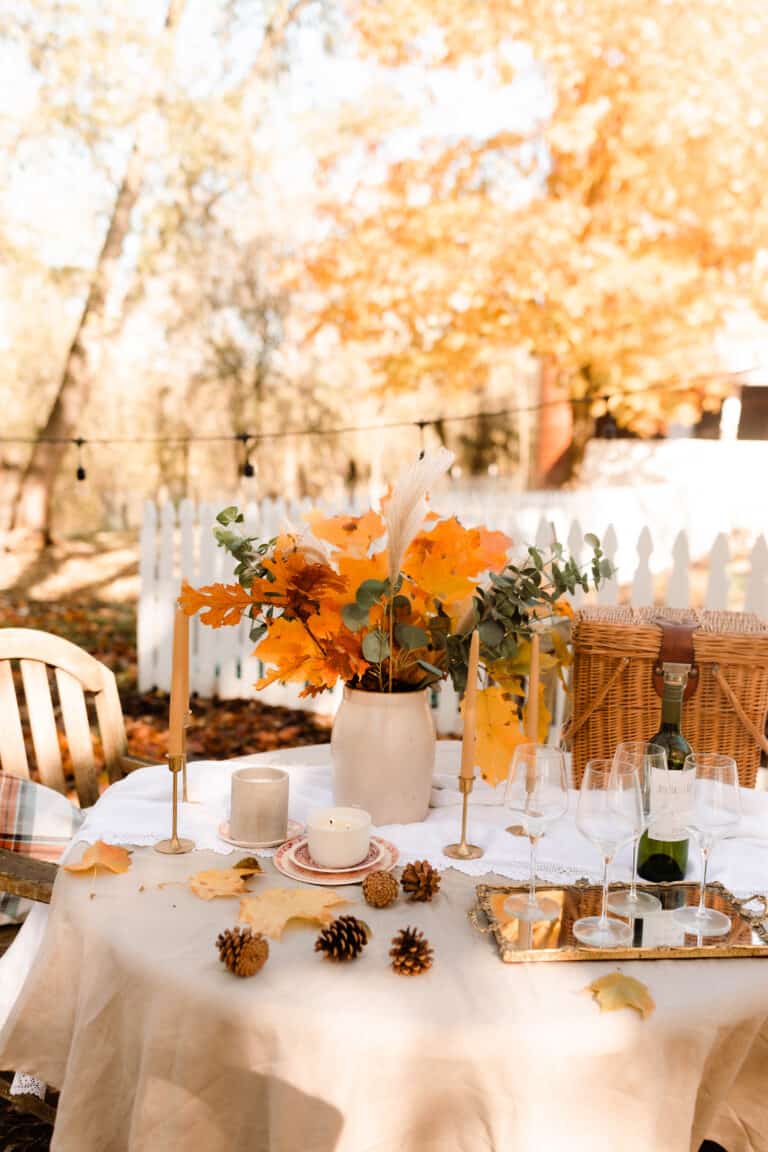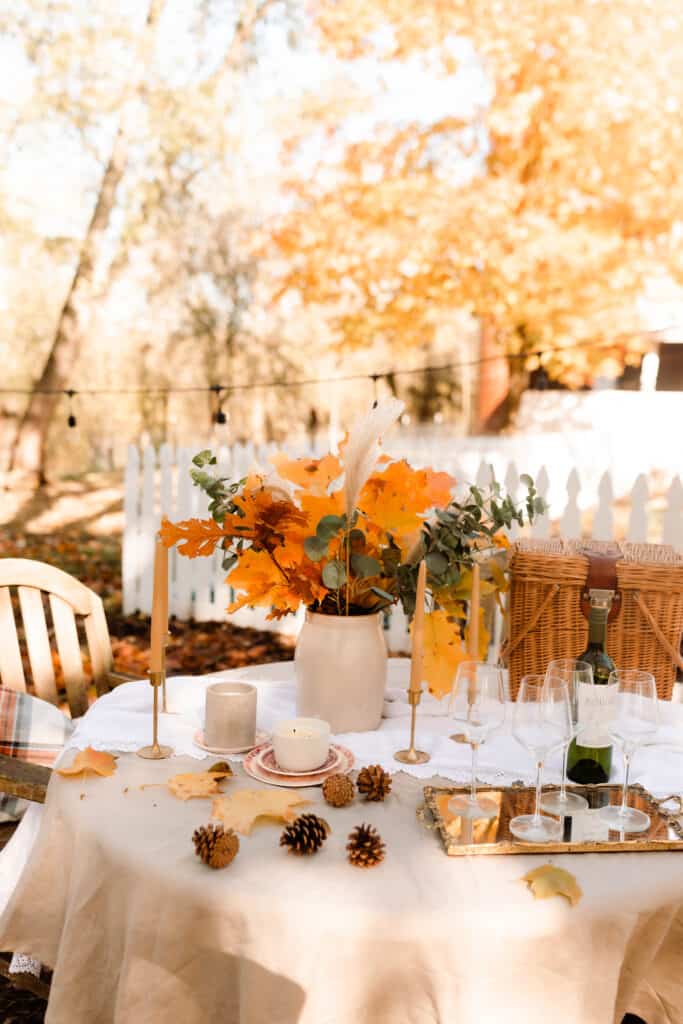 Most of the fall table decorations are things collected from what I already have, and what I could find around the homestead. So let me show you exactly how to create these easy fall centerpieces.
This post contains affiliate links, which means I make a small commission at no extra cost to you. See my full disclosure here.
Gather Fall Table Decorations
Whenever you are creating these types of table settings, it's nice to have multiple layers and textures. So I walked around the farmhouse choosing things I thought would look pretty, and I placed them in a basket. These items included:
Tablecloth – I actually brought out three tablecloths to see which one I liked best. I ended up choosing a tan linen tablecloth and a white vintage tablecloth with a lace edge.
Candlestick holders
Vintage plates
Mirror
Basket
Dried florals
Pillows
Crock
Place The First Layer
The first thing I did was lay out the linen tablecloth. This sets the groundwork.
Then, I added some texture with a white tablecloth with vintage, lace edging. I just folded it up loosely and used it as more of a table runner.
Focus On Layers And Groups
Next, I layered a vintage mirror from an antique store with wine glasses on top, a bottle of Dry Farm Wines directly behind it.
Rather than spreading out these fall table decorations in every which way, it is nice to add groups of arrangements.
The wine glasses and bottles formed one arrangement, the florals another, pine cones with stacked vintage plates, and a candle were another. They are slightly grouped, yet work together pretty naturally.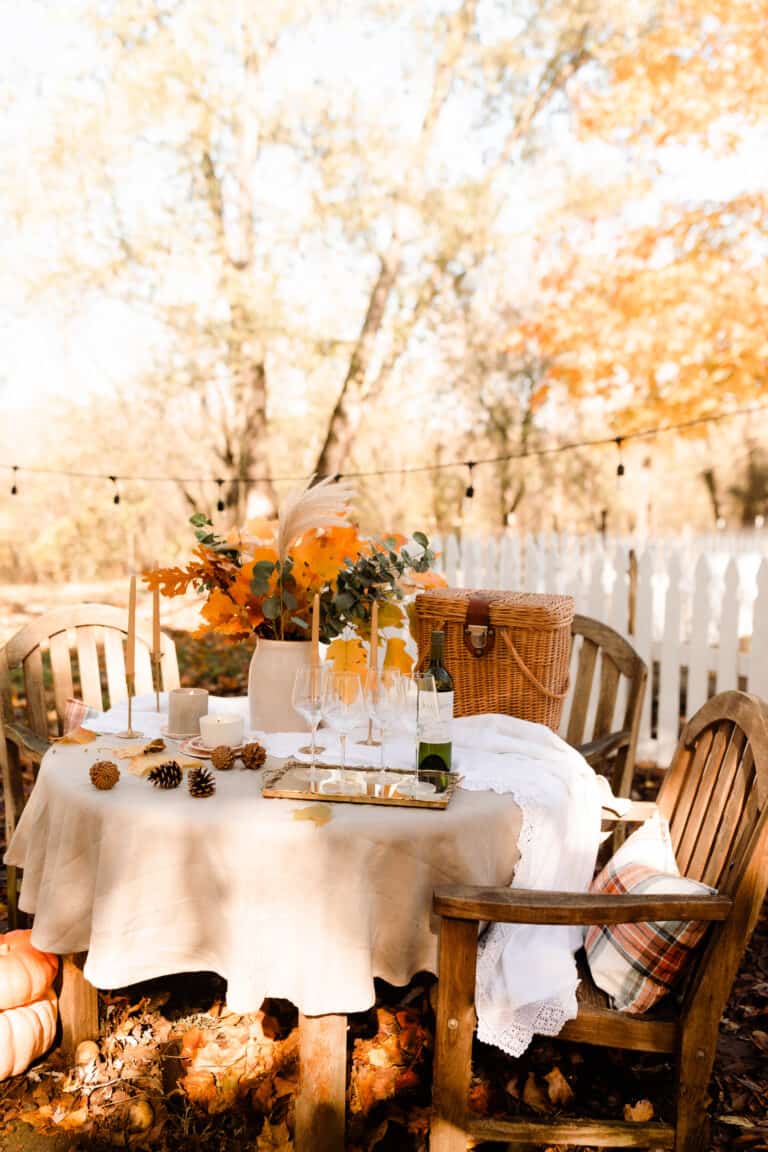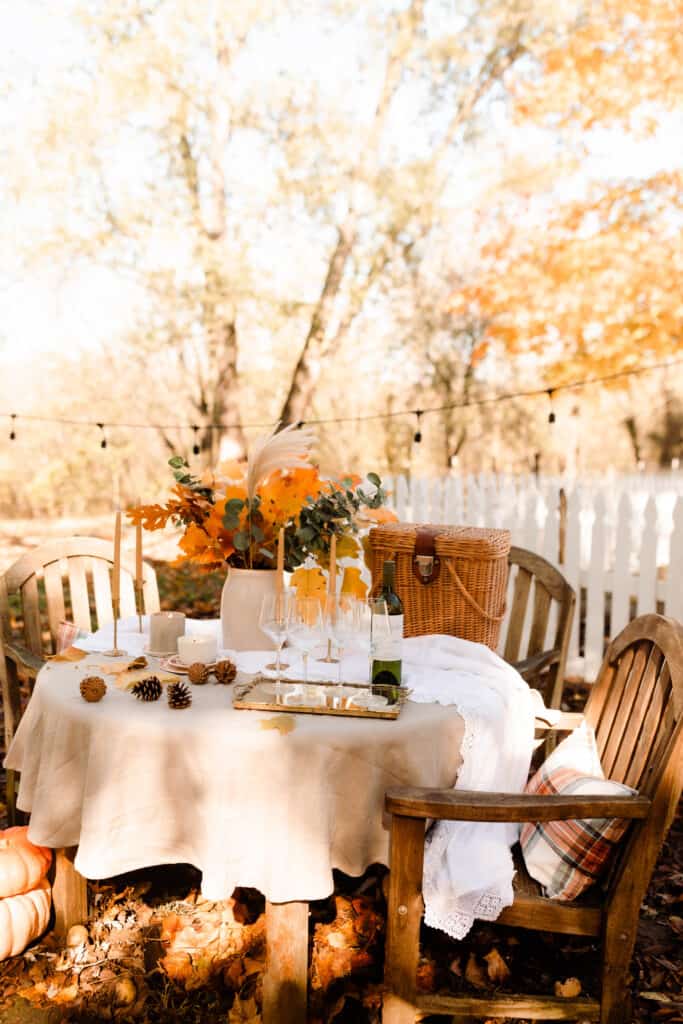 Add Height
In an old crock, I added dried eucalyptus, pompous grass, and cuttings of beautiful, yellow, leaf-laden branches from the tree right above the table.
Beeswax tapered candles in vintage brass candlesticks add nice height, and some small candles in jars add great contrast.
A vintage basket full of wine also adds height and texture.
Add Cozy Touches
I brought out two plaid pillows from our bedroom to add to the wooden chairs for another layer of cozy comfort. You could drape a coordinating blanket on the chairs, as well.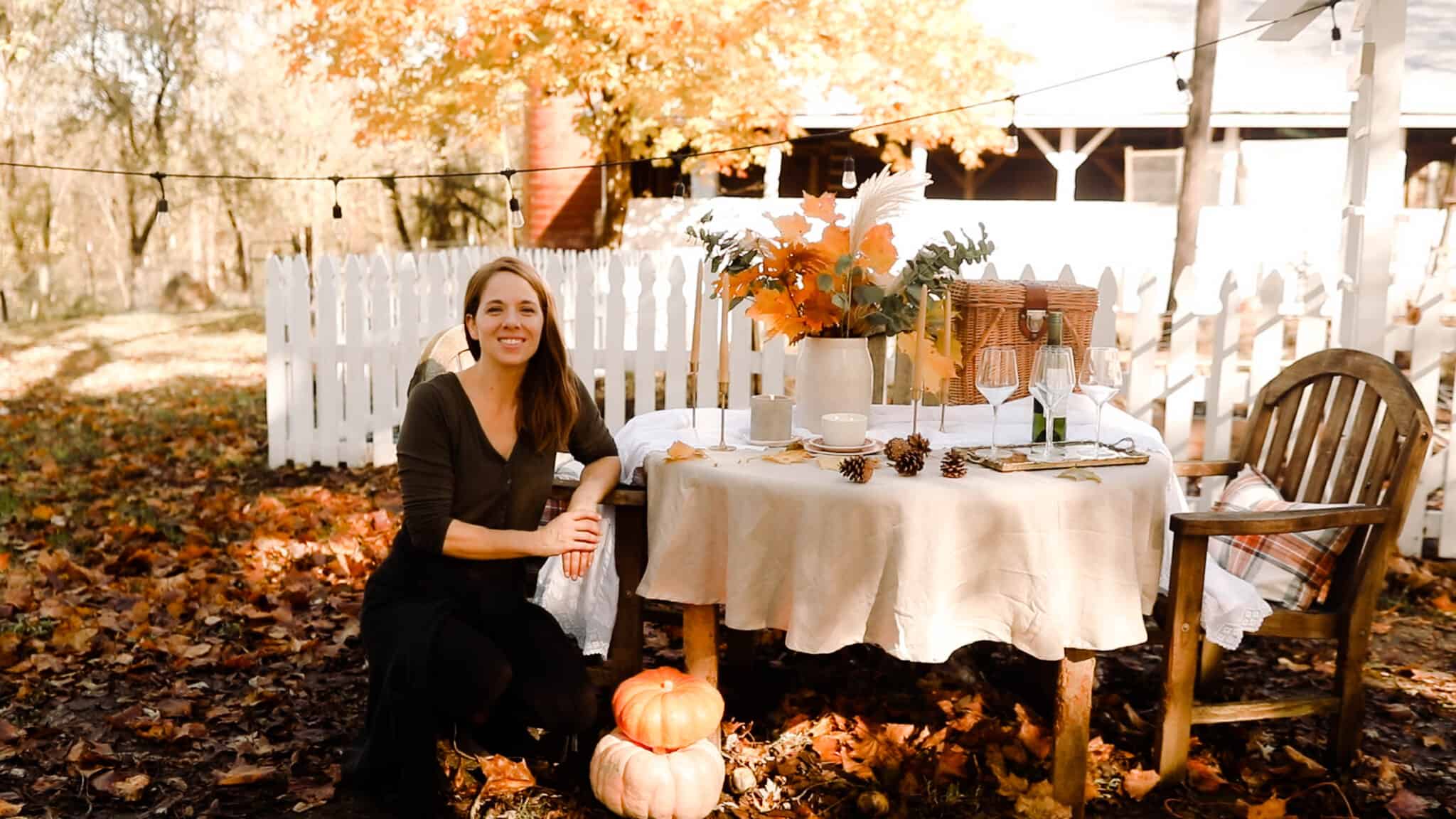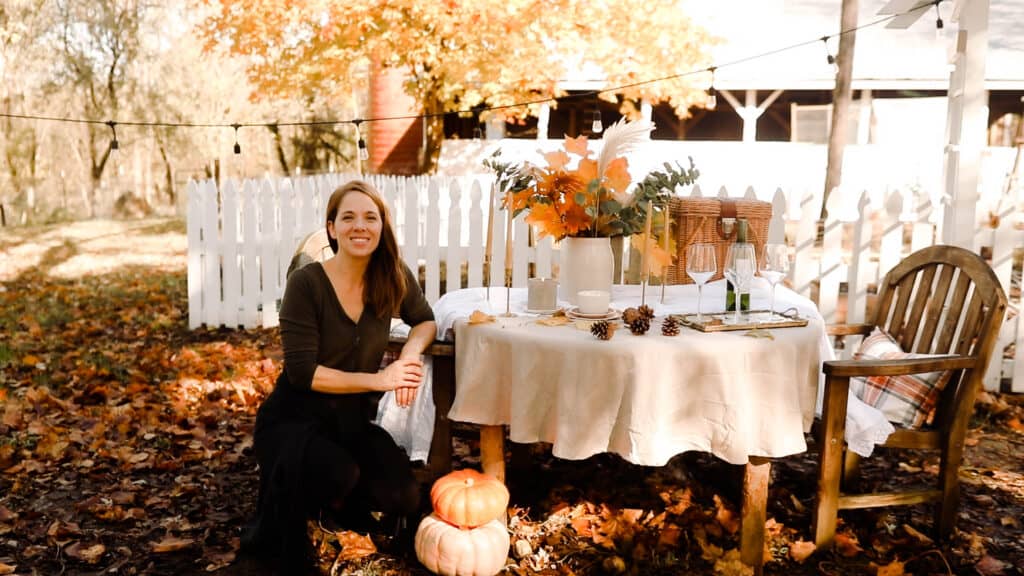 Think about the areas around the table:
Not only did I want the table to be beautiful, but I also wanted there to be a lot of good photo moments around the property.
Since it was going to be dark before moving to the reception, we decided to hang string lights all around the property, throughout the garden and barn, and near the table.
This fall table setting turned out so beautifully. The wedding was gorgeous and classy. Everything was stunning, from the bride to the property. And those leaves hung on just long enough. The next day, the tree was empty.
Stay tuned as we share more wedding details in the next few weeks.
Find More Farmhouse Decor Inspiration:
Pin It For Later