Today, I want to share with you 10 of my favorite Christmas decorating tips. Use these tips to make your home cozy and warm for the holidays.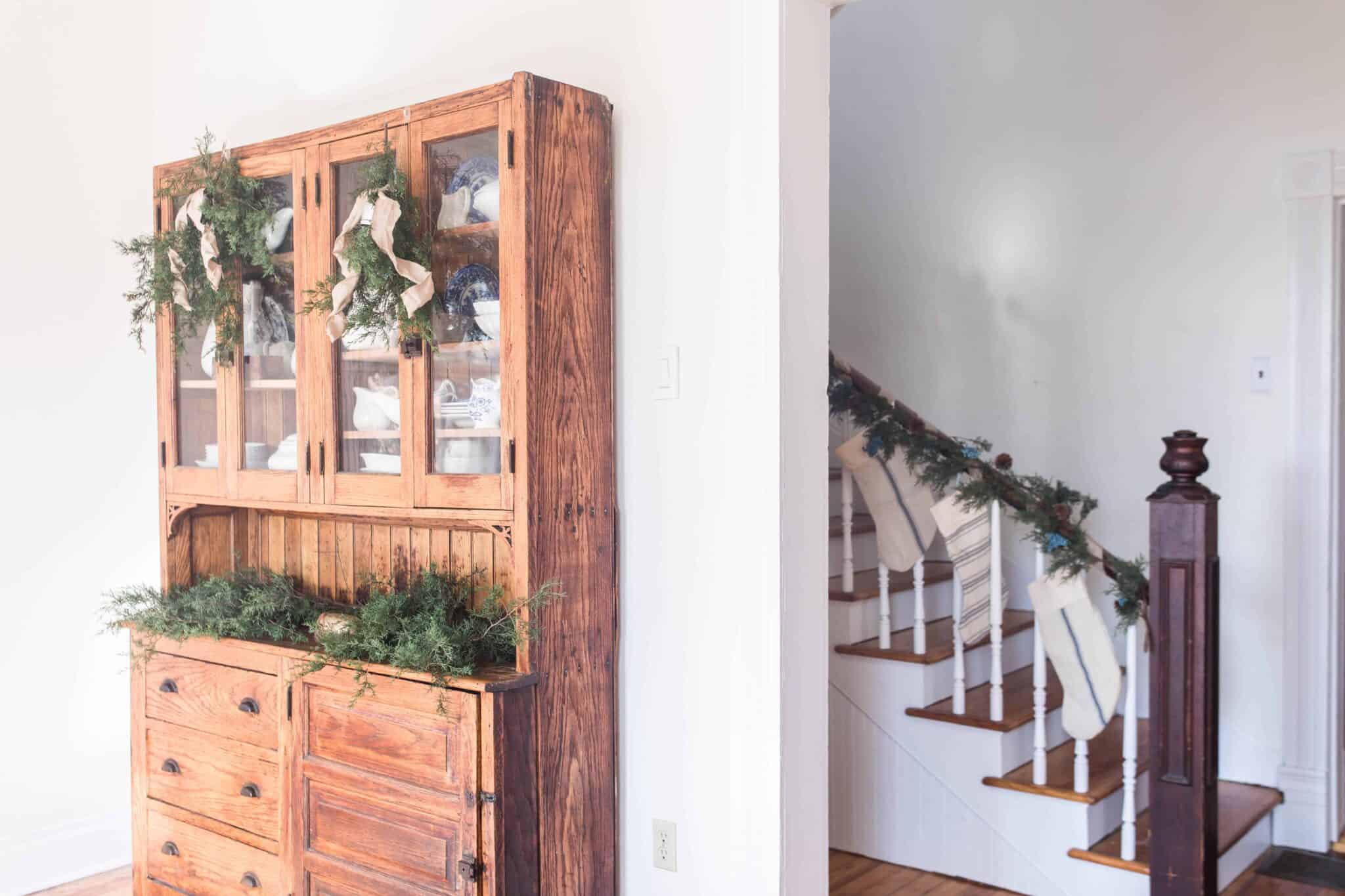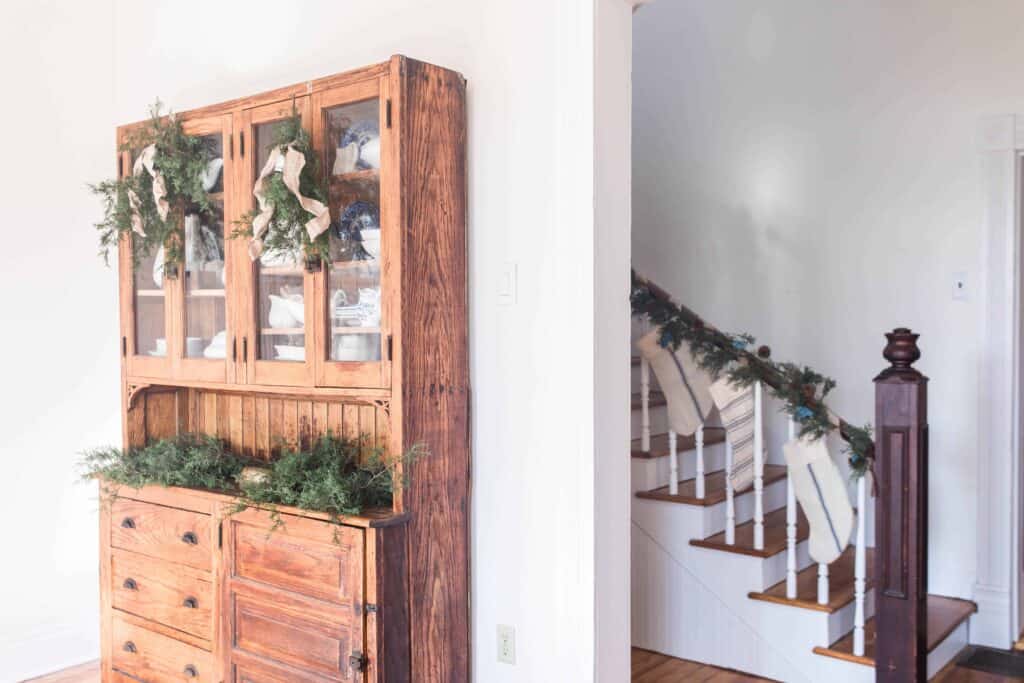 This post is in collaboration with my friend, Emily, at Mama From Scratch. If you don't know her, you should! She shares a lot of DIY projects and lifestyle videos on her wonderful YouTube channel and blog. She is also sharing her decorating tips, so make sure to head to Mama From Scratch to check them out.

If you've been following us for some time, you may know that this is our first Christmas in our 1800's farmhouse that we moved into last January.
Honestly, our house isn't ready for Christmas decorating at all. Our kitchen is completely under construction; we don't have cabinets, or even a sink.
But I still wanted to bring some holiday cheer into our home, and it's something my kids were really looking forward to.
So instead of not decorating because of our current circumstances, I decided to just decorate the finished rooms.
You can find our 2019 Christmas Farmhouse Tour here.
This post contains affiliate links, which means I make a small commission at no extra cost to you. See my full disclosure here.
Christmas Decorating Tips Video Tutorial
More Holiday Inspiration
10 Christmas Decorating Tips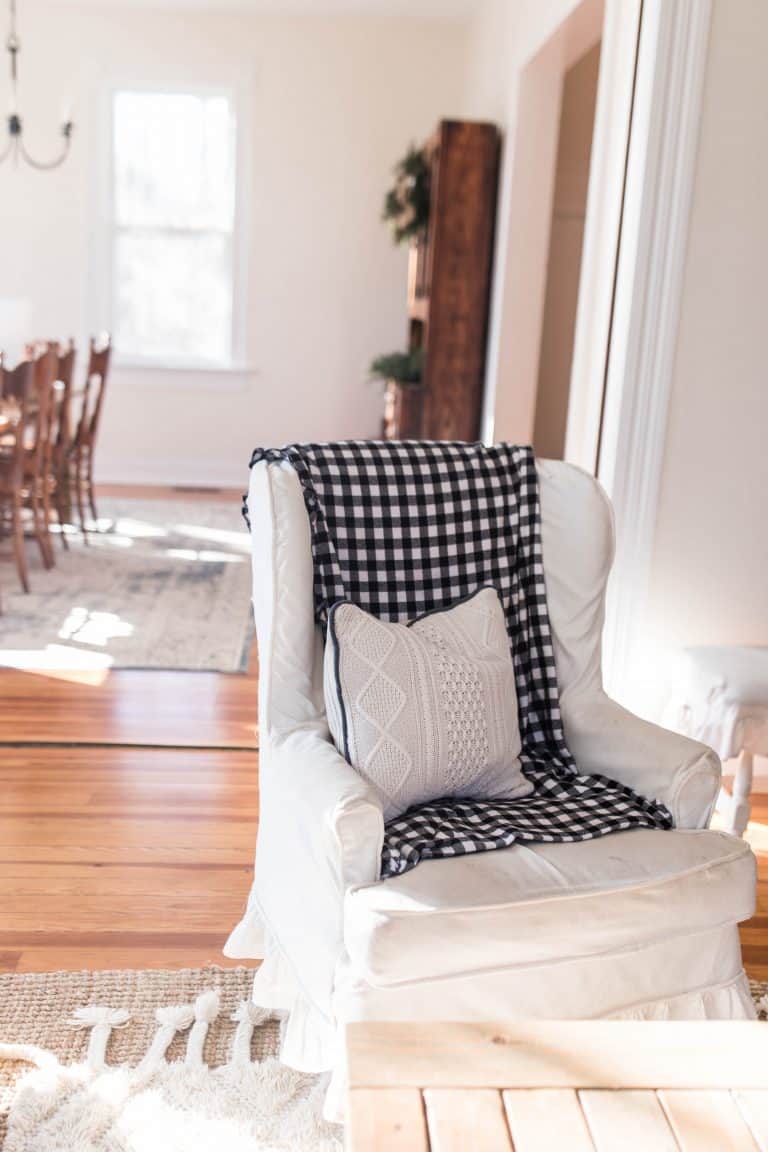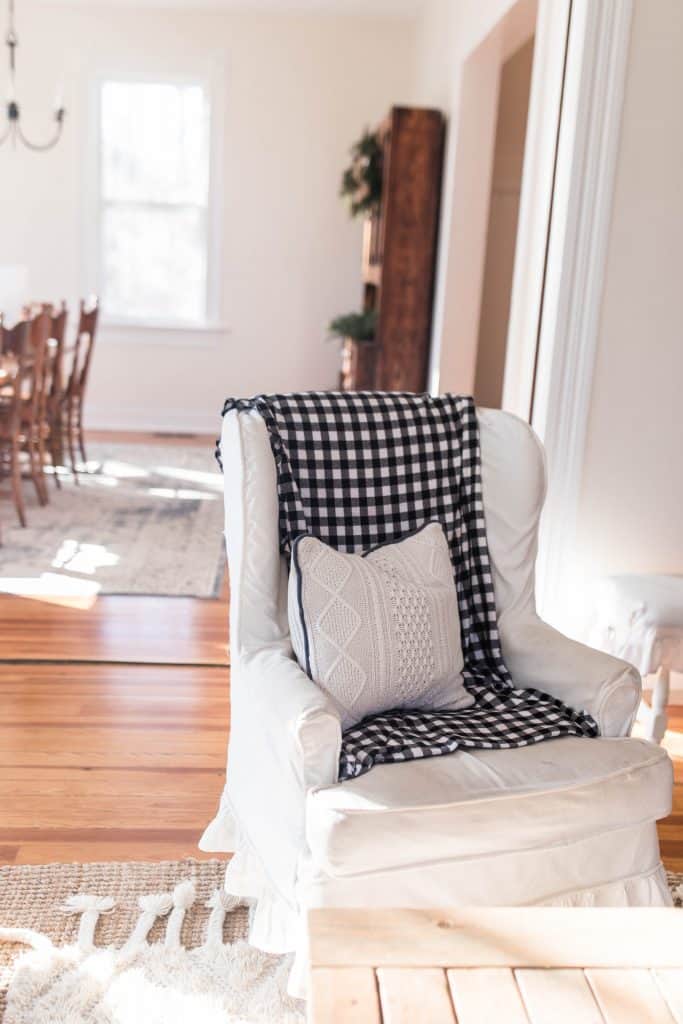 1. Add Cozy Fabrics And Textures
Adding fabric like flannel, wool, grain-sack, and velvet can add such a cozy feel. I love adding these textures throughout my home with pillows, blankets, table runners, etc.
The handmade flannel blanket that is tossed over the slip-covered wingback chair will actually be in my upcoming book that is releasing February 1st.
There is also a sweater pillow I upcycled from my old favorite sweater that had a hole in it. And then you'll see just a couple more knit pillows and blankets, all in different textures to make it warm and cozy.
Another texture I love to add in my holiday decor is clay. I absolutely love the way these clay trees look and feel in the space, and what makes them even better is that they were made by one of my friends. She actually teaches my kids pottery, and we've watched the whole process on how to make the clay trees – from creating, to firing in her kiln, to glazing. It's so fun.
2. Bring In Something Handmade For A Meaningful Touch
I did this by using pictures taken last year of the first snow we had at our farmhouse and placing them in little frames to create ornaments for our Christmas tree.
You could also, of course, make some handmade ornaments with your kids during the holidays.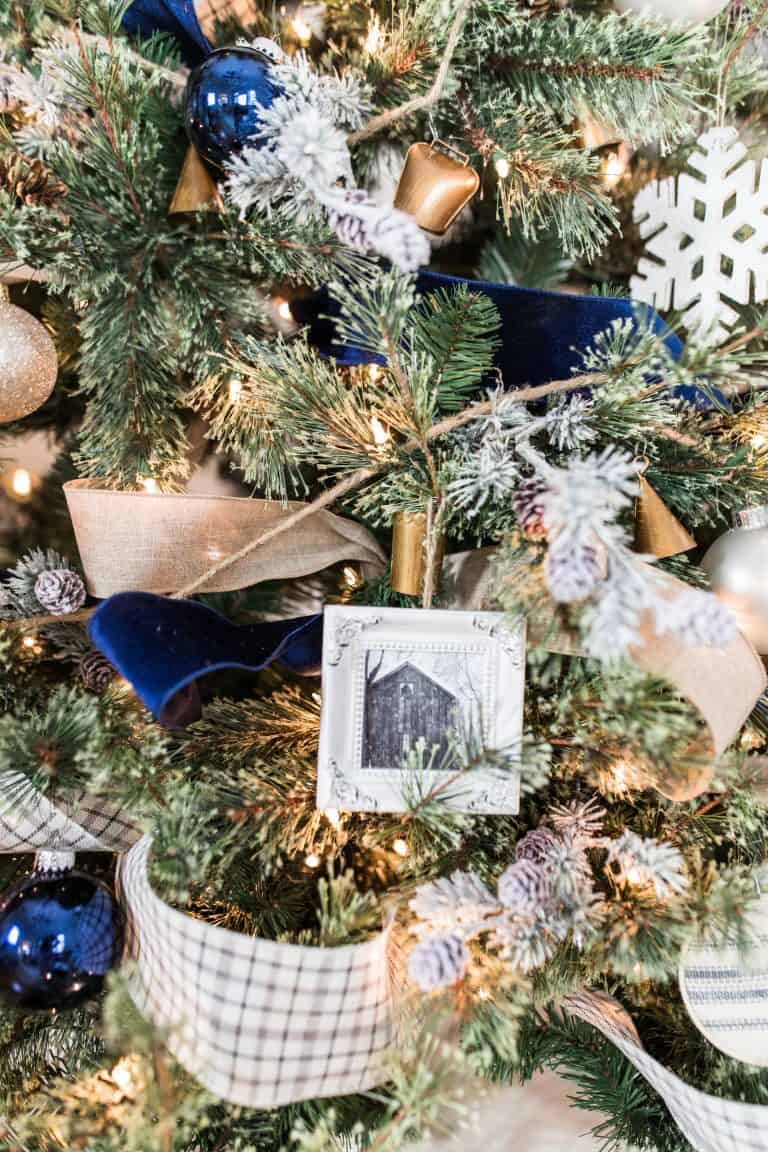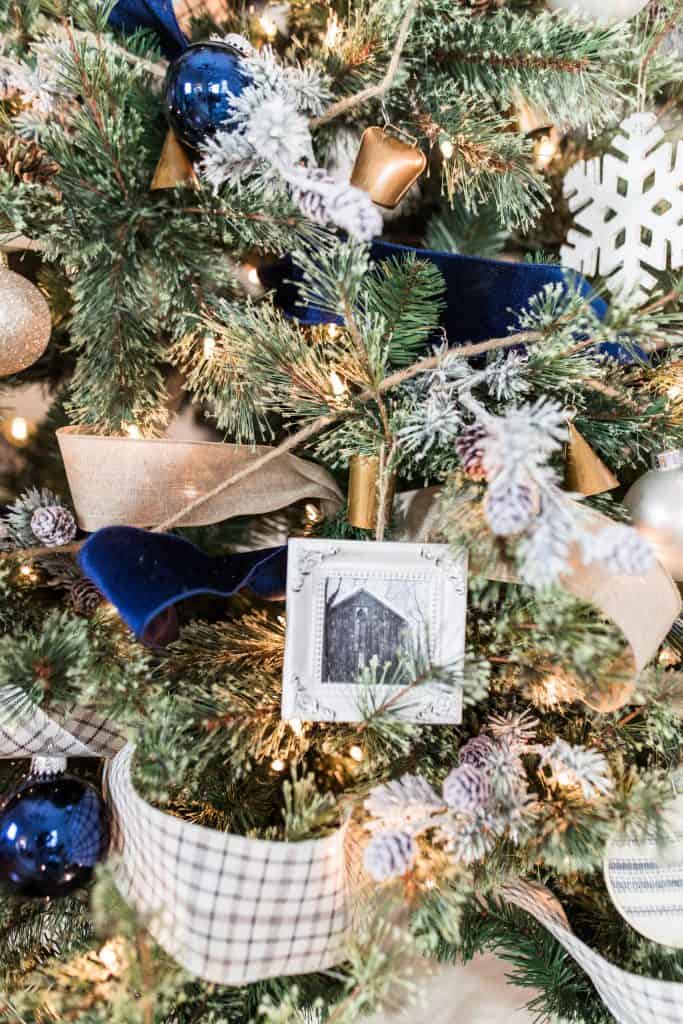 I like to make homemade ornaments every year, because it adds such a personal touch and makes your home unique, and they're one-of-a-kind.
3. Add Greenery And Natural Elements
One reason that it's great to bring in these natural elements to decorate is because they are cheap!
I just head out to a tree on our property and cut some of the branches to add to the tops of armoires and hutches and make garlands, handmade wreaths, and more.
We also have some beautiful faux wreaths and garland that we use year after year.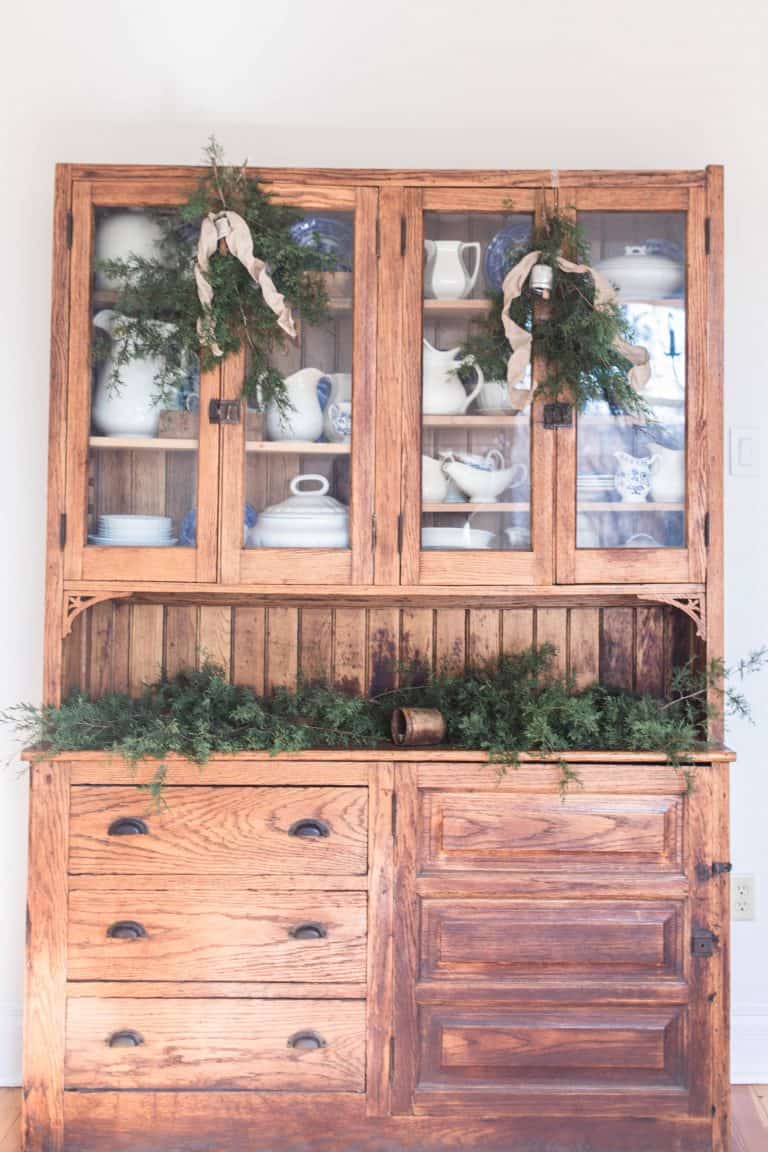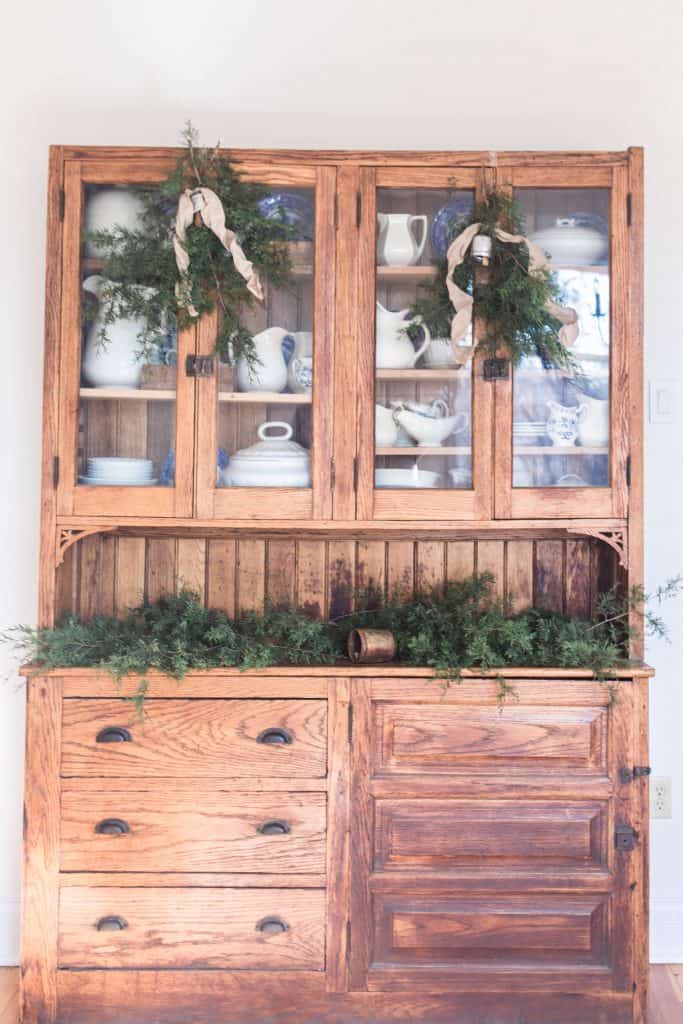 I love adding some of the more popular greenery like cypress, pine, spruce, and fir, but I also love to use eucalyptus and herbs like rosemary. They are beautiful for the Christmas season.
Even if you change your theme up and decide to do different color themes every year, greenery is neutral enough to go with any style.
You can't go wrong with greenery, whether it is fresh or faux. It's a beautiful addition to your decor. This isn't even technically a Christmas decorating tip, because you can use greenery throughout your home all year long.
4. Add A Separate Tree For The Kids
I always love to have my pretty tree that is themed that looks so nice in our family room.
Of course, the kids like to put all their fun little ornaments and handmade ornaments on the tree, so this year, we decided to put another tree upstairs in the kids' bedroom and allow them to decorate it anyway they like.
They put up all their own very colorful lights, hung my childhood ornaments plus ornaments they painted, and added ribbon.
They had complete freedom over decorating. It was really meaningful to the kids, and still allowed me to create a pretty tree to photograph for the blog.
5. Stockings Everywhere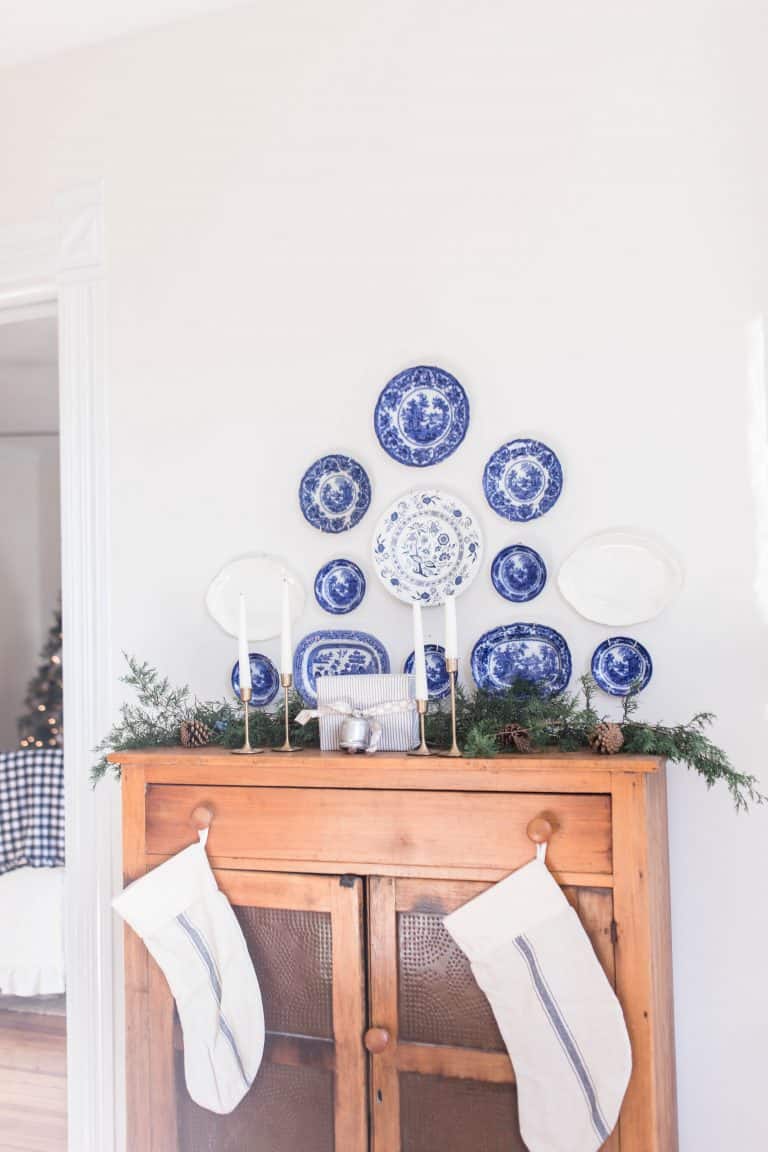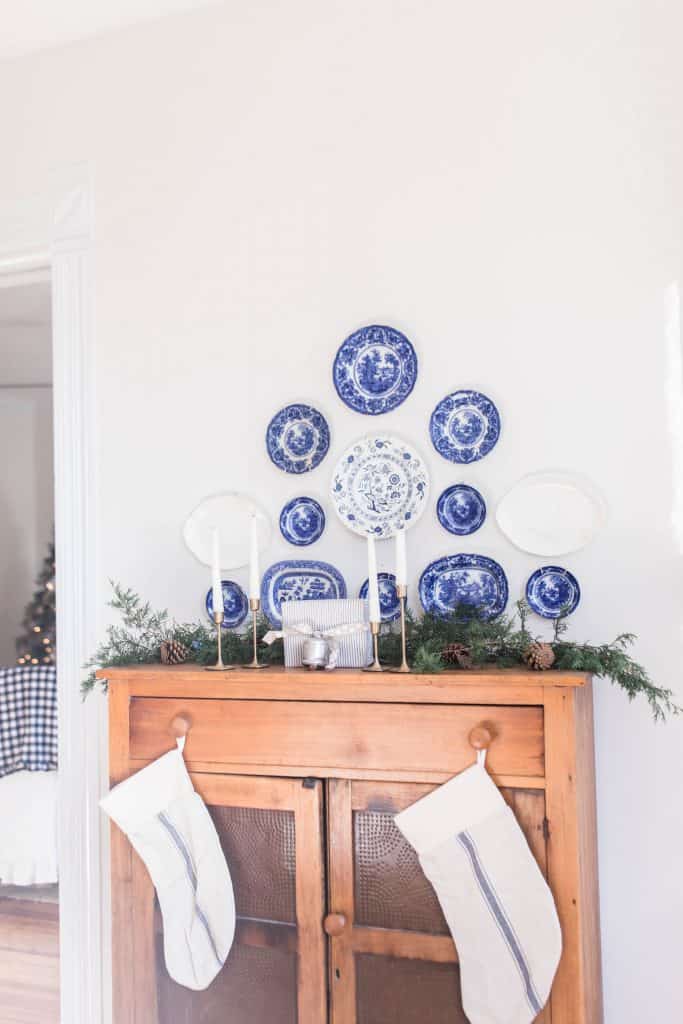 This may be one of my favorite Christmas decorating tips. My old thinking was that stockings were just meant for fireplace mantels and for kids to open up on Christmas mornings, but I actually started collecting quite a few stockings over the years.
My mom had gotten the kids beautiful red personalized stockings, plus I had a bunch of stockings leftover from the online shop I used to run, and a few that I made from a sweater. That's a lot of stockings!
So this year, I've been hanging them all over the house: on knobs of a pie safe, on hutches, and on the banister. They are also really pretty hung on the end of the bed, or outside on a door. They are pretty just about everywhere.
6. Bring In Candles And Firewood
Fire is just so cozy and warm for the holidays, but if you don't have a fireplace, you can still bring in that cozy element of fire by bringing in some candles and firewood.
I have some handmade dipped beeswax tapered candles (that tutorial will be in my new book) and to make them more cozy, I wrapped them with some paper and twine.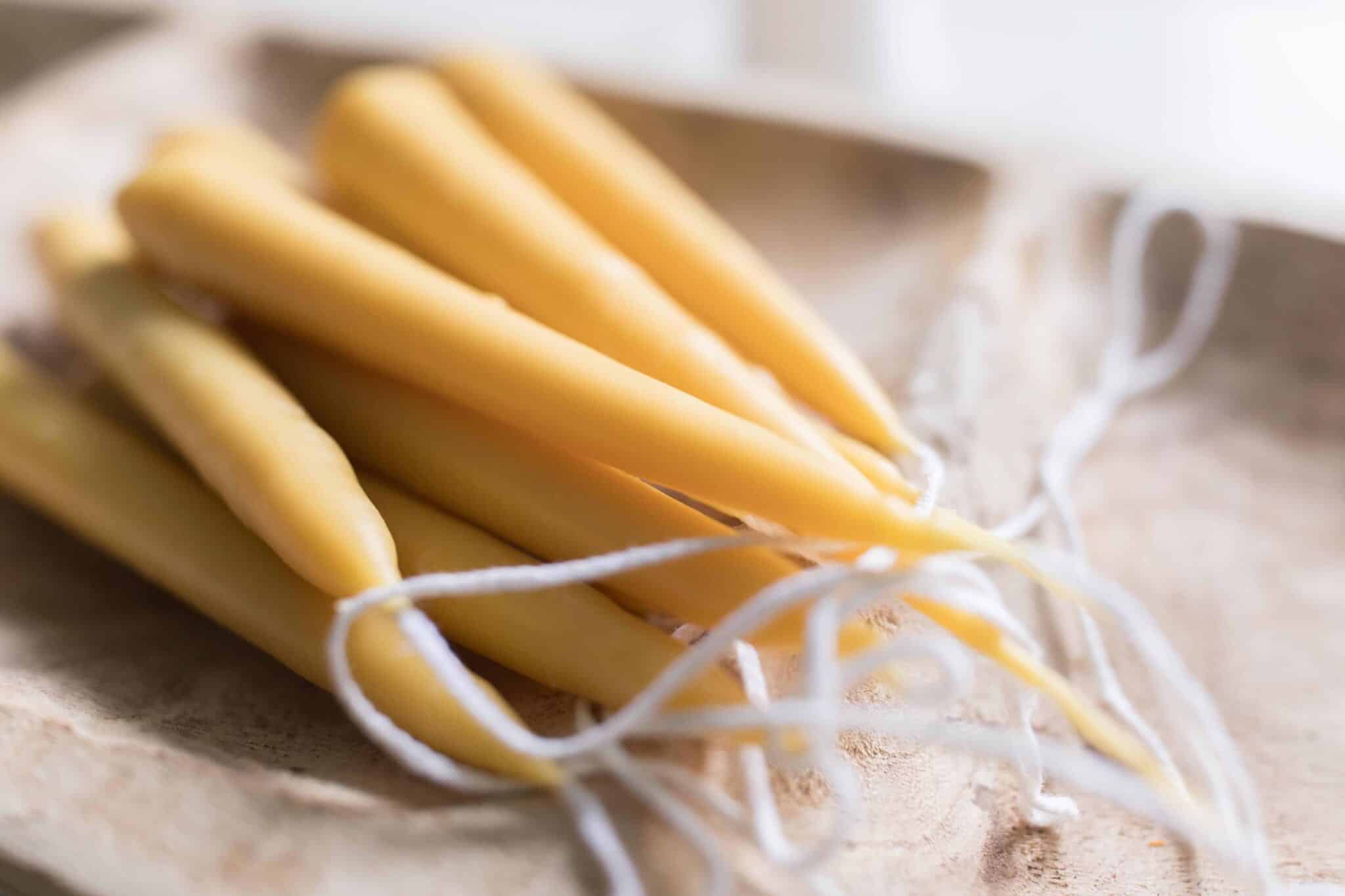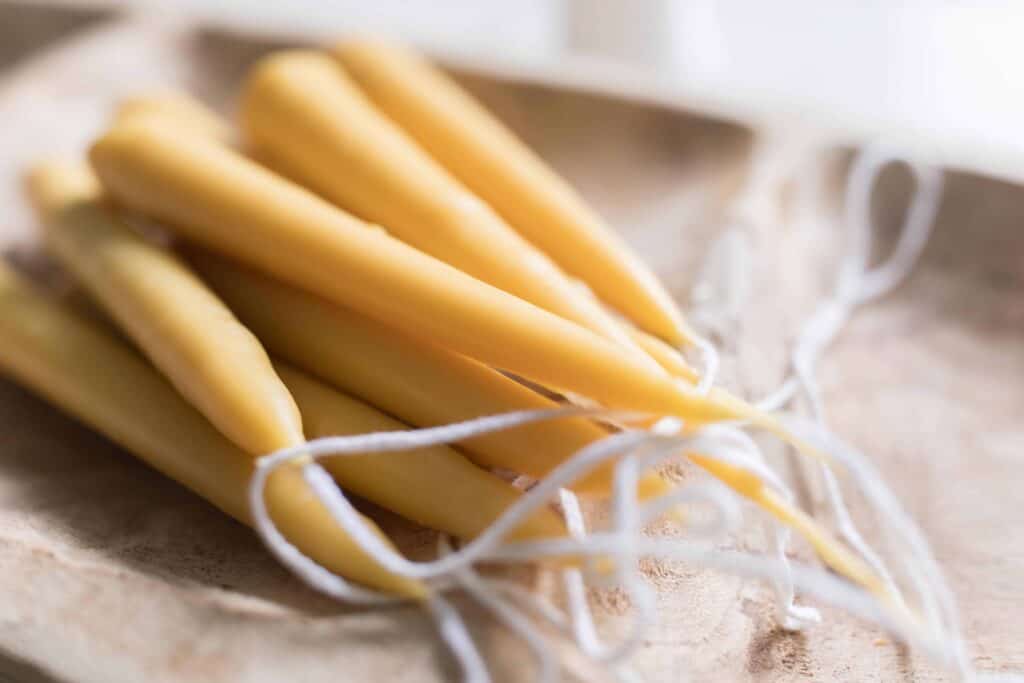 The idea actually came from a recent trip to Target, where I saw they had some beeswax candles wrapped and displayed like this. Thanks, Target!
They look really pretty laid out on a table or a hutch.
I also added candles to some antique brass candlesticks, and then added some firewood to a wooden crate near the entryway to add that cozy feeling of fire.
7. Keep It Small and Simple
No matter what stage of life you are in or whatever your living situation, you can still bring in cozy touches, even if it is to only one room with a little greenery or candles. Just a little bit of decor can give your home that special holiday warmth.
Like I had mentioned earlier, our house isn't done, and this place doesn't feel like a home ready to decorate, but I still added holiday touches to the places that we could, and it's made a huge difference.
8. Wrap Gifts Early
If you have the opportunity to go Christmas shopping early, I suggest wrapping the presents and then adding them around the house.
Even if it's not under the tree, I like to add little packages as part of decor on top of a hutch or pie safe, or any place that seems like it could use something.
9. Lights Everywhere
I love all the twinkling lights at Christmas time.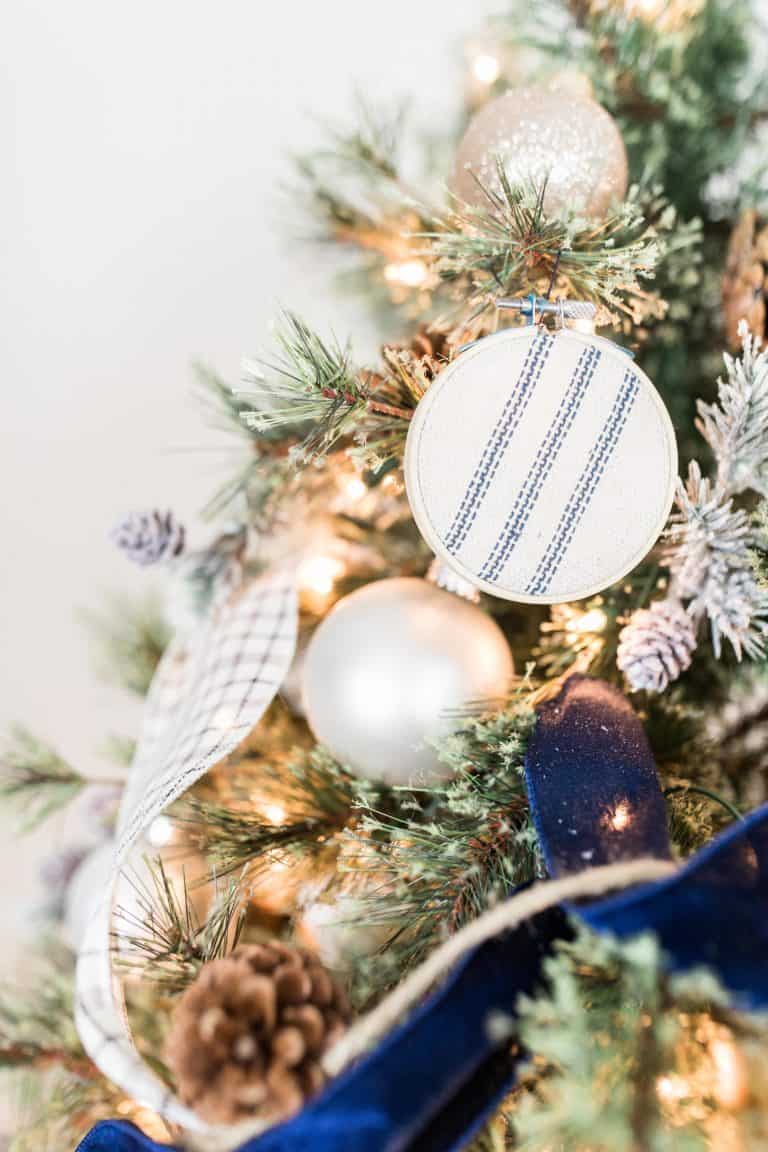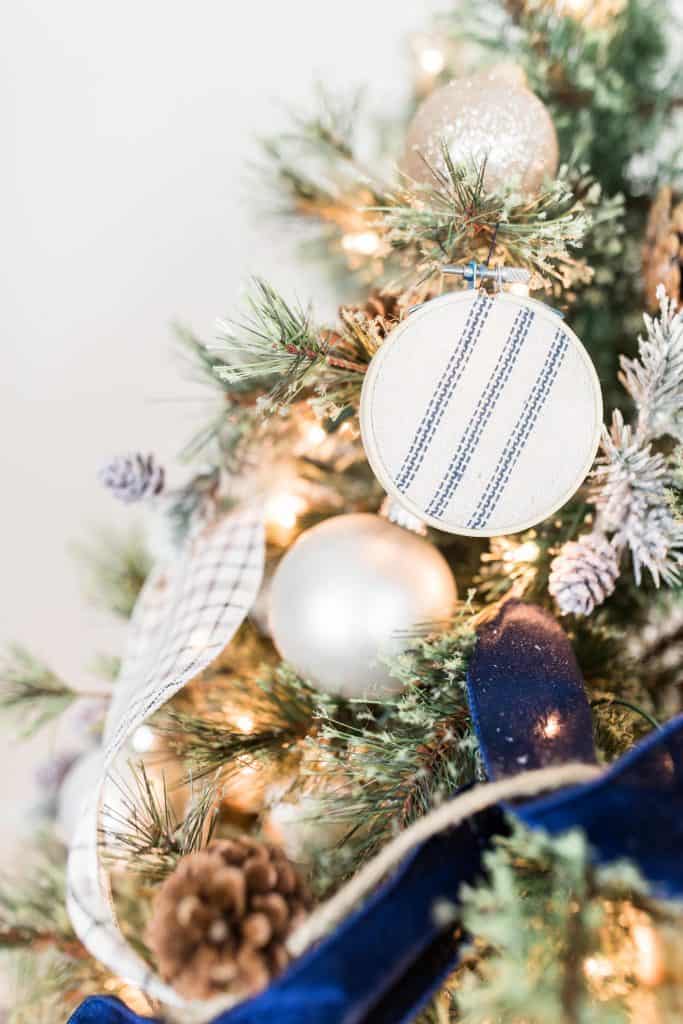 Since it gets dark so early with daylight savings ending, I love adding lights everywhere I can to give our home that beautiful cozy glow.
10. Turn On Christmas Music and Make It a Family Affair
We blasted some Christmas music all day long, and we really just enjoyed decorating the house.
The kids went out to help collect some greenery from outside and they decorated their tree, and it's something that I know they will remember forever.
One of my fondest memories as a kid was my mom bringing out her Christmas boxes and swapping out all of the regular decor for the Christmas decor while playing festive music. It was so special to me, and I hope to give my kids the same experience.
Thanks so much for stopping by our farmhouse. I hope you enjoyed some of my favorite Christmas decorating tips. Make sure to check out Emily's tips over at the Mama From Scratch YouTube channel.
Pin It For Later