Almost every day I get comments and emails from people telling me I am a supermom. They seem to think that I get everything done every day and my life is just perfect. So, I get asked often for advice about what I give my kids to eat, how I keep my house clean all the time, and how I cook 3 meals a day from scratch. Read on to learn a little bit more about the day-to-day in our farmhouse.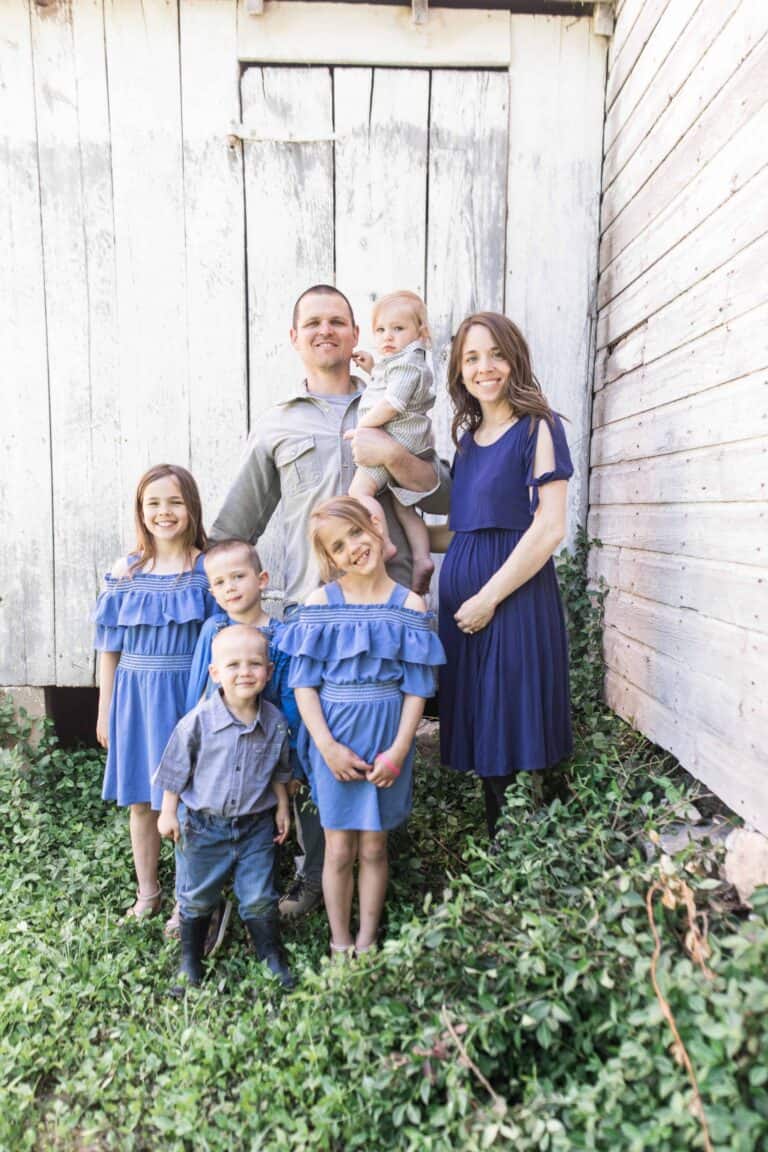 The Question I get all the time
On a daily basis, I receive tons of questions from moms who want to know how I get everything done with five kids. People assume that I am a supermom, able to keep a perfectly clean house at all times, and make three gorgeous meals a day completely from scratch.
These are just some of the comments left on my YouTube channel from some very sweet subscribers of mine.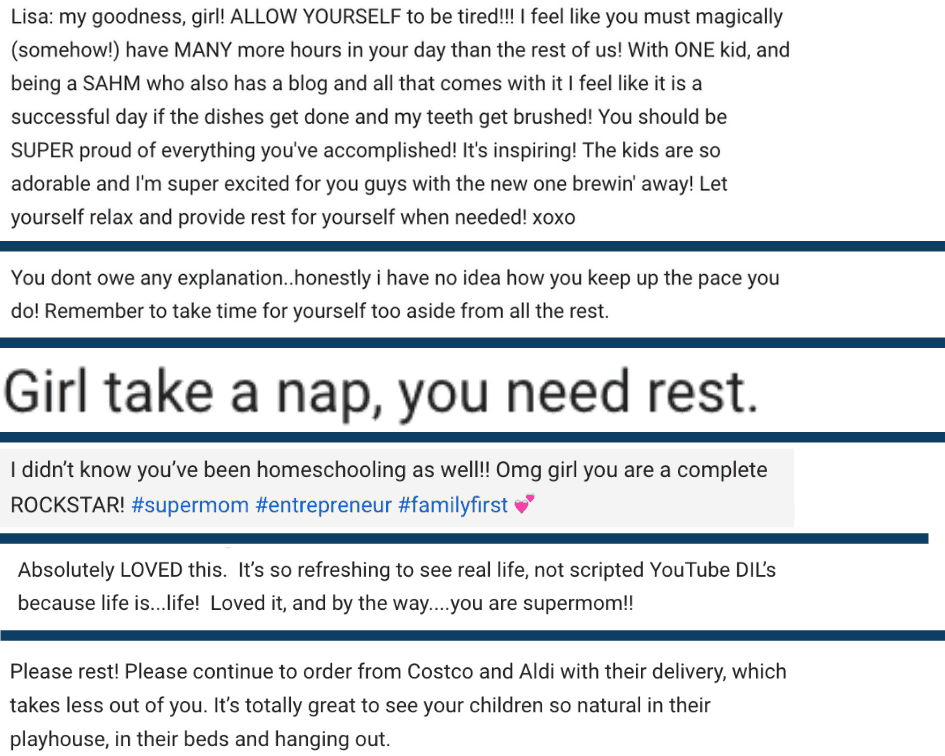 I bet if you watch the video below you will find that my life isn't as stressful, and perfect, as everyone thinks!
Answering a Recurring Question | How I get EVERYTHING Done with 5 Kids| Supermom? | Do you ever relax? Video
Tips for Getting Stuff Done with Kids Stress-Free
#1 My house is not perfectly clean
On my blog and Instagram you will see a clean house with pillows perfectly set on the couch, blankets carelessly laid across an arm of a wingback chair, the beds neatly made, and the kitchen meticulously clean. However, that is not how my house looks all the time. I clean up for my photos, because I want them to inspire people with my decor and DIY projects, while not having them distracted thinking about stray socks on my floor or dishes in my sink.
In reality, my house is not perfectly clean all the time. I don't worry about making the beds every day and I also don't use a dishwasher. I get asked all the time why I don't have a dishwasher in my house. The reason is that I find that a dishwasher is not a time saver for me, so I would rather rinse the dishes I used for breakfast and put them in the dish drainer to have them ready for me to use again for lunch.
I don't worry about cleaning up the mudroom. If there are coats and boots strewn about the floor, I don't care. I don't see any purpose in cleaning it all up if they are just going to put them on again the next day to go outside.
I don't worry about laying out my decorative pillows on the couch. Ninety-nine percent of the time, all the pillows and blankets are used for pillow forts.
Now my house isn't filthy. It is clean. It is just not perfectly clean.
#2 I have lots of help
I think a lot of people assume that I make three meals a day, wash, dry, and put away all the laundry, run our business solo, keep my house perfectly clean, and never rest. However, that is not the case. I actually have a lot of help. My younger sister works as a VA for by scheduling posts on Facebook, answering some comments, and she even designed an ebook for me. I also have another employee who helps me edit videos, write up the blog posts, and create the pinnable graphics for them.
I mentioned last year that our blogging business is able to support our family so my husband was able to quit his job and now we work as a team to run our business together and homeschool the kids. As I filmed the video for this post, Luke was homeschooling the kids. Luke is actually a really good help. He can do the laundry, cook, and clean. Now he may not do it perfectly, but I don't care if the laundry is done perfectly. I am simply not a perfectionist. He can also watch all five kids by himself and be just fine. Since he was able to quit his job, he has seen more of what the day-to-day looks like and is able to help me a ton by taking on some of the responsibilities that moms usually have.
When we need groceries, we all go together to the grocery store. Shoot, most of the time one of the girls or I spend 5 minutes ordering on Instacart! If I need to make dinner, I have my two older girls push Micah on the swing or read him a story while I cook. It is also the kids' job to put away the laundry. They don't do it perfectly, but I don't worry about it. If I find my leggings in my daughter's dresser and the clothes are all crumpled up, I simply don't care. If I need to put Micah to bed, I will have my two older girls clean up dinner. Now it may not be done perfectly, but it definitely looks better when I come down than when I went up.
#3 I actually do Rest
If you read the above comments, you might have quickly realized that a lot of people encourage to rest and to take a break every once in a while. I certainly do, I just don't show it in my videos. That is why I make the Day in the Life Vlog videos so that you guys can see the behind-the-scenes. I don't what you to think that I live a perfect life and am some sort of supermom. I am definitely not.
I do rest, because I need it. Recently, Luke and I started going on date nights. My younger sister comes and watches the kids while we go out to dinner and bum around town. Every Sunday we go to Luke's parents and to my parents to hang out. They make lunch and dinner, play with the kids, and we get to rest. Sometimes, after the kids have gone to bed, I will watch a movie on Netflix and chill. For me, those activities are super fun and I look forward to them.
#4 I don't worry about the little things
I think a lot of people stress about something way more than the actual thing it is that they are stressing about. Honestly, having 4+ kids is actually easier than having just 2 or 3 kids, because the older kids are able to help. When I had a 4-year-old, 2-year-old, and newborn, it was hard because I didn't have help. When I only had three kids, I worried about what dresses my girls were going to wear on Easter Sunday. I actually made their dress and made my little son a tie to match. I obsessively thought about what to feed my oldest when she was four months old. Now, after five kids, I don't even think about it. When Micah was 7 months, I gave him little bits of what we were eating for dinner on his high chair tray and if he ate great, and if not, no worries. He could still nurse until he was ready.
I don't worry about putting on makeup every day or having the kids dressed in perfectly curated outfits, simply because I don't have to. In this Easter photo, we are all matching, but on a normal day, the boys are muddy-faced with ripped camo sweatpants.
After having five kids, I have realized what is important and what is an extra thing that really doesn't matter. The basics are making three meals a day, clothing them, and giving them an education. It doesn't matter if the kids have these gourmet meals you can find on Pinterest. I do cook from scratch, but they are simple recipes that do not take a lot of time to whip up. I don't meal plan or worry about what snacks to feed the kids. If it's warm outside and the ground is warm, I say let 'em run barefoot.
Don't Compare
The reason I am writing this blog post and filmed the video is that you guys don't feel inadequate as moms by thinking that I just get this whole list of things done every day, never rest, and do it all by myself. Every mom has a million things to do every day, just like me.
Info
Find out HERE how you can join over 500 students in learning how to make an income from blogging as we do. Use code YOUTUBE to get it for the intro price!
I shared 6 things that I do and don't do to help me stress less and get things done in this post: How to Get Stuff Done with Kids.
Some of my other kid-related videos
How to Get Stuff Done with Kids
Kids Room Closet Organization | Kids Minimalist Closet
5 Rainy Day Activities for Kids
Pin it for later